14 Top-Rated Beaches on Oahu, HI
Oahu may be the third largest of the Hawaiian islands by size, but it receives the most visitors by a huge margin. The island has 112 miles of beautiful coastline, offering a wide variety of beaches to enjoy.
There are peaceful man-made lagoons, like Ko Olina (home to the Disney Aulani resort), and rugged, relatively undeveloped beaches, like Yokohama Bay, with white sand and warm turquoise water.
Oahu's beaches are grouped into four areas, depending on their geographic location on the island. The famous North Shore has iconic surfing beaches, like Waimea Bay and Ehukai Beach, home of the Banzai Pipeline.
The South Shore is where Waikiki is located, as well as other famous leisure beaches. These huge, wide beaches are bordered with tall palm trees and luxury resort hotels.
The Westside's beaches are referred to as Leeward Coast beaches, which means they are protected from the wind by the island. This is where you'll find peaceful beaches with gentle surf, like Ko Olina and Turtle Bay.
On the Eastside, referred to as the Windward Coast, you'll find popular yet unspoiled beaches, like Waimanalo and Makapuu.
Choose the perfect stretch of coast for your seaside activities with our list of the best beaches on Oahu.
1. Lanikai Beach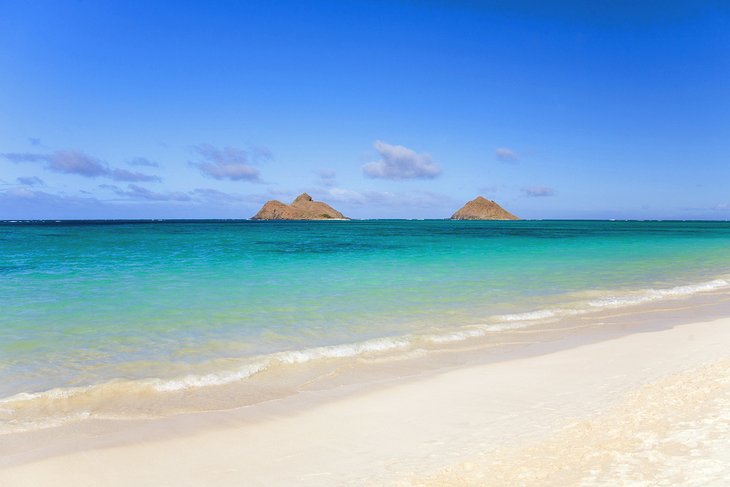 Oahu's best beach is Lanikai Beach because it delivers all the elements necessary for the perfect beach experience: It's isolated yet accessible and the water is warm, clear, and gentle (it's protected by an offshore reef), and the sand is white and very fine.
near the town of Kailua on the Windward Coast.
The beach is in a residential neighborhood, which keeps the crowds away but can create parking problems. Lanikai also offers beachgoers the full range of water sports, both on top of and under the water. You can sail, windsurf, sea kayak, and snorkel. Kayakers can even paddle out to small uninhabited islands about a mile offshore.
The Paradise Palms Bed and Breakfast is about a 10-minute drive from Lanikai in Kailua. It's a locally owned property with a caring and friendly staff, who love to suggest cool things to see and do. It's a tiny bed and breakfast with only two rooms. This adults-only property is very popular and requires a five-night minimum booking. Your stay comes with boogie boards, beach chairs and umbrellas, and beach towels.
2. Waikiki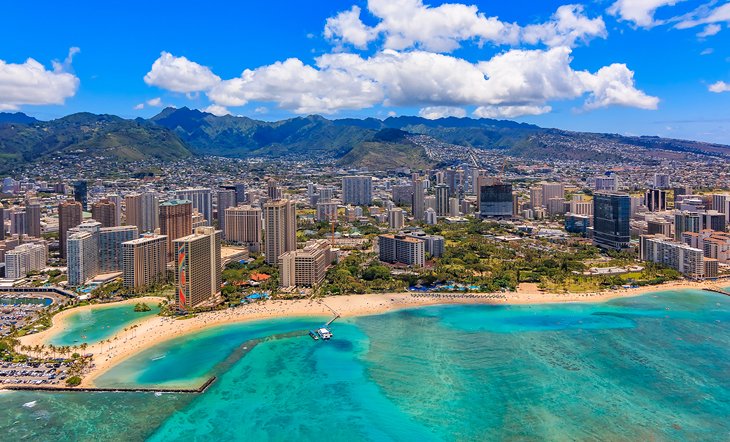 Although it may be the epicenter of Hawaii tourism and tourists, the entire Waikiki Beach still manages to deliver that ultimate Hawaiian beach experience.
You have a two miles of bright, fluffy white-sand beaches bordered by tall, gently swaying palm trees with warm, clear, bright-blue water. Many parts of the beach are roped off for swimming and protected by jetties, so the waves are very gentle. There are eight different beaches along Waikiki Beach (Kahanamoku Beach, Fort DeRussy, Gray's Beach, Royal Hawaiian Beach, Kuhio Beach, Queens Beach, San Souci Beach, and Kaimana Beach) each offering slightly different beach experiences.
The beach is fronted by luxury hotels and resorts, with Kalakaua Avenue in front of them, which is lined with stores and luxury retailers. The Embassy Suites by Hilton Waikiki Beach Walk is part of a massive commercial and residential development across from the beach. A plethora of included amenities like a free breakfast and free evening poolside reception along with all-suite accommodations make it great value.
Accommodation: Best Resorts in Honolulu
3. Hanauma Bay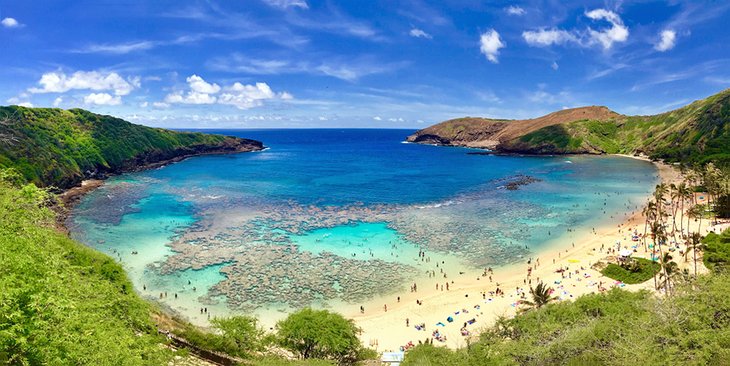 Idyllic Hanauma Bay, formed in the cone of an extinct volcano, is like a giant aquarium. The park is a very popular snorkeling spot (all visitors need to view a safety and environmental protection lecture before entering), and it really is like snorkeling in a giant aquarium.
Only 30 minutes from downtown Honolulu, this aquatic Hawaii state park is a very popular place for both beach fun and snorkeling. The very protected bay is filled with all kinds of sea life. Even first-time snorkelers will be blown away by what they see. It doesn't take much effort; you can just float on the surface and look down. The warm, clear water covers coral reefs, which attract all kinds of fish and creatures.
The park has very strict rules (like no sunscreen allowed), ensuring its preservation and enjoyment for future generations. To control crowds, attendance is limited. There is an entry charge (well worth it for the experience) and a charge for an optional little shuttle (also worth it after you're tired from snorkeling all day) to take you up and down the hill from the parking area. Hanauma Bay has a large beach area with lifeguards, restrooms, showers, and a snack bar.
Many package day trips to Hanauma Bay are available from all the Waikiki resorts, but a stay at The Kahala Hotel & Resort puts you about five miles away. This large luxury resort is right on the beach in the residential neighborhood of Kahala. It's popular for people who don't want to stay in downtown Waikiki but want a beachfront hotel experience. The resort has several options, a range of accommodations, and its own dolphin lagoon. The resort even participates in a state-wide sustainability initiative called Malama Hawaii, which offers guests a discount on their stay in exchange for participating in mindful travel. You can do things like help with a beach clean-up, take a guided hike to learn about coastal restoration, or visit a local organic farm.
4. Turtle Bay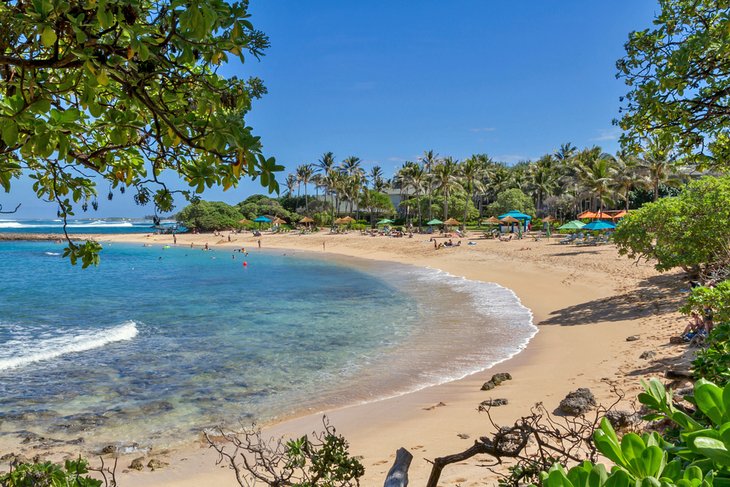 Also known as Kawela Bay, this is a protected bay, surrounded by about five miles of wide beaches, located way up at the northeastern tip of Oahu. It got its name from the many Hawaiian green sea turtles that are found in the area.
The gentle surf makes it good for swimming and snorkeling, but the rocky bottom makes it better for only advanced swimmers. It's the most popular kayaking spot on the North Shore, again due to that gentle surf. When you want a break from the beach, the bay is surrounded by about 12 miles of trails, some of which offer hikers amazing ocean vistas.
The Turtle Bay Resort sits atop a North Shore peninsula, extending out into the sea, with Turtle Bay on one side. The views are spectacular, and the prices are relatively reasonable, as the rooms and amenities are more mid-range than luxury. The resort is a little isolated, and a car is necessary for any off-property activities.
5. Waimea Bay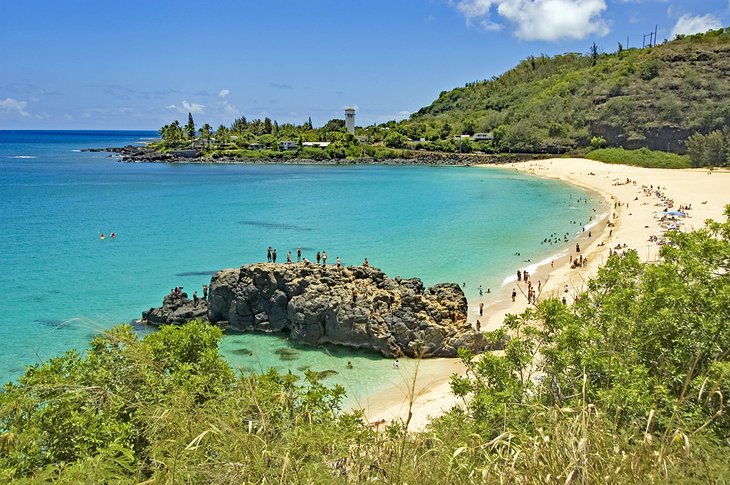 Mentioned in the Beach Boys' hit Surfin' USA, Waimea Bay is a famous big wave North Shore surfing spot. The beach here is always a great place to visit for both surfers and non-surfers. With all the surfers, there's always something to see.
Keep in mind, the monster waves Waimea is famous for only happen during the winter; the surf is almost gentle during the summer, making it great for swimming and even snorkeling. During the winter, the beach can see waves as high as 20 to 30 feet, some of the largest in the world.
Waimea Bay has basic facilities (public restrooms and outdoor showers) and is well-guarded with lifeguards. The sand is powder smooth, and the beach is quite wide.
After a day of water sports, get a bite with the locals at one of the many food trucks that line the Kamehameha Highway near all the popular surf breaks (including Waimea).
6. Waimanalo Beach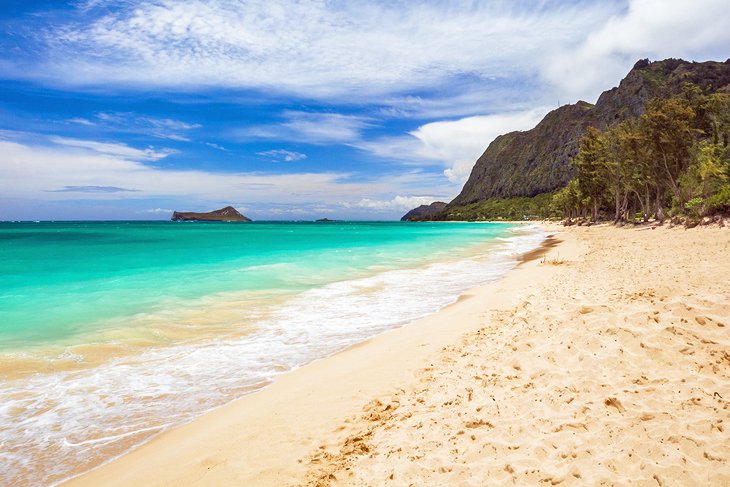 This is a vast, four-mile-long beach on the Windward or east coast of the island. Windward means it faces the wind, unlike the beaches on the west coast, which are protected from the wind by the island itself.
Waimanalo is a typical Hawaiian beach: wide and flat, with good facilities along with picnic areas. The waves are small here, but it's popular for bodyboarding and bodysurfing.
There are some small bed and breakfasts in the area, but Waikiki hotels, like the Prince Waikiki, are only a 15-minute drive away. This modern, design hotel is on the Ala Wai boat harbor, and some of the rooms and suites have water views. There's a free shuttle to Waikiki Beach. This hotel also participates in the Malama Hawaii sustainability initiative. Learn or do more about the local environment to get your resort fee waived, your fourth night free, and an extra five percent discount on your stay.
7. Ko Olina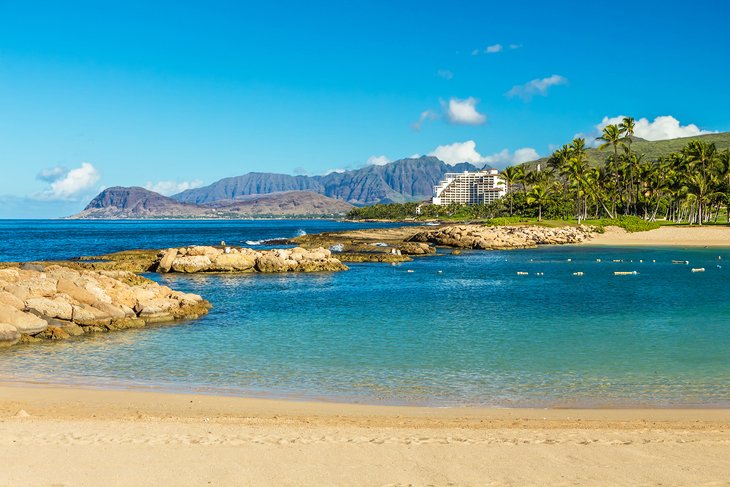 Also on Oahu's Leeward Coast, the Ko Olina Resort and Marina has well-designed, man-made lagoons and clean, wonderfully maintained beaches created specifically for the large resorts here. This is the perfect place to visit for couples or families. The Ko Olina resort development includes multiple resorts offering vacation experiences for a range of budgets.
Non-hotel guests are welcome to visit as well. Even if you're not a resort guest, it's a well-guarded, safe beach for families. There are a few areas of public facilities on the beach and a plethora of dining options at all the beachfront hotels.
The luxurious Four Seasons Resort Oahu at Ko Olina is an incredible beachfront property here, in an awesome location. The area is also home to the Aulani, a Disney Resort & Spa, providing the ultimate kid's Disney Hawaii vacation experience. It's part resort and part Disney Hawaiian theme park.
8. Yokohama Bay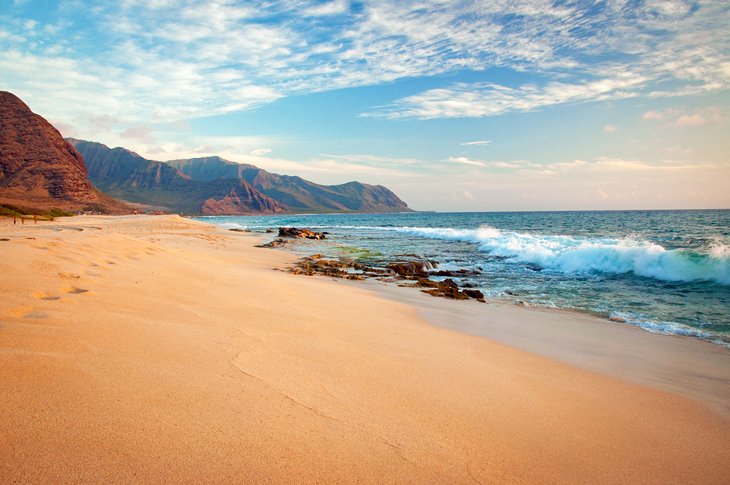 Another Leeward Coast beach, Yokohama Bay is the last beach along that part of the coast.
The Keawaula Beach area is the perfect spot to relax; the sandy bottom reflects the sunlight and turns the water a bright turquoise. Visually, it's one of the most beautiful beaches in Hawaii and great for photographers (and Instagram stars).
The bright, sandy, gently curving beach around the bay is perfect for enjoying the Hawaiian sun while looking out for the occasional pod of dolphins swimming by. There's a nearby hiking trail that will take you up to a point overlooking the entire beach and bay, perfect for selfies.
9. Kailua Beach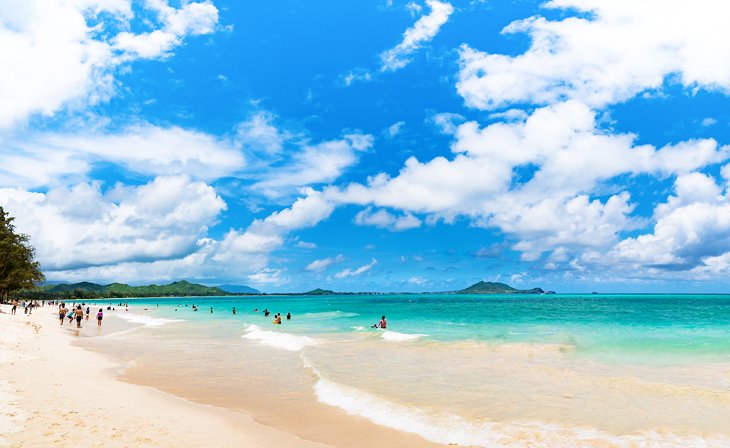 Kailua Beach Park is only a mile up the road from Lanikai Beach and is constantly ranked as one of America's best beaches.
You get three wide miles of white sandy beach, with warm, gentle, greenish-blue water. The beach is part of a 35-acre park with all kinds of outdoor sports and recreation facilities. There are also businesses nearby in Kailua for dining or shopping, including Island Snow, President Obama's favorite place for Hawaiian shaved ice.
If you want to stay in the area, you can opt for one of the many small guesthouses and bed-and-breakfasts in the little town of Kailua.
10. Sunset Beach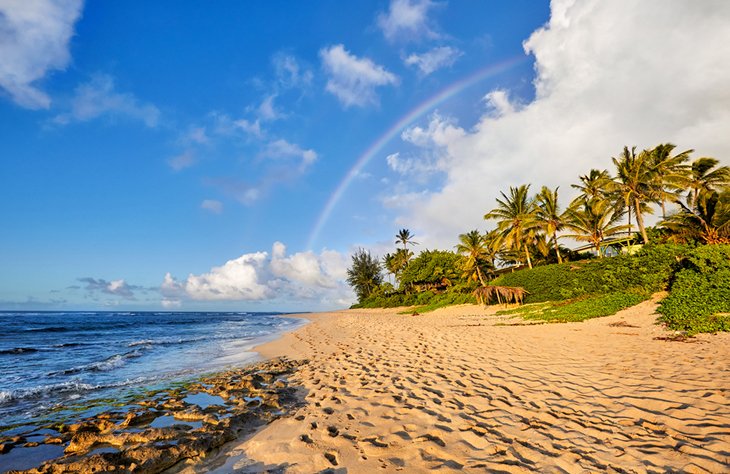 This famous two-mile-long surfing beach is on the North Shore and also has dramatically different conditions depending on the season. In the winter, it has truly giant waves and is very dangerous for all but the best swimmers and professional surfers. In the summer, it's incredibly calm and gentle, perfect for families, swimming, and shoreline snorkeling. Aside from the waves, it also has beautiful clear water and white sandy beaches.
The Courtyard by Marriott Oahu North Shore delivers clean, comfortable accommodations and is right across the street from the beach. Rooms on the higher floors have nice ocean views, and the hotel adds to its value with free Wi-Fi. There's a resort-style pool and a fitness center.
For a break from the beach, the hotel is right next door to the Polynesian Cultural Center. This is a Polynesian-themed, family-focused tourist attraction and living museum, one of the island's most popular tourist destinations.
11. Sandy Beach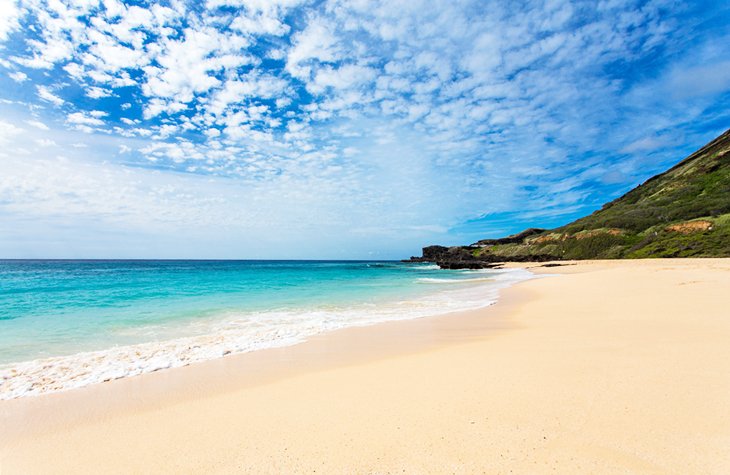 This wide, large beach is famous for bodysurfing and President Obama, as it's near the house he stays in on his Oahu visits. It's about 10 minutes past Hanauma Bay and about 30 minutes from Waikiki. Even though it's close to Waikiki, it feels more remote as it's surround by tall cliffs.
Sandy Beach is in a residential area, and there is always plenty of open space on the sand. The beach park has two entrances and there is a lot of parking, although it can fill up on weekends. You can take the bus from Waikiki, there's a bus stop right at the beach.
The beach has soft sand, and there are basic facilities (showers and bathrooms). Sandy Beach is also a popular spot for food trucks.
This is a big surf spot, with typically strong waves year-round, making it not a good beach for swimmers. Those waves break very close to the shore, so it's very popular with bodysurfers and boogie boarders. The waves also break hard, and there are a lot of riptides, so this spot is for very experienced bodysurfers only.
12. Ehukai Beach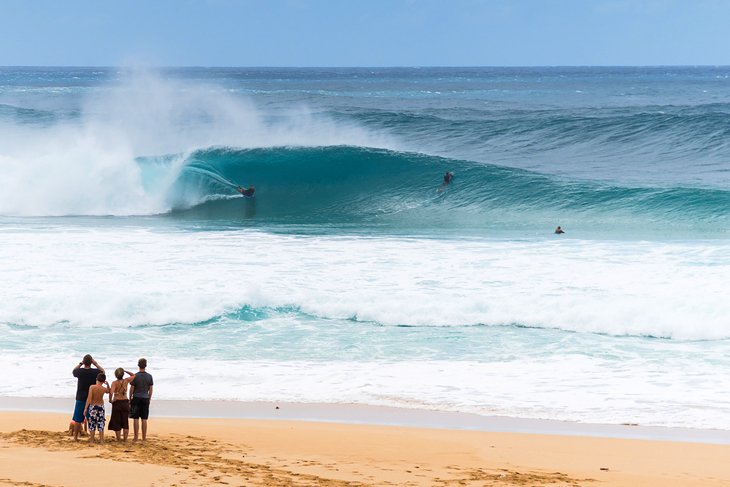 This North Shore beach is known for one thing: it's the home of the infamous Banzai Pipeline. The Pipeline is caused by huge, dangerous waves that form and break over a sharp reef just under the surface of the water.
The powerful surf, combined with the physics of the reef, produces the enormous tunnels of water that are known as the Banzai Pipeline. It's one of the most dangerous places in the world to surf, which makes it a great beach to watch surfers. Every day, professional surfers come from all across the globe to tackle the enormous waves.
If you want to stay close to the Pipeline, the Courtyard by Marriott Oahu North Shore is the best option, as it's almost right across the street from Ehukai Beach.
13. Makapuu Beach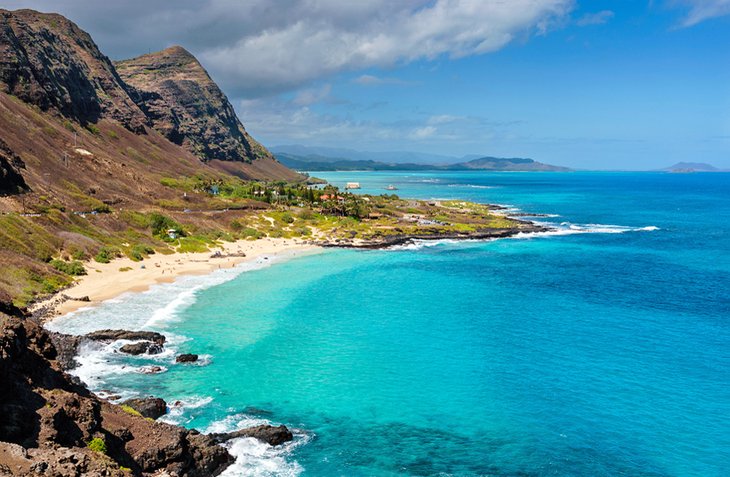 Makapuu Beach, only 30 minutes outside Waikiki, delivers epic sunrise views, lots of cool lava rocks for IG backgrounds, and some great waves. The beach is especially famous for body surfing, and the waves are consistently good. The water is dangerous and there can be strong rip currents, so this spot is best for expert body surfers. It's body surfing only - no surfboards are permitted here.
The beach is next to Makapuu Point, the most eastward part of Oahu. There's a lighthouse on the point and some cool sea caves in the rocks beneath it.
The 1,000-foot-long beach is bright white with powder-soft sand. The white sand makes the water a light turquoise color. The beach is much wider during the summertime, and a lot of the sand erodes due to the high winter waves.
After enjoying the beach, take a hike along the adjacent Makapuu Point Lighthouse Trail. The hike is about three miles round-trip to and from the lighthouse and provides some seriously jaw-dropping ocean views along the way.
The Waimanalo Beach Cottages are about five minutes from Makapuu Beach. It's a family-owned country getaway property with nine unique rental cottages. The units, formerly long-term rentals, have full kitchens and provide a residential experience steps from the beach.
14. Pokai Bay Beach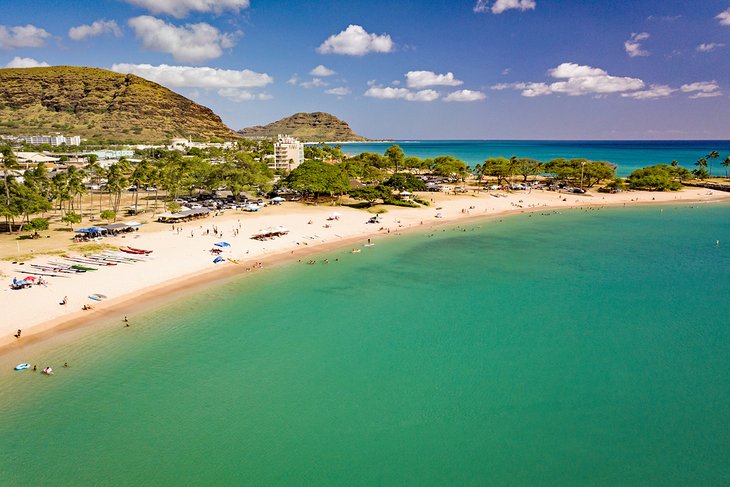 This dog-friendly beach area is fun for both four-legged and two-legged beachgoers. Dogs are welcome (on-leash) in the water and on the sand up to the high water point. It's very popular with locals and especially family groups. The bay is very protected, with no currents or real waves, so it's perfect for swimming and wading.
The Pokai Bay Beach park area has bathrooms, showers, and lots of shaded picnic areas.