14 Top-Rated Beaches on Oahu, HI
Author Meagan Drillinger visited the beaches of Oahu in January of 2023.
Oahu may be the third largest of the Hawaiian islands by size, but it receives the most visitors by a huge margin. The island has 112 miles of beautiful coastline, offering a wide variety of beaches to enjoy.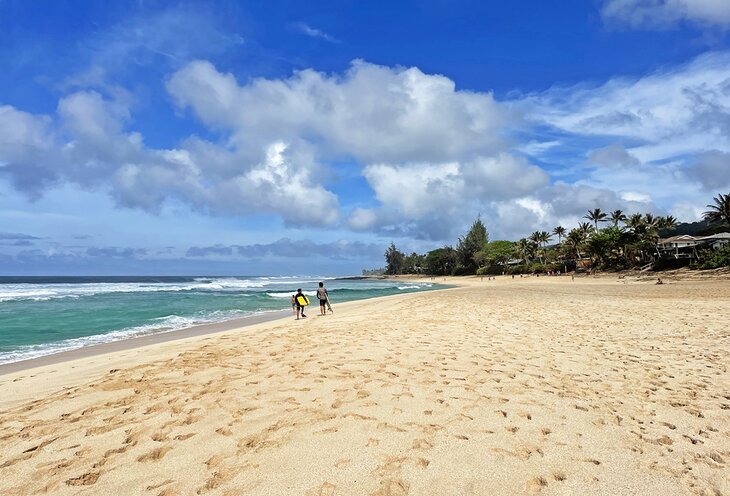 There are peaceful man-made lagoons, like Ko Olina (home to the Disney Aulani resort), and rugged, relatively undeveloped beaches, like Yokohama Bay, with white sand and warm turquoise water.
Oahu's beaches are grouped into four areas, depending on their geographic location on the island. The famous North Shore has iconic surfing beaches, like Waimea Bay and Ehukai Beach, home of the Banzai Pipeline.
The South Shore is where Waikiki is located, as well as other famous leisure beaches. These huge, wide beaches are bordered with tall palm trees and luxury resort hotels.
The Westside's beaches are referred to as Leeward Coast beaches, which means they are protected from the wind by the island. This is where you'll find peaceful beaches with gentle surf, like Ko Olina and Turtle Bay.
On the Eastside, referred to as the Windward Coast, you'll find popular yet unspoiled beaches, like Waimanalo and Makapuu.
No matter which side of Oahu you choose, you can be guaranteed that you will be spoiled with idyllic and impressive beaches. Plan your visit with our list of the best beaches on Oahu.
1. Lanikai Beach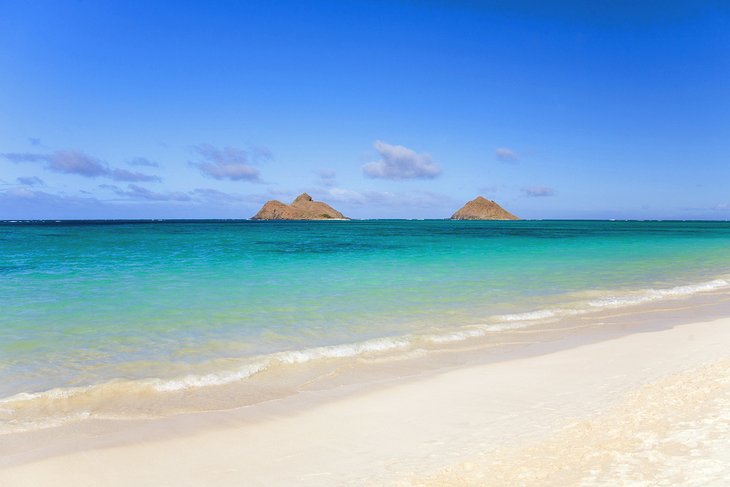 Try to disagree with locals that Lanikai is not the best beach on Oahu, and you'll be put in your place very quickly. Of course, one look at Lanikai, and you'll soon see why it's often considered to be the best beach on the island.
Lanikai Beach delivers all the necessary elements for the perfect beach experience. It is close enough to Honolulu to be considered accessible for a day trip to the beach, but it is far enough removed that you'll likely have a large chunk of the beach to yourself. The water is warm, calm, and clear, thanks to an offshore reef, and the sand is sugary and sun-bleached.
The beach is not far from the town of Kailua on the Windward Coast, fringing a residential neighborhood. Parking can be a challenge, but if you do manage to snag a spot, you'll be glad you did.
The beach is popular for sailing and sea kayaking, as well as snorkeling. You'll likely spot a fair number of sea turtles at Lanikai. Just be sure to give them 10 feet of space, which is required by law.
Lanikai makes for a great alternative to the much more popular Hanauma Bay, which requires reservations in advance to visit.
2. Waikiki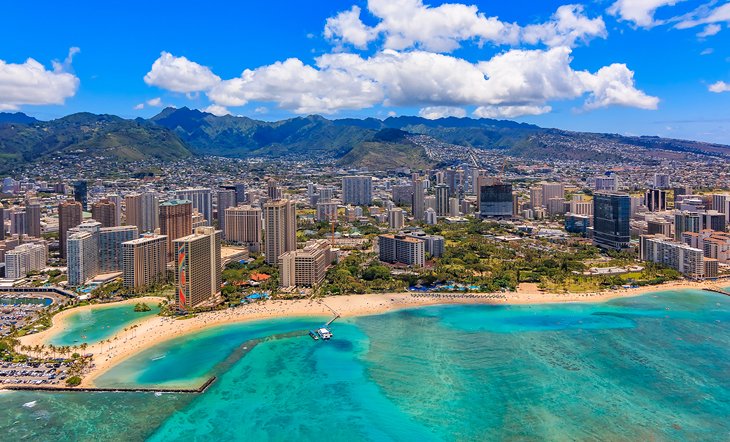 Although it may be the epicenter of Hawaii tourism and tourists, the entire Waikiki Beach still manages to deliver that ultimate Hawaiian beach experience.
You have two miles of bright, fluffy white-sand beaches bordered by tall, gently swaying palm trees with warm, clear, bright-blue water. Many parts of the beach are roped off for swimming and protected by jetties, so the waves are very gentle. There are eight different beaches along Waikiki Beach (Kahanamoku Beach, Fort DeRussy, Gray's Beach, Royal Hawaiian Beach, Kuhio Beach, Queens Beach, San Souci Beach, and Kaimana Beach) each offering slightly different beach experiences.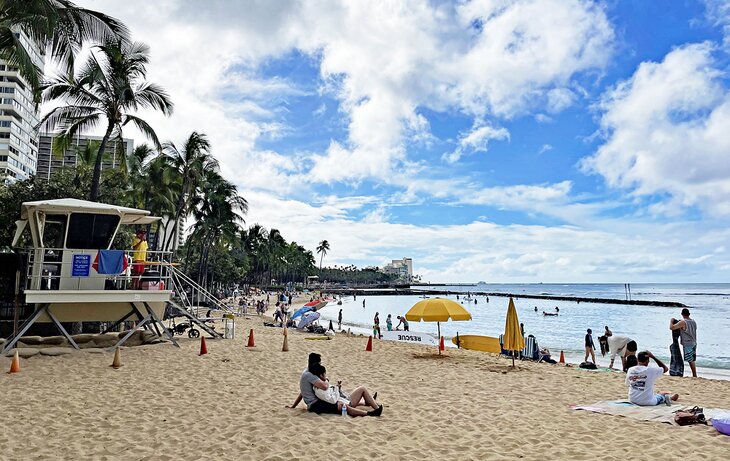 The beach is fronted by luxury hotels and resorts, with Kalakaua Avenue in front of them, which is lined with stores and luxury retailers.
Accommodation: Best Resorts in Honolulu
3. Hanauma Bay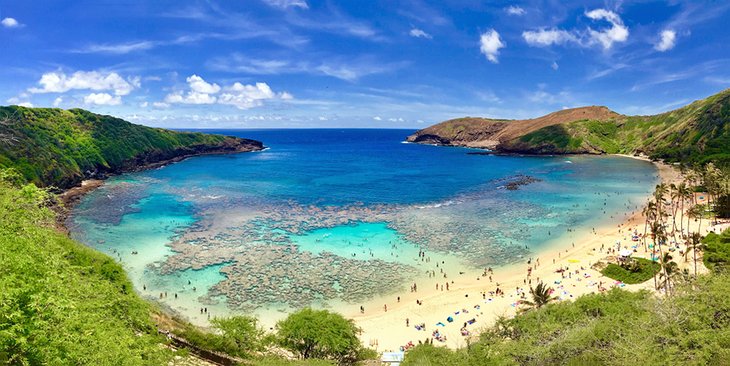 Idyllic Hanauma Bay, formed in the cone of an extinct volcano, is like a giant aquarium. The park is a very popular snorkeling spot (all visitors need to view a safety and environmental protection lecture before entering), and it really is like snorkeling in a giant aquarium.
Only 30 minutes from downtown Honolulu, this aquatic Hawaii state park is a very popular place for both beach fun and snorkeling. The very protected bay is filled with all kinds of sea life. Even first-time snorkelers will be blown away by what they see. It doesn't take much effort; you can just float on the surface and look down. The warm, clear water covers coral reefs, which attract all kinds of fish and creatures.
The park has very strict rules (like no sunscreen allowed), ensuring its preservation and enjoyment for future generations. To control crowds, attendance is limited. There is an entry charge (well worth it for the experience) and a charge for an optional little shuttle (also worth it after you're tired from snorkeling all day) to take you up and down the hill from the parking area. Hanauma Bay has a large beach area with lifeguards, restrooms, showers, and a snack bar.
Many package day trips to Hanauma Bay are available from all the Waikiki resorts, but a stay at The Kahala Hotel & Resort puts you about five miles away. This large luxury resort is right on the beach in the residential neighborhood of Kahala. It's popular for people who don't want to stay in downtown Waikiki but want a beachfront hotel experience. The resort has several options, a range of accommodations, and its own dolphin lagoon.
The Kahala Hotel & Resort even participates in a state-wide sustainability initiative called Malama Hawaii, which offers guests a discount on their stay in exchange for participating in mindful travel. You can do things like help with a beach clean-up, take a guided hike to learn about coastal restoration, or visit a local organic farm.
4. Turtle Bay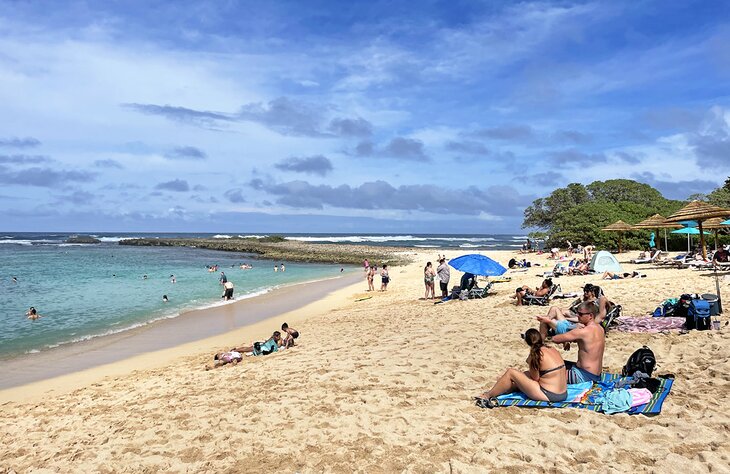 Out along Oahu's iconic North Shore, but well enough past the most popular surfing beaches that it is considerably quieter, sits Turtle Bay. Also known as Kawela Bay, this sheltered crescent of beach is perched all the way at the northernmost part of Oahu. In fact, you can walk to Kahuku Point from the beach, which is the northernmost point on the island.
Turtle Bay gets its name from the large population of sea turtles that live and hang out here. The surf is gentle enough that it's good for swimming and snorkeling, but you will want to be aware of the rocky bottom. Water shoes are likely a good idea.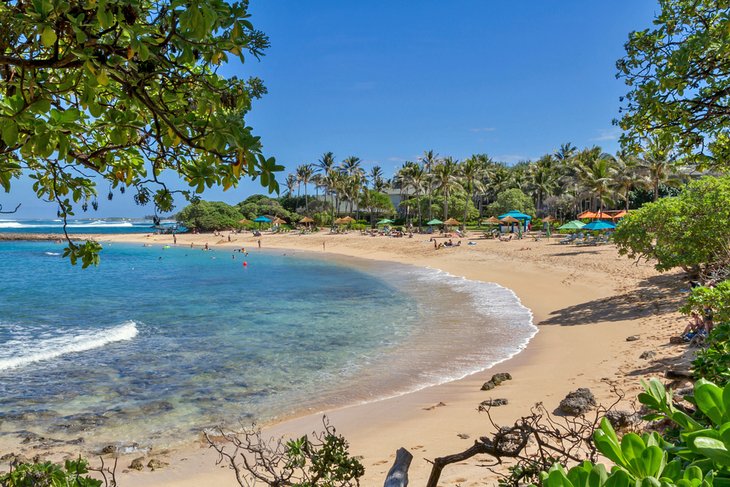 This part of the island is home to the Turtle Bay Resort, which has a restaurant on the beach. The views from Turtle Bay Resort are stunning, and the prices are relatively reasonable, as the rooms and amenities are more mid-range than luxury. The resort is a little isolated, and a car is necessary for any off-property activities.
This part of Oahu has tons of hiking trails to discover, too. You can spend hours wandering the pathways around Turtle Bay. A golf course is here, too, which also has spectacular ocean views from many of its holes.
5. Waimea Bay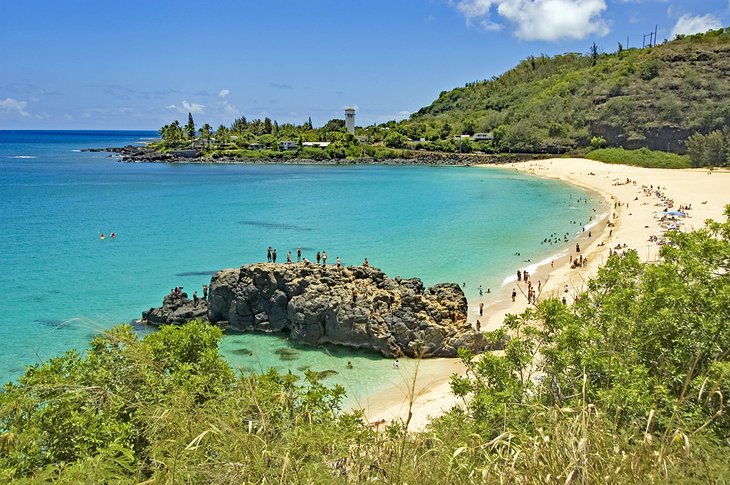 Driving along the North Shore towards the town of Haleiwa, one beach, in particular, will catch your breath as you round the bend near the entrance to Waimea Canyon —Waimea Bay. This beautifully wide beach has powder-soft, white sand and a beautiful swath of turquoise water.
This happens to be one of the best beaches on Oahu for surfing, as well as swimming, depending on the season.
The biggest waves at Waimea Bay thrash in the winter season. The surf is so famous that the beach actually got a mention in The Beach Boys' hit Surfing' USA. During the summer months, however, the beach is as calm as bath water and so becomes a top spot for swimming and snorkeling.
Waimea Bay has basic facilities (public restrooms and outdoor showers) and is well-guarded with lifeguards. The sand is powder smooth, and the beach is quite wide.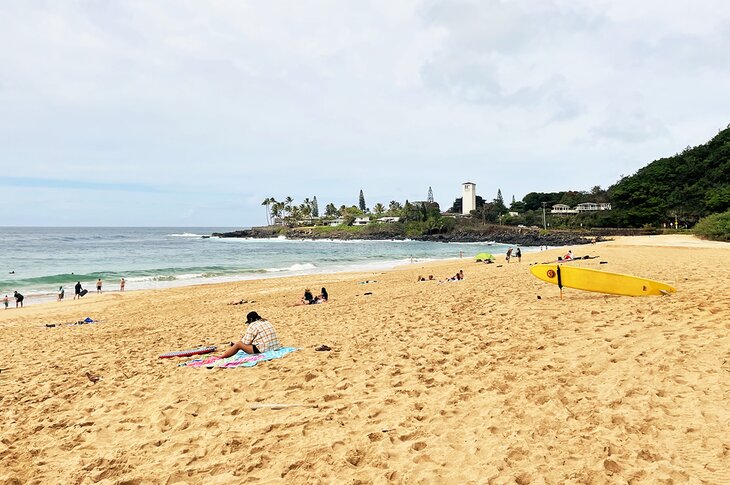 After a day of water sports, get a bite with the locals at one of the many food trucks that line the Kamehameha Highway near all the popular surf breaks (including Waimea).
If the surf at Waimea Bay is consistently above 20 feet during the winter months, the beach becomes the host of The Eddie Aikau Big Wave Invitational, the biggest surfing event in the world. The Eddie brings together surfers, alternates, and international legends to test their skills on these monster waves. They call it the Super Bowl of Surfing, and it's such an exciting event partly because it is not held every year. Conditions have to be just right. The event brings thousands of spectators to the North Shore of Oahu.
6. Waimanalo Beach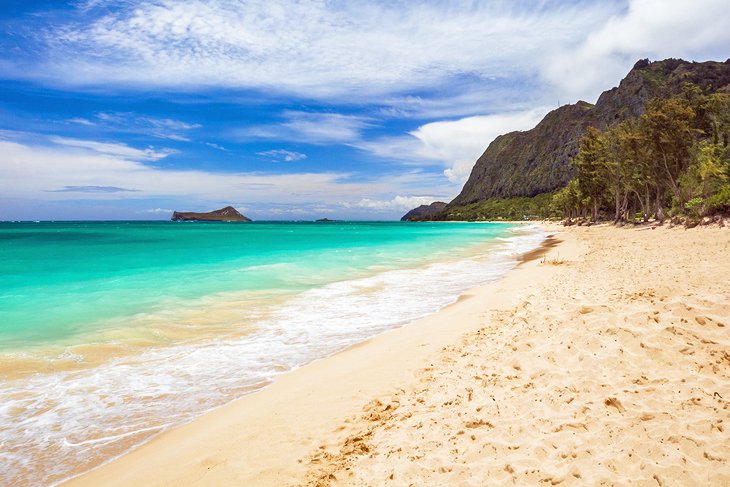 This is a vast, four-mile-long beach on the Windward or east coast of the island. Windward means it faces the wind, unlike the beaches on the west coast, which are protected from the wind by the island itself.
Waimanalo is a typical Hawaiian beach: wide and flat, with good facilities along with picnic areas. The waves are small here, but it's popular for bodyboarding and bodysurfing.
7. Ko Olina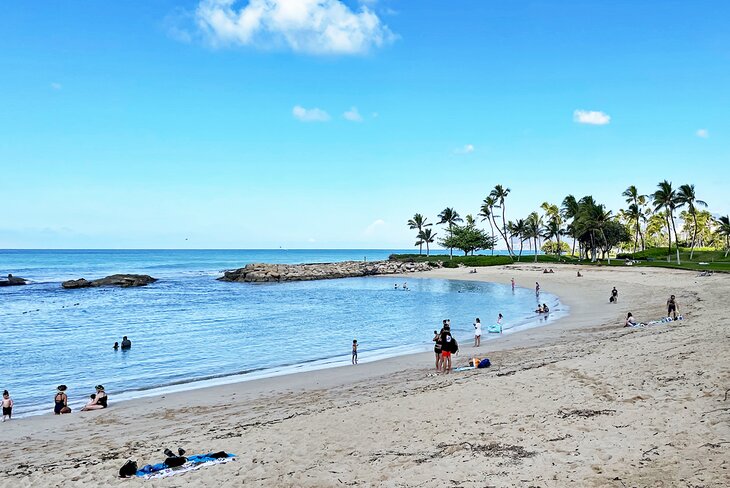 A short drive from downtown Honolulu will put you along Oahu's Leeward Coast, which is known for some of its most luxurious hotel options, like the Four Seasons Resort Oahu at Ko Olina or Aulani, a Disney Resort & Spa. These resorts sit near one of Oahu's top beaches, which is also open to non-resort guests.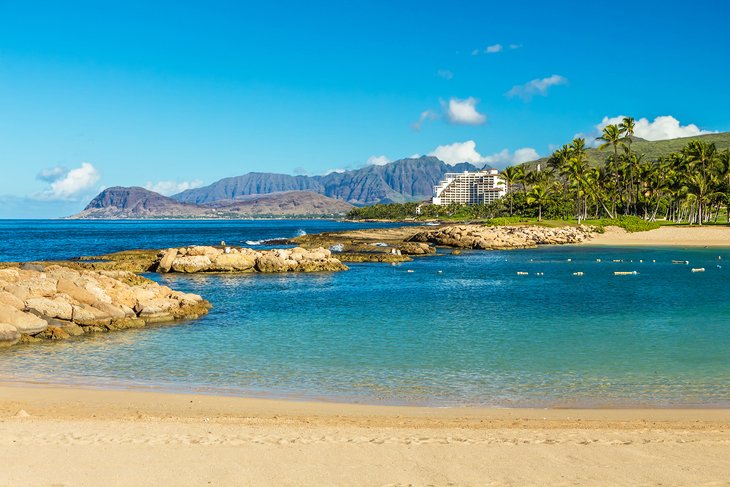 Ko Olina Resort and Marina is a man-made, beautifully land-sculpted area with lagoons and beaches, making it one of the top spots in Oahu for couples, as well as families. But non-guests are welcome to use the beach, too.
Ko Olina has a few facilities, and restaurants are available at all the surrounding hotels.
8. Yokohama Bay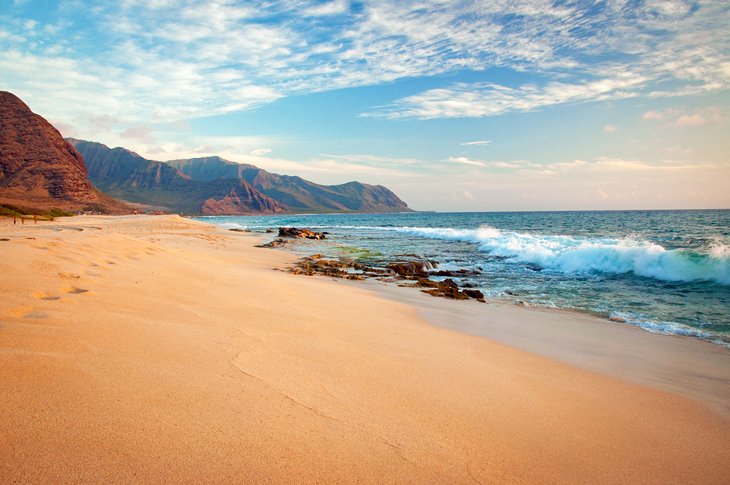 Another Leeward Coast beach, Yokohama Bay is the last beach along that part of the coast.
The Keawaula Beach area is the perfect spot to relax; the sandy bottom reflects the sunlight and turns the water a bright turquoise. Visually, it's one of the most beautiful beaches in Hawaii and great for photographers (and Instagram stars).
The bright, sandy, gently curving beach around the bay is perfect for enjoying the Hawaiian sun while looking out for the occasional pod of dolphins swimming by. There's a nearby hiking trail that will take you up to a point overlooking the entire beach and bay, perfect for selfies.
9. Kailua Beach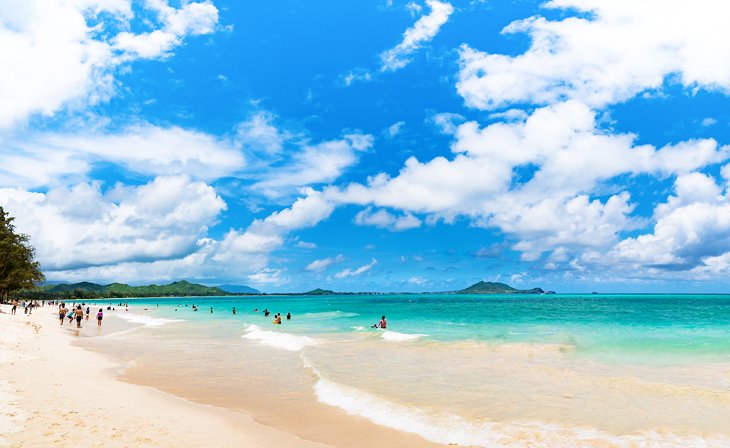 Kailua Beach Park is only a mile up the road from Lanikai Beach and is constantly ranked as one of America's best beaches.
You get three wide miles of white sandy beach, with warm, gentle, greenish-blue water. The beach is part of a 35-acre park with all kinds of outdoor sports and recreation facilities. There are also businesses nearby in Kailua for dining or shopping, including Island Snow, President Obama's favorite place for Hawaiian shaved ice.
If you want to stay in the area, you can opt for one of the many small guesthouses and bed-and-breakfasts in the little town of Kailua.
10. Sunset Beach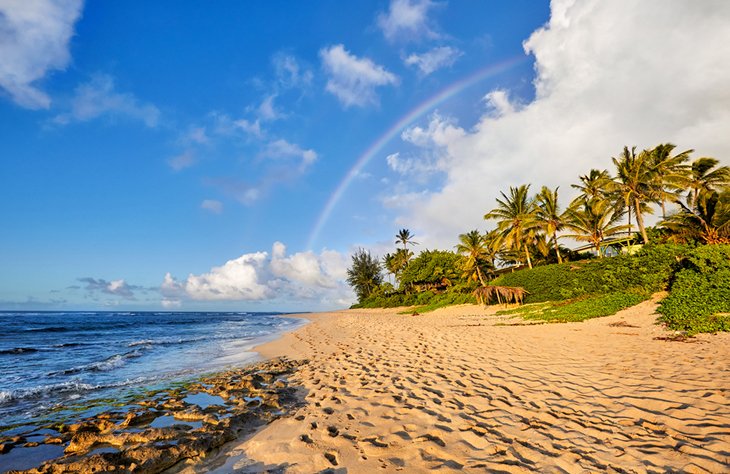 This famous two-mile-long surfing beach is on the North Shore and also has dramatically different conditions depending on the season. In the winter, it has truly giant waves and is very dangerous for all but the best swimmers and professional surfers. In the summer, it's incredibly calm and gentle, perfect for families, swimming, and shoreline snorkeling. Aside from the waves, it also has beautiful clear water and white sandy beaches.
For a break from the beach, the hotel is right next door to the Polynesian Cultural Center. This is a Polynesian-themed, family-focused tourist attraction and living museum, one of the island's most popular tourist destinations.
11. Sandy Beach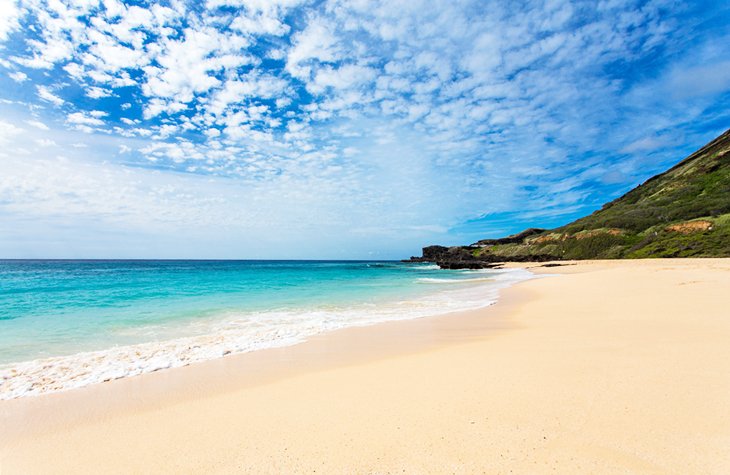 This wide, large beach is famous for bodysurfing and President Obama, as it's near the house he stays in on his Oahu visits. It's about 10 minutes past Hanauma Bay and about 30 minutes from Waikiki. Even though it's close to Waikiki, it feels more remote as it's surrounded by tall cliffs.
Sandy Beach is in a residential area, and there is always plenty of open space on the sand. The beach park has two entrances and there is a lot of parking, although it can fill up on weekends. You can take the bus from Waikiki, there's a bus stop right at the beach.
The beach has soft sand, and there are basic facilities (showers and bathrooms). Sandy Beach is also a popular spot for food trucks.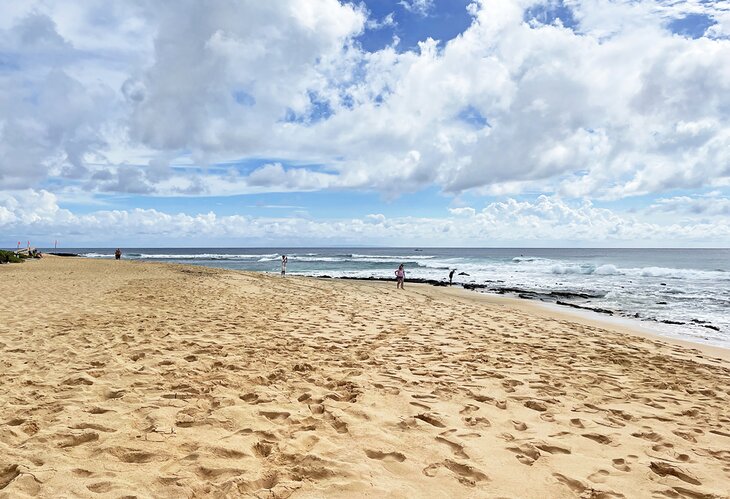 This is a big surf spot, with typically strong waves year-round, making it not a good beach for swimmers. Those waves break very close to the shore, so it's very popular with bodysurfers and boogie boarders. The waves also break hard, and there are a lot of riptides, so this spot is for very experienced bodysurfers only.
This is a great alternative to Hanauma Bay if you are unable to get a reservation. It's far less crowded than Hanauma Bay, and the sand is particularly soft and dreamy. It's a quick drive from Diamond Head Crater, so you can easily hit both in one day.
12. Ehukai Beach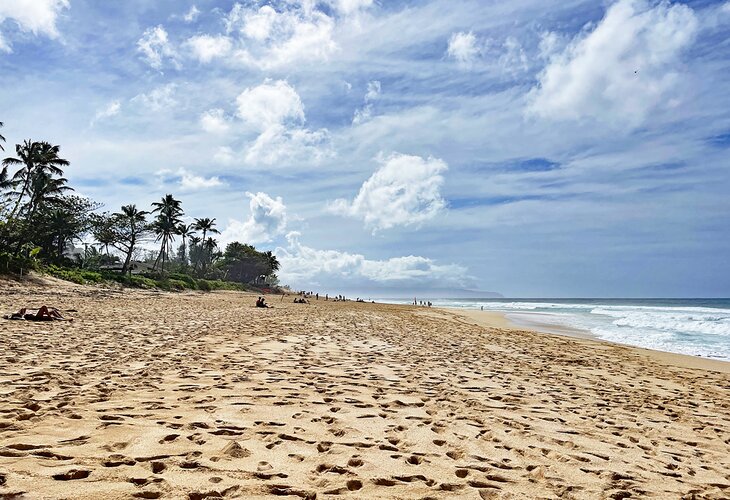 This North Shore beach is known for one thing: it's the home of the infamous Banzai Pipeline. The Pipeline is caused by huge, dangerous waves that form and break over a sharp reef just under the surface of the water.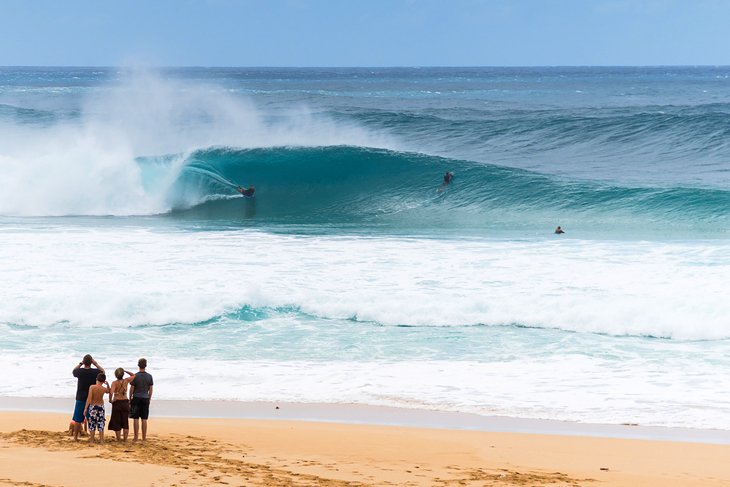 The powerful surf, combined with the physics of the reef, produces the enormous tunnels of water that are known as the Banzai Pipeline. It's one of the most dangerous places in the world to surf, which makes it a great beach to watch surfers. Every day, professional surfers come from all across the globe to tackle the enormous waves. You can catch the annual Billabong Pipeline Masters event, which is held every year at the Banzai Pipeline. It's also one of the most beloved competitions in the surf world.
13. Makapuu Beach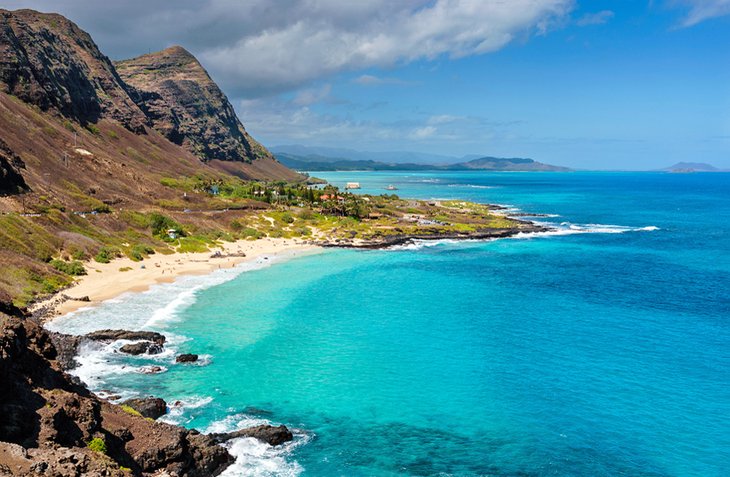 Makapuu Beach, only 30 minutes outside Waikiki, delivers epic sunrise views, lots of cool lava rocks for IG backgrounds, and some great waves. The beach is especially famous for body surfing, and the waves are consistently good. The water is dangerous and there can be strong rip currents, so this spot is best for expert body surfers. It's body surfing only - no surfboards are permitted here.
The beach is next to Makapuu Point, the most eastward part of Oahu. There's a lighthouse on the point and some cool sea caves in the rocks beneath it.
The 1,000-foot-long beach is bright white with powder-soft sand. The white sand makes the water a light turquoise color. The beach is much wider during the summertime, and a lot of the sand erodes due to the high winter waves.
After enjoying the beach, take a hike along the adjacent Makapuu Point Lighthouse Trail. The hike is about three miles round-trip to and from the lighthouse and provides some seriously jaw-dropping ocean views along the way.
14. Pokai Bay Beach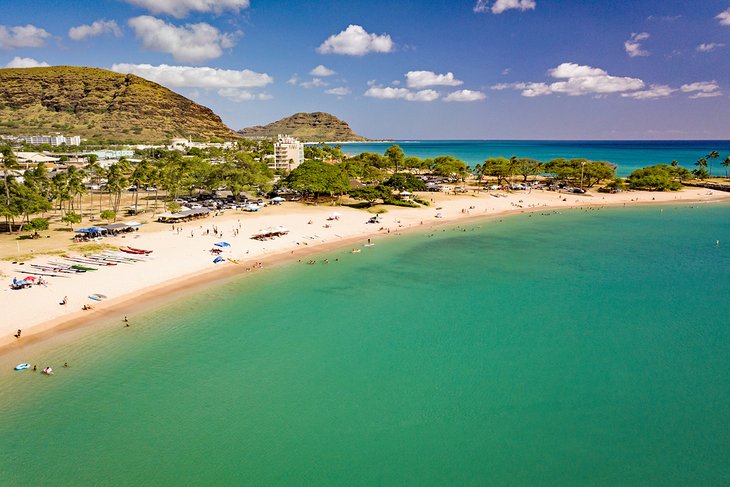 This dog-friendly beach area is fun for both four-legged and two-legged beachgoers. Dogs are welcome (on-leash) in the water and on the sand up to the high water point. It's very popular with locals and especially family groups. The bay is very protected, with no currents or real waves, so it's perfect for swimming and wading.
The Pokai Bay Beach park area has bathrooms, showers, and lots of shaded picnic areas.
Map of Beaches on Oahu, HI