16 Best Beaches in Kauai, HI
Author Meagan Drillinger visited the beaches of Kauai in January of 2023.
Along Kauai's 63 miles of accessible shoreline, visitors can find a beach for every need, whether they are looking for calm waters for the kids to play in or massive waves for expert surfing.
Those who are interested in snorkeling have many options to choose from, including everything from a man-made lagoon perfect for beginners at Lydgate Beach to the massive Anini Reef off the northern coast.
Along with a myriad of tropical fish, visitors may spot sea turtles swimming about, endangered Hawaiian monk seals sunning themselves, whales in migration, and even a flock of wild chickens right on the beach.
In general, Kauai's north shore has higher surf, and it is at its peak from October through March, while south shore beaches have bigger waves during the summer, from April through September. Beaches on the east and west coasts tend to have the roughest conditions.
Because conditions can change rapidly, be sure to get a current condition report from the lifeguard on duty or an official source, and remember that conditions can change from hour to hour. Please note that not all beaches are staffed with lifeguards.
Find an idyllic slice of coast with our list of the best beaches in Kauai.
1. Poipu Beach (Po'ipu Beach)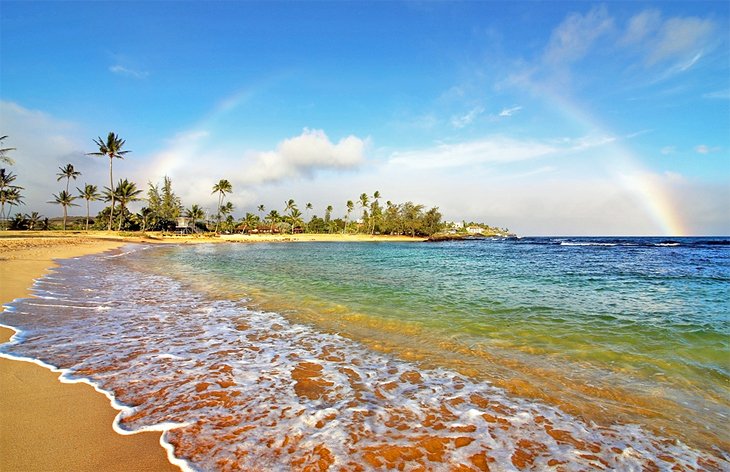 Poipu Beach sits on the southern coast of Kauai in a reef-protected area that offers safe swimming conditions while offering good waves for boogie-boarding and surfing. Visitors will find a full range of conveniences on-site, including showers and restrooms, a picnic area, and a playground, which are located in Poipu Beach Park, a green space that borders the sand.
The western side of Poipu Beach, commonly known as Baby Beach, sits on the other side of Nukumoi Point, a sand bar that is a favorite sunning spot for endangered Hawaiian monk seals. This side of the beach is much quieter than its twin and is a favorite for those with young children thanks to its calm, shallow water.
Just across the street from Poipu Beach Park, there is a local restaurant, as well as a surf shop where you can find rentals and supplies. There are more shopping and dining options at the Shops at Kuku'iula, just a five-minute drive away.
Address: 2179 Hoone Road, Koloa, Hawaii
Accommodation: Best Resorts in Kauai
Read More: Top-Rated Tourist Attractions on Kauai
2. Maha'ulepu Beaches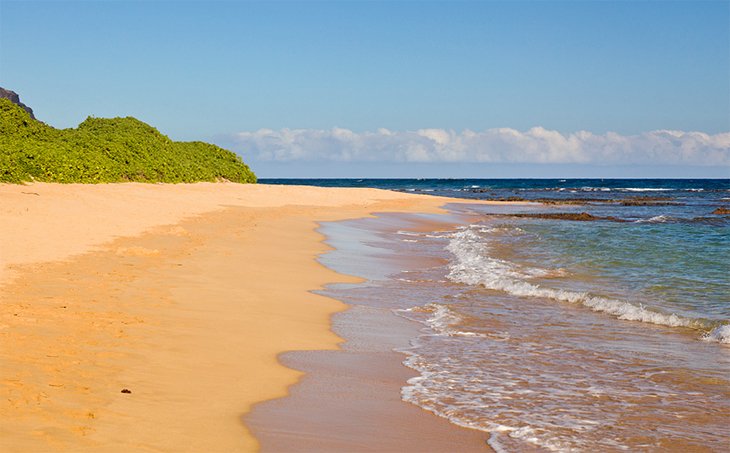 Just a few miles from Poipu, the Maha'ulepu Beaches occupy the southern coast's only stretch of undeveloped shore. They include Gillin's Beach, Kawailoa Bay, and Kipu Kai Beach, and they are uncrowded thanks to the fact that they are a little more difficult to get to than other spots.
Reaching these beaches requires either a bumpy ride down old cane roads or a hike, but the journey is well worth it for tourists who want to see the unspoiled beauty of the Hawaiian coastline.
Gillin's Beach is best known for Maha'ulepu cave, a geological formation that is actually a sinkhole. There are ongoing archaeological excavations at this site where many artifacts from ancient peoples have been discovered.
Gillin's beach is popular with swimmers and snorkelers, but the adjacent Kawailoa Bay is an excellent spot for windsurfing and kiteboarding. Those who don't mind following a sandy path for a ways can often find Kipu Kai Beach completely unoccupied, a perfect spot for seclusion-seekers.
Visitors often get a chance to see the endangered Hawaiian monk seal when visiting this region. These giant sea mammals can range from 400 to 600 pounds as adults, and although they may appear to be slow, lazy animals, they can become aggressive if approached, especially if they are protecting their little ones.
The beaches are on private property and there are no facilities. This is also not an ideal place for children due to varied conditions and no lifeguards.
Location: Koloa, Hawaii
3. Hanalei Bay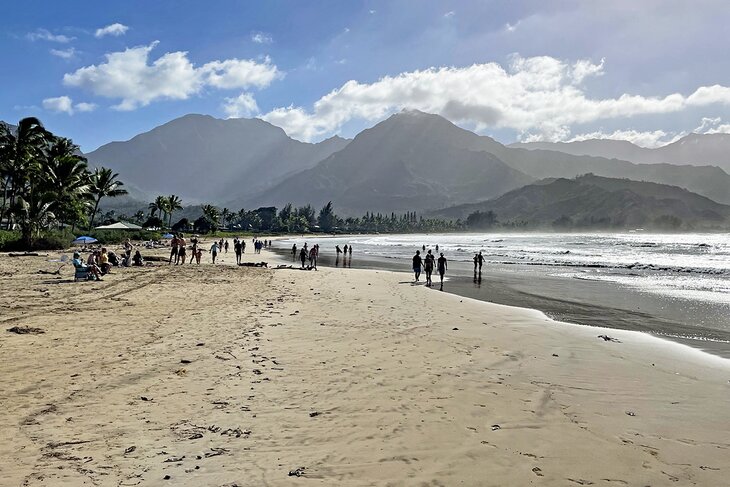 Hanalei Bay is a protected cove on the northern shore of Kauai, forming a deep crescent, with extensive reefs at both sides and deeper water with higher waves in the center. Two full miles of soft white sand line the water, leaving plenty of room for beachgoers to spread out.
There is something for everyone here, from sunbathing to surfing, and in the summer, it is a favorite spot for paddleboarding, kayaking, and canoeing. The protected reef waters also make this a popular snorkeling spot, and divers can explore an old shipwreck that still haunts the sea floor.
Waioli Beach Park sits along the center section of the bay, and there are several restaurants close by, as well as a shopping center and local craft shops. An annual sandcastle contest is held on the east end of the beach near Hanalei Pier. The pier itself is a historic landmark and a popular place for romantic strolls.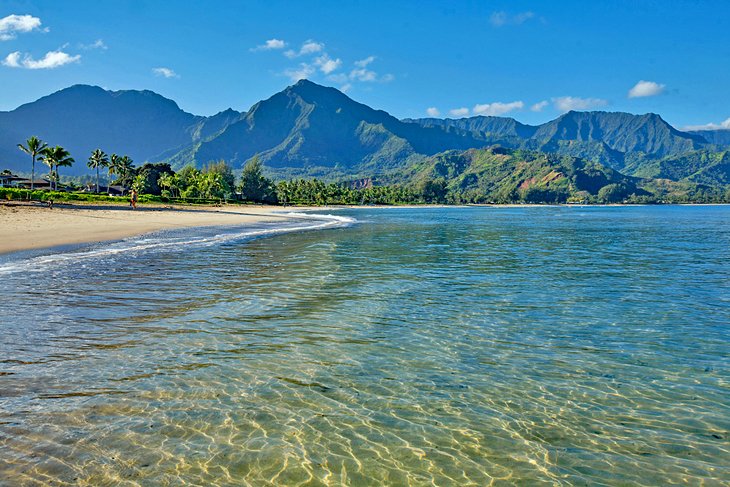 Fun fact: Musical buffs will recognize Hanalei Bay as being one of the filming locations from the 1965 film, South Pacific.
Location: Hanalei, Hawaii
4. Polihale Beach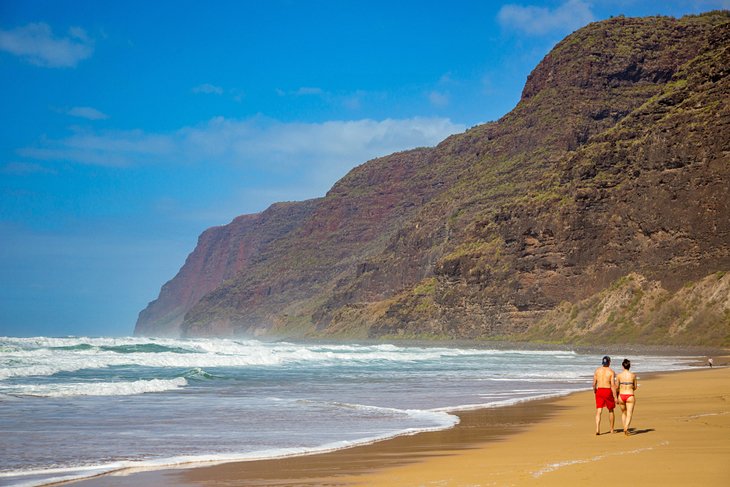 Located on Kauai's western shore close to Na Pali State Park, Polihale Beach is the longest in the state, stretching for a total of 17 miles. Unfortunately, only 10 of these miles are open to the public, but that still leaves plenty of room for exploring the dunes.
This is not a beach for swimming due to strong currents, and there are no lifeguards on duty; however, visitors can enjoy the tranquility of the wide-open space while wading and collecting shells.
Tourists will find this beach much less crowded than most because it is only accessible via dirt roads. This is the ideal spot for a long romantic walk on the beach, and the sunsets here are unparalleled.
Visitors should be aware that there are limited facilities here and no shade at all, so bringing umbrellas and plenty of drinking water is a must.
Address: Lower Saki Mana Road, Waimea, Hawaii
5. Tunnels Beach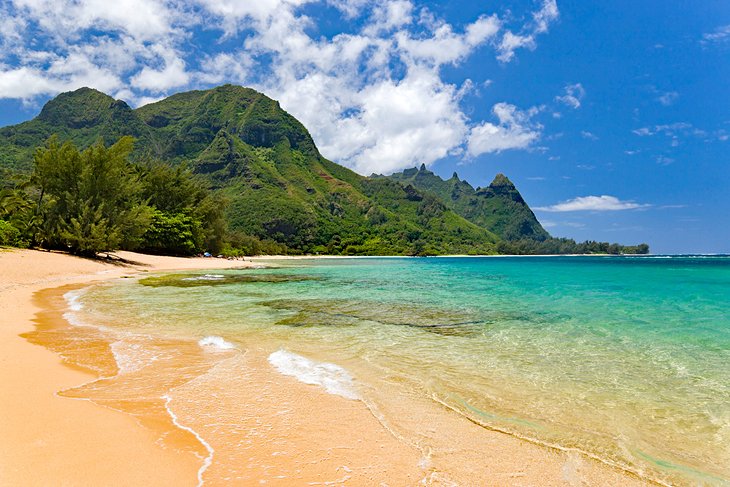 Tunnels Beach, also known as Makua Beach, is considered by many to be the top destination for snorkelers and divers during the calm waters of the summer months thanks to the crescent-shaped coral reef that sits just offshore. The reef also makes the beach safe for swimming during the summer, and a slow slope allows plenty of room for wading.
Lifeguards are on duty during peak hours, and there are plenty of shady spots and a few picnic tables for enjoying a break. Visitors should note that there is no parking area, so early arrival is advised in order to find a spot along the road; there is a short path that leads to the beach.
Address: HI-560, Kapaʻa, Hawaii
6. Ke'e (Kee) Beach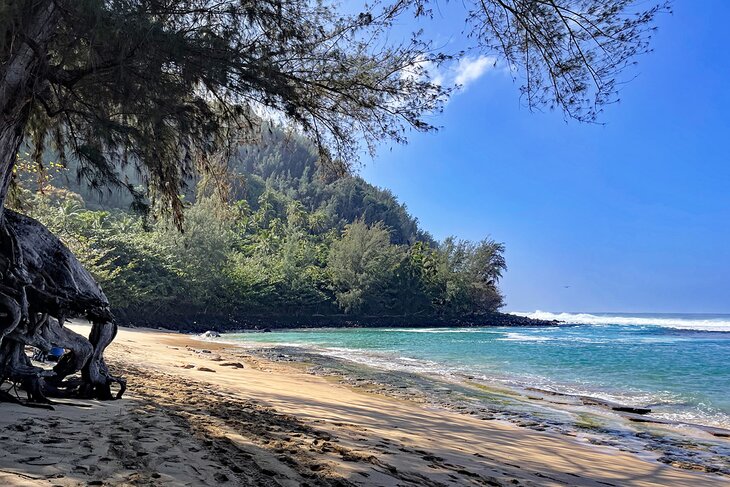 Ke'e Beach is located on the northwest shore of the island, marking the trailhead of Kalalau Trail, which extends along the coast through the Hono'Onapali Natural Reserve and then into the stunning Na Pali Coast State Wilderness Park.
This is one of Kauai's top snorkeling destinations during the calmer summer months, and the protected reef is teeming with tropical fish. Tourists can also find kayaking tours of the lagoon that afford spectacular views of the surrounding landscape.
One of the most unique aspects of Ke'e Beach is its population of wild chickens, commonly known as wild roosters. These brightly colored birds dot the beach every day, and while they are great for an interesting photo, be aware that they will also snatch your snacks at any opportunity they get.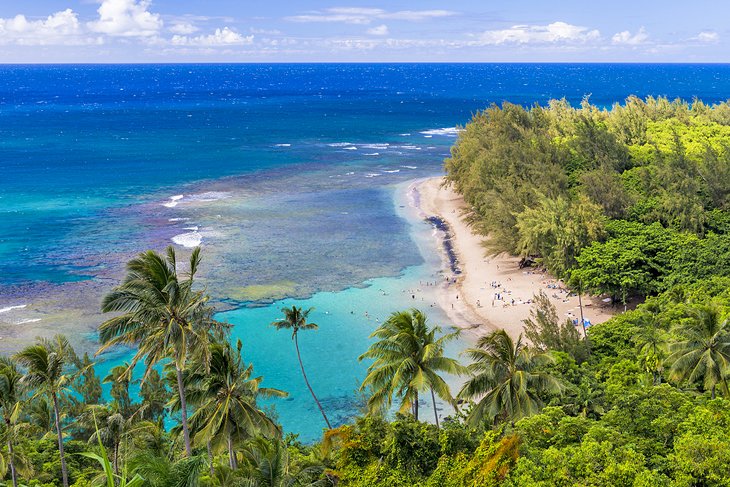 Lifeguards are on duty at Ke'e Beach, and there are restroom and shower facilities on site. The beach is part of Ha'ena State Park, and entry requires reservations due to the park's extreme popularity; visitors arriving by car should note that the parking lot will fill up early during the summer months.
Address: Hā'ena State Park, 6CC9+8R Wainiha, Kapaʻa, Hawaii
7. Kalapaki Beach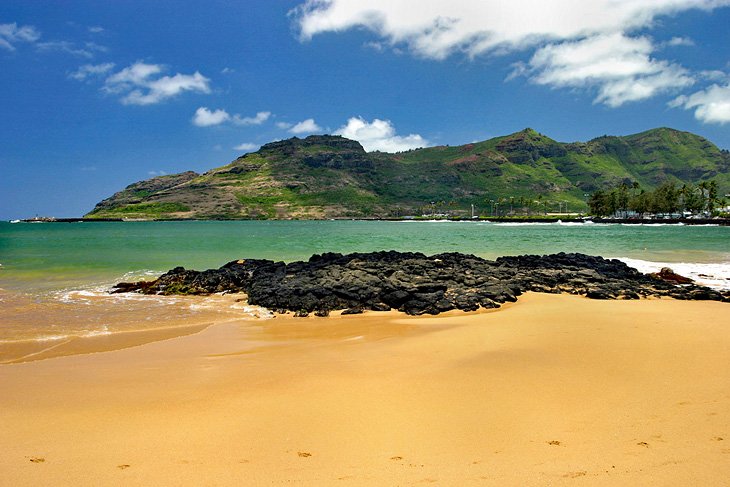 This beach is a favorite with families thanks to the calm, protected waters of Kalapaki Bay and the plethora of nearby shops, restaurants, and facilities. Kalapaki Beach is located on the shore in front of the Marriott's Kaua'i Beach Club in Lihue on Kauai's eastern shore; however, anyone can use the beach as long as they can find parking.
Younger kids love watching the cruise ships passing on their way to port in Nawiliwili Bay, and teens will find plenty to do here as well with near-constant games of beach volleyball. This is also a great beach to learn paddleboarding, surfing, and other water sports, and there are lessons and rental shops nearby that can equip anyone, from novice to expert.
Address: 3610 Rice Street Kalapaki Beach, Lihue, Kauai, Hawaii
8. Anini Beach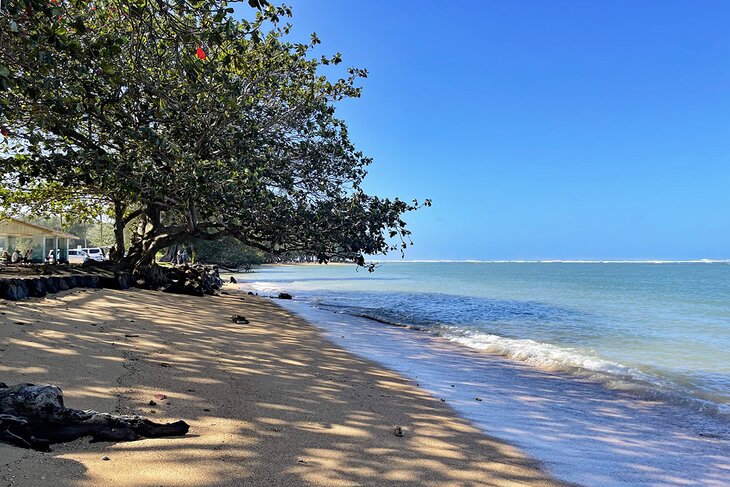 Some of northern Kauai's calmest waters can be found at Anini Beach thanks to a long reef that stretches for over two miles along the shore. Located near the Princeville resort area, Anini Beach can often be much less crowded than nearby beaches. Although there are no lifeguards on duty here, there are shower and restroom facilities, as well as picnic tables and a boat ramp. Campsites are also available.
This is a great beach for swimming and snorkeling, and more experienced divers often explore the Anini Reef. Windsurfing and paddleboarding are also popular water sports here, although visitors should take care not to venture past the reef where the currents become very strong.
Location: Anini Road, Kilauea, Hawaii
9. Lydgate Beach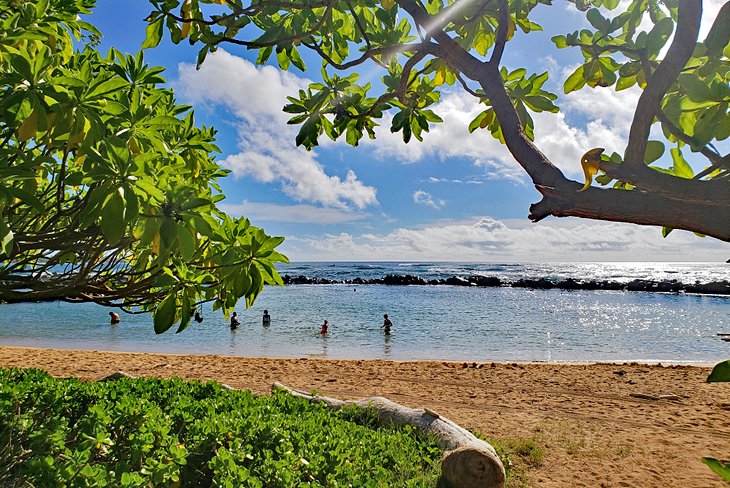 Located in Lydgate State Park in the middle of Kauai's eastern shore, Lydgate Beach is an excellent choice for families with young children. Two "ponds" have been created by enclosing the areas with rocks, making the waters here calm enough for kids to swim safely. The beach is also staffed with lifeguards
This is a great spot for beginners to learn a variety of water sports, including snorkeling, thanks to the variety of small fish that wriggle between the rocks to enjoy the safety of the man-made lagoons. There is also a nice playground on-site, as well as a seaside hiking trail.
Nearby attractions include the Kamokila Hawaiian Village, Opaeka'a Falls, and Fern Grotto.
Location: Leho Drive, Lihue, Hawaii
10. Shipwreck Beach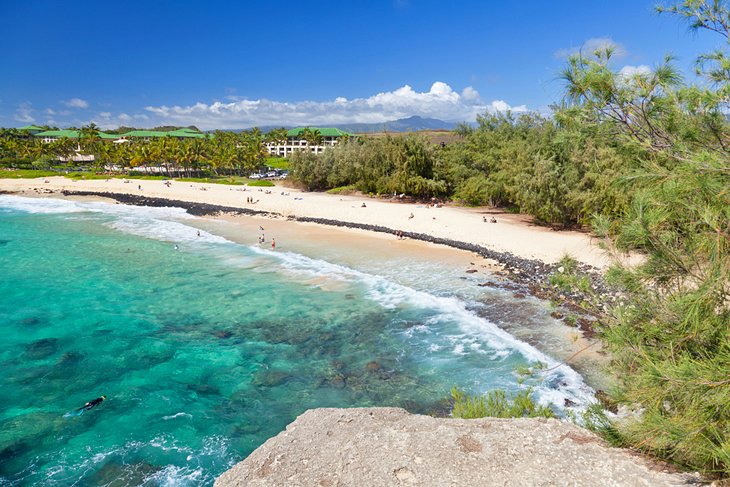 Located on the southern shore near Poipu, Shipwreck Beach has high waves and is best suited to experienced surfers and sunbathing. Because it's not ideal for swimming, this beach is never crowded, so couples often pick Shipwreck Beach over the nearby beaches in Poipu for a romantic outing. There are facilities here, including showers and restrooms; however, there is no lifeguard on duty.
Those who are up for a hike can access the Maha'ulepu Heritage Trail from the beach, exploring the Makawehi Bluff to the east and the more secluded of the Maha'ulepu Beaches to the west. Hikers can also spot some of the island's endangered flora and fauna along this historic trail.
Address: Ainako Street, Poipu, Hawaii
11. Kealia Beach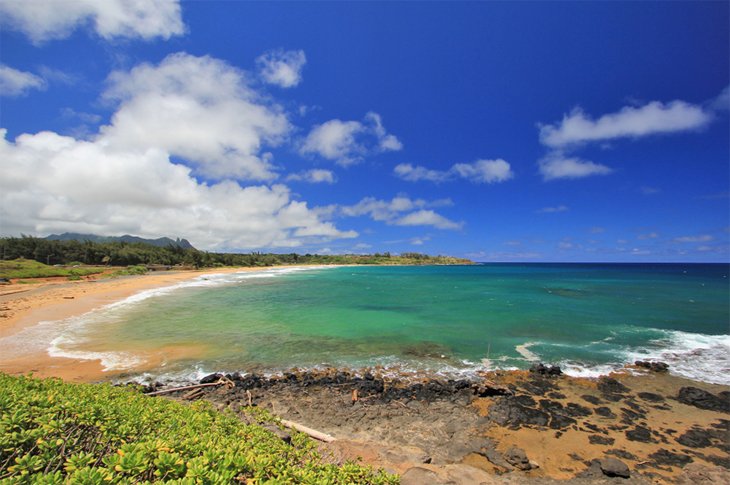 This east-shore beach is popular with experienced surfers due to its large waves and wind swells but is more often visited by tourists who want to enjoy the area's natural beauty. The Kapaa Coastal Path runs parallel to the beach, and during the winter migration months, this is one of the best places to get a view of the whales.
For those who want to take a dip, visitors will typically find the safest swimming at the northern end of Kealia Beach; however, it is best to check with the lifeguards on duty to be sure of current conditions. There are showers and restrooms available for public use.
Location: Kuhio Hwy (Route 56), Kapaʻa, Hawaii
12. Anahola Beach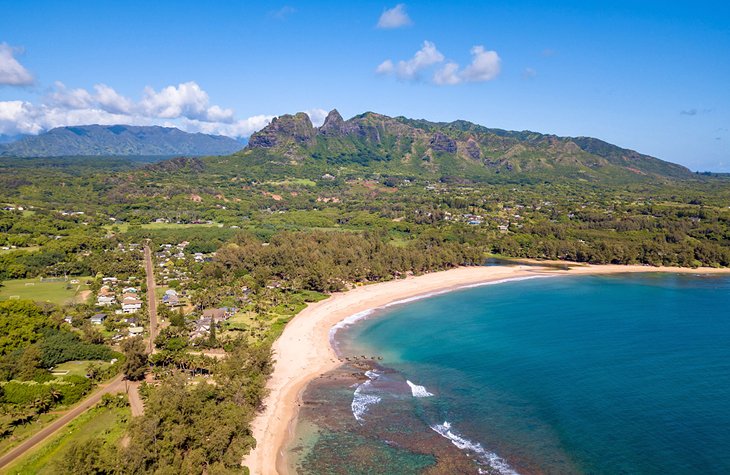 Anahola Beach Park is just as popular with local families as it is with tourists, and that's an endorsement that is hard to beat. Located in northeastern Kauai at the edge of the small city of Anahola, this beach is great for both swimming and snorkeling thanks to the protective reef just offshore.
Park amenities include shaded picnic areas, restroom and shower facilities, and parking close to the shore. Lifeguards are on duty as well, and there are campsites available.
Location: Analoha Road, Anahola, Hawaii
13. Hanakapiai Beach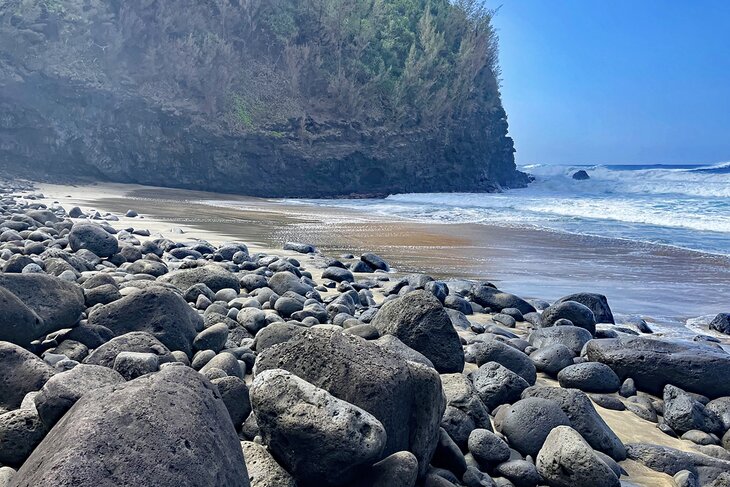 The Kalalau Trail is one of the most exciting and intense hikes you can do on the island of Kauai. But, you don't have to hike the entire 11-mile trail to experience its secrets. About two miles down the trail, you will hit Hanakapiai Beach, which is a beautiful spot for a nice rest before continuing your journey or heading back.
Hanakapiai Beach is a black-sand beach strewn with boulders and tucked amid the folds of the impressive, jungle-covered Na Pali coast mountains. A river flows down from the mountains out to the sea, creating freshwater rocky pools where hikers like to relax underneath baby waterfalls while taking in the views of the epic waves.
The water here can be very rough, especially in the winter, so swimming is not advised. Still, the adventure it requires to get to the beach makes it one of the most beautiful and most appreciated beaches on the island.
You will need to get a day pass in order to hike the Kalalau Trail, which is located in Haena State Park. Passes are released 30 days in advance and are snapped up quickly, so be sure to get your pass before you head to the trail. You can get a pass to self-drive into the park, or you can get a shuttle pass and be driven in from the Park & Ride parking lot.
Location: Kapaʻa, Hawaii
Read More: Best Black Sand Beaches in the World
14. Kahili Beach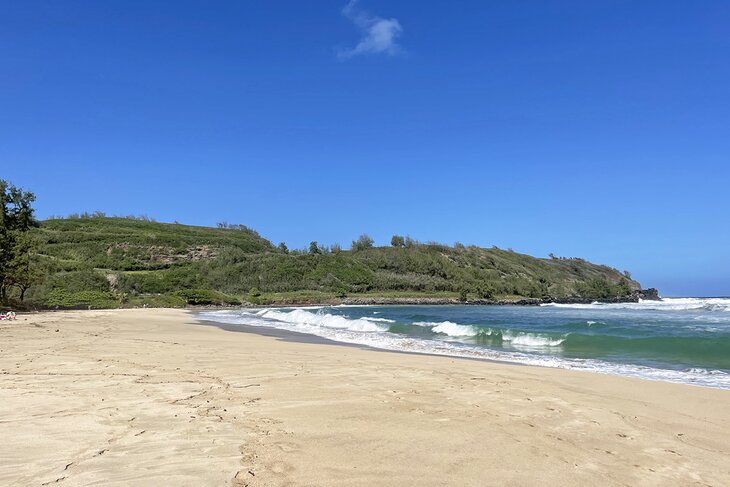 Kahili Beach, also known as Rock Quarry Beach, is one of those Kauai beaches that makes you feel like you've stumbled on a secret. A short dirt path through a lovely little forest leads out to the sweeping expanse of sand and crashing waves.
This wide beach is one of the island's most beautiful, but also the most bare-bones, as it has basically no facilities. But those who come to this beach aren't looking for amenities. They simply want to enjoy the rugged, unspoiled nature, which Kahili Beach delivers in spades.
If you want even more seclusion and privacy, you can do a short little hike on the right side of the beach to lead to another sliver of totally private sand.
Surfers love this beach, as do bodyboarders. No matter which part of the beach you choose, though, proceed with caution. Rip tides are strong here, as is the occasional shark sighting.
Location: Kahili Quarry Road, Kilauea, Hawaii
15. Moloa'a Beach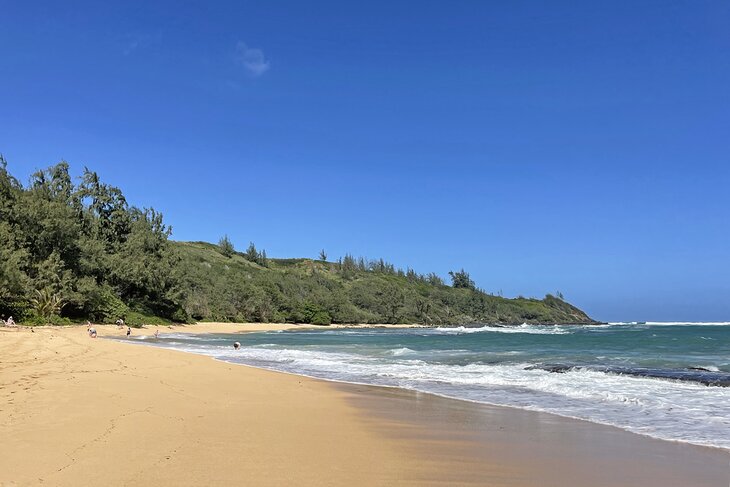 Down at the end of a quiet residential street is one of Kauai's best-kept beach secrets — Moloa'a Beach and Moloa'a Bay. If you grew up in the 1960s, this beach may look familiar to you. It was the filming location for the first season of Gilligan's Island.
It's easy to see why they chose this spot to be the uncharted desert isle — the beach is simply idyllic. This crescent-shaped beach faces a shimmering surface of turquoise, while green trees sway on shore. You'll find a small lagoon, too.
The snorkeling at Moloa'a Beach is great, particularly on the southwestern side of the beach. But it's important to not swim past the two points of the bay, as no lifeguard is on duty and the riptides can be strong here, particularly in the winter.
You'll find most visitors to Moloa'a Beach sprawled out on blankets with books, or perched underneath the shady trees. Parking is limited at this beach, but most people park along the street and walk in. Again, you won't find any services at this beach so bring everything you need with you.
Location: End of Moloa'a Road, Kilauea, Hawaii
16. Secret Beach (Kauapea Beach)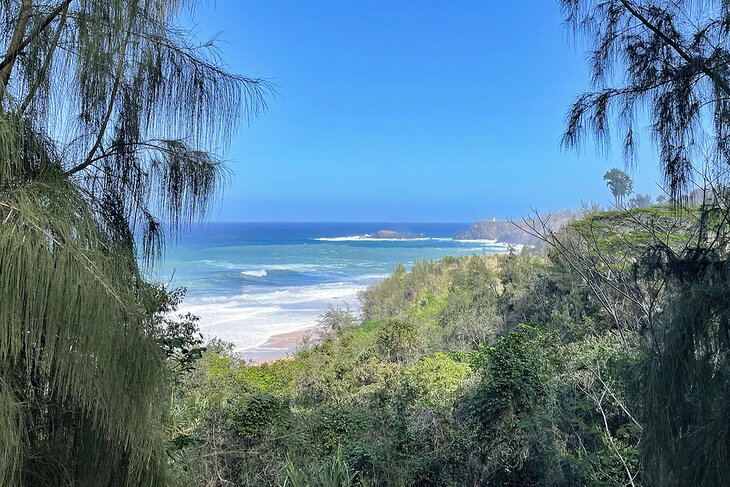 Though not as secret as its name suggests, Kauapea Beach is definitely less crowded than other Kauai beaches thanks to the steep hike it takes to get there. This 3,000-foot-long beach is only accessible via a very steep trail that leads down from the highway. But, once you're there, you may be lucky enough to have the entire place to yourself.
The beach is found between Kalihiwai Bay and Kilauea Point. You won't find an official parking lot, but most people park at the end of the road. The dirt path to the beach is just west of the private residence near the parking spot. The unmarked trail is a very steep drop down the mountain that opens up to a breathtaking stretch of gorgeous north shore beach.
While the waters at Secret Beach can often be too rough for swimming, you'll find tidal lagoons along the western end of the beach, which can be great for a quick, relaxing dip.
During the summer months, Secret Beach can be a great spot to see whales and dolphins. You can also see great views of Mokuauia Island and the Kilauea Lighthouse. As to be expected, this is a beach without facilities, either, so you'll want to come prepared.
Location: End of Secret Beach Road, Kilauea, Hawaii
Map of Beaches in Kauai, HI
More Related Articles on PlanetWare.com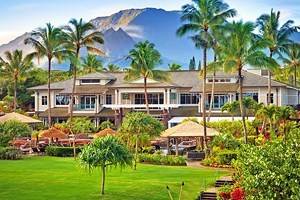 Where to Stay on Kauai: Whether you are looking for a luxury resorts, a romantic bed and breakfast, or a nice hotel near the airport before you depart, we can help. It's a good idea to first consider what things you want to see and do on Kauai, and then base yourself nearby.