14 Best Hikes in Kauai
Author Meagan Drillinger visited Kauai in January 2023 as part of a month-long exploration of Hawaii.
Kauai, Hawaii's westernmost island, is an absolute paradise for hikers. Home to more than 250 mountain peaks, and one supremely impressive canyon, Kauai is the Hawaiian island to visit if you love to hit the trails.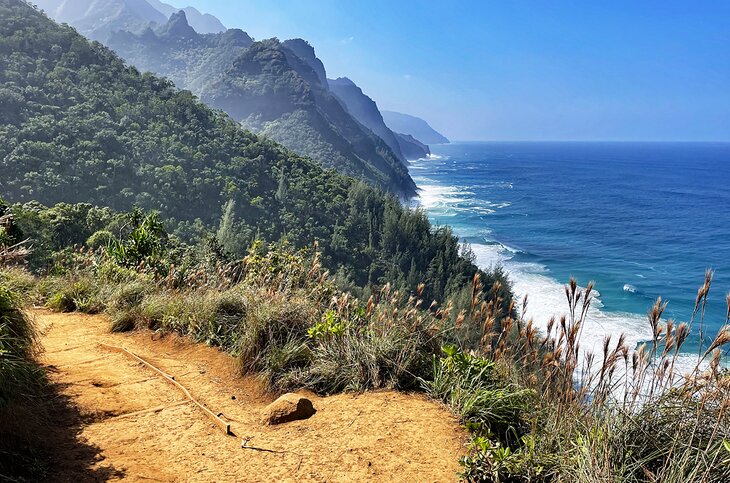 From the dusty desert-like trails within Waimea Canyon to the lush, jungle-carpeted peaks of the Na Pali Coast, Kauai has trails that suit all levels of hikers. You can easily embark on a multi-day trek as you can take a gentle stroll along a canyon rim with epic views in every direction.
Hikers of all levels love Kauai for its landscape and trail diversity, friendly hiker community, and many lovely landscape secrets that can only be discovered by venturing off into the unknown. Discover beaches, waterfalls, mountain streams, and more when you lace up those boots and head off into the wilds of Kauai.
Here are the best hiking trails to discover on Kauai.
1. Kalalau Trail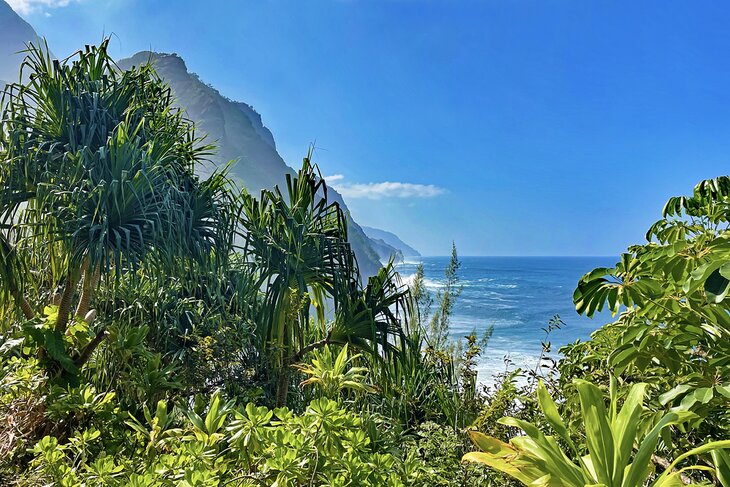 To come to Kauai and skip the Kalalau Trail is to miss out on the soul of the island. Kauai's Kalalau Trail is perhaps the most famous hike on the entire island, and one of the most challenging and beautiful, to boot.
The 22-mile out-and-back Kalalau Trail starts at Ke'e Beach within Haena State Park along the north shore. It runs for 11 miles along the majestic Na Pali Coast, with jungle-shrouded rocky trails and dirt-pounded switchbacks overlooking the Pacific Ocean.
What's great about the Kalalau Trail is that it can be as moderate or challenging as you choose. The first two miles are relatively moderate, as it climbs along the mountain slopes before descending to the gorgeous, rocky Hanakapiai Beach.
From here, many hikers choose to turn around, or they opt to keep going for more splendid treasures. Farther on is the gorgeous Hanakapiai Waterfall, and farther still is yet another waterfall and the stunning Kalalau Beach at the end of the trail.
Round trip, the entire experience is 22 miles with an elevation gain of nearly 6,200 feet. It takes an average of 13 hours to complete, though many do it with more time, as they camp along the way. Note: If you plan to hike beyond the Hanakapiai Valley, you will need a valid overnight camping permit, even if you do not plan to camp overnight.
While the journey may be challenging, it is completely worth it, as this is one of the only ways to access the rugged, remote, and resplendent Na Pali Coast.
2. Maha'ulepu Heritage Trail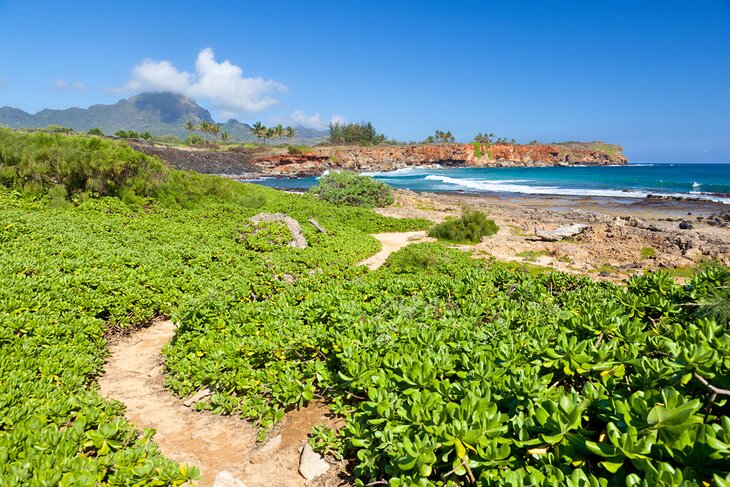 On the completely opposite side of the island, closer to the resort town of Poipu, is a completely different trail, but one with beauty all its own. The Mahaulepu Heritage Trail is a lovely coastal hike along the south shore that runs from Shipwreck Beach to Punahoa Point.
The out-and-back trail is 3.7 miles with an elevation gain of 318 feet, which means that it is rated moderate and can be done by most people in less than two hours. This is the perfect trail on which to get to know Kauai's southern shores, which are decidedly different from those in the north.
Along the way, marvel at the jaw-dropping sea cliffs that are carved with secluded coves. You'll also be able to scramble over lava formations, glimpse ancient petroglyphs, and peek over undulating sand dunes.
This is a great trail for spotting whales in the winter season, as well.
3. Sleeping Giant Trail (East)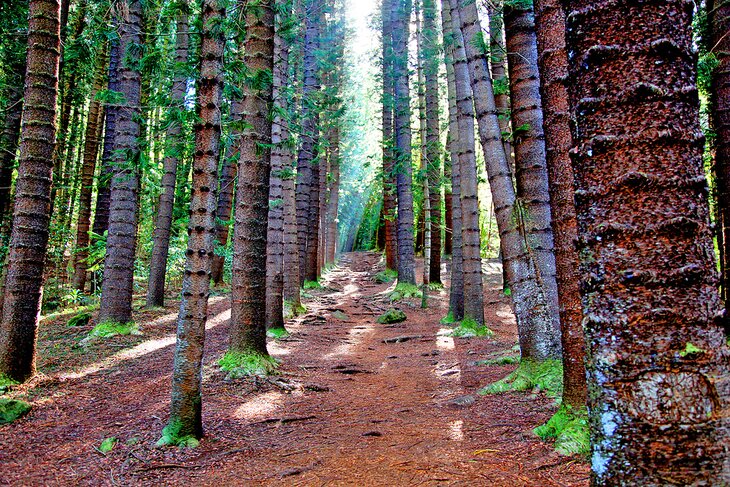 Second only to the Kalalau Trail is the island-famous Sleeping Giant Hike. This moderate-to-hard hike is one of the most popular on the island and shows off one of its greatest assets — Nounou Mountain.
The mountain is said to resemble a massive giant sleeping on its back, hence the name "Sleeping Giant." According to legend, the giant feasted during a celebration, lay down for a nap, and never got back up. Today people from all over the world come to hike the trails that crisscross his stony body.
The hike is 3.4 miles in length, out and back, with an elevation gain of 961 feet. It is considered to be challenging, but the average person can complete it in roughly two hours.
What's cool about this hike is that it will take you into some landscapes that may be surprising for Hawaii, namely pine forests that you'll encounter after some intense switchbacks that lead up the mountain.
Proper footwear is a must for this trail, as you'll encounter some portions that require rock scrambling along a narrow ridge. When you reach the trail's end, you'll be rewarded with sweeping views that run from the ocean all the way to the Wailua River.
4. Waimea Canyon Trail/Waipo'o Falls Trail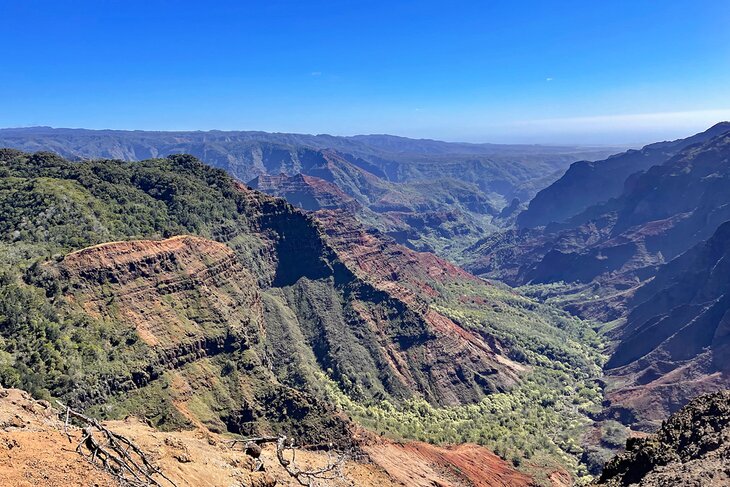 Waimea Canyon is nothing short of sublime. The deep gorge is roughly 3,600 feet and 10 miles long. Its sheer size and rusty red coloring have earned it the nickname, the Grand Canyon of the Pacific. Hiking is, of course, one of the best things to do in Waimea Canyon.
If you're going to hike within the state park, you'll want to start with the Waimea Canyon Trail, also known as the Canyon Trail to Waipo'o Falls. This trail will load you up with some of the most epic views of Waimea Canyon. Truthfully, the best views of the waterfall are from the road, as the hike will take you to the top of them, but the trail is certainly a dream come true for those who want to admire the canyon.
In its entirety, the hike is three miles, out and back, with an elevation gain of 1,066 feet. It takes most hikers an average of two hours to complete, and the best times to visit are between October and February.
5. Kuilau Ridge Trail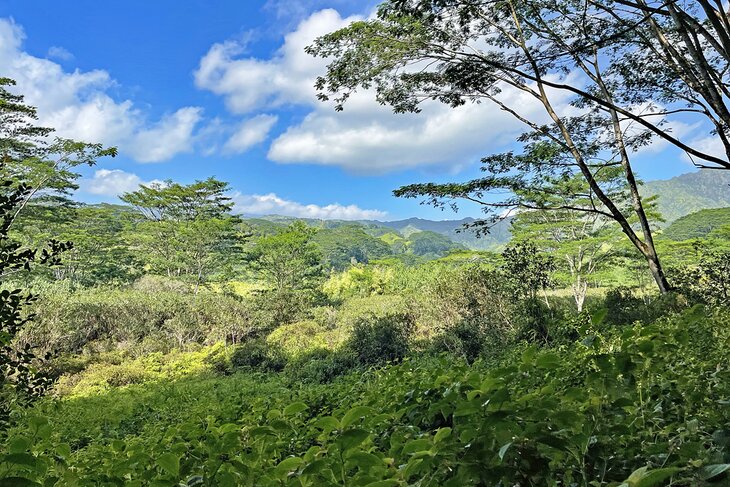 Short and sweet, this two-hour hiking trail is a perfect little Kauai adventure rolled up into one great hike. The reason why it's a short trail is that you have to drive up to a higher elevation to meet the trailhead, which means you're in for some great views from the start.
The entire trail is 3.6 miles with an elevation gain of less than 700 feet. It takes most hikers less than two hours to complete, and you may even pass some horseback riders or mountain bikers as you go.
Brace yourself for some seriously tropical foliage. The trees, ferns, vines, and plants are something out of an adventure novel. It's a great hike to give you a perfect sense of place on Kauai. Plus, you'll be rewarded with wonderful views of the surrounding mountains and the lush, deeply verdant valley below.
6. Ho'opi'i Falls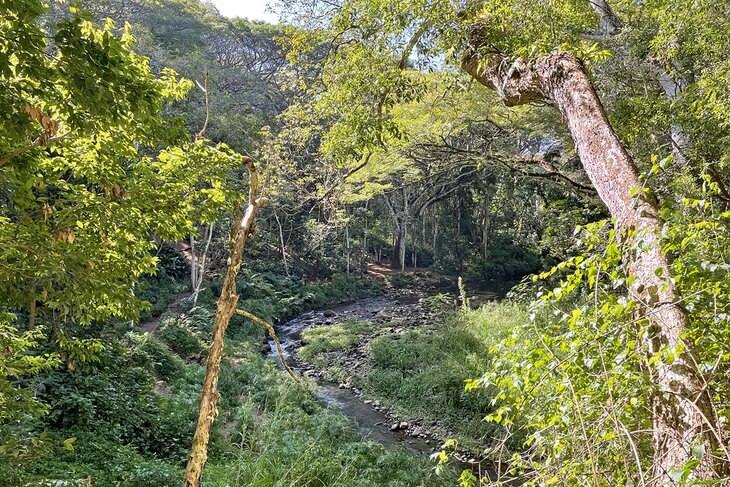 What's great about the Ho'opi'i Falls Hike is that it combines a few activities in one. Not only is it a beautiful forest hike, but it leads to two waterfalls and swimming opportunities.
The trailhead can be a little tricky to find as it is off a residential road. The trailhead marker on Google Maps is a bit off. The actual trailhead is about 100 meters from the indication on Google Maps. You'll notice a break in the trees and, likely, a string of parked cars.
Once you break through the forest, you're off on a dirt path (which can be muddy after it rains) surrounded by towering trees and lush ferns. Once you've hit the stream, head to the right to follow it, and eventually, you'll be led to the upper falls.
This is a really fun spot to swim and you may even notice some people jumping from the cliffs into the pool below. Be sure to check with a local before you jump — some parts of the pool have boulders that you can't see below the surface.
If you continue walking, you'll hit the main falls, which you may recognize from the Amber Mine scene from Jurassic Park. In reality, the falls are much more beautiful than they were in the movie. You can also swim here.
In total, the hike is just shy of 2.5 miles with an elevation gain of less than 200 feet.
7. Awaawapuhi Trail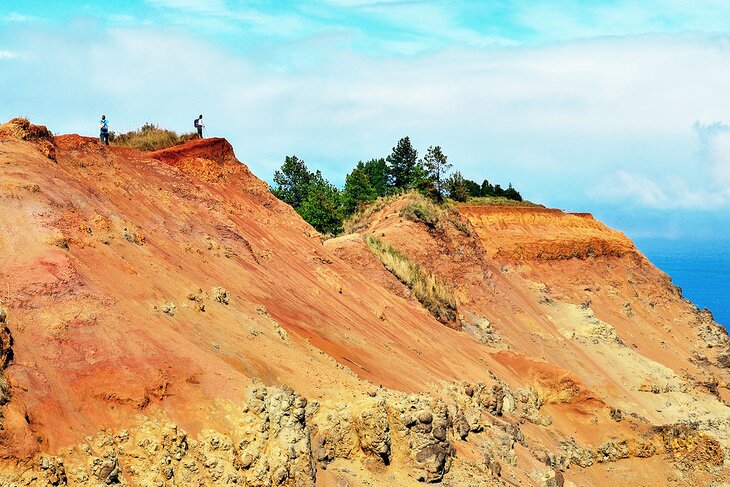 Kauai experts will tell you that this is one of their favorite hikes on the island. One of the best hikes in the Koke'e State Park, Awaawapuhi Trail is known for its epic views of the Na Pali Coast.
The six-mile out-and-back trail is considered to be moderately challenging with an elevation gain of nearly 2,000 feet. Still, most people can complete the hike in under four hours.
Along the way, you'll pass through the Na Pali-Kona Forest Reserve and will descend to the valley rim of Nualolo. The majority of the trail is defined, so you will not have a problem following it. Keep in mind, though, that the end viewpoint is pretty steep and should be approached with caution. Brace yourself for one stunning view.
8. Wai Koa Loop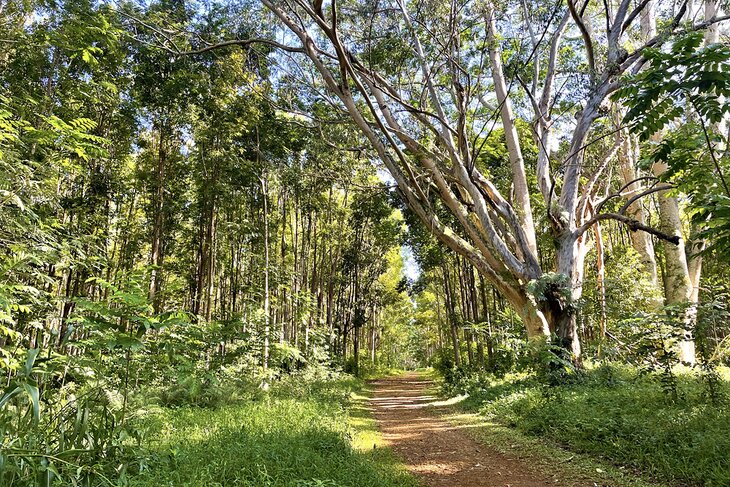 Not every hike on Kauai has to be a glute burner. The Wai Koa Loop Trail is the perfect antidote to days of extreme hiking.
This gentle 3.7-mile out-and-back trail is mostly flat and takes you deep into the forest, ending at a lovely waterfall.
With an elevation gain of 813 feet, the trail takes about two hours to complete. You'll likely pass other hikers, runners, and mountain bikers. It's also a great spot for dog walking, and the trailhead just happens to be at a local dog park.
Walking the path is like disappearing off the grid into stunning forests and gardens. Though the trail itself may not get your heart rate up, you will certainly be feeling a flutter of emotions with just how magical the scenery is.
9. Pihea Trail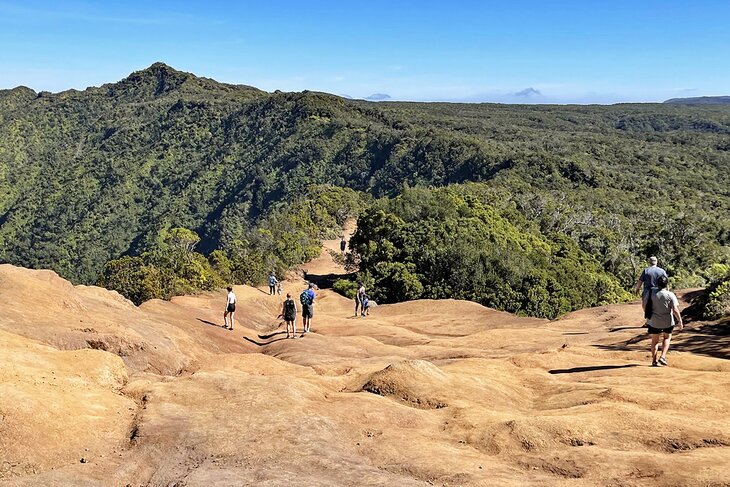 The Pihea Trail starts out with quite a bang. Brace yourself for some of the most spectacular views of the Na Pali Coastline, right from the trailhead. If you only make it this far, consider it a day well-spent, but you'll likely want to keep going.
Located in the Koke'e State Park, the trail begins at one of the scenic overlooks that gaze out over the fjord-like folds of the Na Pali coastal mountains. The 2.3-mile out-and-back trail follows a dirt path over boulders and tree routes, with sea views on one side and valley views on the other.
Considered to be moderately challenging, the hike takes just over an hour to complete. Keep in mind that the trail can get really muddy after the rain, but you'll be paying less attention to the mud on your legs than you will to the spectacular views all around you.
10. Iliau Nature Loop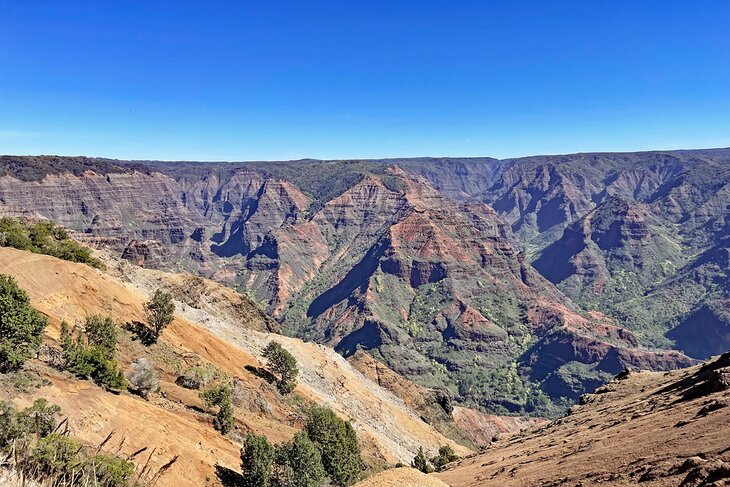 If you want some of the best views of Waimea Canyon without a ton of leg work, the Iliau Nature Loop is the perfect trail for you. This roadside loop is less than half a mile and has some of the most spectacular views out over the rust-colored canyon.
It's a popular trail, so you may have to compete for a parking spot on the road, but it's a beautiful walk in nature with some great opportunities for bird-watching. The trail can be completed in less than 20 minutes and it's a great excuse to stretch your legs after a long drive.
11. Okolehao Trail
From the vibrantly green depths of the Hanalei Valley springs this intense uphill hike that leads to an impressive and beautiful view. The trailhead for the Okolehao Trail starts amid the taro fields, which vibrate with such an intense green.
The trail runs for 2.6 miles out-and-back and starts immediately with a steep climb up a ridge. It's quite the quad workout, but when you do reach the top — about a half-mile in — you'll have breathtaking views out over Hanalei Bay.
You may decide to call it quits here, which would be more than fine because it really is a steep climb. But many opt to keep going, as the trail flattens out along the ridge. A second lookout point has additional views of the bay, as well as the taro fields down below.
From here, you can go even farther, but this is where it gets really challenging. Rope assists will take you up to Hihimanu Ridge. This is not an easy section of the trail and, in many cases, can be considered dangerous so proceed with experience and caution.
12. Secret Beach Trail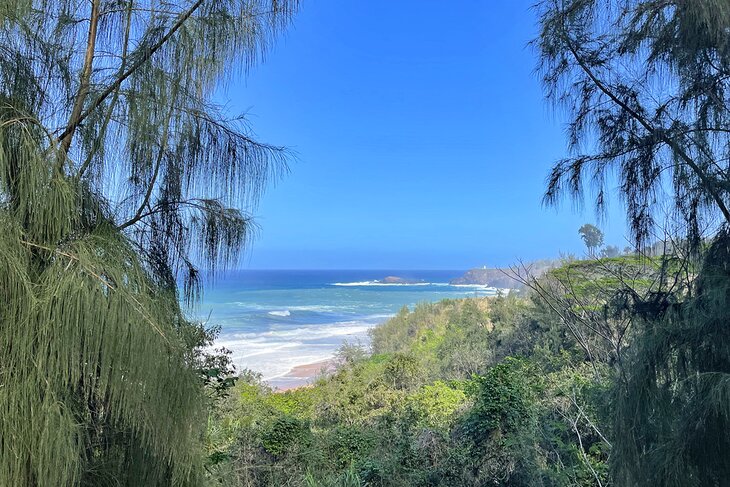 Kauai is an embarrassment of riches when it comes to beaches, especially beaches that can only be reached at the ends of trails. Kauapea Beach, aka Secret Beach, is one of those beaches and the hike in is what helps to make it even more special.
The Secret Beach trail is short (roughly a mile) but intense, as it descends abruptly down a hill. You'll have to hop a stream, which can be a challenge depending on whether or not it has rained. Also, if there is any surf warning, be aware that the beach may not be safe. Waves in Kauai are notorious for coming out of nowhere.
13. Wyllie Beach Trail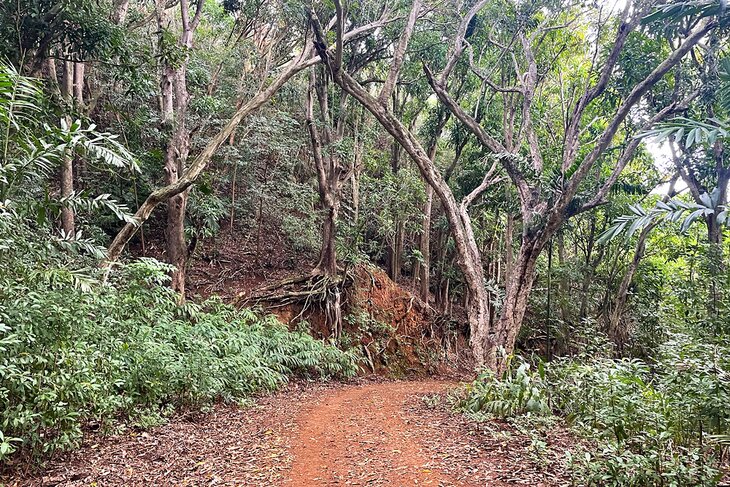 If you're staying in Princeville, this is a trail you can access that leads to another secret little beach. Again, the trail is incredibly steep all the way down, which makes for quite the leg-burner on the way back up. The entire trial is a mile out-and-back and has an elevation gain of 265 feet.
Down the hill, you'll wind up on the shores of Wyllie Beach, which is beautiful to look at but please do use caution. Currents at this beach, like many in Kauai, are particularly strong, and you'll want to stay close to shore.
14. Honopu Ridge Trail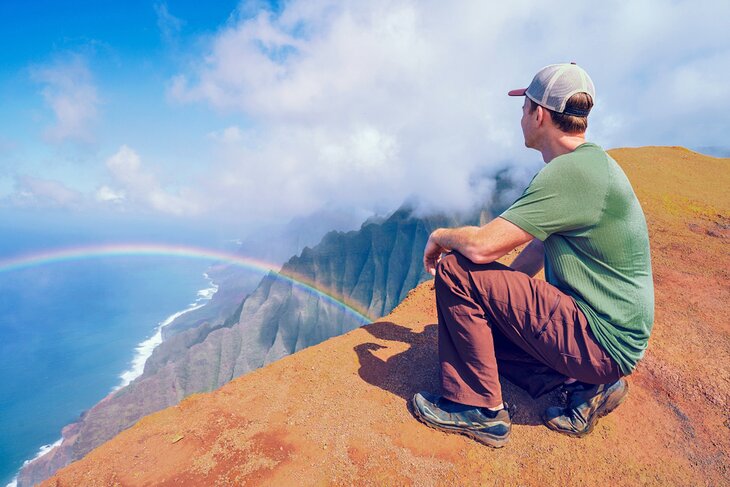 Back in Waimea Canyon, the Honopu Ridge Trail is a 4.4-mile out-and-back hike with more stunning views out over the Na Pali coast. It's considered a difficult route with nearly 1,600 feet of elevation gain and takes about three hours to complete.
Experts recommend wearing pants on this hike, as the trail isn't as maintained as others, and you run the risk of getting scraped up by branches. Still, those who know the trail love it and say the views are worth the potential wear and tear.
Map of Hikes in Kauai