12 Top-Rated Things to Do on Molokai, Hawaii
As the second smallest inhabited island in the state, Molokai is only 38 miles long and 10 miles wide, and its top attraction is the lack of commercial tourist attractions found on other Hawaiian islands. The "Friendly Isle" boasts the world's highest sea cliffs (towering 3,600 to 3,900 feet), the longest continuing fringing coral reef in the U.S., and a high percentage of native Hawaiians.
On this rugged island eight miles from Maui, nature is boundless and adventure is unlimited. You won't find any shopping malls, traffic lights, or high-rises – just a peaceful island with two small towns full of genuinely welcoming people and plenty of room to explore. Visiting Molokai is akin to stepping back in time to a slower pace, where you can have an authentic Hawaiian experience that combines culture, adventure, and respect for nature.
Go on a cultural hike through the spectacular Halawa Valley, visit one of the largest white-sand beaches in Hawaii at Papohaku Beach, admire the stone and coral fishponds used for aquaculture 700 to 800 years ago, and learn to sew leis at the largest plumeria farm in the state.
Kalaupapa Peninsula, which was once used to imprison individuals with Hansen's disease (leprosy), is now a refuge for the few cured residents who decided to stay. On your visit, stay close to the only town of Kaunakakai, where a string of souvenir shops and tour operators span a few blocks. Rent a car to explore the island's many natural and cultural wonders. For more ideas on places to visit, see our list of the top things to do on Molokai.
1. Halawa Valley Cultural Hike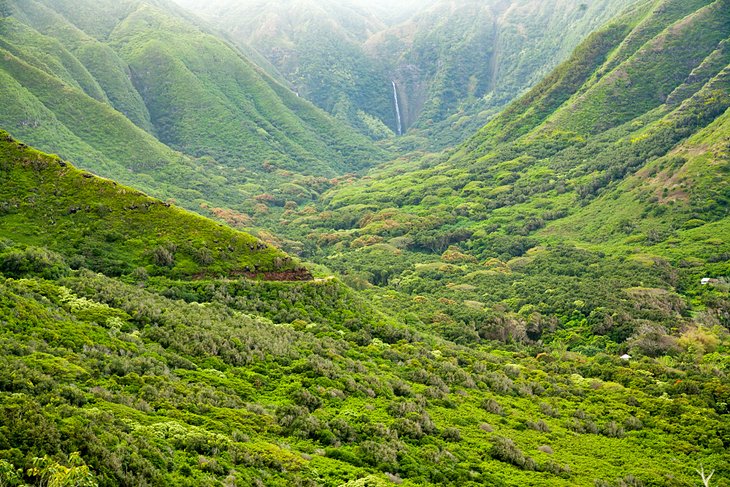 The east end of the island, known as Halawa Valley, is believed to be the oldest Hawaiian settlement. The people here live off the land, and respect their natural surroundings. After a tsunami in 1946 destroyed the small village in the hills, nature has since reclaimed the land, draping the mountains in thick rainforests. Waterfalls cascade down lush mountainsides to hidden valleys, tropical plants adorn the paths, driftwood piles are scattered throughout the beach.
Only a handful of families call this valley home now, and one of them is the Solatorio family. The father and son duo, Philip and Greg Solatorio, run guided cultural hikes in the valley, sharing their way of life and educating visitors about Hawaiian culture. Sightseeing tours last four to five hours and will take you to the magical Mo'oula Falls, where you can swim in the refreshing pool underneath. The tour ends with the making of origami with palm leaves, a lovely souvenir of your time on Molokai.
Official site: http://halawavalleymolokai.com/
2. Visit Papohaku Beach Park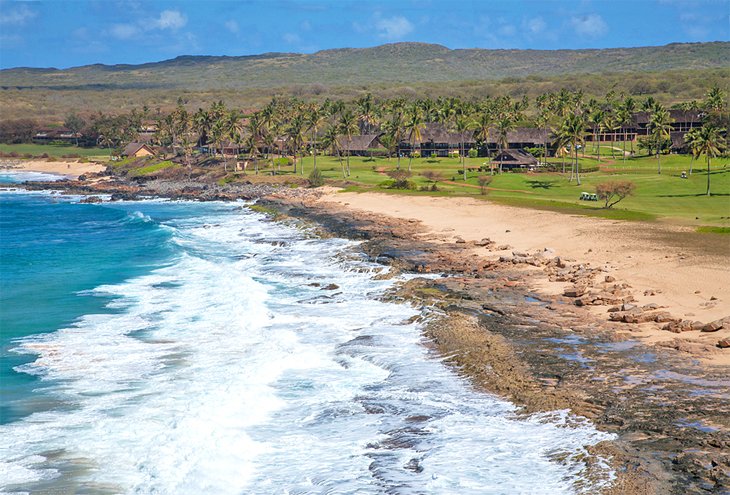 Molokai itself doesn't see many tourists, and when you visit Papohaku beach, you might not see another soul for miles on the inviting white sands. As one of the largest beaches in the state, Papohaku stretches three miles long and 100 yards wide on the western end of the island, with low dunes gently rolling down from coastal strand vegetation. You will find plenty of space to sunbathe, go for a swim or a long run, or simply enjoy the solitude. In the distance, you get a beautiful view of Oahu, and the twinkling lights of Honolulu at night.
The best time to visit is in the evening, as the beach faces west for an enchanting sunset. There is access to freshwater showers, bathrooms, and changing facilities at Papohaku Beach Park. The park also has picnic tables, barbecues, and two campsites.
Address: West End Mile 14.9 Kaluakoi Road, Maunaloa, Hawaii
3. Kalaupapa National Historical Park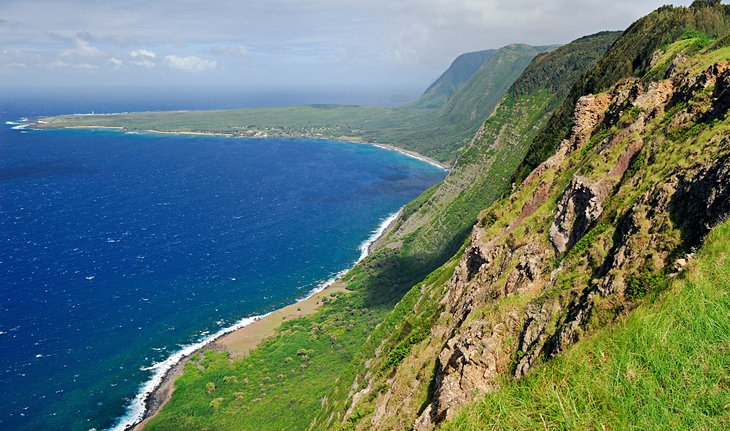 Sitting at the base of some of the largest sea cliffs in the world, Kalaupapa is picture-perfect. But from 1866 to 1969, it was the location that quarantined patients with Hansen's disease (leprosy). At this world-famous peninsula that is now Kalaupapa National Historical Park, Belgian missionary Father Damien served patients with compassion and brought awareness about the disease to the rest of the world. Father Damien contracted the disease and died of pneumonia in 1889. Leprosy is no longer contagious, and though many of the Kalaupapa residents have left, only 11 residents remain in a small settlement.
Visitors can get a sense of the isolation the former residents experienced and learn about the history of the site, located on the northern tip of Molokai. Historic churches, cemeteries, and homes can still be seen, and only a limited number of people are allowed daily out of respect for the residents. The 4.3-mile Pali trail (round trip), which drops 1,700 vertical feet, with 26 switchbacks, is a challenging but rewarding hike, but visitors should check local access permit requirements before planning a hike here.
If visiting the peninsula is not on the agenda, enjoy panoramic views of the Pacific and the soaring sea cliffs from the top of Palaau State Park, and the neighboring Molokai Museum has exhibits on the saints who took up the worthy cause at Kalaupapa. The state park also offers winding trails through a forest of eucalyptus and ironwood trees.
Official site: https://www.nps.gov/kala/index.htm
4. Kamakou Preserve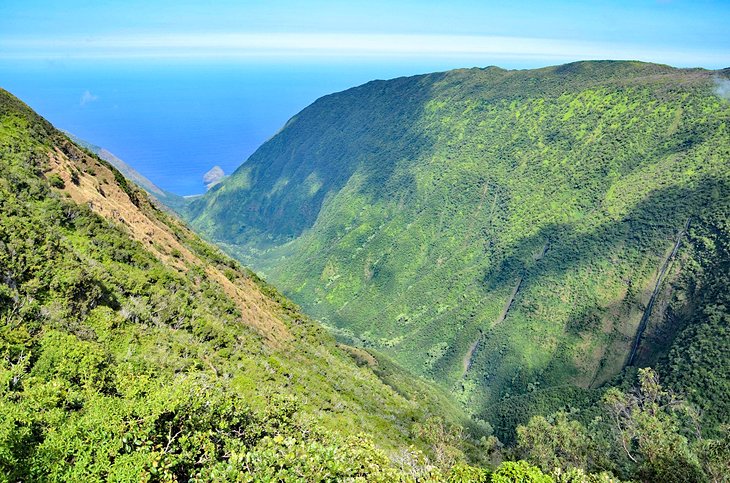 Walking along the narrow three-mile boardwalk at Kamakou is like taking a time machine to a primordial earth, where a moss-covered rainforest provides host to a variety of native plants and wildlife. The 2,774-acre unspoiled preserve is located on the slopes of Kamakou, Molokai's highest mountain. Take in the sweet songs of native song birds, such as the endangered oloma'o (Molokai thrush) and kakawahie (Molokai creeper), and spot colorful banded tree snails on hikes.
Make sure to wear long pants and covered shoes with traction. A 4WD vehicle is required to get to the preserve; if you plan on using a rental car, be sure they allow off-road use. End your journey in this natural treasure at the overlook at Pelekunu Valley, with deep chasms and majestic sea cliffs plunging into the sea.
5. Explore Soaring Sea Cliffs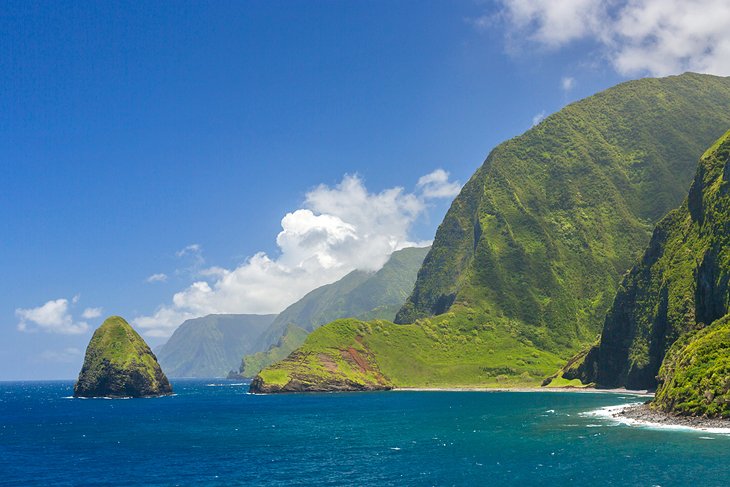 You may have seen the dramatic sea cliffs of Molokai on desktop wallpapers and Instagram feeds, but nothing compares to the thrill of witnessing them in person, to experience the beauty Mother Nature has created, and to smell the sea air on your face as you stand on the deck of a boat, or watch through your camera lens from a helicopter. The sea cliffs of Molokai are some of the highest in the world, reaching heights of up to 3,900 feet from sea level.
Visitors can take a 60-minute West Maui and Molokai 60-minute Helicopter Tour for a bird's-eye view of the awe-inspiring coastline, or those who prefer planes can take a one-hour private flight over Molokai's sea cliffs. Up to three passengers can participate, and guests have the option of taking a turn flying the plane. In the winter months, you may even spot humpback whales cruising along the coast on their annual migration.
6. Post-A-Nut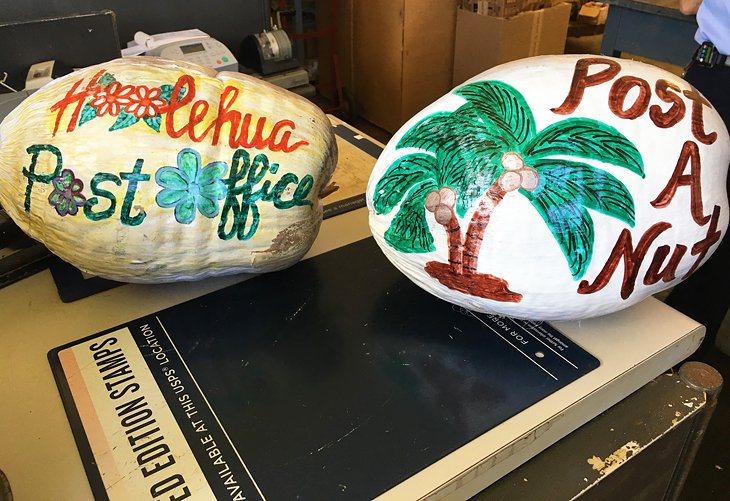 There's no shortage of coconuts on the island, and for a fun, quirky experience, head to the local post office to say Aloha to loved ones with a decorated coconut through Molokai's Post-a-Nut Program. At the U.S. Post Office located in Ho'olehua, you'll find a dozen or so coconuts lying around, along with some markers. Decorate the coconut as you like, and the post office will mail it to anywhere in the world for $12 to $20. This unique program was created in 1991, and an estimated 3,000 coconuts are mailed yearly.
Address: 2 Puupeelua Ave, Ho'olehua, Hawaii
7. Kanemitsu Bakery Hot Bread
No visit to Molokai is complete without tasting the famous melt-in-your-mouth "hot bread" from Kanemitsu Bakery. In operation for over 80 years, the local bakery on Ala Malama Avenue in the center of Kaunakakai has been attracting visitors and locals alike with its hot bread – giant, gooey, split-open loaves of bread topped with your choice of jelly, butter, cinnamon, or strawberry cream cheese spread.
When the stars come out and around 9pm, the back alley of the bakery becomes popular. Known as "Hot Bread Lane," the dimly lit alley gets busy with residents and tourists wanting to taste or stock up on the irresistible warm bread straight out of the oven. The bread makes for a good dessert after a nice meal at one of the local restaurants, and you can even bring the leftovers home for breakfast. The bakery is open every day except Tuesday, and also serves fresh papaya bread, taro donuts, cinnamon rolls, along with other breakfast pastries, omelets, and coffee.
Address: 79 Ala Malama Ave, Kaunakakai, Hawaii
8. Kayak with Waakapaemua Canoe Club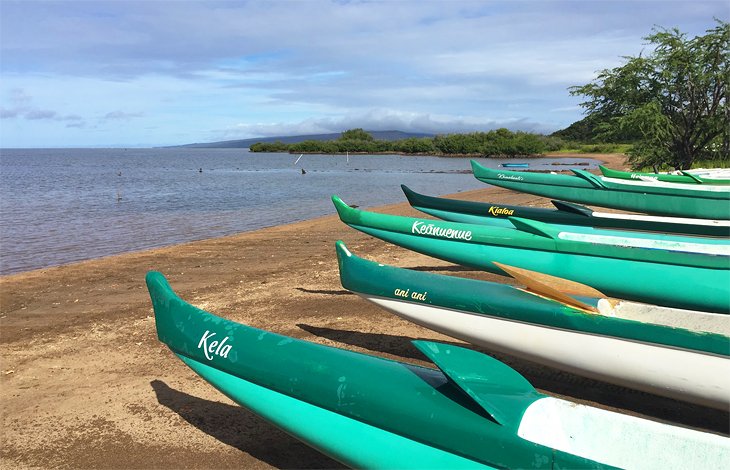 If you've indulged in some Molokai hot bread, you'll inevitably want to burn off those calories, and there's no better way to do so in Hawaii than by waking up early for a canoeing excursion. At the Waakapaemua Canoe Club, located at Kaunakakai Harbor, you are welcome to join the local team early in the mornings for a canoeing experience along the coast on a 40-foot outrigger canoe for a suggested donation of $25. Enjoy serene views of Maui and Molokai's sister island of Lanai, and stop to spot the bobbing heads of sea turtles. Beginner paddlers can use a canoe tied to another canoe for better balance.
9. Molokai Plumeria Farm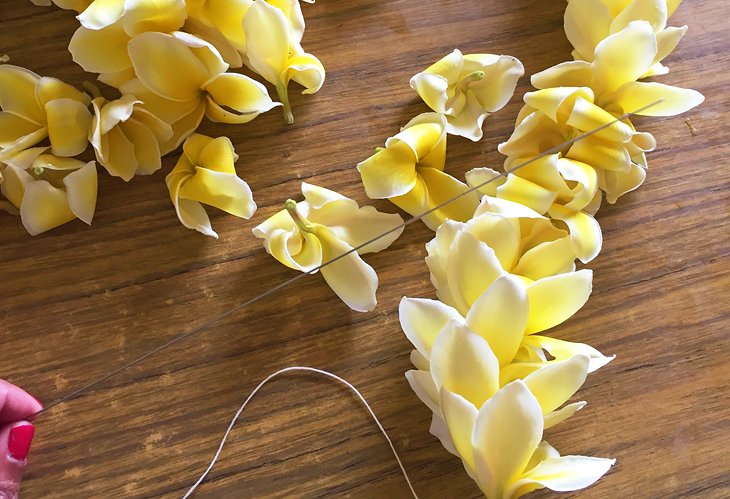 One can never get enough of the serene, sweet scent of plumerias, and the smell reaches you long before the sea of yellow and white blossoms comes into view at Molokai's Plumeria Farm. You'll find plenty of things to do here. Stroll the 10-acre farm, located a few miles from Kaunakakai, and pick your own flowers to make a lei afterwards. Take a guided workshop to sew your own lei, or buy one to take with you. The flowers last up to 45 hours, so you can reap the rewards of your activity long after you've left the farm.
Address: 1342 Mauna Loa Hwy, Kaunakakai, Hawaii
Official site: www.molokaiplumerias.com
10. Farmer's Market & Shopping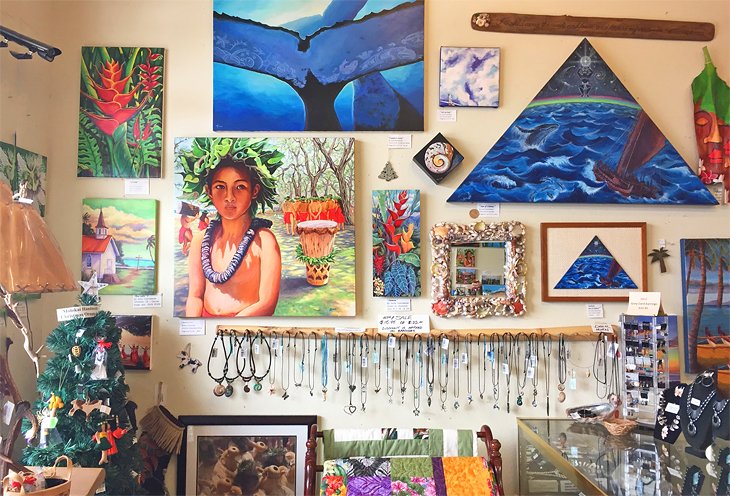 Every Saturday morning, from 7am to 1pm, in front of the two banks on Ala Malama Street, Kaunakakai comes alive with 35 vendors selling fresh produce; baked goods; and Hawaiian-made jewelry, paintings, and crafts. There are a handful of shops nearby, where you can pop in to do more shopping. Don't miss the Something for Everybody store featuring clothing, decor, and island-made souvenirs. Here, you could get a hat, dress, blouse, or T-shirt painted with a Hawaiian design of your choice.
A half-hour drive from Kaunakakai is the Big Wind Kite Factory in Maunaloa, where you can purchase colorful handmade kites along with imported goods and gift items.
11. Macadamia Nut Farm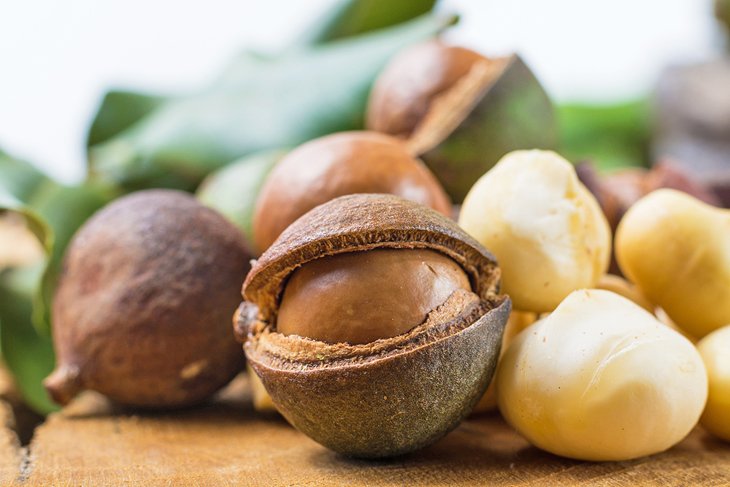 Owners of the Macadamia Nut Farm, Tuddie and Kammy Purdy, have been welcoming visitors to their five-acre, all natural, organic macadamia nut farm for more than 35 years. There are 50 macadamia nut trees on the property, and the owners harvest the nuts once they've fallen onto the ground and roast them in the oven right on the premises.
Learn how macadamia nuts are grown, harvested, and processed on a free guided tour (available Monday to Friday from 9:30am to 2pm, Saturdays from 10am to 2pm). Tour includes demonstrations and free samples of the unsalted raw or naturally roasted macadamia nuts. You can also purchase macadamia blossom honey.
Address: 4 Lihi Pali Ave, Ho'olehua, Hawaii
Official site: http://molokai-aloha.com/macnuts/
12. Take a Mule Ride Tour to Kalaupapa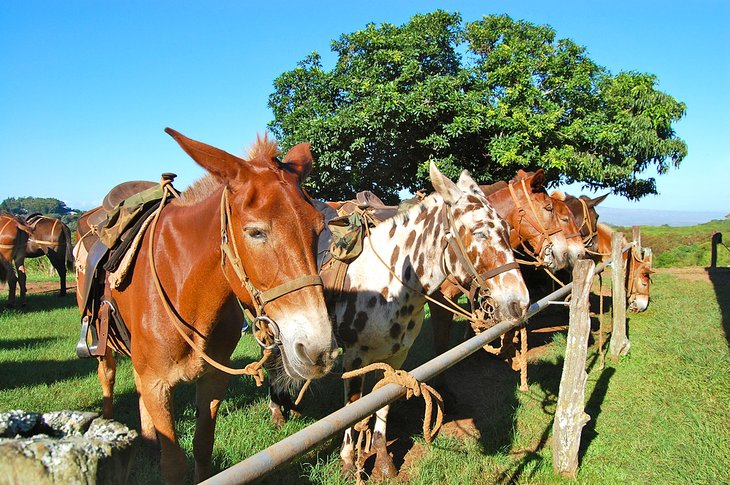 Some animals have a knack for traversing difficult terrain, and mules are experts at carrying passengers and goods up and down precarious switchbacks on near-vertical landscapes. Tourists can take a guided mule ride from Kualapuu, which descends 1,700 feet along the island's massive sea cliffs to the village of Kalaupapa.
The tour begins with introductions to the mules and basic instruction, then the knowledgeable guide leads the group to begin the 2.9-mile journey down. On the journey, riders will get unparalleled views of the landscape and ocean below while learning facts about the surroundings and stories of the area's history.
After visiting the former leper colony and several local historic sites, tourists enjoy a complimentary picnic lunch at Judd Park before returning to the ranch on muleback. There are also separate tours offered that visit Kaupoa Beach or the grounds of the Molokai Ranch.
Tourists who would prefer to keep their own feet on the ground can opt to hike alongside the rest of the party to the destination.
Map of Things to Do on Molokai, Hawaii
Molokai, HI - Climate Chart
Average minimum and maximum temperatures for Molokai, HI in °C
J
F
M
A
M
J
J
A
S
O
N
D

24

15

24

15

25

16

26

17

26

17

27

18

28

19

28

19

28

19

28

18

26

18

25

16

PlanetWare.com
Average monthly precipitation totals for Molokai, HI in mm.

75

61

31

22

17

17

11

11

18

30

50

74
More Related Articles on PlanetWare.com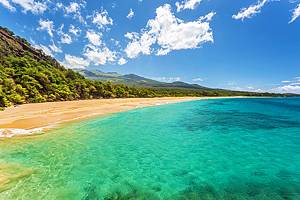 Maui: The Valley Isle is just a short flight away, and you'd want to extend your Molokai trip to explore Maui's top attractions and best beaches. There are plenty of resorts to fit all budgets, and our article on the Top-Rated Resorts on Maui offers a comprehensive guide to accommodation on Maui.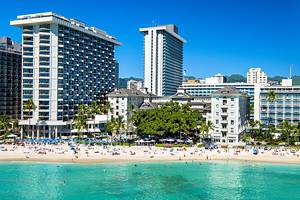 Honolulu: A quick plane ride away awaits Oahu's Honolulu, where you can easily spend a few days making your way through Honolulu's main attractions. Oahu boasts 112 miles of coastline and a wide variety of beaches. Choosing which beach to visit is easier with our guide to some of the best beaches of Oahu. Most of the accommodations on the island are centered around Waikiki, and you will find everything from budget hotels to five-star resorts; use our guide to the Top-Rated Resorts on Oahu to choose the best resort for your stay.