15 Best Beaches in Kona
Author Meagan Drillinger visited the beaches of Kona in January of 2023.
Hawaii's west coast is anchored by the city of Kailua-Kona, and the beaches that extend in either direction are part of the Kona Coast. Tourists come from all over the world to experience the beaches of Kona. It's easy to see why — Kona's beaches are among the most unique in the world.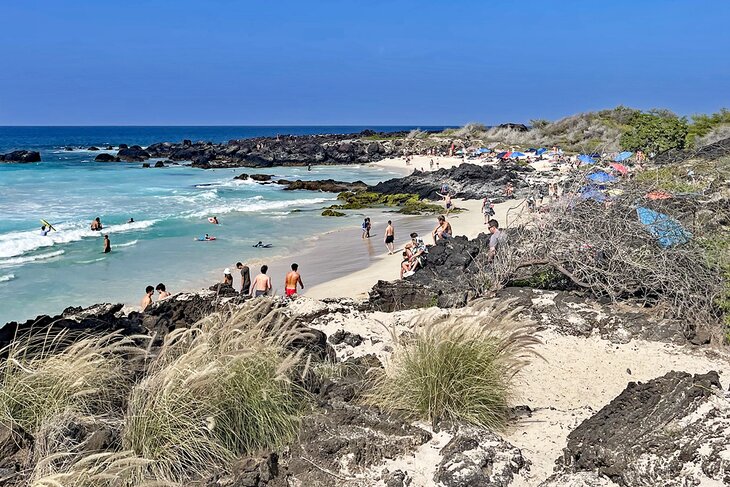 Visitors will find that the beaches in and around Kona suit a variety of needs, from centrally located beaches with tons of amenities to farther-afield beaches that offer a more windswept and rugged vibe. One thing everyone can agree on, though, is that the sandy beaches of the Kona coast are the most beautiful on the Big Island.
In addition to coffee and shaved ice, the Kona Coast is especially well-known for its coral reefs and excellent snorkeling. Many beaches, even some of the smaller ones, have rental shops set up right on the sand, so there is no need to buy or carry equipment. Tourists can also find rentals and lessons in Kona and other coastal towns for snorkeling, as well as scuba diving and boating.
The best time for snorkelers and swimmers to visit the beaches in and around Kona is during the summer, when the water is at its calmest, and the currents are not as strong.
For those who want to see the stunning reefs and ocean life from the safety and comfort of a boat, there are several tour operators who offer glass-bottomed boat tours, as well as small submarine tours that explore the deeper areas.
Plan your time along the Big Island's coast with our list of the best beaches in and around Kona.
1. Kamakahonu Beach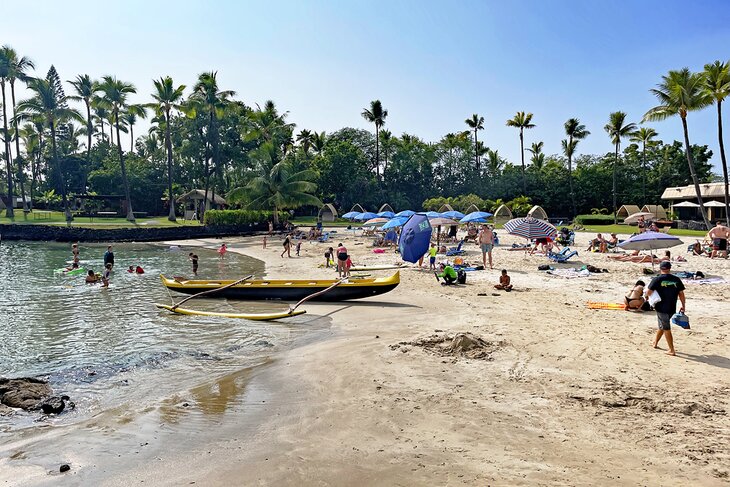 Although this beach is tiny compared to the other area beaches, Kamakahonu Beach is a top choice for beginners who want to try out snorkeling and diving.
The beach sits within a very well-protected cove that is bordered by the large Kailua Pier on one side and an outcropping on the other that is home to the Kamakahonu National Historic Landmark. Each curves around to form a protective barrier, allowing the water within to be some of the calmest you can find anywhere on the island. This can be a great spot for little ones to swim safely, but be aware that it can get very busy on a nice day.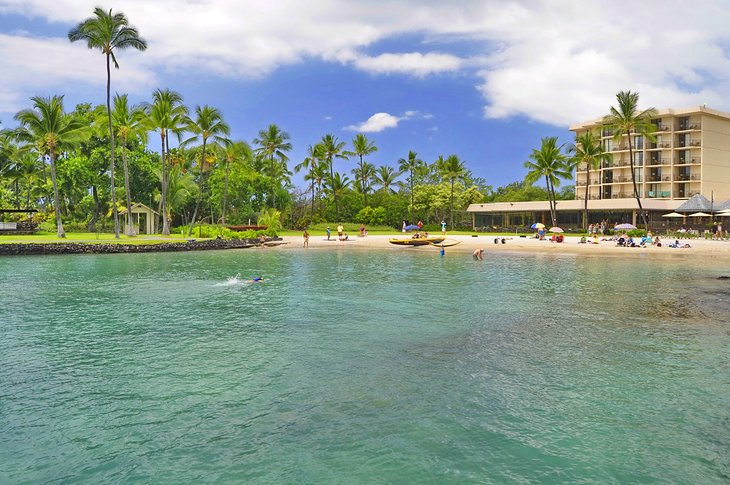 SCUBA and snorkeling equipment, as well as kayaks, can be rented at the Kona Boys Beach Shack right on the beach, and the staff is always ready to share advice on the best spots. Thanks to its position right next to the pier, visitors can also rent Jet Skis to take out for a cruise on Kailua Bay. Tourists can also book sightseeing boat tours and submarine tours, as well as SCUBA and snorkeling charters led by experts, all of which depart from Kailua Pier.
This beach is often called King Cam Beach by locals because it sits right in front of the Courtyard by Marriott King Kamehameha's Kona Beach Hotel, a favorite for families. Although the cute little cabanas that line the back of the beach are for hotel guests only, there are basic amenities on the beach, including an outdoor shower for rinsing off. The hotel restaurant is located right on the beach for food and refreshments.
Address: Kaahumanu Pl, Kailua-Kona, Hawaii
Accommodation: Top-Rated Resorts in Kailua-Kona, HI
2. White Sands Beach Park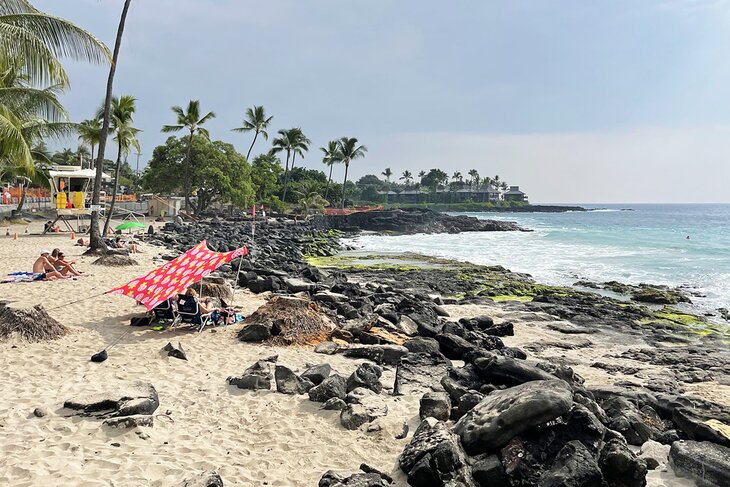 Located just south of downtown Kona facing La'aloa Bay, this versatile beach is also known as Magic Sands Beach or Disappearing Sands Beach because its sand will sometimes "disappear" when the surf gets turbulent, leaving behind only the lava rocks beneath. Lifeguards are on duty, and this is a great beach for swimming, bodyboarding, SCUBA diving, and snorkeling, as long as the conditions are safe.
There are basic amenities here including restrooms and showers, and a good "beach shack" that serves an amazing range of gourmet options, including breakfast items, salads, and desserts. There are also nearby sit-down restaurants, as well as a diving outfitter that rents equipment.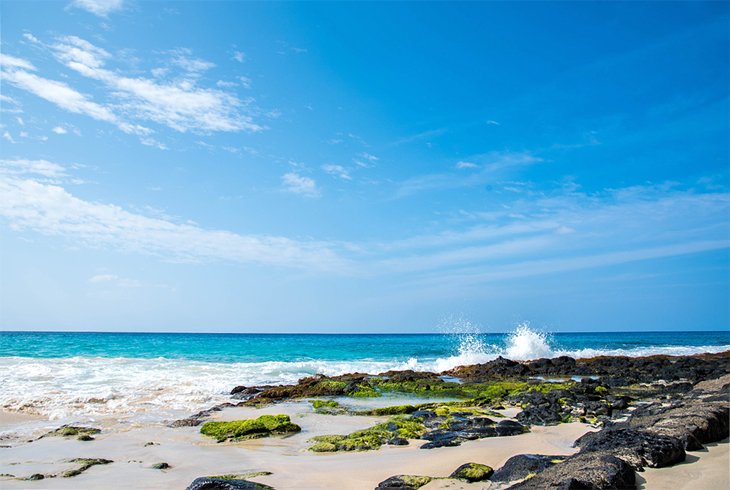 Address: Ali'i Drive, Kailua-Kona, Hawaii
Read More: Top Attractions on the Big Island of Hawaii
3. Kahalu'u Beach Park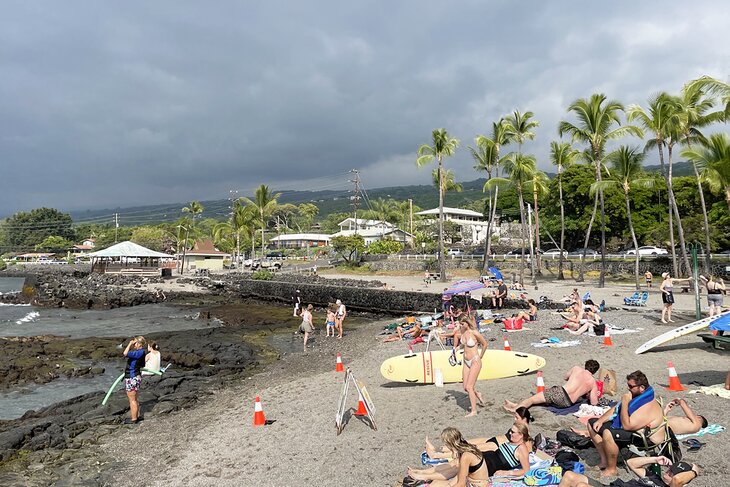 Located on Kahalu'u Bay just south of Kona, this beach is known as the top snorkeling beach on the Kona Coast. The exceptionally calm water is a result of the expansive coral reefs that surround the beach, making this an equally good beach for families with children.
Amenities at Kahalu'u Beach include showers, restrooms, and picnic tables, as well as a pavilion and some shaded areas along the shore, and lifeguards are on duty. The beach is also conveniently located within walking distance of local restaurants and shops.
Tourists hoping to explore the reefs can rent snorkeling equipment at the Kahalu'u Bay Education Center, a non-profit that provides educational programs and conservation efforts. They can also offer information about the myriad of ocean life that can be spotted in the reef, including octopus, sea urchins, and endangered sea turtles.
Those who don't get a chance to snorkel will likely still be able to spot some of these creatures in the shallow water near the shore, and it is common to see schools of reef fish darting alongside swimmers. This beach is also a great place for stand-up paddle-boarding and other calm-water activities.
Address: Ali'i Drive, Kailua-Kona, Hawaii
4. Spencer Beach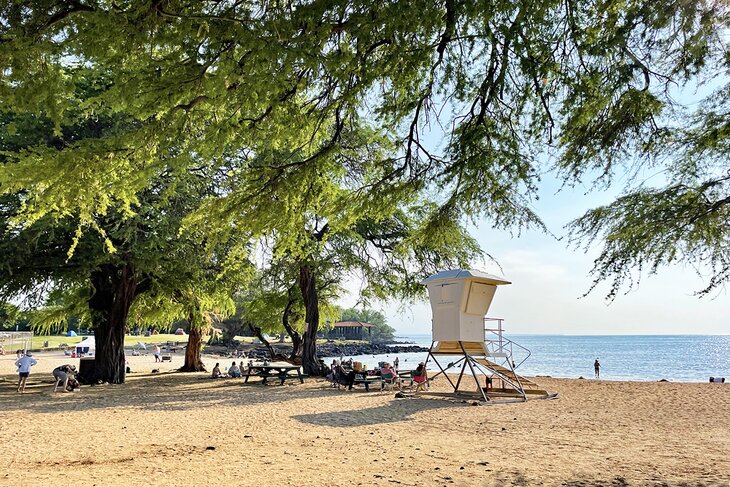 Spencer Beach is an ideal choice for families, offering plenty of shady areas and soft sand in addition to the calm, reef-protected waters.
Samuel M. Spencer Beach Park also has good facilities, including a large covered pavilion with tables, new restrooms, outdoor showers, and a camping area. There is also a lifeguard on duty, and the reef that keeps strong ocean currents at bay is an excellent snorkeling and SCUBA diving spot.
The park is also a good starting point for hikes along the Ala Kahakai National Historic Trail. Tourists will enjoy scenic views of the bay along the path and can visit a temple built in 1791 by Kamehameha I at the Pu'ukohola Heiau National Historic Site. Hikers who continue along the path will find themselves at Anaehoomalu Bay.
Address: 62-3461 Kawaihae Road, Waimea, Hawaii
5. Anaeho'omalu Beach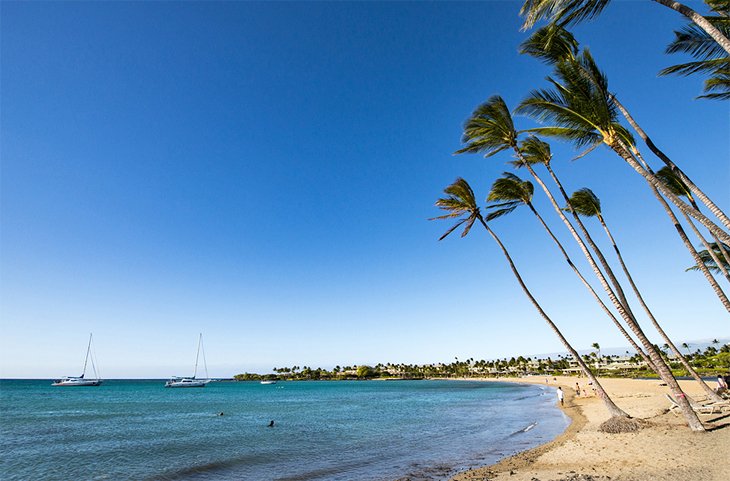 Located on the perfectly crescent-shaped Anaeho'omalu Bay, this beach is popular for its expansive white sand and plenty of room to spread out. Also known as "A Bay," visitors will find the water spotted with small boats and plenty of activity, making this a lovely spot for people-watching and relaxing. Although there are no lifeguards here, there are showers and restrooms.
A well-stocked beach hut has rentals available for everything from chairs and umbrellas to boogie boards and kayaks, and here tourists can also sign up for guided tours and lessons, including catamaran cruises. Although there are no concessions, at the southern end of the beach there is a waterside restaurant that is worth the splurge for an afternoon refreshment.
Those interested in local history will appreciate the Kuualii Fishpond, which sits just on the other side of the sandy beach. These "ponds" were used to farm fish by native peoples, and although the coastline was once dotted with them, there are few remaining today.
Tourists who are up for a 15-minute hike will be rewarded with centuries-old carvings at the Waikoloa Petroglyph Reserve, home to approximately 30,000 symbols that were carved into the lava rocks.
Address: 69-275 Waikōloa Beach Dr, Waikoloa Village, Hawaii
6. Honl's Beach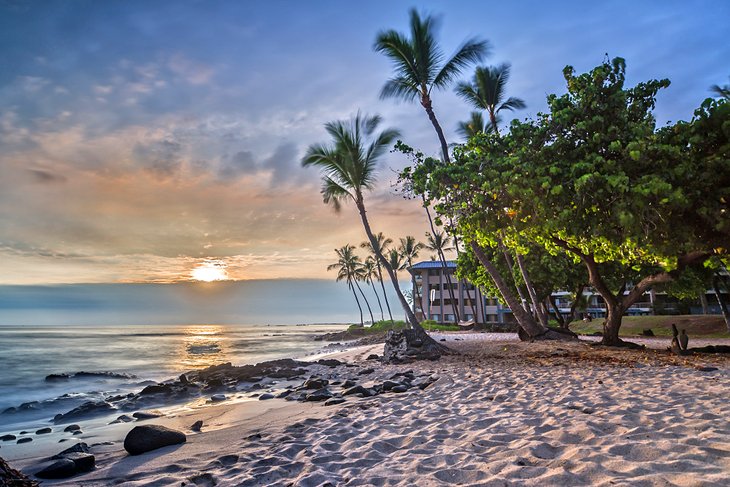 Although this is not a beach for swimming due to big waves and strong currents, Honl's Beach is one of Kona's most popular spots for experienced surfers. Also known as Tiki's Surf Spot, the sand gives way to a rocky shoreline, and visitors will want to have appropriate footwear if planning on walking here.
There are no lifeguards or public facilities, but this is a popular spot for picnics on the sand or the grassy area just beyond, perfect for listening to the waves crash against the rocks or watching the sun set over the Pacific.
Address: 75-5888 Ali'i Drive, Kailua-Kona, Hawaii
7. Makalawena Beach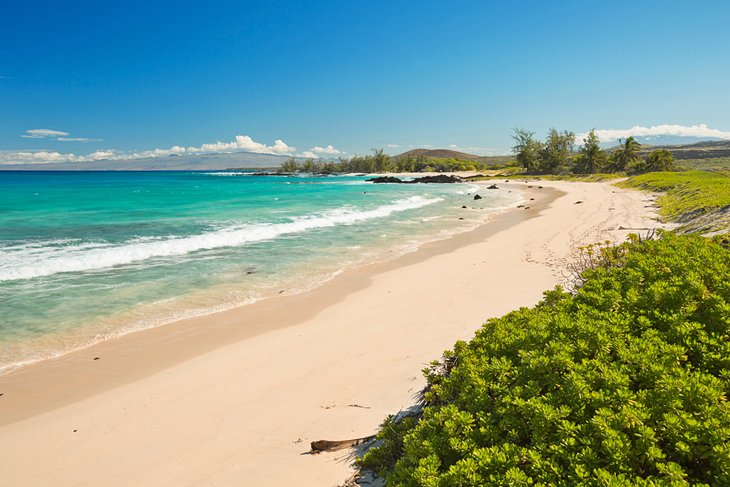 Located just north of Kona near Kona Coast State Park, Makalawena Beach is ideal for tourists who want to get away from the crowds. The beach takes a little effort to reach, which is why it's not crowded, but it's well worth the 20-minute hike across the rough lava path to the soft sand. Those who are willing to carry their snorkeling equipment along will be able to enjoy some very good snorkeling here as well, although there are no lifeguards, so anyone planning on going in the water should check ocean conditions before heading out.
Although you won't find any restrooms or showers, you may be surprised to find goats and chickens wandering the beach. There are picnic tables and some shady spots under the trees, and it's a good idea to keep your snacks up off the ground if these local neighbors come to visit.
Location: HI-19, Kailua-Kona, Hawaii
8. Manini'owali Beach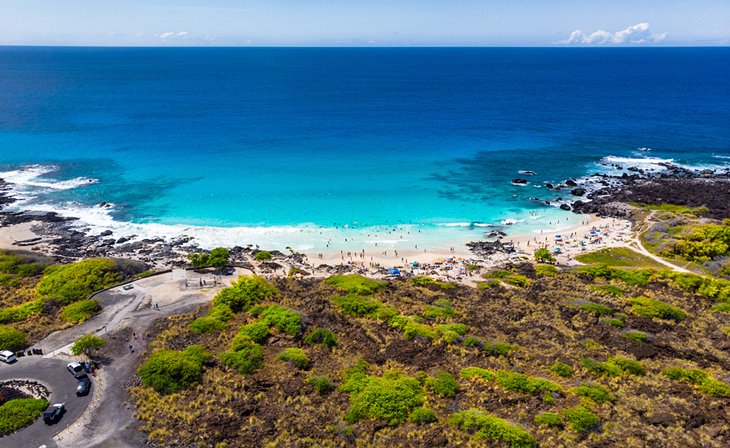 A little north of Kona, Maniniowali Beach sits on Kua Bay, home to beautiful coral reefs and a varied landscape of white sand and lava rocks. Also known as Kua Bay Beach, this is an ideal snorkeling spot thanks to the clear water and population of endangered sea turtles that frequent the reefs.
Getting down to the beach requires a trip down some lava rocks, so this is not a good beach for those with accessibility limitations. There is a lifeguard on duty, and restrooms and showers are available in the parking lot, but there are no concessions or rentals here.
Since there is no shade, visitors will definitely want to bring beach umbrellas and plenty of water.
Location: Queen Kaahumanu Hwy, Kailua-Kona, Hawaii
9. Ke'alakeku'a Bay Park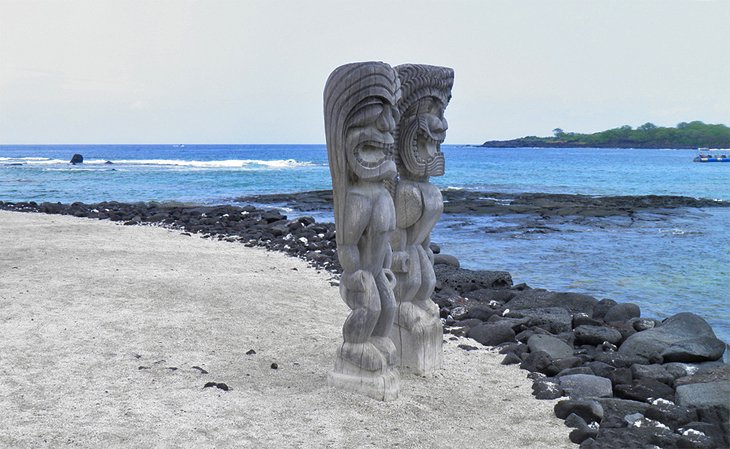 South of Kona near Captain Cook, Kealakekua Bay State Historical Park offers some of the area's best snorkeling and marine wildlife. Since snorkeling is best near the Captain Cook Monument on the north side of the bay, a spot that requires quite an arduous hike when visiting by land, snorkeling tours are the best way to enjoy what Kealakekua Bay has to offer.
Tourists should be sure to pick a tour operator that is a member of the Sustainable Tourism Association, as this popular reef had suffered damage after years of popularity. While on a boat tour, keep an eye out for the spinner dolphins who love the deep water in the middle of the bay.
Location: Napoopoo Road, Captain Cook, Hawaii
10. Ho`okena Beach Park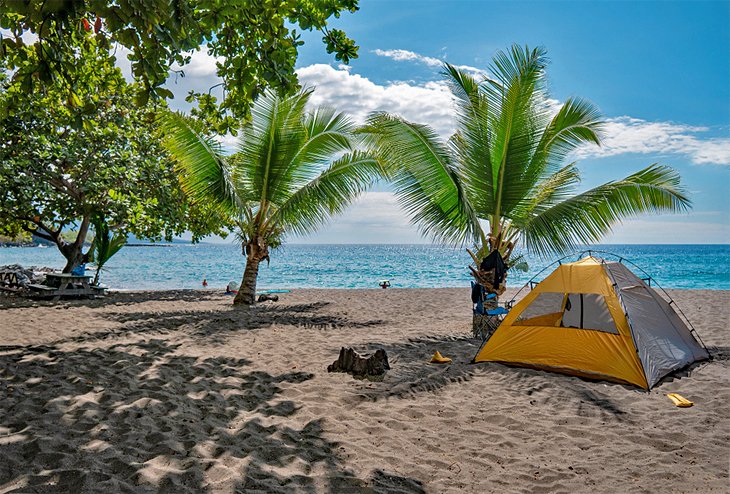 The historic Ho`okena Beach Park is a popular camping spot with a rich history, located about 25 miles south of Kona on Kauhao Bay. This is one of Hawaii's last traditional canoe fishing villages, and tourists can still watch local fishermen come and go in their canoes while using the same fishing methods that have been practiced for generations.
During the calmer summer months, this is a good area for swimming and snorkeling; when the water is more active, surfers and boogie-boarders enjoy the good waves.
Visitors can rent kayaks and snorkeling equipment here, and those who want to try out oceanside camping for a night or two can rent all of their gear on-site. There is no lifeguard on duty; however, there are restroom and shower facilities, picnic tables, and a small food concession stand.
Address: 86-4322 Mamalahoa Hwy, Captain Cook, Hawaii
11. Keiki Ponds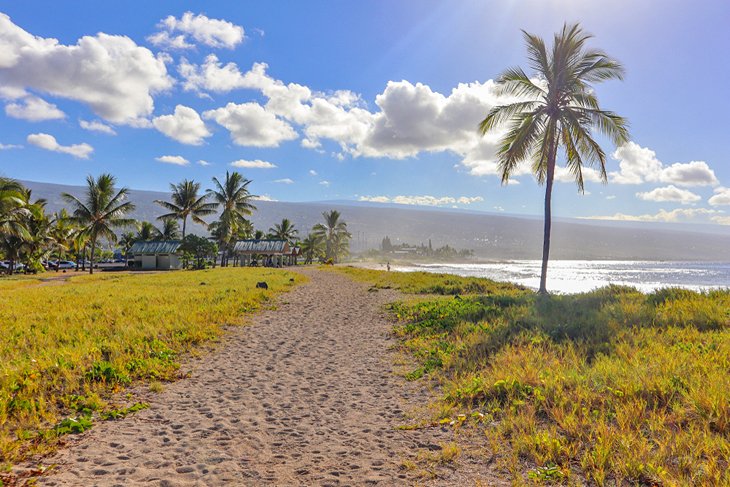 This beach is very popular with families who have younger kids because of its calm and shallow water. The "ponds" at this Kona beach are tide pools that are protected by a barrier of lava rocks, and they only get waves of any height during the peak tide. There are patches of white sand and some grassy areas, but a large portion of the beach is made of lava rocks that are full of sea life waiting to be discovered.
Located near the Old Kona Airport State Recreation Area, this beach is easy to get to and close to restaurants and shops, with plenty of parking available. Unfortunately, there are no lifeguards here, nor are there any facilities.
Address: 75-5502 Kona Bay Drive, Kailua-Kona, Hawaii
12. Hapuna Beach State Recreation Area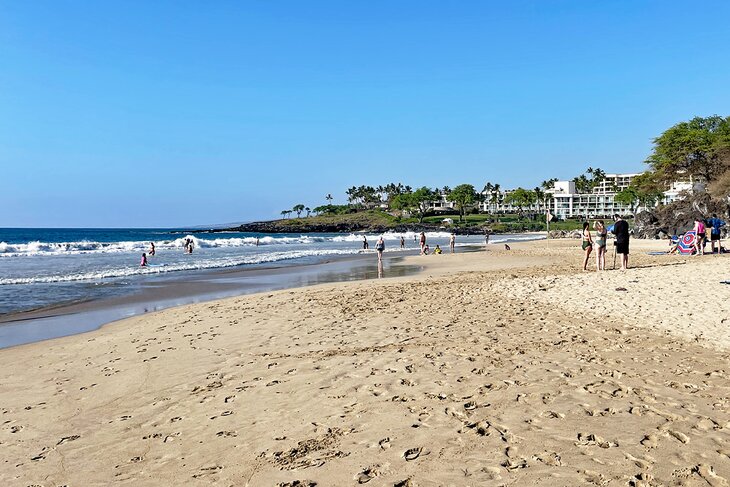 Not only is Hapuna Beach State Park one of the best beaches in Kona, it rivals the most beautiful beaches in all of Hawaii. This expansive stretch of white-sand beach is consistently ranked among the best beaches across the state — and for good reason.
This is the largest white-sand beach on the Big Island, stretching along a half-mile of unbelievably blue water. And, because this side of the island rarely gets any rain, you're almost guaranteed a sunny day no matter when you go.
Hapuna Beach is beloved by families thanks to its gentle surf and year-round lifeguards. You'll find people doing everything from sunbathing and swimming to snorkeling and playing beach volleyball. Visitors to the beach also like to hike the Ala Khaki Trail.
But, because this is such a spectacular beach, you can be certain that crowds do come. Though the beach has a parking lot, finding an available space can be a challenge. A restaurant is located not far from the beach, which also serves as a rental spot for beach chairs, umbrellas, and snorkeling equipment. The beach costs $10 per vehicle and an additional $5 per individual.
Address: Old Puako Road, Waimea, Hawaii
13. Pu'uhonua O Honaunau National Historical Park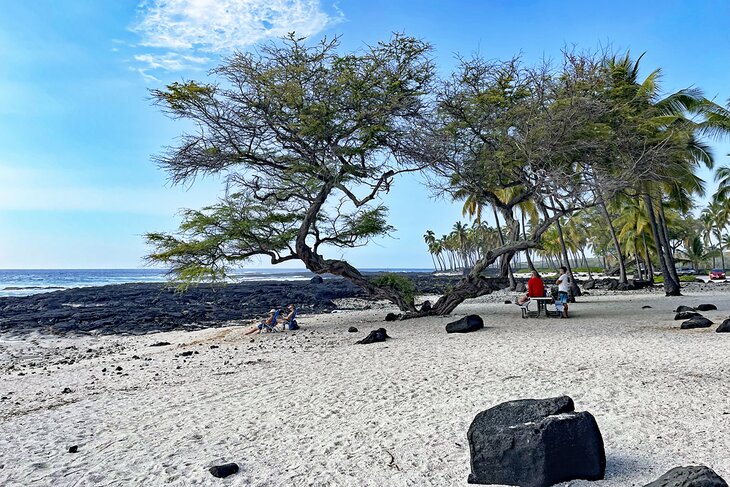 Pu'uhonua O Honaunau National Historical Park is not only a fabulous beach, it also happens to be a place deeply rooted in Hawaiian heritage and culture. This 182-acre park was once a royal site for ancient Hawaiians, as well as a place of refuge for those who broke Hawaiian law. Today it's a learning center with archaeological artifacts, hiking trails, and a gorgeous beach.
The park is part of the National Parks system and brings Hawaiian heritage to life through its historic huts, wood carvings, and fishing ponds. On the other side of the historic center is a gorgeous white-sand beach with towering palm trees, tide pools in volcanic rock beds, and a spot for incredible sunsets.
Pu'uhonua O Honaunau National Historical Park is certainly a very special place on the island, in addition to being a beautifully maintained beach. This spot is worth your time, even if it's just to sit on the sand and soak in the natural beauty.
Address: State Hwy 160, Hōnaunau, Hawaii
14. Mauna Kea Beach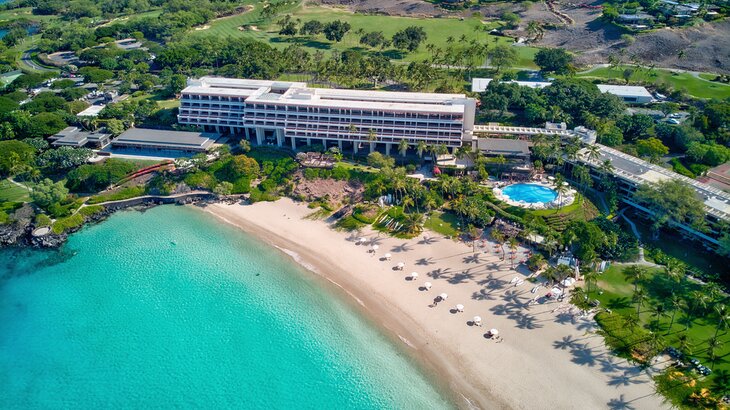 Spread out in front of the lovely Mauna Kea Beach Hotel, the aptly named Mauna Kea Beach is a picture-perfect crescent of powdery soft sand backed by a gradient of turquoise sea. If you're scouting the whitest, sandiest beaches in and around Kona, this would be one to add to the list.
This family-friendly beach has wonderful snorkeling opportunities thanks to the small coral reef on either side. During the winter, however, the waves can be rather rough here, so it's always best to check the conditions before entering.
A beach shack is available to rent out boogie boards and snorkels, while the resort's restaurant is where most beachgoers visit for lunch. Speaking of the resort, the only way to access the beach is through the resort. Arriving early is the best bet to secure a parking spot, and you'll have to pay a $21 parking fee.
Spots are limited and the lot does fill up quickly, so if you don't manage to snag a spot, Hapuna Beach is right next door.
Address: 62-100 Mauna Kea Beach Drive, Puako, Hawaii
15. Kukio Beach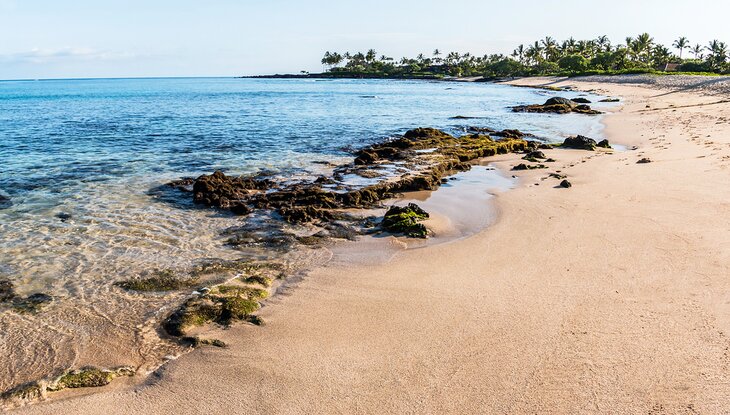 You have to travel a bit north from Kailua-Kona to reach Kukio Beach, but you'll be so glad that you did. A little less than 20 miles from Kona, along the Kohala Coast, are the sun-drenched shores of Kukio. It's no wonder this beach is so perfect — it is the resident beach of the Four Seasons Hualalai Resort.
The aesthetic of this beach is fitting for its fancy address. Palm trees fringe the shoreline, while black lava rocks create natural tide pools that are teeming with fish and other marine life.
The beach links up with the Kikaua Point Beach Park, which has a small lagoon and several facilities. Kuhio Beach is a bit short on amenities if you're not a guest of the hotel. It does have ample opportunity to spot sea turtles, though, and that is always a treat.
Location: Aina Kaha Place, Kailua-Kona, Hawaii
Map of Beaches in Kona
More Related Articles on PlanetWare.com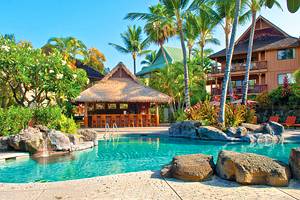 Where to Stay: In addition to beautiful beaches, the Kona Coast also has a selection of beautiful resorts and hotels to help you enjoy your vacation. For ideas on where to stay, see our guide to the top resorts in Kailua-Kona.