9 Top-Rated Tourist Attractions & Things to Do in Maui
We may earn a commission from affiliate links ()
Maui is known for beautiful beaches, surfing, dramatic scenery, and a wonderful climate. The island lies west of the Big Island of Hawaii, separated from it by the Alenuihaha Channel, and is about 68 miles from Oahu as the crow flies. It is the second largest island in the Hawaiian archipelago, covering an area of 694 square miles, with 120 miles of coastline. Following Oahu, Maui is the most visited island in Hawaii.
Maui's mountainous landscape causes weather to vary quite a bit, enjoying high temperatures of around 86 degrees Fahrenheit and lows near 60 degrees Fahrenheit. Visitors will find a wide range of activities on Maui, many of them free, from hiking adventures in the rain forest to a romantic stroll on the beach at sunset.
Plan your sightseeing and activities with our list of the top things to do in Maui.
See also: Where to Stay on Maui
Note: Some businesses may be temporarily closed due to recent global health and safety issues.
1. Haleakala National Park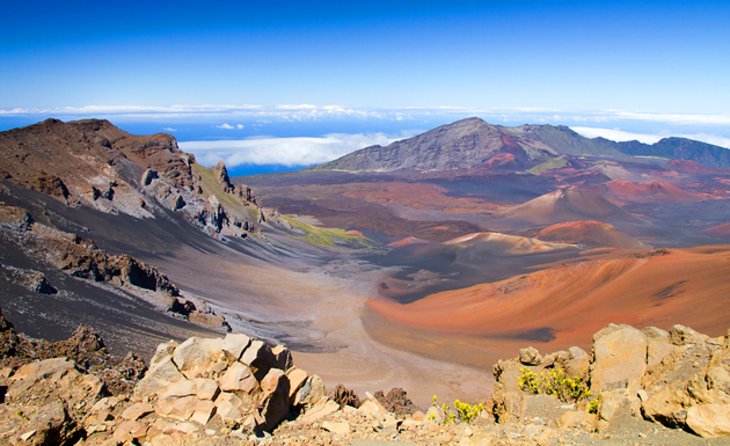 This park is located on the slope of the inactive 10,023-foot Haleakala Volcano, which covers nearly 25,000 acres. Visitors can look into the dormant crater, and from the summit there are incredible views over the entire island. This is a popular spot where many people come to see the sunrise.
While the top of the mountain is what draws most people, the drive up is also impressive.
One of the most popular attractions within the park are the Pools of 'Ohe'o, idyllic freshwater pools fed by waterfalls within the 'Ohe'o valley. Visitors should plan to arrive early in the day before they get crowded with swimmers. The Makahika and Waimoku Waterfalls are among the most stunning in the valley.
Birders will enjoy the short trail at Hosmer Grove, where some of the original species of Hawaiian birds are seen.
A full-day guided tour of Haleakala National Park and Central Maui is an excellent way to enjoy the area's amazing scenery while hearing about the island's history and culture from a professional guide. The tour includes hotel or resort pickup; a visit to the top of the Haleakala Crater; scenic drives; and a stop in historic Wailuku, where you can enjoy shopping at a variety of locally-owned shops.
Official site: http://www.nps.gov/hale/index.htm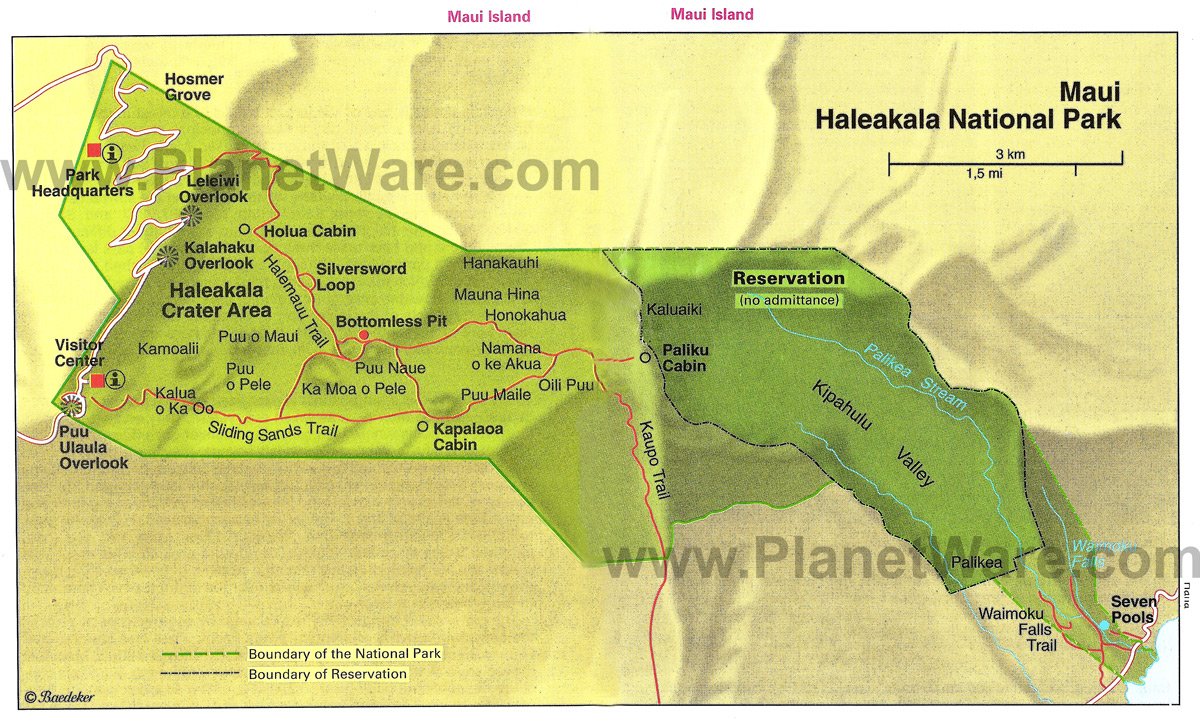 Haleakala National Park Map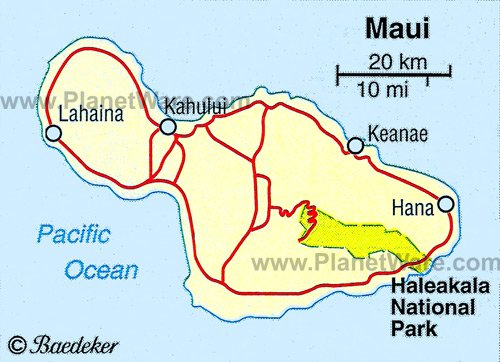 Haleakala National Park Location Map
2. Iao Valley State Monument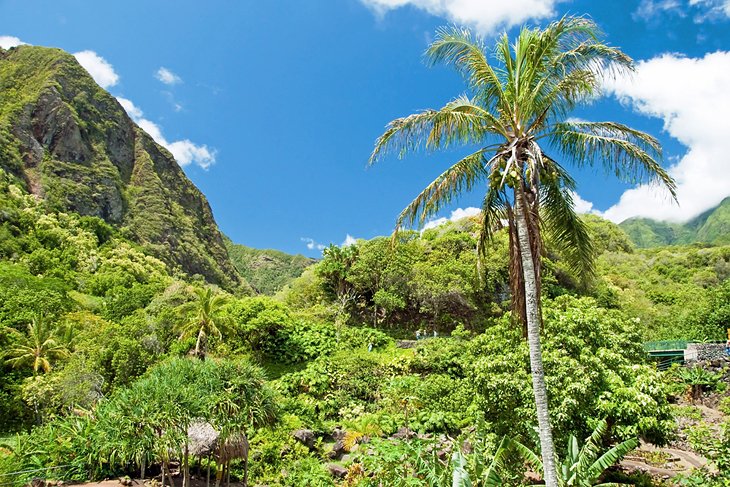 Iao Valley lies west of Wailuku. Traditionally, Hawaiians would undertake pilgrimages to such places in honor of their gods. Today, several well-maintained paths lead from the parking area to this beautiful valley. It is a popular place to visit, however tourists should be aware that parts of the park may be closed due to flooding and other weather-related hazards.
In the middle of the valley stands Iao Needle, a pointed lump of basalt, reaching 2,215 feet above sea level. This unique overgrown rock was apparently used as an altar in prehistoric times. A legend surrounds Iao Needle's origin. It is said that the demi-god Maui took captive an unwanted suitor, the water sprite Puukamoua, of his beautiful daughter, Iao, and wanted to kill him. But Pele, the fire goddess, ordered Maui to turn him to stone. Hence the needle.
The valley is said to be full of the ghosts of Hawaiian gods, known as manas. On the left-hand side of the path to Iao Needle is Pali Ele'ele, a dark black cliff.
3. Maui Ocean Center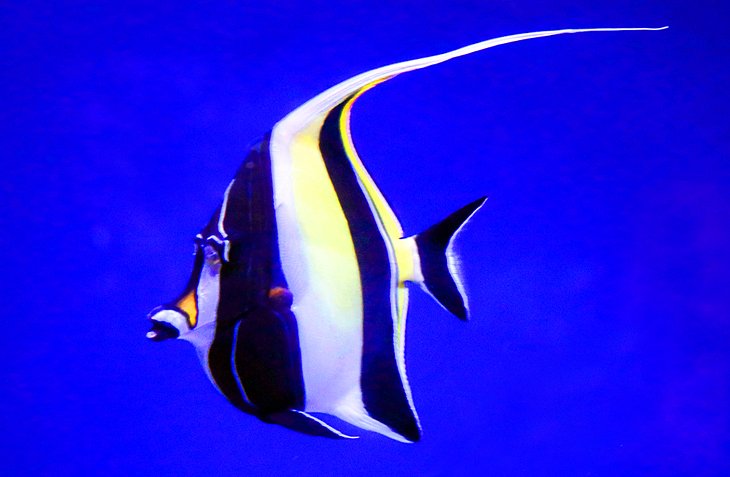 The Maui Ocean Center houses a collection of Hawaiian reef fish, corals, green turtles, and stingrays in a series of well-designed aquariums. One highlight is a glass tunnel through a shark and ray tank, allowing visitors to sit and contemplate the varied life around them. Other displays explain the life cycles of the humpback whales, which migrate to Hawaii from December to March and how the Polynesians who settled Hawaii used the sea.
Visitors can get an in-depth look at the aquarium's operations on a behind-the-scenes tour of the facility, a tour that allows guests to watch feedings and ask the staff naturalist questions about animal care. Adventurous visitors can get even more up-close with a dive in the 750,000-gallon Open Ocean tank, home to stingrays, sharks, and a variety of colorful ocean life.
The center also displays many pieces of original Hawaiian art. The store on the grounds sells a range of gifts, including original works of art of exceptional quality for the serious collector.
Address: 192 Ma'alaea Road, Wailuku, Hawaii
Official site: www.mauioceancenter.com
4. Lahaina and Kaanapali Beach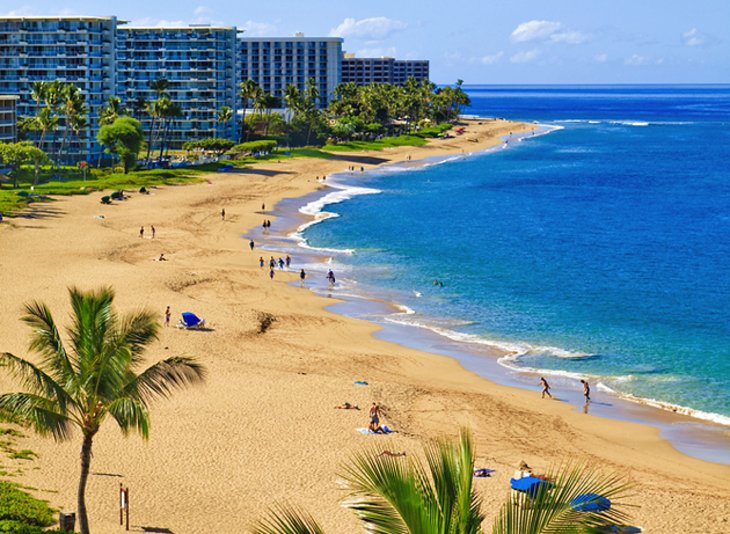 The three-mile-long Kaanapali Beach is Maui's finest beach. It lies in western Maui and is part of the town of Lahaina. One of the most popular things to do at Kaanapali Beach is to watch the daily cliff-diving ceremony from Black Rock, traditionally known as Puu Kekaa. This is also where some of the island's best hotels and resorts can be found.
As a result, the area is full of activities and things to see and do, including world-class golf; a variety of restaurants; tons of shopping; and a zipline course, which affords great views of the coastline. Whalers Village is a prominent open-air shopping center with a good variety of stores and dining options. Other attractions include a whaling museum and traditional Hawaiian entertainment.
5. Hana and the Hana Road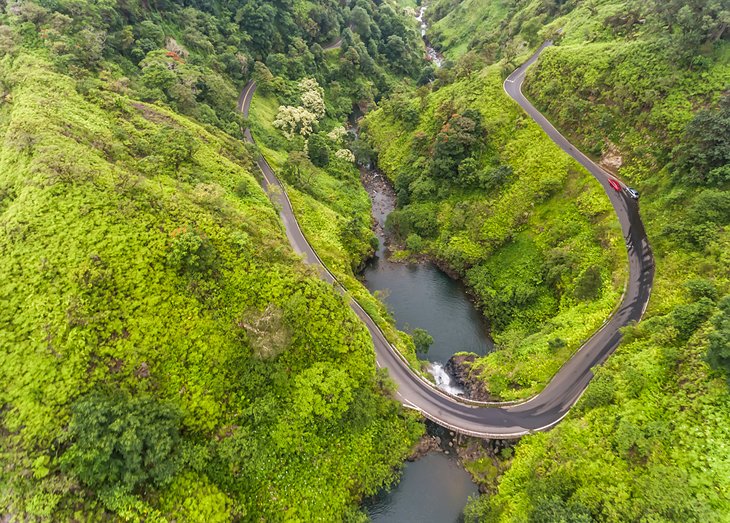 Hana is a remote village in one of the most thinly-populated districts in the entire state of Hawaii. Its isolated position has enabled the town to maintain an image of the Hawaii that existed before the invasion of mass tourism. It is idyllic, with lush fields and gardens, thanks to the plentiful rains characteristic of the east coasts of all the Hawaiian islands.
One of the main attractions for visitors coming to Hana is the drive to the village. The Hana Road on the eastern Windward side of Maui starts at the town of Pa'ia and traverses rain forest with waterfalls, making it a stark contrast to the almost desert conditions found everywhere else on the coasts.
While the distance between Pa'ia and Hana is roughly 40 miles, the fact that the road follows a scenic curving coastline with single lane bridges means that a round trip takes at least four hours of driving.
An excellent way to see Hana Road and visit its numerous attractions is on the Small-Group Road to Hana Luxury Tour, which features a maximum of eight passengers to ensure a personalized experience. The nine-hour tour includes narration by an expert guide as you enjoy the scenic views and sites, making plenty of stops along the way for photo-ops, as well as lunch and snacks. Destinations include the village of Ke'anae, Kaumahina State Park, Ho'okipa, Waikani Falls, and the town of Hana, where you will get an exclusive tour of the Hana Tropical Gardens.
6. SCUBA Diving and Snorkeling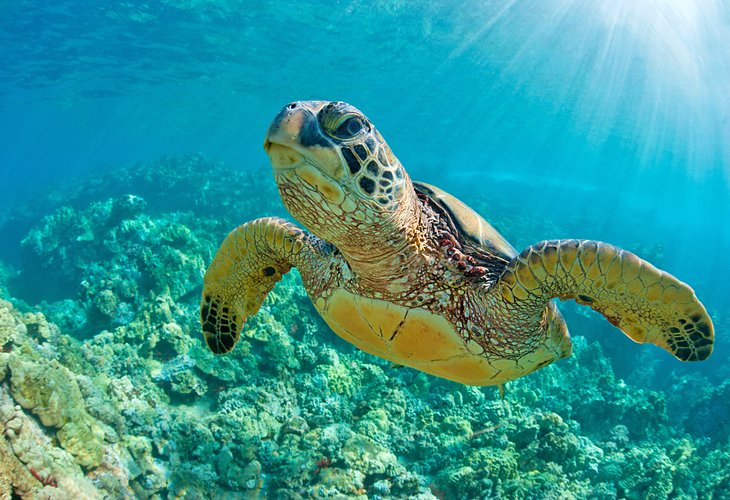 Off the shores of Maui are some of the most remarkable reefs and marine habitats, making this island a top destination for snorkeling and SCUBA diving. Tourists can find equipment rental shops near most of the top beaches, and there are several places that offer SCUBA lessons for those who would like to try it for the first time. As always, those venturing into the water should be aware of current conditions.
The Marine Life Conservation District of Honolua Bay, located on the northwestern end of the island, is one of the top snorkeling and diving spots. The bay, which is isolated by rocky cliffs, has calm, quiet water and is home to a wide variety of reef fish, including parrot fish, surgeon fish, wrasse, and Humuhumunukunukuapua'a (also known as the Rectangular Triggerfish). Tourists should note that there are no facilities or lifeguards at this location.
Another popular place for snorkeling and diving is Molokini, a volcanic atoll that sits just off the southern coast of Maui. Also a designated conservation district, it is a top destination for snorkeling tours due to its picturesque setting and wide variety of marine life, from rarer species of reef fish to dolphins and turtles.
The Molokini Sail and Snorkel Adventure is a good choice for those who want the option of viewing the spectacular sea life without getting wet, thanks to the glass-bottom section of the catamaran, which affords views deep under the clear water. Those who want to dive right in can spend their time in the pristine reefs or making a splash on the waterslide. The cruise includes breakfast and lunch.
7. Waianapanapa State Park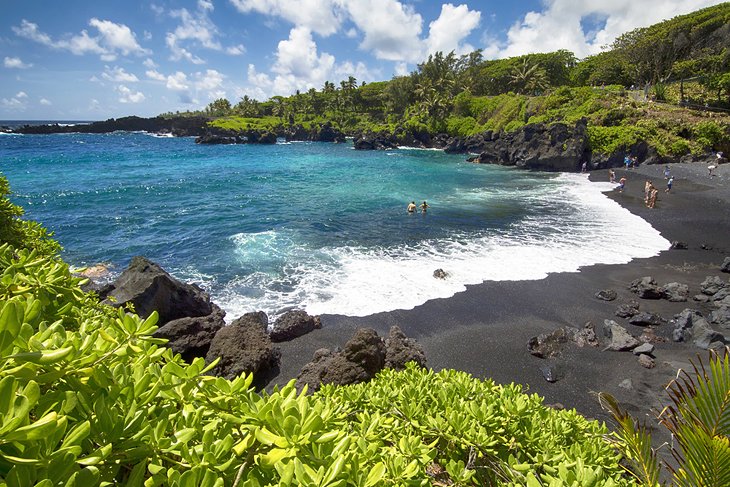 Waianapanapa State Park is a remote area on the Hana Coast with beaches, rugged coastline, hiking, camping facilities, and lodging options. This is a good spot to simply enjoy nature. The black lava beach at Paiola Bay in the park is worth visiting, however those unfamiliar with the surf conditions should refrain from swimming in the strong waves.
Hiking trails can be challenging but rewarding, and the Ke Ala Loa O Maui/Piilani Trail is one of the most popular for its views of Haleakala and the Hana Coast. Other highlights include natural stone formations like arches and sea stacks, blow holes, caves, and heiau, an old temple.
Official site: http://dlnr.hawaii.gov/dsp/parks/maui/waianapanapa-state-park/
8. Wailea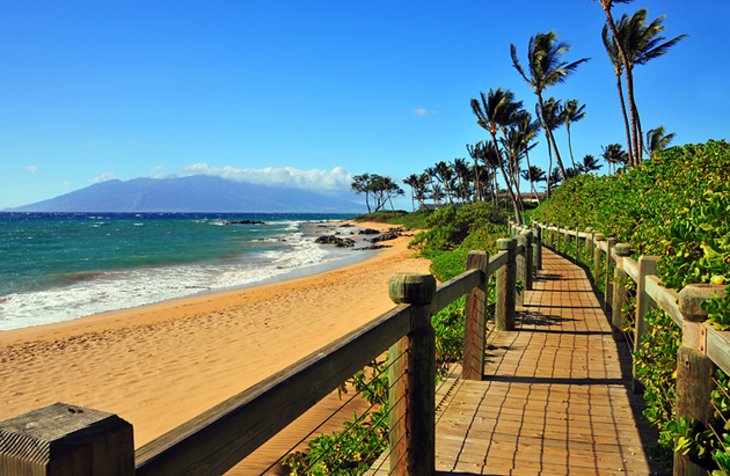 In southern Maui, the coastal area of Wailea has become a top tourist destination and resort area thanks to its five gorgeous beaches and wide range of things to do. Wailea Beach is the best known and home to some of the more exclusive resorts on Maui, while Polo Beach is popular with swimmers and snorkelers and Ulua Beach Park is the perfect place for a romantic sunset walk.
Wailea is also known for its championship golf courses, consisting of the Wailea Gold, Wailea Blue, and Wailea Emerald. Another top attraction is the Shops at Wailea, a shopping, dining, and entertainment complex, which will keep tourists occupied indefinitely.
Wailea is also host to both the Maui Film Festival and Whale Week festivities each February, as well as its wide selection of spas. Nearby natural attractions include the lava fields of Ahihi-Kinau Natural Area Reserve, an area also known for its snorkeling, and La Perouse Bay, which is home to the scenic Hoapili Trail.
9. Makena Beach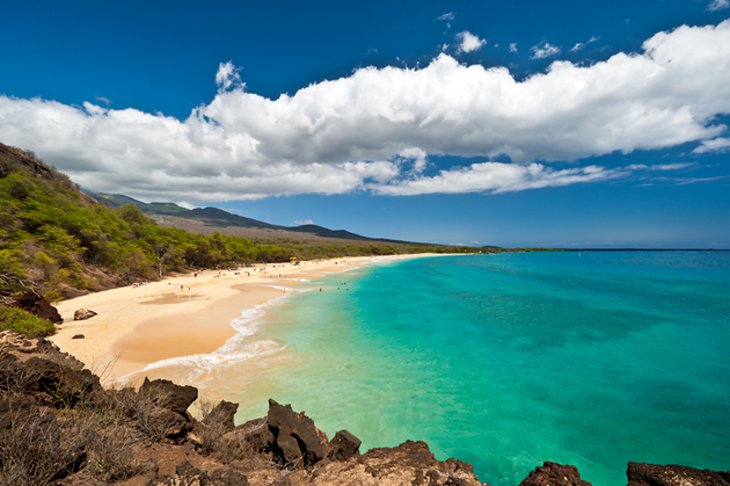 Makena Beach, also known simply as "Big Beach," is one of the longest undeveloped beaches on the island. It sits south of Kihei in the village of Makena, a great alternative to the more crowded Wailea beaches. Tourists should be aware of beach warnings, as this beach is known for having rougher conditions at times, and should never swim here when the lifeguards are off-duty.
This is an excellent spot for a romantic stroll, and the shore affords lovely views of Kahoolawe and Molokini islands. For an even more secluded spot, couples can venture to the park's much smaller "Little Beach," which does not have lifeguards or facilities.
Where to Stay on Maui for Sightseeing
We recommend these highly rated hotels and beachfront resorts on the beautiful island of Maui:
Montage Kapalua

Bay

: This luxury beachfront resort offers sublime ocean views from its guest rooms, and also offers sea-view condos with kitchens and lanais. The grounds are home to beautiful gardens, and property amenities include multiple pools with a dedicated adult-only pool, private beach space, tennis courts, and a fitness center with group classes. The resort is home to a top-rate spa and multiple restaurants; there is also a kids' club and on-site babysitting.
Napili Kai Beach

Resort

: This mid-range beach resort is convenient to airports and just steps from the Kapulua Coastal Trail, offering ocean-view rooms and suites right on Kapalua Beach. This family-friendly resort has four pools, including a kids' pool where the little ones can work off their energy; guests can also enjoy on-site shopping and dining, as well as activities like shuffleboard, bocce ball, and a putting green.
Maui Seaside

Hotel

: This budget hotel is near the airport in Kahului, offering rooms with views of the mountains and the beach. The hotel has an inviting pool with ocean views and plenty of lounging space, and is situated next to Ho'aloha Park and beach, with several restaurants within only a few minutes' walk.
Tips and Tours: How to Make the Most of Your Visit to Maui
More Related Articles on PlanetWare.com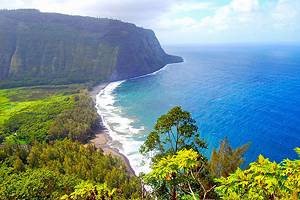 The Big Island: Maui sits northwest of the Island of Hawaii (the Big Island), and is the second-largest of the Hawaiian Islands. The Big Island is home to some of the state's top tourist attractions and natural wonders, including Volcanoes National Park and the Kailua-Kona region, which produces world-famous coffee.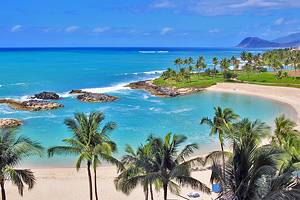 Exploring Oahu: Just under 70 miles northwest of Maui, Oahu is home to the state capital of Honolulu, which draws visitors year-round for its many things to see and do. Of the island's many beautiful beaches, Honolulu's Waikiki is among the most popular. Waikiki is popular with swimmers and surfers for its excellent conditions and offers a huge variety of things to do locally, including shopping, dining, and entertainment.
Waikiki is also home to several of Oahu's best resorts and the majority of Honolulu's resorts. Oahu is also home to the most significant World War II site on U.S. soil, Pearl Harbor, which contains several landmarks and historic sights.