18 Top-Rated Beaches in Hawaii
Author Meagan Drillinger visited some of the best beaches in Hawaii on her most recent trip to the islands in 2023.
The only state in the U.S. made entirely of islands (137 to be exact), Hawaii is, not surprisingly, home to some absolutely stellar beaches. From black sand to big surf to turquoise lagoons to golden crescents, Hawaii's beaches offer something for all kinds of travelers, whether you are on a romantic honeymoon or a family getaway with the kids.
Here, we list our top beach picks on all the well-known islands-Oahu, Maui, Kauai, Hawaii, and Lanai — as well as a few lesser-known isles like wild Molokai.
Find the best place to relax by the sea on your next vacation with our list of the best beaches in Hawaii.
1. Waikiki Beach, Oahu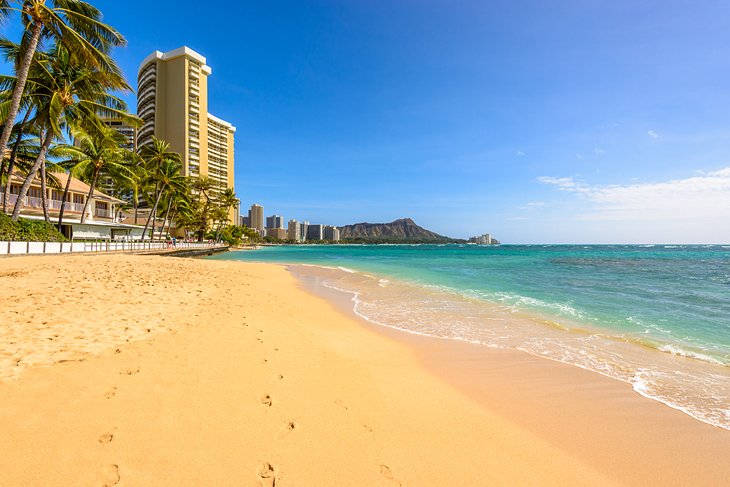 Highlights: The premiere stretch of beach in Honolulu for hotels, resorts, restaurants, and shopping
Just south of Honolulu, Waikiki Beach on the island of Oahu was once a playground for Hawaiian royalty. It has been popular with the tourist crowd since its first hotel, the Moana Surfrider, opened in 1901.
Today, it remains a vibrant stretch of sand and surf, and it's where you'll find most of Oahu's hotels and resorts, as well as dining and shopping along Kalakaua Ave, its main drag.
The name Waikiki translates from Hawaiian as "spouting waters," and the beach is a legendary place to learn to surf thanks to its consistent, gentle waves.
Of course, if surfing isn't your vibe, there is much more to do, both in the ocean and out. You can rent Jet Skis, go parasailing, and even pay your respects at the Pearl Harbor & USS Arizona Memorial nearby.
Accommodation: Top-Rated Resorts in Honolulu
2. Ko Olina Beach, Oahu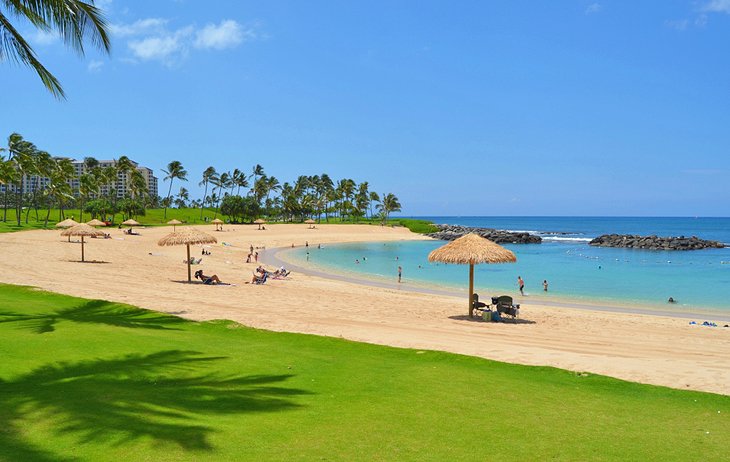 Highlights: Calm surf and excellent snorkeling conditions, as well as Honolulu's top luxury hotels
On Oahu's west side, Ko Olina Beach is another beauty. It's also perfect for young children, snorkelers, and anyone not looking to get pummeled by big waves upon setting foot in the ocean. That's because Ko Olina is protected by four lagoons that provide a calm oasis to swim in.
The first three lagoons are mainly accessed by hotel guests-you'll find the five-star Four Seasons Resort Oahu at Ko Olina here, as well as the Aulani, A Disney Resort & Spa and the Marriott Ko Olina Beach Club.
But head down to the beach at Lagoon 4 (farthest from the resorts) if you aren't staying in one of these. It has a big parking lot, is the largest of the four lagoons, and is absolutely perfect for snorkeling. Sea turtles are often spotted here.
3. Wailea Beach, Maui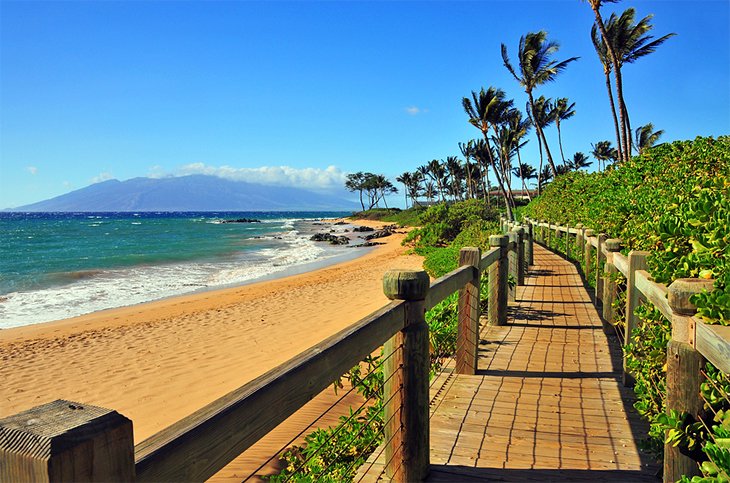 Highlights: A picture-perfect beach with some of the most exclusive resorts on Maui and views overlooking nearby islands
Wailea Beach is one of five gorgeous crescent-shaped beaches that make up the 1,500-acre resort community of Wailea in south Maui about 35 minutes from Kahului Airport. Consistently ranked among the world's most beautiful beaches, it is wide and golden-hued, fronting a calm stretch of sea that is good for swimming.
The area is home to some of Maui's most luxurious hotel real estate, with the Four Seasons Resort Maui at Wailea here and the equally opulent Grand Wailea. Both properties face Makena Beach's stunning cobalt-hued water. It's a celebrity favorite vacation spot, and you may run into a famous face or two on the beach.
Other notable Wailea beaches include Polo Beach, with good snorkeling and swimming, and Ulua Beach Park, where locals come to walk and jog along the sand at dawn and dusk. There are also 54 holes of championship golf to play on three courses: Wailea Blue, Wailea Emerald, and Wailea Gold.
4. Hanalei Bay Beach, Kauai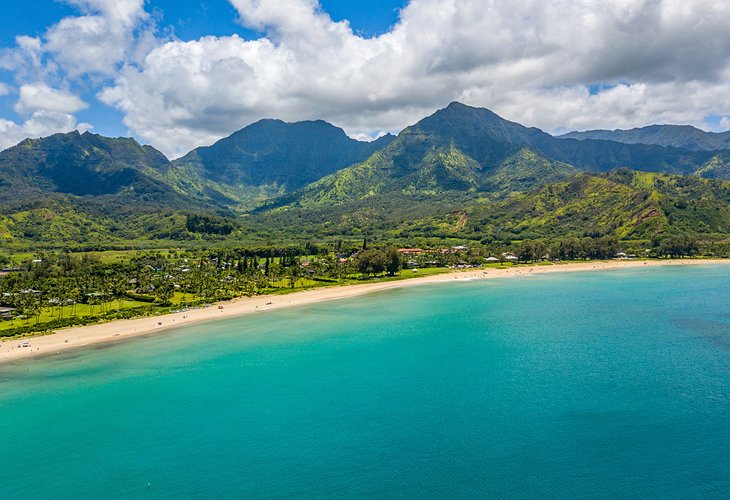 Highlights: A white-sand beach with a laid-back surfer vibe along Kauai's famed Na Pali Coast
On the North Shore of Kauai Island, which is also known as Hawaii's "garden island" for its lush environs, Hanalei Bay Beach defies description. The gold-sand beach on the Na Pali Coast runs for two stunning miles along a sparkling turquoise and emerald bay backed by soaring green peaks and gushing waterfalls. In the summer, the water is calm here and perfect for swimming, while winter months bring waves and a surf crowd.
The town of Hanalei is equally appealing. A charming surfer vibe prevails throughout, and the entire place just has a relaxed, ends-of-the-earth ambience about it. There are also a number of great restaurants and even a food truck scene.
5. Hapuna Beach State Park, Hawaii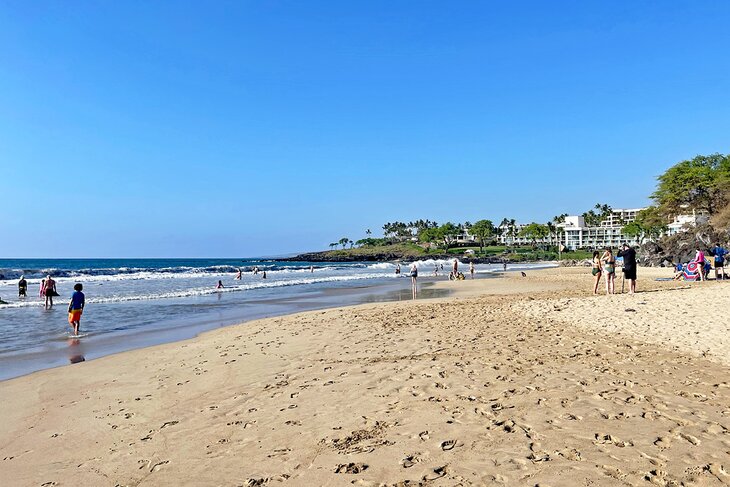 Highlights: The largest white-sand beach on Hawaii's Big Island with calm water, picnic tables, and whale sightings in winter
On the volcanic west coast of the Big Island, gorgeous Hapuna Beach is protected by a state park and is the largest white-sand beach on the island of Hawaii (note the group of islands is referred to as Hawaii, but there is also a Hawaii Island, which is often called the Big Island). Running for a half-mile along the Kohala Coast, the juxtaposition of volcanic rock, white sand, and crystal-clear turquoise water makes it easy on the eyes.
Even locals like visiting this easy-to-access beach for a picnic and a swim. There are lifeguards here year-round, so families with kids will also appreciate Hapuna.
In January and February, you can often see migrating whales from shore.
Accommodation: Top-Rated Resorts on the Big Island of Hawaii
6. Waimea Bay Beach Park, Oahu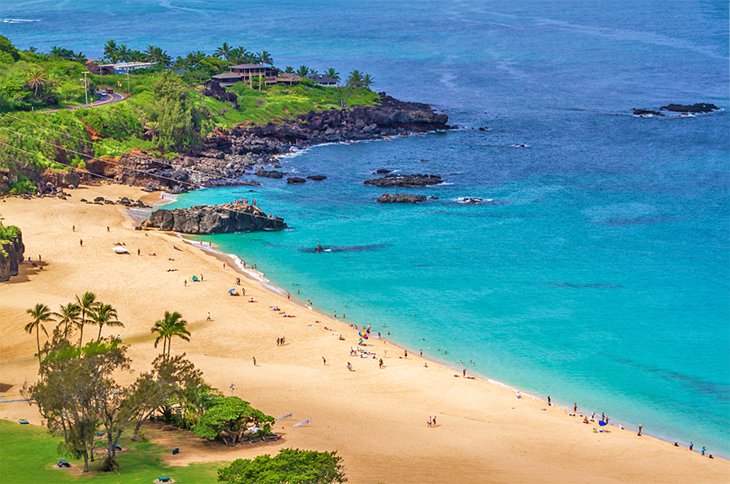 Highlights: One of Hawaii's top surfing beaches, known for waves that can reach as high as 30 feet
On Oahu's North Shore, Waimea Bay is where you come to ride (or watch) big waves. Known for its 30-foot swells, it is one of the most famous surfing beaches in Hawaii. Between November and February, the waves are at their most intense, and this is when some of Hawaii's top surfing competitions are held.
During winter, the pro surfers come to town to play on beaches like Waimea; Sunset Beach; and Ehukai Beach, home to the famous Banzai Pipeline. Check into the Turtle Bay Resort to be in the middle of the action, although you'll need to book far in advance to stay anywhere during surf competitions like the Vans Triple Crown.
If you'd rather skip the intense surfing, visit during summer, when the waves get much smaller and you can swim.
7. Poipu Beach Park, Kauai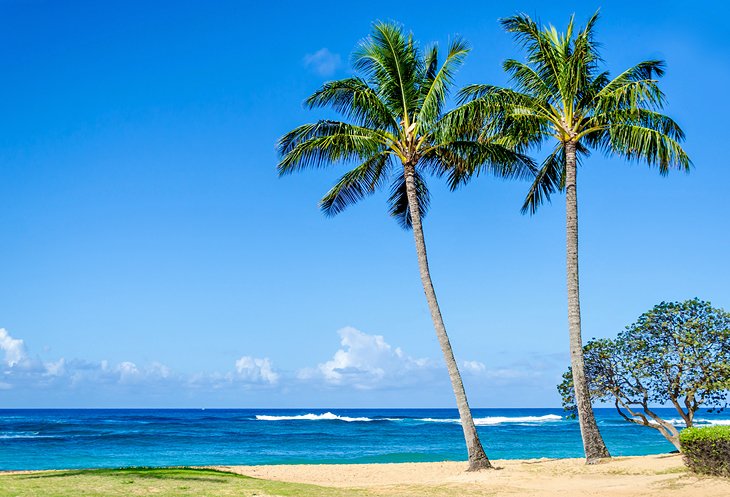 Highlights: Excellent snorkeling, calm waves, and a selection of some of Kauai's top resorts
On the south coast of lush Kauai, where the sun always seems to shine, Poipu Beach Park is made up of three gorgeous gold-sand crescents, fronted by a shimmering sea.
The water here is very calm and suitable for kids, thanks to the protection of a reef, making it a good choice for families. There is also a lifeguard on duty daily year-round.
There is good snorkeling in the vicinity, and should you want to surf, there is a break over the reef, but it is for experienced riders only. Should you wish to stay around here, you'll find a number of resort options, including the Grand Hyatt Kauai Resort and Spa.
8. Hulopoe Beach, Lanai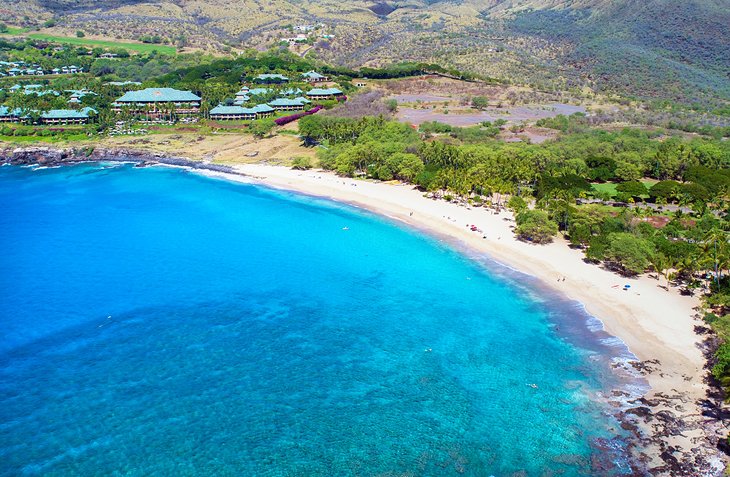 Highlights: A selection of volcanic rock tidal pools, perfect for searching for marine life like hermit crabs and starfish
On Lanai's south coast, Hulopoe Bay is another beautiful beach known for its clear turquoise meets aqua water and pristine white-sand beach. The most stunning stretch of sand is in front of the Four Seasons Resort Lanai, and here you'll find water perfect for swimming and also some decent snorkeling.
In winter, the water can get a little rough, but in summer it tends to be calm. Keep an eye out for dolphins leaping and playing in the water just offshore. In the winter months, you can often spot humpback whales.
On the eastern edge of the bay are a number of large tidal pools that are carved out of volcanic rocks. Kids will love exploring these, looking for the different small marine creatures, like hermit crabs and sea stars, residing here.
9. Papohaku Beach, Molokai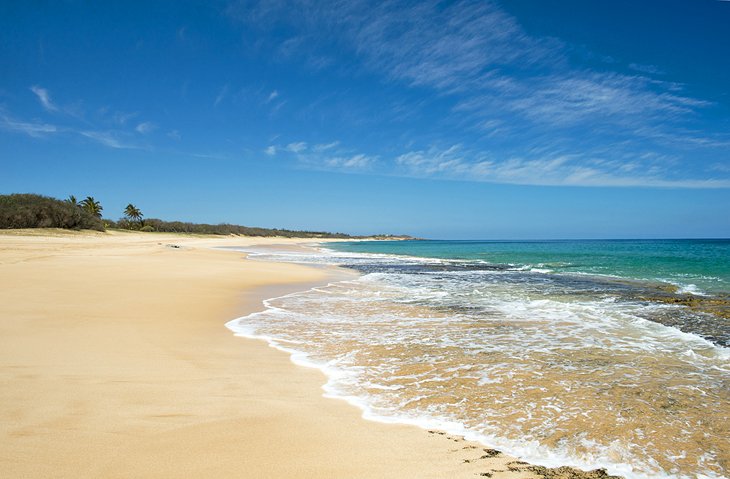 Highlight: One of the longest white-sand beaches in all of the Hawaiian islands
Few travelers ever make it to the island of Molokai, which is between Oahu and Maui. But if you want to experience rural Hawaiian life without the crowds, this is the island for you. It also has some gorgeous beaches to explore.
Papohaku Beach, on the island's western coast, is actually one of the longest white-sand beaches in all of the Hawaiian Islands-and you will often have it entirely to yourself. The ultra-wide beach is backed by rolling dunes on one side and pounding surf on the other.
10. Kapalua Bay Beach, Maui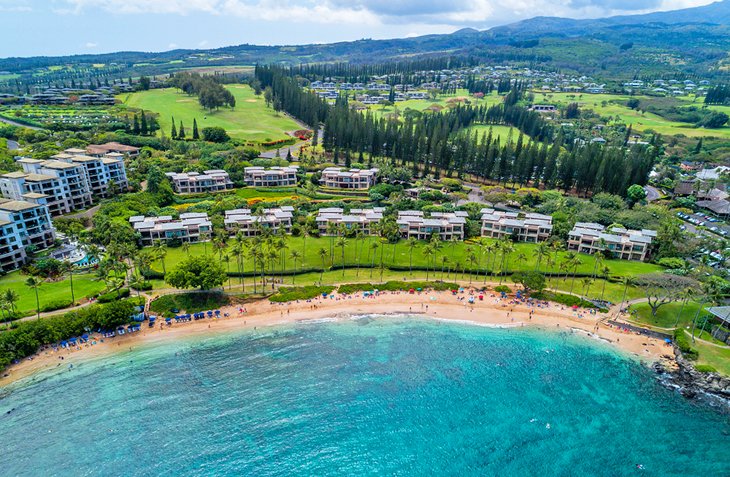 Highlights: A perfect beach for families, thanks to the gentle water and top-quality snorkeling
On Maui's northwest side, Kapalua Bay Beach is a tranquil white-sand beach with calm, clear water. Two reefs extending out on either side of the bay create a protected cove here that is perfect for snorkeling. It is also ideal for families with small children, as the water doesn't drop off quickly. The best snorkeling is found on the northern side of the beach along the reef. The Montage Kapalua Bay is a beautiful, 5-star resort right on the water.
11. Polihua Beach, Lanai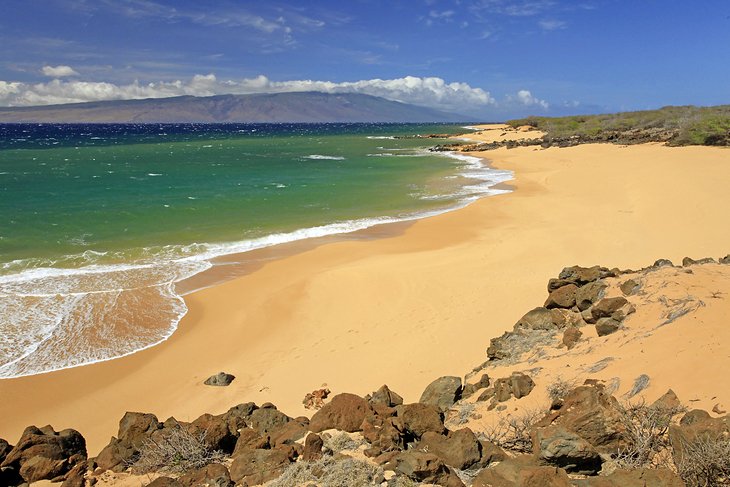 Highlights: A two-mile beach with great opportunities for spotting whales and sea turtles
If you like long, quiet walks on the beach, check out Polihua Beach, on Lanai's northeastern shore, which runs for two miles and doesn't see a lot of traffic. While swimming here isn't advised thanks to strong currents, the beach has other merits. You'll often spot humpback whales just offshore in the winter, and green sea turtles call this beach home year-round.
12. Lanikai, Oahu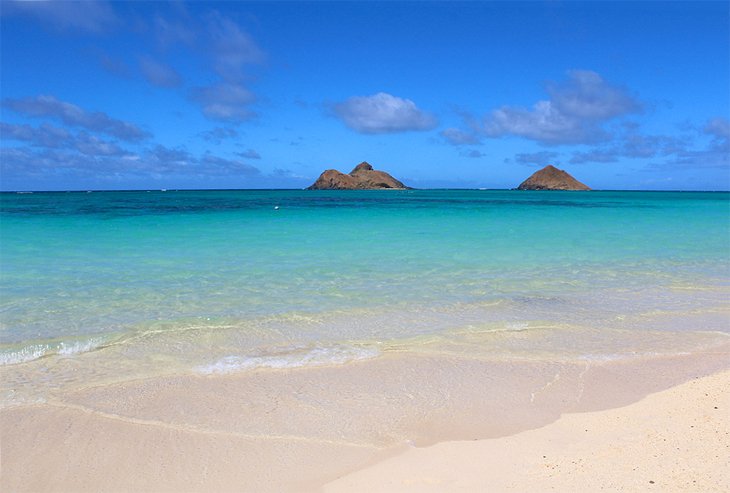 Highlights: A white-sand beach popular for sailing, windsurfing, kayaking, and snorkeling
Another of Oahu's most beautiful beaches, look for Lanikai Beach on the island's windward coast near the town of Kailua. Translucent turquoise water protected by a reef meets white sand on this half-mile-long beach. Just offshore, you'll note two small islands, which serve as a great photo backdrop; one is a bird sanctuary.
The beach is popular for sailing and windsurfing, as the wind can be consistent here. It is also good for kayaking and there is decent snorkeling. The beach is also a popular sunrise photography spot.
13. Kaanapali Beach, Maui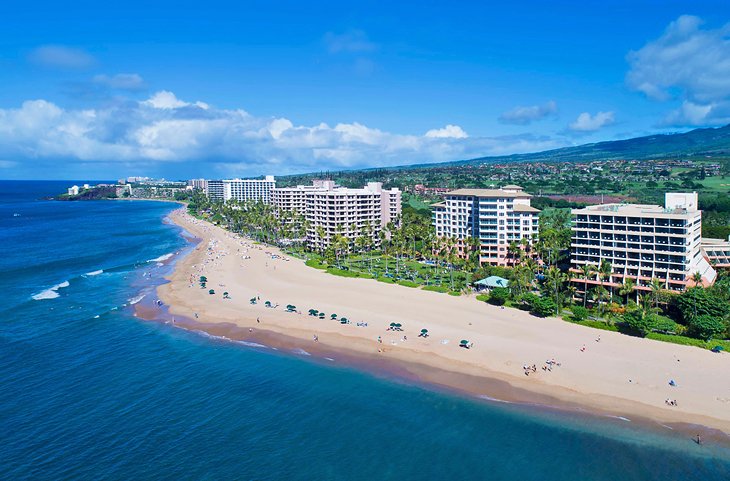 Highlights: A three-mile beach known for its cliff-diving ceremony, top resorts, restaurants, and golf courses
On Maui's west shore, Kaanapali Beach offers three miles of white sand and clear turquoise water. The gorgeous beach is part of Hawaii's first planned resort community. Here, you will also find excellent shopping, a number of restaurants, and two championship golf courses, along with a slew of hotels and resorts fronting the beach itself.
The beach is also famous for its cliff diving ceremony off Pu'u Keka'a or Black Rock. Held nightly at sunset, the dive is a reenactment of a feat accomplished by Maui's King Kahekili, and before leaping off Black Rock, the diver lights torches along the cliffside. While this isn't something tourists can do, you can get an adrenaline rush and view of Kaanapali's coastline from above with a zipline tour.
14. Kauna'oa Beach, Hawaii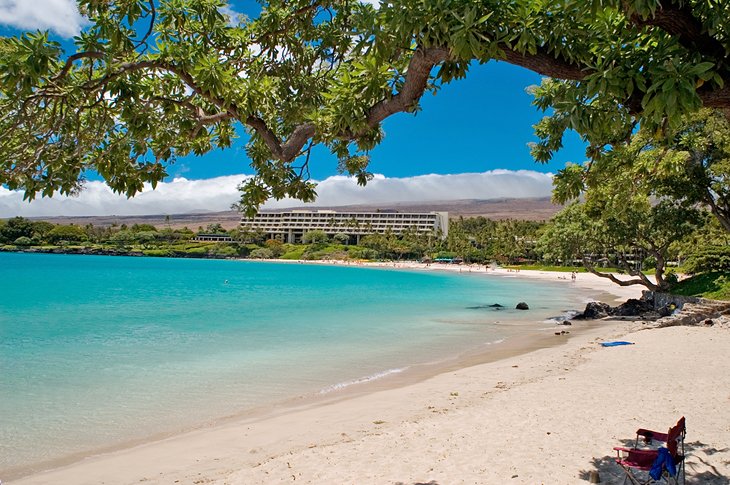 Highlight: Home to one of the Big Island's most famous resorts, the Mauna Kea Beach Hotel
Also known as Mauna Kea Beach for the signature Mauna Kea Beach Hotel facing it, Kauna'oa is one of the prettiest white-sand beaches on Hawaii's Big Island. The water here is a beautiful turquoise, and the waves quite gentle during the summer months, which makes it popular with families. In the winter, however, it offers a solid shore break for surfers.
15. Punalu'u Black Sand Beach, Hawaii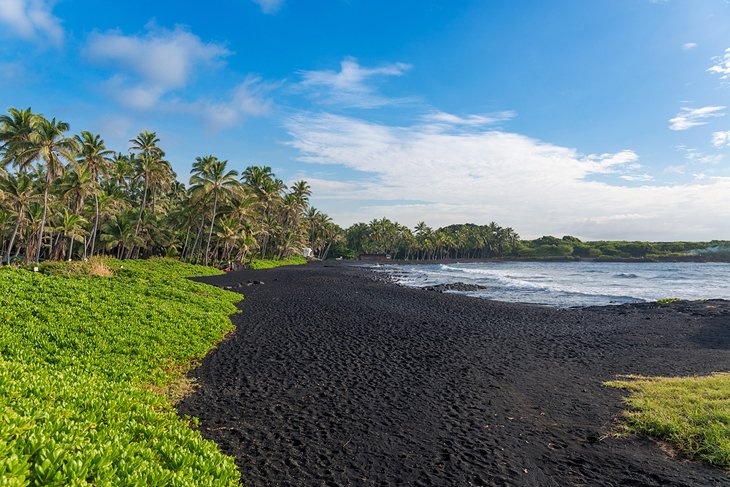 Highlight: One of the best spots on the Big Island for sunrises or sunsets
The Big Island is home to some really unique black-sand beaches, including Punalu'u, which is near the equally impressive Hawaii Volcanoes National Park. Note that black sand gets hot a lot faster, so you will want to keep your flip-flops on when walking along this beach.
If you visit at sunrise or sunset, you're in for a treat, as the colors reflecting off the sand create a different look than white-sand beaches. You may also see sea turtles soaking up some rays on this beach.
16. Hamoa Beach, Maui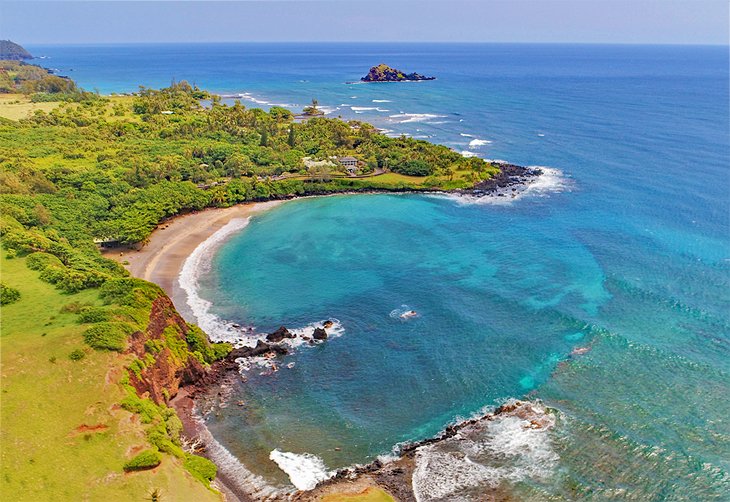 Highlight: A consistent surf break with a backdrop of jungle-covered cliffs
This beach is in a stunning cove along Maui's legendary Road to Hana, which is famous for its hairpin curves and drop-offs. Hana itself is a town lost in time, and well worth the effort to reach.
Hamoa Beach is surrounded by green, jungle-draped cliffs and can be accessed via a set of steps at the shuttle drop-off point for the Travaasa Hana, Maui. The long crescent beach features white sand and a consistent surf break. It is also a gorgeous beach, with postcard-perfect looks and about 100 feet of sand. If you aren't quite ready to surf, bodysurfing and boogie boarding are both popular at Hamoa Beach.
For decent snorkeling, you'll want to head to the left of the cove. Just note that this beach is exposed to the open ocean, and the currents can be strong. Make sure you are a strong swimmer before heading out.
Parking can be difficult on nice days, as there is only on-street parallel parking available. If you can't find a spot, head to Mokae Cove, which is another beach just to its south that sees fewer crowds. On calm sea days, there is good swimming around its south point.
17. Polihale State Park Beach, Kauai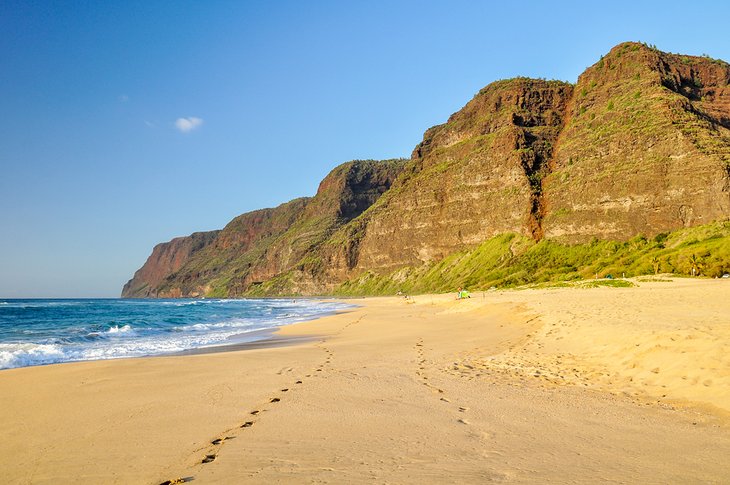 Highlight: A remote stretch of sand surrounded by 100-foot cliffs and some of the most beautiful scenery in Kauai
It takes some effort to reach Polihale State Park on Kauai's far western shore. The five-mile road in is bumpy and takes you over sand dunes. It requires a 4WD vehicle to navigate. Once you arrive, however, you'll be rewarded with a 17-mile stretch of shoreline backed by towering sand dunes. Some of these reach up to 100 feet high. You'll also be able to see some of Kauai's most famous landmarks, like the Napali cliffs from the beach.
Many visitors choose to camp out here for a few days, but you need a permit from Hawaii State Parks. Park activities include fishing and swimming, but the latter is only safe at Queens Pond due to strong currents and riptides. Amenities are also limited, but there are restrooms, showers, and picnic tables. You'll want to bring all your food and beverages in with you.
18. Kalapaki Beach, Kauai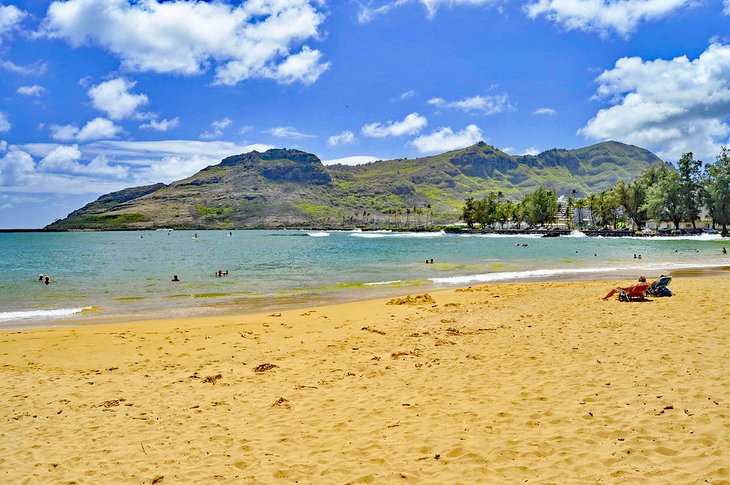 Highlight: A calm stretch of sea perfect for paddleboarding, boogie boarding, and outrigger canoeing
Fronting the Marriott's Kaua'i Beach Club, Kalapaki Beach on Kauai's eastern coast is a great choice for all kinds of travelers. Located in a bay that is partially protected by a large wall break from the open ocean, it is a good spot for swimming.
The pretty white-sand beach and surrounding sea is also a popular place for boogie boarding, stand up paddleboarding, and learning to surf. Surfboard and paddleboard rentals are available from rental shacks on the sand, and lessons can also be organized.
Many also come here simply to relax, sunbathe, and watch the outrigger canoes and cruise ships coming and going out of Nawiliwili Harbor. Grab a picnic lunch at the Kalapaki Beach Hut, found just across the walking bridge at the bay's south end, and take it down to the sand. There are also a few sit-down restaurants by the sea.
Map of Beaches in Hawaii
Best Time to Go to the Beach in Hawaii
Hawaii is one of those destinations in the world that is fantastic to visit year-round. But if you're looking for the best times to visit Hawaii, the months of November, December, and January top the list.
The best weather in Hawaii is November, December, January, February, March, and April. The average daily high during these months is 78 degrees Fahrenheit, and the weather is typically sunny with very little rain. Prices are much higher during these months, and you can expect quite a few crowds.
Hawaii's Golden Week is the last week of April and the first week of May. This is when Hawaii receives a huge influx of Japanese tourists, thanks to four Japanese holidays that are celebrated over a week-long period.
Hawaii's summer is May, June, July, August, September, and October. The temperatures during these months are an average of 85 degrees Fahrenheit. The rainiest months in Hawaii are June, July, August, September, October, and November.