10 Top-Rated Beaches in Hilo
Author Meagan Drillinger visited Hilo as part of her tour of Hawaii in January 2023.
When it comes to the heart and soul of the Big Island, you'll find a whole lot of it in Hilo. Hilo is a city for the locals, as opposed to the more touristy Kona side with its glamorous resorts and gated communities. Hilo is known for its tropical climates, gushing waterfalls, and, of course, its unique beaches.

Hilo's beaches are certainly unique. While the beaches on the Kona side are more traditionally white and sandy, Hilo's beaches are marked for their volcanic lava shoreline, grassy lawn areas, and gorgeous mountain views.
Hilo is famous for its beach parks. These green spaces usually have picnic tables, showers, restrooms, and spacious grass lawns for relaxing. Sandy beaches in Hilo are limited, so most visitors jump into the water right from the black volcanic rocks that line the shoreline.
The water in Hilo is exceptionally clear and great for snorkeling. Plus, many of the beaches are protected from the waves thanks to natural rock barriers, which means the waters are safe for swimming.
Read on to discover the best beaches in Hilo.
1. Carlsmith Beach Park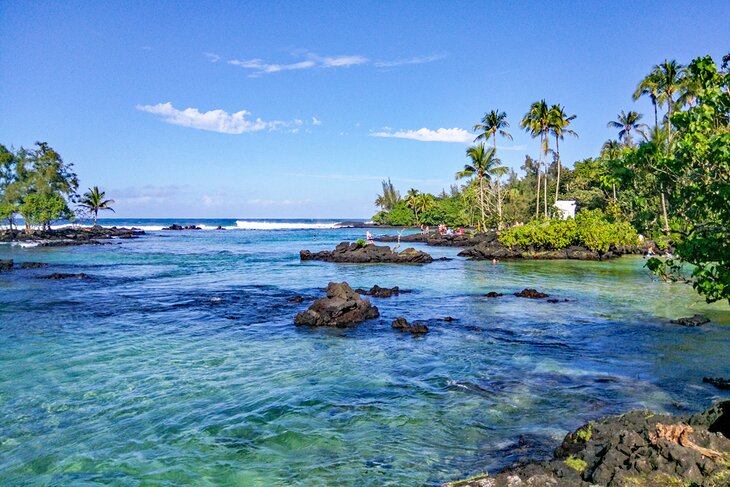 Along the beach-laden Kalanianaole Street, Carlsmith Beach Park is one of Hilo's most beloved beaches. Protected by black, moss-covered lava rocks, the water here is calm, warm, and beautiful for swimming and snorkeling. This is a top beach in Hilo for families, particularly because of the calm water.
Like most of the beaches around Hilo, you won't find powder-soft sand. Instead, you'll find grassy areas where residents and visitors have likely sprawled out with picnic blankets. The park has several picnic tables, as well.
Though the area around the beach isn't necessarily sandy, the bottom of the lagoon pools certainly is. It's not uncommon to see sea turtles swimming here, too. That can be a really exciting brush with nature but remember to not touch them, as they are a legally protected species.
Kalanianaole Street is an important avenue to know when beach-hopping in Hilo. You'll find the majority of the city's top beaches are strung one after the next along this main waterfront thoroughfare. But Carlsmith Beach Park should be your first stop.
Address: 1815 Kalanianaole Street, Hilo, Hawaii
2. Richardson Ocean Park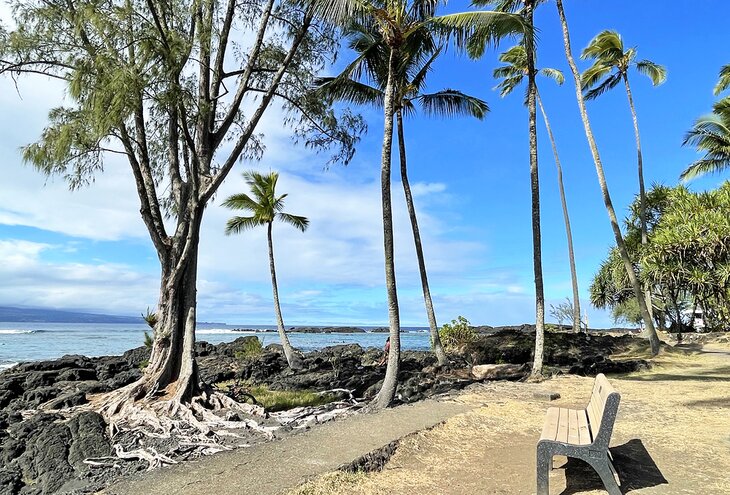 Not far from Carlsmith Beach Park is a second beach park that is incredibly popular among Hilo residents. Richardson Ocean Park is yet another link in the chain of beach parks that run along Kalanianaole Street. Visitors love it for its clean water, great snorkeling, and convenient facilities.
What's cool about the sand at Richardson's is that it is one of the few green beaches on the Big Island. This is thanks to a lava mineral called olivine, which is rare and incredibly unique. It makes it one of the more beautiful beaches on the island. (And if you're really interested in green beaches, be sure to check out the island's famous Green Sand Beach, only accessible via a hike.)
The shallow waters at Richardson make it perfect for families and snorkelers. Nearby springs add a dose of freshwater to the swimming pools, which means you have a wide variety of marine life that you can spot, including sea turtles and (maybe) Hawaiian monk seals.
Facilities include bathrooms, picnic tables, showers, and a lifeguard on duty.
Address: 2355 Kalanianaole Street, Hilo, Hawaii
Read More: Best Places to Go Snorkeling in the World
3. Honoli'i Beach Park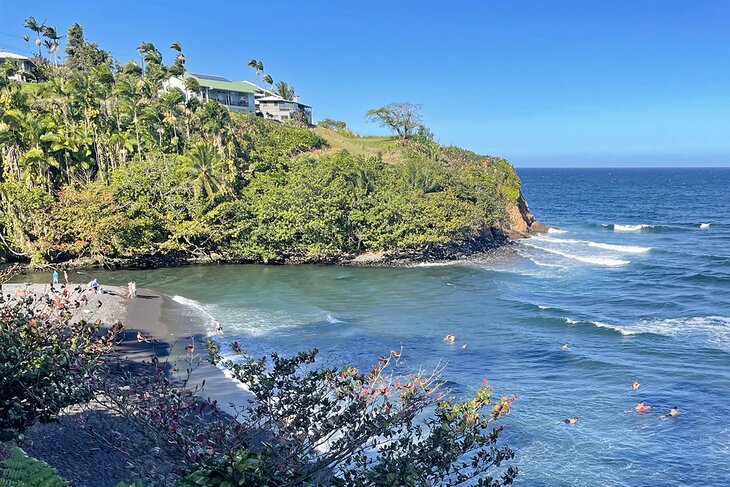 Honoli'i Beach Park is one of Hilo's best beaches that you won't find along Kalanianaole Street. This park is actually north of Hilo, right where the Honoli'i Stream empties out into the Pacific Ocean. The beautiful black-sand beach is wreathed in palm trees and is one of the best beaches in Hilo for surfing.
You'll find fewer swimmers in this cove than surfers, due to the strong current and the rocky floor. But it is a great spot to watch surfers and an overall pretty beach to look at. It also has a lawn area with picnic tables and a lovely pond.
Most people park their cars at the top of the cliff and watch the surfers below. Sunday is a great day to visit because local residents have set up food stands. It becomes a great gathering point for families on the weekends.
If you're interested in getting closer to the action, you can walk the many stairs down to the pebbly beach for a view from a different angle. And if you're at all skilled in surfing, this is one of the best local beaches to try to catch a wave.
4. Reeds Bay Beach Park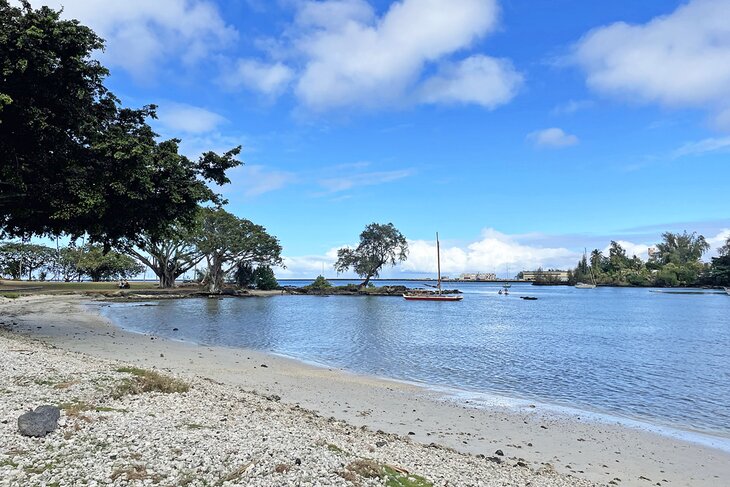 It's tough to find a genuinely sandy beach in Hilo. Most beaches are lined with volcanic rock. But Reeds Bay Beach Park is one of the few beaches in Hilo that actually has soft, white sand.
Located on Banyan Drive, where the majority of the hotels in Hilo are, this is a calm, quiet beach. The water here is tranquil and shallow, making it a great beach for families.
It also has amenities like picnic tables, bathrooms, and showers. Snorkelers love to explore the rocky cove areas, while those who want a bit of exercise launch kayaks into the water and paddle around the bay. The water is so calm that it's perfect for stand up paddleboarding, as well.
It's not a very big beach — you can walk the whole thing in less than five minutes — but it does scratch that itch for a sandy shoreline, if that's something you're looking for. It's also centrally located, so you can access it quickly from almost anywhere in downtown Hilo.
Address: 225 Banyan Drive, Hilo, Hawaii
5. Keaukaha Beach Park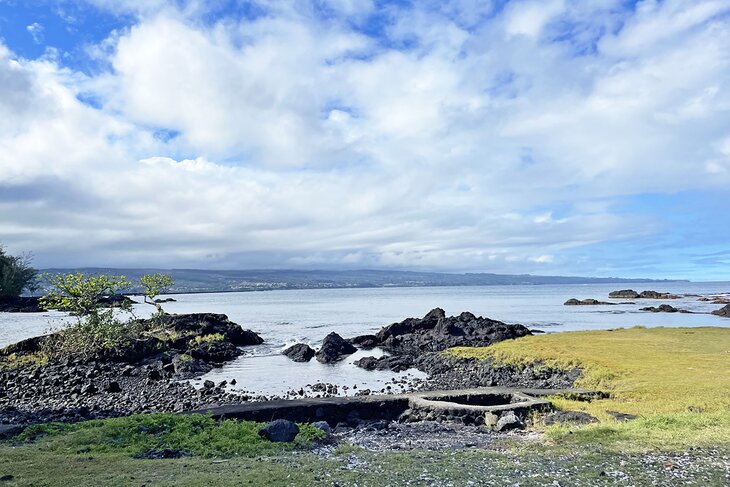 What's unique about Keaukaha Beach Park is that it's not even really a beach. Instead of sand, what you have is a shoreline of pure lava rock. It may not be what you're expecting from a beach day, but it is a truly beautiful beach and one that is very indicative of the landscape of the Big Island.
It's not the best beach for swimming, but when the water is calm, it is an ideal beach for snorkeling. You'll also find people taking advantage of the grassy lawn adjacent to the beach, which is popular for picnics or laying out under the sun.
A long-term camping area is also here, but you'll need a permit for that.
Keaukaha Beach Park is not the most crowded, thanks to its unique features, but it is one of the most uniquely beautiful. It's a really nice and quiet spot to sit and watch the waves roll in, and you'll have one of the best views of the bay and surrounding hillsides.
Address: 27 Apapane Road, Hilo, Hawaii
6. Wai'olena Beach Park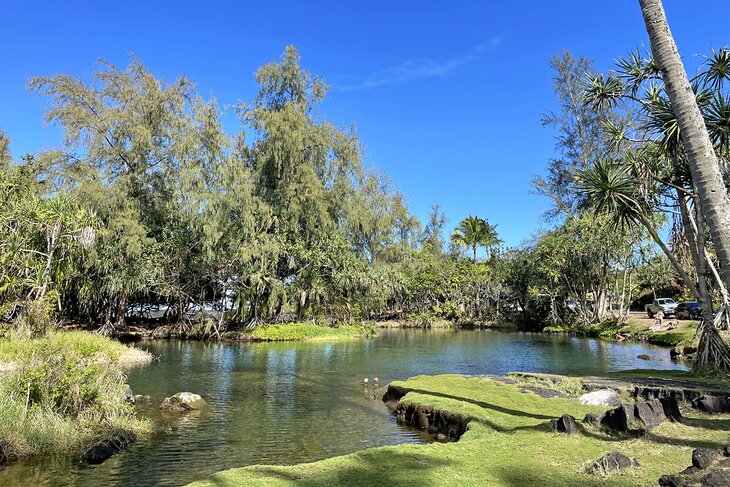 Heading back to Kalanianaole Street, you'll find Wai'olena Beach Park, which is not far from Carlsmith Beach Park. While you won't find a traditional beach area here (which seems to be the norm for Hilo), you will find plenty of space to sprawl out for an outdoor picnic or sit and watch the waves.
The currents at this beach are pretty strong, and the shallows of the water are crusted with lava rock, so this is more of a beach for surfers or surf spectators. You may be able to see the occasional sea turtle here, too. The views from this beach are beautiful, with sweeping panoramas of the bay and the hills in the distance.
Adjacent to the park is a lawn area that has pavilions and picnic tables, which makes this a wonderful beach park for family gatherings on the weekends. In fact, it can get quite crowded on the weekends, so get here early to reserve your spot. Of course, if it does get too crowded here, you won't have to travel very far to find an alternative along Kalanianaole Street.
Address: 2151 Kalanianaole Street, Hilo, Hawaii
7. Onekahakaha Beach Park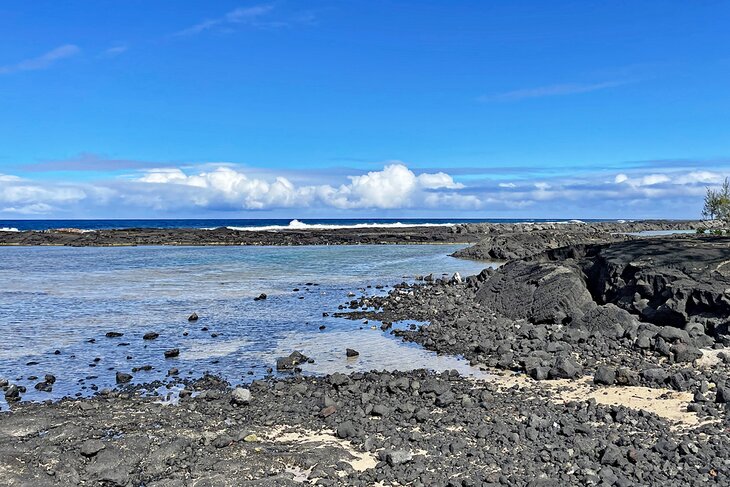 Looking for a great beach for families in Hilo? Look no further than Onekahakaha Beach Park. This shallow beach is wreathed in volcanic rock, creating a calm and gentle swimming pool with a sandy bottom. It's a great place for people searching for an easy, laid-back beach day.
That said, you won't find an actual sandy beach here. Like most of Hilo's beaches, it's mostly black volcanic rock. But the tidal pools and small coves are supremely safe for swimming, and the snorkeling is pretty great, too. Keep your eyes peeled for those green sea turtles. The sandy bottom of the swimming area is a welcome contrast to the typical rocky shorelines around Hilo, as well.
The beach has facilities, including a parking lot, restrooms, showers, picnic areas, and a lifeguard on duty. Weekdays are often the best time to visit because it can get really busy on weekends.
Address: 74 Onekahakaha Road, Hilo, Hawaii
8. Kealoha Beach Park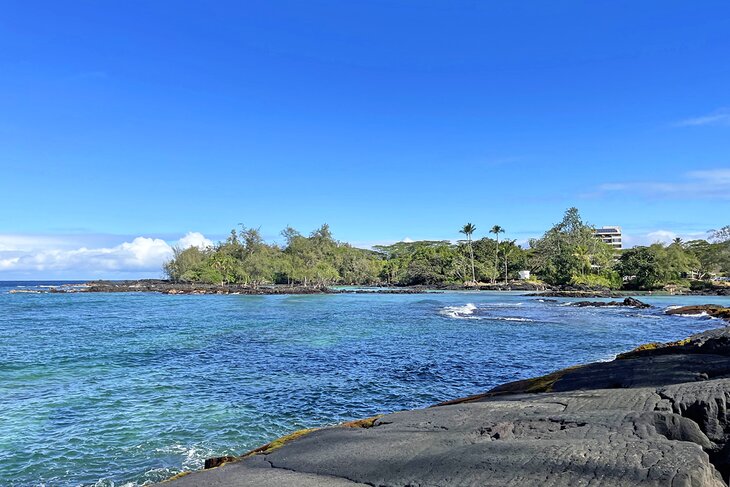 Yet another beach spot along Kalanianaole Street is James Kealoha Beach Park, though you may hear the locals call it "4-mile." Why? Because it's exactly four miles from Hilo's post office. Go figure.
Like the other beaches in Hilo, you won't find much sand. Instead, the shoreline is made up entirely of black volcanic rock. This means it's a bit challenging to "lie out," but the beach is really very beautiful and can be a lot of fun if you know where to go.
The east side of the beach has a sheltered lagoon area, where it's safe for swimming and snorkeling. The more west you move along the shoreline, the current gets stronger and waves break, so this is where surfers like to hang out. Of course, the snorkeling is really gorgeous here, and you may catch a glimpse of a sea turtle or two.
Always be sure to check the conditions because strong currents do happen. If you're at all hesitant about swimming, it's best to stick to the east side of the beach.
Address: 1701 Kalanianaole Street, Hilo, Hawaii
9. Coconut Island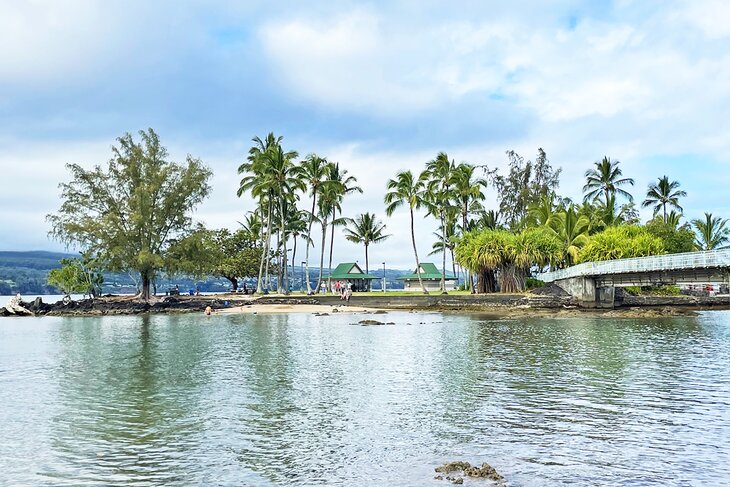 While cruising the beautifully landscaped Banyan Drive, you'll pass the Waiakea Peninsula and the picturesque Coconut Island. This small island in Hilo Bay is a picturesque oasis from which to take in the views of Hilo and enjoy the island's sandy beach.
The island is connected to Hilo via a small footbridge that leads from the Liliuokalani Gardens. It's just a short walk over. Once on the island, you'll find a grassy field, picnic areas, showers, and a smattering of sandy beaches.
Be sure to observe all the beautiful flowers that grow over here, as well. If you want a little adrenaline rush, consider jumping from the 20-foot tower into the sea below. It's a popular spot for local kids to show off their bravery and diving skills.
The water is calm around the island, particularly on the side that faces Hilo, so this makes a wonderful spot for swimming.
Because of the island's unique location, the beaches may get crowded, so it's best to go early to secure a good spot. The tiny island may be smack-dab in the heart of downtown Hilo but it does feel like a little slice of a different world.
10. Bayfront Beach Park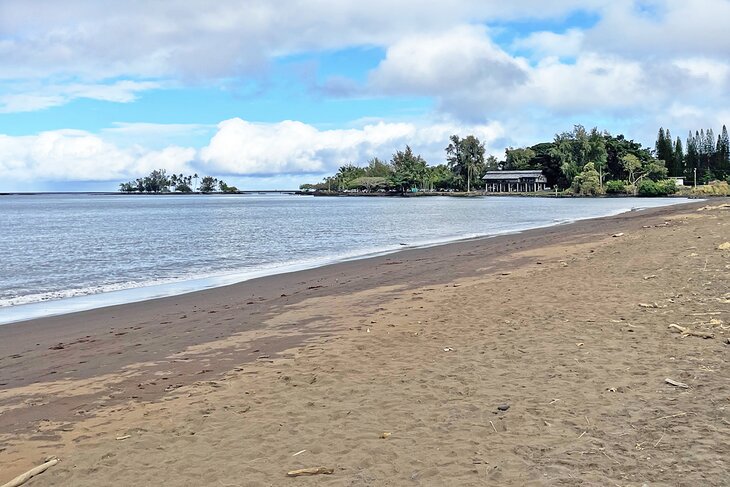 Right in the heart of downtown Hilo is a beach where you'll find a majority of locals hanging out. Bayfront Beach Park is a black-sand beach with tons of amenities and a wide stretch of space — nearly 3,000 feet of it. Unfortunately, the water is a bit murky for swimming, but people use this beach as a place to hang out or launch their kayaks and canoes.
Among the facilities at the beach are parking, showers, and restrooms.
Bayfront Beach Park is a bit of a project for Hilo. Industrial activity left the water and shoreline polluted for many years, but restoration projects have been underway to bring the beach back to its former glory. Still, it's a nice place in Hilo for a beach picnic, fishing, and surfing.