12 Interesting Things to Do near Hilo, HI
Author Meagan Drillinger explored Hilo as part of her month-long visit to Hawaii in January 2023.
Welcome to the Big Island's lush, tropical side. Hilo is where you can expect to find plunging waterfalls, plenty of botanical gardens, black volcanic beaches, and other interesting natural attractions. It's in Hilo that you'll find the heart and soul of the Big Island.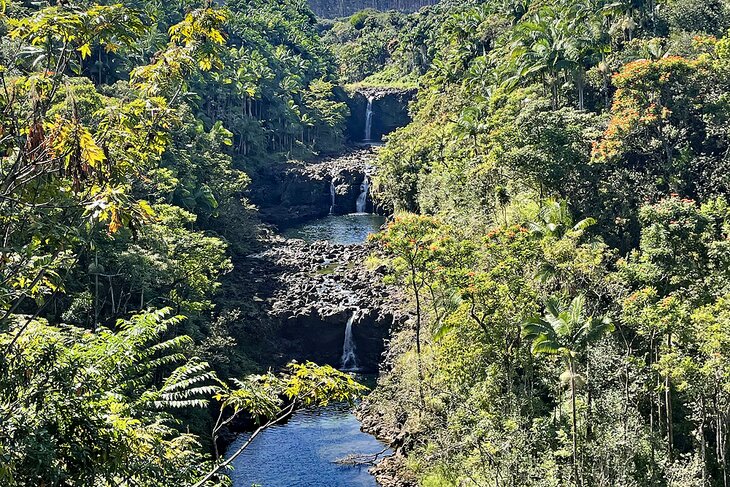 Hilo is a ruggedly beautiful city with a population that knows how to survive — and thrive. Not only does Hilo have the highest annual rainfall of anywhere in the United States, it has also been leveled by tsunamis and stands directly in the path of Mauna Loa's lava flows. It's a city that knows how to appreciate life and the beauty of raw, wild nature.
Visitors who come to Hilo do so to escape the typical tourist trail. You're rubbing elbows with locals here, but you'll still find plenty of things to do. The surf and snorkeling are excellent, as are the hiking trails and waterfalls. Other top places to visit include restaurants, museums, and Volcanoes National Park.
Here are the best things to do in Hilo.
1. Walk the Waterfall Loop at Akaka Falls State Park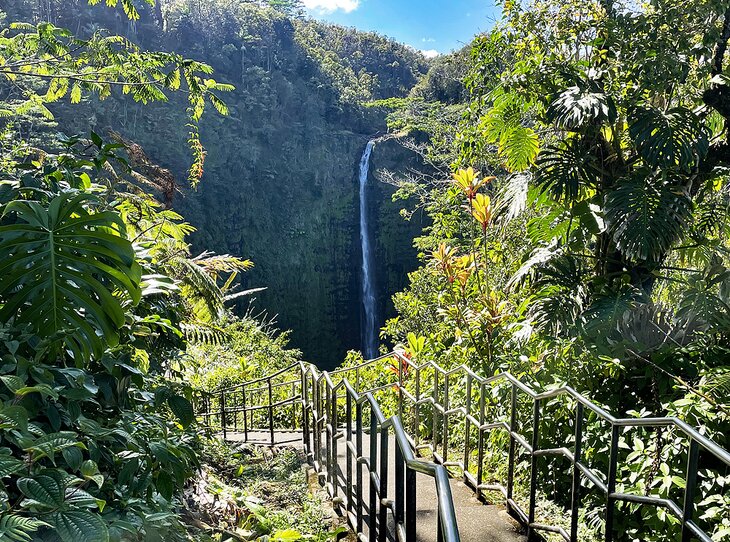 Hilo is a veritable treasure trove when it comes to lush parks and beautiful waterfalls, and you get both when you visit Akaka Falls State Park. The verdant park is a quick drive outside of town and is known for two impressive waterfalls: Akaka Falls and Kahuna Falls.
Thanks to a quick, half-mile loop path, visitors have the opportunity to see both impressive falls in one shot. Akaka Falls is the larger of the two, plunging 442 feet into a gaping gorge. Kahuna Falls is just a short walk farther down the path. Both are shrouded in thick jungle foliage and are beautiful to view.
The rest of the path is lovely, as well, with bamboo forests, giant banyan trees, and the constant sound of rushing water.
The park fee costs $10 per vehicle and an additional $5 per passenger.
Address: VR3X+P5, 875 Akaka Falls Road, Honomu, Hawaii
2. Take the Coastal Drive to Waipio Valley Lookout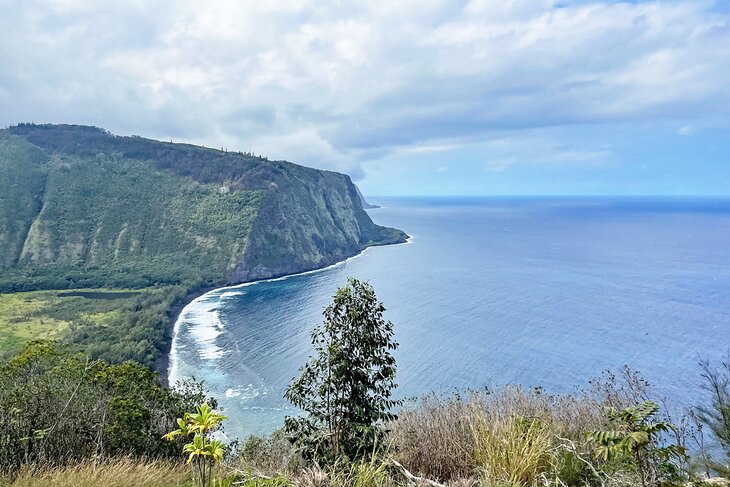 You will be learning so much about Hawaiian history and culture when you visit the Big Island. That's because it's the home island of King Kamehameha I, the king that unified the Hawaiian islands. Waipio Valley is exceedingly important to Hawaiian history because it was the childhood home of King Kamehameha.
Today it is known as "The Valley of the Kings" and is a sacred spot for Hawaiians. It also happens to be exceptionally beautiful. The lush valley extends a mile across and five miles deep, shielded on either end by cliffs that tower at 2,000 feet.
Today the population of the valley has dwindled from its once mighty numbers to now less than 100 residents. Still, these lucky few get to live amid the gorgeous scenery, waterfalls, and endless shades of green.
The best way to see the valley is from the Waipio Valley Overlook. Parking is easy, and a path leads to a viewing platform that has beautiful views across the valley. This is also an excellent perch from which to try to spot whales, so if you have binoculars, bring them.
Address: 48-5546 Waipio Valley Road, Waimea, Hawaii
3. Do the Umauma Experience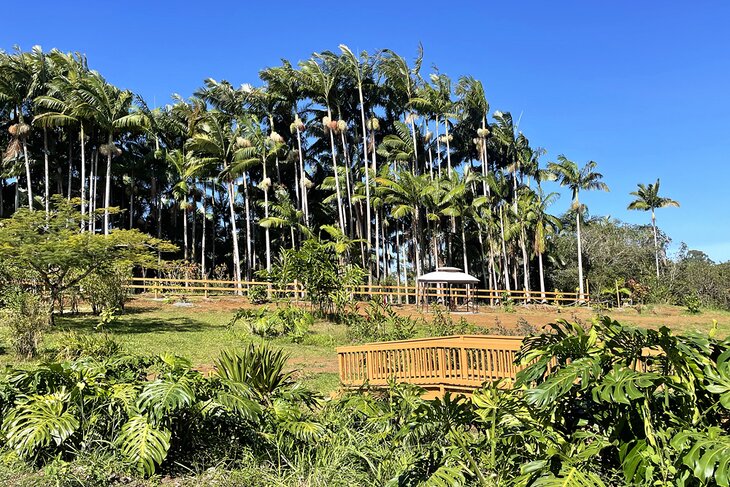 If you're hunting waterfalls around the Hilo area, you may be led to Umauma Falls. The Umauma Falls are one of the prettiest waterfalls on the Big Island, but they are also the gateway to much more. The falls are on the private property of The Umauma Experience, a local adventure tour operator known for its beautiful gardens, heart-pumping ziplines, and, of course, waterfalls.
The adventure park is really something awesome for the whole family to experience. It has everything from rappel courses down waterfalls to ATV courses, zipline tracks that go over the Umauma River and the falls, horseback riding, stand up paddleboarding, and many more exciting things to do.
You can choose to be as intense as you feel comfortable with. The park even has serene gardens that you can wander around if you don't feel like getting your heart rate up. And if all you want to do is see the waterfall, you can pay an entry fee of $5 per person and walk the short walk up the hills to see the spectacular waterfalls.
Address: 31-313 Old Mamalahoa Hwy, Hakalau, Hawaii
4. Visit Boiling Pots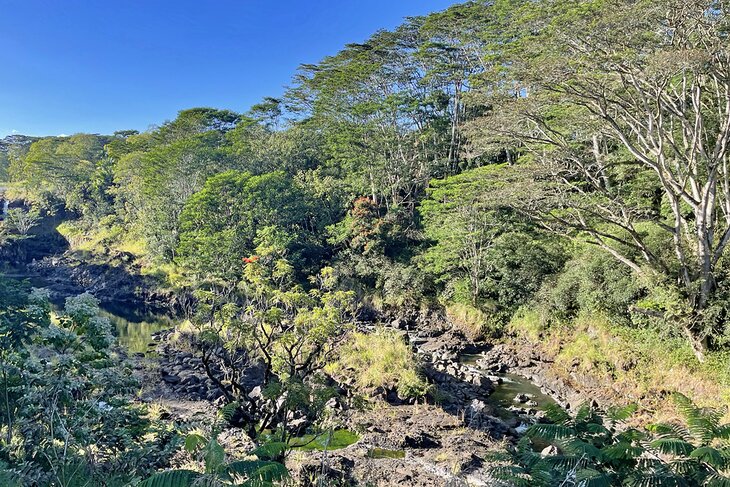 The Wailuku River is an 18-mile river that flows right through the heart of Hilo. It's responsible for some of the area's most beautiful waterfalls, like Rainbow Falls and Pe'epe'e Falls. But it also helps to create another point of natural beauty: Boiling Pots.
Boiling Pots is a series of lava rock pools that were formed from lava pools thousands of years ago. The flows created underwater tunnels that today have the water from the Wailuku River rushing through them, creating a swirling bunch of pools that look like — you guessed it — boiling pots.
Today Boiling Pots can be seen from a viewing platform in the middle of a lovely park. If you can crane your neck around the bend hard enough, you may be able to catch a glimpse of Pe'epe'e Falls if the rains have been strong enough.
While Boiling Pots looks inviting, proceed with caution. After heavy rain, the area can be very dangerous.
5. Swim at Richardson Ocean Park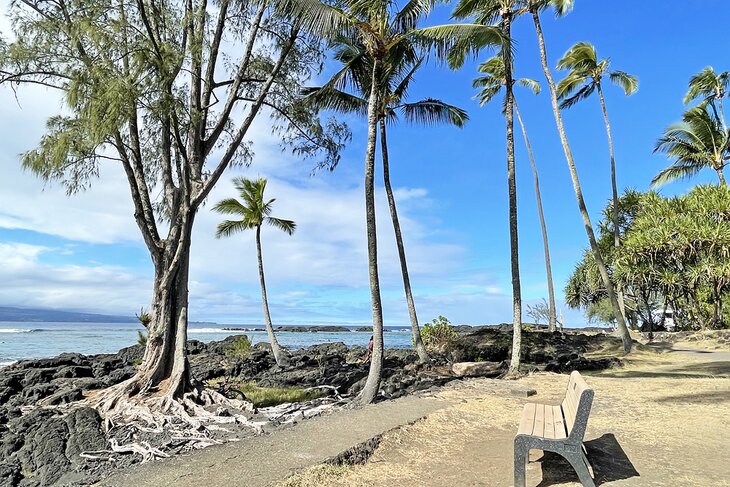 You can't visit a Hawaiian island and not book some beach time. But unlike beaches on Hawaii's other islands, the beaches on the Big Island are special. That's because the majority of them are made from volcanic rock. It makes for a very interesting and beautiful aesthetic.
Hilo, in particular, has a long stretch of beach parks that run one after the other along Kalanianaole Avenue. These beach parks have direct ocean access, great views of the mountains, grassy spots for picnicking, and, of course, spots to jump in the water. Richardson Ocean Park is one of the best beach parks in Hilo.
The closest black-sand beach to Hilo's downtown, the beach has fantastic snorkeling, calm tidal pools, a picnic area, and gentle water. It's one of the beach parks that is best for families.
Address: 2355 Kalanianaole Street, Hilo, Hawaii
6. Explore Botanical World Adventures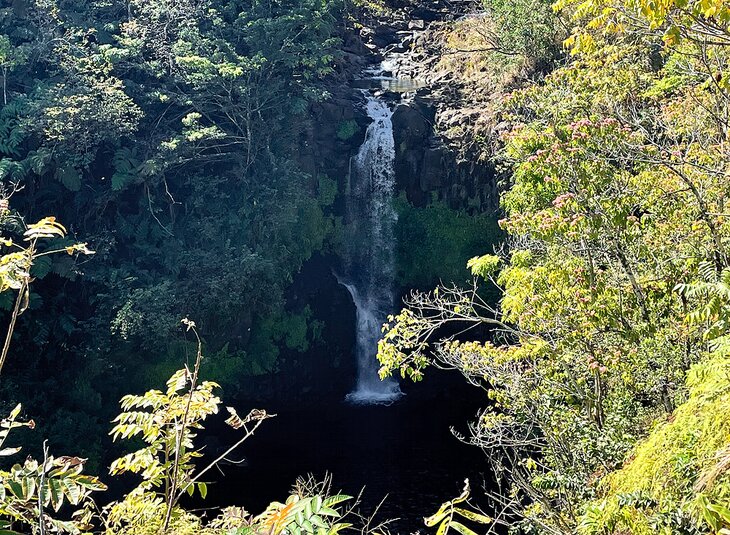 The Umauma Experience is not the only spot near Hilo to zip through the jungle canopy. Botanical World Adventures is another adventure company near Hilo that offers adrenaline-pumping activities in the heart of the jungle.
Botanical World Gardens and Waterfalls originally started as a place to walk among the gorgeous gardens and see some of the island's best waterfalls, notably Kamae'e Falls and Hanapueo Falls. But in 2009, the company added the Zip Isle Zipline Adventure, which allows visitors to see these epic sights from above. In fact, nowadays one of the only ways to see Hanapueo Falls is from the zipline course.
Today Botanical World Adventures offers Segway tours, trail systems, and garden tours.
Address: 31-240 Old Mamalahoa Hwy, Hakalau, Hawaii
7. Drive the Mauna Kea Summit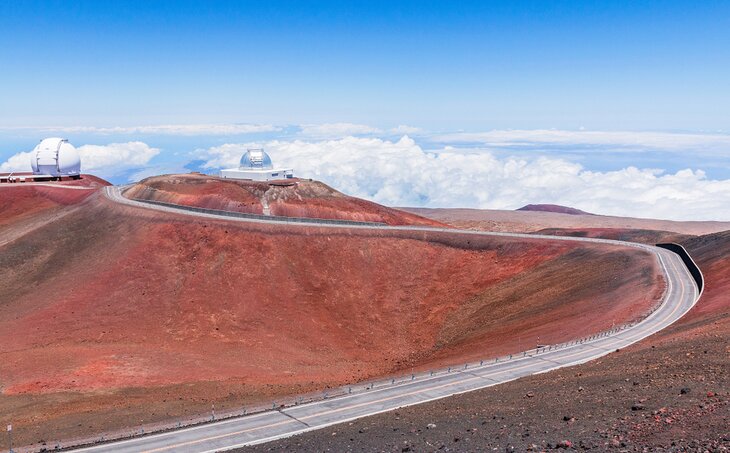 No visit to Hilo is complete without a visit to Mauna Kea. It's hard to miss this mountain — it's the highest point in Hawaii, looming at nearly 13,800 feet.
This now-dormant volcano is one of the largest in the world and is considered to be a secret place for native Hawaiians. Today it plays an important part in astronomy research and is one of the coolest places to visit when on a trip to Hilo.
A visit to Mauna Kea is completely free, which is even more incentive to experience this fantastic natural landmark. Visitors can drive to the top of the mountain for one of the most eye-popping views above the clouds out and over the Big Island.
At the summit is where you'll find telescopes, as well, which are used for both research and stargazing events. Down at the visitor center, which is halfway down the volcano, local astronomer volunteers often set up telescopes for stargazing events, as well.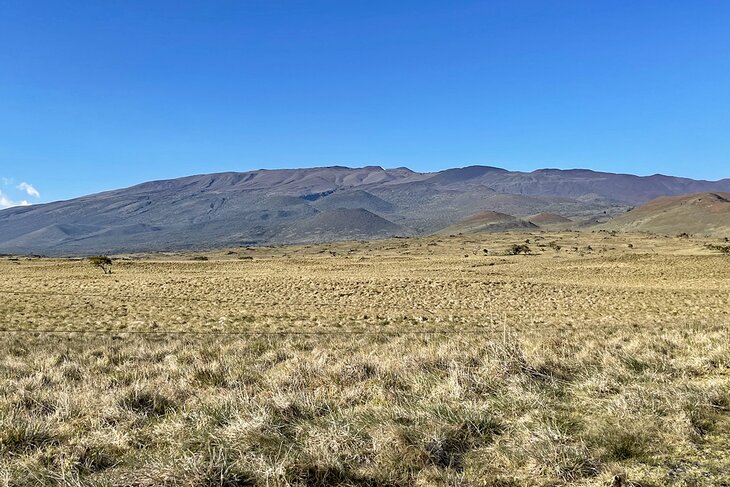 To drive all the way to the top, you'll need a 4WD car, as the road is made of gravel and can be quite narrow. You'll also want to be sure to fill up the tank before you head toward Mauna Kea because you won't find any gas stations along Saddle Road.
Address: Mauna Kea Access Road, Hilo, Hawaii
8. Relax at Carlsmith Beach Park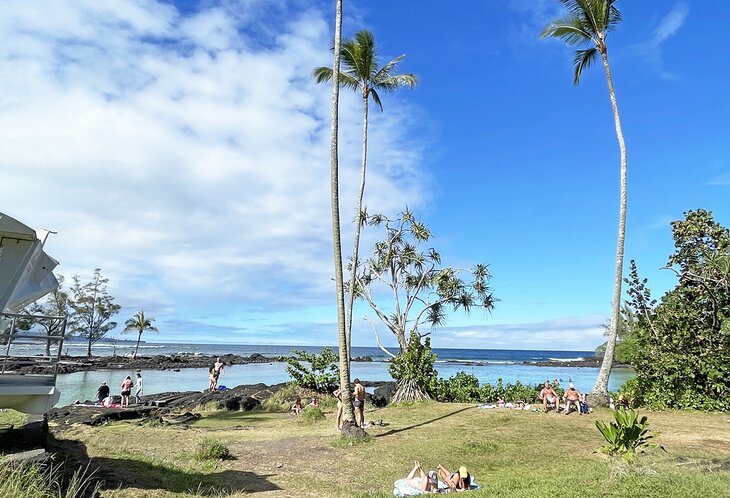 Also located along Kalanianaole, Carlsmith Beach Park is another local beach in Hilo that is positively loved by locals. The beautiful beach has a delightful swimming area that is shielded from the open water by a fence of volcanic rock, making it one of the calmest places to swim and snorkel.
The area is really quite beautiful, with the contrast of black lava rocks, turquoise water, and lush, jungle foliage. It's a great place to relax with a book or a picnic, especially since it has a grassy lawn area, restaurants, a shower, and drinking water. A lifeguard is also on duty on weekends and holidays.
Keep your eyes peeled for sea turtles. They also like to explore this beach area. But remember — you must maintain a 10-foot distance at all times, as these gorgeous creatures are protected by state law.
Address: 1815 Kalanianaole Street, Hilo, Hawaii
9. Wander Hawaii Tropical Bioreserve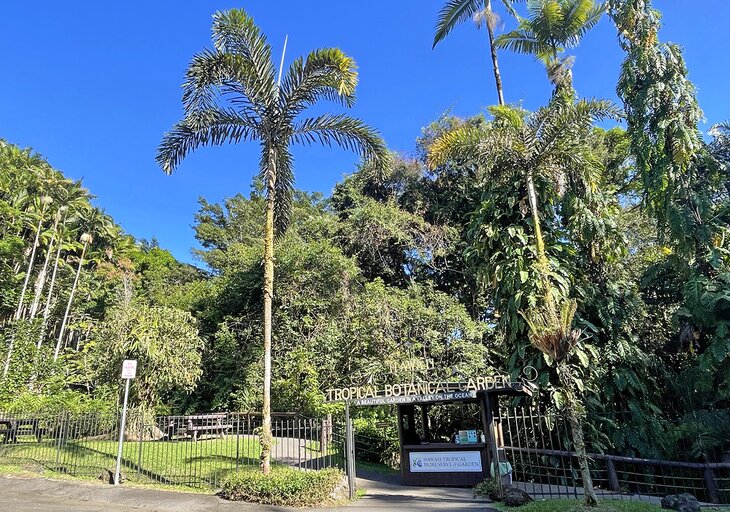 Part of the allure of the Big Island are its lush, tropical rainforests, which can be found in pockets all over the island. Near Hilo, the Hawaii Tropical Bioreserve & Garden is one of the best places to explore the rich jungle environment.
Sprawling over 40 acres, the Hawaii Tropical Bioreserve and Garden is teeming with tropical plants and wildlife. You'll find more than 2,000 plant species here, as well as 200 species of palms, walking trails, streams, a bird aviary, and an orchid garden.
The garden also has two waterfalls that are only visible with access to the garden. You can take a self-guided walking tour across a landscaped boardwalk that leads to garden trails, waterfalls, and ocean views.
Address: 27-717 Mamalahoa Hwy, Papaikou, Hawaii
10. Discover Lili'uokalani Gardens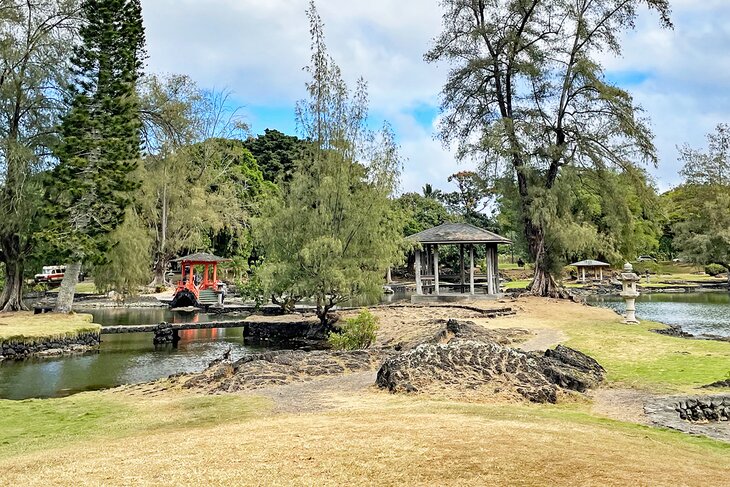 Right in the heart of downtown Hilo is an oceanfront garden oasis that you won't want to miss. Lili'uokalani Gardens is a slice of Japanese garden culture — beautifully manicured and free for all.
The peaceful gardens, named for Hawaii's last reigning queen, are located right on the beautiful Banyan Drive, surrounded by massive banyan trees that create curtains with their ropey branches.
The garden features arched bridges, delicate pagodas, stone lanterns, and even a teahouse. From the garden, you have a lovely view over the Bay and Coconut Island.
Address: 189 Lihiwai St #151, Hilo, Hawaii
11. Discover Rainbow Falls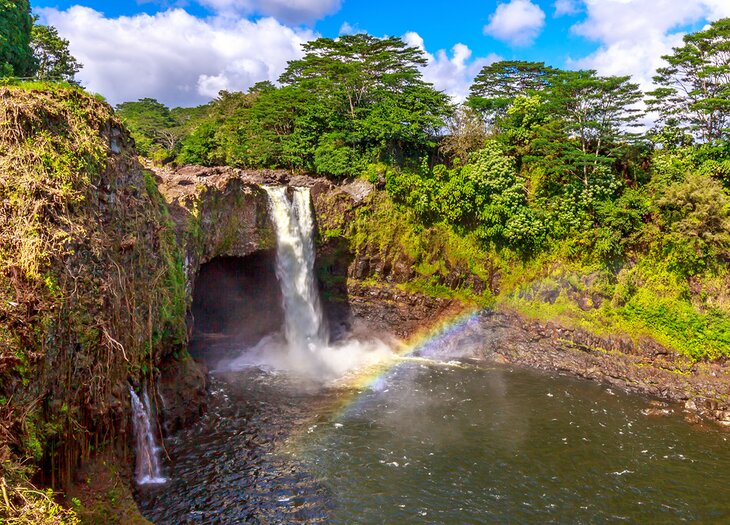 It may be one of the easiest waterfalls to see on the Big Island, but that does not mean it lacks in splendor. This gushing, gorgeous waterfall plummets an impressive 80 feet over a lava cave. Legend has it that the Hawaiian goddess, Hina, lives within the cave.
Whether or not she does is up for you to decide. What is undeniable, however, is how spectacular the waterfall is. Plus, it's incredibly easy to view. All you have to do is park in the parking lot and walk to the viewing platform. If you want a different vantage point, you can take a quick walk a few minutes in and see the falls from above.
12. Eat Fresh at the Hilo Farmers Market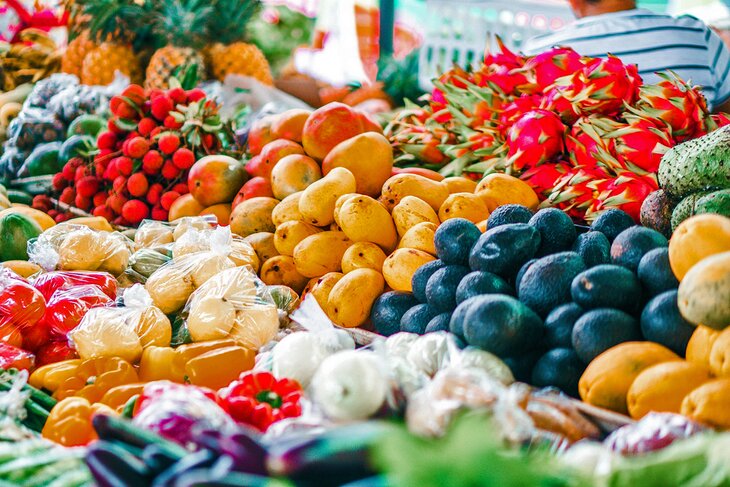 One thing is for certain — Hawaii does fresh fruit and vegetables well. While visiting Hilo, a trip to the Hilo Farmers Market is a must for a wide array of fresh market items.
Among the fresh items you'll find at the Market include jack fruit, mango, papaya, pineapple, ginger, sweet corn, organic spinach, orchids, protea, bonsai plants, specialty food items, beads, clothing, jewelry, and so much more.
The market is open seven days a week from 7:00 am to 3:00 pm. The larger market days are on Wednesday and Saturday.
Address: Corner of Kamehameha Avenue and, Mamo St, Hilo, HI 96720