15 Best Beaches on the Big Island of Hawaii, HI
Author Meagan Drillinger explored the beaches of the Big Island in early 2023.
The island of Hawai'i is home to a diverse assortment of beaches with options for swimmers, surfers, snorkelers, and nature lovers. In addition to white-sand beaches, the Big Island has several black-sand beaches that were created by lava rocks, as well as a stunning green-sand beach, one of only four worldwide.
Due to the island's relative youth, the sand here tends to be more granular, and many beaches have an assortment of rougher lava rocks that can make walking tough without the proper footwear. It's also good to remember that even the lighter sand quickly soaks up the hot Hawaiian sun and that the darker beaches can burn bare feet.
Note that not all beaches are appropriate for swimming due to rough conditions and that lifeguards are not on duty at all beaches. Some of the island's most beautiful beaches are the most dangerous, and even more popular spots can be tricky, so always check local conditions before considering a dip. In general, the water is calmer during the summer and more turbulent during the winter, although more protected areas may be suitable for swimming or snorkeling year-round.
Snorkeling is one of the most popular activities for tourists visiting the Big Island, and there are many beaches that have rental shops. There are also many tours and lessons available for beginners, as well as SCUBA instruction for all levels. Snorkelers have a very good chance of spotting the endangered green sea turtle, and will always be able to spot a fantastic variety of lively tropical fish within the coral reefs.
Plan your day by the sea with our list of the best beaches on the Big Island of Hawaii.
1. Hapuna State Beach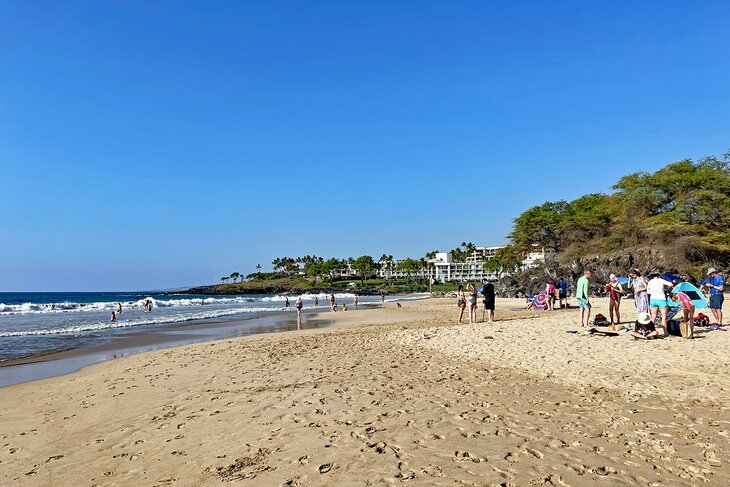 The Big Island's most popular beach is located on the Kohala Coast on the northwestern shore of the island. This half-mile stretch of white sand is loved by many for its calm swimming conditions that are perfect for families with younger kids, as well as great for bodyboarding and snorkeling.
There are lifeguards on duty, and the park provides showers, and restrooms; there are also food and beverages available, as well as shaded picnic tables. Due to its popularity, Hapuna Beach can get very crowded, so it is a good idea to arrive early to ensure a parking spot and a shady place to set down your blanket.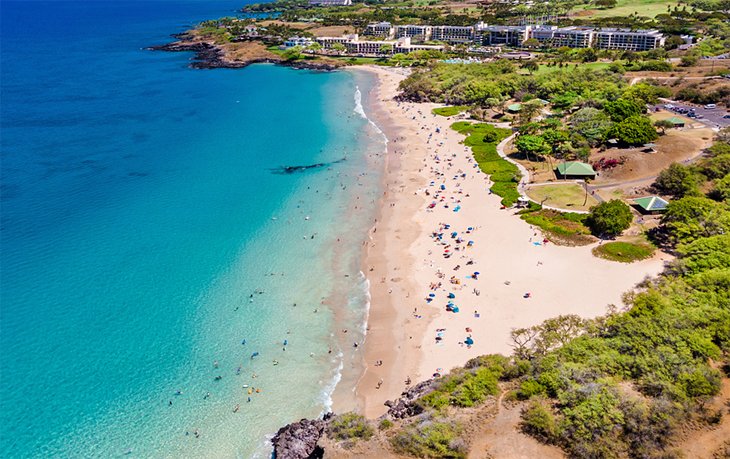 The southern end of the beach is the best place for snorkeling, and experienced snorkelers and divers will want to go even farther south around Kanekanaka Point. This large reef curls around the point that divides Hapuna Bay and Waialea Bay, offering a huge underwater world for exploring. Note that there are no lifeguards in this area, however.
Address: Old Puako Road, Waimea, Hawaii
Read More: Best Beaches in Kona
2. Manini'owali Beach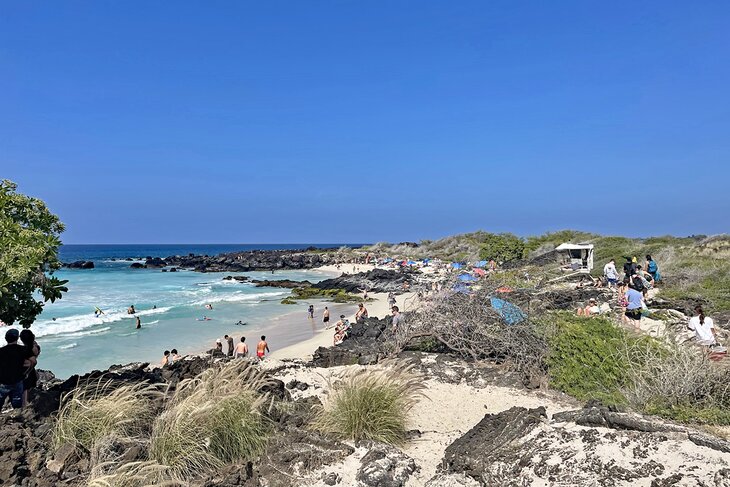 Also known as Kua Bay Beach, this white-sand beach sits on the western shore facing Kua Bay, just north of the town of Kona within the borders of Kekaha Kai State Park. During the summer, this is an excellent spot for snorkeling and swimming, and during the winter months, the waves can become quite big, allowing for great surfing conditions. Visitors often catch a glimpse of dolphins playing in the distance, and sea turtles are frequently spotted.
Be sure to wear sneakers or footwear that will allow you to climb over the lava rocks on your way to the sand, and beach umbrellas are recommended since there is no shade here. You will also want to bring your lunch, snacks, and water, as there are no concessions here.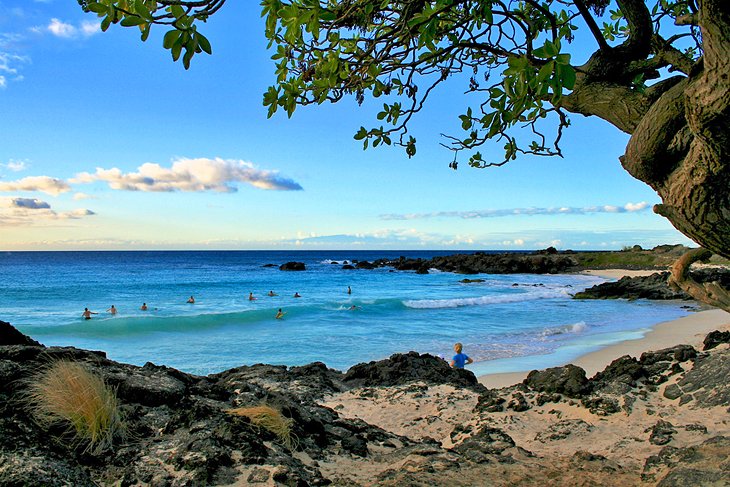 Fortunately, the beach is now staffed by lifeguards, and there are restroom and shower facilities. As with most of the Big Island's most popular beaches, Manini'owali Beach can be very crowded on weekends, and parking can be tricky.
The Four Seasons Resort Hualalai is an excellent five-star resort located on its own private stretch of sand adjacent to Manini'owali Beach. If the ocean swimming conditions aren't ideal during your stay, there are seven pools within the complex, including a saltwater pool, adults-only pool, kids pool, and more.
Location: Queen Kaahumanu Hwy, Kailua-Kona, Hawaii
Accommodation: Top-Rated Resorts in Kailua-Kona, HI
3. Kaunaoa Beach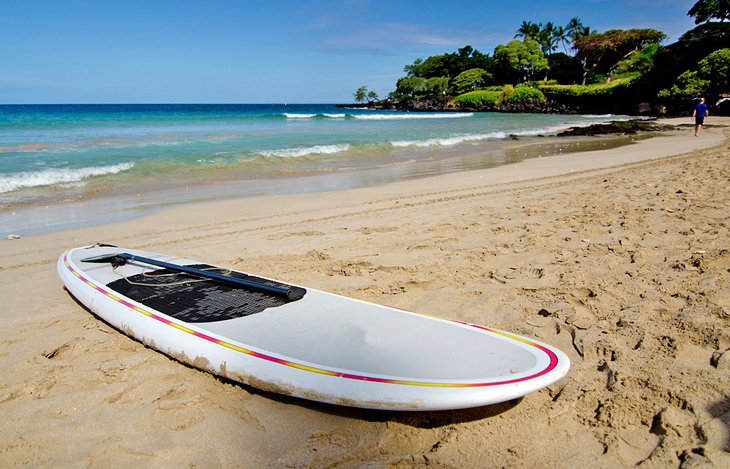 This popular white-sand beach is located on the Kohala Coast close to Hapuna Beach, and is known for its swimming, snorkeling, and family atmosphere.
It is also known as Mauna Kea Beach because of its location along the property of the Mauna Kea Beach Hotel, the island's first resort; however, the beach is open to the public. It is well-protected by reefs, which sit at each end of the crescent-shaped beach, both excellent spots for snorkeling.
Although parking can be a bit of a walk if you don't make it early enough to snag one of the hotel's public parking spaces, the availability of hotel amenities is a definite upside to the hotel's location. In addition to lifeguards and basic facilities, visitors can splurge at the hotel restaurant and take advantage of snorkel gear and other equipment rentals provided by the hotel.
Another advantage is that each night, the hotel floods the beach and surrounding reefs with light. This attracts plankton, which in turn attracts manta rays, which can be seen gliding through the water. Special nighttime SCUBA and snorkeling sessions are also facilitated by the hotel.
Address: 62-100 Mauna Kea Beach Drive, Puako, Hawaii
Accommodation: Top-Rated Resorts on the Big Island of Hawaii
4. Punalu'u Beach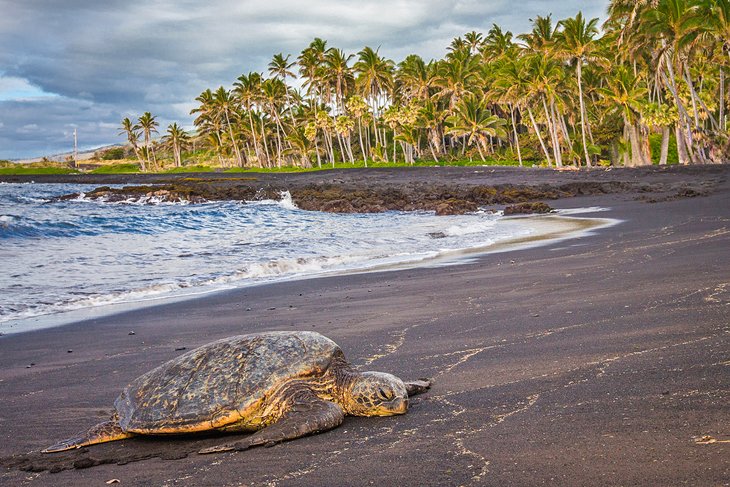 Punalu'u Beach sits on the eastern shore of Hawaii about halfway between Pahala and Naalehu just off the Mamalahoa Highway, making it incredibly easy to access. It is also commonly known as Black Sand Beach thanks to the granular lava that composes the shoreline.
Visitors who want to swim should check the conditions first, as the water can have strong currents; however, there is a lifeguard on duty who will always have the most up-to-date information.
Visitors should remember that this black sand absorbs the heat of the Hawaiian sun, so be sure to bring proper footwear. Fortunately, this same heat is what attracts green sea turtles (locally known as honu) to make this beach their home. It is common to see at least a few of these beautiful, endangered creatures swimming or warming themselves on the hot sand.
Those hoping to do some snorkeling at the black-sand beach won't be able to see much, but there is excellent snorkeling at nearby Ninole Cove, which can be reached easily via a short path from the beach parking lot. This same path provides a lovely seaside hike with excellent views.
Location: Ninole Loop Road, Naalehu, Hawaii
5. Waialea Beach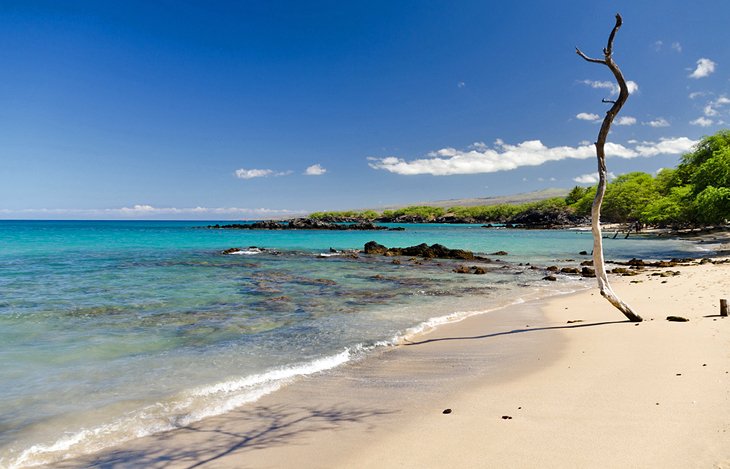 One of the Big Island's busiest beaches, this white-sand beach is a summertime favorite located on Waialea Bay. There is a gradual slope to the surrounding reefs, which protects the water from the turbulence and currents of the open sea, making this a top beach for families.
These reefs are also home to some of the region's most diverse marine life, and this is a top snorkeling and SCUBA diving destination. During the winter, when the sea is too rough for swimming and snorkeling, visitors can often see expert surfers out on the waves here.
Visitors will find restroom and shower facilities on-site; however, there is no lifeguard on duty. When looking for the beach parking lot, keep an eye out for the utility pole numbers, and turn when you see number 69 — this indicator has become so much a part of the beach's identity, many simply refer to it as "Beach 69."
Location: Kanekanaka Road, Waimea, Hawaii
6. Kahalu'u Beach Park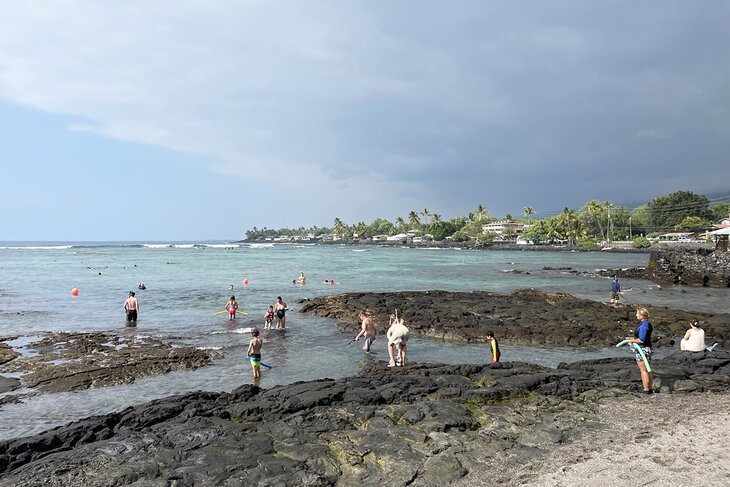 Kahalu'u Bay is one of the best places on the Big Island for snorkeling, conveniently located near Kailu-Kona, a top tourist destination. The coral reefs here are teeming with life, including a variety of bright tropical fish, endangered sea turtles, sea urchins, and even octopuses.
Even swimmers who stay in the shallower water often see schools of smaller fish, as well as sea turtles, and the water conditions here are usually calm and safe for kids. The southern end of the bay is where snorkeling is the best, and a second lifeguard tower marks the surf zone, so that snorkelers can be sure to stay within the safety of calm waters.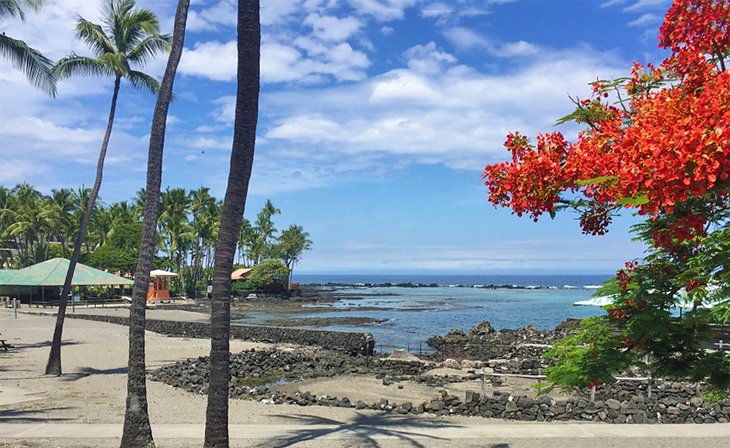 Vacationers without their own gear have a couple of options for equipment rentals, but most prefer to go with Kahalu'u Bay Education Center since the proceeds go toward conservation and education about the bay's unique ecosystem.
Kahalu'u Beach Park provides restroom and shower facilities on-site, and there are shady spots for those who arrive early enough to claim them. There are also picnic tables and a pavilion, and the beach is within walking distance of town where you can find restaurants and snacks.
Address: Ali'i Drive, Kailua-Kona, Hawaii
7. Kamakahonu Beach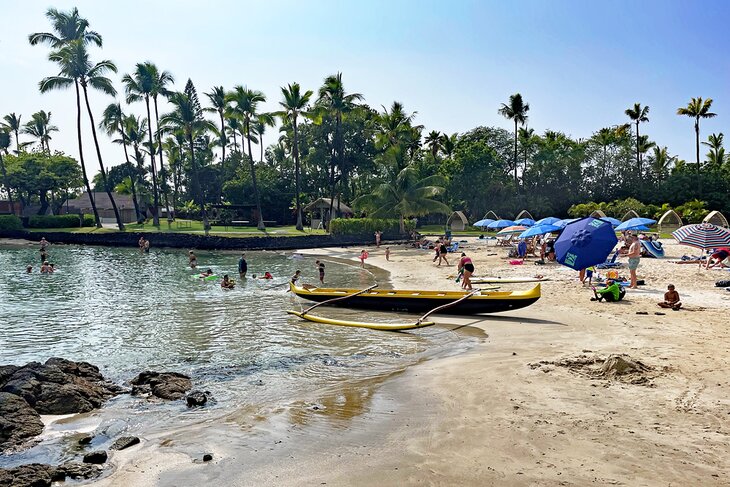 This small beach is also commonly known as Kid's Beach or King Kam Beach, and is an excellent choice for families with younger kids thanks to soft sand and incredibly calm water within the protected cove.
Kamakahonu Beach sits between Kailua Pier and the Kamakahonu National Historic Landmark in Kailu-Kona, and although it has only about 200 feet of waterfront, this is a popular spot any day of the week.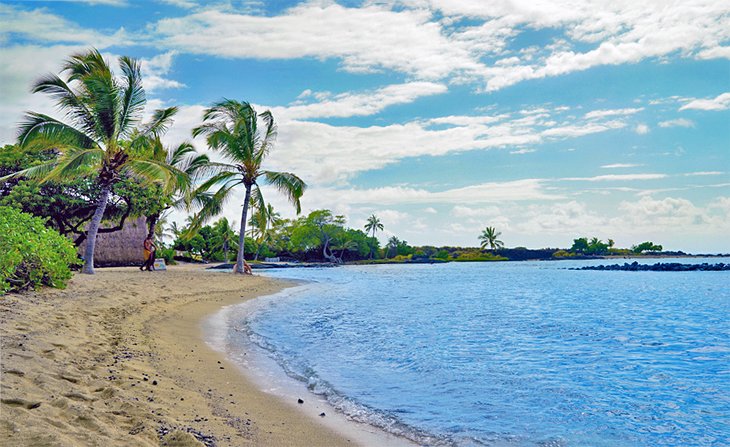 There is an equipment rental shop right on the beach that has a great variety of water sports options, including not only snorkeling gear but also kayaks and motorized vessels. A shop on the pier also rents a wide variety of equipment and offers beginner snorkeling and SCUBA lessons. Visitors will also find a restaurant right on the beach, as well as multiple options within a two-minute walk.
Address: Kaahumanu Place, Kailua-Kona, Hawaii
8. Spencer Beach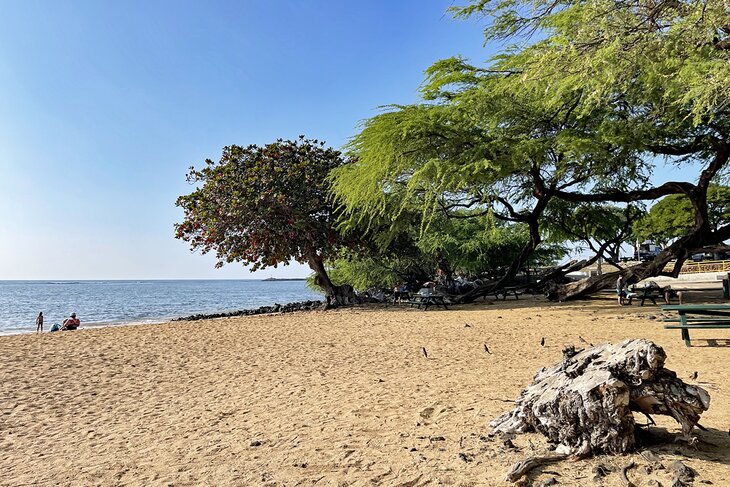 Located on the northwestern shore of the Big Island, also known as the Kohala Coast, Samuel M. Spencer Beach Park is a family favorite thanks to its calm water.
Parents also appreciate the abundance of shady trees, as well as a large covered pavilion with picnic tables, and the sand here is among the softest on the island. The reef that protects the beach from big waves and strong currents is an excellent spot for snorkeling and SCUBA diving.
Visitors can also start out on the Ala Kahakai National Historic Trail from here, a scenic hike that has stunning views of the bay and surrounding landscape.
While visiting the area be sure to stop by the Pu'ukohola Heiau National Historic Site, home to a temple built in 1791 by Kamehameha I.
Address: 62-3461 Kawaihae Road, Waimea, Hawaii
9. Makalawena Beach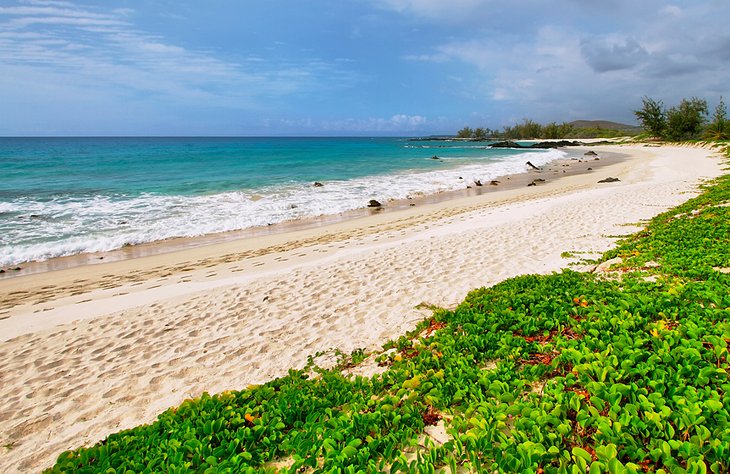 Thanks to the 20-minute walk along a path in the lava, a visit to Makalawena Beach takes some effort, resulting in a much less-crowded beach that is perfect for seclusion seekers and nature lovers.
Once past the lava, the sand becomes ultra-soft before sloping gently down into the clear water. This is a favorite spot for snorkeling thanks to the shallow reef that skirts the shore.
Shady spots and a few picnic tables can be located under the scattered trees that fringe the shoreline, but this is as close as you will get to any sort of amenities. Since there are no facilities, concessions, or lifeguards, this beach is not recommended for children or inexperienced swimmers. What you may find, however, are some wandering chickens and goats who like to ensure that no food goes to waste.
Makalawena Beach is located in Kona Coast State Park, just north of Kona.
Location: HI-19, Kailua-Kona, Hawaii
10. Papakolea Beach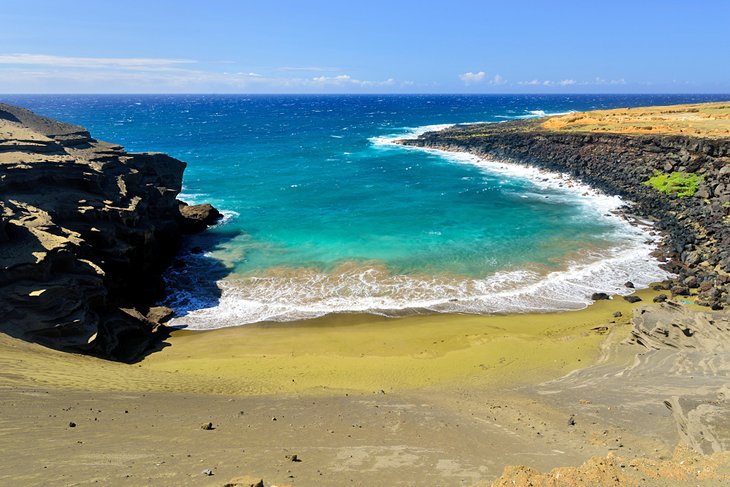 Papakolea Beach, also known as Green Sand Beach, is not a place for swimming due to its rough waves and unpredictable currents. However, it is one of the Big Island's most famous beaches for its unique geology.
One of only four beaches like it in the world, the sand here is an olive-green shade. This phenomenon is caused by deposits of the aptly named olivine, a crystal formed millions of years ago during a volcanic eruption.
Access to the beach is very difficult, and the journey should only be made by experienced hikers. After a two-mile trek through lava fields, visitors must then make their way down the sides of the volcanic cone that now forms a semi-circular bay where the beach is situated.
This spectacular beach can be found at the eastern side of the island's southernmost point.
Trailhead Location: End of S. Point Road, Naalehu, Hawaii
11. Waipi'o Black Sand Beach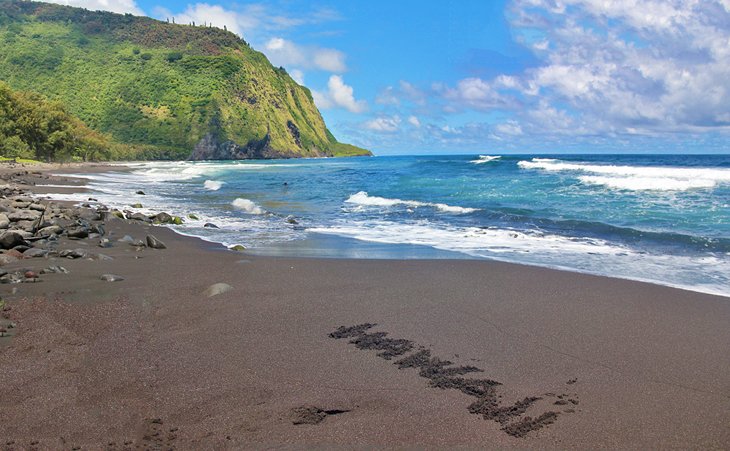 Although this is not a beach for swimming due to rough and unpredictable waters, visitors looking for some of the island's most breathtaking scenery will want to make the effort to get here.
Located on the Hamakua Coast on the northern side of the island, the beach can be reached via a scenic hike down the hill from the Waipi'o Valley Lookout, or by car via a very rough dirt road that branches off from Waipio Valley Road.
The hike back up to the lookout can be strenuous, and the road will only accommodate 4WD vehicles, so there are also local tour options to get to the beach.
12. Magic Sands Beach Park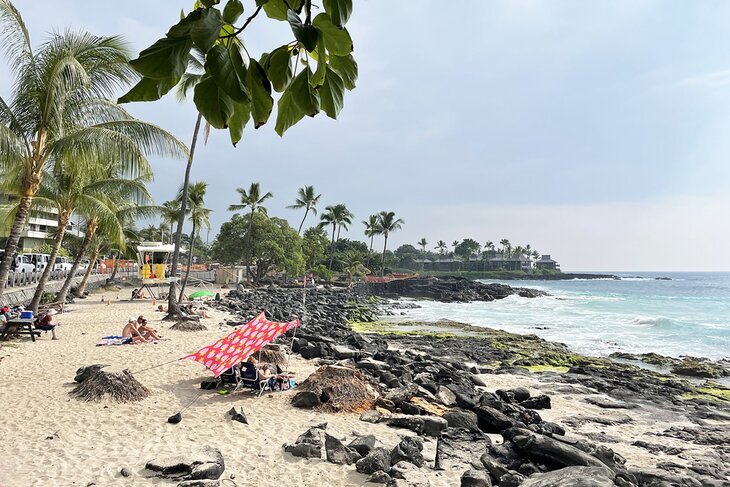 Less than five miles from downtown Kailua-Kona, Magic Sands Beach (also known as White Sands Beach) has a laundry list of qualities that make it a fan favorite. Among its top draws include the warm and luscious turquoise water, spectacular sunsets, and great conditions for bodyboarding. This beach is usually pretty packed with people, but it's for good reason.
The reason why it's called "Magic Sands" is because during the winter season, the beach can get swallowed up pretty quickly by high surf. That's the signal that the beach is too turbulent for swimming. But when the water recedes and white sands reappear, that's when you know it's ready for swimming. And that's when people flock to experience all that makes this beach so much fun.
Of course, no beach near Kona is complete without swaying coconut palms and an abundance of black lava rocks. It's the perfect color palette that encapsulates beach life on the Kona side of the Big Island.
Its central location to hotels and restaurants means it's a convenient beach for everyone, too. Many of Kona's hotels and resorts can be found right behind the beach. You'll find lifeguards, a picnic area, outdoor showers, and restrooms.
Address: Ali'i Drive, Kailua-Kona, Hawaii
13. Carlsmith Beach Park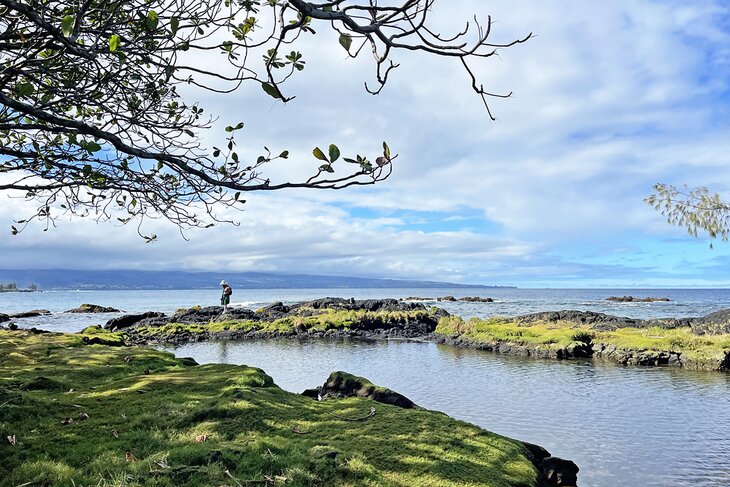 The beaches in Hilo are very different from the ones in Kona. Rather than stretches of white, powdery sand, Hilo's beaches are known for its black volcanic rock, grassy lawns, and tidal lagoons where you may be able to spot a sea turtle or two. It's certainly an unconventional aesthetic, but one that Hilo owns with pride.
One of the best beaches in Hilo is Carlsmith Beach Park, which is located along Kalanianaole Street, a stretch known for its plethora of beach parks. Carlsmith Beach Park is widely considered to be the best thanks to its calm water and ring of lava rocks that create a safe swimming pool of gentle water. This is one of the best places for snorkeling on the Big Island, as well.
Carlsmith Beach Park has a lovely grass lawn area, which is where you'll find locals and visitors relaxing with a picnic or a good book. Swaying coconut palms dial up the tranquility factor at this oceanfront spot, too. You'll also find restrooms, showers, picnic tables, and barbecue grills. And, if Carlsmith Beach Park is too crowded, you'll have your pick of many other similar beaches all along the road.
Address: 1815 Kalanianaole Street, Hilo, Hawaii
14. Pu'uhonua O Honaunau National Historical Park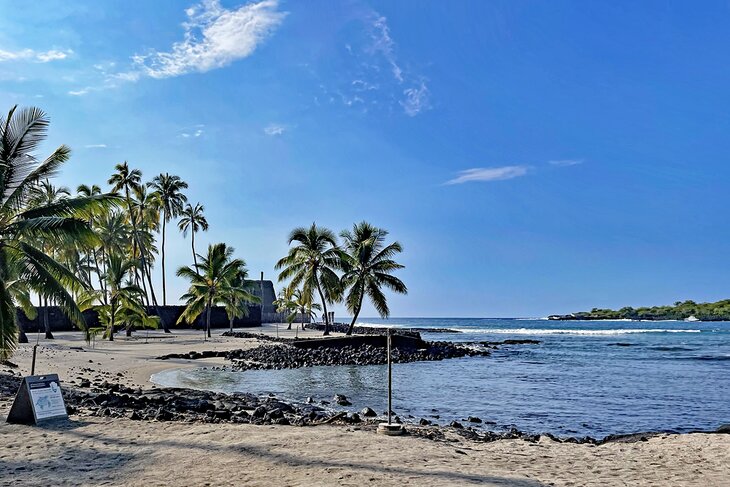 Pu'uhonua O Honaunau National Historical Park has many attractions in one, from hiking trails and a learning center to one of the best beaches on the Big Island. Part of the National Parks Service, this oceanfront historical park is considered sacred ground among native Hawaiians and also happens to be one of the best places on the island to hang out with friends and family on the beach.
One part of the park is dedicated to preserving historic structures that tell the story of the original Hawaiians who lived here centuries ago. You'll also find the 1871 Trail, which is one of the best hikes on the Big Island. But, on the other side of the bay from the historical park is the beach, which is simply stunning.
Towering coconut palms sway back and forth over white sand and black lava rocks. The water here is particularly beautiful and you have one of the best views straight out to sea, which is ideal around sunset time. Picnic tables are available, as are rest facilities, making this a convenient spot to set up for a sunset picnic.
Address: State Hwy 160, Hōnaunau, Hawaii
15. Honoli'i Beach Park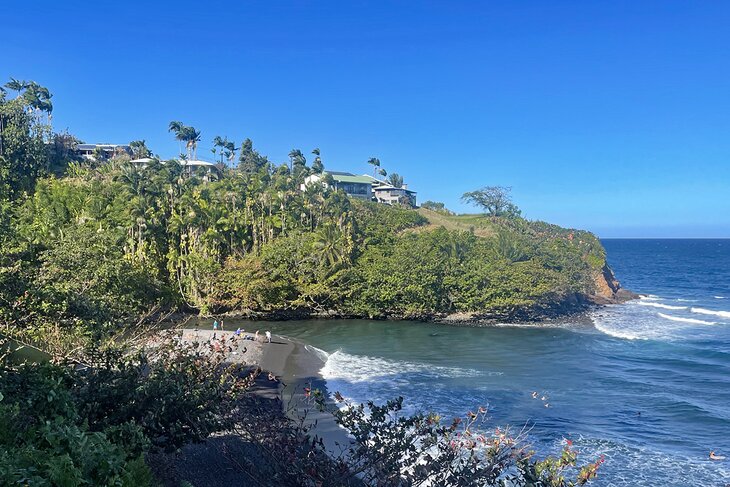 North of downtown Hilo is a truly beautiful beach, especially if you're a surfer. This gorgeous black sand beach is tucked within a cove where the Honoli'i Stream spills out into the Pacific Ocean. You'll find the sea strewn with surfers or bodyboarders who come for the exciting waves.
Keep in mind that the currents are strong here, so you won't find many swimmers. Instead, those on the shore are watching the experienced surfers tackle the waves. The beauty of this spot is undeniable, though, with the contrast of the black rock against the blue water and the canopy of green palms.
On Sundays, locals will come and set up tables to sell food, so this is definitely a good spot for family and friends on Sunday afternoons. Keep in mind that the trek down to the beach is pretty intense, as it's all stairs the entire way up and down. You can also hang out at the top of the cliff and watch the surfers from there, which is something a lot of people do, as well.
Address: 180 Kahoa Street, Hilo, Hawaii
Map of Beaches on the Big Island of Hawaii, HI
More Related Articles on PlanetWare.com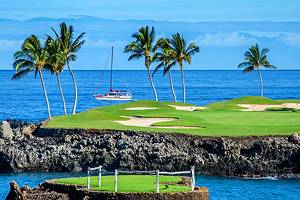 Where to Stay: There is no shortage of places to stay on the Big Island, but if you are looking for a beautiful resort to escape to, see our guide to the Best Resorts on the Big Island of Hawaii. Traveling to Hawaii with your family and haven't quite decided on which island you want to visit? See our list of the Best Family Resorts in Hawaii.