14 Top-Rated Tourist Attractions on Kauai
Kauai is a lush paradise, with mountains, waterfalls, and a dramatic coastline. It is the oldest and westernmost of the large islands in the Hawaiian chain, and as a result has the most diverse range of plant life, a feature that has earned it the nickname of the "Garden Isle."
Kauai's most popular attraction is the stunning Na Pali coast, an unforgettable landscape that was made famous in the film Jurassic Park. Other top sites include Waimea Canyon, waterfalls, and vistas that rival the most popular scenic sites around the world.
Unlike Oahu, which concentrates on cultural, urban, and entertainment-related attractions, Kauai offers a land of adventure and things to do. Some of these possibilities include boat trips to view the scenic Na Pali cliffs on the Northwest coast, kayaking down streams, helicopter flights, hiking, and the beaches.
The island can be toured in two full days, with one day devoted to sites along the road west of Lihue, which curves up to Waimea Canyon, and a second day concentrating on the road that runs to the northern coast. However, most visitors will want to spend much more than two days on Kauai.
Discover the best places to visit on the island with our list of the top attractions on Kauai.
See also: Where to Stay on Kauai
1. Na Pali Coast State Park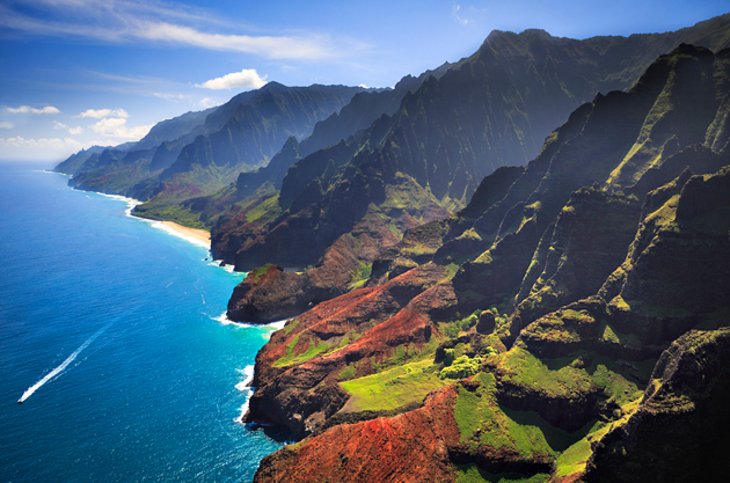 Na Pali Coast State Park encompasses a remote area of Kauai, with dramatic mountain scenery that includes cliffs, waterfalls, and lush vegetation. The Na Pali Coast in the northwest of the island is one of the most inaccessible parts of the Island of Kauai.
The chain of mountains, climbing in places to 3,938 feet, forms steep cliffs plunging into the sea, whose beauty can only be fully appreciated from the water or from the air. Steep valleys on the landward side divide the mountain crests – a stunning sight many will recognize from the film Jurassic Park.
Thanks to this seclusion, a unique variety of vegetation has been able to survive here, which, together with the high, steep cliffs, offers a fascinating view of nature. The bizarre shapes of the weathered volcanic mountains with caves and waterfalls, the intense greenery of the thick layer of vegetation, and the hidden sandy beaches at the foot of the mountains are all worth experiencing.
It's easiest to survey this part of the coast by boat or air. Both options provide amazing views of the impressive cliffs and shorelines. The Na Pali Coast Kauai Snorkel and Sail excursion combines the fun and excitement of a catamaran cruise in the Pacific with the unforgettable sight of approaching the Na Pali cliffs from the ocean. To make the outing even more special, passengers have the chance to take a dip off the shore and snorkel among the coral and bright fish.
Those who want to spend more time here and are not afraid of strenuous exercise can explore part of the Na Pali Coast on foot.
Official site: http://dlnr.hawaii.gov/dsp/parks/kauai/napali-coast-state-wilderness-park/
2. Waimea Canyon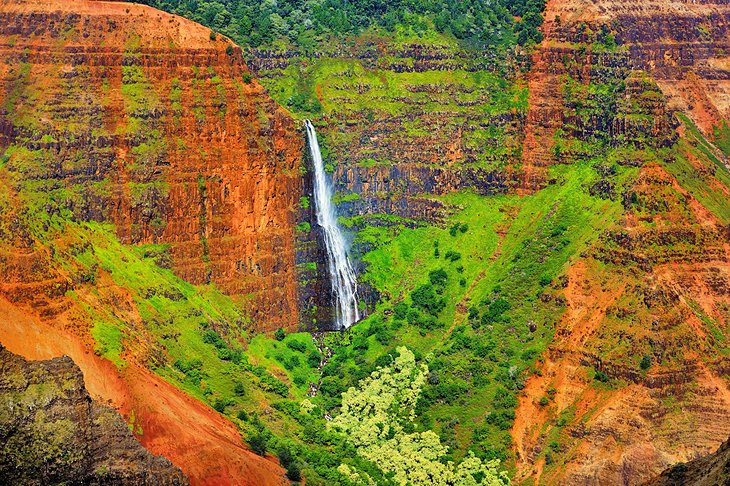 Waimea Canyon rivals some of the most scenic canyons on earth and is often called the "Grand Canyon of the Pacific." But unlike the Grand Canyon, Waimea is a lush and colorful scene with contrasting red soil, black volcanic rock, and shades of green lining every stream and waterfall.
Two major lookouts and several hiking trails start from the road, which runs along the rim. While the Canyon runs to the sea along Waimea Canyon Drive (SR550), the deepest part of the canyon is within Kokee State Park.
In addition to sightseeing at the rim of Waimea Canyon, visitors can find tours to other top natural and historical attractions like Fern Grotto, Opaeka'a Falls, Captain Cook's Landing and Fort Elizabeth State Park, the sacred cultural site of Holo Holo Ku Heaiu, and the community at Koloa Town.
The Private Waimea Canyon Tour is an excellent full-day small group tour that includes stops at many of these area landmarks, cultural sites, and natural attractions. Stops also include Waipo'o Falls, the blowhole at Spouting Horn, Kalalau Lookout, Poipu Beach, and Wailua Falls among many others. The tour also includes a stop and tasting at a local coffee farm; the tour departs from Lihue.
An excellent tour for outdoor enthusiasts is the Waimea Canyon Downhill Bike Ride, a four-hour guided bicycle tour that visits some of the area's best lookout spots with plenty of time for photos. The tour includes all gear and bottled water, and ends with sunset viewing.
Address: Waimea Canyon Drive, Waimea, Hawaii
3. Explore Kauai's Vibrant Gardens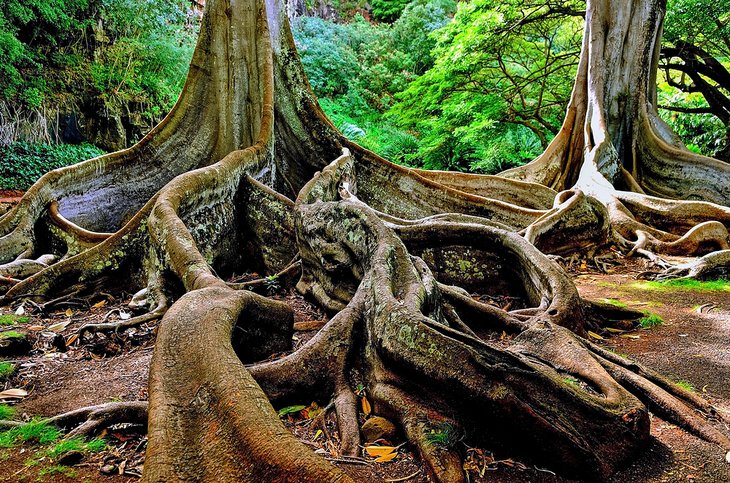 It should be no surprise that the Garden Isle is home to some of Hawaii's most lovely flower gardens, the tropical conditions providing a perfect environment for bright and happy plants. The gardens are also home to a variety of wildlife, and are an excellent place to spot colorful birds.
Allerton Garden is a top place to visit, located on the island's southern shore in Koloa. In addition to flowers, this garden includes a variety of fruit and palm trees that create a stunning scene. There are naturalist-led tours available, including sunset tours and a combined tour with nearby McBryde Garden. Visitors should allow at least three hours to explore.
Exotic flowers at Princeville Botanical Garden are just the beginning, and visitors will learn all about the history and uses of its medicinal plants as well. Guests can also see cacao trees and beehives, the homes of the ones who really keep the flowers blooming. There are also opportunities to sample (and buy) the chocolate and honey produced right at the gardens.
Na 'Aina Kai Botanical Gardens & Sculpture Park has a combination of highly curated landscaping and raw natural beauty. Located near Kilauea, the 260-acre property is also home to an open-air sculpture gallery, as well as a performance center. Guests can choose from a variety of tours, including specialized interests like birding and sustainability.
Also on the north side of the island, Limahuli Garden & Preserve is located in Hanalei. It is home to many endangered plant and bird species. It encompasses over 1,000 acres, with a large portion of the area dedicated to preserving the delicate ecosystem of the valley. Within the 17-acre area open to the public, visitors will see ancient lava rock terraces and learn about the various native flora. Visitors can explore the gardens independently or book a docent-led tour, if available; there is an entrance fee to visit.
4. Visit Kauai's Best Beaches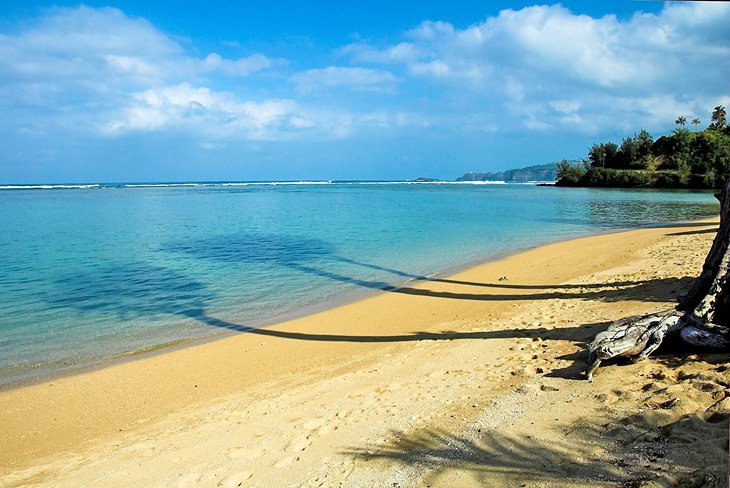 You'll find plenty of excellent beaches to choose from on the Garden Island, but some have gained a reputation for being especially popular with both tourists and locals. The beaches along the northern shore of the island tend to have rougher conditions during the summer months, and unfortunately many in this area are closed intermittently due to flooding.
It is always important to be aware of current conditions before swimming anywhere, and it's a good idea to check to be sure the beach you picked is open, since weather events can cause temporary closures for a variety of reasons.
On the south shore of the island, Mahaulepu Beach has something to satisfy everyone, with conditions that are good for swimming, snorkeling, fishing, and water sports like windsurfing. Located on an undeveloped stretch of coastline, you'll find excellent hiking trails with great views and culturally significant sites.
The island's best beach for young kids is Lydgate Beach Park, which offers two well-protected rock-enclosed swimming areas on the island's eastern shore. It's also a great place for beginner snorkelers, and there are great facilities on-site. In addition to lifeguards, there is a playground, picnic area, rest facilities, and a paved 2.5-mile path along the shore.
Anini Beach is another excellent beach for families, even though it's located on the north shore. The two-mile beachfront is protected by a reef, and the swimming area is relatively shallow, making this an ideal place for kids to swim. Anini Beach also has a good range of facilities and amenities, including windsurfing lessons, snorkeling equipment, and a boat ramp.
One of the north shore's most popular beaches is Ke'e Beach, which is famous for its resident chickens (yes, chickens). Ke'e is protected by a reef, which makes it safe for swimming and snorkeling in the summer months. Tunnels Beach is known for its excellent summer snorkeling and mountain backdrop.
If you are looking for a spot on the north shore to sunbathe and explore, Secret Beach lives up to its name by being relatively well-hidden. Tourists should, however, be aware that it is not ideal for swimming, as the currents can be strong and the waves rough.
Polihale Beach, located on the western side of Kauai, is arguably the most romantic beach thanks to its ideal location looking west to the sunset.
5. Wailua Falls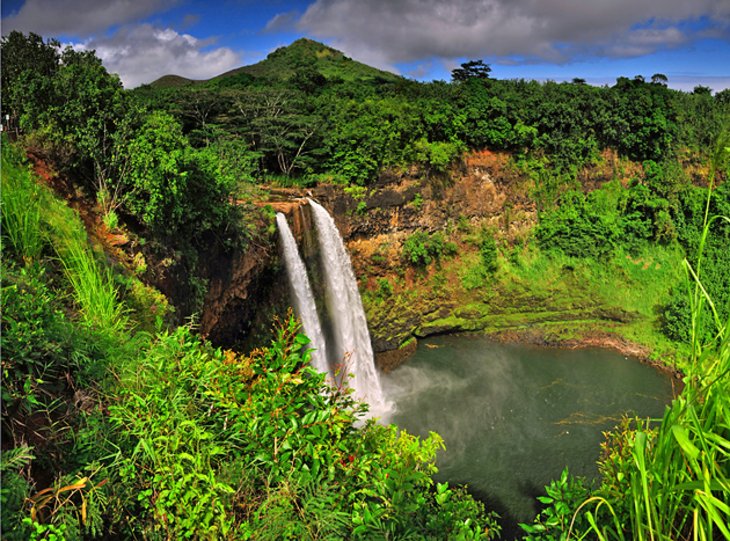 Between Lihue and Hanamaulu, road 583 branches off road 560 and winds its way for a few kilometers to a Wailua Falls. This beautiful double waterfall plunges 80 feet down a rock face to a pool below. Legend has it that the chiefs of old Hawaii had to take the risk of jumping from the top of this waterfall to prove their strength and courage.
6. Koke'e State Park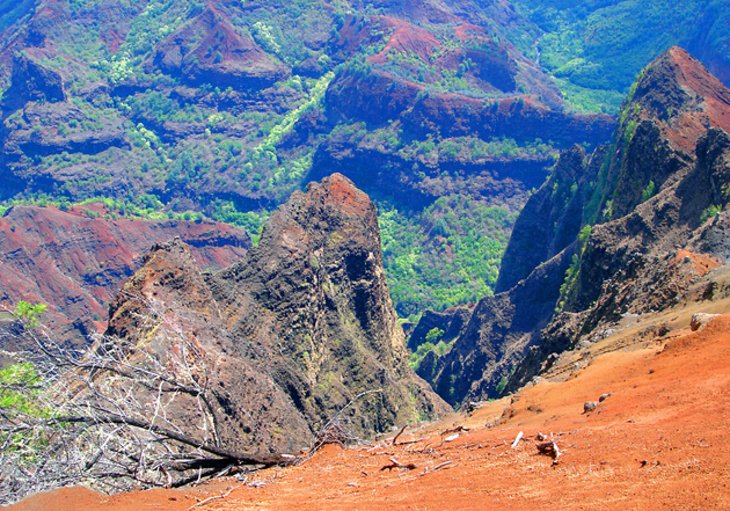 Koke'e State Park is an extension of Waimea Canyon State Park and contains the deepest parts of the canyon. Another important spot is the Kalalau Lookout which, in theory, offers a view of 4000-foot cliffs of the Napali Coast, and is the only place to see this spectacular feature of Kaua'i from land.
Be aware that the cliffs are often clouded in mist, so a picture-perfect view isn't always guaranteed. The lookout is at the end of the scenic road running through the park. Koke'e maintains numerous hiking trails, most of which spread out from the natural history museum and Koke'e Lodge.
The Koke'e Natural History Museum concentrates on the weather, geology, botany, wildlife, and Hawaiian culture associated with Waimea Canyon, Koke'e State Park, and the island of Kauai .
7. Get a New Perspective on a Scenic Flight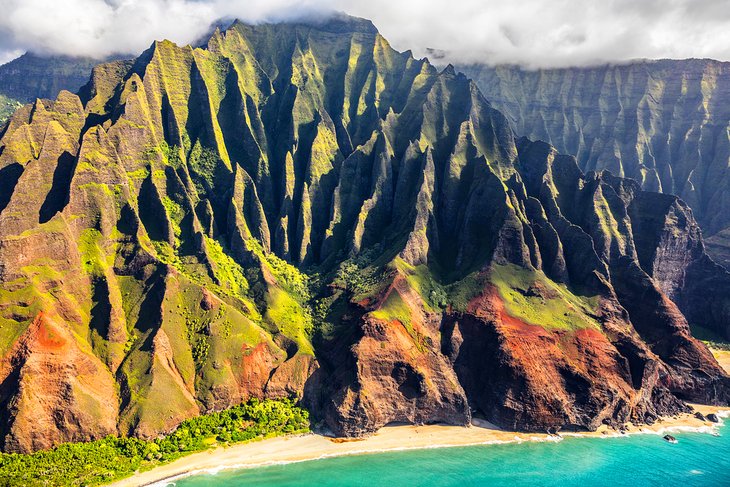 While tourists can get good views from the water and explore many of the natural attractions on foot, a tour by air is hands-down the best way to see Kauai's natural attractions. There are few things in the world more breathtaking than approaching the misty, rugged Na Pali coast landscape from the air – an adventure that should be on every traveler's bucket list.
Helicopter and plane tours give tourists the opportunity to see the landscape from an entirely new perspective while getting close enough to each attraction to truly appreciate their size and beauty. In addition to Na Pali, these tours soar over the island's top attractions including Waimea Canyon, the Tunnel of Trees, Menehune Fish Pond, and several landmark waterfalls.
The Entire Kauai Island Air Tour explores all of the top destinations, including Manawaiopuna Falls, also known as Jurassic Park Falls after gaining fame in the feature film. This small-plane tour is a great option for those who aren't crazy about helicopters, and ensures expert narration by the experienced pilot.
8. Polihale State Park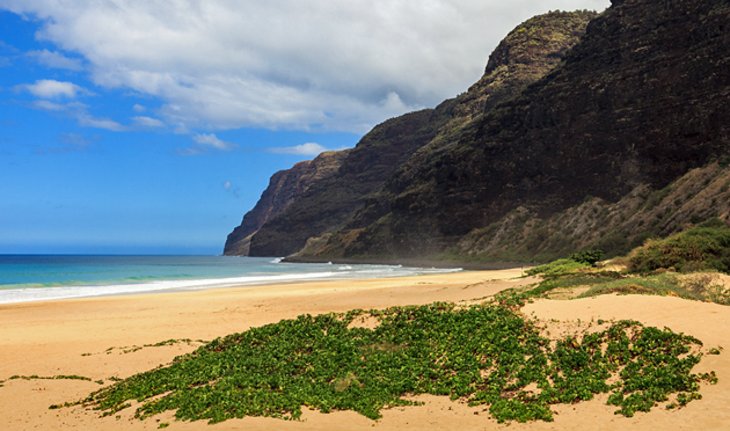 The remote Polihale State Park at the western end of the Na Pali Coast offers a wide white-sand beach, backed by the Makaha Ridge.
Visitors should be aware that lifeguards are not usually here, and currents are strong, so swimming and water activities in this area can be very dangerous during many parts of the year. Despite this, the park and its beaches are popular thanks to stunning views of the Na Pali coastline, as well as excellent shelling opportunities and breathtaking sunsets.
Visitors should also be aware that getting to the beach can be difficult, and like many of Hawaii's more remote sites, rental cars may not be allowed on the access road.
Address: Hwy 50, Waimea, Hawaii
9. Hanalei Bay and Hanalei Valley Lookout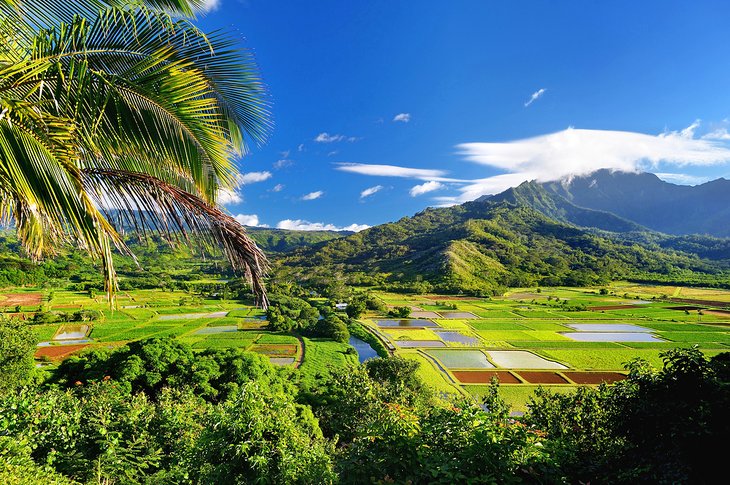 Hanlalei Bay is the largest bay on Kauai's northern shore and a popular spot for swimming, sunbathing, and water sports. It is incredibly scenic, too, with a perfect crescent shape and a backdrop of fields and mountains. The view of the bay is lovely, especially in the summer months when colorful sailboats fill the water.
There is a long pier on the eastern end of the bay, and this area is the best place for swimming. There are a total of two miles of beach along the bay, with Waioli Beach Park located in the center. This is where you will find rest and shower facilities; lifeguards aren't officially stationed here, but they may be present during peak times. Visit during the week to avoid the crowds.
The Hanalei Valley Lookout sits just east of Halalei Bay, at the edge of the Hanalei National Wildlife Refuge along Kuhio Highway (HI 56). The west-facing view encompasses green slopes filled with taro crops, the Hanalei River, and finally Hanalei Bay. It also provides excellent views of the surrounding mountains and is a great spot to watch the sun set.
10. Po'ipu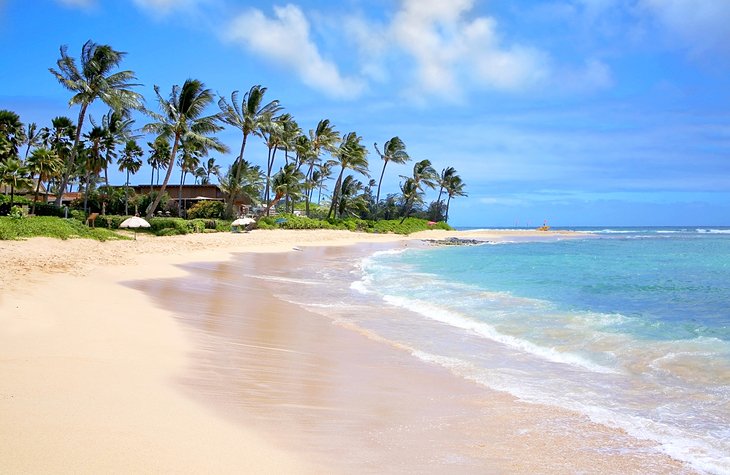 Poipu lies on the warm and sunny south coast of Kauai, where the island's finest beaches are located. Until the tourism boom, sugar was the main source of income for Poipu and its surrounding area. The development of tourism started relatively late here and consequently, it was far more intense than in other places.
Now, Poipu possesses Kauai's largest number of luxury hotels and holiday homes. An urban development regulation permits buildings to be no more than three stories high, so that Poipu can protect and retain its rural character.
Its favorable location near Lihue Airport, together with its pleasant climate and excellent surfing opportunities, have helped Poipu to become one of Kauai's most popular resorts. The long, white sandy beach and the clear, blue water are an invitation to swim and surf.
11. Get out on the Water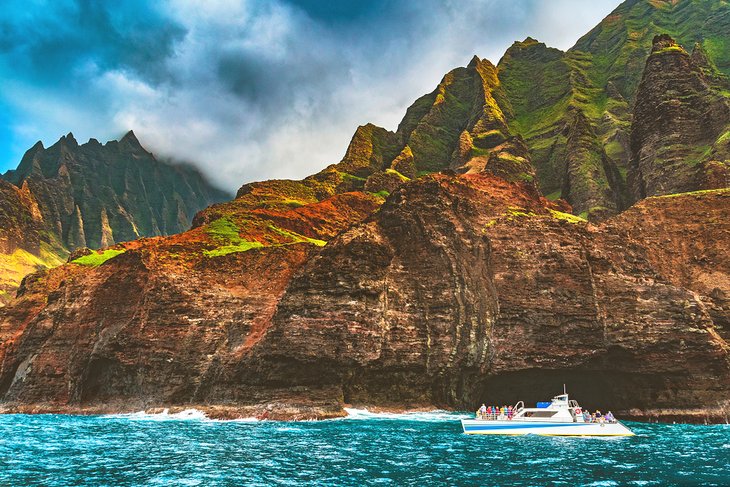 One of the best ways to enjoy Kauai is seeing it from the water, and the ocean itself has a world of wonders to offer on its own. Visitors who want to get a good look at the Na Pali coast without going airborne can find several good sightseeing cruises that depart from Port Allen, and you don't have to be on the west side to hop on a good sunset cruise.
Whale watching cruises are best between November and March, while dolphins can be spotted year-round in the morning.
Tourists who want to really dive in can find a good variety of snorkeling outfitters who are happy to recommend the best (and safest) spots, and scuba lessons and equipment are also available in several places on the island. While Kauai isn't overwhelmingly known for its surfing, visitors can still enjoy plenty of water sports like kitesurfing, paddleboarding, kayaking, and more.
As with all Hawaiian islands, be sure to check the most updated water conditions before heading out, and stick to areas you or your guide are familiar with.
12. Kalalau Trail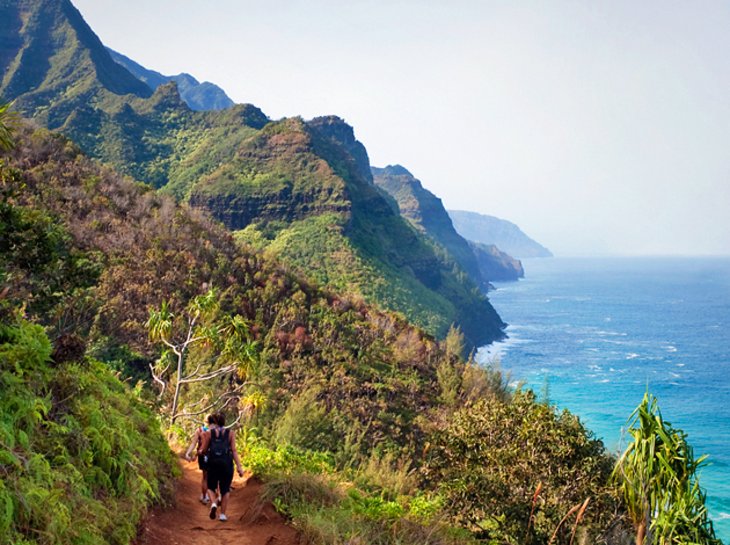 Kalalau Trail is an 11-mile path along the Na Pali Coast, originally made and used by the early Hawaiians. This path is difficult and taxing, even for experienced walkers, but it's one of the more unique things to do in Kauai.
The climb begins at Haena State Park in the north and ends after almost 11.5 miles in Kalalau Valley. To gain an impression of the landscape and vegetation, it is enough to cover the first two miles as far as Hanakapiai Beach. This stretch is easier to walk, although after rain it can be slippery, and good footwear is needed at all times.
Those who want to tackle the whole walk must take a tent and food with them and stay overnight before returning. Two to three days should be allowed to complete the 22-mile round trip. The path beyond Hanakapiai is steep, stony, and not without danger.
At the right time of the year, it is possible to sample wild fruits such as mangoes, bananas, guava, and apples, which grow beside the path. Campers need permission from the Division of State Parks.
Location: Kuhio Hwy, Hanalei, Hawaii
13. Hanalei Village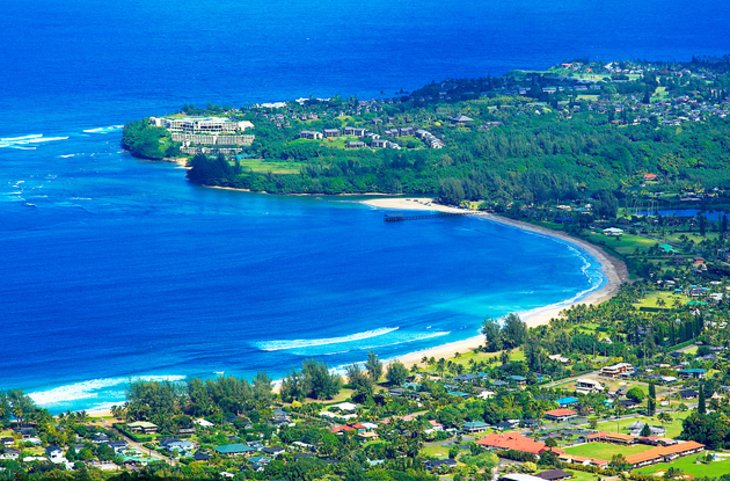 The small village of Hanalei lies in Hanalei Bay on the north coast of Kauai. The village, which is blessed with a fine sandy beach, is at the same time a gateway to the scenic Hanalei Valley. Often overshadowed by the Hanalei Lookout and other local attractions of the same name, the village itself is worth visiting.
On the edge of the village, on Route 560, is the Waioli Mission House, built in 1841. It is one of Hawaii's best preserved mission houses. On the left-hand side of the street is the old Waioli Huila Church, built by missionaries between 1837 and 1841. It features stained-glass windows and is the island's oldest surviving church, still offering services and community events regularly.
The finest view of Hanalei Valley is experienced from Hanalei Lookout, on road 560, which is indicated by one of the customary Kamehameha signs. Hanalei River flows like a silver thread through the whole valley, which is a patchwork of sugar cane and taro fields. Mountains form the backdrop.
14. Experience the Thrill of a Zipline Canopy Tour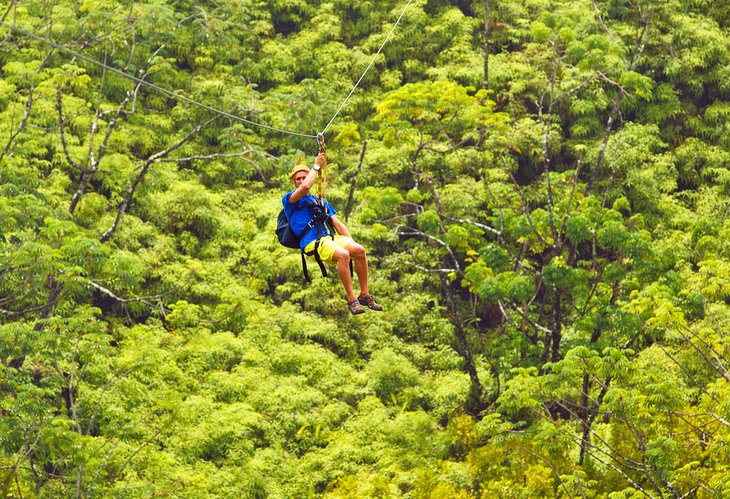 Kauai's natural beauty is its best feature, and a zipline tour is a great way to appreciate its lush tropical forests. Canopy tours offer visitors unique views of the vibrant landscape while racing over the treetops.
At the Koloa Zipline, tourists can try out the thrilling experience of a hands-free harness that lets you feel like you're flying above the trees. This eight-line course is the longest on the island, offering views of Waita Reservoir. Guests can also choose a standard harness, and the three-hour tour includes all equipment, as well as snacks.
Address: 3477A Weliweli Road, Koloa, Hawaii
Where to Stay on Kauai for Sightseeing
We recommend these tropical Kauai hotels and resorts near Poipu Beach and Lihue:
Grand Hyatt Kauai Resort &

Spa

is a beachfront luxury hotel located on Poipu Beach. The property is full of lush gardens and beautiful courtyards, as well as multiple pools, including adult-only areas, a saltwater lagoon, waterslides, and a lazy river. The resort is also home to a championship golf course and an excellent spa, as well as six restaurants. They offer a full suite of luxury amenities, including babysitting, fitness classes, a kids' club, and evening entertainment.
Marriott's Waiohai Beach

Club

Is located right on Poipu Beach, offering mid-range pricing and a variety of amenities. Ocean-view rooms are available, and two-bedroom villas are a good option for families and groups, with full kitchens and living areas. There are multiple pools, including a dedicated kids' pool, as well as a kids' club, game room, and playground.
The Kauai

Inn

is located in Lihue, close to Nawiliwili Harbor and just a short drive from the airport. It offers affordable rates and has a good range of on-site facilities, including a pool with kids' toys, an outdoor barbecue and picnic area, and sun terrace.
More Related Articles on PlanetWare.com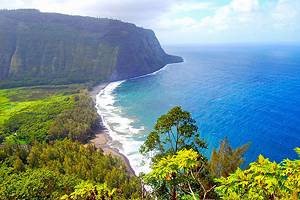 Natural Wonders: Kauai is home to some of the state's most beautiful landscapes, but it is not the only island to have stunning geographical features. The Big Island of Hawaii is also well-known for its natural attractions and the two mountains that dominate its surface. Mauna Kea is not only the highest mountain in the Hawaiian islands but in the whole of the Pacific region. Mauna Loa continues to make headlines as this active volcano pours lava into the ocean.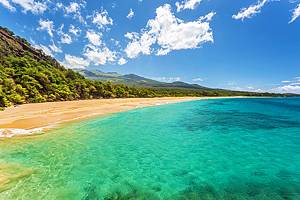 Hawaii's Beaches: The Hawaiian islands are almost legendary for their beaches, which are plentiful and varied, popular with swimmers, surfers, and a wide range of water sports enthusiasts. The island of Maui has more than 120 miles of coastline, with its most popular beaches near Lahaina, Wailea, and Kihei. The beaches of Waikiki are among the most popular on the island of Oahu, which has 112 miles of coastline and is home to a wide variety of highly rated beaches.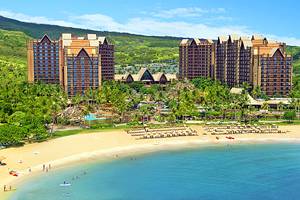 Hawaiian Resort Destinations: The tourist-centered paradise of the Hawaiian Islands has some excellent resorts to choose from, thanks to its gorgeous scenery, ideal climate, and plentiful beaches. Most of the top resorts on the Big Island are located along the Kohala Coast and near the town of Kailua-Kona, famous for its excellent coffee. Oahu resorts are most heavily concentrated near Waikiki in Honolulu, convenient to historic tourist attractions like Pearl Harbor and beautiful stretches of beach.