19 Top-Rated Weekend Getaways in New York State
We may earn a commission from affiliate links ()
New York state is so much more than the famed Big Apple at its core (sorry, we had to). Whether you're a fan of whooshing down a mountain on skis, splashing in a calm lake, or wandering the quiet streets of charming towns, you'll find a slew of wonderful weekend getaways in New York state.
The Empire State is chock-full of fantastic places to recharge and while away a couple of days, no matter what type of break you're looking for. From the magnificent Adirondack and Catskill Mountains to the serene Finger Lakes and beautiful Long Island beaches, you'll be amiss if you don't explore every inch of this spectacular region.
Looking for a destination boasting vibrant nightlife, endless shopping destinations, and entertainment on virtually every corner? New York City won't disappoint. It overflows with excitement, culture, and fine dining. This is the most well-known and highly visited city in the state for a reason!
Not sure where to visit first? Check out our list of the best getaways in New York.
1. New York City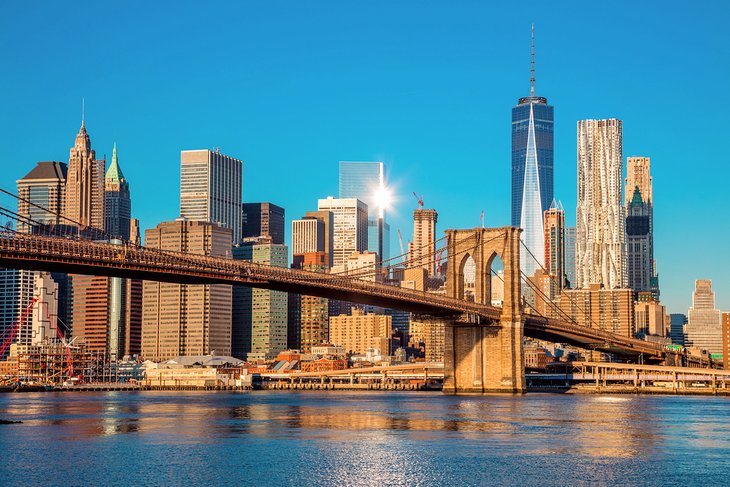 There's no city like New York. This trend-setting utopia has it all – daring design, stunning architecture, an unbeatable arts scene, the world's best musical theater, phenomenal restaurants, and shops selling everything you didn't know you needed but must have!
It's impossible to see everything in a day, despite the fact that this city doesn't officially sleep. Even a long weekend won't be enough to get a real grasp of New York's awesomeness.
If this is your fist trip to the Big Apple, focus your visit on New York's major tourist hot spots: Times Square, the Empire State Building, the Statue of Liberty, Central Park, and Rockefeller Center shouldn't be missed. As for museums, add the Metropolitan Museum of Art, MOMA, Guggenheim, and American Museum of Natural History to the top of your must-see list.
Insider's tip: While a stay at the Ritz-Carlton New York, Central Park will provide the most luxurious midtown stay, the Hilton Garden Inn New York/West 35th Street offers a great location with a more affordable price tag.
2. Niagara Falls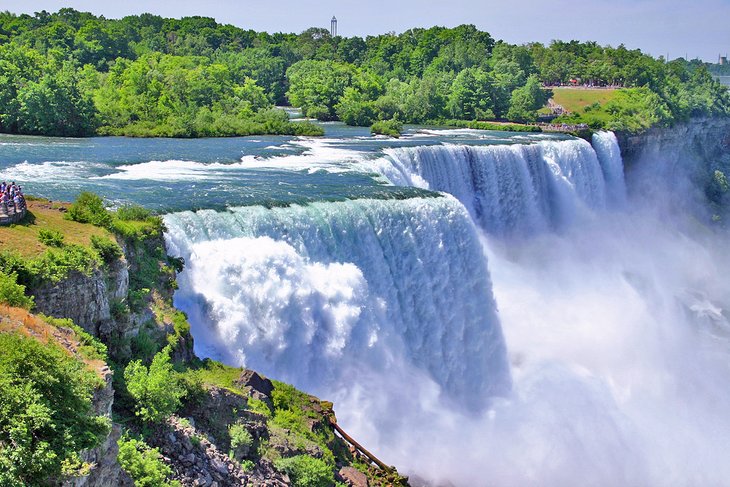 Niagara Falls is one of the most romantic getaways in New York, making it a must-visit for lovebirds. While you may feel foolish donning the blue plastic poncho given out on the Maid of the Mist, this is the most popular (and longest running) boat tour in the region. You'll be happy for the unfashionable protection as this tour gets you up close and personal with the falls.
Goat Island's Cave of the Winds is one of the most beautiful places to cuddle up. Again, you'll be given a poncho (a yellow one this time), as well as sandals to protect your feet from the water that sprays along the boardwalk from the magnificent falls above.
When you've seen enough water, head to Old Fort Niagara to soak up some history. Then check out these other fun attractions in Niagara Falls before heading to the luxurious, late 1920s English Tudor-style Red Coach Inn Historic Bed and Breakfast Hotel.
3. Hudson Valley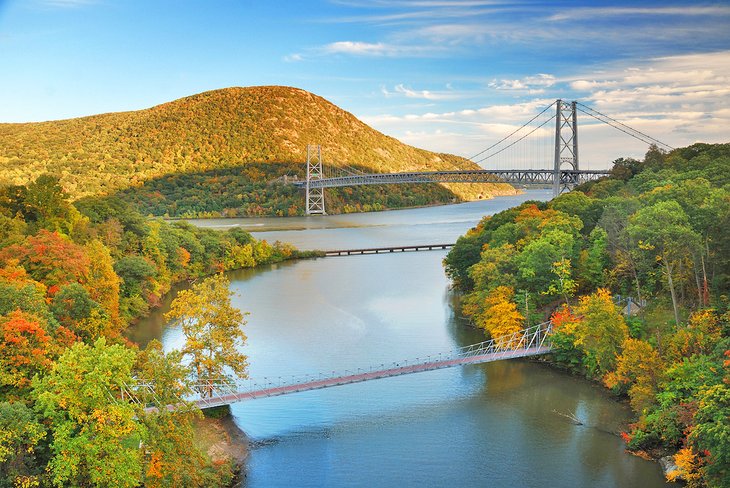 It's hard to top a visit to the Hudson Valley in upstate New York. Supercharged with immense natural beauty, this incredible region will heal your soul and help ease any worries. No wonder it's one of the top places to visit on a weekend getaway from New York City.
Breathtaking views await travelers to Hudson Highlands State Park. Award-winning farm-to-table restaurants (like Terrapin Restaurant in Rhinebeck) beg visitors to tempt their palates with the most delicious organic food.
When it comes time to rest, a stay at the glorious Mohonk Mountain House will help you appreciate much of what the area has to offer – from horseback riding to hiking to swimming to winding down at the spa. It's a bit pricey, but well worth the hefty bill.
4. Lake Placid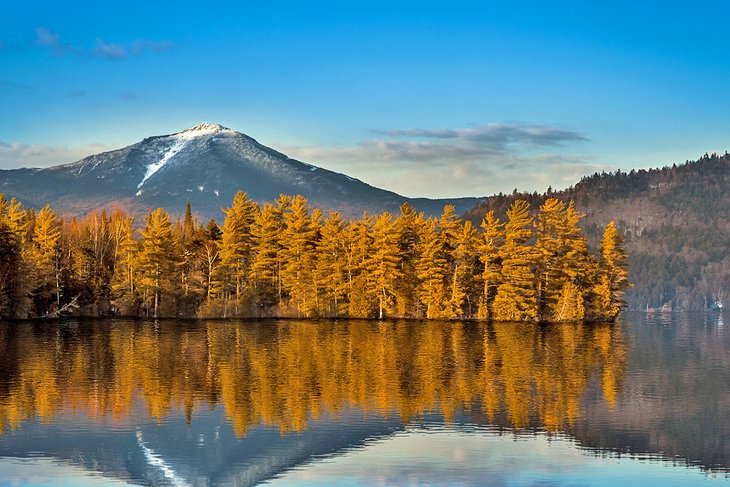 Two-time host of the Winter Olympics (in 1932 and 1980), Lake Placid is the perfect destination for a fun and relaxing long weekend trip. Most visit this area to enjoy its outstanding natural beauty. From the massive, sparkling lake to the magnificent mountains, this lovely village is a magnet for those craving outdoor adventure.
During the summer, swimming, boating, fishing, hiking, and biking top the list of family-friendly activities. During winter weekend getaways in New York state, visitors can partake in a bevy of well-loved outdoor activities, including skiing, skating, and bobsledding.
The town itself beckons those who crave a small-town feel with a big city amount of services. You'll find spas, art galleries, boutique shops, and eateries ranging from casual cafés to upscale farm-to-table options.
Accommodation: Best Resorts in Lake Placid
Read More: Best Things to Do in Lake Placid
5. Long Island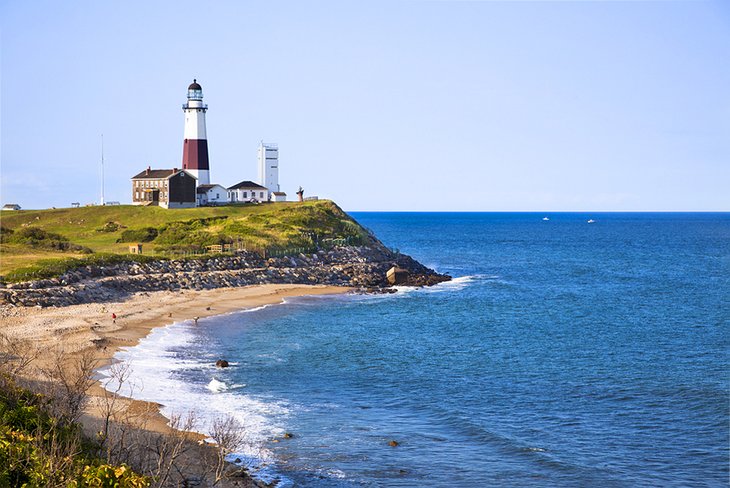 A famous playground for New York's elite, The Hamptons, Long Island has a lot to offer those whose pockets aren't quite as deep. Looking for a romantic getaway near New York City? You'll find it on one of the South Shore's vast and pristine golden beaches. Hoping to soak up a bit of history? You can do just that while visiting the iconic Gold Coast mansions.
The fun doesn't stop there. The beautiful hamlet of Montauk presents a perfect weekend trip for big city folks. While here, they can admire the picturesque lighthouse (dating back to 1797) and hike miles of trails or relax seaside on the sandy strand.
6. Saratoga Springs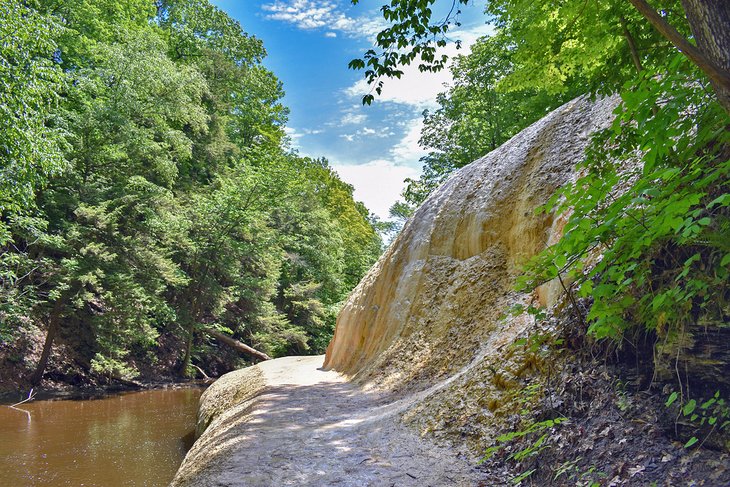 There's one big problem with Saratoga Springs: it's so beautiful you won't want to leave. Set serenely in the foothills of the Adirondack Mountains, this is one of the loveliest spots for a weekend getaway in upstate New York.
Named after a tranquil, bubbling spring, the town is fairy-tale-like in its setting (we're talking porch swings, colorful gardens, and Victorian homes).
You'll want to get lost in Saratoga Spa State Park. There are plenty of outdoor adventures here – from biking to fishing to golfing to hiking in the summer to skating, cross-country skiing, and snowshoeing during winter months.
7. Catskills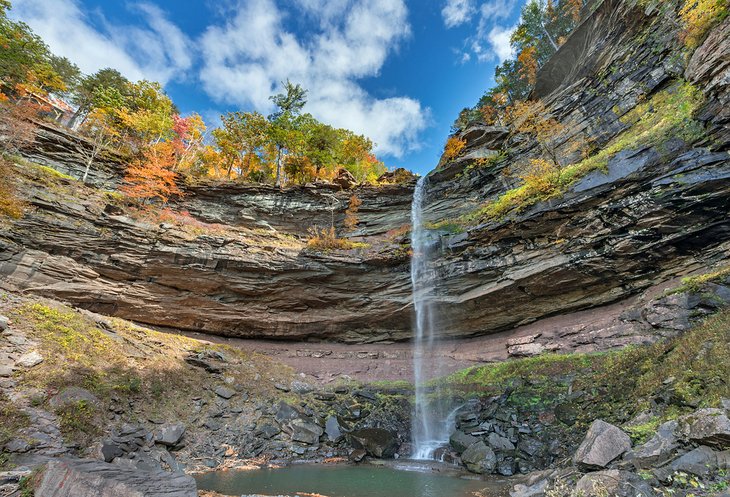 If a trip to the Catskills doesn't inspire your inner artist, we don't know what will. One of the most beautiful mountain regions on the East Coast, the Catskills are renowned for their rugged natural beauty.
In the fall, the foliage bursts onto the scene, caressing the landscape with its vibrant hues of orange, red, and yellow. This breathtaking sight attracts tourists from all over the world to snap photos of their remarkable glow.
Some of the closest mountains to New York City (they're nearly 100 miles away), the Catskill Mountains are the range of choice for weekend warriors hoping for a quick ski fix.
Esopus Creek is a splendid tributary located in the region's northeast. It's a popular spot for fly fishing due to its large population of trout. The Creek is stocked with more than 20,000 brown trout each year.
Not sure where to stay? You'll find plenty of wonderful resorts in the Catskills.
8. Fire Island
This beautiful barrier island lies off the south coast of Long Island. At 9.6 square miles, it's long, skinny, and packed with unbeatable views. What Fire Island lacks is cars. Only emergency and service vehicles are allowed on the isle, which lends even more charm to this already adorable weekend getaway in New York state.
To get to Fire Island, you'll have to board a ferry (or private boat) and leave your car on the mainland. To get around this quiet, traffic- and pollution-free wonderland, you'll have to use your own two legs. Otherwise, you can hop on a bike or a golf cart.
Part of New York's Suffolk County, Fire Island is home to the towns of Islip, Brookhaven, and Babylon, as well as multiple smaller communities – from the popular and vibrant Ocean Beach to the quiet and secluded Lonelyville.
9. Lake George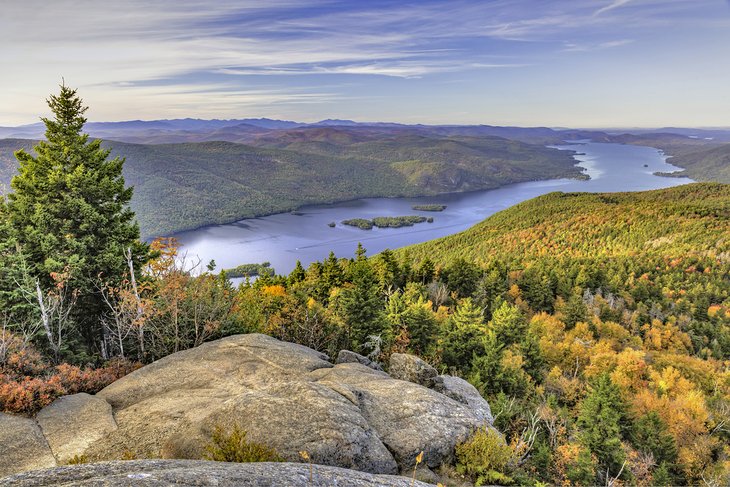 Nestled serenely within the Adirondack Mountains lies glorious Lake George. This monster of a lake is over 32 miles long and three miles wide. At certain points, it reaches 200 feet deep. And each inch of it is magnificent in every season.
Outdoor adventure is the main reason people book a weekend trip to Lake George. They're hoping to swim, SUP, whitewater raft, bike, boat, hike, and fish during the warmer months. During the winter, their goals are to ski, ice skate, sled, or snowshoe.
10. Finger Lakes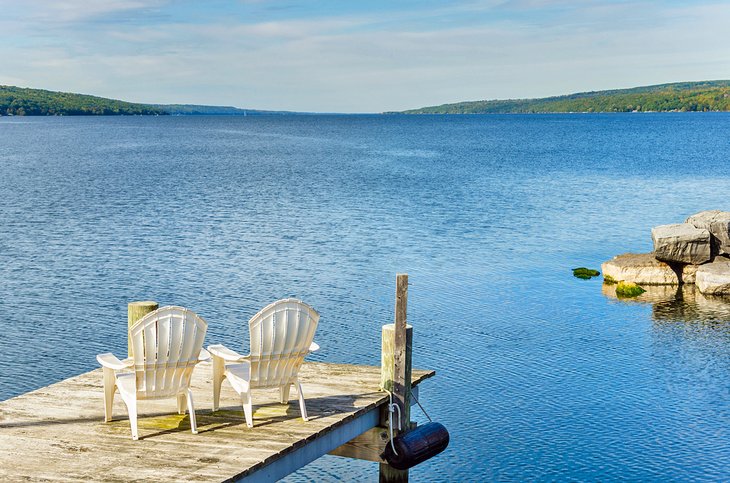 Mother Nature worked hard on the spectacular Finger Lakes. All 9,000 square miles of this natural wonderland are phenomenal. That's likely why it's such a popular place to visit for a romantic getaway in New York.
Dramatic waterfalls will light up your lens and take your breath away. Watkins Glen State Park is not to be missed, especially if you're a fan of watery cascades – it's home to 19 of the best waterfalls in New York state. You'll be so awed by their magical beauty that you'll want to stay longer.
Sign up for a guided tour of the park during summer to be sure you see all the magical nooks and crannies you might miss if exploring on your own.
11. Albany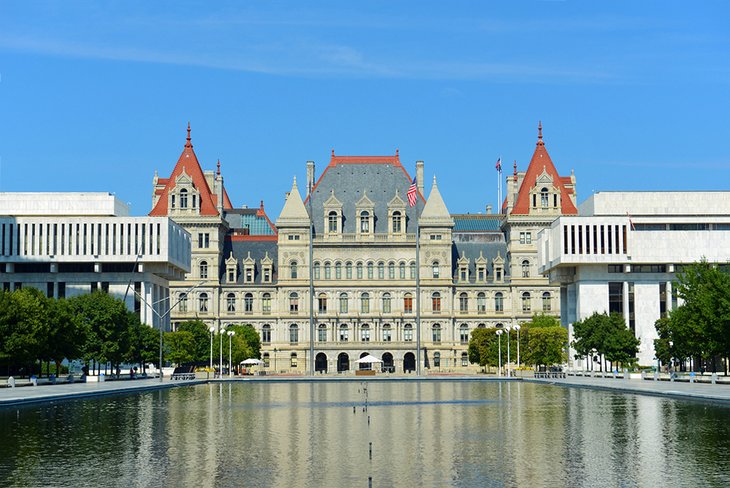 Four hundred years of history come alive in Albany, the entrancing capital of New York state. Lucky for visitors, many of the old, grand buildings still dominate the skyline, providing an architectural treat to all who wander the city's streets.
Empire State Plaza (a.k.a. Governor Nelson A. Rockefeller Empire State Plaza) maintains the city's coveted center. A stunning plaza, it's here you'll find the exceptionally beautiful New York State Capitol, which is flanked by perfectly manicured parks (known as the East and West Central Parks).
The New York State Museum Library & Archives is also here, as is an impressive water feature, which is turned into an ice rink in the winter.
Empire State Plaza is also home to The Egg, an iconic building that looks like a slightly tilted bowl. This unique structure is used as the city's performing arts center, which boasts a commendable lineup of local artists.
Accommodation: Where to Stay in Albany
12. Syracuse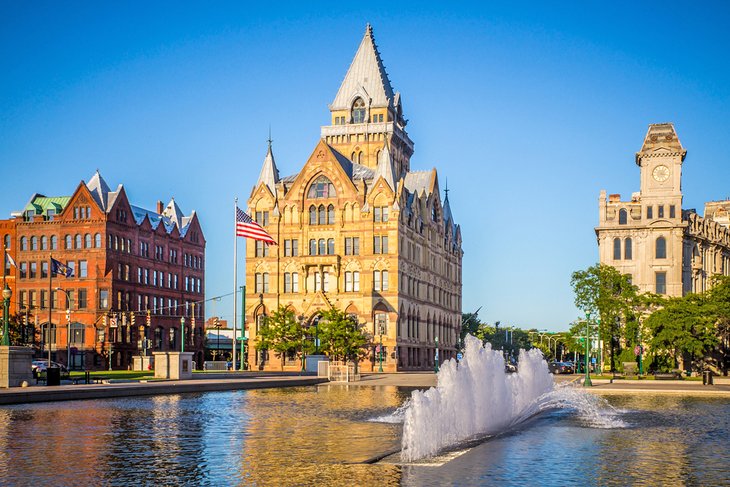 It's as if Syracuse was created to be a weekend trip destination. Built upon the lovely shores of Onondaga Lake, this pretty town is renowned for its parks, vibrant arts scene, and great food – from pancakes to pizza, you can't go wrong while spending a weekend here.
Historic Armory Square is where you'll find the city's best restaurants and a slew of stores selling everything from jewelry to clothes to chocolate. They're sure to tickle your shopping fancy.
Two museums to add to your list are the Erie Canal Museum (it's more exciting than it sounds, we promise) and the super family-friendly Museum of Science and Technology (MOST).
Accommodation: Where to Stay in Syracuse
13. Sag Harbor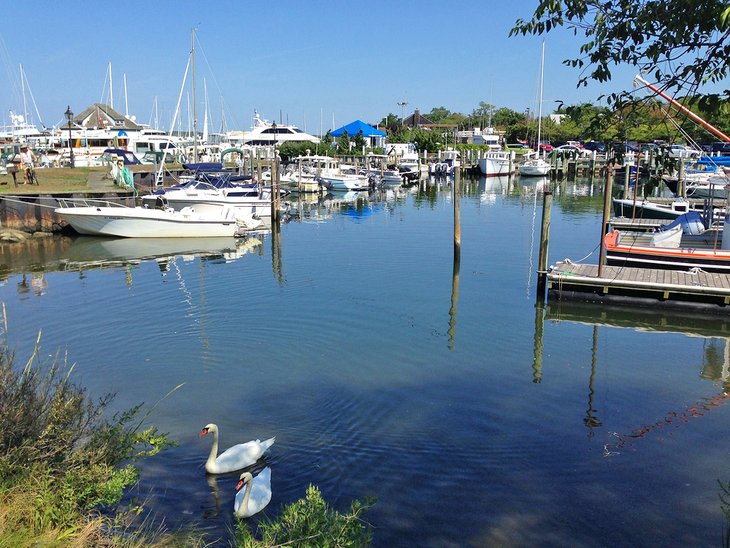 A popular destination for long weekend trips, especially during the summer, Sag Harbor is one of the more low-key Hampton villages. Situated in both East Hampton and Southampton, this old whaling village is bordered by the immense displays of wealth (we're talking insanely massive mansions) the Hamptons are known for.
What sweet Sag Harbor lacks, however, is the overt snobbery found in its neighboring towns. Instead, you'll find historic homes peppered throughout town, an adorable Main street with a variety of restaurants, and stores you can (sometimes) afford to shop in.
Set on the lovely Peconic Bay, this is a wonderful place to visit to kick back, relax, and soak up the small-town atmosphere. Weather not cooperating? Visit the Sag Harbor Whaling & Historical Museum.
Accommodation: Where to Stay in Sag Harbor
14. Shelter Island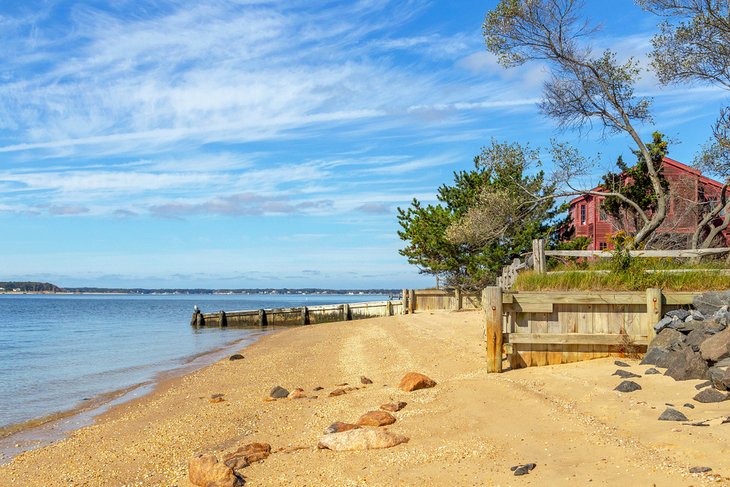 Sitting at the east end of Long Island, the 8,000-acre Shelter Island is a much quieter, more laid-back version of the Hamptons. It's nestled between the North and South Forks, offering visitors a more rugged, back-to-nature weekend escape.
The fact that Shelter Island is a mere 90 miles east of New York City makes it popular with Manhattanites bent on destressing, so you won't be alone when you visit, especially during the summer.
Hit the beach, grab a bite at one of the local eateries, or visit the Mashomack Nature Preserve, which boasts over 2,000 acres of nature at its best. With tidal creeks, lush woodlands, and freshwater marshes on display, this area has been dubbed the "Jewel of the Peconic Bay."
15. Buffalo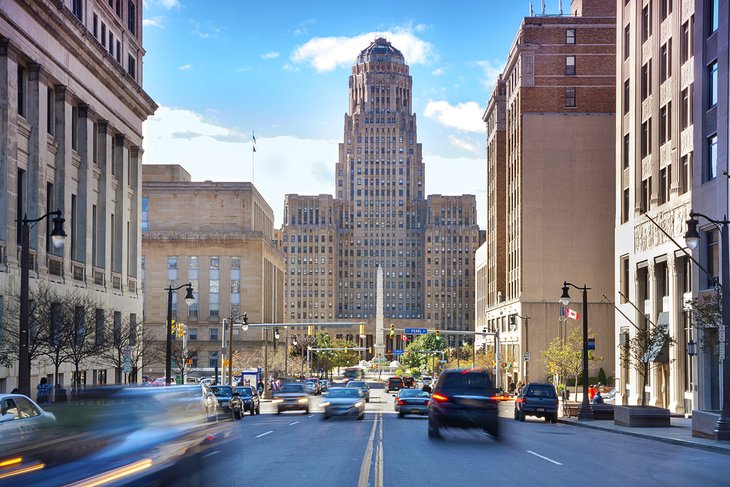 A cheap getaway from New York City (at least when compared with the more upscale Hamptons and Long Island), Buffalo is a city with heart and a great vibe. It's also a popular place to stop on the way to (or from) Niagara Falls. A mere 15 miles from the Falls, Buffalo offers great places to stay, a slew of fine restaurants, and a wide selection of shops.
In addition to its lush parks (a series of which were developed by Central Park's lead designer, Frederick Law Olmstead), Buffalo also boasts the famed Darwin Martin House (of Frank Lloyd Wright fame) and the wonderful Buffalo and Erie County Botanical Gardens.
The downtown core is where you'll find most of the shops and restaurants. This is also where you'll find Canalside, Buffalo's beautiful waterfront, which offers public ice-skating, curling, ice bumper cars, and ice bicycles throughout the winter months.
16. Kingston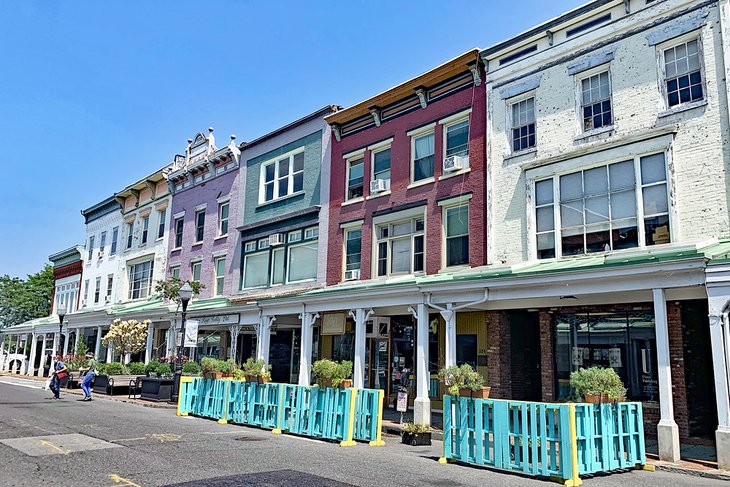 Kingston is a charming waterfront city with deep historic roots. Set just outside the Catskills, this unassuming town is literally as pretty as a postcard and offers a slew of fun things to do on a weekend away. Save your visit for summer if you're hoping to enjoy the best the city has to offer. We're talking live music, festivals, and other fun events.
Uptown is where you'll find the most action. This vibrant area offers boutique stores, colorful murals, historic buildings, adorable cafés, museums, and restaurants galore. Don't miss the Stockade Historic District and its blue stone sidewalks.
Downtown is the place to be if you're drawn to the water. Also known as the Rondout National Historic District, you can board boat tours, eat alfresco on an outdoor restaurant patio, visit the Hudson River Maritime Museum, or wander the path along the pretty waterfront.
Accommodation: Where to Stay in Kingston
Read More: Top-Rated Things to Do in Kingston, NY
17. Woodstock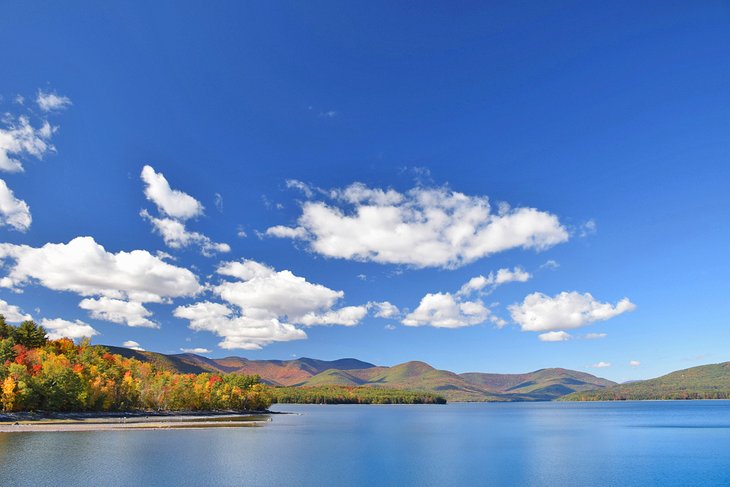 While most associate Woodstock with the famous music festival that promoted peace, love, and all things hippie, the world-renowned concert took place in Bethel, just a short drive away. Quaint Woodstock lies quietly in the heart of the Catskills, art and music making up much of its allure, and a stunning natural backdrop begging visitors to get outside and explore.
It's so pretty that taking in the scenery is one of the top things to do in Woodstock. Explore the 700,000 acres of the wild and wonderful Catskill Park, bike around the Ashokan Reservoir, or head out fishing on Esopus Creek.
If the weather's less than stellar, you can spend your time inside, enjoying the shops and cafés of Tinker Street, admiring the colorful works in Woodstock Artists Association and Museum, or catching a performance in the Woodstock Playhouse.
Accommodation: Where to Stay in Woodstock
18. Beacon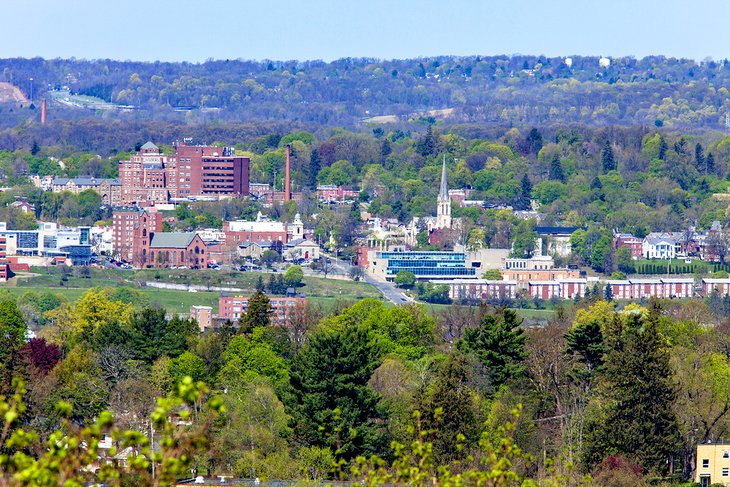 Beacon is a small but vibrant gem set in the south of the Hudson Valley, just seven miles north of Cold Spring. Easily reached by train from New York City, this is a popular place to spend a weekend getaway in New York State, especially for art lovers.
While here, visitors can enjoy the riverside views, hike the area's long and winding nature trails, or practice a little retail therapy in the eclectic shops.
Those who gravitate towards creative endeavors will find Hudson Beach Glass particularly endearing. This fun store also contains a glassblowing demonstration studio, so visitors can watch the artists craft their creations while they shop.
One of the most popular things to do in Beacon is visit the impressive Dia:Beacon, which features a variety of works from the 1960s to the present day. It's impossible to leave here without being inspired to craft something of your own.
Those who prefer to spend their time in the fresh air will want to hit the small six-acre Pollepel Island, which lies near the train station. This plays host to the dramatic ruins of Bannerman Castle, as well as being a perfect spot to enjoy captivating views of the river and surrounding countryside.
Accommodation: Where to Stay in Beacon
19. Greek Peak Mountain Resort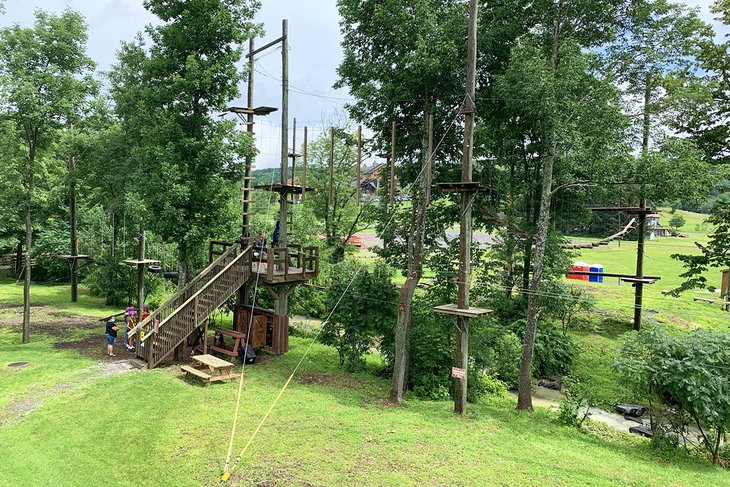 Greek Peak Mountain Resort is big enough to entertain the whole family but small enough to check all the fun activities off your to-do list in a weekend. Depending on the weather, guests have a variety of fun things to choose from at this four-season Finger Lakes resort.
In the winter, guests can enjoy the ski resort's six chair lifts and 56 trails, as well as the terrain parks. The Outdoor Adventure Center is where non-winter visitors will spend most of their time. This is home to the Mountain Coaster, a high ropes Aerial Challenge Course, a zipline tour, and a Eurobungy attraction, as well as an outdoor cinema.
Across the street lies Hope Lake Lodge, a fantastic spot to spend the night in a cozy, cabin-like room. This is also where you'll find the Cascades Water Park, which features waterslides, a wave pool, an indoor-outdoor hot tub, multiple pools, and a splash playground for kids. We promise, you won't hear the words "I'm bored" escape your kids' mouths at this non-stop fun spot.
Read More: Top-Rated Ski Resorts in New York, 2022