12 Top-Rated Things to Do in Lake George, NY
When it comes to Upstate New York getaways, few are as popular or offer as many things to do as Lake George. This sparkling jewel of a lake sits within the Adirondack Park in Upstate New York, measuring 32 miles long and three miles wide. The lake as we know it was formed nearly 12,000 years ago, and over the centuries has served several purposes throughout history.
In the 18th century, Lake George became the site of Fort William Henry, one of the most popular tourist attractions in the region. Its purpose was to protect the lake and guard British interests against the French from the north. The fort is still standing and serves as a step back in time to Lake George's colonial days.
Today, Lake George is one of the most popular vacation destinations for New Yorkers and those in the Northeast. Travelers are drawn to the rugged, wild Adirondack mountains, which is the largest protected natural area in the lower 48 of the United States.
Lake George is a massive draw for family travelers, packed with soft and hard adventures, like hiking and biking trails, zipline courses, skiing in the winter, discount shopping, and museums. Whether it's summer on the lake, a scenic byway drive in leaf-peeping season, or a winter snuggle at a five-star resort, discover the best things to do in Lake George.
1. Get Out on the Lake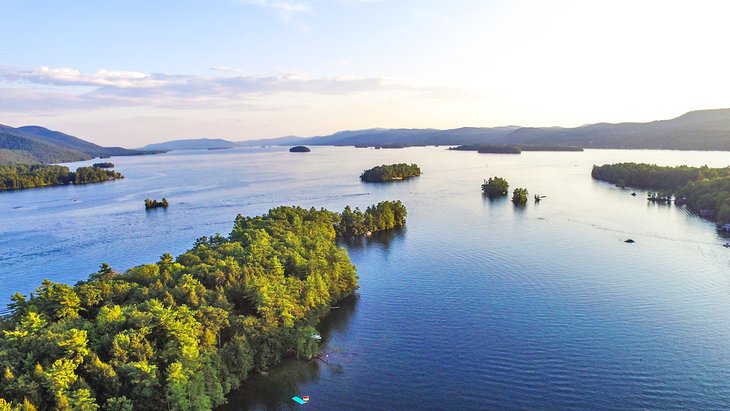 It goes without saying that the highlight of visiting the Lake George region is, in fact, Lake George. It's one of the gems of Upstate New York's Adirondack Park and stretches for 32 miles. Since it's the namesake of the destination, it's no surprise that so many of the area's attractions are all about the lake itself.
Whether you're an experienced boater or just getting used to your sea legs, Lake George has a variety of boating opportunities. Start with Brodie's Lakeside, where you can rent a speedboat or a pontoon. If you'd prefer to just kick back and relax, Lake George Steamboat Company sails day cruises, as well as brunch and dinner cruises.
If it's a workout you're after, Lake George Kayak Company rents out kayaks and canoes. You can even dive the waters of Lake George by booking a dive charter at Halfmoon Marine Services.
2. Drive Prospect Mountain Veterans Memorial Highway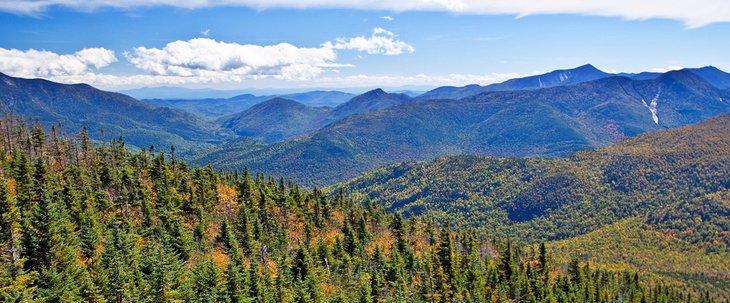 This 5.5-mile stretch of scenic highway opens up to spectacular views of Lake George and the surrounding Adirondack Mountains. The seasonal highway is open from May though Veterans' Day in November, and is one of the most beautiful drives in this part of Upstate New York.
The highway winds its way up the 2,030-foot summit of Prospect Mountain. From the peak, drivers are rewarded with views that stretch 100 miles, as far as Vermont's Green Mountains and New Hampshire's White Mountains. On a clear day, you can even see across the border into Canada. You'll get a few previews on the way up, as well, with three overlooks that have views over The Narrows, Lake George, and The Eagle's Eye.
At the top of Prospect Mountain, you'll find the remains of the Prospect Mountain Cable Incline Railway. It was built at the end of the 19th century as a way to shuttle the well-heeled visitors to the top of the mountain. At that time, it was the longest cable railroad in the world.
3. Hit the Hundreds of Miles of Trails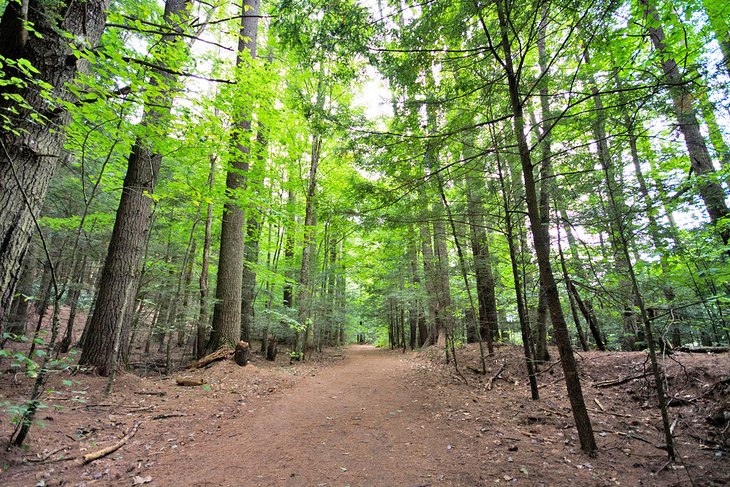 Of course, active travelers can opt to scale Prospect Mountain on foot. The hike is only about three miles round trip, but it's steep, so definitely expect a workout.
But Lake George and the surrounding mountains are veined with hundreds of miles of trails, which scale many of the lush, verdant Adirondack peaks that surround the lake.
Buck Mountain is another popular, challenging hike. It's three miles one-way and affords more spectacular views. For something less difficult, Sleeping Beauty Mountain is far more moderate, though the length can be up to seven miles round trip. The really motivated hikers can attempt The Lake George 12ster, a series of hiking challenges that involve summiting 12 peaks.
Cyclists have plenty of trails to call their own in Lake George, as well. Start with the Warren County Bikeway, which links Lake George to Glen Falls. From Glen Falls there are several other bike routes that branch out.
The winter season blankets upstate New York in fresh powder, which makes Lake George a prime area for skiers. Gore Mountain is the closest peak to Lake George, with 110 trails across four peaks.
4. Face Your Fears at Adirondack Extreme Adventure Course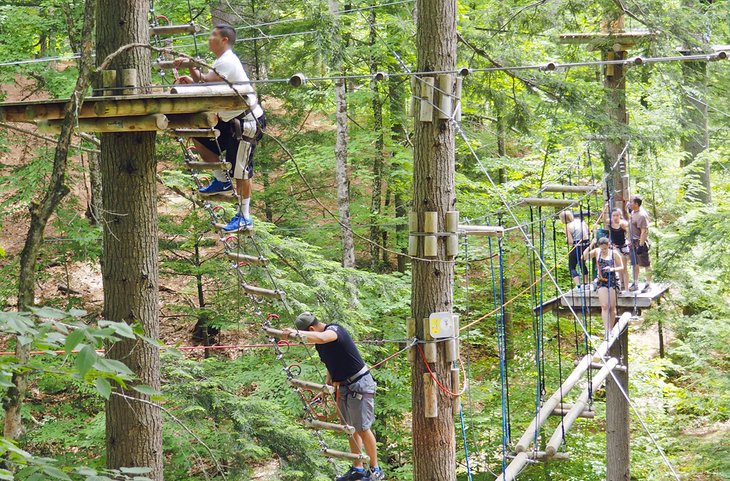 Adventure awaits high in the treetops above Bolton Landing, New York, a tiny hamlet on the western shores of Lake George. Adirondack Extreme Adventure Course is a tree-top challenge obstacle course with six hanging adventures to choose from.
The six aerial courses include 120 obstacles, ziplines, Tarzan jumps, rope swings, cable bridges, slides, nets, and ladders. In fact, the course is one of the largest aerial parks in the United States.
Kids and adults of all ages can enjoy the park, with courses available for kids as young as six. It's a wonderful bonding activity for families and friends who want to spend a challenging day out in nature together. Reservations are required, and the park is open in all weather.
Address: 35 Westwood Forest Lane, Bolton Landing, New York
5. Discover Shelving Rock Falls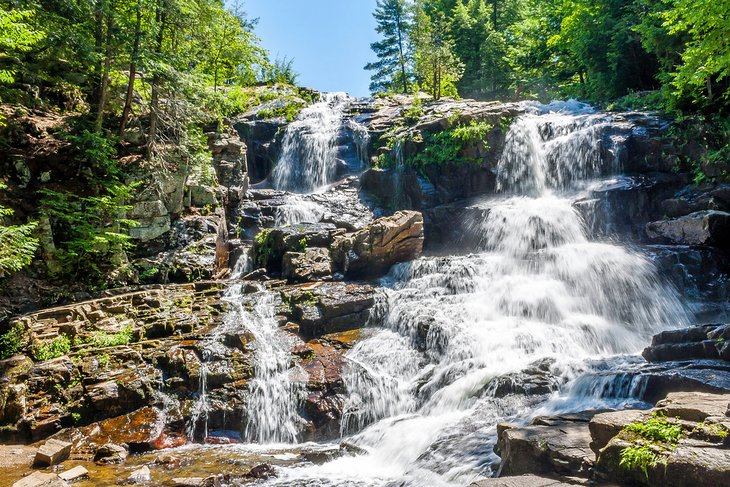 On the east side of Lake George, you'll discover Shelving Rock Falls. This thundering natural spectacle is a 50-foot cascade of plunging Adirondack water, which leaps and slides down a tiered rock face.
Fortunately, it's not much of a challenge to get to the falls. It's accessible by car, but also by boat into Log Bay and then allowing a quick 15-minute walk.
Of course, you can up the intensity level with a climb to the top of Shelving Rock Mountain. The trailhead for the hike is just past the Shelving Rock Falls trailhead. The hike itself isn't particularly hard, but it's a solid 3.5 miles round trip.
6. Shop at the Factory Outlets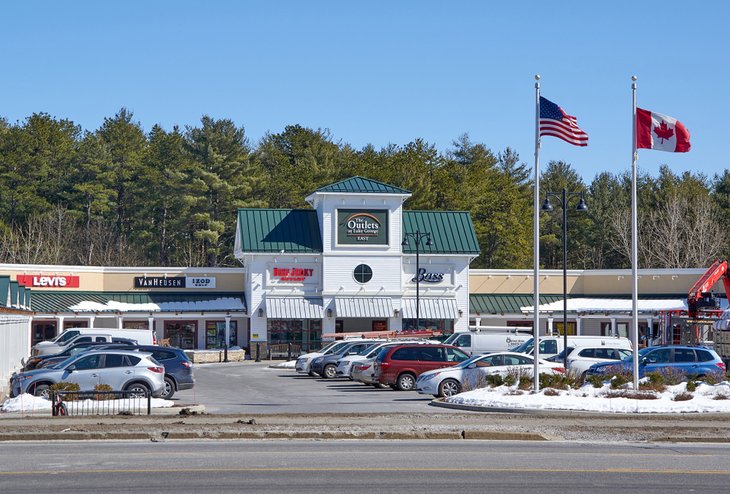 When in Lake George, why not do a little discount shopping? Lake George is famous for its vast number of factory outlets that sell A-list, brand-name apparel and goods at a fraction of the cost.
The outlets are open year-round and are all within a short distance from each other, so it's easy to tailor a shopping trip length based on what you're in the mood for.
The two most popular options are The Outlets at Lake George and Adirondack Outlet Mall. Brand names to look for include everyone from Vera Bradley and Michael Kors to Adidas and COACH.
The Outlets at Lake George are on either side of Highway 9, while the Adirondack Outlet Mall has more than 50 stores indoors.
The Outlets at Lake George
Address: 1424 U.S. 9, Lake George, New York
Adirondack Outlet Mall
Address: 1444 U.S. 9, Lake George, New York
7. Tap into Colonial History at Fort William Henry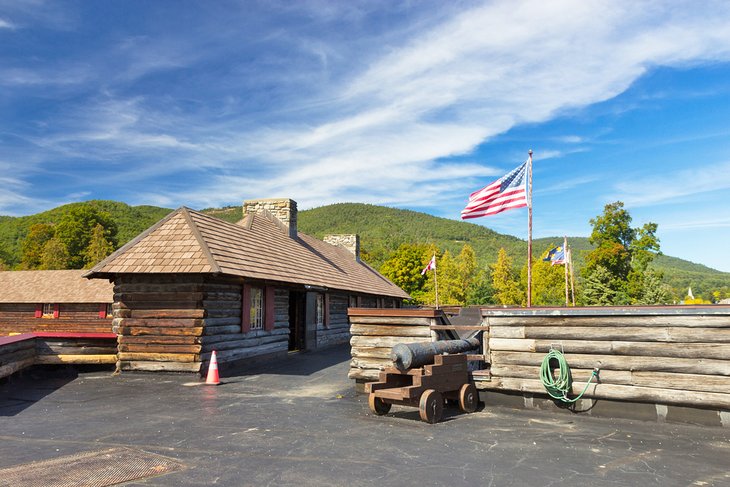 A trip to Fort William Henry is a true step back in time to New York State during the British colonial era. The fort was constructed in 1757 as an outpost in the wilderness to help protect the British colonies from the French invaders from Montreal and beyond.
Today visitors can roam around the historic fort with a self-guided walking tour of the museum or buildings, or they can opt for a live-action military demonstration.
Fun for families or history buffs alike, the staff at Fort William Henry is dressed in traditional garb and plays the part of British colonists, who are there to answer your questions about life on Lake George in the 1750s.
Address: 48 Canada Street, Lake George, New York
8. Get an Adrenaline Fix on the White-Capped Rivers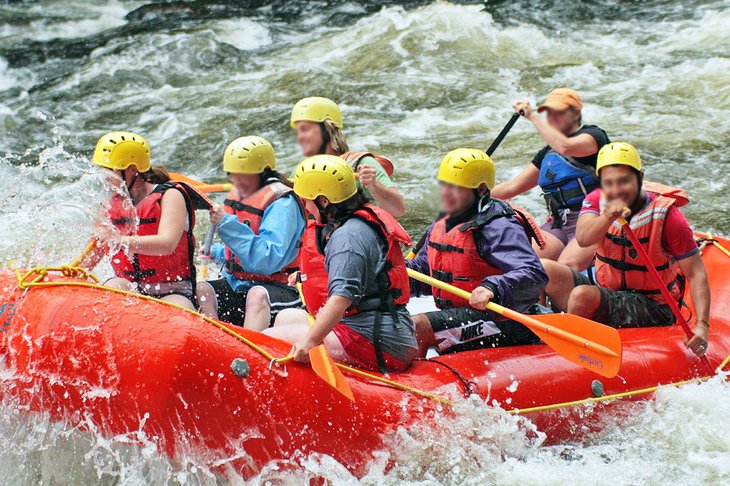 Adrenaline junkies will get their fix chasing the rapids along the rivers of the Adirondack Mountains near Lake George. In fact, whitewater rafting is one of the most intense activities you can do in this part of New York State.
Thousands of people descend each summer to test their skills along the Hudson and Sacandaga Rivers, which offer everything from mild and mellow to heart-pumping rapids.
The Hudson River, while wide and calm closer to New York City, rages and rips in Upstate New York. This requires rafters to master class II-V rapids. The runs are created from snowmelt, which results in churning rapids and plunging pools.
For something calmer, the Sacandaga River is ideal for beginners. Rafting companies in the area will take travelers on a four-mile ride down the slow-moving class I-II rapids.
9. Bask on Million Dollar Beach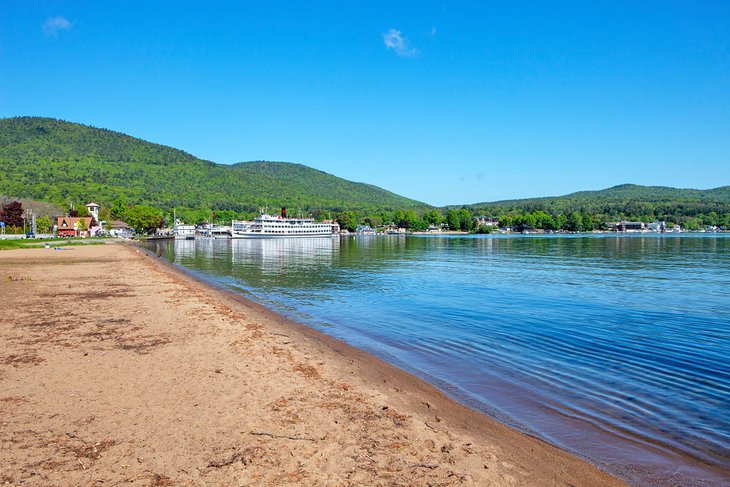 When the weather is deliciously warm in the summer, there is no better place to visit in Lake George than basking on Million Dollar Beach. The beach area is part of Lake George Beach State Park, located in the southern basin of the lake near the Lake George Battleground State Campground.
The largest and most popular of Lake George's beaches, the sweeping stretch of sand is clean and well-maintained, with bathhouses with showers, bathrooms, and locker rooms. Lifeguards dot the shore, as well, for added safety. The beach even has a full-time, public boat launch.
Visitors often make a day of their time at Million Dollar Beach, whether they're packing their own picnic or buying food from the nearby concessions. The picnic areas even have their own grills, which are open to the public.
10. Explore the Majestic The Sagamore Resort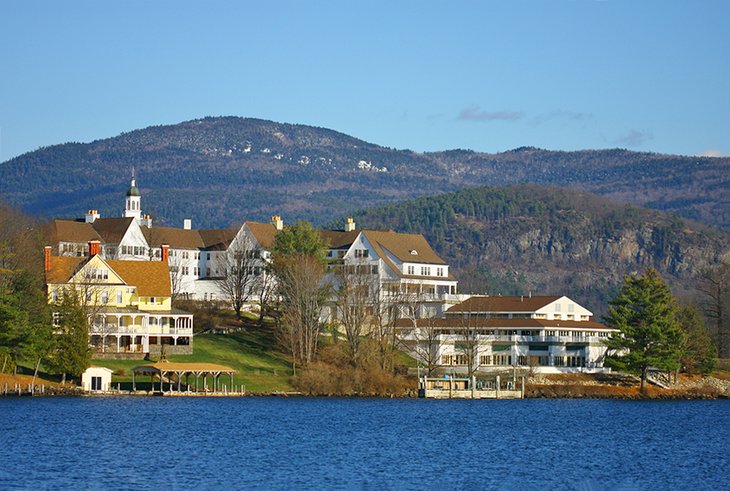 No trip to Lake George is complete without a stop at the iconic The Sagamore Resort, which is constantly rated as one of the top resorts in the Northeast. If you've got a little extra money to burn, it's absolutely worth the splurge. But even if you're keeping your trip on a tighter budget, a visit to The Sagamore will not disappoint.
The Sagamore Resort opened in the late 19th century on a secluded 70-acre island. It was attractive for well-heeled families, celebrities, and dignitaries, all of whom were drawn to the shimmering lake views. Today there is an 18-hole Donald Ross-designed golf course that brings in a fair share of travelers.
Guests can stay in the Historic Hotel or lakeside lodges, as well as 12-bilevel suites and individually decorated condominiums. But for those who are just passing through, the restaurants are next level, as is the spa.
Address: 110 Sagamore Road, Bolton Landing, New York
11. Sleep Under the Stars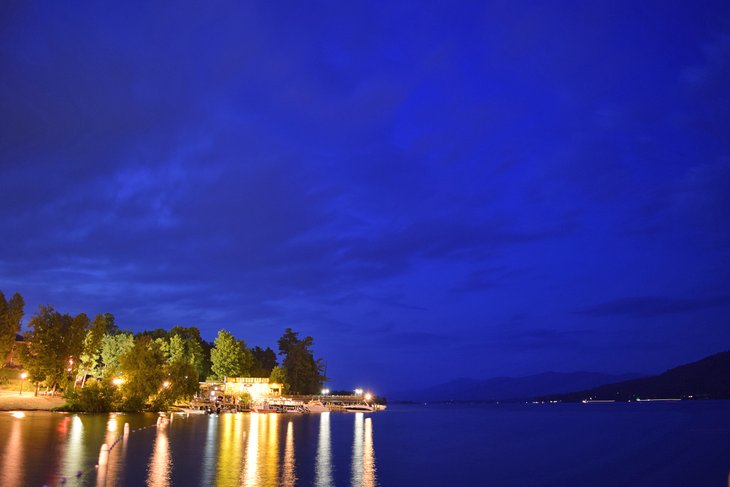 Adventurous travelers who want to reconnect with nature can't do better than camping at Lake George. Surrounded by the towering Adirondack Mountains, there are few better places in New York State to sleep under the stars.
Adirondack Camping Village has something for every type of camper, from secluded campsites tucked in the trees to cabins and RV hookups. If RV camping is more your speed, the Lake George RV Park has campsites, as well as on-site rentals.
You can also push up the experience with one of the "glampgrounds" nearby. Camp Orenda, less than an hour from Lake George, has six canvas tents decked out with queen-size beds, down comforters, and even hot showers and flush toilets.
12. Discover the House of Frankenstein Wax Museum
If you're visiting Lake George in the warmer months, you'll have to reserve time to get spooked at the House of Frankenstein Wax Museum. A sensory experience, the haunted house features a series of lifelike wax and animatronic statues.
The self-guided museum tour has more than 50 exhibits that start with a greeting from none other than Frankenstein's monster. It may look kitschy, but do not be fooled – the scares are certainly for real, and this house is definitely not suitable for children. Inside you'll find everything from pop culture creepsters, Freddy & Jason, to the spirits and ghouls of the history books. You may recognize The Hunchback of Notre Dame or Dr. Jekyll and Mr. Hyde, as well as Jack the Ripper and Burke and Hare.
House of Frankenstein opened in the 1970s and has been frightening Lake George visitors ever since. Be forewarned that there are many scares that jump out at you, so if you frighten easily, you may want to skip this local attraction.
The local legend closes in the winter, but opens usually in April every year for another season of screams and scares.
Address: 213 Canada Street, Lake George, New York
Official site: https://frankensteinwaxmuseum.com/
Lake George, NY - Climate Chart
Average minimum and maximum temperatures for Lake George, NY in °C
J
F
M
A
M
J
J
A
S
O
N
D

-1

-12

2

-11

7

-6

15

1

22

7

26

12

28

14

27

13

23

9

16

3

8

-2

2

-8

PlanetWare.com
Average monthly precipitation totals for Lake George, NY in mm.

89

66

94

95

112

106

107

109

103

92

103

88

Average monthly snowfall totals for Lake George, NY in cm.

47

37

28

5

0

0

0

0

0

0

10

47
Average minimum and maximum temperatures for Lake George, NY in °F
J
F
M
A
M
J
J
A
S
O
N
D

31

10

35

12

45

22

59

33

71

45

79

53

83

58

81

56

73

48

61

37

47

29

35

17

PlanetWare.com
Average monthly precipitation totals for Lake George, NY in inches.

3.5

2.6

3.7

3.7

4.4

4.2

4.2

4.3

4.1

3.6

4.1

3.5

Average monthly snowfall totals for Lake George, NY in inches.

19

15

11

2.1

0

0

0

0

0

0

4.0

19