12 Top-Rated Things to Do in Montauk, NY
The charming hamlet of Montauk, located on the easternmost tip of Long Island's South Fork, is known for its iconic centuries-old Montauk Point Lighthouse, but there many other attractions and things to do here year-round. There are miles of hiking trails, camping opportunities, excellent seafood, and gorgeous Atlantic beaches to enjoy.
Montauk is in East Hampton, one of two townships that make up the famed Hamptons in New York (the other is Southampton). It can be reached by both public transportation and car, and if you can spring for it, a helicopter ride from New York City will get you here in just under a half hour.
While most people visiting the Hamptons stick to popular beach towns like Sag Harbor, Bridgehampton, and Amagansett, those venturing farther east can benefit from a pleasant and quiet escape, full of outdoor recreation and historical significance.
The bluffs and beaches of Montauk State Park, home of the lighthouse, offer sightings of seabirds, harbor seals, dolphins, and even humpback whales. The state parks, beaches, and other places to visit make this pristine slice a sought-after tourist attraction.
Find more places to visit with our list of the top things to do in Montauk.
1. Montauk Point Lighthouse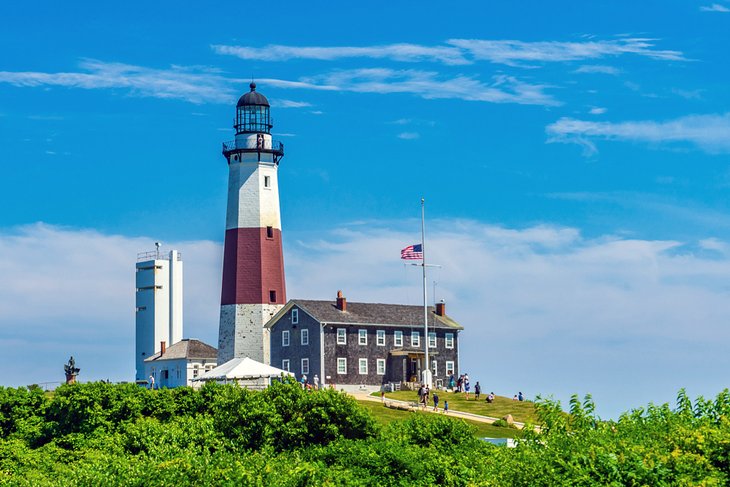 No trip to Montauk is complete without visiting its famous lighthouse, a national historic site located at Montauk Point in the Montauk Point State Park at the unspoiled edge of the peninsula. The top of the bluff upon which the lighthouse sits affords sweeping views of the Atlantic Ocean and Block Island in the distance.
It is the oldest lighthouse in the state of New York and was commissioned by Founding Father George Washington in 1796 as a public works project in the newly formed United States. This still active lighthouse was built to warn passing mariners of the dangerous rocks at Montauk Point.
In the Keeper's House built in 1860, you will find maritime artifacts, photographs, and historical documents signed by George Washington and Secretary of State Thomas Jefferson. On your visit, take time to climb the 137 iron steps to the top of the lighthouse for panoramic views.
The best time to visit this romantic spot is early in the morning to catch the sunrise over the Atlantic and the bluffs and rocky beaches of the Montauk State Park. Before leaving, stop by the gift shop in the visitor center to bring home a souvenir of your trip back in time.
If you are visiting in May, don't miss the annual Montauk Music Festival, which takes place at the lighthouse and a number of other venues in town. Those looking for a unique place for a wedding should consider the lighthouse grounds for a wonderful outdoor event to remember. The lighthouse is closed during winter.
2. Explore Montauk Point State Park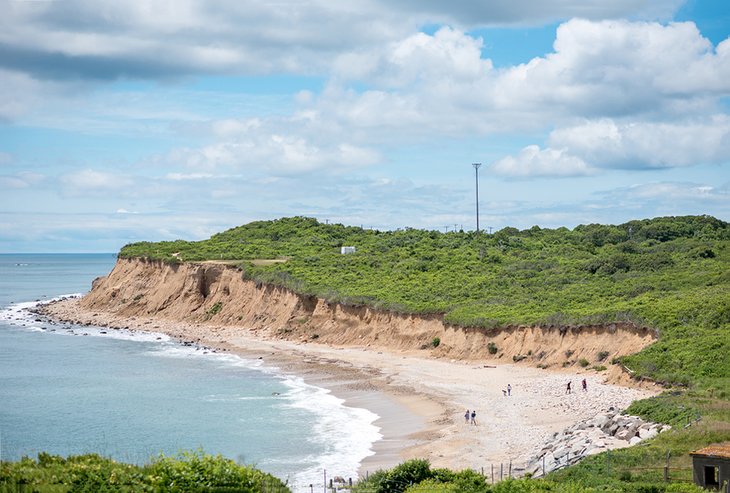 There's more to Montauk Point State Park than the lighthouse. Photographers and animal lovers can keep a lookout for seals hanging out on nearby rocks. Hikers and cross-country skiers can enjoy unparalleled views of the ocean and the rocky shoreline from nature trails, and surf fishing enthusiasts can pick a spot anywhere on the beaches to catch the coveted striped bass.
Those looking to surf the waves at the edge of Long Island, which surfers call the North Bar, can do so from mid-December to the end of March.
Among the more popular trails is the Paumanok Path, a 125-mile-long trail that connects the state park with Rocky Point on the North Shore of Long Island through four towns. The path winds along the scenic beachfront, from the bluffs of Montauk over rolling hills to the woodlands inland.
The park also has picnic areas, a playground, and public restrooms. A maximum of two leashed pets are allowed in the day use areas.
3. Camp Hero State Park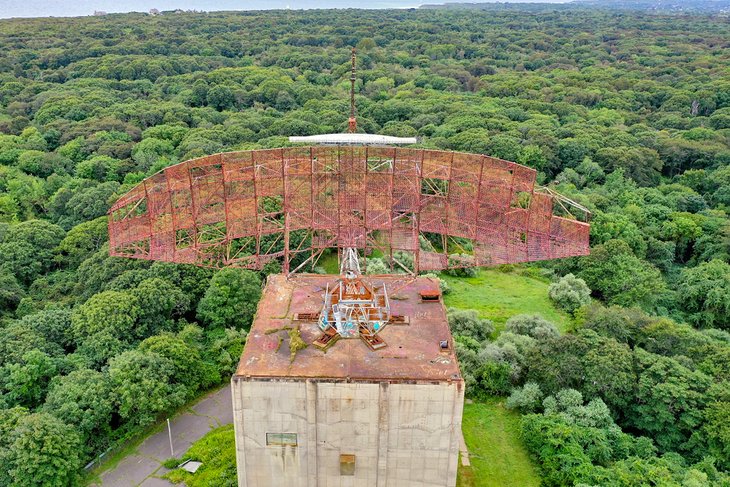 While Montauk Point State Park graces north of the Montauk Highway, to the south lies Camp Hero State Park, another protected area worth visiting on your trip out east. Once a "Camp Hero" military base during WWII, the state park features maritime forests, wetlands, and native wildlife.
Hike, bike, take your dog on a leisurely walk along the coast, or spend a lovely afternoon picnicking with friends and family with spectacular ocean views.
History buffs (and conspiracy and paranormal theorists) can head to the Montauk Radar Tower and the buried gun batteries left from the war. Conspiracy theories have been circling around since the 1980s alleging that the US government conducted time travel and teleportation research, as well as psychological warfare techniques at Camp Hero in a clandestine operation called the Montauk Project.
In fact, the Montauk Project was discussed in a series of books by Preston Nichols and was the inspiration behind the hugely popular Netflix show, Stranger Things. This also explains why Jim Carrey and Kate Winslet's Eternal Sunshine of the Spotless Mind features Montauk in the tragicomedy about erasing memories.
4. Go Surfing at Ditch Plains Beach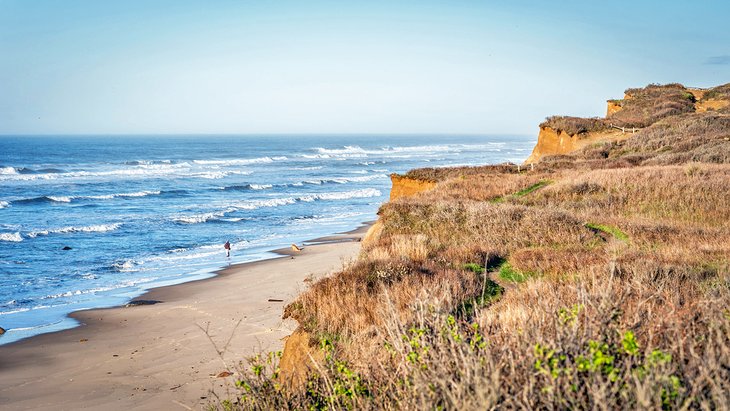 Ditch Plains Beach, a windswept stretch of beach backed by dramatic green cliffs, is one of the more popular beaches in the Hamptons. It is especially popular among wave riders who come from all over the island to ride the long breaks.
If surfing isn't your thing and you'd rather soak up some rays and enjoy delicious food, you can do that, too. A staple here is the Ditch Witch Food Truck, serving breakfast burritos and Ditch Witch Cubano, among other foods, to beachgoers.
But if seeing all those surfers inspires you to learn, sign up for lessons at the nearby Air and Speed Surf Shop, which also rents out surfboards and wetsuits. Dogs are welcome in the mornings and after the sun sets.
5. Go Camping at Hither Hills State Park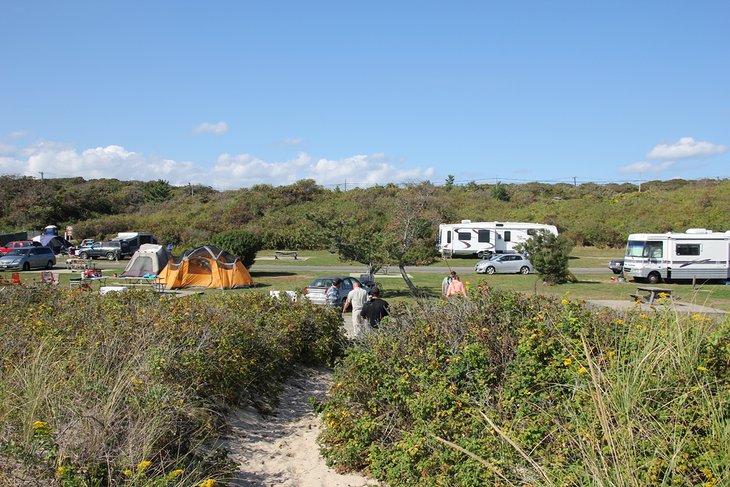 Camping in Montauk is synonymous with Hither Hills State Park, which boasts 190 public campsites, the only ones in town, located between Napeague walking dunes and the Atlantic ocean.
Similar to other state parks in the area, one could spend days fishing, hiking, biking, wildlife-viewing, and cross-country skiing, depending on the time of the year.
The park has a two-mile sandy beach, a 40-acre freshwater lake, handicapped-accessible picnic areas, fireplaces, playing fields, and a playground. The beach is open from Memorial Day to Labor Day.
The walking dunes of Napeague Harbor, located on the eastern edge of the park, are a popular attraction. Along the three-quarter-mile trail, you will pass by dunes created by shifting sands, and trees jutting out of the sand. The trail ends at a cranberry bog full of cranberry plants, orchids, and other plants.
The camp sites, which allow both tent camping and RVs, fill up fast, so be sure to book far in advance. They come with public restrooms with showers. During the summer, you can purchase any items needed during your stay at the convenience store on site; lifeguards are also on duty in the summer.
6. Lake Montauk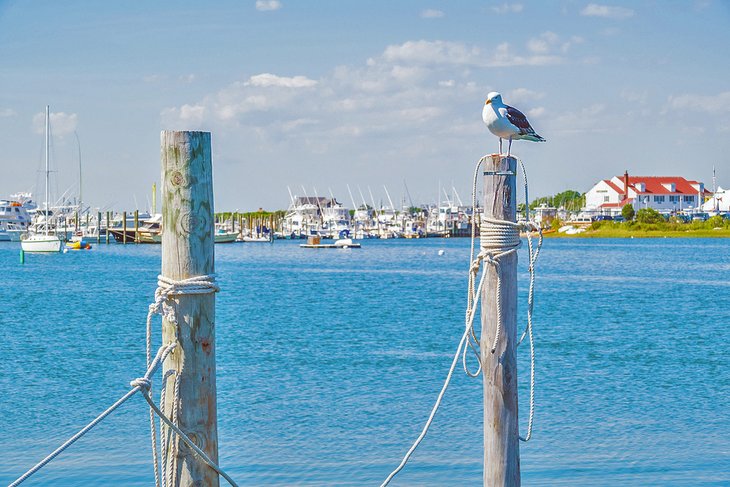 Although named a lake, this body of water is no longer one, thanks to Montauk's former owner Carl Fisher, who dredged up a hole and allowed seawater to seep in. That was back in 1927 and since then, Lake Montauk has been a protected bay and the main port in town.
It sees quite a bit of action, from chartered boats to fishing boats going in and out of the harbor daily, especially during the peak season.
In the summertime, visitors can take the ferry to the nearby islands of Block Island, as well as venture out to Martha's Vineyard, New London, and Connecticut.
A number of seafood restaurants line the banks of the lake, like Westlake Fish House, The Crow's Nest Inn & Restaurant, and Gosman's Dock. They offer fresh seafood and outdoor seating with lovely water views. Gosman's Dock restaurant has free Sunday concerts on the outdoor stage in July and August.
The restaurants are located near Sun 'N' Sound, Montauk Harborside Resort Motel, Gosman's Culloden House Motels, and Kenny's Tipperary Inn.
7. Stay on Star Island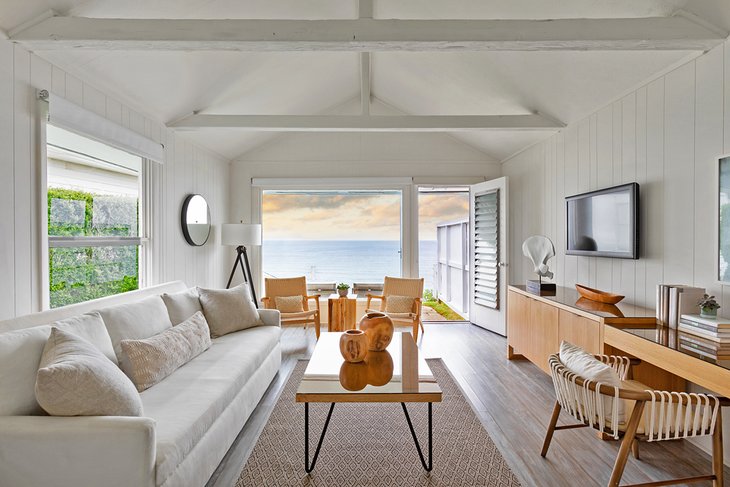 The Gurney's Montauk Resort & Seawater Spa (formerly Montauk Yacht Club), the town's premier resort and marina, sits on Star Island in the middle of Montauk Lake, greeting visitors with a replica of the lighthouse. The resort boasts 107 luxury waterfront rooms, suites, and villas, a top-rated spa, restaurants, meeting rooms, and a private beach.
The location also serves as a setting for a wedding, with indoor and outdoor venues, including the Waterfront Ballroom with sweeping views of the lake. Gurney's marina allows visitors to dock right outside the hotel during their vacation.
8. Shadmoor State Park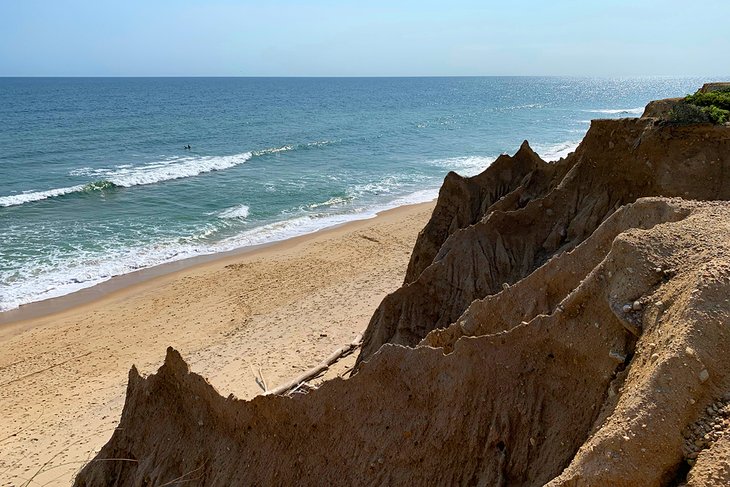 The 99-acre Shadmoor State Park, located a short distance from the village of Montauk, features a beautiful beach that can be accessed by two stairways. The park is named after the shadbush prevalent on the moors. It provides visitors with opportunities for hiking, bird-watching from elevated platforms, and enjoying the gorgeous shoreline.
Spend a lovely afternoon picnicking with friends and family, fishing from the beach, or taking a leisurely hike. Those traveling with pets may bring two leashed pets to the day use areas. The park also features two concrete bunkers from the WWII era, which gave the park its name of "the bunkers."
9. Deep Hollow Ranch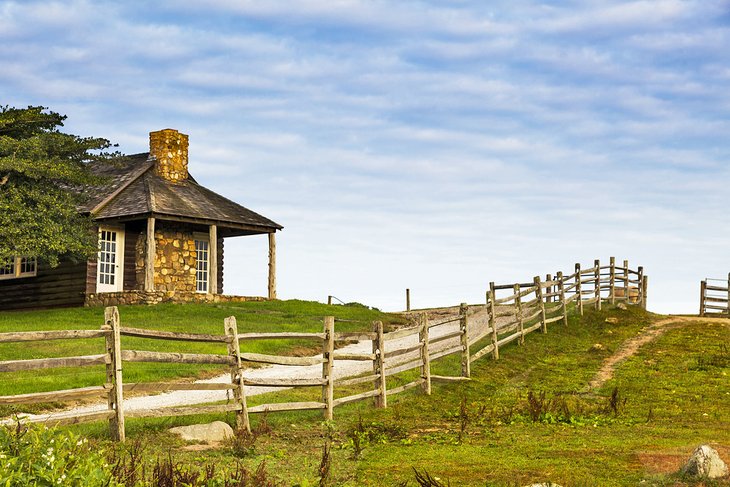 You don't have to go to the Wild West for a glimpse into the past. At Deep Hollow Ranch in Montauk, purportedly the country's oldest working ranch, visitors can travel back in time to the era of cowboys and cowgirls. Sitting amid acres of beautiful coastal land, the ranch allows visitors to see their beautiful horses and ride them alongside pristine beaches and through the bucolic countryside.
The ranch also offers a summer camp for kids complete with pony rides and time spent with the horses. Deep Hollow is located a five-minute drive from the Montauk Lighthouse.
10. Montauk Downs State Park Golf Course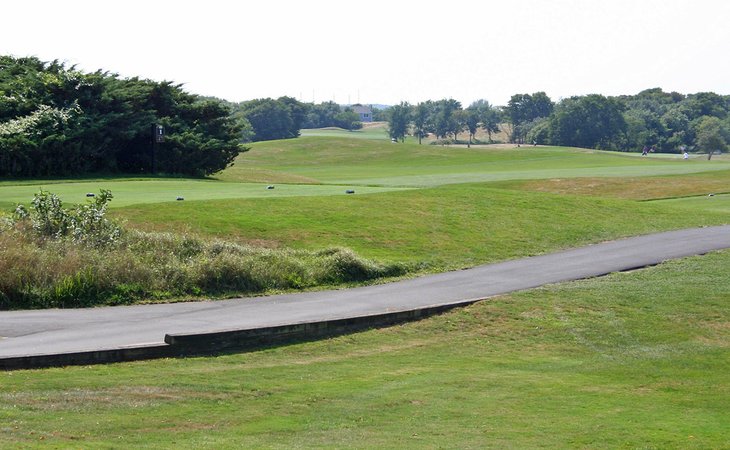 If you aren't into outdoor recreation or searching for the paranormal, worry not, as Montauk has an 18-hole golf course open to the public. The Montauk Downs State Park Golf Course dates back to 1927 and was redesigned by Robert Trent Jones in 1968 and kept up by his son Rees Jones. New York State purchased the golf course in 1980.
It stays open year-round and has a clubhouse, seasonal swimming pool, and tennis courts. Non-New York residents can register with the NY Golf Registration System two days in advance to be able to tee off on the golf course.
11. Kirk Park Beach
Another popular sandy shore for sunbathers in Montauk is Kirk Park Beach, which lies a few miles west of Ditch Plains Beach and stretches for 500 feet. Kirk Park Beach has lifeguards during high season, bathrooms with showers, and is conveniently located close to hotels like The Montauk Beach House and The Surf Lodge.
This sand-dune-backed beach tends to get crowded in the summer, mainly due to free parking and proximity to hotels. The beach is no frills, so bring your own chairs, umbrellas, and coolers. The nearby IGA supermarket makes a good pit stop for food and beverages.
After a day on the beach, head to the nearby John's Drive Inn, an iconic retro spot with burgers and refreshing ice-cream made on the premises.
12. Take a Sightseeing Cruise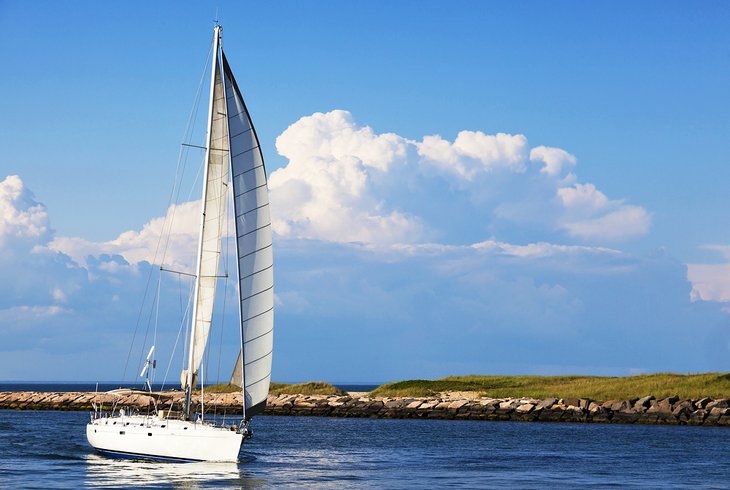 A great way to enjoy your vacation in Montauk is to take a sightseeing cruise with one of the many boat operators. Experienced boaters can also find several places to rent watercraft, from Jet Skis and small boats to sailboats.
The Viking Fleet offers half-day whale watching tours that are narrated by a marine biologist, as passengers have the opportunity to see not only whales but dolphins, sea turtles, and birds. They also offer several fishing tour options, including half-day trips for beginners that include all the necessary equipment and specialty striped bass fishing trips.
The Viking Fleet also offers a sunset cruise, as well as a ferry service to and from Block Island and New London.
Tourists can also take a sunset tour with Island Girl Adventures, who also offer harbor tours in the morning, as well as fishing trips and charters.
MTK Cruises has catamarans and pontoon boats, featuring a swimming cruise to their 20-foot water trampoline. Those looking for a private dinner and sunset cruise can charter the Sea Dog, a 35-foot cruiser built in Maine.
Anyone who loves sailboats will want to check out Sail Montauk, where they offer sailboat charters and sunset sails for small and large groups. They also operate a sailing school with lessons for all skill levels, as well as a kids' sailing camp, and students can rent sailboats here once they are ready.
Getting There:
Montauk is located 120 miles east of New York City. Driving will take you approximately four hours, and more during summer and holidays; most of the drive will be on I-495 East and Route 27. Travelers can also get on the Hampton Jitney or the Long Island Rail Road. The train leaves from Manhattan's Penn Station and takes three hours to reach Montauk Station.
Map of Things to Do in Montauk, NY
Montauk, NY - Climate Chart
Average minimum and maximum temperatures for Montauk, NY in °C
J
F
M
A
M
J
J
A
S
O
N
D

3

-7

4

-6

8

-2

13

3

19

9

24

14

27

17

27

17

23

13

17

6

12

2

6

-3

PlanetWare.com
Average monthly precipitation totals for Montauk, NY in mm.

112

90

113

107

96

93

84

113

103

101

115

110

Average monthly snowfall totals for Montauk, NY in cm.

20

18

8

1

0

0

0

0

0

0

2

12
Average minimum and maximum temperatures for Montauk, NY in °F
J
F
M
A
M
J
J
A
S
O
N
D

38

20

39

22

47

29

56

38

66

48

75

57

81

63

80

62

73

55

62

43

53

35

43

26

PlanetWare.com
Average monthly precipitation totals for Montauk, NY in inches.

4.4

3.5

4.5

4.2

3.8

3.7

3.3

4.5

4.1

4.0

4.5

4.3

Average monthly snowfall totals for Montauk, NY in inches.

8.0

6.9

3.2

0.3

0

0

0

0

0

0

0.6

4.6
More Related Articles on PlanetWare.com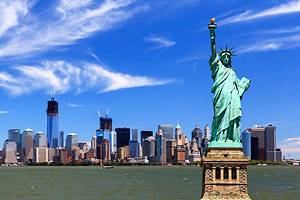 More Places to Visit near Montauk: Long Island is the largest island on the mainland United States, and has a number of attractions and things to do, from Gold Coast mansions, glimmering beaches, and nature preserves to fantastic concert venues and museums. If you are staying in New York City, check out our guide to the city's best museums, Central Park, and more.