15 Top-Rated Things to Do in Groton, CT
Groton sits serenely on the bank of Fishers Island Sound, between the Thames and Mystic Rivers. Although small, this southeastern Connecticut town boasts an extensive history and a variety of things to do.
From visiting iconic Fort Griswold to hiking trails at Bluff Point State Park, visitors never get bored.
Groton is situated a mere 10 minutes west of the seaside village of Mystic, making it an easy stop on the way to or from its charming neighbor. You'll want to factor in enough time to tour the area's historic homes, beaches, and museums before stopping in a local restaurant or café for a tasty meal.
Submarine fans will be thrilled by a visit to the USS Nautilus and Submarine Force Museum. Plus, the town is home to the U.S. Navy's oldest (and many argue most important) submarine base. Called the Naval Submarine New London, it has resided in Groton since 1868.
Before visiting, plan your day with our list of the top things to do in Groton.
1. Learn about Subs at the Submarine Force Library and Museum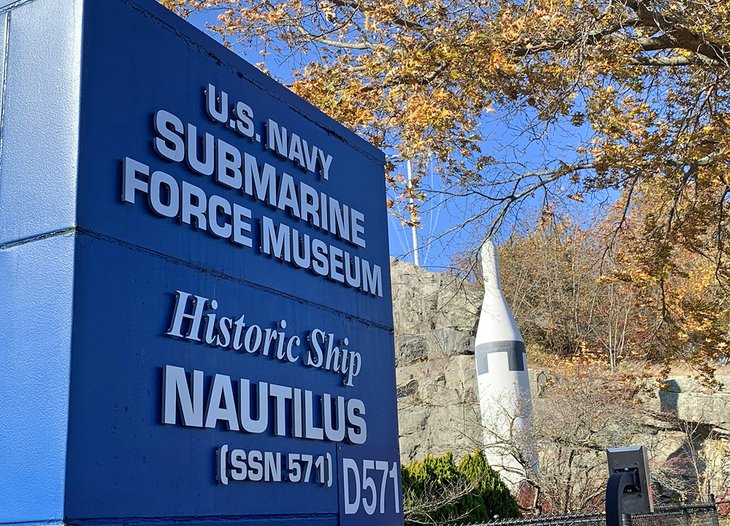 The Submarine Force Library and Museum is located on the banks of the Thames River, beside the Naval Submarine New London base.
The most popular attraction in Groton for families, this interesting spot is home to everything a submarine-lover would wish to see. That includes miniature submarines, periscopes, and a control room.
This is the only submarine museum operated by the US Navy, and it's filled with intriguing facts, interactive exhibits, and a variety of changing displays. A model of American inventor David Bushnell's Turtle, the world's first combat submersible vessel, is also found here.
The museum's biggest draw is the USS Nautilus, a submarine open for all to explore (you'll learn more about that below). Don't miss the impressively vast Submarine Force Library, an important section of the museum. It houses thousands of books, documents, and photos depicting the history of submarines worldwide.
Address: 1 Crystal Lake Road, Groton, Connecticut
2. Enjoy the Fresh Air at Bluff Point State Park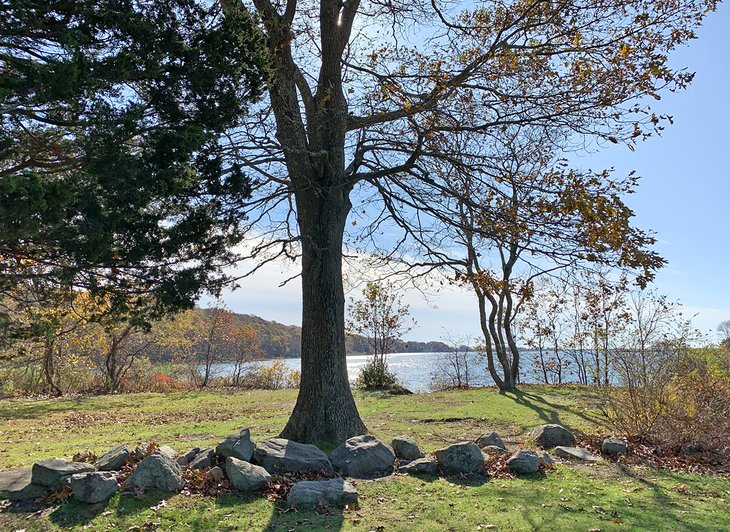 More than 800 acres greet visitors to Groton's lush and serene Bluff Point State Park. Occupying a one-and-a-half-mile-long wooded peninsula that juts into the Long Island Sound, this pretty piece of land is a gem bursting with natural wonders and beautiful wildlife.
This family-friendly park was designated a Coastal Reserve in 1975, so its unique flora and fauna are well protected. That means only those on foot, horseback, or bicycle can wander the expansive grounds. Pets are welcome (including horses) on the beach from September 2nd through March.
Popular activities include hiking, fishing (a permit is required for shell fishing), and mountain biking. There's also a boat launch on-site for non-motorized boasts like kayaks and canoes.
Lounge on the beach, splash in the sound, or hike the trails of this last undeveloped section of Connecticut's coastline. Then, set up a picnic on the grass near the parking lot. Plane-loving kids and adults will love watching aircraft take off and land at the Groton-New London airport.
Address: 55 Depot Road, Groton, Connecticut
3. Climb aboard the USS Nautilus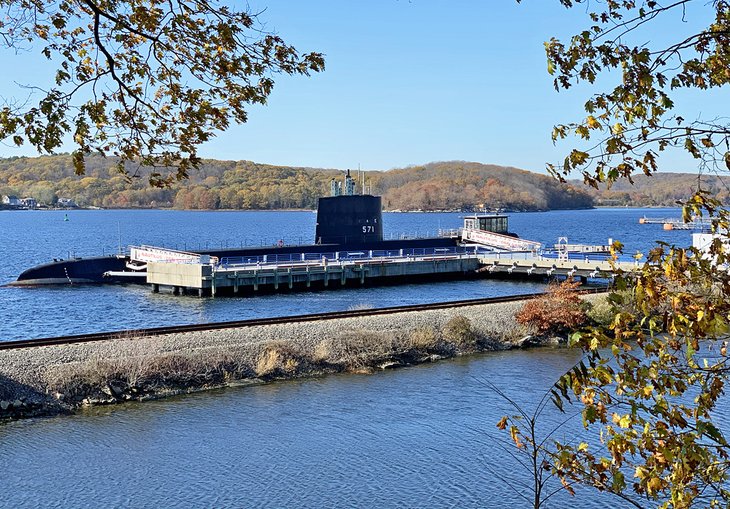 The USS Nautilus is the star attraction at the Submarine Force Library and Museum. The world's first nuclear-powered sub, this Cold War craft could dive deeper than any of its kind at the time. Today, it sits in the Thames River, awaiting visitors to explore its inner sanctum and kids to be inspired to set out on the water.
In service from 1969 to 2008, the USS Nautilus was used primarily as a research vessel. It was sent on multiple secret missions as well. To this day, the public aren't privy to all the submarine's operations, but those we do know about are impressive.
One assignment of note includes the sub's role in recovering parts of the Challenger space shuttle, which exploded in 1986. We promise your children will be happily entertained and truly fascinated here for at least a couple of hours, if not more. Take a self-guided audio tour (it will take about 30 minutes) to learn more about this interesting vessel.
Insider's tip: A trip inside this attraction is better suited to able-bodied visitors. The rooms are dark and cramped. Also, there are multiple tiny steps to descend and climb in order to get around.
Address: 1 Crystal Lake Road, Groton, Connecticut
4. Step Back in Time at Fort Griswold Battlefield State Park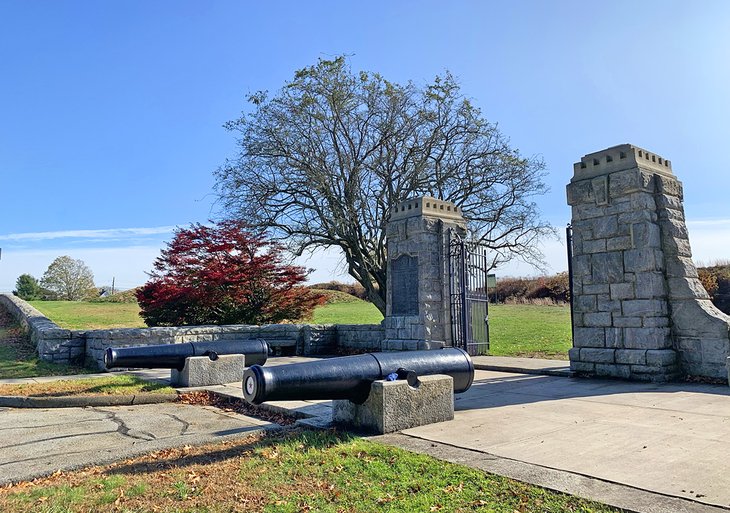 The largest of Connecticut's Revolutionary War battles took place at Fort Griswold Battlefield State Park. Home to the towering Groton Monument (more on that below), the park is impossible to miss. The fort itself dates to 1775 and houses a battery, shot furnace, magazine, and ravelin.
The Memorial Gate serves as the fort's main entrance. It is guarded by two of the original cannons once used to fire cannonballs weighing 32 pounds and opens to the Old Fort Site. Stone walls surround the original site, which includes both the fort and its battlegrounds.
The River Battery is a must-see. Originally created in a "W" shape, this underground bunker was built to help protect soldiers and house giant cannons and later Rodman guns. The powder magazine and brick shot furnace, both of which date to 1843, are found here.
Insider's tip: Phone (860) 424-4005 from within the park for a free, six-stop recorded audio tour.
Address: The corner of Monument Street and Park Avenue, Groton, Connecticut
Official site: https://www.fortgriswold.org/
5. Look Way, Way up at the Groton Monument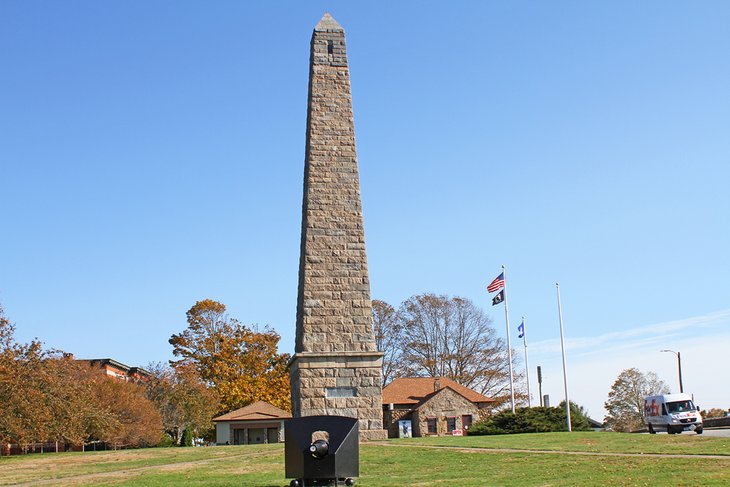 A towering town icon, the Groton Monument (a.k.a. The Fort Griswold Monument) can be seen from miles away.
Situated in historic Fort Griswold Battlefield State Park, this grandiose structure (it's 135 feet tall) is humbling. If you're hoping for a view from the top, be prepared to climb 166 steps. Be sure to pack comfortable shoes and a camera to capture the amazing vistas from above.
The oldest of its type, this unique granite monument was built between 1826 and 1830. It is flanked by a large war cannon, which fired upon American ships from a Spanish boat called the Marie-Teresa during the Spanish-American War.
Insider's tip: The Monument is open to visitors Wednesdays through Sundays from Memorial Day through Labor Day. Also, parking is free along the side streets.
Address: Corner of Monument Street and Park Avenue, Groton, Connecticut
Official site: https://www.fortgriswold.org/the-monument-and-museum/
6. Combine History and Nature at Haley Farm State Park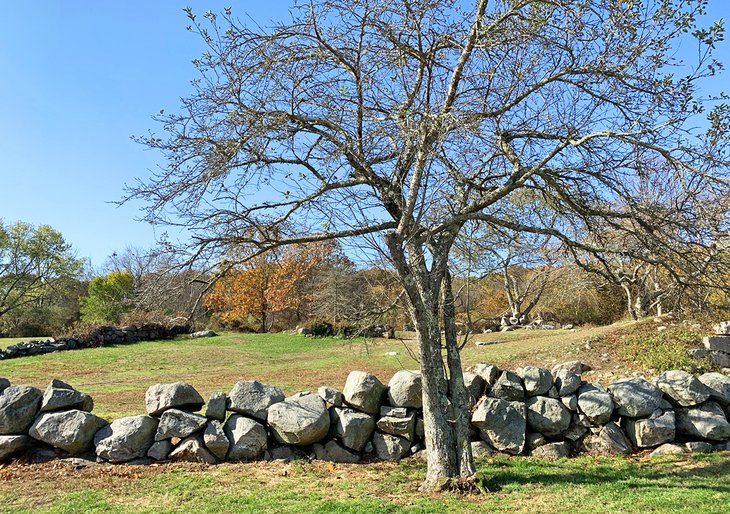 The Connecticut Forest and Park Association knows the value of finding peace and solitude in nature. That's why they (and the Groton Open Space Association and State of Connecticut) fought so hard to save a farm from development in the late 1960s. In 1970, it officially became Haley Farm State Park, one of the most serene places to visit in Groton.
A portion of Haley Farm was originally owned by John Winthrop, Connecticut's first governor. Years later, dairy farmer Caleb Haley took over and created stone walls to separate his pastures. These can still be seen today, as can ruins of the farm's earlier buildings.
Today, this vast 250-acre shoreline property is well-loved by locals. It's slightly hidden in a residential neighborhood, and not many know about this pretty, historic spot. That means you won't have to fight crowds while using its walking and biking trails. The bike trail is only 0.8 miles long but connects to the 7.5-mile-long trail linking Mystic to Groton.
Insider's tip: Walk across the bridge over the railroad tracks to reach Bluff Point State Park.
Address: Haley Farm Lane, Groton, Connecticut
7. Watch the Sun Set at Avery Point Light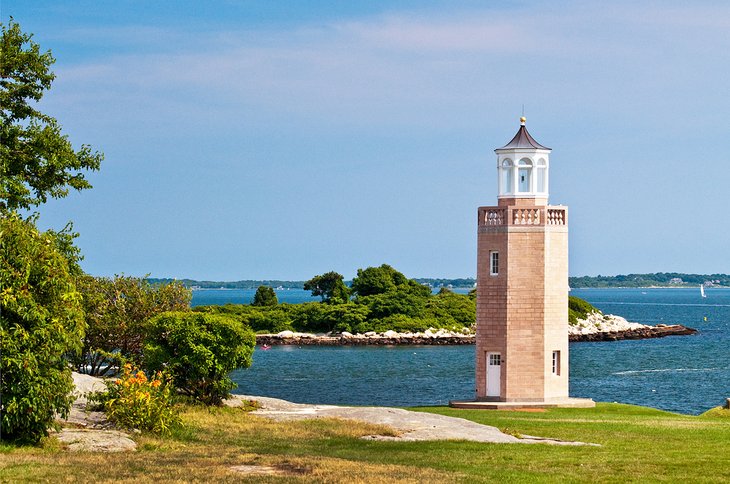 Avery Point Light is the best place to watch a sunset in Groton. Located beside the Thames River, on the eastern shore of Avery Point, the light is owned by the University of Connecticut and set upon what is now their Avery Point campus.
The last lighthouse to be built in Connecticut, the Avery Point Light had a short life. It was only used to aid navigation from 1944 to 1967. The light features a newly refurbished (in 2004 and 2005), unique, octagonal brick structure topped by a picturesque replica of the original wooden lantern.
Since being transferred to UCONN, it has been used as the site of an air sampling station and physics laboratory. Wander along the memorial walkway for lovely river views. You can also glimpse the nearby New London Ledge Lighthouse and New London Harbor Lighthouse.
Address: 1084 Shennecossett Road, Groton, Connecticut
8. The Avery-Copp House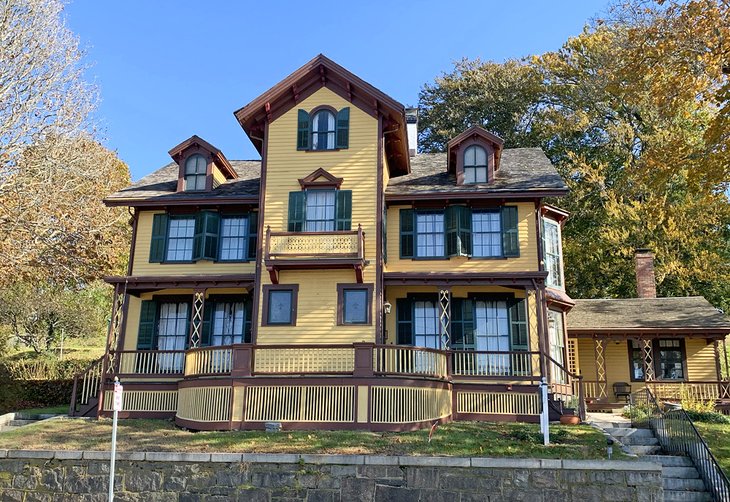 Rufus Avery, an American soldier, built the regal yellow Avery-Copp House around 1800. It stood next to his own home and housed Avery's two grown sons and their wives. Today, this stately home sits on a hill overlooking the Thames River.
After being passed down from generation to generation, the home was eventually donated and turned into a museum. It soon became one of the top attractions in Groton. Inside, you'll find historic relics depicting the life and times of the building's original occupants, as well as information relating to the town's history.
Three acres of land make up this estate, which also boasts Victorian gazebos and a carriage house. Access to the home and organized sightseeing tours are granted from noon to 3pm on weekends from late May to mid-October.
Address: 154 Thames Street, Groton, Connecticut
Official site: https://www.averycopphouse.org/
9. Get Charmed by the Monument House Museum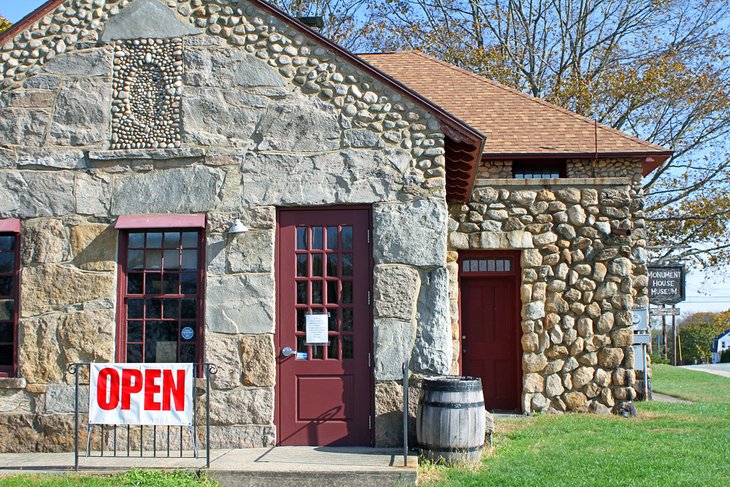 Your camera will fall in love with this adorable, stone-walled Monument House Museum. Built in 1830, this was once home to the Groton Monument's caretaker. Years later, it became the meeting place for the Daughters of the American Revolution.
Today, the museum houses multiple relics of Groton's storied past. Inside, you'll find everything from paintings to documents to a model of the neighboring Fort Griswold as it would have looked during the infamous Battle of Groton Heights in 1781. Don't miss the "Attention Universe" stained-glass window.
A seasonal attraction, the museum is open daily from Memorial Day through Labor Day.
Address: Behind the Groton Monument, at the corner of Monument Street and Park Avenue, Groton, Connecticut
Official site: https://www.fortgriswold.org/the-monument-and-museum/
10. Have Fun in the Sun at Eastern Point Beach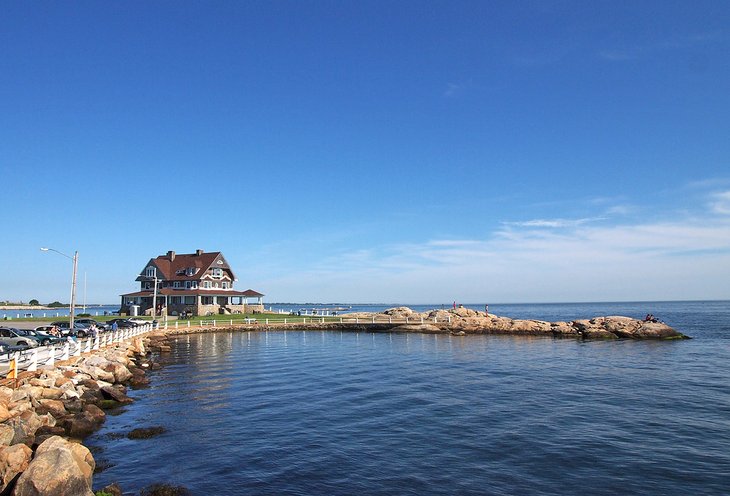 Take a break with the family at Eastern Point Beach. A perfect place to let kids frolic, this family-friendly beach boasts lifeguards, a concession stand, and playground.
Located at the mouth of the Thames River where it meets the Long Island Sound, the view is spectacular, especially during sunset. Not a fan of lounging all day? Splash in the calm water, play a game of pickup basketball at the on-site court, or join a volleyball game.
Hate getting sand in your lunch? Enjoy your meal at one of the multiple picnic tables. If you're feeling up to it, fire up one of the grills to cook a tasty feast.
Beach passes are required to visit from mid-June through early September, but daily parking is on offer from the beach gate, and it serves as your admission.
Address: 1 Beach Point Road, Groton, Connecticut
11. Visit Esker Point Beach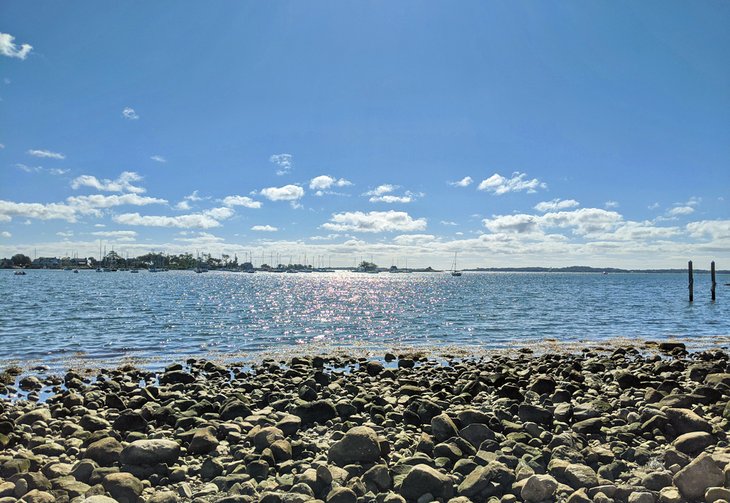 Another family-friendly beach, Esker Point Beach is a hit with parents of young kids. It's located near Groton Long Point, on the quiet Esker Bay, so visitors don't need to worry about big waves or undertows. That's especially good since there are no lifeguards on duty.
Soft, fine sand makes running along this 600-foot shore an enjoyable experience, while a shaded picnic area offers a perfect escape from the hot summer sun. If you're heading here by car, attach a canoe or kayak to the roof–there's a small boat launch on-site.
This lovely little beach is one of the only public beaches in the state, and it offers an outdoor shower and restrooms. Parking is a cinch, with plenty of free spots nearby.
Address: 900 Groton Long Point Road, Groton, Connecticut
12. See the Stone Structures at Gungywamp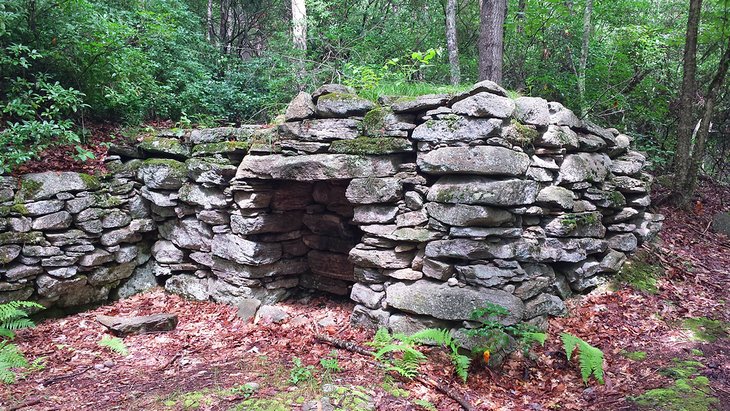 You've got to love the name of this attraction–Gungywamp. It's almost as much fun to say as it is to visit. A magical wonderland that has enchanted visitors for centuries, this unique attraction shouldn't be missed.
Gungywamp is an archeological site featuring a historic stone circle, stone walls, and various artifacts dating back over 4,000 years, if not more. Stone bridges are also found here. While no one quite knows who built these interesting structures (or why), this unique site is fascinating for tourists of all ages.
The site consists of two sections–the North and South Complexes. Each boasts the unique stone structures that have made it famous in the region, and you'll also find cliffs and swamps to add to the mystical allure.
Its interesting name is based on a historic letter penned by John Pynchon, outlining the discovery of the stonewall and strong fort in an area "presently known as the Gungywamp Range."
Tours can be arranged through the Denison Pequotsepos Nature Center.
Address: 231 Gungywamp Road, Groton, Connecticut
13. Order Seconds at Paul's Pasta Shop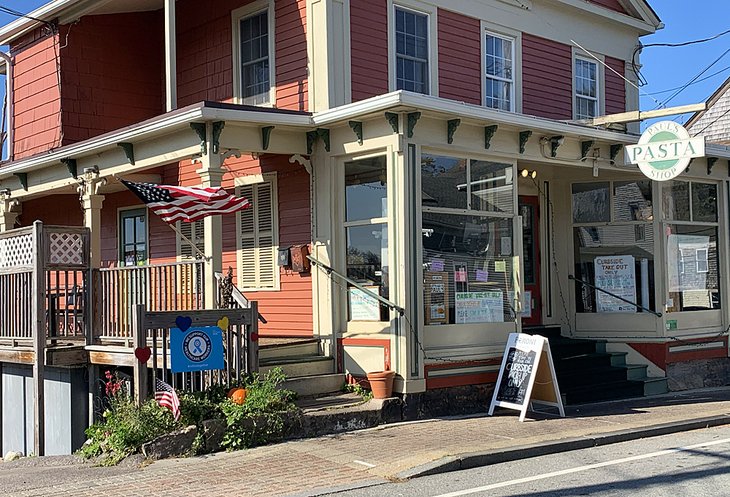 Your tastebuds are in for a treat at Paul's Pasta Shop. A family-run restaurant with an optimal riverfront location, this is a hot spot for tourists and locals alike. Delicious homemade pasta and sauces are the reason so many flock to the city's best Italian restaurant.
Whether you like to play it safe with traditional spaghetti and meatballs, or branch out with Paul's flavorful Chicken Diablo, you'll be wishing you saved room for seconds. The spaghetti pie (spaghetti baked in a deep dish with meat, veggies, and tons of cheese) is a must-try.
For a gift that really keeps giving, order pasta, ravioli, and sauces to take home. Bring some to the friends and family you left behind to score major points.
During summer, the restaurant extends its hours.
Address: 223 Thames Street, Groton, Connecticut
Official site: http://www.paulspastashop.com/index.htm
14. Walk the Trail at Poquonnock River Walkway
It won't take long to complete the trail at Poquonnock River Walkway–it's only half a mile in length. What this small trail lacks in size, however, it makes up for with beauty.
As its name implies, the walkway is set on the bank of the Poquonnock River, offering visitors a serene spot to enjoy sparkling water vistas and a closeup view of some of the area's best wildlife.
Sit on a bench to enjoy nature's show. You're sure to spy an interesting bird, or five. The path consists of both a paved and wooden walkway, making it an easy, family-friendly walk for those pushing strollers or holding the hands of toddlers as well as those who have mobility limitations.
The river walkway runs from the playground at Depot Road to Fort Hill Road.
Address: 65 Depot Road, Groton, Connecticut
15. Take a Tour of Ebenezer Avery House and Museum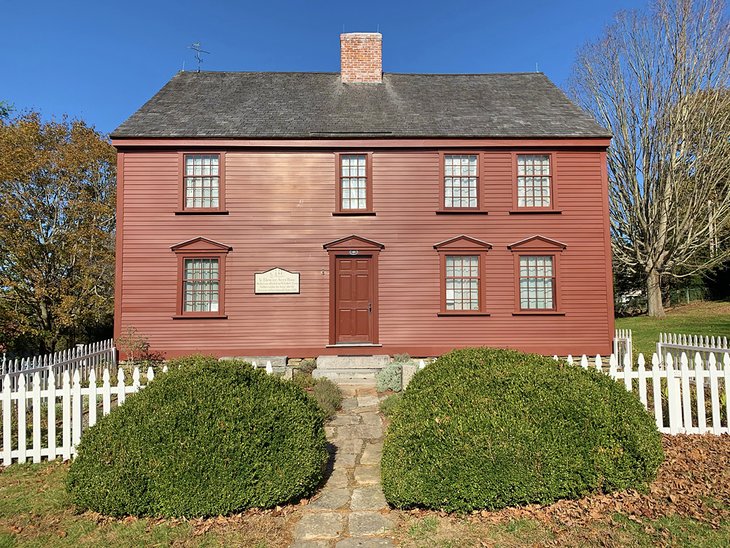 The charming Ebenezer Avery House lies just down the grassy hill from Fort Griswold Battlefield State Park. Its close proximity to the battlefield made it a perfect spot to house wounded soldiers during and after the infamous Battle of Groton Heights on September 6, 1781.
The house was built in 1750 and originally sat at the corner of Thames and Latham Streets. In hopes of preserving a feeling of what the area would have been like in the 18th century, the house was dismantled and re-erected in its current position on Fort Street.
If you're hoping to see the furnishings and other relics from the revolutionary days, visit Ebenezer Avery House and Museum on a summer weekend. It's open from noon to 4pm on Fridays through Sundays from Memorial Day to Labor Day.
Insider's tip: There's not much parking on Fort Street, so park on one of the streets lining Fort Griswold Battlefield State Park and walk down the hill.
Address: 57 Fort Street, Groton, Connecticut
Official site: https://www.fortgriswold.org/the-ebenezer-avery-house/
Map of Things to Do in Groton, CT
Groton, CT - Climate Chart
Average minimum and maximum temperatures for Groton, CT in °C
J
F
M
A
M
J
J
A
S
O
N
D

3

-7

4

-6

8

-2

13

3

19

9

24

14

27

17

27

17

23

13

17

6

12

2

6

-3

PlanetWare.com
Average monthly precipitation totals for Groton, CT in mm.

112

90

113

107

96

93

84

113

103

101

115

110

Average monthly snowfall totals for Groton, CT in cm.

20

18

8

1

0

0

0

0

0

0

2

12
Average minimum and maximum temperatures for Groton, CT in °F
J
F
M
A
M
J
J
A
S
O
N
D

38

20

39

22

47

29

56

38

66

48

75

57

81

63

80

62

73

55

62

43

53

35

43

26

PlanetWare.com
Average monthly precipitation totals for Groton, CT in inches.

4.4

3.5

4.5

4.2

3.8

3.7

3.3

4.5

4.1

4.0

4.5

4.3

Average monthly snowfall totals for Groton, CT in inches.

8.0

6.9

3.2

0.3

0

0

0

0

0

0

0.6

4.6
More Related Articles on PlanetWare.com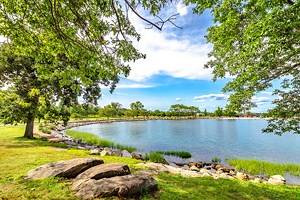 More Places to Visit in Connecticut: Whether you're looking for culture, serenity, or delicious farm-to-table food, you'll find it, and so much more, in Connecticut. Quaint and wonderful Westport boasts all these attributes, as do bustling Stamford and luxurious Greenwich.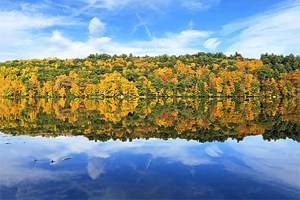 Places to Get Outside in Connecticut: The Nutmeg State is best loved for its natural wonders. Rushing streams, thundering waterfalls, verdant forests, and sparkling lakes welcome visitors to this beautiful state. Looking for a place to spend a whole day? Visit one of the state's best beaches. Don't forget a towel.