Rhode Island in Pictures: 22 Beautiful Places to Photograph
Quintessential New England meets extravagant mansions in this picture-perfect coastal state. Rhode Island may be small, but it offers a wild juxtaposition between the wealthy city and working-class country life. This is a place where one can appreciate the stark beauty of the Eastern Seaboard while gaping at the way the other half live (or in the case of the majestic mansions from the Gilded Age, lived).
From quaint lighthouses peppering the oceanfront to ornate houses fit for royalty, there's a lot for your camera to love in this state. A popular weekend destination, Rhode Island is especially packed during the summer. Visitors vie for the best spot on pristine white-sand beaches and snap pictures on charming historic streets. They walk for miles along captivatingly rugged cliffs, and swim in the glistening waves.
These are a few of our favorite, most photo-worthy spots you really shouldn't miss.
1. Castle Hill Lighthouse, Newport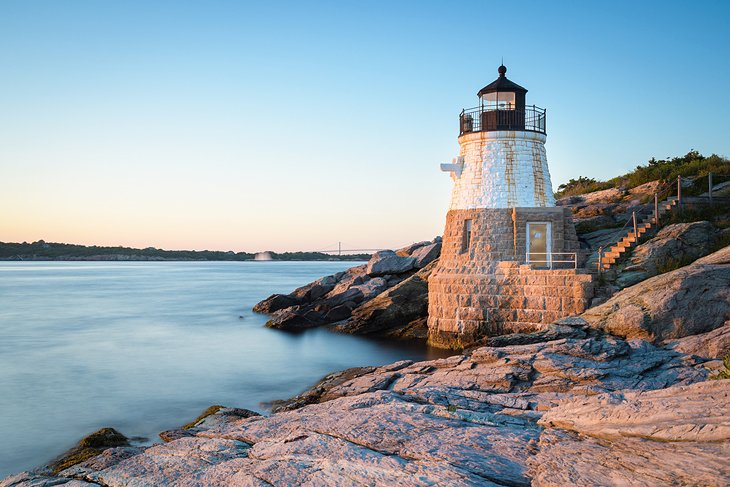 What a picturesque welcome to Narragansett Bay in Newport. Tucked neatly amongst craggy granite rocks, this adorable, tubby lighthouse guards the entrance to the bay's east passage. It's beautiful in all types of weather and every season. Sunset is a particularly gorgeous time to visit. Built in 1890 by American architect H.H. Richardson, this dynamic structure is a well-loved icon on the Rhode Island coast.
2. The Breakers, Newport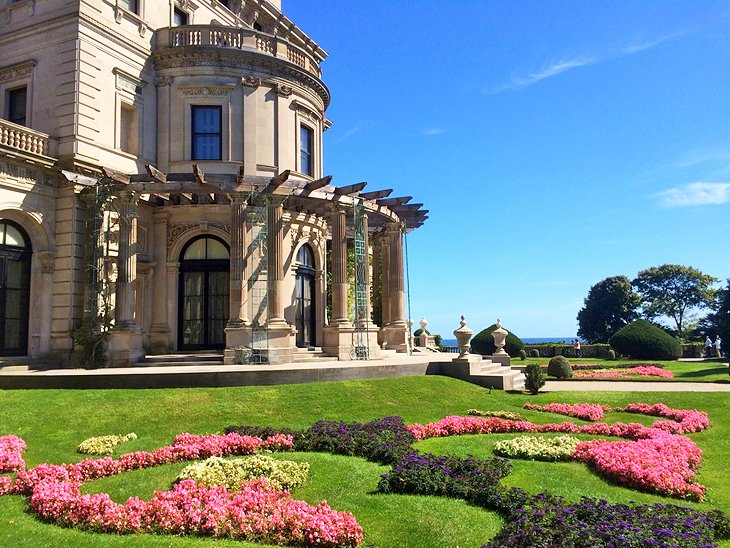 The Vanderbilts weren't messing around when they had this exquisite mansion built on Newport's elite Ochre Point Avenue. When you're looking through your viewfinder at this ornate masterpiece, remember that this was used as a summer "cottage." Deemed a National Historic Landmark, this is the most widely visited mansion in the state.
3. The Cliff Walk, Newport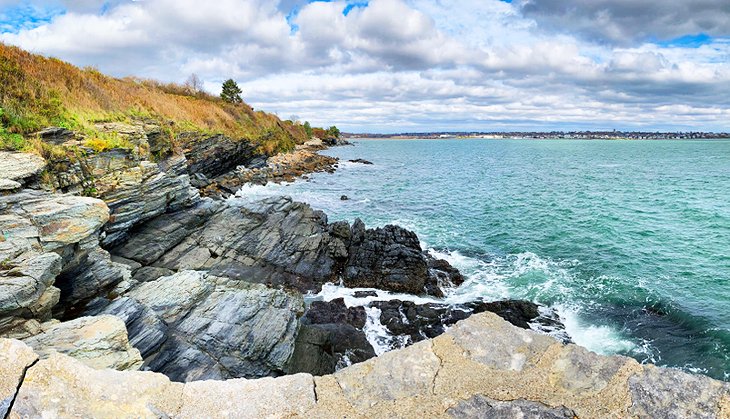 Hiking along the Cliff Walk is one of the top things to do in Newport. Standing at the edge of a rocky precipice, enjoying the refreshing sea breeze while saltwater laps at your face is a rite of passage in this beautiful Rhode Island town. Offering 3.5 miles to explore, this walkway skirts the shoreline, rewarding visitors with an unobstructed view of the ocean and postcard-worthy vistas of Newport's mansions from the Gilded Age.
If you want to stay in this area, one of the top resorts in Rhode Island is found here.
4. The Elms, Newport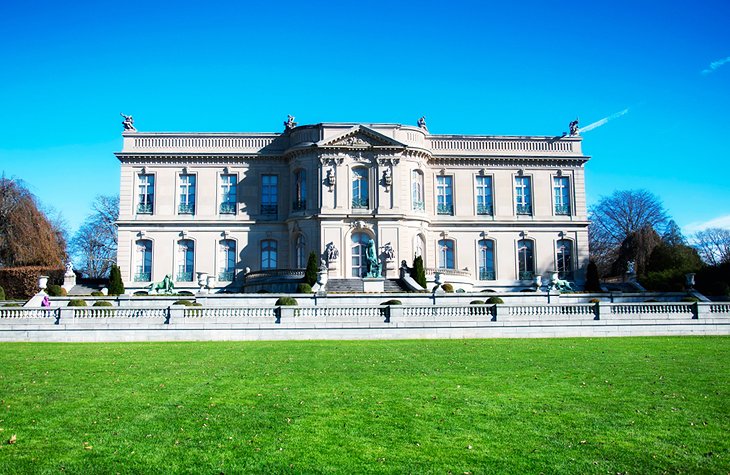 Visiting Newport without touring a mansion is like eating macaroni without cheese; you're missing out on the best part! The Elms is yet another summer cottage for the uber-wealthy. Belonging to the Berwind family (of coal industry fame), it was constructed in 1901 and modeled after a French chateau named d'Asnieres, located outside Paris.
5. Rosecliff, Newport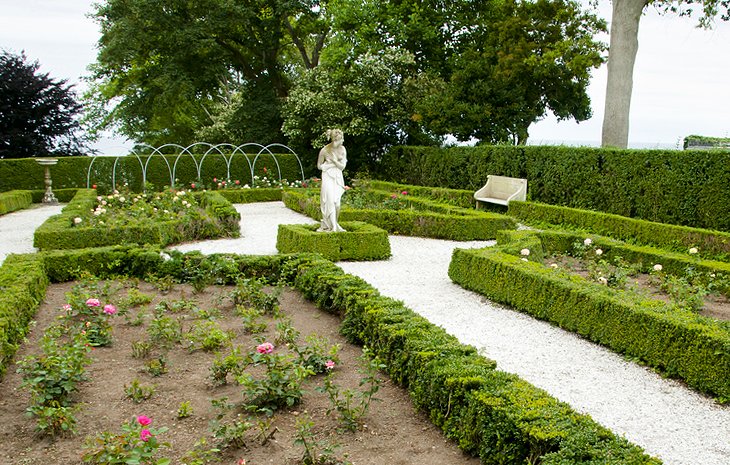 Yet another mansion tops our list of the most beautiful places to photograph in Rhode Island. By now you're no stranger to the majestic feel and overwhelmingly perfect architecture of these magnificent "homes." Rosecliff, built between the late 19th and early 20th centuries, lives up to its neighboring Gilded Age masterpieces. Don't miss capturing images of its most photo-worthy setting: the garden.
6. Beavertail State Park, Jamestown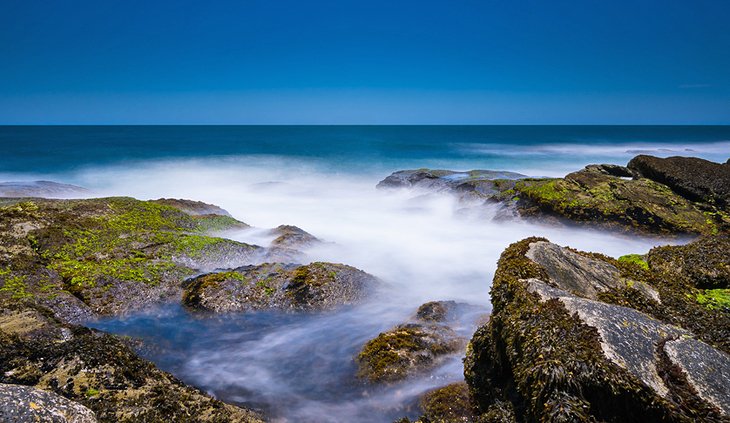 Beavertail State Park epitomizes natural beauty. Boasting unbeatable vistas along the Rhode Island coastline, this pristine park is located in Jamestown. It offers multiple scenic overlooks, as well as hiking trails, fishing, and numerous tide pools. Did we mention the lighthouse? We've yet to see a photo that wasn't made better by a lighthouse.
7. Block Island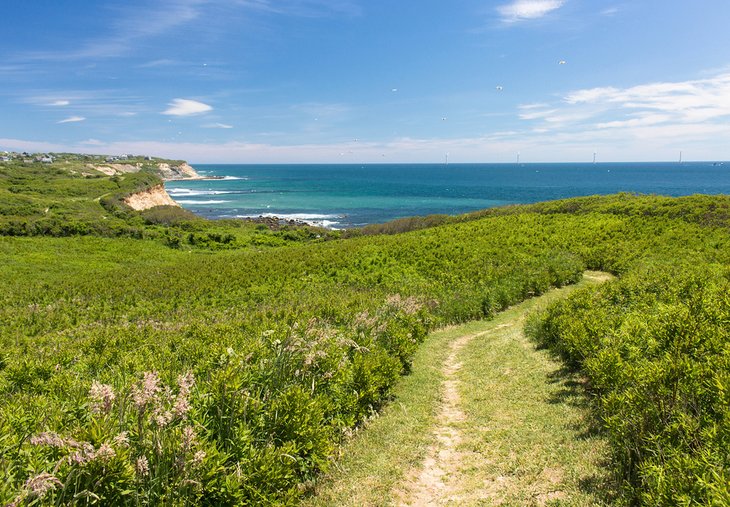 One of the most enjoyable ways to enjoy the scenery of Block Island is by bike. Rent one after you disembark from the ferry that took you here so quickly from the mainland. Then, make your way through the adorable town streets, stopping to sift through wares on offer in the boutique stores. Next, head to the pristine beaches, ogle the impressive cliff-top views, or gaze at the picturesque Southeast Lighthouse.
8. Benefit Street, Providence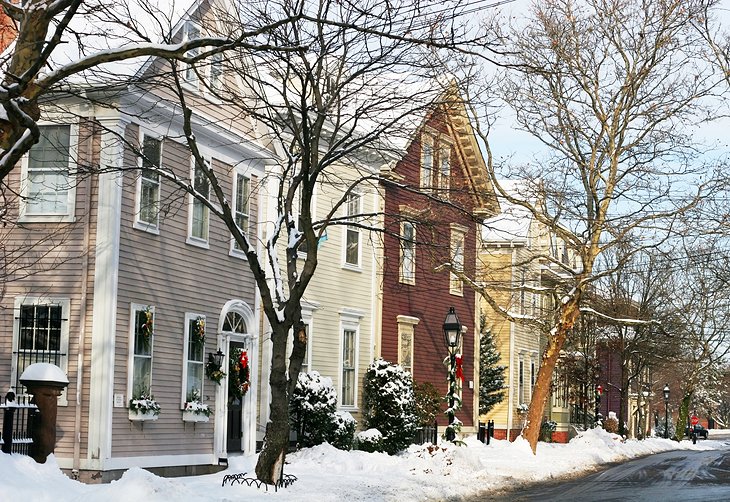 Step back in time on Benefit Street in Providence. Lined with charming landmark homes, complete with the requisite iron lampposts, this adorable street begs to be photographed. Also known as the "Mile of History," Benefit Street is an architectural marvel, containing a high concentration of original homes built during the colonial era. Upping the beauty factor, most of these lovely homes overlook the town's pretty waterfront.
9. Downtown Providence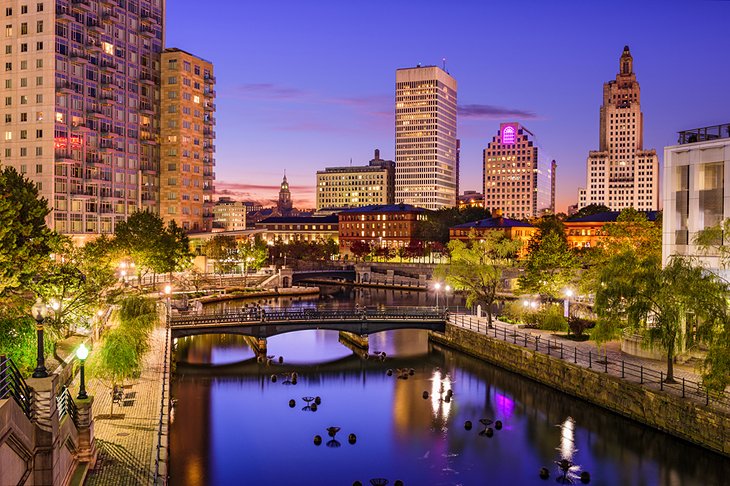 The capital of Rhode Island, Providence is a thriving city with enough buzz to keep the energetic entertained. From a vibrant arts scene to spectacular restaurants and eclectic shops, this may be a large, bustling city, but its charm evokes a small-town feel. As one of the oldest cities in the country, there is a lot of history to be discovered here. Don't miss the picturesque Waterplace Park.
10. Taylor Point Park, Jamestown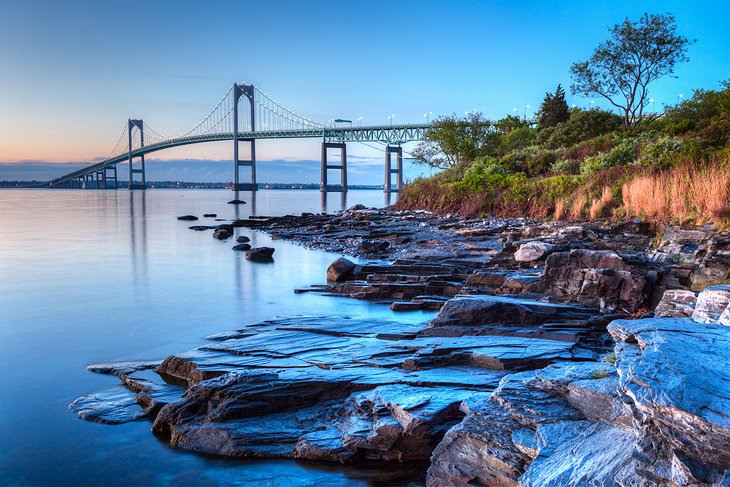 Newport Bridge looms large over the tranquil water lapping the shores of Taylor Point Park. This 25-acre natural wonderland is best known for its great sunset views and easy access for clamming and fishing. Pack a picnic and your swimsuit to enjoy all the park has to offer.
11. Newport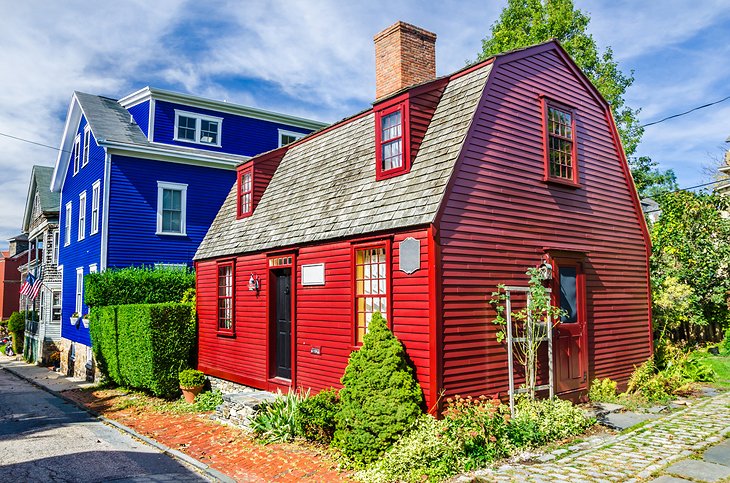 Newport may be known for its luxurious mansions, dramatic cliff walk, and quaint town center (you'll find ice-cream, fudge, and adorable restaurants here), but the charm doesn't end there. Colorful historic homes are peppered throughout the town, rubbing shoulders with more modern inns and resorts. While you're here, tempt your camera with a seal-spotting boat tour. You won't regret it!
12. Thomas Street, Providence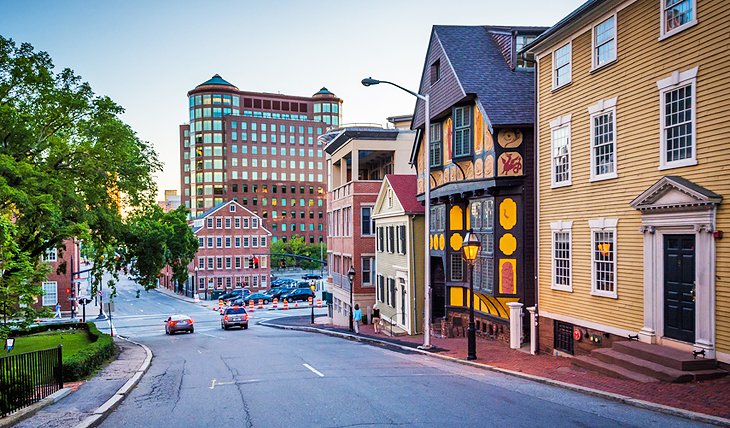 One of the most picturesque areas in Providence, Thomas Street is as adorable as it gets (in a big city, that is). We're talking colorful colonial buildings worthy of gracing a magazine's cover adorable. Boutique shops welcome visitors to examine their unique wares, while the street's charming historic architecture entices your camera's lens.
13. Prospect Terrace Park, Providence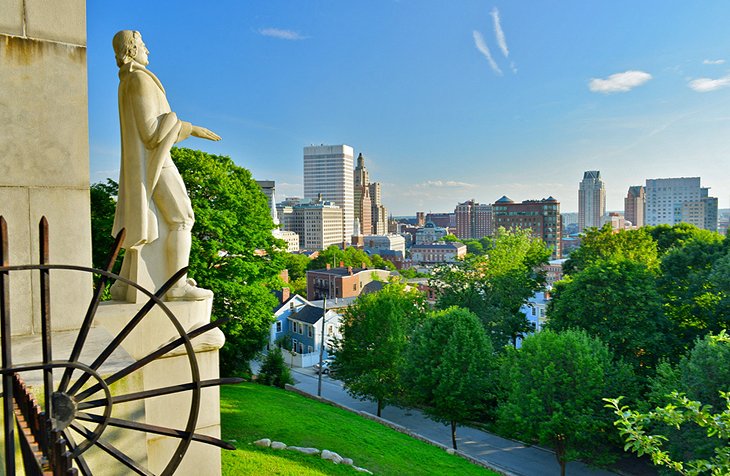 This hidden gem sits serenely in the College Hill neighborhood of Providence. Locals flock to Prospect Terrace Park to enjoy its spectacular views of the "downcity" (a.k.a. downtown). Hit the area at sunset, and you won't be enjoying your dinner picnic in solitude. The land was donated to the city in 1869 by then residents in hopes that this so-called "jewel of the city" could be enjoyed by all for years to come. Looks like their wish came true.
14. Point Judith Light, Narragansett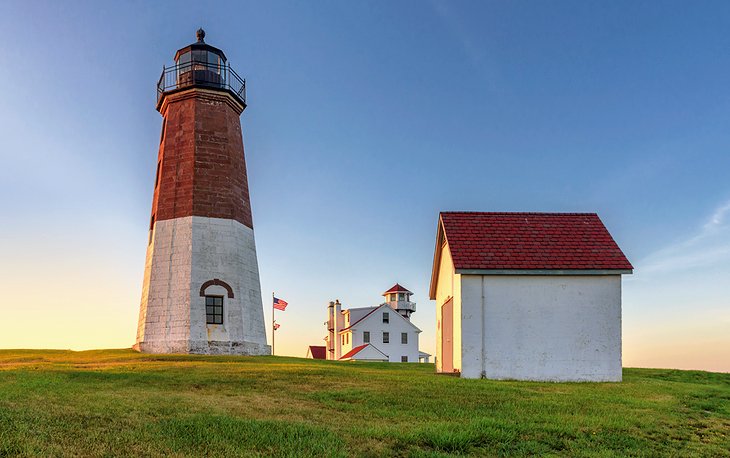 Remember when we told you that photos were made better by lighthouses? Here's a perfect example. The picture-perfect, two-toned Point Judith Light is so beautiful, you won't want to look away. Ever. The existing octagonal structure was built in 1816 to replace the original wooden lighthouse that was destroyed during the Great Gale of 1815.
15. Mohegan Bluffs, Block Island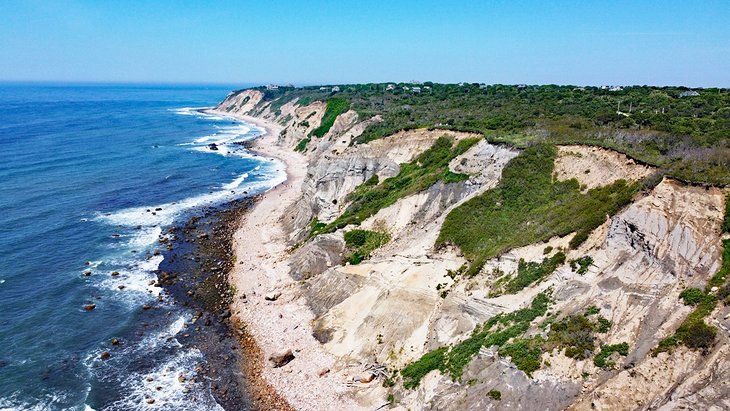 It's a bit of a ways down to the stunning (yet rocky) beach at the bottom of the Mohegan Bluffs, but this serene wonderland is not to be missed. Located on the idyllic Block Island, the 200-foot bluffs are a natural wonder worthy of many pictures. From the top of these clay beauties, you'll be wowed by stunning panoramic vistas. Expect over 140 steps to reach the bottom.
16. Pomham Rocks Lighthouse, Providence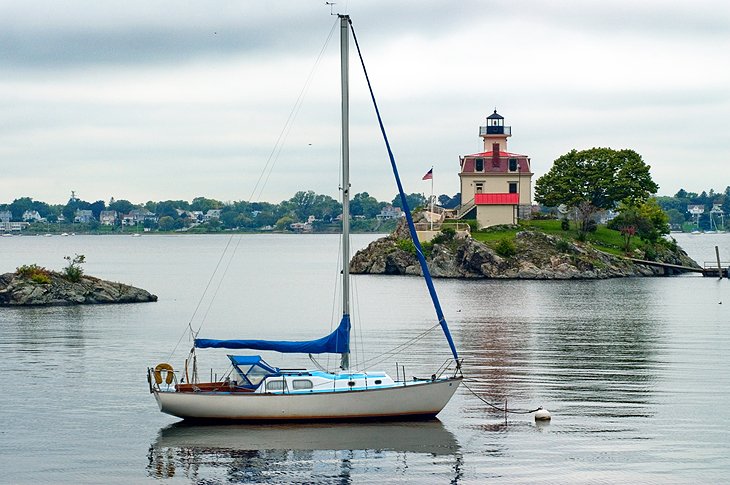 Another adorable lighthouse. Are you noticing a theme? The picturesque Pomham Rocks Lighthouse graces a tiny island in eastern Providence. Of the five lighthouses that used to protect boats from crashing into rocks along the Providence River, this is the only one that remains. Its light was first lighted on December 1, 1871. The building was beautifully restored in 2018.
17. Rhode Island State House, Providence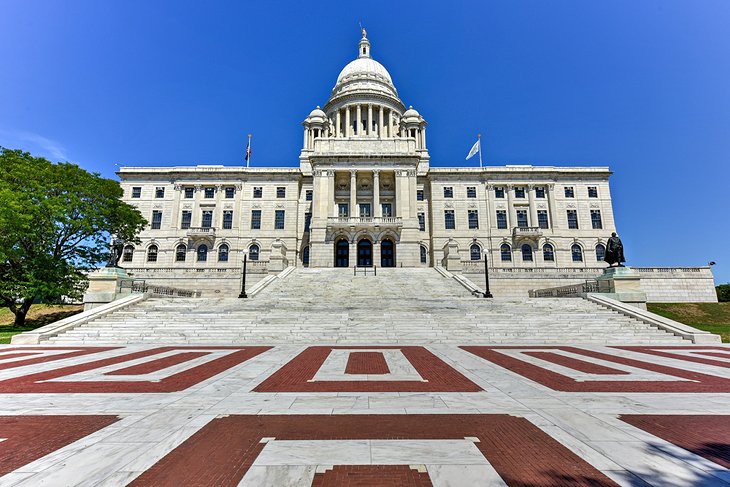 The grand Rhode Island State House towers, in all its majestic glory, over the state's capital, Providence. The central dome is topped by a statue of the Rhode Island "Independent Man," which represents a person's freedom to think and act independently. Built between the late 19th and early 20th centuries, this ornate masterpiece is lined with white Georgia marble.
18. Blackstone River Bikeway, Cumberland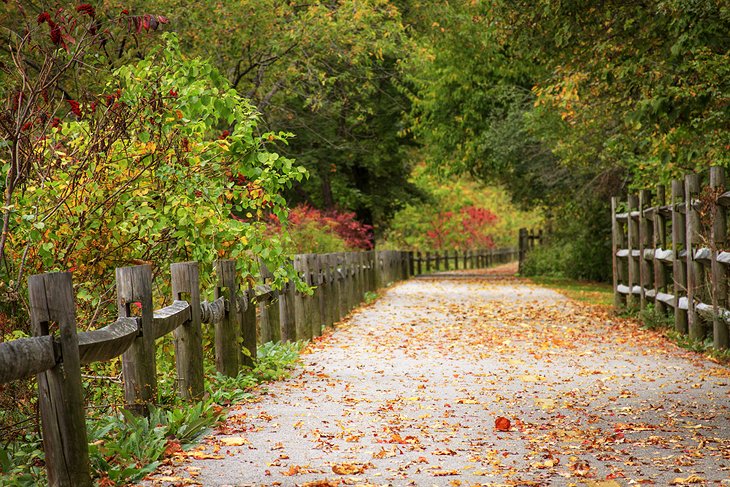 The Blackstone River Bikeway offers visitors an easy (and captivatingly beautiful) way to explore the picturesque Blackstone Valley. Boasting 16.5 miles of bike paths, the goal of the bikeway is to connect Providence with the Massachusetts border. It does so while offering unbeatable scenic views of nature at its best. From cascading waterfalls to lush marshes, there's plenty to photograph in this natural utopia.
19. Brown University, Providence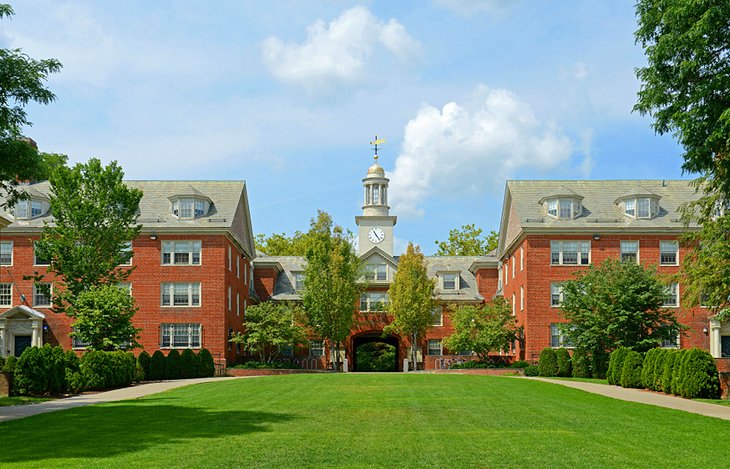 A perfectly manicured lawn outside Wayland Hall enhances the impressive architecture and exemplifies Brown University's attention to detail. It's difficult to take a bad picture here. An Ivy League establishment as vastly gorgeous as it is academic, the buildings featured on this iconic campus would make anyone shutter happy.
20. Narragansett Town Beach, Narragansett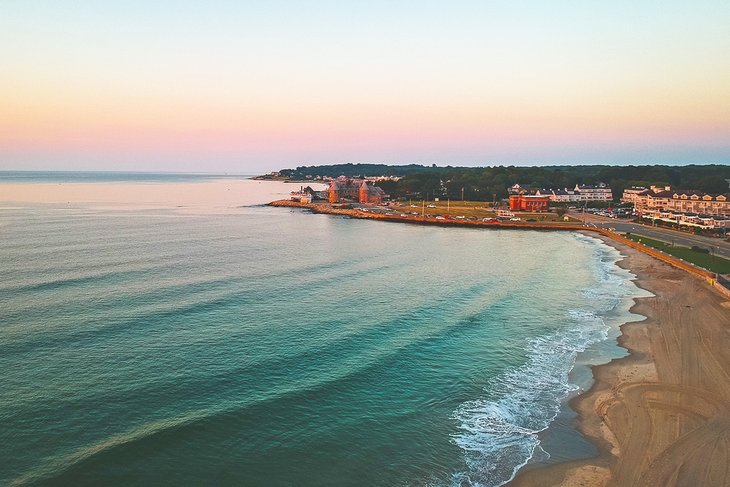 Located in the heart of Narragansett, the town beach of the same name is a delight in the summer. Closed from Labor Day to Memorial Day, this New England saltwater coastal beach spans about 19 acres. It is long, flat, and sandy, with a few rocky areas. This is a perfect spot to set up for a day of surfing.
21. Brenton Point State Park, Newport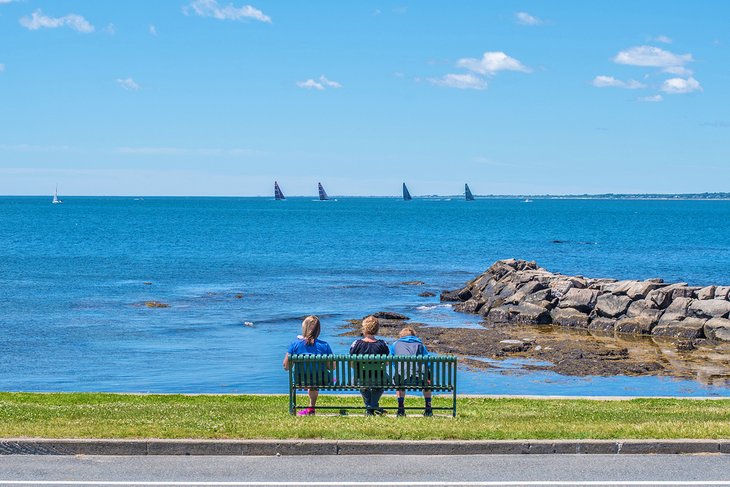 In addition to serving as a viewing point for spectacular sunsets, Newport's Brenton Point State Park is also home to the striking Portuguese Discovery Monument. Built in tribute to Golden Age Portuguese maritime explorers, this is a popular section of the park used to unwind, fly a kite, or enjoy a picnic. While here, be sure to spend time at the sandy beach.
22. Colt State Park, Bristol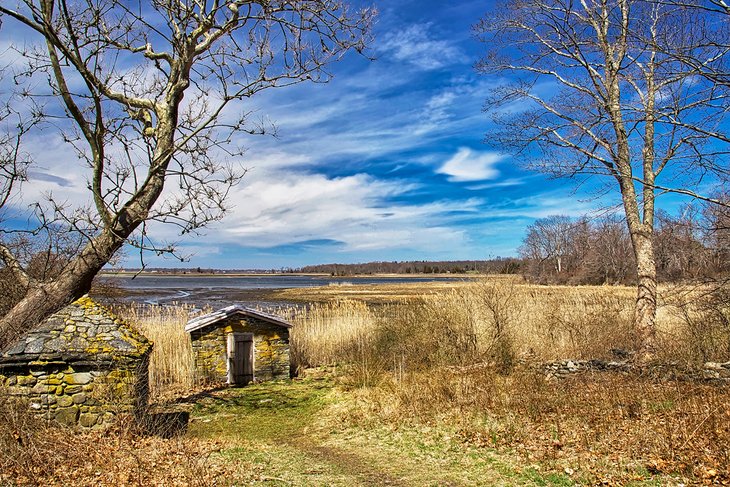 Colt State Park lies just minutes from downtown Bristol. Boasting over 460 acres of paved paths, well-manicured lawns, and hiking trails, this shorefront park is a fab place to take a load off on a sunny day. In addition to offering easy access to Narragansett Bay (there's a boat ramp on-site), the picturesque water views are a treat for any budding photographer. Another plus: stone walls pepper the property, adding to its allure.