18 Top-Rated Attractions & Things to Do in Plymouth, MA
Plymouth, a small coastal town in Massachusetts, should be high on the list of places to visit for travelers who want to experience and savor American history where it took place. European settlers and Native Americans lived here in peace for about a half century, and it was here that the first written pact among ordinary people establishing a working democracy was signed. Plymouth is also a beautiful, small New England town, where visitors can enjoy the seacoast while getting a taste of its history.
Although it has been four centuries since the Pilgrims landed on Plymouth Rock, their footprints are everywhere: in museums that display their possessions, in homes built by their descendants, in carved stones marking their burial places, in authentic replicas of their original homes, and even of the ship they arrived on.
The Plymouth Village Historic District includes part of the area of the Plymouth Colony's earliest settlement, as well as streets lined with houses from the late 17th and early 18th centuries. One home remains that was built from the wood and timbers of the Pilgrims' original defensive fort. Early homes are well kept, for Plymouth has always recognized and preserved its heritage.
Although Plymouth is close enough to be a good day trip from Boston, you may want more time to see its many historic sights. Plan your family's visit with our list of things to do in Plymouth.
1. Plimoth Patuxet Museums: 17th-Century English Village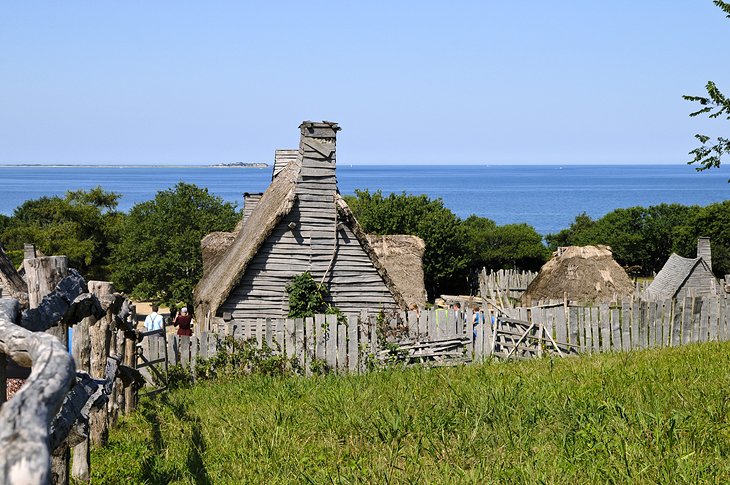 Several historic sites are now under the umbrella of Plimoth Patuxet Museums (formerly known as Plimoth Plantation), the largest of which is the 17th-century English Village. On ground carefully chosen to reflect the topography of the Pilgrims' original settlement, and following the same street layout, the village authentically recreates the reality of those hard first years in the Plymouth Colony.
A rough plank stockade fence encloses the fortified community, which includes replicas of the two-story fort and the houses of the Reverend Brewster, Governor Bradford, Miles Standish, and other founders. The harsh and uncertain world they stepped into is portrayed in the rough buildings made of small trees plastered with a mixture of straw and mud.
More than just an attraction for sightseeing, Plimoth Patuxet Museums is an immersive experience, with houses to enter and period activities to see. This makes it one of the most popular things to do in Plymouth for families.
Address: 137 Warren Avenue, Plymouth, Massachusetts
Official site: www.plimoth.org
2. Patuxet Homesite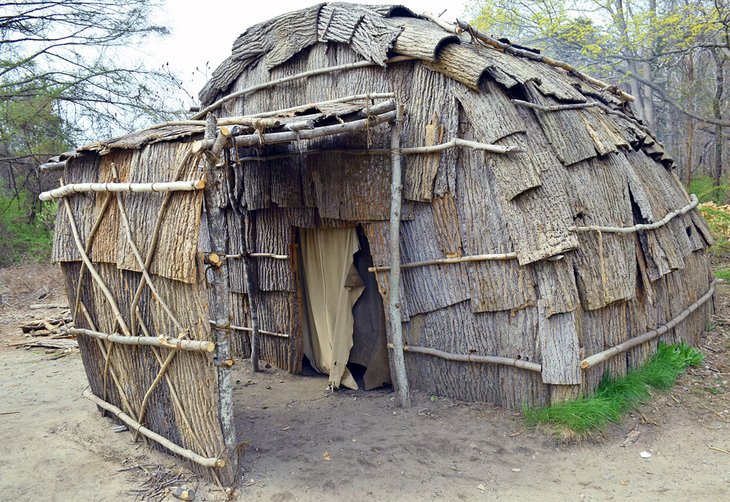 Outside the gates of the English Village, another of the Plimoth Patuxet Museums recreates the other half of the picture: that of the Native Americans that were here before Europeans arrived. Carefully reconstructed, a small Wampanoag settlement introduces native life and customs.
Interpreters here are Native Americans committed to the preservation of their ancestors' traditions and crafts. The site contains the only three-fire wetu (a family house sometimes referred to as a wigwam) in New England. This large commodious structure is built of saplings bent into arches and covered in overlapping layers of heavy tree bark.
Interpreters are busy with household tasks around the cooking fire, hollowing a log for a canoe, tending a garden of plants that were grown and used here in the 1600s. The Patuxet Homesite gives 21st-century travelers a realistic picture of two cultures living in peace, as they did for more than 50 years.
Address: 137 Warren Avenue, Plymouth, Massachusetts
Official site: www.plimoth.org
3. Mayflower II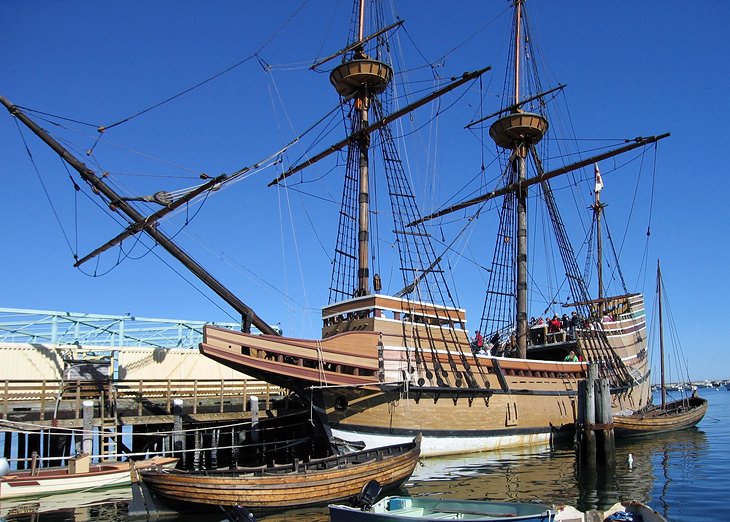 Within view of the hillside where the original Pilgrims' settlement stood, the tall masts of Mayflower II rise above her decks, a reminder of how this all started. Built in England during the early 1950s, the ship arrived in Plymouth in 1957 and today serves as an important way to relate the tale of European settlement in America. As well as can be determined, the ship is a full-scale replica of the original.
Visitors can climb aboard, examine the decks and between-decks areas, see how the ship is constructed, and try to imagine life aboard for the 102 settlers and their crew of 25 or 30 men. Interpreters tell about the journey during which two settlers died aboard ship, and two of the three pregnant women aboard gave birth before they settled in Plymouth. The ship is currently undergoing repairs, and restoration and will not be at its usual place until these are completed.
The ship underwent a multi-year restoration at Mystic Seaport in Connecticut, returning to its usual place at the Pilgrim Memorial State Park in the spring of 2020 to celebrate the 400th anniversary of the original Mayflower's arrival.
The ship underwent a multi-year restoration at Mystic Seaport in Connecticut, returning in 2020 to celebrate the 400th anniversary of the original Mayflower's arrival. It is now part of the Plimoth Pawtuxet Waterfront Exhibit at the Pilgrim Memorial State Park.
4. Plymouth Rock and Pilgrim Memorial State Park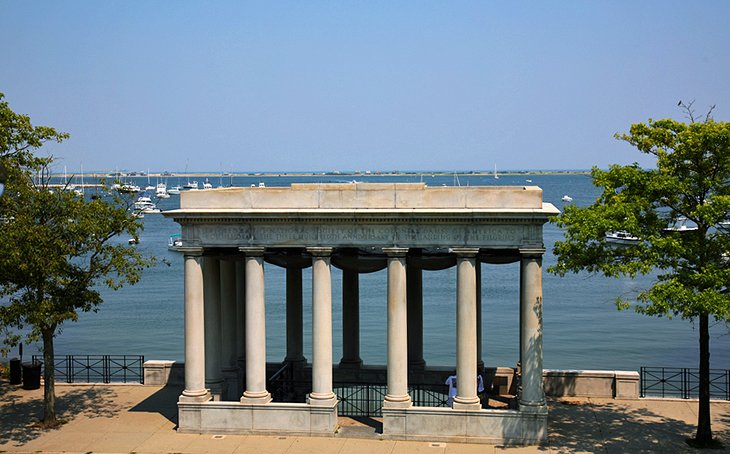 When the first settlers first stepped onto land here, they did so because of the protected bay. Early in the 18th century, nearly a century after the landing, one of their descendants identified a certain rock as the place of that first landing. The famed rock, which has been broken, moved, and put back together, now sits at the seashore protected under a classical columned canopy.
Despite its dubious status as the actual rock on which the Pilgrims set foot, Plymouth Rock is a treasured American icon, a symbol of the nation's beginnings.
5. National Monument to the Forefathers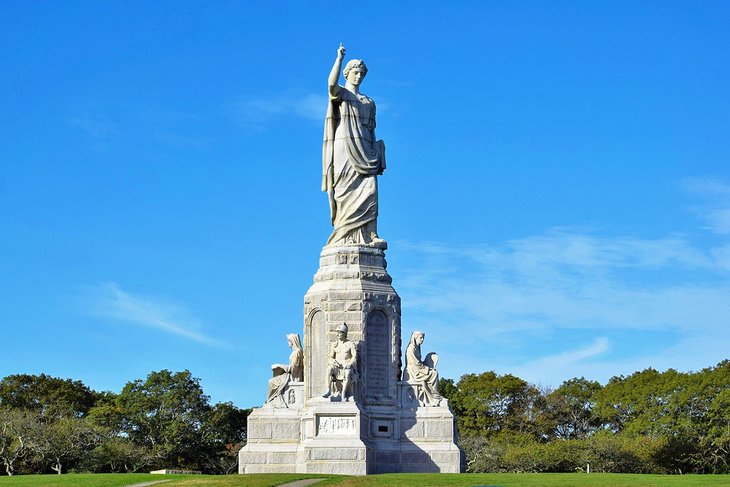 Dedicated in 1889, the 81-foot-tall monument was commissioned by the Pilgrim Society to commemorate the founders of the Plymouth Colony and is thought to be the largest solid granite monument in the world. It was originally designed to be nearly twice the current height, almost as tall as the Statue of Liberty.
The inscription on the monument reads, "National Monument to the Forefathers. Erected by a grateful people in remembrance of their labors, sacrifices, and sufferings for the cause of civil and religious liberty." The monument is listed on the National Register of Historic Places.
Address: Allerton Street, Plymouth, Massachusetts
6. Pilgrim Hall Museum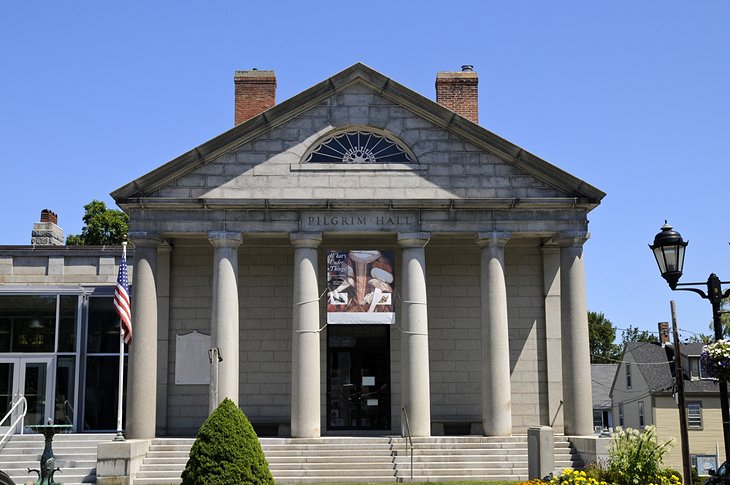 The Pilgrim Hall Museum puts the Pilgrims' story into perspective, and of all the places to visit in Plymouth, this is the only one with artifacts from the original Pilgrim settlers and their voyage. Filled with original items belonging to the Pilgrims, this tourist attraction offers well-presented interpretation about them, their motivation, and their lives.
Personal possessions include furniture, books, and belongings that bring them to life for visitors. Among these are Myles Standish's sword; Governor Bradford's bible; and the cradle of Peregrine White, who was born on the Mayflower. Also here are the remains of the Sparrow Hawk, a wooden ship wrecked off Cape Cod in 1626.
In the main hall, heroic-size paintings reflect how different generations of Americans have seen the Pilgrims', their challenges, and their relations with the Native Americans they encountered. The changing perceptions of these people are explored as are the ways in which Americans have interpreted them in the past.
Address: 75 Court Street, Plymouth, Massachusetts
Official site: www.pilgrimhall.org
7. Burial Hill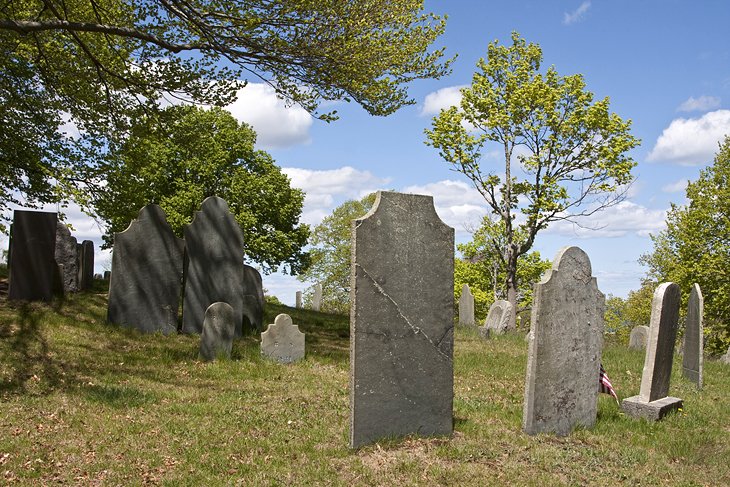 From Old Town Square, the center of town life in the early days (the two churches there are descended from parishes established by the Pilgrims), a path leads up onto Burial Hill. A monument marks the location of the original fort, built to protect the settlement, and many of the original settlers are buried here, including Governor William Bradford.
Burial Hill is on the National Register of Historic Places. With views to the harbor below, it is a peaceful place to contemplate history.
Address: School Street, Plymouth, Massachusetts
8. Plimoth Grist Mill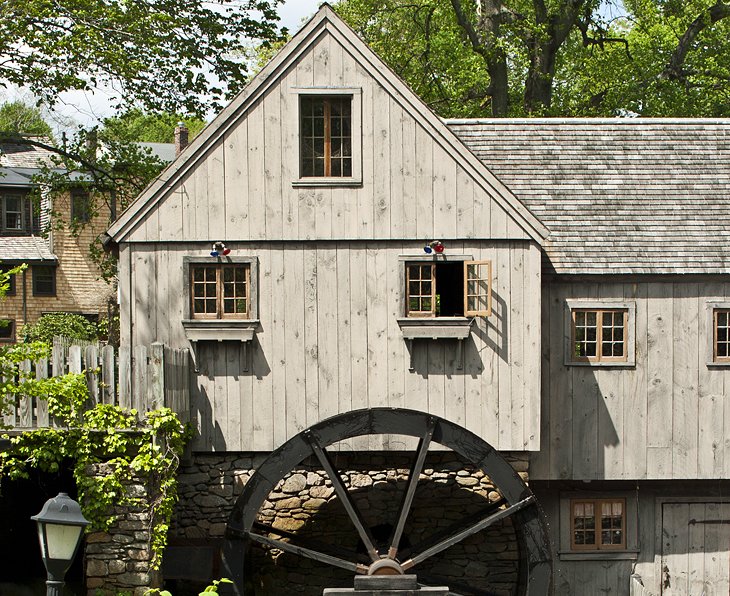 Formerly known as the Jenney Grist Mill and now one of the Plimoth Patuxet Museums group, this is an authentic reproduction of the original mill built on this spot in 1636 to grind the grains grown by the settlers. The mill grinds corn today in the same way its predecessor did, its great 14-foot wheel powered by Town Brook.
On Fridays, you can watch the grinding wheels and giant gears in action as they grind organic corn. Along with watching the mill operate, visitors can join in hands-on activities from earlier eras that are especially popular with children.
Address: 6 Spring Lane, Plymouth, Massachusetts
9. Brewster Gardens and Leyden Street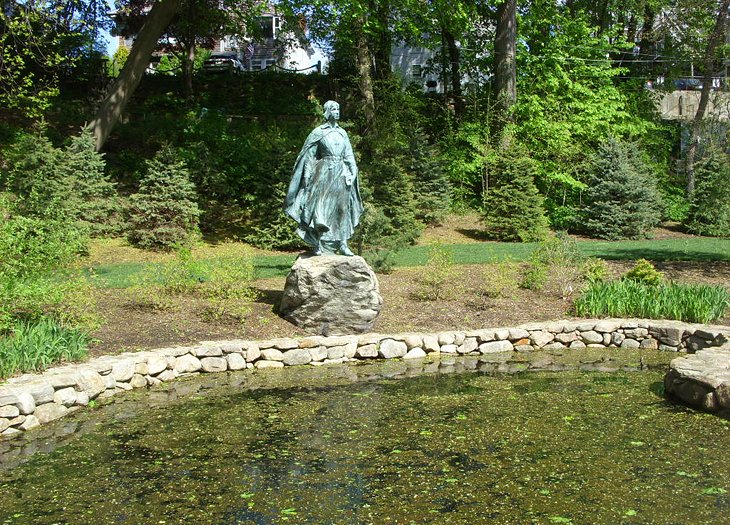 Leyden Street was the first settlers' main street. Its lower end, near the shore, is now a park, covering much of the land of the earliest settlement. Monuments to the settlers were erected for the tercentenary celebrations of 1920. Town Brook, the settlers' earliest source of fresh water, still flows through the gardens and is bordered by a nature trail.
Coles Hill also served as the burial place of the many settlers who died during the first brutal year, and their recovered bones rest in a sarcophagus on the hill, along with a monumental statue of Massasoit, the Patuxent Chief with whom they made peace. Later buildings, from the 18th and 19th centuries, now line Leyden Street.
10. Cruises, Whale Watching, and Deep Sea Fishing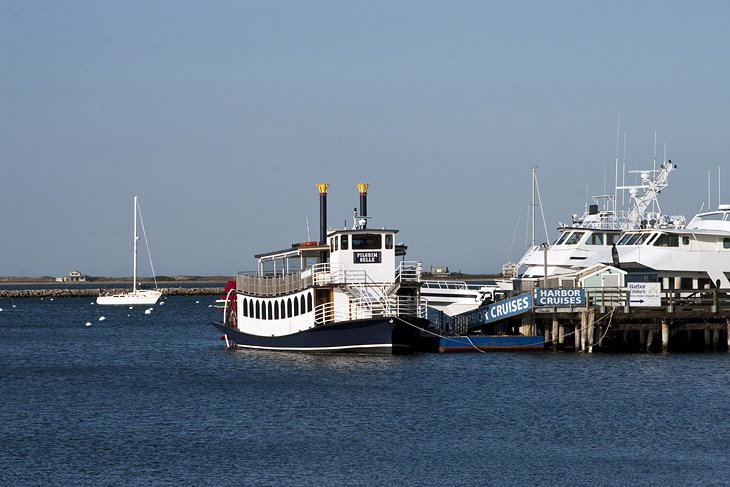 Plymouth Harbor is a busy place with plenty of things to do. Boats docked here offer a wide variety of cruises and excursions, from deep-sea fishing charters to ice-cream and pirate cruises for kids. You can even take a day or overnight trip by ferry to Provincetown, on Cape Cod, from here.
Especially popular are whale watching trips to Stellwagen Banks, one of the richest whale spotting areas on the east coast. It is not unusual for passengers on these cruises to see 20 or more whales at close range. Some boats have marine biologists on board to enrich the experience, but all have narration and staff to point out and identify sea life. If you want to see Plymouth from the water, you can board a paddle-wheeler for a 90-minute harbor cruise.
11. Jabez Howland House
The only remaining house in Plymouth where Pilgrims lived, the Howland House began about 1667 as a two-story, timber-framed house built by Jabez Howland. He was the son of John Howland and his wife, Elizabeth Tilley Howland, both of whom arrived on the Mayflower. The elder Howlands spent winters here with their son and his family.
The house, which grew over the years from the original single-story, two-room dwelling, has been restored to its late 17th-century appearance and is furnished with period antiques; it also displays documents and artifacts from other Howland properties. It is on the National Register of Historic Places.
Address: 33 Sandwich Street, Plymouth, Massachusetts
Official site: www.pilgrimjohnhowlandsociety.org
12. Sparrow House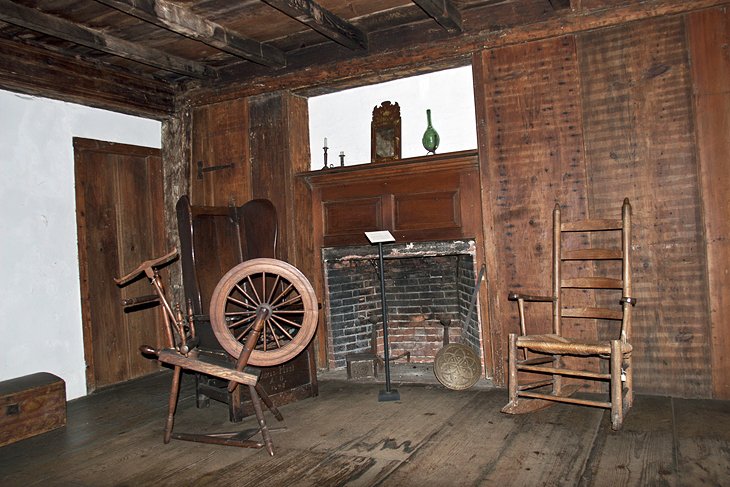 The oldest house in Plymouth and one of the oldest wooden buildings in North America, the Richard Sparrow House dates from between 1636 and 1640. Richard Sparrow arrived from England with his family in 1633 and built a two-story house on the banks of Town Brook.
It would have been one of the grander homes of its time, with paneled walls and leaded glass windows. The house had additions over the years, but the old part remains intact and is open to visitors. The newer part of the house is a shop featuring fine American-made handcrafts.
Address: 42 Summer Street, Plymouth Massachusetts
Official site: www.sparrowhouse.com
13. Native Plymouth Tours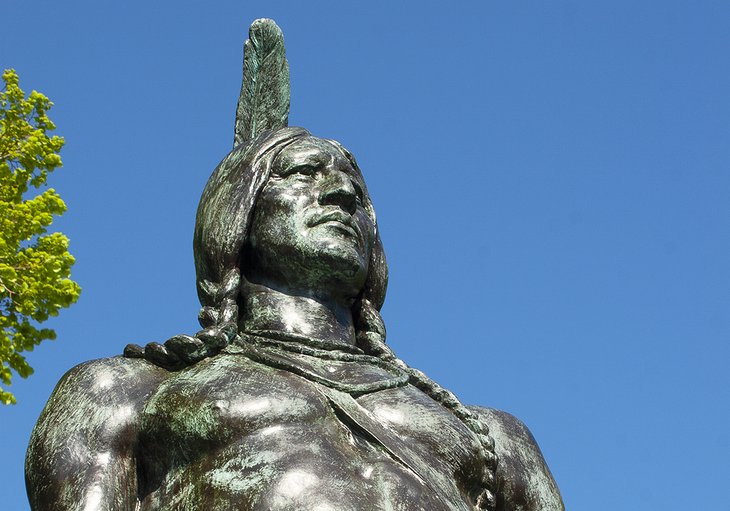 To see Plymouth and its history from the perspective of a Native American, take a 90-minute walk with Native Plymouth Tours. The lively and engaging tour is led by a former interpreter and manager of the Wampanoag Indigenous Program at Plimoth Patuxet Museums (then Plimoth Plantation), who makes it clear that the tour is not just about the Wampanoag, but about the Pilgrims, the Mayflower, and more of Plymouth's history told from a Native perspective.
The tour takes visitors to the unmarked home site of Wampanoag leader, Hobbamock, and to the only American Indian statue in the region, while relating details of 17th-century life. The historically accurate accounts of the lives of the Pilgrims and Wampanoags before and after the Pilgrim landing are based on years of research and work with local historians.
14. Mayflower Society House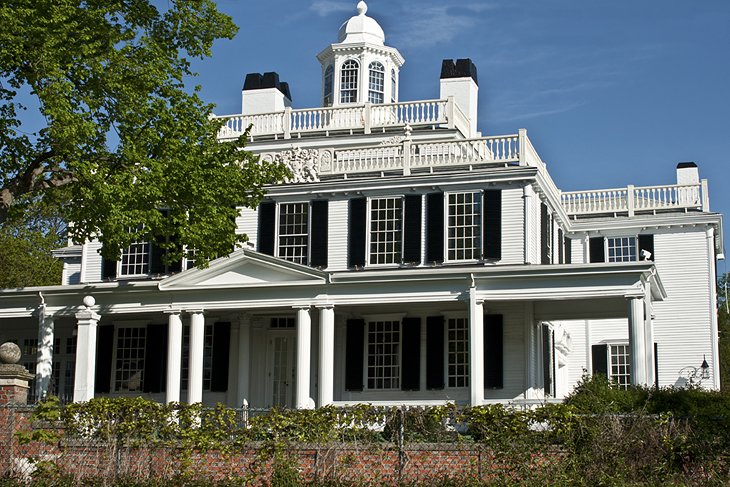 Built in the 1700s by Edward Winslow, grandson of pilgrim Edward Winslow, the Mayflower House has several centuries of interesting history to tell. Self-guided audio tours and those led by docents are offered from May through October, when you'll learn about the Winslows' experiences as Loyalists during the American Revolution, a side of that era that is rarely heard.
You'll also see the room where Ralph Waldo Emerson was married, and hear accounts from the house's World War II history when it was headquarters for the Red Cross.
Address: 4 Winslow Street, Plymouth, Massachusetts
Official site: www.themayflowersociety.org
15. Hedge House Museum
One of Plymouth's best examples of Federal period architecture, Hedge House was built in 1809 by sea captain William Hammatt. It changed hands in 1830, when a three-story ell was added. When its site was chosen for building Memorial Hall, Hedge House was moved to its present location overlooking the harbor.
Its period rooms, which include unique octagonal rooms in the main house, demonstrate the elegance of 19th-century life for the wealthy in Plymouth, with furniture, paintings, textiles, Chinese porcelain, and other artifacts from the China Trade. The gardens are planted with flowering perennials. Guided house tours are offered June through August.
Address: 126 Water Street, Plymouth, Massachusetts
16. W. Russell Blake Planetarium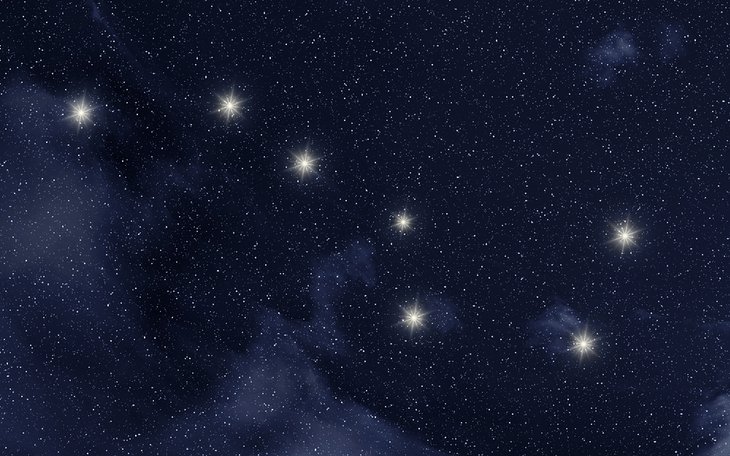 The DigitalSky projection system in this full-dome planetarium projects images of the night sky across the entire dome interior and immerses visitors in sound, as well as the astronomic splendors. You can learn how to use a sky map and how to identify constellations, planets, bright stars, and learn about other wonders of the universe.
Public programs also include those designed especially for children, so if programs are offered during your stay in Plymouth, this is an especially good thing to do for families with kids who have grown tired of the historic attractions.
Address: 117 Long Pond Road Plymouth, Massachusetts
17. Take in a Show at Americana Theatre Company
The year-round professional theater company began as a summer theater, then added an education feature, with classes for young people in acting, dancing, and theater production arts. Along with professional actors, the company includes top-line set designers and directors for a well-rounded theater experience.
Presenting a varied schedule that includes musicals, comedies, family shows, drama, and mysteries, the theater has, in recent seasons, performed Man of La Mancha, It's a Wonderful Life, The 39 Steps, Grease, Hound of the Baskervilles, Bye-bye Birdie, Alice in Wonderland, Clue, and more. Tickets are reasonably priced, and the theater is located close to restaurants, making it a good choice for a night out.
Address: 25 1/2 Court Street, Plymouth, Massachusetts
Official site: https://www.americanatheatre.org
18. Plymouth Waterfront Festival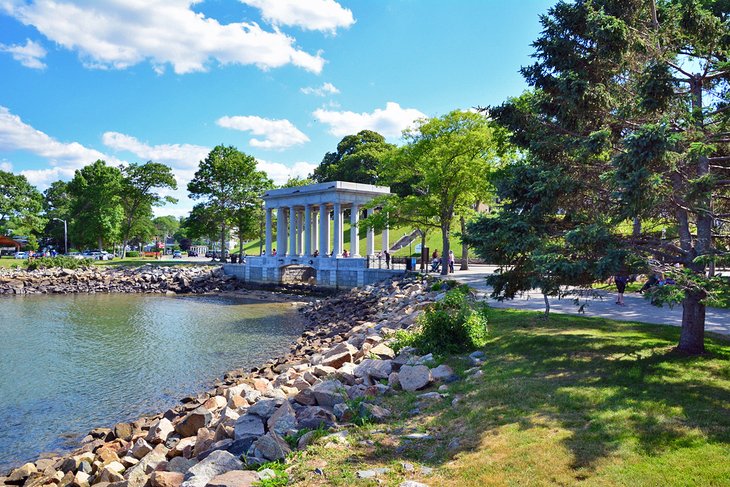 Each August, the parks and streets along Plymouth's shore are filled with the colorful tents and activities of the Waterfront Festival. The historical area hosts more than 200 exhibitors, selling art, crafts, foods, and other locally made products. Restaurants set up booths, so visitors can sample their dishes.
There is a Duck Race in the pond at Brewster gardens in the afternoon, and from 11 to 2, a cruise-in car show is at Plimoth Grist Mill. Entertainment continues all day at the Plymouth Waterfront Amphitheater. The Waterfront Festival is the biggest annual event, and is attended by more than 30,000 people each year.
Address: 79 Water Street, Plymouth, Massachusetts
Official site: https://plymouthwaterfrontfestival.com
Plymouth, MA - Climate Chart
Average minimum and maximum temperatures for Plymouth, MA in °C
J
F
M
A
M
J
J
A
S
O
N
D

3

-7

4

-6

9

-2

13

3

19

8

25

13

28

17

27

17

23

12

17

7

12

2

6

-3

PlanetWare.com
Average monthly precipitation totals for Plymouth, MA in mm.

122

104

121

117

96

92

86

100

118

109

119

114

Average monthly snowfall totals for Plymouth, MA in cm.

28

27

14

2

0

0

0

0

0

0

2

14
Average minimum and maximum temperatures for Plymouth, MA in °F
J
F
M
A
M
J
J
A
S
O
N
D

38

20

40

22

48

29

56

37

67

46

77

56

82

62

80

62

73

54

63

44

53

36

43

26

PlanetWare.com
Average monthly precipitation totals for Plymouth, MA in inches.

4.8

4.1

4.8

4.6

3.8

3.6

3.4

4.0

4.6

4.3

4.7

4.5

Average monthly snowfall totals for Plymouth, MA in inches.

11

11

5.5

0.9

0

0

0

0

0

0.1

0.9

5.7
More Related Articles on PlanetWare.com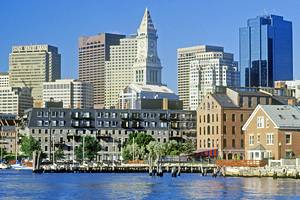 Where to Go from Plymouth: If you're interested in American history, there are many more places to visit in Massachusetts. In addition to the historic sights in Boston and Cambridge, you can easily visit historic Salem and Cape Ann on a day trip from Boston.