10 Best Ski Resorts near Boston, 2023
Skiers have the choice of eight different mountains where they can hit the snow within a two-hour drive of Boston, and two full-service ski resorts just a few minutes farther away. No other major metropolitan center in the east has as many choices of ski mountains. Skiing near Boston can be as close as half an hour from the city at Blue Hills; several others are an hour or less away.
The two-hour radius includes several resorts in southern and central New Hampshire, as well as those in Massachusetts, adding the advantage of a more snow-sure climate inland and farther north. Because of New England's topography, the nearer a mountain is to Boston, the lower the altitude and the shorter the runs.
The order in the rankings below is less important than the descriptions of the ski resorts, as there are two separate criteria: the distance from Boston and the resort's size and facilities. For some skiers, it's all about the most vertical and number of trails. For others, it's how fast they can get their family on the snow in the morning. For some, it is worth traveling a few more miles to have a greater variety of trails and terrain to choose from.
Whether you are looking for a nearby slope for a few runs after work (several of these have night skiing), a full day of long runs, or a weekend ski getaway, you'll find the right mountain with our list of the best ski resorts near Boston.
1. Mount Sunapee, New Hampshire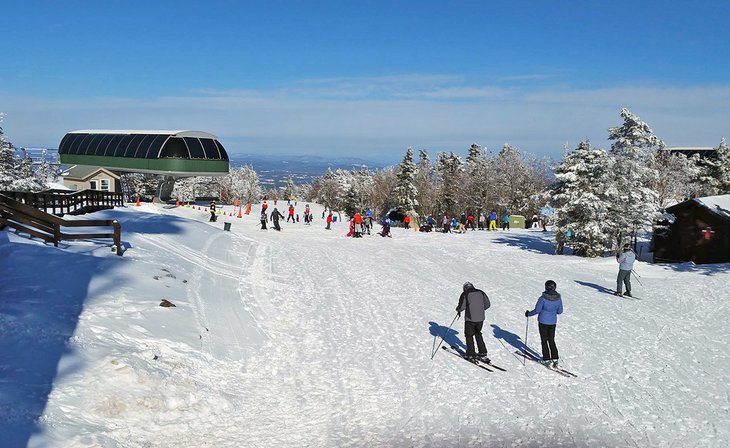 Mount Sunapee has the winning combination of 66 trails fanned across a 1,500-foot vertical drop and some of the best snowmaking and grooming in the east, adding to the 130-inch average annual snowfall. All this is less than two hours from Boston and close to Interstate-89.
High-speed quads whisk skiers to the summit in as little as four minutes, and a dedicated triple chairlift takes boarders to the Six O' Three Terrain Park, with 50 terrain features and a 4,000-watt sound system. Three other terrain parks offer different experiences.
Trails spread over more than 230 acres of terrain, with 32 for intermediates and the rest divided between beginners and experts. An entire area is designated a beginner slope, so more experienced skiers aren't whizzing past on their way to the lifts. The longest trail is a two-mile run. Nine glades and four mogul runs challenge experienced skiers.
Mount Sunapee is a member of the Epic Pass system, in common with Crotched Mountain and several northern New Hampshire ski resorts. To solve the overcrowding encountered last year, Vail is limiting daily ticket sales. To be sure of a ticket, reserve in advance.
Address: Route 103, Newbury, New Hampshire
Official site: https://www.mountsunapee.com
2. Wachusett Mountain, Massachusetts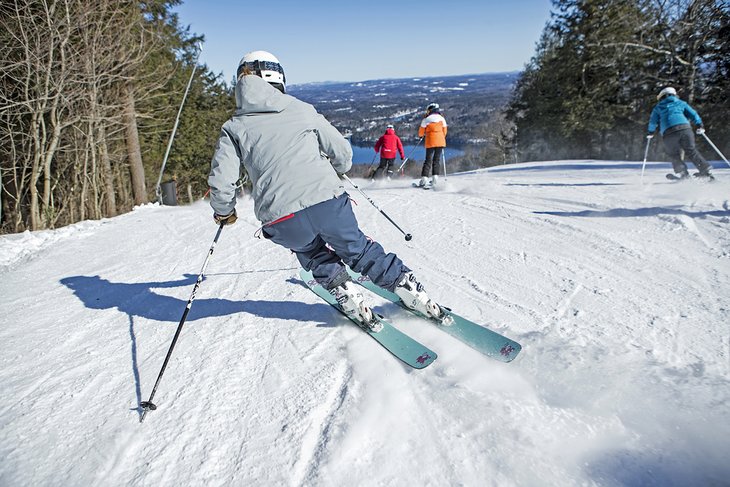 Wachusett is the closest ski mountain to Boston that has a serious vertical (1,000 feet). Not only is it just an hour away from the city, but you can get there by train and a dedicated bus that takes skiers right to the base lodge. Its 25 trails divide evenly among experience levels and are served by eight lifts. The beginner terrain is in a separate area.
The two terrain parks have a variety of features: Frannie's Folly is a progression park for beginning and intermediate riders. Early birds love the 8am opening (9am on weekdays) and for skiers and riders with stamina enough — or for those who can get in a few runs after work — the trails are open until 10pm every night.
Mount Wachusett has snowmaking on 100 percent of its terrain, and grooms the slopes and trails twice daily to keep conditions in top shape.
Along with a full selection of rental equipment (including snowshoes to use on the park's trails), Wachusett Mountain has a demonstration center in the base lodge featuring Southern New England's largest selection of demo ski equipment, with more than 100 pairs of skis, plus intermediate and advanced boots, snowboards, telemark skis, and backcountry AT skis.
Another highlight of Wachusett is that from the summit, you can see the Boston skyline. The ski train connection on weekends takes passengers from North Station on the Fitchburg Commuter Rail to Fitchburg, where a Wachusett Mountain bus meets the train.
Address: 499 Mountain Road, Princeton, Massachusetts
Official site: www.wachusett.com
3. Gunstock Mountain, New Hampshire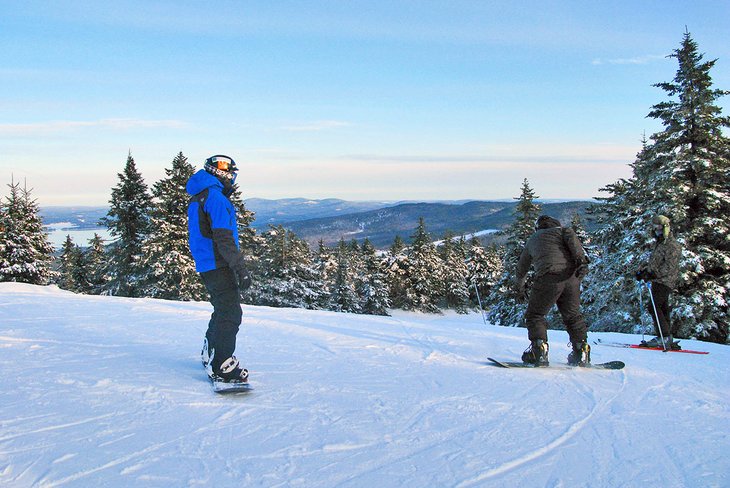 With only slightly less vertical than Sunapee and at the same distance from Boston, Gunstock has fewer trails, but a more varied set of winter sports options for the whole family. These include a cross-country and snowshoe center with 32 miles of trails, a zipline, and New Hampshire's longest tubing hill. A Mountain Coaster operates on weekends and holidays.
Ninety percent of its 55 trails are covered by snowmaking, and 21 of the trails are lighted for night skiing Tuesday through Saturday. Although the mountain trails lean heavily to intermediate and expert, Gunstock pampers beginners at a dedicated area with its own chairlift, and a scenic green trail from the summit — a real treat for less experienced skiers who rarely get to ski from the top.
The learning program is excellent, and the base area features a complete rental center and retail shop.
The view from the summit is spectacular, across the frozen expanse of Lake Winnipesaukee — New Hampshire's largest — to the mountains beyond. Gunstock offers a number of money-saving passes. Those and its laid-back, easy atmosphere have made Gunstock a family favorite for generations.
Address: 719 Cherry Valley Road (off Route 11-A), Gilford, New Hampshire
Official site: https://www.gunstock.com/
4. Pats Peak, New Hampshire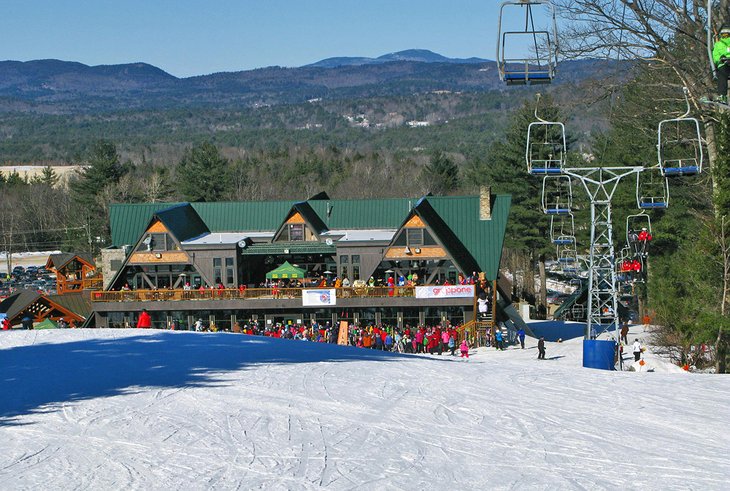 Although Pats Peak has less vertical than Wachusett Mountain, at 770 feet, its location inland and farther north gives it more dependable snow conditions. Interstate access — it's only a few minutes from I-89 — and a drive of only an hour and 20 minutes are added pluses for day skiers from Boston.
Fourteen novice trails and three beginner areas make it popular with families, but experts are happy here, too, with the nine glades and eight trails rated expert and advanced. One-fifth of the terrain is for intermediates, and the longest run is 8,000 feet. The energy-efficient snowmaking system covers 100 percent of the trails and slopes.
Night skiing is a specialty here, with 100 percent of the main mountain lighted; Pats Peak has the most lighted double-diamond terrain and glades in the region. Pats Peak also has a tubing hill.
The newly enlarged base lodge area houses the 9,600-square-foot Starting Gate Rental Shop, the largest rental shop in Northern New England, featuring Elan's most cutting-edge ski technology. In 2021, Pats Peak enlarged the terrace for more outdoor dining space, adding wind shields and an outdoor food pickup window.
The Boston ski bus is a real plus for skiers in the city, making two round trips a day on Saturdays, timed for morning/afternoon skiers and afternoon/evening skiers. The Pats Peak Shuttle is a door-to-door service, with reasonably priced tickets packaged with discounted lift tickets.
Address: 686 Flanders Road, Henniker, New Hampshire
Official site: https://www.patspeak.com
5. Crotched Mountain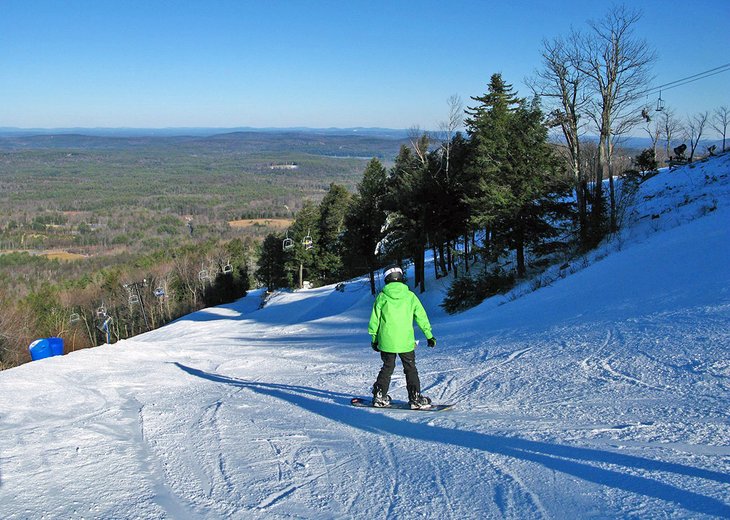 Ten minutes farther from Boston, and without Pats Peak's easy access from an Interstate highway, Crotched Mountain has about 250 more feet of vertical and almost as many trails as Pats Peak. All 25 trails are lighted for night skiing until 3am on Friday and Saturday nights. Expect a lively atmosphere, with music, bonfires, and deals for night skiers.
Crotched Mountain has a higher ratio of expert trails than most of the southern ski areas, with about one-third of its 25 trails designated for experts, the rest evenly split between intermediate and beginner. Snowmaking, grooming, and maintenance are up to the standards of Vail resorts, which Crotched Mountain has recently joined, bringing it into the Epic Pass system.
Three separate freestyle terrain parks are designed for riders at all levels of ability. The Little Dipper Park is for beginning riders, and the levels work up the progression chain to the CM Park, a favorite of pros. Riders and experienced skiers can also take to the forested glade areas. Beginners have a dedicated area of their own.
Crotched Mountain is a Vail Resort, so an EPIC Pass is valid here, but those without passes should reserve in advance to be sure of a ticket.
Address: 615 Francestown Road, Bennington, New Hampshire
6. Loon Mountain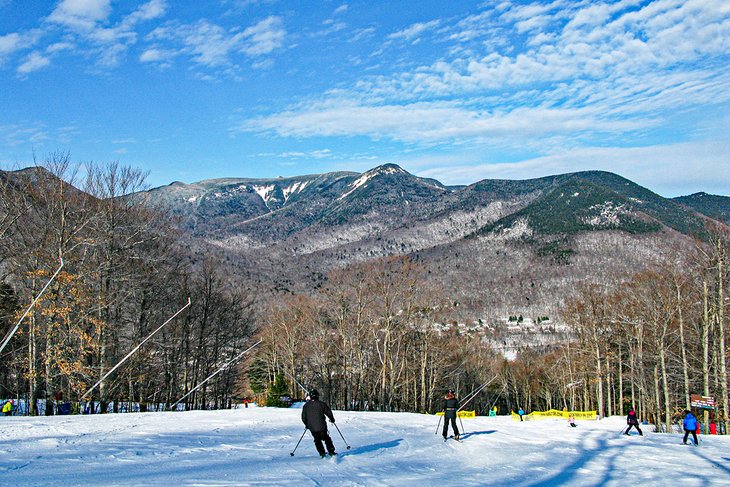 Although in distance it is one of this list's two farthest ski mountains from Boston, Loon is five minutes from Interstate 93 and has lodging at the base; you can ski right from the door to the lifts. With more than 60 trails spread across three peaks and 2,100 feet of vertical drop, much of it with a northern exposure, Loon has snow when the ski mountains closest to Boston don't.
Trails are varied for all skill levels, as are the terrain parks, designed for very young beginners, intermediate cruisers, and experts. New Hampshire's most powerful snowmaking system, with more than 650 high-efficiency snow guns, keeps them in top condition when nature doesn't cooperate.
Ride to the top of the mountain on the Loon Gondola or on the East's first eight-place chairlift, with ergonomically heated seats, weather-blocking tinted bubbles, and an adjustable loading carpet.
Address: 60 Loon Mountain Road, Lincoln, New Hampshire
Official site: https://www.loonmtn.com/
7. Waterville Valley, New Hampshire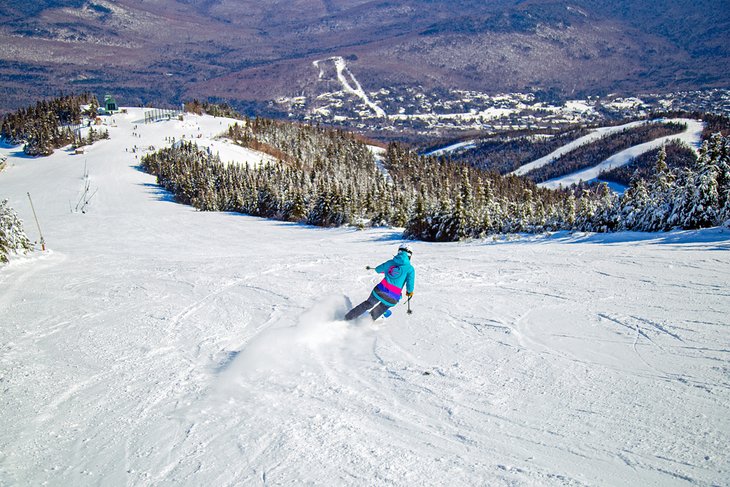 The same driving time from Boston as Loon Mountain, Waterville Valley is about 20 minutes from Interstate 93 and shares with Loon the distinction of being the closest full-service resorts to Boston. The self-contained resort is at the end of a road into the heart of the White Mountain National Forest, which surrounds the resort village.
It's not just the breadth of the resort facilities that merit Waterville's inclusion, the more than 2,000-foot vertical drop and 265 acres of skiable terrain are added plusses. The White Peaks Express chairlift and a new T-bar with a capacity of 1,000 an hour are new this season.
While Waterville excels at on-site activities and multiple winter sports options — a cross-country center, ice-skating, sleigh rides, dogsledding, and swimming pools as a start — that make it attractive to families, the mountain is short on beginner terrain.
Only 15 percent of the trails are green, intermediate accounts for 59 percent, and 23 percent is for advanced skiers. The south-facing slopes make it especially attractive in the coldest part of the winter, when it gets more sun than most mountains.
Free bus service between the village lodging and the slopes make the 500-acre resort virtually car-free.
Address: Route 49, Waterville Valley, New Hampshire
Official site: https://www.waterville.com/
8. Blue Hills, Massachusetts
Small, low-key, and kid-friendly, Blue Hills is the closest ski mountain to Boston, only a half-hour drive away. Its 635-foot elevation gives its 60 skiable acres a 309-foot vertical drop; the summit is reached by a chairlift, and the beginner area by three magic carpet lifts.
Ninety percent of the 12 trails are covered by snowmaking. Equipment rentals and lessons, along with the budget-friendly prices, make this a popular place for families with beginning skiers and snowboarders.
Lifts are open until 9pm on weeknights and 8pm on Saturday and Sunday. The 25-mile view from the top is dazzling at sunset or on a clear night when the lights of the city and seacoast are shining.
Address: 4001 Washington Street, Canton, Massachusetts
Official site: https://www.bluehillsboston.com
9. Nashoba Valley, Massachusetts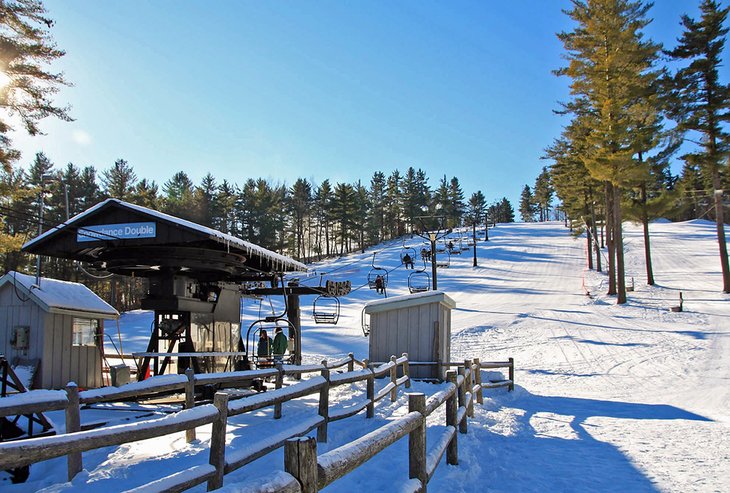 The 240-foot vertical here may not offer a day's worth of skiing challenges for experts, but it is a perfect place to learn and for new skiers to take on their first blue trails. The terrain is good, snowmaking and grooming are excellent, and the 17 trails that web to 50-plus acres offer variety and a few challenges.
The learning program is especially good, with a Playground Park where younger kids and novices have space of their own. Trails are lighted until 10pm daily. Nashoba has New England's largest snow tubing park, right next to the ski area, with 18 lanes served by four lifts.
Nashoba is a 45-minute drive from Boston.
Address: 79 Powers Road, Westford, Massachusetts
Official site: https://skinashoba.com
10. Ski Bradford, Massachusetts
In Haverhill, 31 miles from Boston, Ski Bradford has 15 trails, a terrain park, and glades spread across its 60 skiable acres. The terrain is varied, so trails are well-divided between the skill levels. Even though vertical drop is only 248 feet, making the runs fairly short, some of the trails are rated for experts, so there is something here for everyone.
The entire skiable area, including glades, is lighted and covered by snowmaking. The nine lifts include three triple chairs, so skiers are kept moving instead of standing in line. Ski and snowboard lessons are available for both children and adults, and there are equipment rentals at the base lodge.
With lighting for evening skiing, Bradford is open 65 hours a week.
Address: 60 S Cross Road, Haverhill, Massachusetts
Official site: https://skibradford.com
Where to Go Cross-Country Skiing near Boston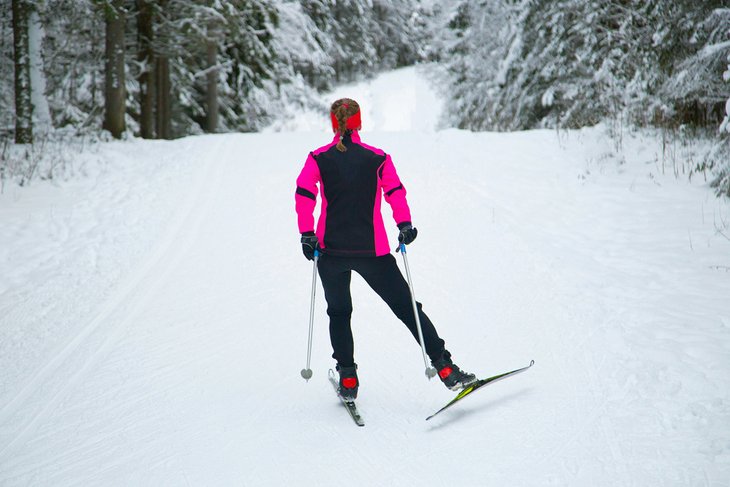 Less expensive than downhill skiing — trails are free in some places — cross-country is a winter sport for all ages and skill levels. Most centers offer rental equipment, although to prevent crowding at the trailhead, some centers have suspended equipment rentals this year. If you do not own cross-country gear, be sure to contact the center to learn their polices.
Weston Ski Track
In the winter, the Leo J. Martin Memorial Golf Course, beside the Charles River west of downtown Boston, becomes a cross-country center. Snowmaking supplements natural snowfall on 2.5 kilometers of the 17.5 kilometers of trails, and the trails in the snowmaking area are also lighted for night skiing. Trails are groomed for both skate and classical skiing, and the center offers lessons.
Address: 190 Park Rd, Weston, Massachusetts
Official site: https://www.skiboston.com/
Great Brook Ski Touring Center
In the Great Brook Farm State Park, about 25 miles from downtown Boston, Great Brook Ski Touring Center has more than 16 kilometers of machine-groomed trails through a landscape of forests and farmland marked by streams, ponds, and hills. This varied terrain assures trails for all skill levels, and machine grooming prepares both tracked and skating lanes.
Address: 1018 Lowell Street, Carlisle, Massachusetts
Official site: https://www.greatbrookski.com/
Map of Ski Resorts near Boston
Boston - Climate Chart
Average minimum and maximum temperatures for Boston, MA in °C
J
F
M
A
M
J
J
A
S
O
N
D

2

-6

4

-4

8

-1

13

5

19

10

25

15

28

18

27

18

23

14

17

8

11

3

6

-2

PlanetWare.com
Average monthly precipitation totals for Boston, MA in mm.

100

84

98

91

82

82

78

86

88

96

101

95

Average monthly snowfall totals for Boston, MA in cm.

30

31

18

3

0

0

0

0

0

0

3

21
Average minimum and maximum temperatures for Boston, MA in °F
J
F
M
A
M
J
J
A
S
O
N
D

36

22

39

24

46

31

56

41

67

50

77

59

82

65

80

64

73

57

62

46

52

38

42

28

PlanetWare.com
Average monthly precipitation totals for Boston, MA in inches.

3.9

3.3

3.9

3.6

3.2

3.2

3.1

3.4

3.5

3.8

4.0

3.7

Average monthly snowfall totals for Boston, MA in inches.

12

12

6.9

1.1

0

0

0

0

0

0

1.3

8.1
More Related Articles on PlanetWare.com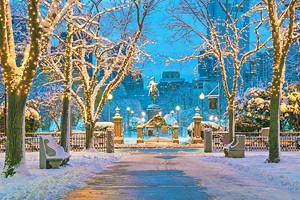 Things to Do in Boston: Skiing is not the only activity available when the weather turns cold; look for more ideas at our page on things to do in Boston in the winter. Also, many of the top hiking & walking trails near Boston are open year-round.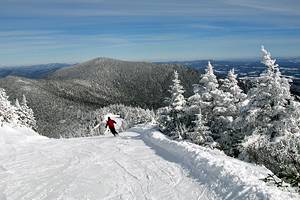 More Nearby Places to Ski: Traveling farther north, beyond a two-hour radius of the city, you'll find several more ski resorts in New Hampshire and within 2.5 hours of Boston are more mountains to ski in Vermont.