14 Top-Rated Weekend Getaways in Massachusetts
Looking for a weekend getaway? Massachusetts is filled with places to visit that offer something for everyone. Whether you are looking for a weekend focused on sports, history, culture, or just want to relax on the beach, you will find a spot to explore that covers your interests.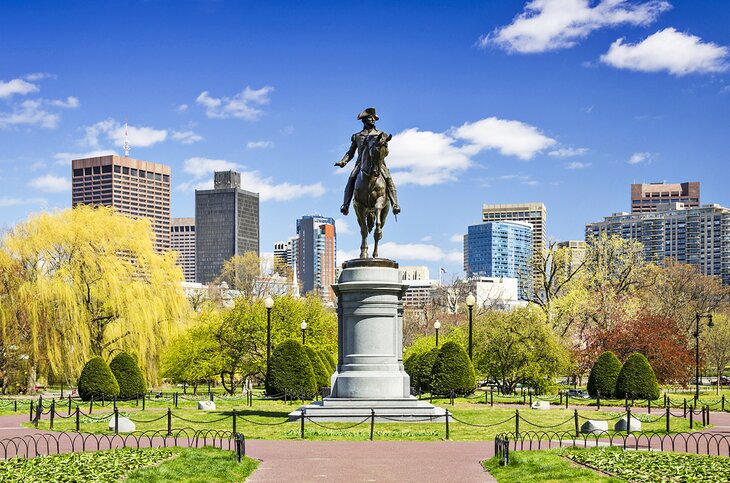 Step into the past at Old Sturbridge Village or visit Boston for scenes of the American Revolution; in Salem revisit New England's great maritime history and glimpse even earlier times at Plymouth. Commune with great artists and writers of the past in the Berkshires, where many had summer homes and studios, and hear world-class musicians at Tanglewood.
Shop for antiques in Great Barrington or the shops that line the byways of Cape Cod. Beach lovers should head there, or to the islands of Nantucket and Martha's Vineyard.
From the Berkshire Mountains to the beautiful coastline, choose places to go from our list of the top getaways in Massachusetts.
1. Boston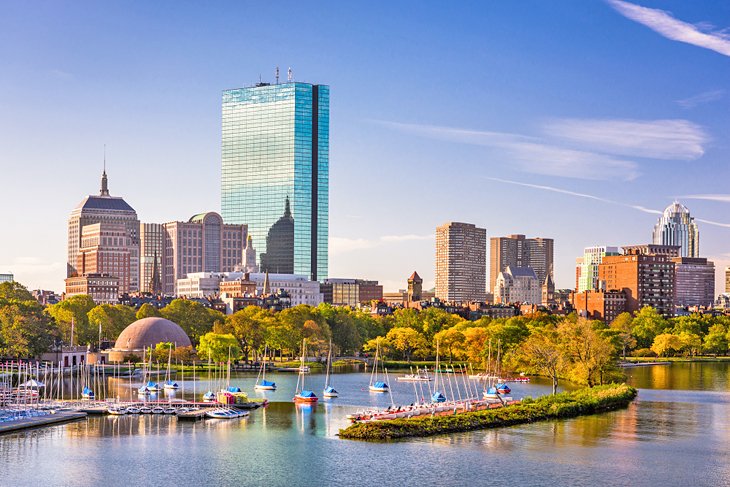 Boston is the perfect blend of old and new. Centuries-old neighborhoods, a rich history, and modern skyline make this one of the best cities to visit in the US.
Boston is the perfect weekend getaway for couples, solo travelers, and families no matter what your interests.
For those interested in taking a walk through the American Revolution, try the Freedom Trail. This two-and-a-half-mile walking route will take you through 16 historical sites, like the Paul Revere House and the Boston Commons.
If art and culture are what you crave, be sure to hit the Museum of Fine Art and the Isabella Stewart Gardner Museum. No sports fan's trip is complete without a stop at Fenway Park, home of the Boston Red Sox and some of the most dedicated fans in baseball.
Boston is a city of neighborhoods, each with its own personality. Tourists will find the downtown waterfront a central location and excellent starting point for visiting the city's top attractions and things to do.
Where to Stay: The nearby Boston Harbor Hotel and InterContinental Boston are luxurious waterfront options. For classic elegance at modest prices, choose the landmark Boston Park Plaza, only a few steps from Copley Square and the Public Garden.
2. Nantucket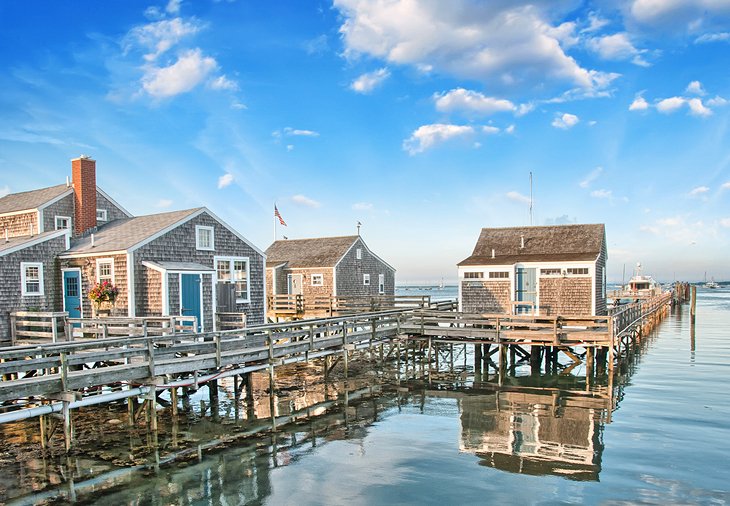 Although Nantucket is known for its beaches, there is so much more to see and do on your weekend getaway here. Thirty-six miles out to sea, this island is filled with maritime history, culture, and nature, making it the perfect weekend destination for anyone looking for an escape. The remote location and simple beauty just adds to the charm.
Stop by the Whaling Museum and Atheneum, which gives an understanding of the island's past. Rent a bicycle to explore. Within easy reach is the Brandt Point Lighthouse, and many of the pristine beaches, such as Cisco or Jetties Beach, can be accessed via the local transit.
Be sure to sample the amazing seafood at one of the town's many restaurants featuring fresh and local caught delights.
The easiest way to get to Nantucket would be to fly from Boston via Cape Air, or you can drive to Hyannis and take the ferry over. It will take a few hours either way, so the journey is best made on a long weekend. In season, this resort area caters to tourists with deep pockets.
Where to Stay: The historical Jared Coffin House is within walking distance to the harbor and many restaurants.
Read More: Top-Rated Things to Do in Nantucket
3. Cape Cod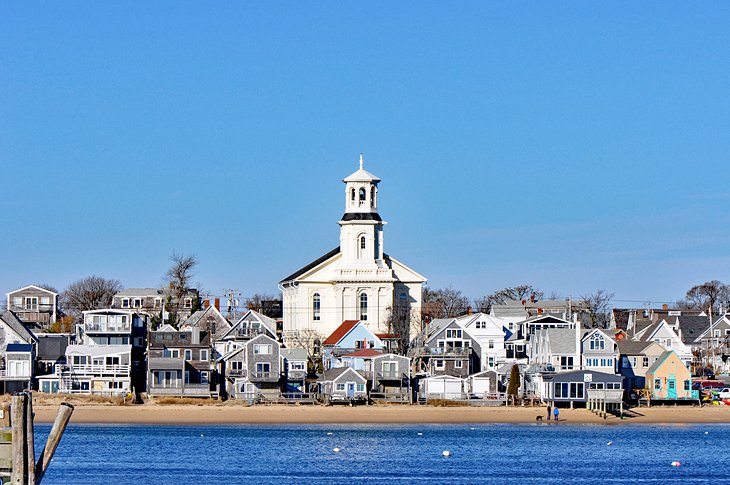 Cape Cod is the premier beach destination in New England and makes a perfect weekend getaway for those looking for sun, sand, and relaxation. No less than 14 lighthouses are located on the peninsula, which is more than any other county in America.
More than four million visitors a year enjoy the 40 miles of pristine beaches. While you are here, grab a bike and explore the 25-mile Cape Cod Rail Trail, which runs from South Dennis to Wellfleet. Or see highlights of the Cape landscapes during an excursion on the Cape Cod Central Railroad in Hyannis. It's one of the most popular things to do in Cape Cod.
Also in Hyannis, the John F. Kennedy Museum contains photos and multi-media exhibits about JFK, his family, and friends at the Kennedy summer compound.
History buffs will enjoy the Heritage Museum and Gardens, an eclectic destination with an antique carousel, vintage automobiles, beautiful gardens, and folk art.
Where to Stay: Chatham has many options for places to stay. The Chatham Inn is popular for its fire pit and chocolate-covered cranberries. Many of the hotels near the west end are motel-style. Midway Motel offers free Wi-Fi and parking.
4. Lenox and Stockbridge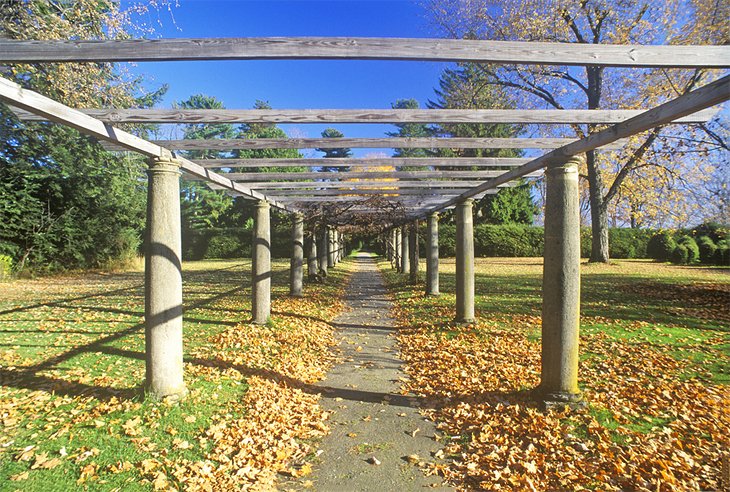 Nestled in the beautiful Berkshires, these neighboring towns are filled with small-town charm, which lends perfectly to a relaxing, low-key vacation. Year-round activities make this a favorite for family trips, romantic getaways, or solo pursuits. The region becomes magical in the autumn, when the leaves change and vibrant colors fill the mountain.
If you just want to enjoy some peace and quiet, there are plenty of opportunities to do that as well. Take a class at the world-famous Kripalu Center for Yoga and Health or visit the nearby Norman Rockwell Museum, which houses the largest collection of his artwork.
Chesterwood, the summer studio of sculptor Daniel Chester French, and The Mount, home and garden of author Edith Wharton are here, as well; visits to the garden are free. A trip to the Ventfort Hall Mansion and Gilded Age Museum will take you back in time.
Summer visitors will want to check the schedule at the Tanglewood Music Center home of the Boston Symphony Orchestra and other famous musicians mid-June through Labor Day.
Where to Stay: For an affordable taste of a Berkshires country estate from the Gilded Age, choose the Apple Tree Inn, on a hillside overlooking Tanglewood. The inn is a good choice for couples, while families will find reliable value at the Courtyard by Marriott Lenox Berkshires.
5. Provincetown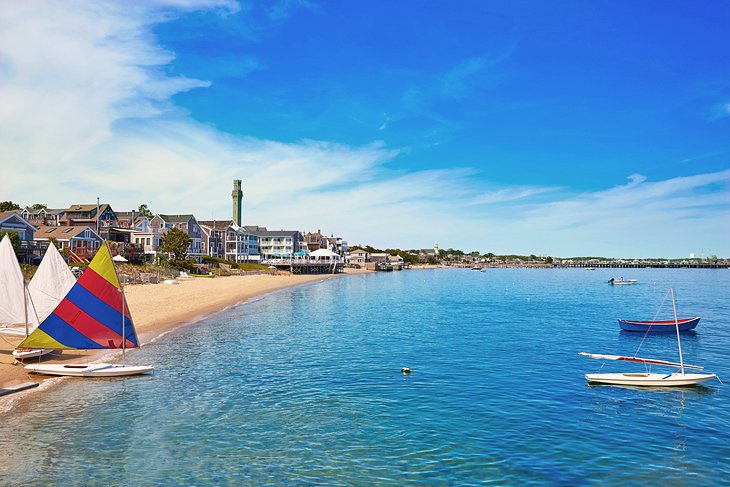 Provincetown is an eclectic town known for its vibrant culture, a picturesque harbor, and bustling art scene. P-town, as it's affectionately called, is located on the scenic end of Cape Cod and can be reached by ferry from Boston.
This harbor town has a year-round population of 3,000, which explodes to 60,000 in the summer months. While you are here, head to Commercial Street, which is the prime people-watching destination and a fun place to grab a bite to eat, shop, or just wander around.
Make a stop at the Pilgrim Monument & Provincetown Museum, which commemorates the Pilgrims' first landing in Provincetown. Take the elevator to the top of the monument, one of the tallest all-granite structures in the US to get amazing views of Cape Cod.
Where to Stay: The seasonal ferry from Boston makes a great day trip, but if your stay in Provincetown involves an overnight, the Cape Colony Inn has an above-ground pool among its many amenities.
6. Salem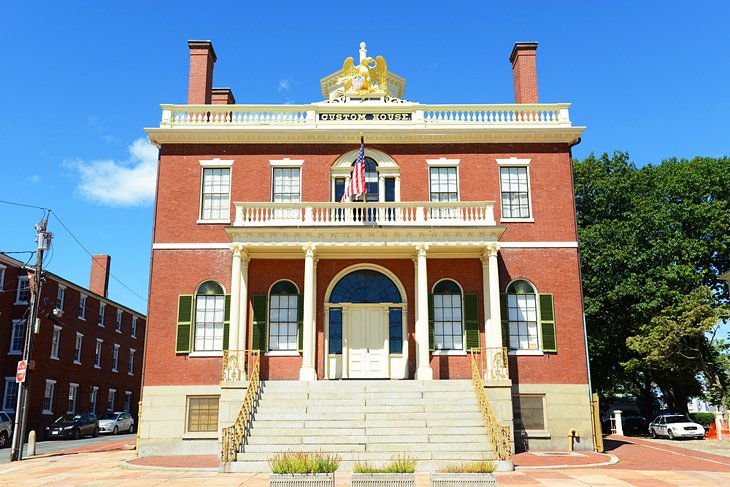 Salem is a town rich in history, with a dark past as the site of the Salem Witch Trials. Because of this, there are many attractions in Salem that explore this time in American history.
Despite its Puritan past, Salem is still a great weekend destination for couples with many different interests. Book lovers will enjoy stopping by the House of the Seven Gables, the setting for Nathaniel Hawthorne's novel of the same name.
When dark falls on Salem, adventurous souls can head out for the Haunted Footsteps Ghost Tour.
One of the area's best collections of art and maritime history, especially the China Trade, the Peabody Essex Museum has excellent rotating exhibitions and a 200-year-old Chinese House reconstructed inside the museum.
Where to Stay: Families appreciate the indoor pool at the Salem Waterfront Hotel & Suites, two blocks from the water. The free parking is a plus in what can be a congested area in Salem. The beautiful and historic Hawthorne Hotel is centrally located and within walking distance to many of Salem's best places to visit.
7. Southern Berkshires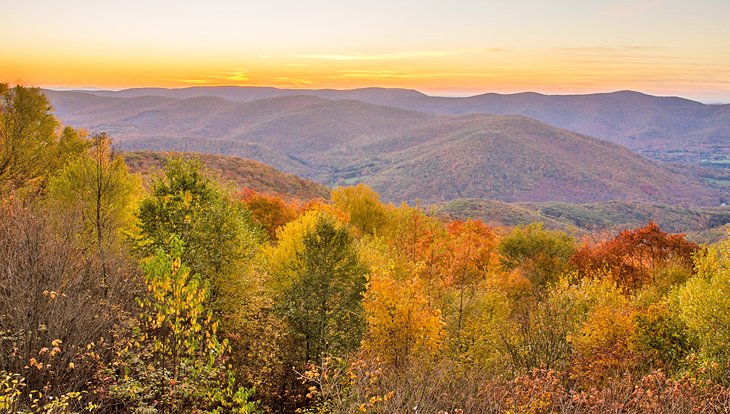 If you prefer mountains to beaches or cities, the southern Berkshires are a perfect getaway for you. Located in the western part of Massachusetts, the Berkshires hold everything you could possibly want in a weekend trip: small towns, countless antiques shops, great food, terrific hiking, and the peace and quiet of quintessential New England living.
Shopping for antiques is a favorite pastime in Great Barrington, where antiques galleries and co-ops line Route 7. Several of these are sprawling group shops, and Asia Barong is as much a museum of Asian art as an antiques store, its larger artifacts and stone statuary spilling out into the yard.
Bash Bish Falls is the highest single-drop waterfall in the state, reached by a short, easy hike. The 60-foot falls is split into two halves by a huge boulder. More ambitious walkers can experience a short portion of the nearby Appalachian Trail as it goes through the wild and picturesque Sage's Ravine, in Mt. Washington State Forest.
Where to Stay: To stay amid antique surroundings and dine by candlelight in a 1700s inn, choose The Old Inn on the Green, in the lovely Berkshires village of New Marlborough.
8. Martha's Vineyard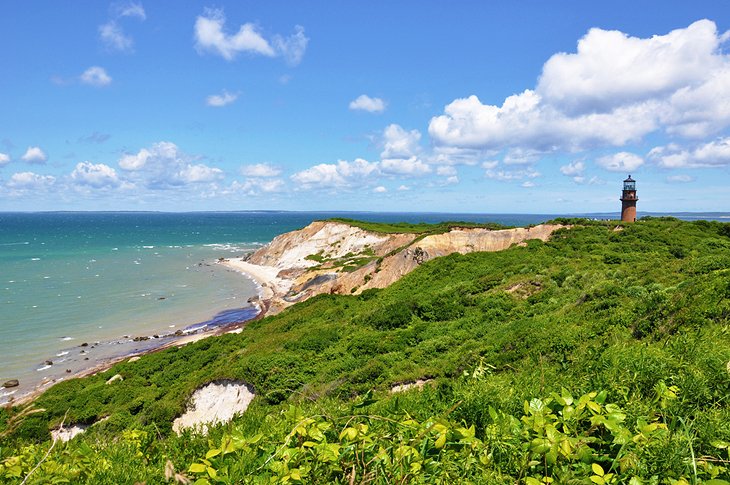 Martha's Vineyard is the perfect getaway to leave the hustle and bustle of Beantown behind. This island has long been a prized vacation spot for Boston's elite, and others just wanting to escape, and is a larger island alternative to Nantucket.
While you are here, rent a bicycle so you can explore the island at your leisure. On the southwestern tip of the island is Aquinnah Cliffs, a popular tourist spot, where you can see the impressive clay cliffs. From the top, you can view the Gay Head Light or Elizabeth Islands.
For animal lovers, head to Island Alpaca, where you can meet one of the friendly Huacaya alpacas and tour the beautiful farm. The main draw of Martha's Vineyard is the beach, so be sure to enjoy the ocean, sand, and sunshine on your trip.
Martha's Vineyard is a few hours from Boston, but well worth the drive. You can also reach it via ferry or plane. Direct flights are available from Boston and New York City.
Where to Stay: The affordable boutique Franklin Hotel in Edgartown is a 15-minute walk from a choice of restaurants. In the same modest price range, Mansion House is close to the ferry landing in Vineyard Haven, and includes the use of a pool and health club.
9. Rockport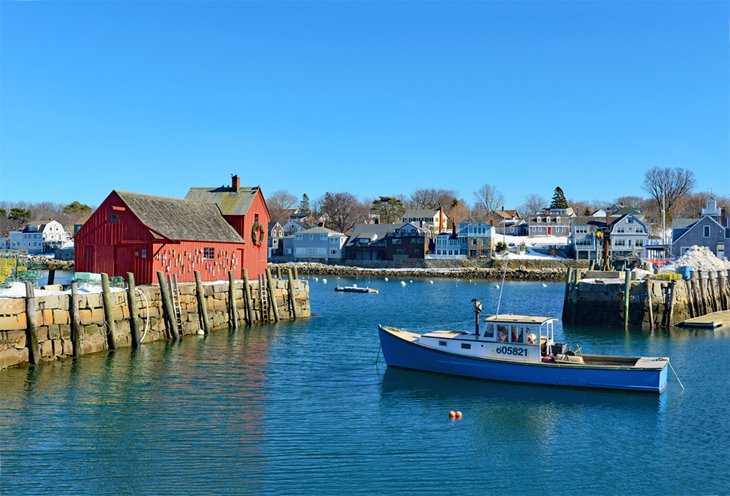 Massachusetts is filled with many eclectic towns, but none more than Rockport. This seaside community sets the stage for a fun and unique weekend getaway. Just an hours' drive from Boston, you will feel like you are a thousand miles away when you step foot into this quaint village.
As you walk along the picturesque harbor, you can't miss recognizing the iconic Motif #1, a famous fishing shack that has been a favorite subject for generations of artists and photographers.
Walk down to Bearskin Neck, which is filled with unique shops, restaurants, and art galleries or just enjoy the magical views, which have inspired artists for centuries. You can walk the somewhat rough coastal path or drive to Halibut Point State Park, a former oceanside quarry with a lighthouse and ocean views.
Where to Stay: Away from the hustle and bustle of Rockport proper, The Seafarer Inn offers a waterfront location across the street from a small beach. If a bed-and-breakfast is more to your liking, The Tuck Inn is very popular and has an extensive breakfast filled with delicious offerings.
10. Sturbridge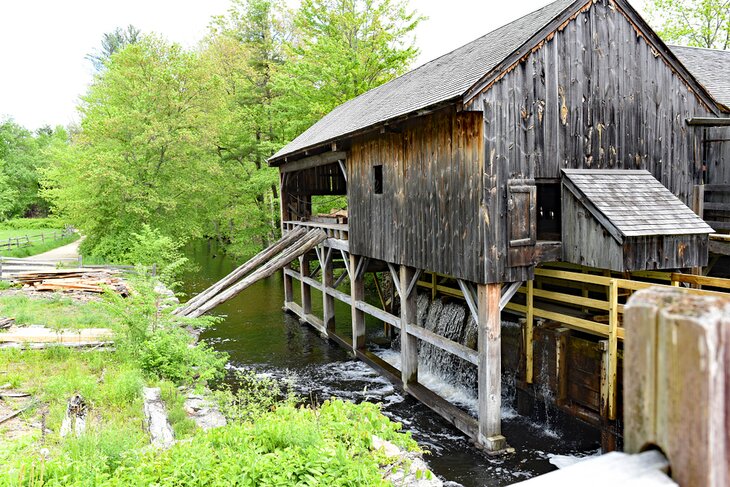 The town of Sturbridge, in Central Massachusetts, is best known for one of the finest historic village museums in the east. Old Sturbridge Village replicates a typical village of the early to mid-1800s, with historic homes, shops, and other structures moved here from across the region.
You can watch interpreters as they spin flax, dye wool, turn pots, make tin lanterns, saw logs into boards, plant and harvest their gardens, and prepare meals on open hearths. A day here is an exceptional experience for families, as there are many things to do for children.
The town of Sturbridge itself has a long history as you can see from the Sturbridge Common Historic District on the green where the militia trained during the Revolution. In keeping with the historic theme, shop for vintage treasures in Sturbridge Antique Shops, where more than 75 dealers from all over New England show antiques and collectibles.
Where to Stay: The conveniently located Comfort Inn & Suites has spacious rooms suitable for families, as well as a heated indoor pool.
11. Plymouth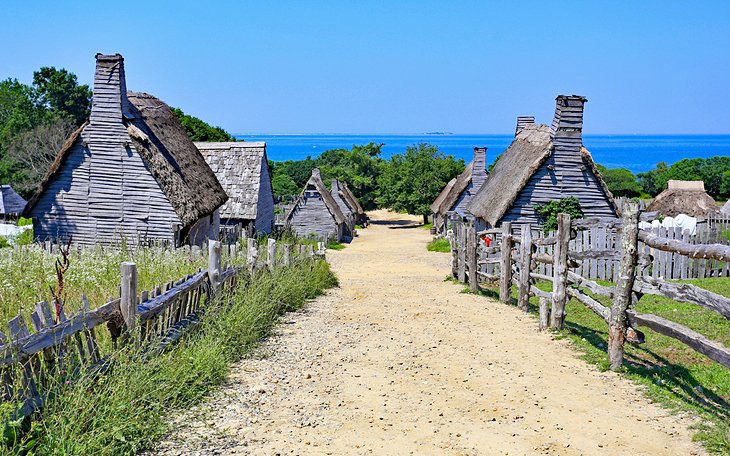 Affectionately referred to as "America's Hometown," Plymouth is best known for being where the Pilgrims landed in 1620. A trip to Plymouth wouldn't be complete without a stop at Plymouth Rock where it all began.
For an immersive look at how the first settlers lived, don't miss one of New England's premier living history experiences, Plimoth Patuxet Museums (formerly Plimoth Plantation). Here, you'll see replicas of the houses and farmyards of the 1620 pilgrims, and interact with interpreters who play the roles of actual historic figures. A second village illustrates the everyday lives of the Native Americans who lived here before and during the Pilgrim years.
Plymouth's many historic attractions include the replica Mayflower II, Pilgrim Hall Museum, and the Plymouth Grist Mill, a working mill that has been in operation since 1636 and opens to the public on Fridays at noon.
Another popular thing to do here is visiting the W. Russell Blake Planetarium. Visitors experience astronomy with the only 4K high-resolution full-dome planetarium south of Boston.
Where to Stay: The Hilton Garden Inn Plymouth is a popular, good-value hotel with a central location and free Wi-Fi.
12. Gloucester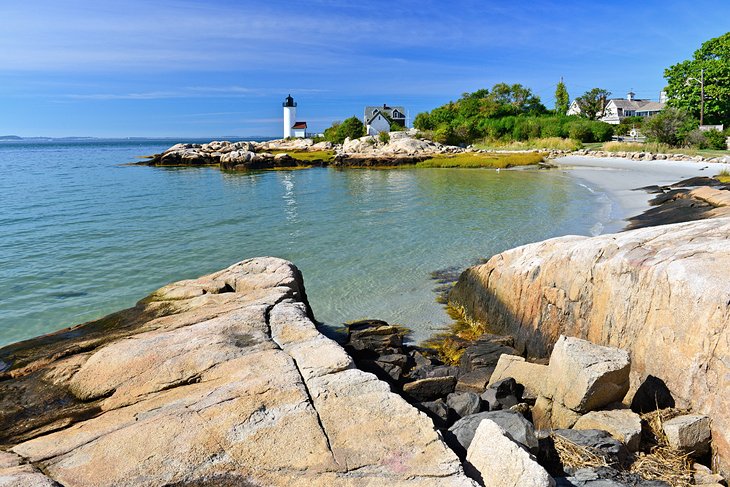 For couples and families who want to experience a true New England fishing village, head to Gloucester. This quintessential New England town houses the country's oldest seaport and was a prominent shipbuilding town. Here, you will find the Fisherman's Memorial, one of the most noted and photographed statues in New England.
Gloucester is great for whale watching. These gentle giants can be seen from shore or for the more adventurous, with one of the many other charters in town. Gloucester is also home to the centuries-old Rocky Neck Art Colony, the oldest working art colony in America.
Before you leave, you have to indulge in one of the prized local seafood restaurants to enjoy the ocean's bounty.
Where to Stay: The typically New England Beauport Hotel Gloucester is located on the waterfront with a rooftop pool. Plenty of restaurants in the city's bustling center reward visitors with a variety of options after a day in the sun.
13. Northampton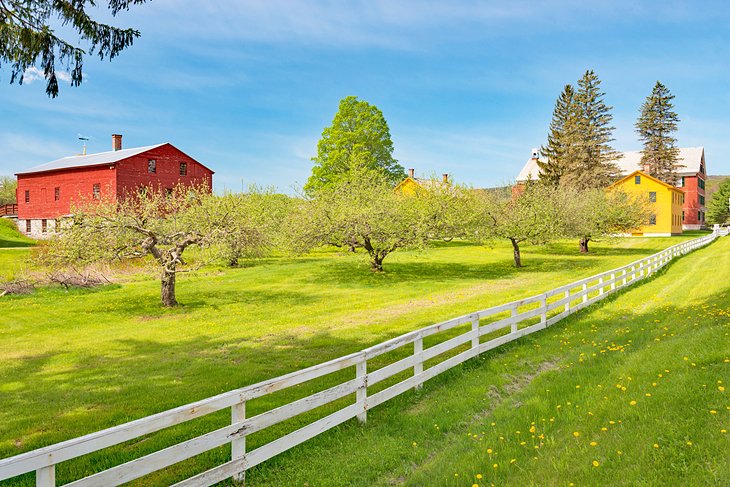 For those with a love of the arts, Northampton is one of the best small arts towns in the nation. This historic town is filled with independent artists and galleries. Smith College boasts an impressive art collection in their Museum of Art.
Be sure to stop by the college's Botanical Gardens or just walk through the historic town and take in the sights. You can also rent a bike and take a ride down the Norwottuck Rail Trail, enjoying nature and the sights by the Connecticut River.
Where to Stay: Spend the night at the Fairfield Inn & Suites Springfield/Northampton, about a 10-minute walk to town. This brand from Marriott includes free breakfast, Wi-Fi, and parking. Families enjoy the indoor pool, and suites are available.
14. Gardens of the North Shore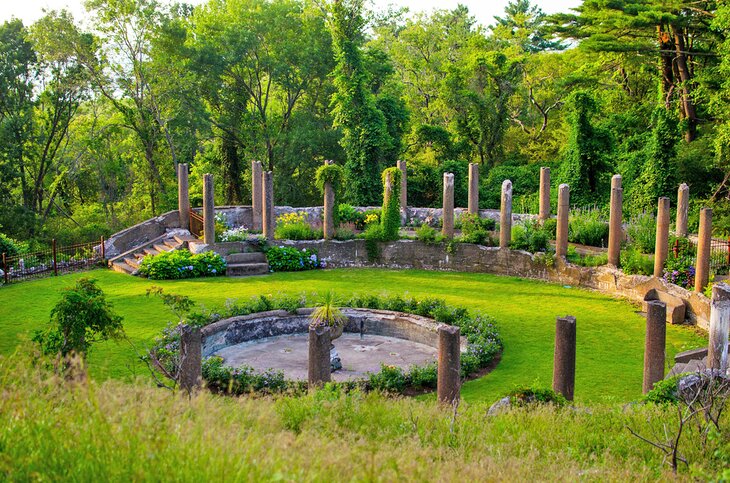 From a base in the historic town of Newburyport or the colorful fishing port of Gloucester, you can tour several of the beautiful North Shore gardens.
At Long Hill, in Beverly, you'll find a series of garden "rooms" in various styles, with a Venetian pavilion and a Chinese pagoda. Other highlights are the fan-shaped steps and a 1.2-mile walking trail through the adjoining woods. Perennial flowers bloom from June through September.
In North Andover, the Stevens Coolidge House & Gardens is an early 20th-century estate with a walled rose garden and a French-style vegetable garden. The gardens have been restored and enlarged, and are especially beautiful in the early spring when tulips are in bloom.
The Italian gardens of the Crane Estate at Castle Hill in New Ipswich have been restored to their original design by the Olmsted Brothers, with fountains, statuary, and a rolling Grand Allée that stretches to the water. At their height in June, the flowers bloom well into autumn.
Glen Magna Farms and Garden, in Danvers, is owned by the Danvers Historical Society and features a formal Italian Garden and an Old Fashioned Garden with a gazebo. Designed by Frederick Law Olmsted and Joseph Chamberlain, the gardens are especially lovely in the late spring when fragrant wisteria drapes from the colonnade.
Map of Weekend Getaways in Massachusetts