14 Best Beaches in Nantucket
A small island with 82 miles of impeccable shoreline, Nantucket boasts a wide variety of gorgeous beaches. Whether you want to spend the day bodysurfing with your kids or hope to up the romance on a quieter, more secluded strand, you'll find the perfect beach on this beautiful coast.
It's no secret that Nantucket is a beloved summer vacation destination. Visitors have flocked here from New York, Boston, and other parts of New England for decades in hopes of enjoying the soft caramel sand, epic surf, fresh food, and adorable cottages.
Nantucket's shimmering beaches are divided into four sections: North, South, East, and West. Families tend to head north, where the Nantucket Sound features smaller rolling waves and warmer temperatures. Surfers prefer the south, which faces the Atlantic Ocean and serves up bigger swells and cooler water.
The east shore is another Atlantic beauty, perfect for those who crave larger surf. Those hoping for an off-road adventure should head west, where the beaches are harder to reach and more tranquil.
Not sure where to start? Begin with our list of the best beaches in Nantucket.
1. Jetties Beach (North Shore)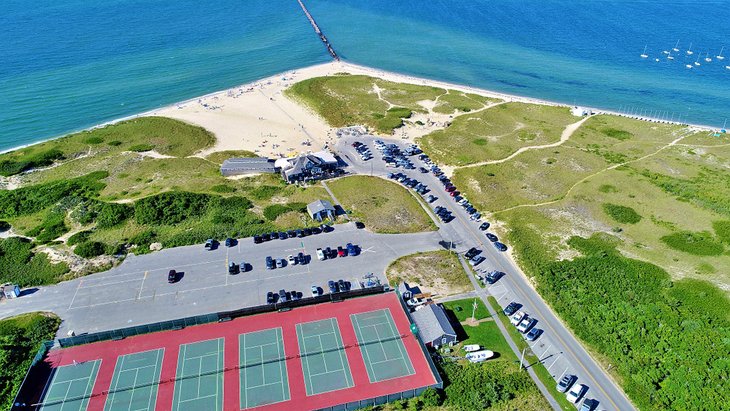 Jetties Beach is a family-friendly beach conveniently poised within walking distance of the main town. It's named after the jetty found at its point and can be reached by foot in about 10 minutes from downtown (or there's a cheap beach shuttle that runs every half hour).
Visitors to this north end beach are greeted by vast amounts of tan sand and calm shallow water, perfect for little ones. Plus, this large beach boasts a playground, tennis court, volleyball nets, and skate park to help keep the younger set entertained. This is easily one of the best, and most popular, beaches in Nantucket.
This is a prominent spot for boat watching (we're talking everything from tiny sailboats to mega yachts) – boat-loving kids will go out of their minds with joy. Book them a sailing lesson, and they'll love you forever.
Bring a bucket and hunt for treasures. Unique shells and sea glass pepper this sandy shore, and inspire beachcombers and crafters of all types. Seasonal lifeguards, restrooms, beach chair and umbrella rentals, a pavilion, and a restaurant make it a cinch to stay here all day.
Insider's tip: Visit during August to catch a concert by the Boston Pops at the annual Boston Bops for Nantucket fundraising event.
Address: 4 Bathing Beach Road, Nantucket, Massachusetts
2. Surfside Beach (South Shore)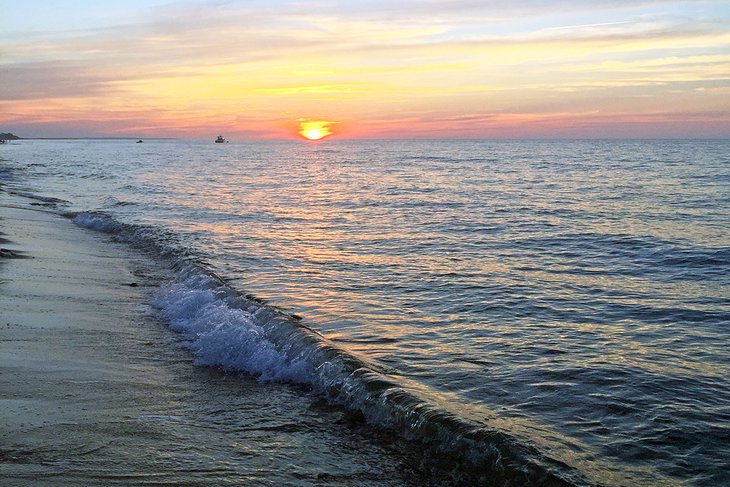 Bet you can guess the most popular activity at Surfside Beach. Yep, it's surfing. Bodysurfing is the most well-practiced sport at this active, and best, beach in Nantucket, followed closely by boogie boarding. The surf gets high, and the ocean is rough, making it a totally tubular spot to catch a wave.
A southern shore gem, this beach boasts the wildness provided by the Atlantic Ocean. Despite being choppy, the waves aren't always big enough to master with a surfboard. Also, you'll want to hang on tightly to your kids, as this isn't the safest spot for little ones to swim.
Surfside Beach is one of the most popular of Nantucket's beaches. The upside of its fame: lots of amenities like restrooms, water sports rentals, parking, concessions, lifeguards, showers, and a shuttle service to town. The downside: it gets uber crowded on summer weekends, so arrive early.
If you hate stepping on sharp shells, you're in luck. There are few, if any, shells to cut your feet on this super soft sandy beach.
Address: 160 Surfside Road, Nantucket, Massachusetts
3. Children's Beach (North Shore)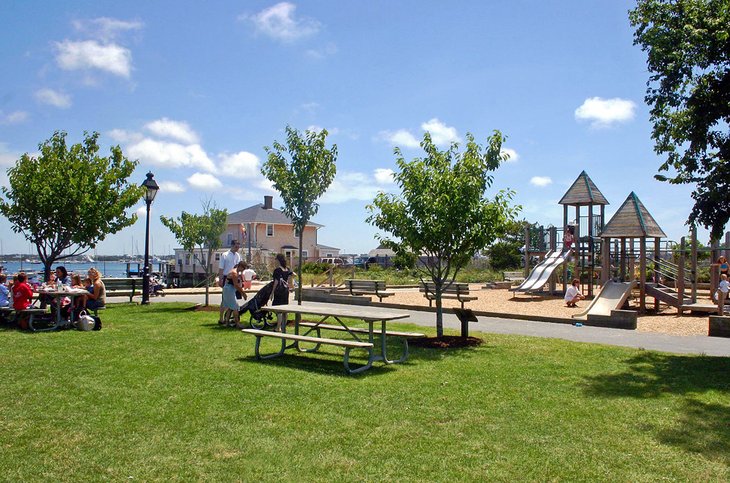 Visiting Children's Beach is one of the best things to do in Nantucket, and it's perfect for those traveling with – you guessed it – children. Little tykes will love throwing themselves around the playground, splashing in the calm shallow water, and watching giant ferries pass by.
This small beach is set close to town on Nantucket's north shore, backed by a grassy park, and it features a stage where concerts, dance and music classes, yoga, and other family-friendly activities take place during the summer. Lifeguards are on hand from mid-June through August.
When they're whining with hunger, head to The Hungry Minnow. A seasonal fave, this fun snack bar serves up family-friendly foods (including tacos and quesadillas) to please even the pickiest of eaters. Also on offer are fun souvenirs at their shop, the Barnacle Beach Boutique.
Address: 2 Easton Street, Nantucket, Massachusetts
4. Madaket Beach (West Shore)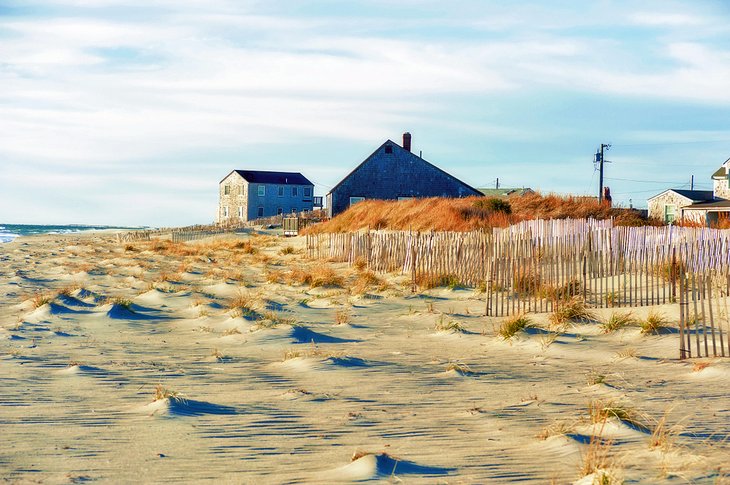 Looking for a little romance with your sand? Madaket Beach serves it up in style. The best spot to watch a sunset in Nantucket, this pretty beach is one of the most isolated on this list of the best beaches in Nantucket. You won't find amenities here, or buildings to impede your view.
Located on the very western edge of the island, Madaket Beach features a long stretch of sand so silky soft, your toes will quiver with pleasure as they sink in. There's plenty of room to spread your towel and a long stretch to wander along.
The surf is rough, and the undertow is strong, so swimming is dangerous. Most come here to enjoy the quiet, while the more adventuresome hop in the water with a surfboard.
Reward yourself with a visit to Millie's on your way out. This local fave is a crowd pleaser featuring fresh local grub – the tacos are a must. It opens for the summer season in May, so plan your visit accordingly.
Insider's tip: Only cars with a beach permit are permitted to drive to this area. A shuttle bus stops nearby, and a long bike path runs parallel to the shore.
Address: Madaket Road, Nantucket, Massachusetts
5. Siasconset Beach (East Shore)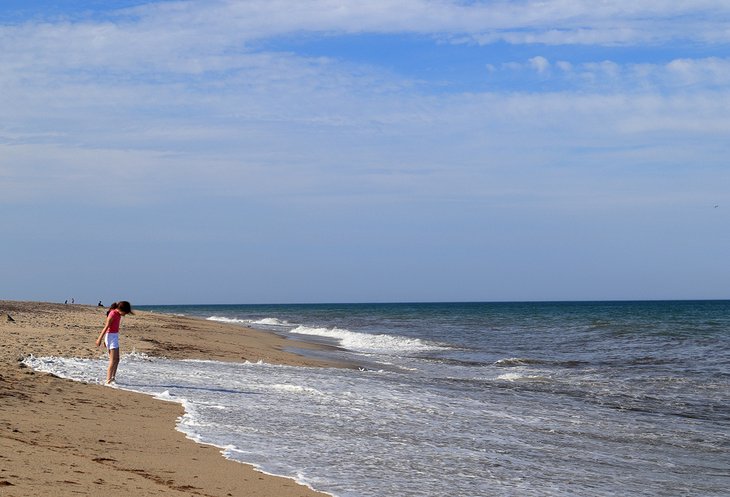 Known locally as Sconset, Siasconset Beach is an east end beauty and a great seal-spotting site. Featuring a wide expanse of soft tan sand, there's plenty of room to spread out, build sandcastles, or throw a frisbee. Grass-topped sand dunes line the shore, which is frequently thundered by rough surf.
Although there are no amenities on the beach itself, the quaint village of Sconset is only a short walk away. This is where you'll find cute shops and restaurants. Take time to wander the adorable, shell-covered lanes nearby and gawk at the incredible mansions lining the shore.
During the summer, lifeguards are on duty near the main entrance. Since the waves can be large, and the current can be strong here, it's best to hang on tightly to small children in the water.
Insider's tip: Set the alarm extra early and head here to enjoy a sunrise – you'll be more than happy you did!
Address: 18 Ocean Avenue, Siasconset, Nantucket, Massachusetts
6. Cisco Beach (South Shore)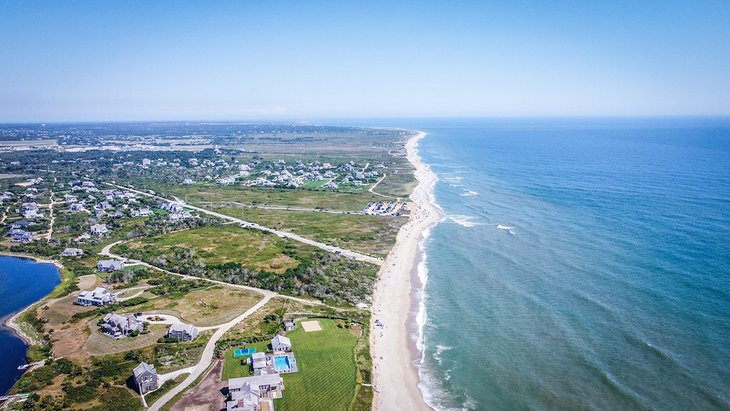 The waves at Cisco Beach are awesome. A south shore haven for surfers, this is where the Nantucket Island Surf School has set up shop. The crowd here is young, and this beach gets especially busy following a storm, when the surf is particularly gnarly.
If you're searching for adventure, Cisco Beach offers it in droves. That said, it isn't the best beach for families. The rip currents can be strong, and the waves quite fierce, which isn't an optimal combination for little tykes.
Seasonal lifeguards are on duty, but there are no amenities, so be sure to pack snacks and water for your day out.
Forgot your gear? No problem. You can rent stand up paddleboards, body boards, wetsuits, and surfboards at the surf school. While you're here, why not book a lesson, so you can master the art of hanging ten?
Address: Hummock Pond Road, Nantucket, Massachusetts
7. Nobadeer Beach (South Shore)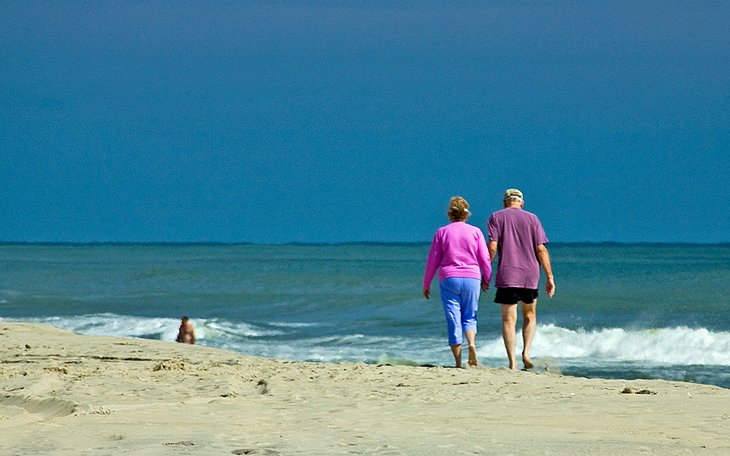 The perfect spot for adrenaline junkies, Nobadeer Beach welcomes four-wheel drive vehicles to off-road along its sand. There's plenty of room to run – or fly a kite, play volleyball, kick a soccer ball, or throw a frisbee – on this wide, soft beach, which is clearly one of the best beaches in Nantucket.
A haven for college kids looking for fun (and a whole lotta bodysurfing), Nobadeer can be loud and full of excitement. Settle in to watch the youth surf, or enjoy a little frolic in the waves yourself. The ACK Surf School offers on-site lessons, as well as board and SUP rentals.
Seasonal lifeguards watch the water, and food trucks are on hand to satisfy pretty much every food craving a visitor might have. This beach is close to the airport, so if you love watching planes take off and land, this is the prettiest place to do that.
Address: 67 Nobadeer Avenue, Nantucket, Massachusetts
8. Dinois Beach (North Shore)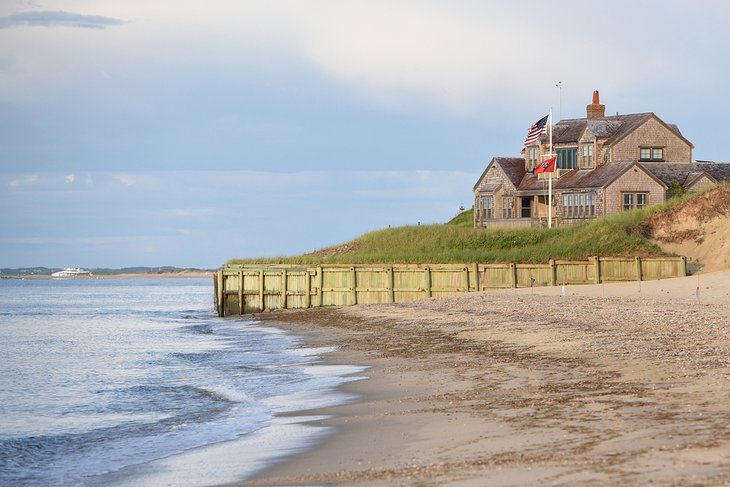 Hop on a bike and pedal your way to Dionis Beach. It's only three miles from town along the Madaket Road Path. Your reward: a remote, tranquil, and beautiful place to spend a quiet day by the Sound. Steep, stunning bluffs tower over the sand of this north shore wonder.
Insider's tip: You'll know you've arrived when you spot the "Dionis" boulder and feel hard-packed caramel sand under your feet.
Unlike Nobadeer and Cisco beaches, Dionis is a hot spot for families. Its calm, warm surf and sheltering dunes offer a more relaxing environment, as well as water safe enough to play in all day. Bring a pail for shell collecting and a picnic lunch since there are no concessions nearby.
You will, however, find restrooms, outdoor showers, and lifeguards on-site during the summer.
Address: 16 Dionis Beach Road, Nantucket, Massachusetts
9. Great Point Beach (East Shore)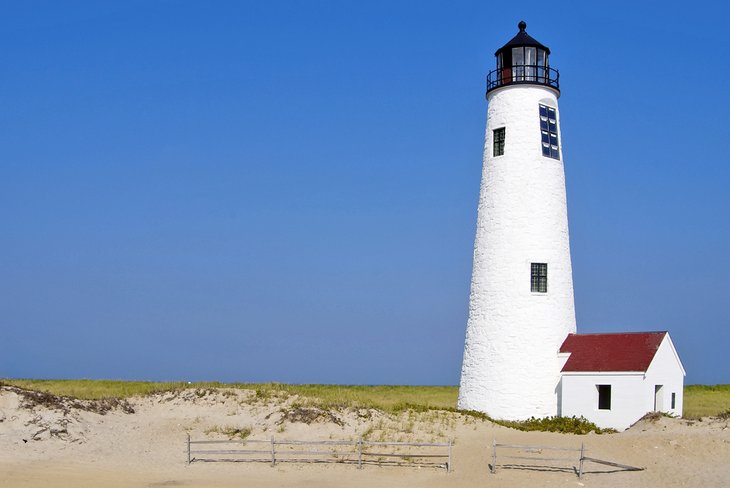 The highlight of Great Point Beach stands tall and proud at its tip. A white beacon hovering in contrast against a sparkling backdrop of deep blue, the Great Point Lighthouse (a.k.a. the Nantucket Lighthouse) is a big draw. Once you see its charming beauty up close, you'll understand why.
A haven for anglers, this eastern gem is said to have the best fishing on the island. A vast variety of species can be caught in the waters off this lovely shore. A tough place to get to, few visit this beach, so there isn't much noise to scare away a big catch.
The journey to Great Point Beach requires a four-wheel drive vehicle that can maneuver through sand and around dunes. You'll also require a beach permit to park.
The splendor that awaits is breathtaking. Vibrant marsh grasses rustle in the breeze, pristine golden sand stretches for miles, and windswept dunes stand solemnly at attention, making the somewhat arduous journey more than worthwhile.
Address: Off Wauwinet Road, Nantucket, Massachusetts
10. Miacomet Beach (South Shore)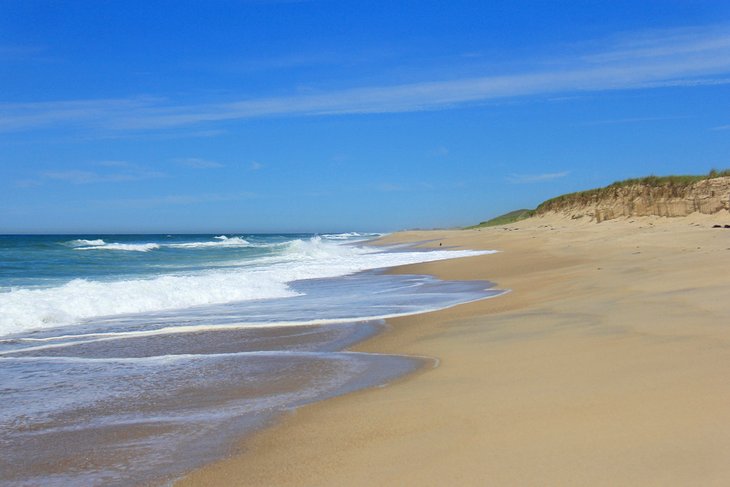 Miacomet Beach lies towards the western end of the south shore, between the Cisco and Surfside beaches. Boasting sweeping views of the Atlantic and a long, uninterrupted stretch of golden sand, this is a pretty spot to enjoy a day of beachin' away from the crowds.
As with all of Nantucket's south coast beaches, the surf here can be quite strong, and the rip currents are dangerous, so it's not the safest for swimming. Lifeguards parole the water during summer, but there are no facilities on site.
Those traveling with young children should pop over to the gorgeous, freshwater Miacomet Pond. It lies just behind the beach and offers an uber calm and quiet place to play. Just keep an eye out for snapping turtles before jumping in.
Address: 36 West Miacomet Road, Nantucket, Massachusetts
11. Ladies' Beach (South Shore)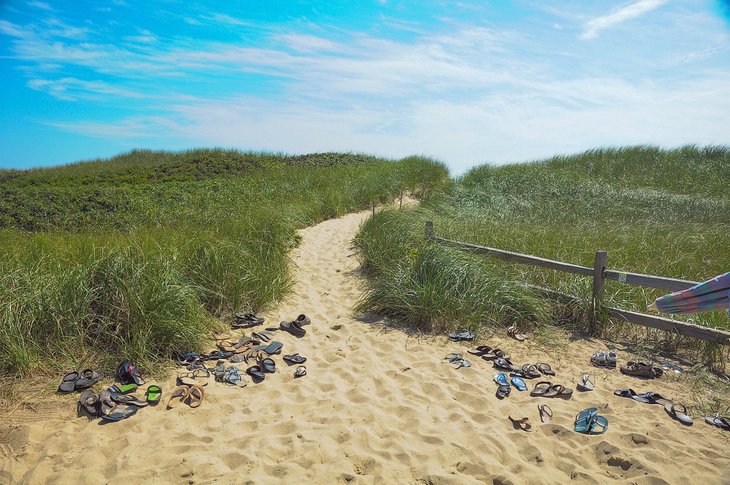 Swaying seagrass and sugar white sand greet visitors to the magnificent Ladies Beach. This secluded wonderspot is nestled before rolling dunes at the end of Bartlett Farm Road, within the Smooth Hummocks Coastal Preserve.
A rough and tumbly ocean welcomes strong swimmers and surfers, while hikers will enjoy long walks on the sand or an excursion along the multiple trails that zigzag their way through the preserve.
It's refreshingly remote (it's tough to get here without a car), and there are no lifeguards or amenities on offer at this beach. Stop at the adorable Bartlett's Farm on your way through for some tasty treats and cute sundries.
Insider's tip: Low tide is the best time for boogie boarding and bodysurfing.
Address: End of Bartlett Farm Road, Nantucket, Massachusetts
12. Brant Point Beach (North Shore)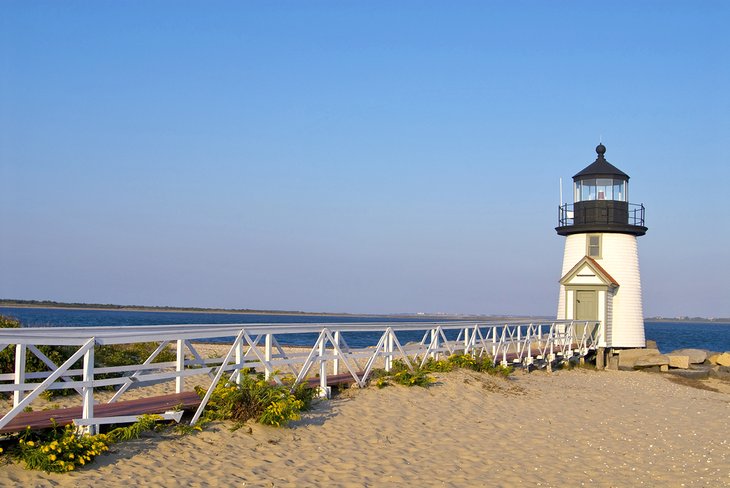 You'll find a historic, picturesque lighthouse sitting on the furthest point of Brant Point Beach at the entrance to Nantucket Harbor. The original Brant Point Lighthouse was built in the mid-1740s, and its beauty has attracted sand-loving, camera-toting visitors ever since. The structure you see today was erected in 1901 and is just as popular.
A scenic spot boasting unsurpassable views of the harbor, Brant Point Beach is the best spot for boat-watching in Nantucket. While visitors can swim in these waters, they are constantly traversed by ships of all sizes and feature a strong current.
The beach is owned by the US Coast Guard and has no lifeguard, even during summer. That means beachgoers heading in for a dip must do so at their own risk.
Address: End of Easton Street, Nantucket, Massachusetts
13. Steps Beach (North Shore)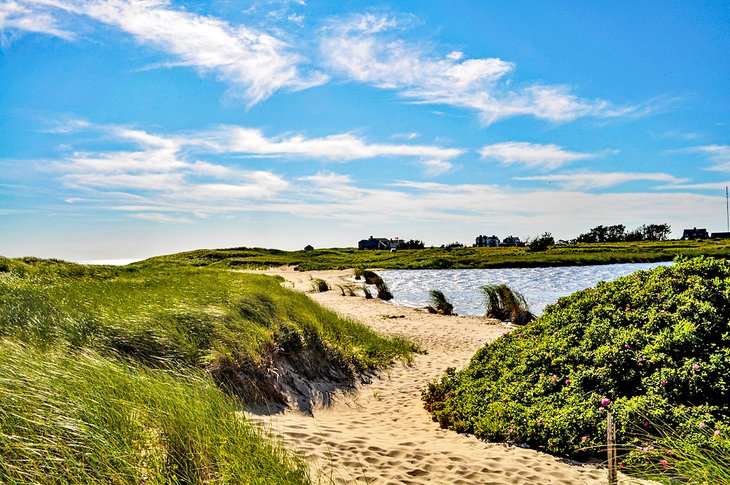 It's easy to see how Steps Beach developed its interesting moniker. A small, secluded beach on Nantucket's North Shore, this pretty spot requires visitors to descend multiple wooden stairs to reach its soft, sandy base. That's not too hard, but those steps can feel extra steep when climbing them after a few hours spent frolicking in the sun.
Set between Dionis and Jetties beaches, this no-frills beach is one of the best beaches in Nantucket's North Shore. You won't find facilities or even a lifeguard here, but the stunning views of Nantucket Sound and Great Point are more than worthy of your time.
Insider's tip: Visit during late summer (August through September) to catch sight of something truly spectacular–a nighttime show put on by some of Mother Nature's most unique creations–bioluminescent sea creatures.
Boasting a calm surf and sandbar that reveals itself at low tide, this is a great beach for families (if you can get little ones up and down the stairs, that is).
14. Francis Street Beach (North Shore)
A small sliver of tan sand greets visitors to Francis Street Beach. While you may think a beach of this size would lack amenities, you'd be wrong. You may not find a lifeguard on duty at this beloved local beach, but you will find a jungle gym, restroom facilities, and plenty of kayaks to rent.
Bring the kids along, as Francis Street Beach is one of the best beaches for families in Nantucket. The water calmly laps the shore, making this a perfect spot to take a refreshing dip with your little ones, or head out in a kayak.
There's no parking nearby, but this beach is easily reachable by foot. From Main Street, you'll only need to walk for about seven minutes. Grab a picnic as well as some extra drinks, so you can stay longer.
Address: 76 Washington Street, Nantucket, Massachusetts
Map of Beaches in Nantucket
Nantucket, MA - Climate Chart
Average minimum and maximum temperatures for Nantucket, MA in °C
J
F
M
A
M
J
J
A
S
O
N
D

4

-4

4

-3

7

-1

11

3

16

8

21

13

24

17

24

17

21

13

16

8

12

4

7

-1

PlanetWare.com
Average monthly precipitation totals for Nantucket, MA in mm.

105

69

88

84

78

66

52

70

69

76

101

95
More Related Articles on PlanetWare.com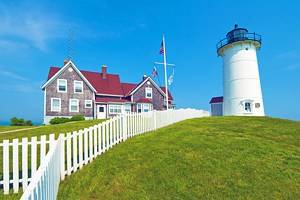 Explore New England: With so much captivating natural beauty, it's impossible to dislike New England. Lace up your shoes and enjoy a hike on one of the best trails in New Hampshire or pack an overnight bag to visit the area's most adorable towns on a fun weekend getaway.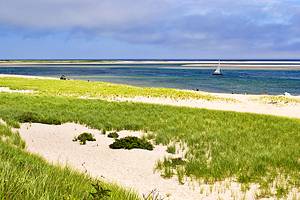 Fall in Love with the East Coast: The Atlantic coast boasts vastly gorgeous vacation opportunities. Whether you love to ski (check out these best ski resorts on the East Coast) or prefer to lounge on the sand at one of the region's best beaches, you won't want to leave.