8 Top-Rated Weekend Getaways in New England
We may earn a commission from affiliate links ()
Known for its beauty in all four seasons, New England is full of ideal destinations for a weekend retreat, whether seeking a quiet, romantic getaway or an activity-filled family excursion. Vermont and New Hampshire are known for their quaint small towns, stunning autumn foliage, and winter skiing, while Maine is a nature-lover's paradise, with expansive national parks and a seemingly endless seashore. Massachusetts is home to some of the most significant historic sites in the nation, and Connecticut is as well, with a historic port that brings the past back to life.
Plan your relaxing short break with our list of the best weekend getaways in New England.
1. North Conway, New Hampshire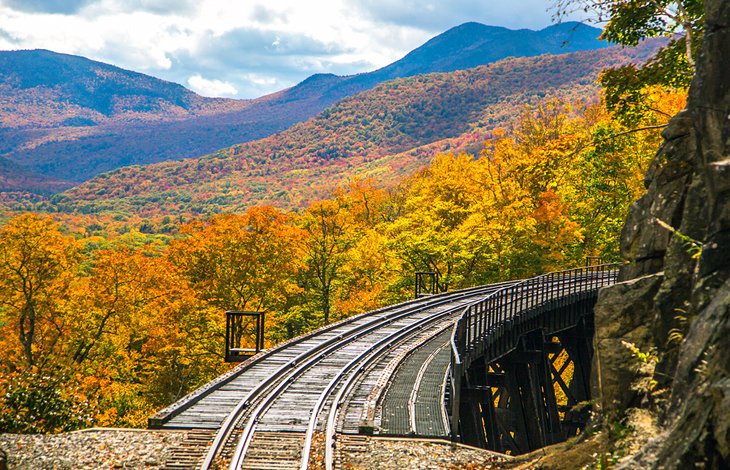 It doesn't matter what season it is, North Conway and New Hampshire's White Mountains have activities for everyone. Downtown North Conway is lined with quirky shops that have everything from penny candy to locally handcrafted items, just as fun to explore as they are to shop. There are several excellent restaurants, cafés, and ice-cream shops to choose from as well, and it is easy to spend an entire day just exploring the village on foot.
Right in the center of town, you will also find the main depot for the Conway Scenic Railroad, a top tourist attraction in the area. There are several train tours available, each narrated with fascinating facts about the train and the region and providing unparalleled views and photo-ops of the Mount Washington Valley. The train operates from April through the end of foliage season, with a special series of runs in December for the family-favorite "Polar Express" train ride.
Just a few minutes away in Glen, Story Land has been entertaining families since 1954. In addition to storybook-themed kiddie rides and interactive play spaces, Story Land has expanded over the years to include rides for kids of all ages, including roller coasters and other thrill rides, as well as a water park. The smaller Clark's Trading Post is a great Sunday stop for families on their way home, located just off I-93 in Lincoln. Here, you will find the famous Clark family trained bears, along with a unique assortment of rides and attractions that are great for kids and pre-teens.
Another top attraction in North Conway is Cranmore Mountain, a four-season resort that offers a myriad of outdoor activities all year long. In the winter, guests can enjoy 56 trails, with nine lifts for skiing and snowboarding, as well as areas for snowshoeing, tubing, and other winter sports. In the summer, the whole family can play at the Aerial Adventure Park, home to the Mountain Coaster, a zipline, bungee trampoline, scenic lift rides, and much more.
An excellent accommodation right in the heart of North Conway is the Eastern Slope Inn, a charming historic property just steps from the town's best local shops, as well as the train depot and the Mount Washington Weather Observatory. The inn offers an incredible range of options, from fully equipped townhouses for up to 12 people to affordable modest guest rooms. Amenities include an indoor pool, tennis courts, gazebos with grills, and a playground.
2. Provincetown, Massachusetts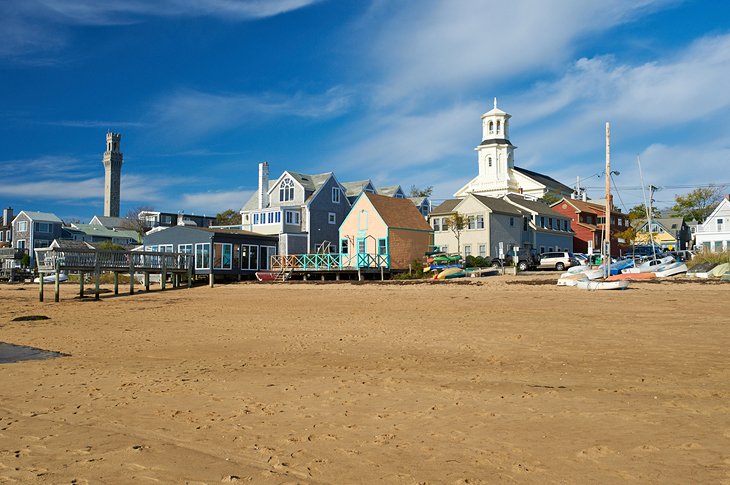 One of the most popular weekend getaways from Boston, Provincetown (affectionately called P-town by locals) sits at the tip of Cape Cod. The best way to arrive is by ferry from the city, providing you with stunning views, as well as a reprieve from the often-arduous traffic on the narrow stretch of coastal route 6.
One of the first things you will see as you approach by sea is the Pilgrim Monument, erected in 1910 to remind visitors that the Mayflower in fact landed here before settling at Plymouth. At the base of the monument, there is a fascinating museum that covers topics like the lives of the cape's native peoples and maritime life.
Shopping and browsing is one of the top things to do in P-town, and tourists will find an eclectic variety of shops, boutiques, and galleries. There is truly something for everyone here, including an old-fashioned military surplus store, specialty shops for pampering dogs, a 12-step recovery book store, artisan shops, and numerous galleries. There are, of course, plenty of restaurants and ice-cream shops as well to keep you fueled while perusing.
Dog lovers will appreciate the dog-friendly atmosphere in Provincetown, where four-footed family members are welcome nearly everywhere you go.
A visit is never complete without catching at least one show at one of the numerous venues like the Crown & Anchor, the Provincetown Theater, and the Pilgrim House & Landing Restaurant. While P-town is best known for its cabaret, comedy, and drag shows, there are also regular theatrical, dance, and musical performances as well.
Accommodation: Where to Stay in Cape Cod: Best Areas & Hotels
3. Portland, Maine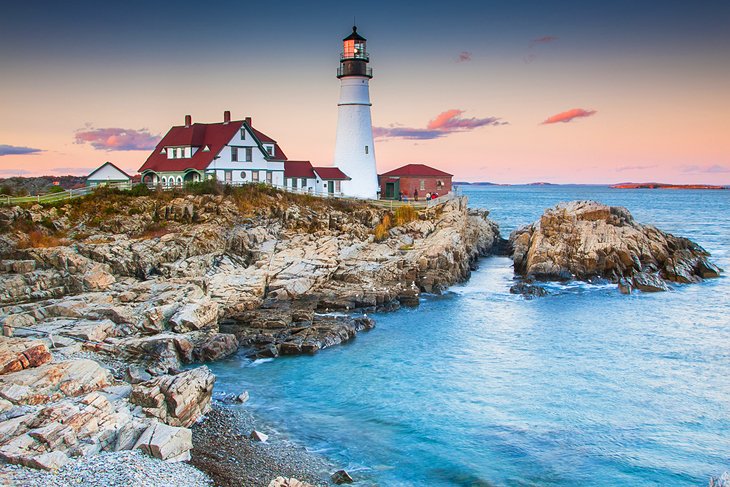 Portland is the cultural capital of Maine, full of both historic and contemporary attractions. Located on Casco Bay, it was once a busy shipping port, and today is the starting point for cruises and ferries headed to the Calendar Islands, as well as fishing charters and whale watching tours.
For views of Portland Harbor from the other side, take a ferry to Cape Elizabeth's Portland Head Light, where you will find a museum in the lighthouse's Keeper's Quarters. Tourists can also admire the bay from land by taking Portland's Eastern Promenade Trail, a set of twin paths (one paved), which follows an old railroad route along the water's edge at Back Cove.
Adjacent to the docks along the waterfront is the Old Port District, where you will find many of Portland's antique shops, boutiques, galleries, cafés, and restaurants in historic buildings tucked along cobblestone streets. Another landmark just a block form the wharf is Victoria Mansion, a 19th-century home built in the style of an Italian villa and open to the public as a museum.
Nearby, the Portland Museum of Art houses an immense collection of fine and decorative arts, featuring over 650 pieces by Winslow Homer, as well as works by Picasso, Monet, Degas, O'Keefe, and Renoir.
Families with younger kids who are spending the weekend in Portland will want to visit the Children's Museum & Theatre of Maine, a three-story play and learning center that features interactive exhibits like Discovery Woods, a tide pool touch tank, and a kid-sized town.
All ages will enjoy the Maine Narrow Gauge Railroad Museum, home to not only exhibits but also an operational narrow-gauge sightseeing train that tours the Eastern Promenade. Tourists who are interested in the odd and bizarre will also want to be sure to visit the International Cryptozoology Museum, the only museum in the world which is dedicated to the study of hidden or unknown animals.
The Hilton Garden Inn Portland Downtown Waterfront is an excellent hotel for those who want easy access to downtown attractions and the waterfront district, including the Maine State Pier where Casco Bay Lines docks. Amenities include an indoor heated pool, free wireless, and kitchenettes, and ocean-view rooms are available.
Read More:
4. Ludlow, Vermont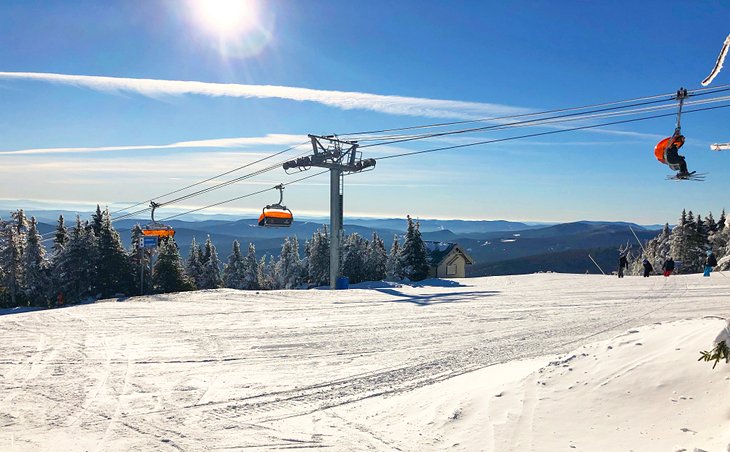 Ludlow is a charming small town in central Vermont, tucked away in the Green Mountains. Tourists will find many locally owned shops that sell vintage memorabilia, handcrafted wares, and even wool from Vermont sheep, as well as two bakeries and several excellent restaurants. There is also an abundance of sporting equipment shops thanks to the town's main attraction, Okemo Mountain Resort, a year-round outdoor playground best known for its top-notch ski conditions and industry-leading environmental sustainability efforts.
Okemo's snowmaking is what really sets it apart as a premiere ski resort, ensuring that there is great skiing and boarding even in the barest of winters. There are a staggering 121 trails across its 655 acres, 98 percent of which have snowmaking. The mountain is serviced by 20 lifts, one of which is a high-speed six-seater with heated seats, with several featuring protective bubbles to keep out the wind.
The Timber Ripper Mountain Coaster is a great thrill ride during off-slope time, and it operates year-round. Once the snow is gone, the rest of the activities get into full swing, including two 18-hole golf courses. Among other activities are scenic lift rides, zipline tours, and a mountain bike park, as well as stuff for the kids, like a climbing wall, mineral-panning, and a day camp that gives parents a chance to enjoy some alone time.
Book a stay at Jackson Gore Inn. This property offers a variety of room styles and sizes, perfect for individuals, couples, families, or groups.
5. Portsmouth, New Hampshire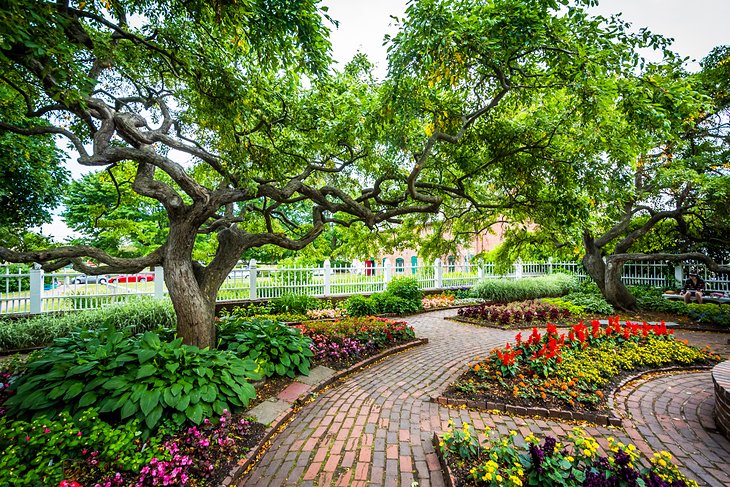 Portsmouth was one of the earliest port settlements during colonial times, and fortunately it is also one of the best-preserved. Along the Portsmouth Harbor Trail there are numerous historic sites, including the 1716 Warner House, the 1758 John Paul Jones House, and the 1763 Moffat-Ladd House which are all open for tours. An equally important historic route is the Black Heritage Trail, which highlights former slave auction sites, the abolitionist movement, and civil rights events, spanning over three centuries.
Tourists interested in seeing history in action will want to visit the Strawberry Banke Museum, a living history museum that brings Portsmouth's first settlement to life. In addition to having many buildings and homes representing its first years, dating back to 1623, this 10-acre exhibit also features representations of various periods throughout time, including a 1770 tavern and a 1940s market among many others. Throughout, there are costumed interpreters who interact with visitors, demonstrating daily chores, crafts, cooking, and other activities from their time period.
Market Square is a lovely place to explore, surrounded by brick buildings and filled with shops and boutiques, as well as a fine bakery with outdoor seating, perfect for people-watching. Portsmouth's cultural community is always active, and the majority of fair-weather events are held here in the center of town.
For a more peaceful stroll, explore Prescott Park, also host to events including the annual Prescott Park Arts Festival and numerous performances. The park, which includes lovely gardens, public docks, and plenty of harbor-view seating, sits on the bank of the Piscataqua River.
Those who want to explore the area by water can choose from several cruise operators that offer a variety of options, from sightseeing cruises around the harbor to see Fort Constitution and the Portsmouth Harbor Lighthouse to longer trips to the beautiful Isles of Shoals. Maritime enthusiasts will also want to visit the USS Albacore, a navy submarine which is now open to the public for exploration.
Tourists will find the Hampton Inn & Suites Portsmouth Downtown a convenient and comfortable place to stay during a weekend getaway, located within just a few blocks of Portsmouth's shops, restaurants, and historic attractions.
6. Mystic, Connecticut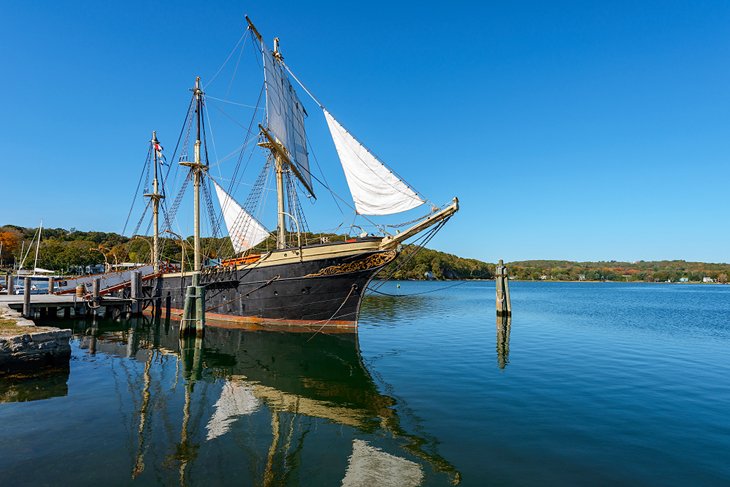 One of Connecticut's most beautiful small towns, Mystic is just an hour from New Haven and two hours from Boston, making it an easy weekend getaway. It is known for its abundance of attractions that are focused on maritime life and history and has things to do for all ages, making this a great family destination. Cruises on the Mystic River and Mystic Harbor are a wonderful way to enjoy an afternoon and get a view of the area as so many did as they approached the busy seaport.
One of the main attractions is Mystic Seaport, a huge open-air museum that recreates a 19th-century village and port. Among the dozens of buildings, you will find numerous homes, a general store, doctor's office, church, bank, and printing press, as well as a shipsmith shop, rigging loft, ship chandlery, and many other sites dedicated to seafaring life, including docked boats. All of the structures are authentic, recovered, and re-located from their original coastal homes, and living history interpreters conduct regular demonstrations.
Another excellent attraction is the Mystic Aquarium, a world-class facility with extensive aquatic galleries, which is home to a wide variety of sea life. Many of the exhibits are hands-on and interactive, like the stingray touch pool, and guests are able to see the animal rescue program operated by the aquarium. Visitors also have the option of booking up-close encounters with aquarium residents including sea lions, beluga whales, and penguins.
The Whaler's Inn is one of Mystic's top places to stay, offering a good range of accommodations, from romantic rooms with fireplaces and soaking tubs to family suites with bunkbeds and soundproofing. The property has a full suite of amenities, including free parking, complimentary breakfast, bike and canoe rentals, and electric vehicle charging.
7. Burlington, Vermont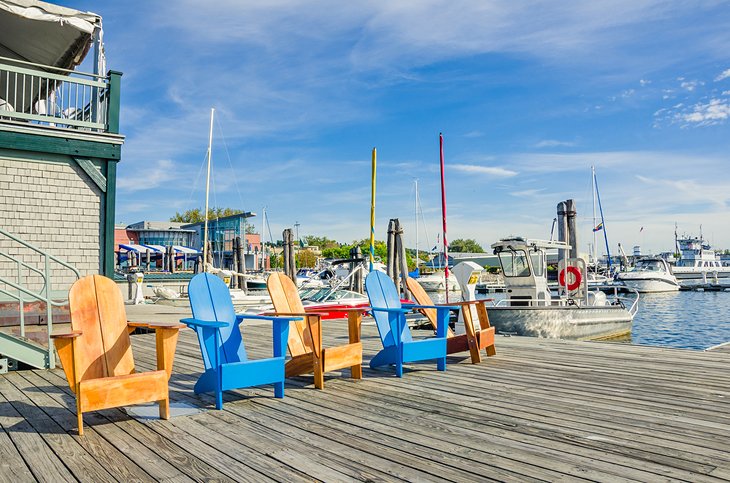 The lively college town of Burlington sits on the southeastern shore of Lake Champlain, and tourists can learn all about the area's natural history at the ECHO Lake Aquarium and Science Center, which overlooks the water. Lake Champlain cruises are a popular activity here, and visitors should always be on the lookout for "Champ," the North-American equivalent of the Loch Ness Monster, of whom there have been reported sightings since Samuel de Champlain himself first visited the lake. Waterfront Park is also right on the lake, home to gardens, walking and cycling trails, and picnic areas, as well as host to many events.
One of the city's biggest draws is its sense of community, the center of which is Church Street Marketplace in downtown Burlington. In addition to the shopping and dining, this pedestrian-only thoroughfare is almost always alive with various entertainers, artists, and passersby. Burlington's cultural and arts community is evidenced by the large number of galleries, craft shops, and performance venues, such as the Flynn Theater.
The University of Vermont campus sits on the hill overlooking the city, and here you can find the Robert Hull Fleming Museum of Art, which includes exhibits representing art throughout human history, from ancient Egypt to the present.
8. Salem, Massachusetts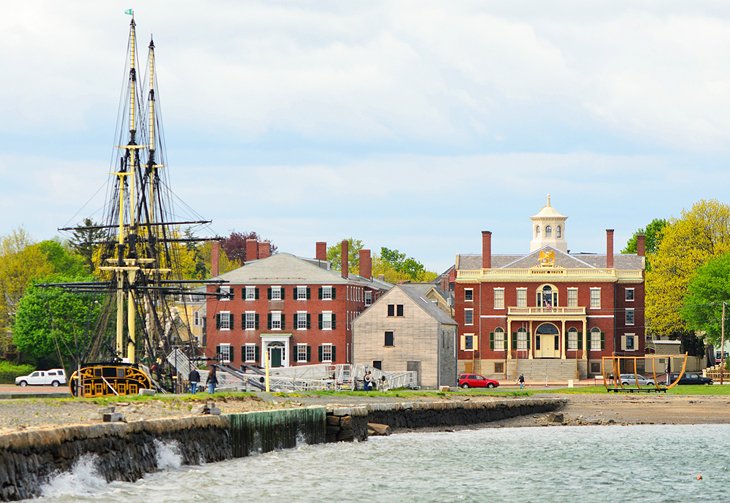 Best known for the infamous Witch Trials of 1692, Salem Massachusetts has far more to offer than tourist traps set to capitalize on the town's unfortunate past. Located in the state's beautiful North Shore region, Salem is home to a number of fine museums and historic homes, many of which are open to visitors. It is also adjacent to Cape Ann, where you can find the lovely seaside towns of Gloucester and Rockport, and just across the water from the pretty town of Marblehead.
The best-known of Salem's historic homes is the House of the Seven Gables, constructed in 1668 and made famous by Nathaniel Hawthorne. The site includes multiple buildings, including the Retire Beckett House (1655); the Hooper-Hathaway House (1682); the Nathaniel Hawthorne Birthplace (c.1750), which was moved to the grounds in 1958; and a Counting House (c.1830). There is also a visitor center, which houses a museum; guided tours are available, and the center hosts educational programming, special exhibits, and other events on a regular basis.
The Peabody Essex Museum is another top attraction, with main exhibit halls filled with collections of art from around the world. The museum complex also includes several historic buildings that are open to the public.
The Salem Maritime National Historic Site is another collection of historically significant buildings and exhibits. The single authentic site connected with Salem's dark days is the Witch House (Corwin House), the former home of one of the trials' magistrates. As opposed to focusing on the sensationalist side of the era, the home provides a look at 17th-century life and an informative narrative about the owner's connection with the trials.