11 Best Beaches in Maine
When you think of Maine, the most northern state in the east, most people would be surprised to learn it boasts more coastline than California. However, granite rocks and windswept pines scenically line most of that mileage, making water access difficult. The coveted 70 miles of sandy beaches are properly enjoyed and treasured by all who make the trip north.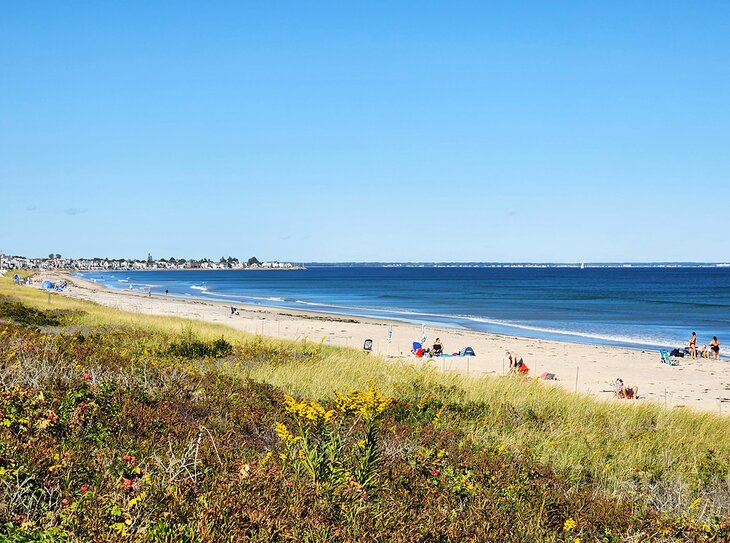 Inviting, crystal-clear waters will ease any hesitation to dip into what can be frosty temperatures.
Maritime history in the Pine Tree State is everywhere, as are an abundance of picturesque lighthouses and seafood shanties. It won't take visitors long to appreciate what a unique coastal destination Maine's beaches offer. With more than 5,000 miles of shoreline, visitors can rest assured that they will be able to find a wide variety of beach experiences.
Jewel-like coves; craggy, impressive cliffs; and some of the top beaches in the United States make for an unforgettable vacation in Maine. Find areas to relax by the sea with our list of the best beaches in Maine.
1. Old Orchard Beach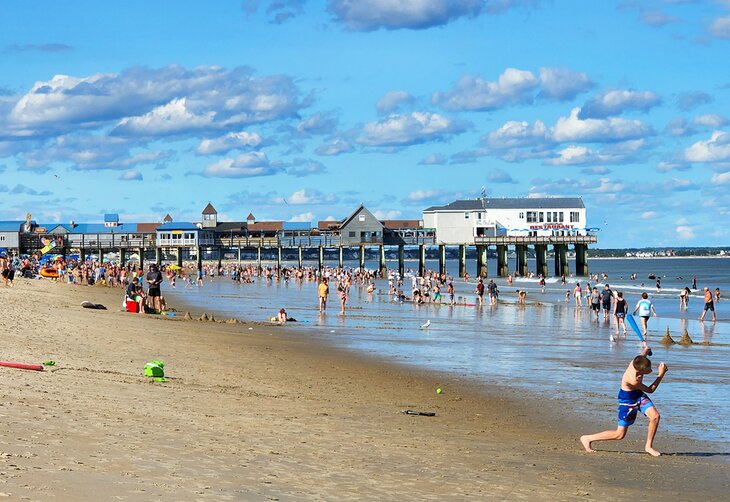 History and tradition mark the nostalgic vibe at Maine's Old Orchard Beach, a seven-mile stretch that offers beachgoers the only oceanside amusement park in New England. Sitting on four acres right next to the pier, Palace Playland Park features a Ferris wheel, a huge arcade, and more than 20 rides for both children and the young at heart.
The rides, games, and atmosphere at Palace Playland are just a few of the reasons that Old Orchard Beach (OOB to locals) is my favorite place to take the family on those special-occasion beach days. It's also home to the iconic Old Orchard Pier, a 500-foot wooden pier with shopping, restaurants, and entertainment.
While Mother Nature has taken her toll on the different restored versions of the park, the rebuilt pier stretches out 500 feet into the Atlantic Ocean and is the center of family fun. Fireworks light the sky at least once a week (check the calendar), and lifeguards are on duty during the season.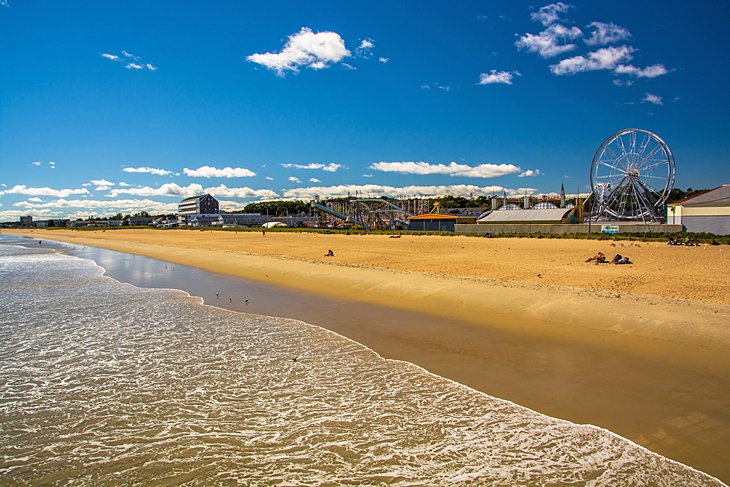 Nearby, you can find whale-watching or bird-watching tours. Golf is available at the Dunegrass Club.
Another thing I really love about OOB is its accessibility for beachgoers who don't want to mess with driving and parking. Amtrak offers the convenient Downeaster line, which runs from Boston and makes plenty of stops along the way. The station is just one block from the beach, leaving you a short walk back after a day in the sun.
The shoreline of Old Orchard Beach is literally lined with options for hotel stays. The Sea View Inn offers great value for families, a walk to the beach, and free Wi-Fi and parking. For those seeking a bit more luxury, The Beach House is right on the sand, offering free parking and Wi-Fi and rooms with kitchenettes and private balconies facing the ocean.
Author's Tip: If you're not a fan of noisy crowds, avoid the pier after dark. If you're looking for a quiet spot to eat, grab a few slices (or a whole pie) from the window at Lisa's Pizza and eat it on the beach — this pizza is so popular, you'll even find special pizza-box-shaped holes in the trash cans nearby.
Address: Seaside Avenue, Old Orchard Beach, Maine
2. Crescent Beach State Park, Cape Elizabeth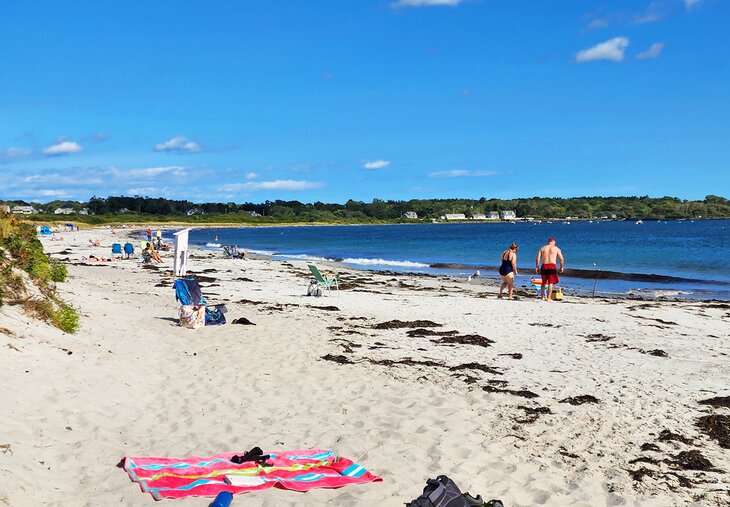 The aptly named Crescent Beach is one of Maine's prettiest spots. Along with the sandy oceanfront and saltwater coves, there are hiking trails along the water's edge and excellent facilities for lovers of water sports, including on-site kayak rentals and tours provided by Portland Paddle. Fishing, birdwatching, and of course, sunbathing are favorite activities.
This is also one of my favorite beaches because of its plentiful parking and amenities that can support big summer crowds. In addition to large (and clean) restroom, shower, and changing facilities, there is a huge shaded picnic area that gives you a sun-free place to enjoy the goodies from your cooler or the snack bar.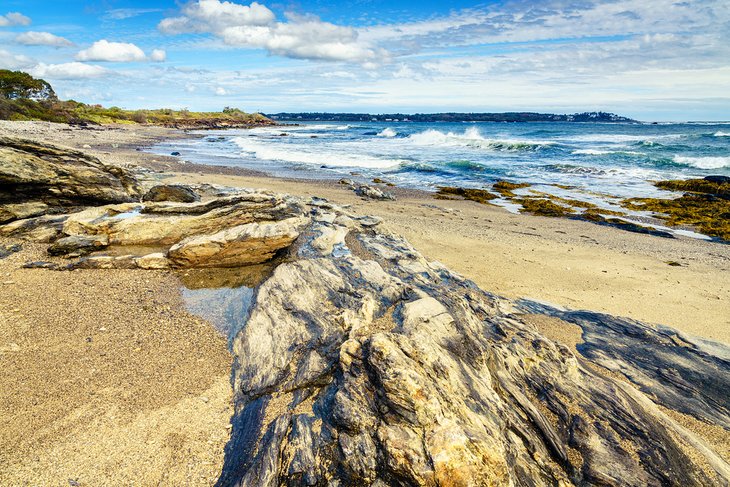 During low tide, visitors can make their way out to Richmond Island. There is a fee to enter the park, and if you're planning on visiting many Maine State Parks, a yearly pass is a good idea.
The splurge-worthy Inn by the Sea is a pet-friendly beach resort with all the bells and whistles. Choose from rooms in the main building or suites with kitchenettes and porch balconies. The spa and Sea Glass restaurant offer an elegant menu of the best local fresh ingredients. Venturing into Portland, about five miles away, good value can be found at the Holiday Inn Portland By The Bay and Best Western Merry Manor Inn.
Address: 66 Two Lights Road, Cape Elizabeth, Maine
3. Ogunquit Beach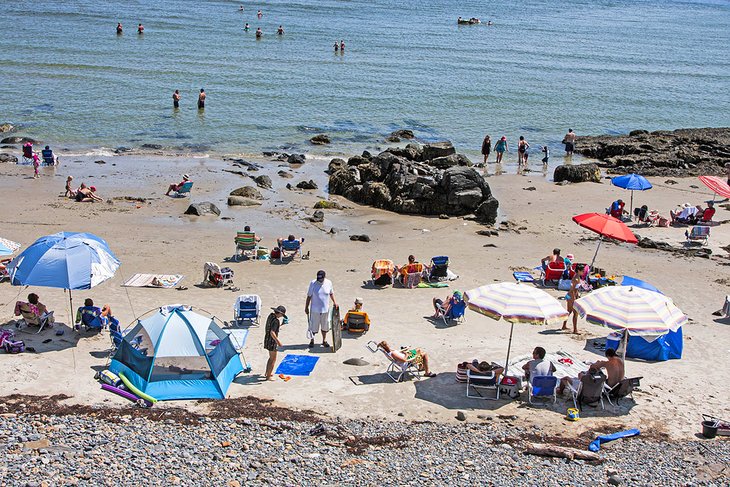 Native Americans properly named the Ogunquit area beautiful place by the sea. Known locally as Main Beach, this 3.5-mile stretch of coastline acts like a barrier island, separating the Ogunquit River from the ocean.
Often rated in lists of top beaches around the country, this white sandy stretch, where shallow waters and sandbars are the norm, can get very crowded in the summer. Make plans to arrive early and park yourself for a day of sunshine and fun. The mild surf makes it a great location for families.
It's an incredibly popular beach thanks to numerous parking options, good dining and shopping options, and an abundance of space to spread out. If you arrive early, you might be lucky enough to grab a spot right at the Main Beach lot, which is located at the end of Beach Street. This is the closest you can get, and it's where you will find most of the amenities — most importantly, ice cream.
The adjoining Footbridge Beach is actually my preferred spot, located at the northern end of the Main Beach. Although you could access it by walking, it's easiest to park at the lot at the end of Ocean Street and then cross over the river via — you guessed it — a footbridge.
This is one of my favorite spots because it's usually much quieter than Main Beach, and it's also full of photo-ops of boats in the river and wildlife in the surrounding salt marshes. The bridge itself is a popular spot for anglers, and there is a put-in for non-motorized craft located right at the parking lot.
Although the bridge and walkway are well-maintained, there are some very steep sections to get up and over the dunes, so Footbridge Beach is not recommended for wheelchairs and strollers.
Taking advantage of the ocean views, The Sparhawk Oceanfront Resort is perfectly located in this seaside town, where the Ogunquit River meets the sea. Make sure to get a room with a balcony. If you are willing to move a few blocks from the ocean, The Colonial Inn is a historic property with fully updated amenities, including a heated outdoor pool and hot tub, wraparound porch, and complimentary breakfasts; pet-friendly rooms are available, as are family suites.
Author's Tip: If you just want to spend a few minutes enjoying the view, there is 30-minute street parking near the parking lot, which has an awning-shaded seating area lined with Adirondack chairs facing the water.
4. Sand Beach, Acadia National Park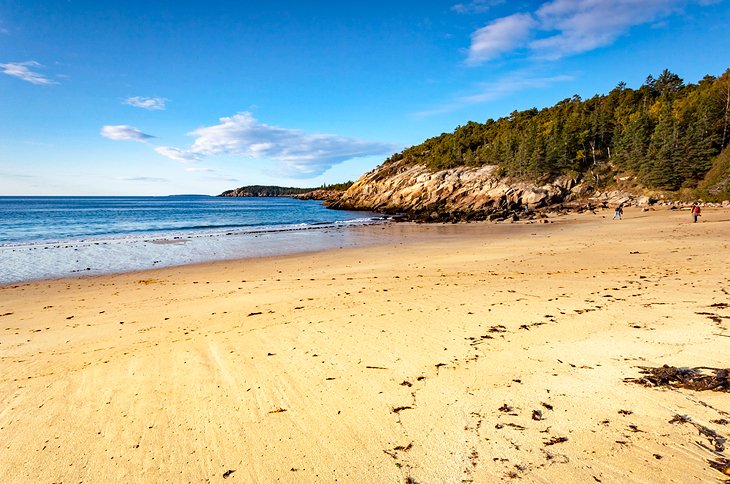 The granite and spruce islands of Acadia National Park make it a top selection for visitors who love the outdoors. In addition to amazing hiking trails with scenic views that can reach into Canada, Sand Beach is a desirable spot tucked into a small bay off Mount Desert Island.
Shells smoothed by years of pounding surf replace sand in most parts, so it's a good idea to bring water shoes if your feet are sensitive. If you're planning on spending a lot of time in the water, be aware that temperatures in the water here are often frigid, so you might also want to pack or rent a wetsuit.
The beach is just shy of 1,000 feet, with access through the park entrance. A lifeguard is on duty during the summer season, and restrooms and changing rooms are on-site. Oceanside trails follow the cliffs close to the beach for some dramatic views, and a shuttle bus offers access to different drop-off points.
Address: Park Loop Road, Acadia National Park, Mt. Desert Island, Maine
5. Wells Beach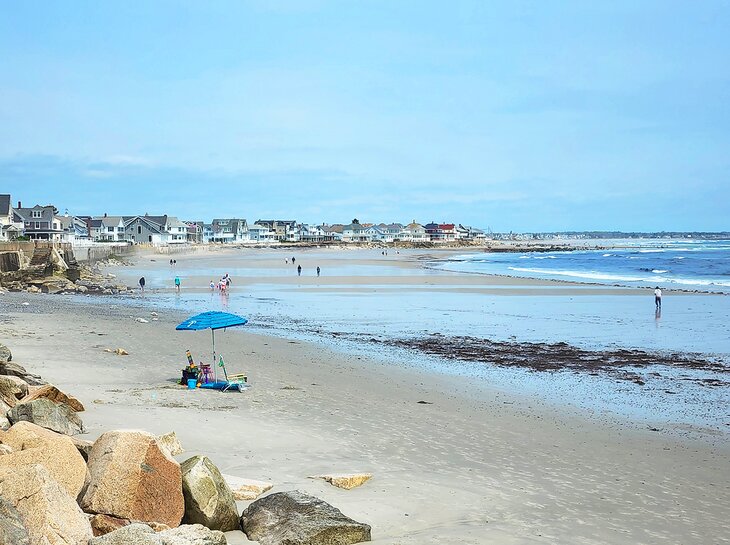 Sandwiched between the Wells Beach Jetty and Crescent Beach (not to be confused with Crescent Beach State Park), this 1.5-mile stretch of sand on the coast of Southern Maine is a postcard-worthy version of what comes to mind with the thought of a traditional New England beach experience.
Seagrass and dunes act as a buffer from Atlantic Avenue, which is the main route along the shore. The tidal pools and marshes offer wonderful spots for kids' exploration, and the jetty is a popular spot for anglers. The beauty and location of this area makes it popular in the off-season as well.
Adventurers who like to get on the water will find access to kayak and boat rentals in the area. Amenities include restroom facilities, a snack bar, and gift shops, as well as an arcade and a few restaurants. One of my favorite things about Wells Beach is its size — even on the hottest of days, there is plenty of room to spread out on the sand to relax.
You can find free parking at the end of Mile Road, and there is also a large public lot (with a fee) located at the far northern end of Atlantic Avenue near the seawall; you'll find fewer amenities at the end of the beach, but it's a good option if you have brought your own cooler. There are also several private homes and resorts along Atlantic Avenue that offer parking for a fee, some of which are very convenient to the sand.
Adjacent Moody, Crescent, and Drake's Islands beaches provide other good beach options along this stretch of the Southern Maine coastline. Nearby, golf courses are plentiful, and lighthouse boat tours are also available.
For the typical New England bed-and-breakfast experience, the Holiday Guest House Bed & Breakfast is a good choice for couples who want a romantic getaway in Wells. This adults-only B&B features both the beach and a pool, as well as a lovely terrace and on-site entertainment. The Elmwood Resort Hotel is an excellent option for families, offering a large pool and suites with up to three bedrooms and fully equipped kitchens.
Address: Atlantic Ave., Wells Beach, Wells, Maine
6. Kennebunk Beach (Mother's Beach)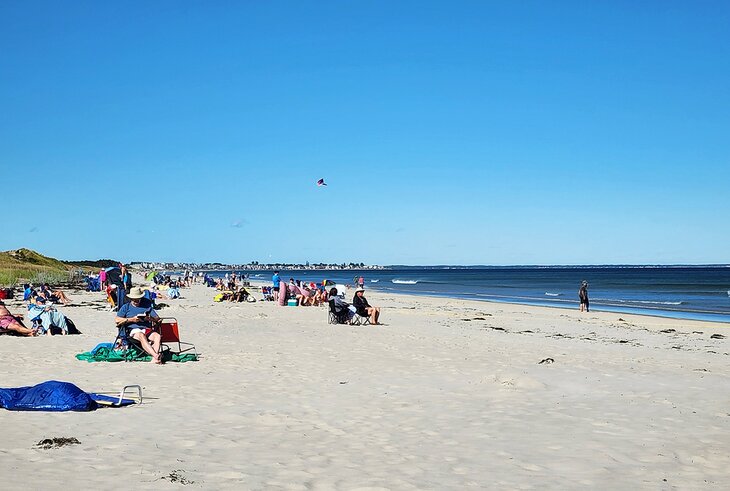 While the Kennebunks might be well-known for their shopping, this area can also boast about some beautiful beaches. Kennebunk Beach, aka Mother's Beach, is a short and sandy section with protected waters and awesome views. The sand here is a good example of the concept of sand as talcum powder — soft and gentle on the feet.
The ribbons of beaches all connect to one another. Stickers are required from June thru September and can be obtained at Town Hall. Amenities are few, but there are portable toilets and seasonal lifeguards. The beach's modest size and modern playground make it a favorite for families who have school-aged kids.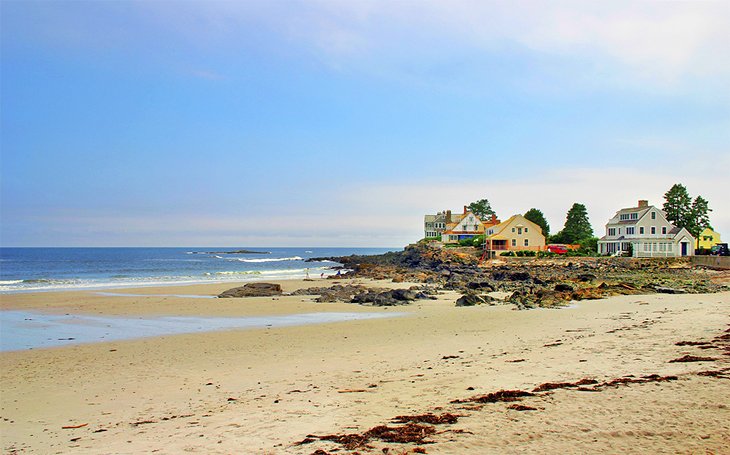 Dogs are welcome on the beach off-season before 9am and after 5pm, and must be under the control of their owners. Make sure to check the calendar for different activities and festivals taking place throughout the year.
The Kennebunks are renowned for their fantastic bed-and-breakfast accommodations. Combining history and charm, Kennebunkport Captains Collection and 1802 House Bed & Breakfast Inn are favorites that also offer sumptuous breakfasts, keeping guests returning year after year.
The Nonantum Resort is an excellent option for families or those looking for an extra-special getaway, offering an astounding range of on-site activities and amenities.
Address: Beach Avenue, Near Routes 9 & 35, Kennebunk, Maine
7. Popham Beach, Phippsburg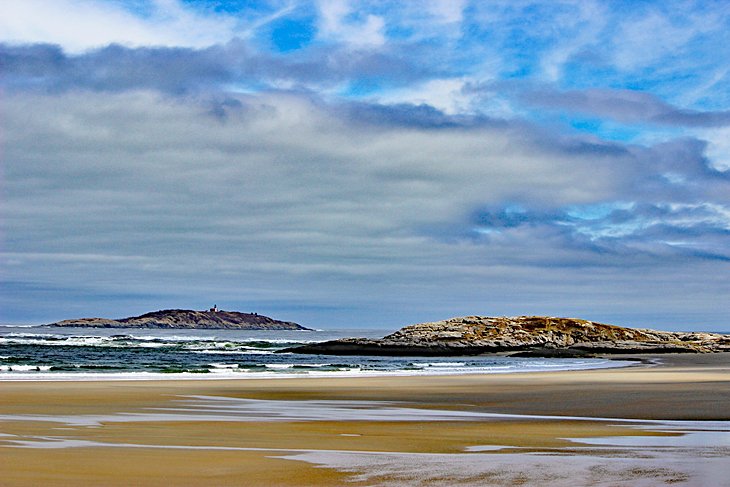 Many call Popham beach one of the most undeveloped beaches in Maine. From year to year, the shifting sands change the shoreline, but never the beauty of this beach. The three-mile sweep of sand is an unspoiled paradise for summer visitors. Surfers and strong swimmers are lured by the rolling waves, but caution is urged of the area's strong current and occasional riptide.
At low tide, tourists can make their way to the nearby Fox Island; just take care to watch the timing of the incoming tide. This scenic spot is a beach to suit many different interests.
Nearby in Sebasco Estates, the Sebasco Harbor Resort has water views and a wide range of activities for the entire family, including a golf course, tennis courts, outdoor pool, boating, fishing, and hiking. There is also a kids' club and babysitting available, perfect for when the grown-ups want to get pampered at the on-site spa.
Address: 10 Perkins Farm Lane, Phippsburg, Maine
8. Higgins Beach, Scarborough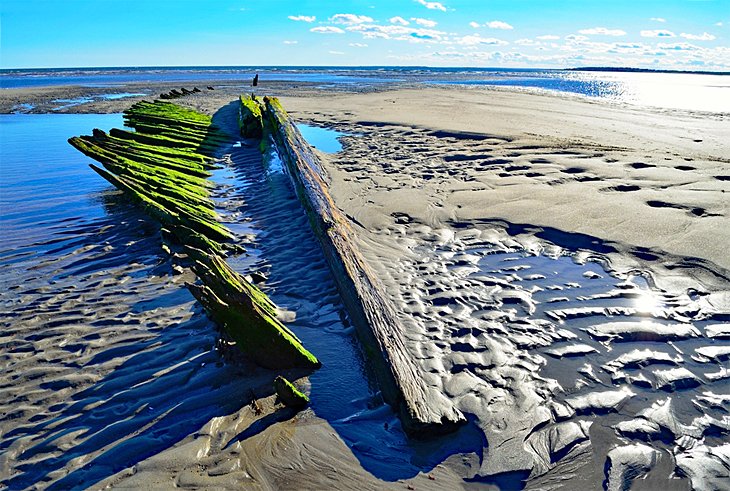 Care for a shipwreck with your beach experience? You'll want to head to Higgins Beach for an unusual scenic display in the sand that makes for a great photo op. At low tide, this historic spot is complete with the skeleton of a boat exposed directly in the sand. Located at the end of a charming residential summer neighborhood, Higgins is well-known for warmer water temperatures, a surfer vibe, and good fishing. A short drive away are two state parks, as well as great settings for kayaking.
Parking can be tricky, but staying at Higgins Beach Inn, a short walk away, solves the problem. The on-site restaurant has a great reputation for tasty seafood. Surrounded on three sides by the Atlantic, the Black Point Inn Resort is a charming property saturated with many years of history. The rugged coastline Maine is known for shines bright at the tip of Prouts Neck, and you'll find excellent dining on-site. The ambiance and ocean views make for a memorable experience.
Address: Bayview Avenue, Scarborough, Maine
9. Songo Beach, Sebago Lake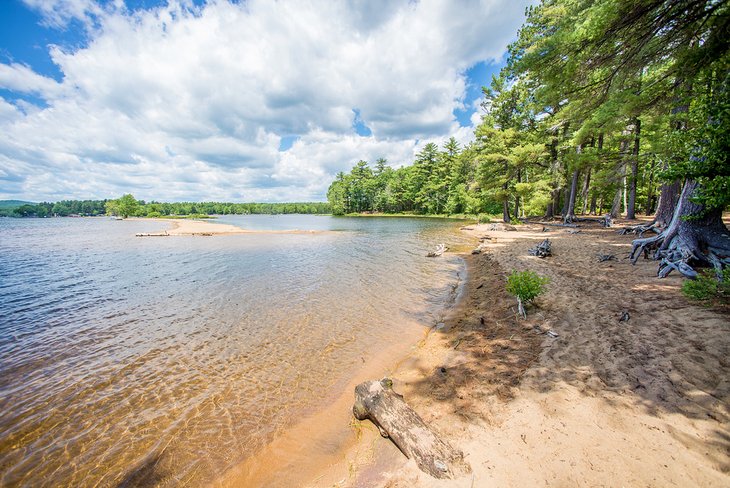 This beach is a favorite for families because of its gradual slope and extended sand bar, and is by far the most popular freshwater beach in Maine. Located in Sebago Lake State Park on the northern end of Sebago lake, the beach area offers restrooms and showers, and lifeguards are on duty during the summer. There is a good concession stand and grills, and the wooded surroundings provide plenty of shade to picnic.
Visitors can also canoe and kayak, or use the public launch for motorized boats to explore Sebago Lake's 45 square miles. In addition to its beach and water sports, Sebago Lake State Park offers plenty of space to explore on the hiking and cycling trails, as well as 250 campsites.
Address: 11 Park Access Road, Casco, Maine
10. Ferry Beach, Scarborough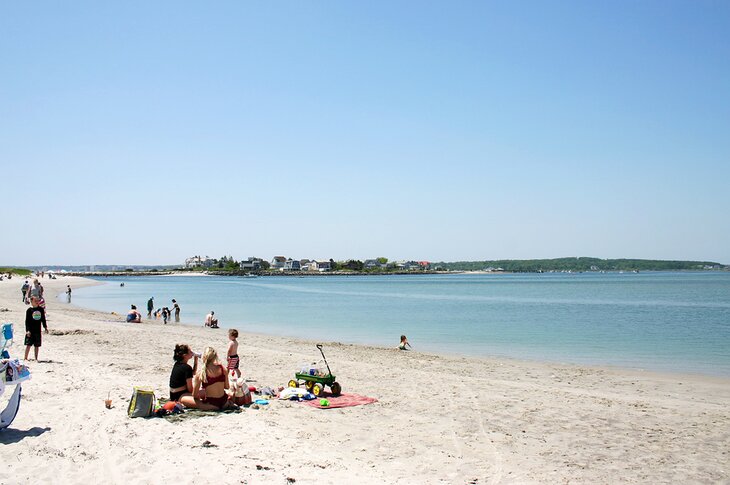 This well-protected swimming area is much smaller than its neighbors, but also lesser-known, making it an excellent place for families with small children who want to avoid the big crowds. Not to be confused with Ferry Beach State Park in Saco, this scenic spot sits inside the mouth of the Nonesuch River where it enjoys very little wave activity and often zero undertow.
This beach is not staffed with lifeguards, but there are restrooms with showers on-site. Parking fees are per-car with reduced rates for afternoon-only, making this a more affordable option for families and groups, and the smaller lot size ensures that you won't have to worry about finding a nice spot on the sand.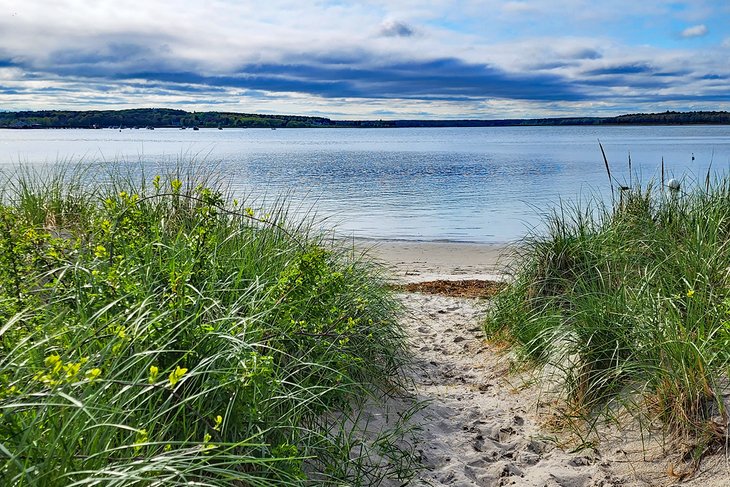 Another good Scarborough beach is Pine Point Beach, located just across the mouth of the river. It's a shorter drive if you're looking for a beach near Portland but want somewhere less hectic than its neighbor, Old Orchard Beach.
Author's Tip: Don't try sneaking a spot along the road to save a few dollars on parking — a private golf course borders the length of the beach, and they will tow your car. But, if an errant ball happens to land on the sand near you, fair play says it's yours to keep.
Address: Ferry Road, Scarborough, Maine
11. Scarborough Beach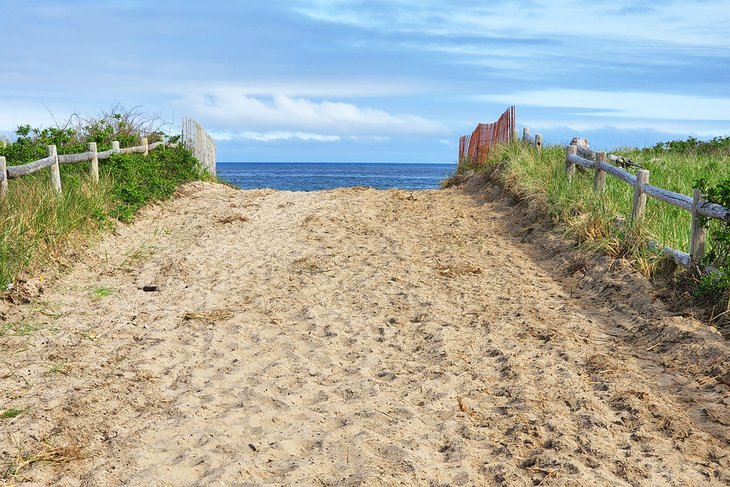 Scarborough Beach is located in Scarborough Beach State Park, a 60-acre nature area located just north of Old Orchard Beach. Unlike its busy neighbor, this beach doesn't get as crowded during the summer, although visitors should plan to arrive early to secure parking.
From Memorial Day through Labor Day, amenities include lifeguards and bathroom facilities with showers. Although there are no permanent on-site vendors, food trucks are here daily during the summer, offering refreshments, snacks, and filling meals to eat at the picnic tables.
Unfortunately, Maine State Park pass holders still have to pay to access this beach, and it's a per-person fee that is higher if you will be surfing — up to $19 for non-residents — so it might not be the best choice for families or groups. There is a level walk from the parking area to the beach, although if you get there later in the day, you will have to walk quite a distance.
Address: 870 and 970 Ocean Road, Scarborough, Maine