15 Best Things to Do in North Conway, NH
North Conway, in the heart of New Hampshire's White Mountains, is frequently named New England's Number 1 Ski Town because there are so many things to do here in the winter. But there are just as many reasons for you to visit North Conway in the spring, summer, and fall.
North Conway is as well known to shoppers as it is to skiers, with one of New England's largest concentrations of outlet stores, as well as tax-free shopping. But shopping attractions don't end at the Settlers Green Outlets. The charming and compact downtown is filled with independently owned shops where you'll find everything from local crafts and foods (think wild blueberry jam) to a toy shop and an original 5 & 10 cent store.
Kayakers, mountain climbers, and hikers find North Conway a perfect base for outdoor sports, and families will find plenty of things to do with children at Cranmore Mountain's Adventure Park and nearby Story Land.
Couples will find romantic country inns and almost endless dining options.
You'll never run out of places to visit in and around North Conway, so begin planning your trip with the help of this handy list of the top things to do in North Conway.
1. Ride the Conway Scenic Railroad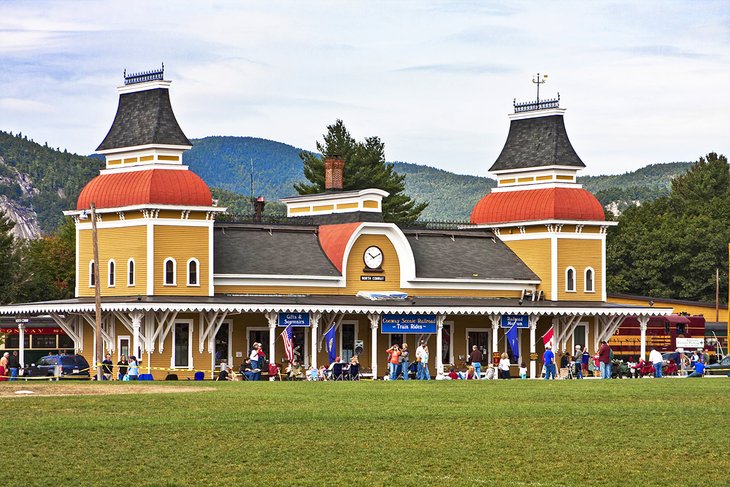 In the center of North Conway, it's hard to miss the Victorian rail station with its red roof and Russian-style towers. The station has welcomed tourists to the White Mountains since 1874, and today it's the departure point for the Conway Scenic Railroad.
Train excursions travel down the Saco Valley to neighboring Conway, with ever-changing views of the river, Cathedral and White Horse ledges, Moat Mountain, and the peaks of the Presidential Range to the north. You can reserve lunch in the elegantly restored dining car.
Longer rides travel north into the rugged landscapes of Crawford Notch, crossing waterfalls and a hair-raising trestle as the train climbs through the notch. These northbound trips are especially beautiful in the fall when the foliage has turned to reds and yellows.
Address: Main Street, North Conway, New Hampshire
Official site: www.conwayscenic.com
2. Drive the Kancamagus Highway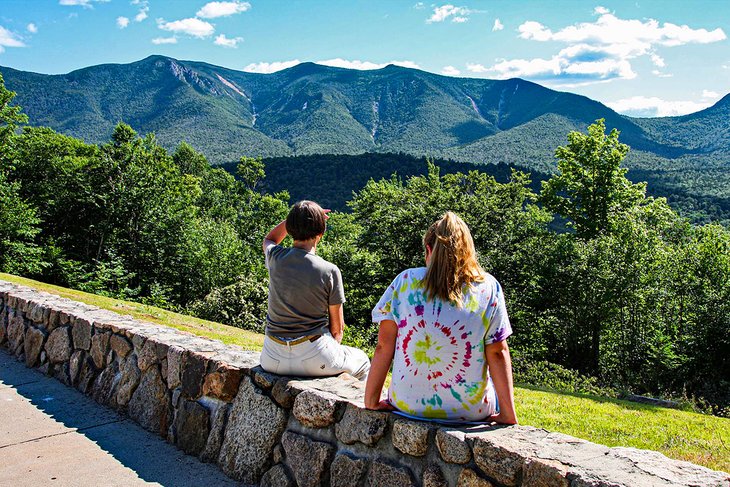 For lofty views of the White Mountains and an exciting drive, take a day trip over the Kancamagus Pass. The Kancamagus Highway climbs from Conway to an altitude of 2,855 feet, then drops in a precipitous series of hairpin turns to Lincoln, on the Western slopes of the White Mountains.
Stop at overlooks on the way up to look out over the vast wilderness of the White Mountain National Forest. At the very top, look sharp for the entrance to a large scenic overlook to the left for even more dramatic views of the layers of mountains.
On the Conway side, before you begin the long climb, stop to see Rocky Gorge and Lower Falls, along the Swift River or to take a short walk to Sabbaday Falls.
3. Ski or Play at Cranmore Mountain Resort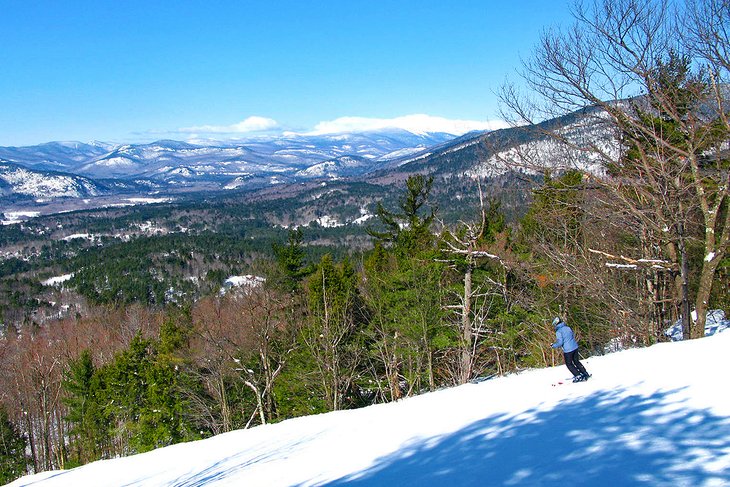 One of America's first ski resorts, Cranmore made North Conway a weekend tradition for New England skiers, who arrived from cities on special Snow Trains. The first ski school opened in 1936 and the rest is ski history.
Today, nine lifts whisk skiers to the mountain's 56 trails, accessing more than 200 skiable acres. The west-facing slopes mean that skiers have some of the finest views of the snowcapped peaks of Mt. Washington and the Presidential Range, adding to the many reasons this is one of New Hampshire's top ski resorts.
Along with skiing, Cranmore has a multi-lane tubing hill; a Mountain Coaster; and a year-round Mountain Adventure Park with a Giant Swing, Soaring Eagle Zip Line, and age-appropriate activities that make Cranmore Mountain Resort one of the most popular places to go for families.
4. Climb or Enjoy the View from Cathedral Ledge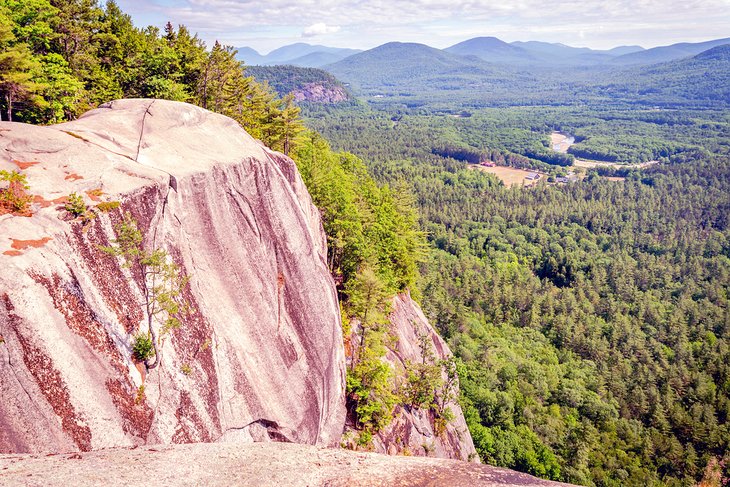 On the opposite side of the valley from Cranmore Mountain, you'll see the lofty Cathedral Ledge, and, south of it, White Horse Ledge. Both landmarks are favorite places to visit for rock climbers (and ice climbers in the winter), known as two of the best trad cliffs in the country.
Watching the climbers' progress up the 700-foot vertical ledge is a popular thing to do, and you can drive (or walk) up the mile-long road to the top for views across the Saco River Valley to the White Mountains. Part of the top is protected by a fence, but not all, so this may not be a good choice for families with young children.
If you'd like to learn rock climbing from the pros, North Conway's International Mountain Climbing School has equipment and lessons for all skill levels.
5. Shop at Zeb's General Store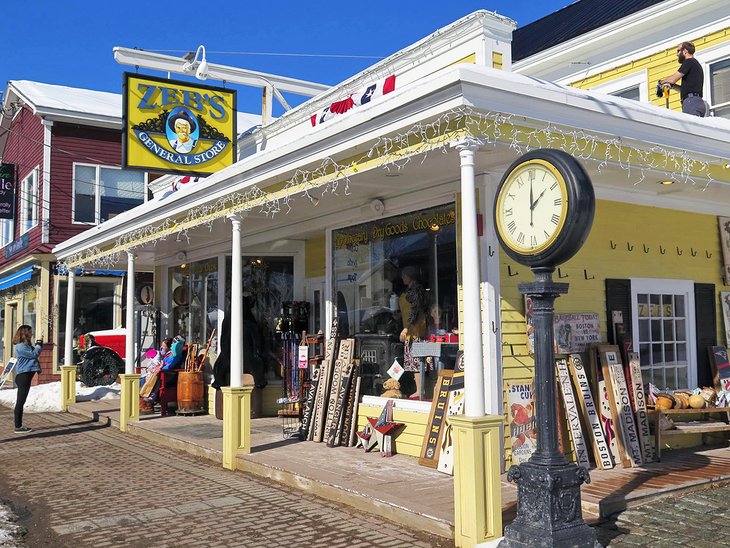 Zeb's bright yellow storefront is a standout on Main Street. Inside, displayed among the antique store fixtures, you'll find old-fashioned general store favorites: dill pickles in a barrel, aged cheeses, and an array of penny candy (alas, no longer a penny) that will keep the children busy choosing while you shop the boggling selection of New England-made specialty foods.
There's Moxie (and Moxie T-shirts for the truly committed); Coke in bottles; and old-fashioned favorites like piccalilli, pickled fiddleheads, and wild blueberry jam; there are enough hot sauces to fire a rocket. Alongside the fragrant balsam pillows, sock monkeys, and stuffed moose toys, you'll find hand-made herbal soaps and New Hampshire's own Badger Balm.
There are enough surprises and some silliness (the talking moose, for example) to make shopping there an adventure. When you've browsed all the foods on the main floor, follow the sign that says "More Wicked Good Stuff Upstairs." Zeb's will soon have you talking like a Yankee.
6. Hike to Diana's Baths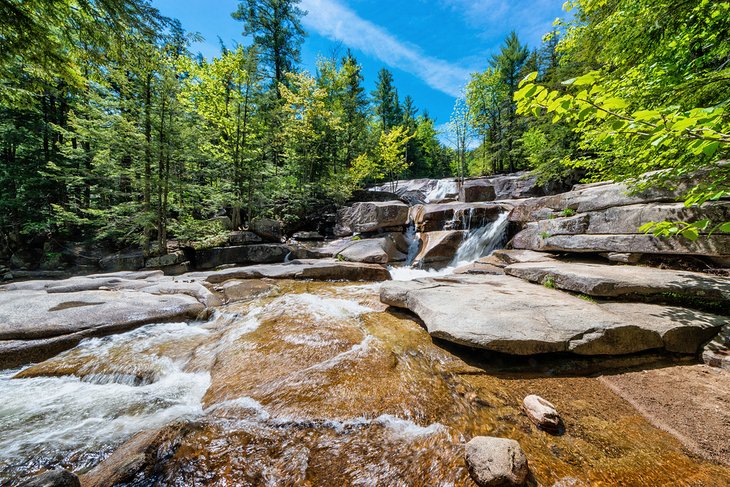 From West Side Road, an easy three-quarter-mile trail leads through the woods to Diana's Baths, a series of cascades and pools across descending ledges. As the water flowed and swirled since the glaciers covered these hills, it has carved and smoothed the granite, scouring out potholes, basins, and chutes.
As you climb higher, the ledges become flatter, and the scoops and swirls in the store become even larger and more dramatic. The falls were once used to power a small grist mill, whose foundations and water chute you can still see.
7. Shop at the North Conway 5 & 10 and along Main Street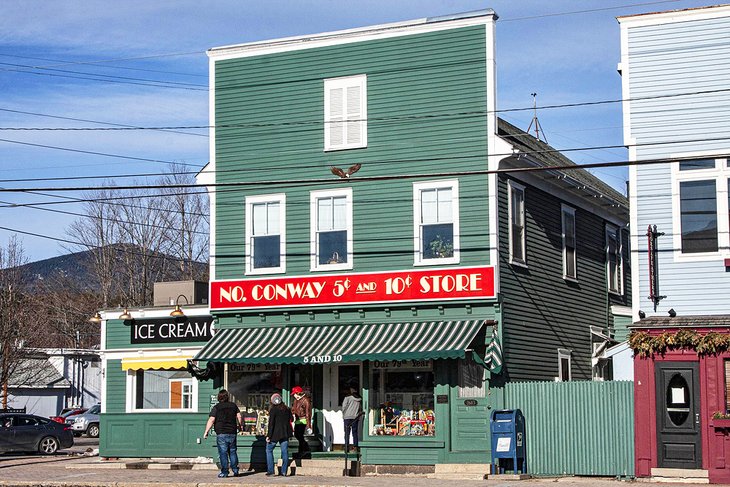 A one-stop shop for outfitting your retro kitchen, this 5 & 10 is the real thing, in its Main Street location since 1939. You'll find rolls of oilcloth, calico cover-all aprons, Raggedy Ann dolls, Bon Ami scouring powder, and a wall of timeless kitchen gadgets. You'll also find wind-up and tin toys and a good selection of books on the White Mountains and Women's history, as well as classics for young adults. It's a browser's paradise.
Main Street, which is also Route 16/302, is lined with small independent shops, enough for a day's browsing. Look for Penguin Gallery for quirky home décor and gifts, Beggar's Pouch for beautifully handmade leather work, The Toy Chest for quality toys and games, Naked Bohemian for metal sculpture, and House of Jerky.
Nancy's Yarn Shop is a few steps away on tiny Norcross Street.
8. Cool off in Echo Lake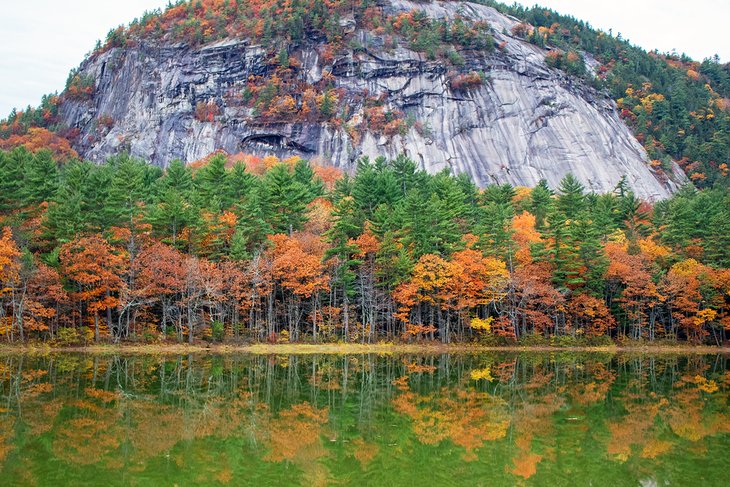 Also reached from West Side Road, and under the rock face of White Horse Ledge, Echo Lake is one of New Hampshires's loveliest lakes, surrounded by trees and with a beach on one side. Echo Lake State Park has a bathhouse, and the sandy beach has a long area of shallow water, making it a favorite place to go for families.
Echo Lake is ideal for kayaking as well, with its wooded shores and no motorized boats to stir the water. You can put in right at the beach.
You can also circle the lake by a trail through the woods, for more views of the lake and ledges. Several other hiking trails begin here.
Address: 68 Echo Lake Road, North Conway, New Hampshire
Official site: https://www.nhstateparks.org/visit/state-parks/echo-lakes-state-park
9. Marvel at the Madison Boulder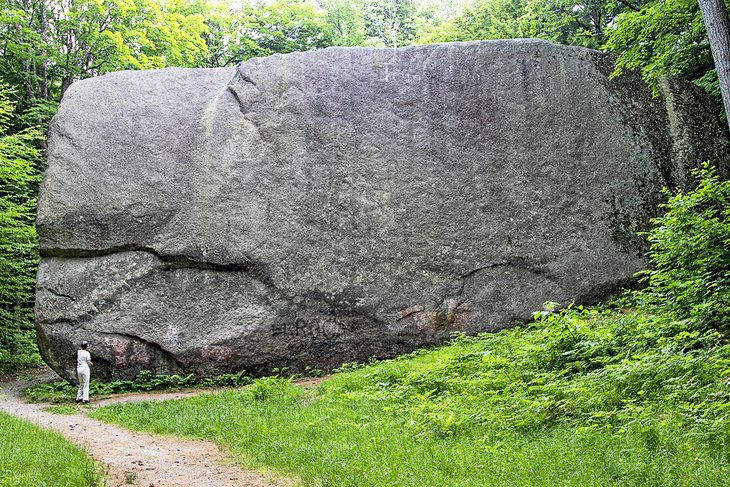 Less than half an hour south of North Conway is an astonishingly big boulder, the largest known glacial erratic in North America. Stripped from the mountain tops and carried for miles as the glaciers receded and moved south, these erratics are scattered across the entire state of New Hampshire, but none anywhere near the size of this 5,000-ton rock.
The Madison Boulder rises 83 feet above the forest floor, and even if you expect a big rock, it still comes as a surprise as you round the bend in the trail and see it for the first time. You get to the boulder by a level walk of about half a mile from the parking area.
Address: Route 113, Madison, New Hampshire
10. Take a Moose Safari Tour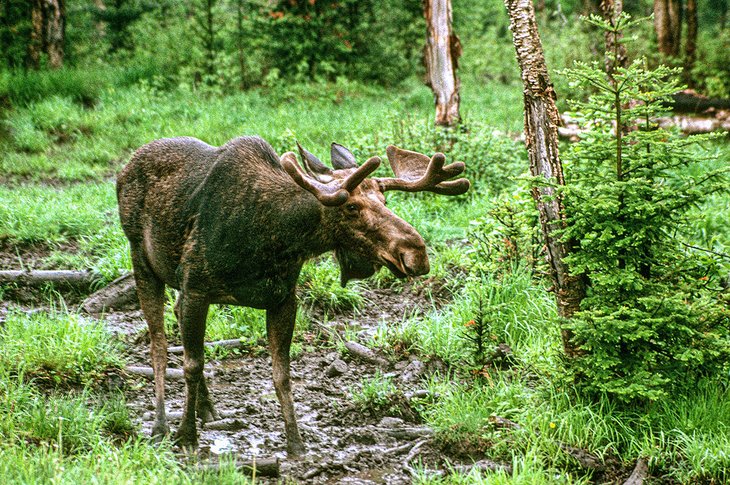 While it's possible to see moose beside – or on – the road, especially in the evening or at night, the best way to be sure of watching the huge ungainly animals at close range – and safely – is on a moose safari.
The North Conway Moose Safari drivers and guides know all the area roads and the places that moose like to graze in the evening, so not only are you more likely to see them, but you are able to photograph them safely from the opened windows of the bus.
Because these are wild animals, no one can guarantee where they will be at any time, but the viewing record of these trips is impressive. While riding in the bus looking for moose, you can watch films to learn more about moose and their habits. Tours leave at 8pm and return about midnight.
Official site: https://www.mwvmoosetours.com/
11. Go Kayaking or Tubing on the Saco River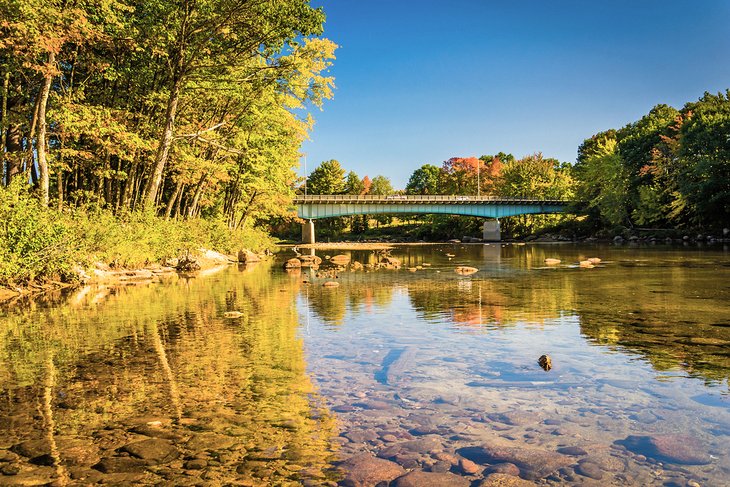 Throughout the summer, the Saco River flows smoothly through North Conway over a sandy riverbed, with enough riffles to make kayaking and tubing fun, but still safe for beginners. Put in at the beach by First Bridge (on River Road) and take out at Davis Park by the covered bridge in Conway.
For a more exciting run with some Class II rapids, begin at Davis Park and take out at Smith-Eastman Town Park in Conway. You can rent kayaks from several outfitters in the area, who also provide shuttle service. Saco Canoe Rental is next to Davis Park.
Saco Bound has canoe, kayak, tube, and standup paddleboard rentals with transportation included, and they do guided overnight kayak and canoe trips with riverside camping.
12. Photograph the Conway Covered Bridges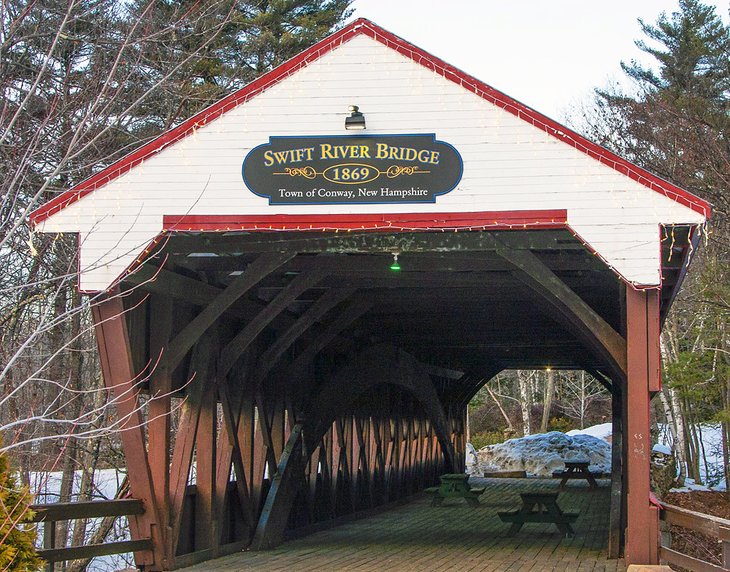 While covered bridges are fairly common in New Hampshire, they are rarely as close to each other as they are in Conway. From Main St. (Route 16), follow Washington St. (it's opposite the brick library), and you'll see the Saco Bridge to the right. Crossing the Saco River, it was built in 1880, in what's known as the Paddleford Truss style of construction.
If you follow Washington St. to the left, you'll see an earlier bridge, built in 1870, which crosses the Swift River just before it flows into the Saco. You can drive through the Saco Bridge, but the Swift River Bridge is closed to traffic (you can picnic in it, however). Washington St. turns into West Side Road and will take you on a more scenic route into North Conway.
13. Browse in the League of NH Craftsmen Gallery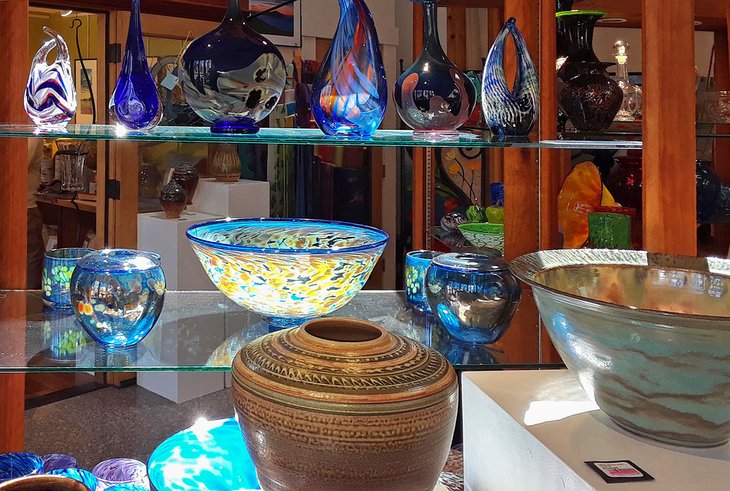 South of the Main St. shops, the League of NH Craftsmen Gallery isn't just another craft co-op shop. Browsing among its juried works seems more like visiting a museum, with heirloom quality pieces in all mediums.
Brilliant colors and forms of blown glassware catch the eye first, then the luscious flowing colors of shibori-dyed silk scarves. Some artists use motifs drawn from the surrounding landscape: coffee mugs shaped like sections of birch tree, a honey pot with an acorn lid, bright cardinals and goldfinches made of blown glass, silver earrings in the shape of butterfly wings, copper enameled bowls with fern designs, a winter landscape in stained glass.
Others work in natural materials, turning a wooden salad bowl from a maple burl or creating a necklace of caged river stones. The entire collection is a feast for the eyes.
Address: 2526 White Mountain Hwy. (Route 16/302), North Conway, New Hampshire
14. Visit the New England Ski Museum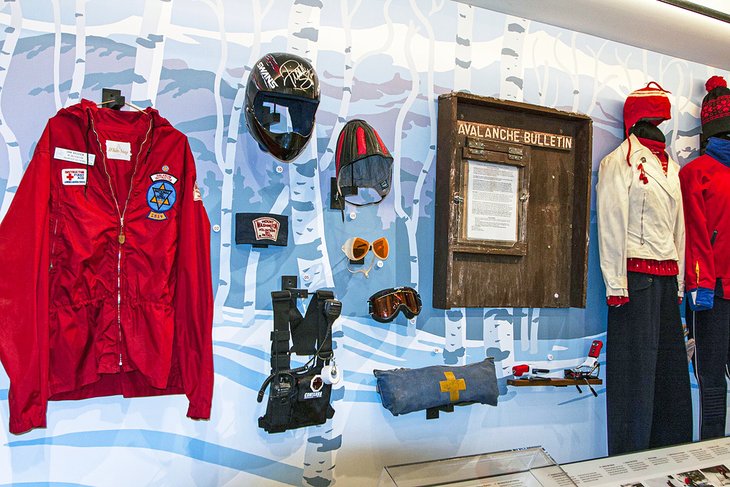 Just south of Schouler Park, the New England Ski Museum is a compact trip through the history of North Conway's favorite sport. Through a mix of ski equipment, artifacts, clothing, videos, memorabilia, and signage, visitors learn about the origins of skiing and how the famed World War II 10th Mountain Division was instrumental in bringing sport skiing to America.
You'll see a parade of skis, from long, straight wooden skis to today's parabolic shapes, which originated in the 1990s.
The museum is one of two branches of the New England Ski Museum; the other is in Franconia Notch at the base of the Arial Tramway.
Address: 2628 White Mountain Highway (Route 16/302), North Conway, New Hampshire
Official Website: http://newenglandskimuseum.org
15. Go Ice-Skating in Schouler Park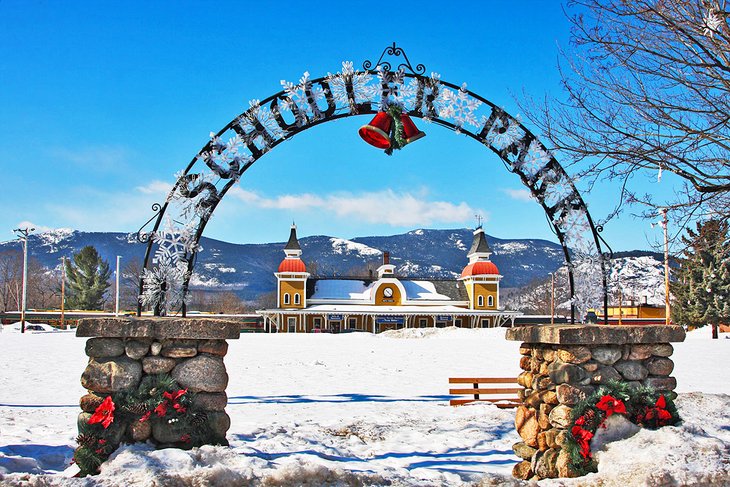 In front of North Conway's Victorian Railway Station, the grassy Schouler Park is busy year-round, with a playground, a fountain, paved paths, benches, and a ball field, making it a popular place for families.
The July 4 celebration and fireworks are held here, and the park is the scene of various festivals throughout the year.
In the winter the park remains a popular place to go, with a free public ice-skating rink featuring well-groomed ice, good lighting for night skating, and a warming hut. You can rent skates here, as well.
Map of Things to Do in North Conway, NH
North Conway, NH - Climate Chart
Average minimum and maximum temperatures for North Conway, NH in °C
J
F
M
A
M
J
J
A
S
O
N
D

-2

-14

1

-13

6

-7

12

-1

20

6

24

11

27

14

26

13

22

7

15

1

8

-3

1

-9

PlanetWare.com
Average monthly precipitation totals for North Conway, NH in mm.

106

80

103

105

100

103

102

105

92

111

111

103

Average monthly snowfall totals for North Conway, NH in cm.

58

37

38

14

0

0

0

0

0

1

13

51
Average minimum and maximum temperatures for North Conway, NH in °F
J
F
M
A
M
J
J
A
S
O
N
D

29

7

34

9

42

20

54

31

68

42

76

52

81

57

79

55

71

45

59

34

46

27

34

15

PlanetWare.com
Average monthly precipitation totals for North Conway, NH in inches.

4.2

3.1

4.1

4.1

4.0

4.1

4.0

4.2

3.6

4.4

4.4

4.0

Average monthly snowfall totals for North Conway, NH in inches.

23

15

15

5.7

0

0

0

0

0

0.3

5.0

20