15 Top-Rated Things to Do in Ogunquit, ME
We may earn a commission from affiliate links ()
The coastal Maine town of Ogunquit ticks all the boxes: superb beaches, a picturesque fishing harbor, a well-known summer theater, an artist colony, and a laid-back holiday vibe. What more can you ask for in a perfect seaside vacation?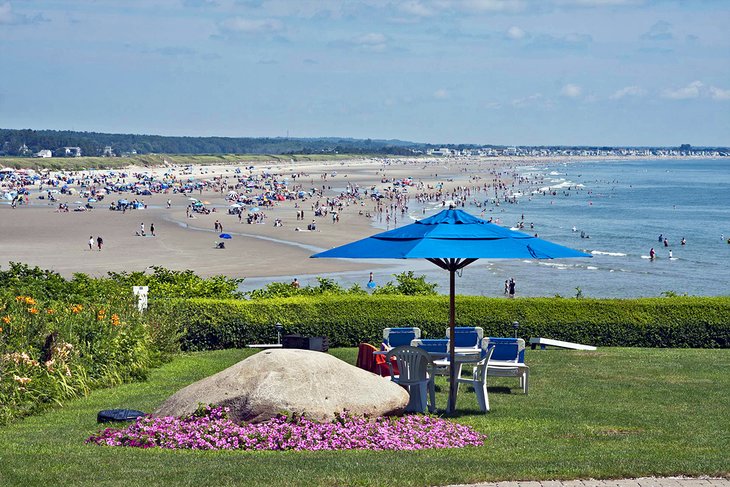 Although the beach is one of the top attractions in Maine and certainly the main attraction for most tourists, there are plenty more things to do in Ogunquit. Marginal Way is one of New England's premier coastal walks, and for photographers (not to mention shoppers), Perkins Cove is one of the first places to visit in Ogunquit.
Couples will have no trouble finding restaurants for a romantic evening, or they can take in a Broadway show at the Ogunquit Playhouse. Art lovers can take a break from the beach in an excellent museum of American art or in the town's many galleries and studios.
Active travelers can kayak in the river, and the famed 3.5 miles of golden beach is the favorite place to go for families.
You'll find it easy to plan a beach getaway with this list of the best things to do in Ogunquit.
1. Walk along Marginal Way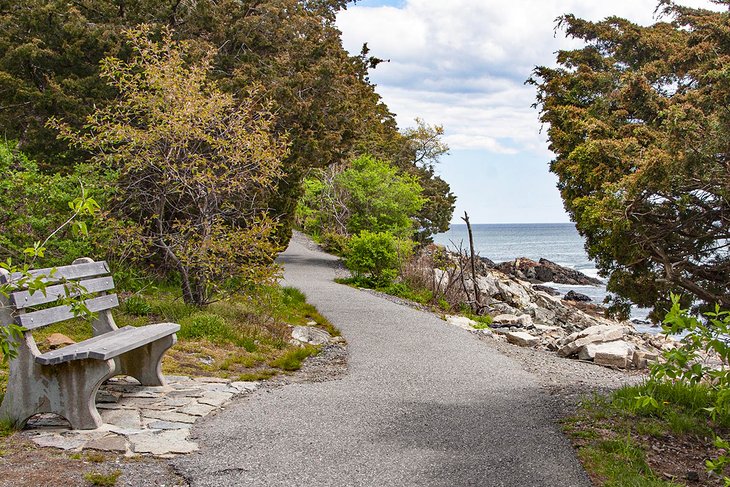 This paved walking path along the shore from the beach to Perkins Cove is a beautiful way to see the rocky coast and the waves crashing on the rocks. As an added benefit, tucked in among the rocky cliffs are a series of small sandy coves that offer a different and more intimate beach experience.
Pick a favorite cove, dive in the Atlantic, then spread a beach towel on a warm granite outcrop or the sand to warm up and absorb the sun.
A gift to the town in the 1920s, the path is for walkers only (no bikes, no dogs from April to October) and runs about 1.25 miles from near The Sparhawk Oceanfront Resort on Shore Road to Perkins Cove.
All along the path, there are benches conveniently placed, both on the path and on overlooks above the sea. Return to town on the Marginal Way, walk back along the shady Shore Road, or take the trolley.
2. Swim at Ogunquit Beach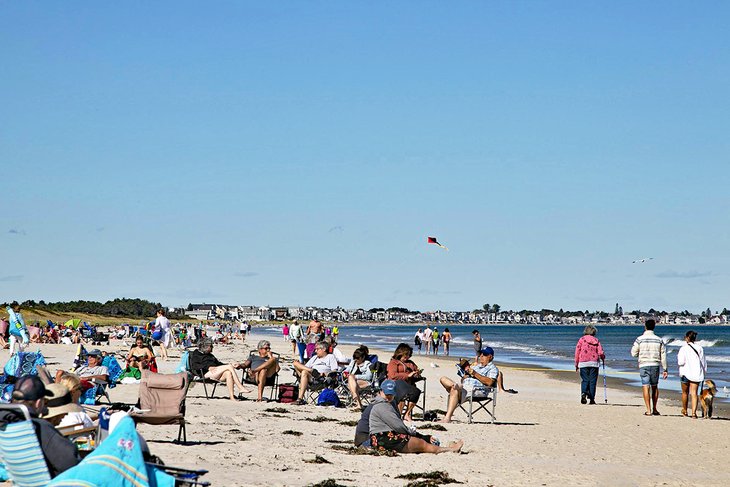 One of the best beaches in the Northeast, Ogunquit Beach is set apart from the town by the shallow Ogunquit River and a stretch of natural dunes. The river that separates the approximately three and a half miles of fine sandy beaches from the main part of town leaves traffic far away from the sunbathers on the beach.
Ogunquit Beach has a gentle slope to the sea, which means that low tide leaves a lot of beach space. You can plan your day using the tide chart (hotels have them, and it is posted near the beach and along Marginal Way).
The soft white sand is perfect for serious sandcastle building, walking, and gathering a few rays. This is a good beach for swimming, as the sea water is warmer here than at some other Maine beaches, reaching the mid 60s in July and August.
The most direct route to the beach from Route 1 is via Beach Street, where a bridge leads to the sand and to parking. Distances are so short here that you can walk to the beach from many of the hotels and inns.
Read More: Best Beaches in Maine
3. Shop and Take Photos at Perkins Cove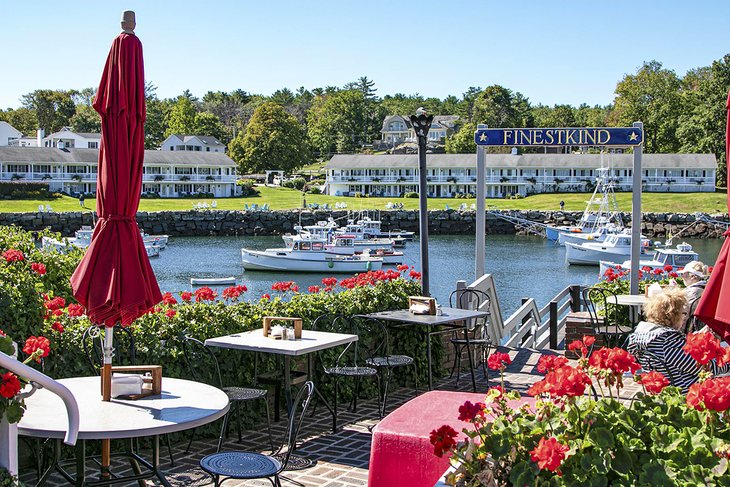 At the south end of Ogunquit, nature created a slender peninsula that encloses a small bay, a safe protected haven for small craft. Originally a fishing village, today it is overlooked by restaurants (Barnacle Billy's is a favorite for waterside dining) and an intense warren of small shops featuring everything from toys and T-shirts to saltwater taffy and fine crafts by local artists.
A footbridge and a short boardwalk give views of little boats in the rock-bound harbor, and kiosks sell tickets for day cruises and deep-sea fishing. Be sure to walk across the hand-operated drawbridge or watch for a tall-masted boat to come through to see it in action.
At the town end is an immaculately kept garden that is a perfect frame for photos of the little boats below. You can access Marginal Way from the ocean side of Perkins Cove.
4. Take in a Show at the Ogunquit Playhouse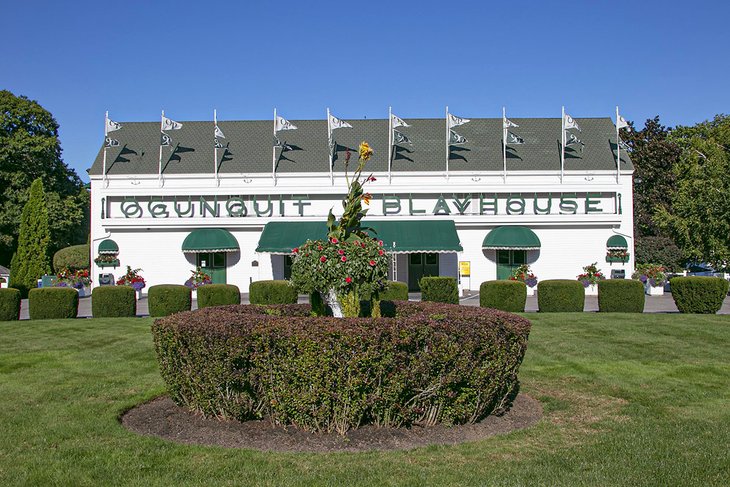 Listed on the National Register of Historic Places as one of the last of the original summer theaters in what was known as the Straw Hat Circuit, the Ogunquit Playhouse opened in 1933. It has featured stars from every era, from classic movie stars Bette Davis and Myrna Loy to contemporary Tony, Emmy, Golden Globe, and Academy Award winners.
Popular Broadway musicals and stage shows fill the Playhouse's 26-week season, which runs from May through October. Matinee performances featuring Disney and other children's book characters are popular things to do for families. The theater company also does off-season productions at The Music Hall in Portsmouth, NH.
Address: 10 Main Street, Ogunquit, Maine
5. Visit the Ogunquit Museum of American Art and Sculpture Garden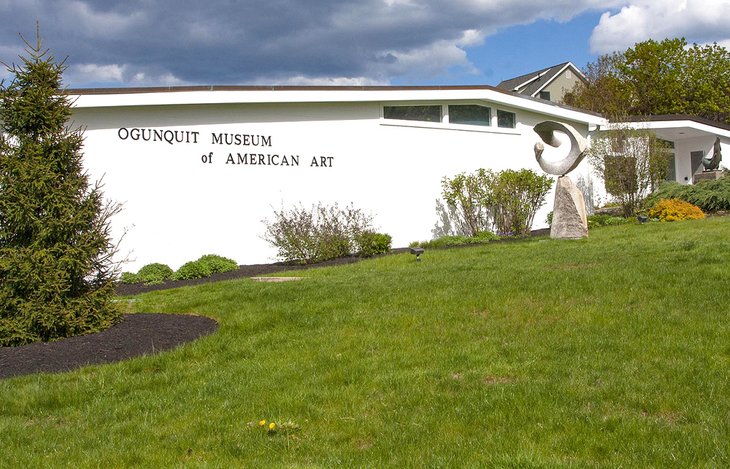 Overlooking Rocky Cove, a spot frequently painted by artists, the Ogunquit Museum of American Art reflects Ogunquit's long and distinguished history as an art colony. Since the first art school opened here at the end of the 1800s, and a second followed in 1902, Ogunquit has attracted painters with its beautiful coastline and its everchanging sea and skies.
Many of America's outstanding artists have lived or spent summers painting in Ogunquit, and the museum features some of their works, including those of Edward Hopper, Marsden Hartley, George Bellows, and Walt Kuhn.
Included in the collections are also impressionist, post-impressionist and modernist works of other distinguished American artists such as Thomas Hart Benton, Alexander Calder, Childe Hassam, Rockwell Kent, Gaston Lachaise, Roy Lichtenstein, and Augustus Saint-Gaudens.
Sculpture Garden: In a gentle landscape sloping down to a rugged granite outcrop that drops to the sea, the gardens surrounding the Ogunquit Museum of American Art are the setting for 19 original outdoor sculptures. The largest and most prominent works are the whimsical wood animal sculptures of Maine artist Bernard Langlais. Constructed of rough boards and scrap wood, the figures of a lion, a horse, and a rhino tower over visitors and never fail to make them smile.
A visit to the sculpture garden is also one of the most popular free things to do in Ogunquit.
Address: 543 Shore Road, Ogunquit, Maine
6. Fly a Kite at Footbridge Beach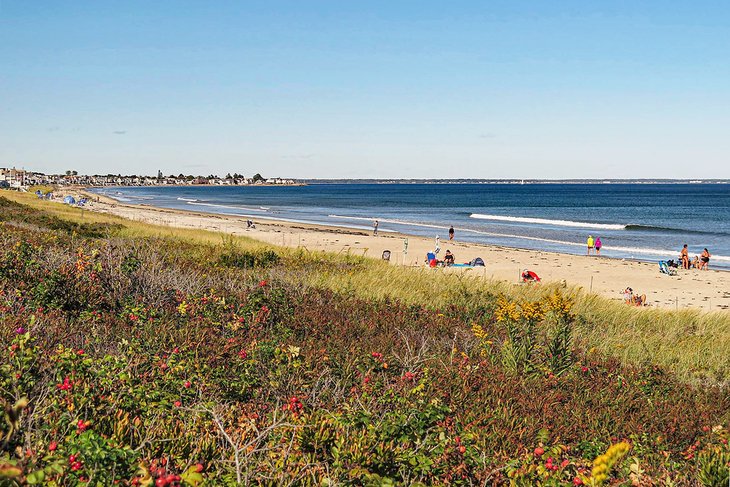 Ogunquit's beaches total 3.5 unbroken miles of white sand, backed by the Ogunquit River and dunes. The northern end of this beach is more remote, accessed only by a long footbridge across the river, hence the beach's name.
It is well worth the effort to reach Footbridge Beach. It's quieter and with more room to spread out and to build sandcastles and fly kites, both favorite activities here. To reach the parking lot on the inland side of the bridge, follow Ocean Street from Route 1, north of the town center.
7. Go Gallery Hopping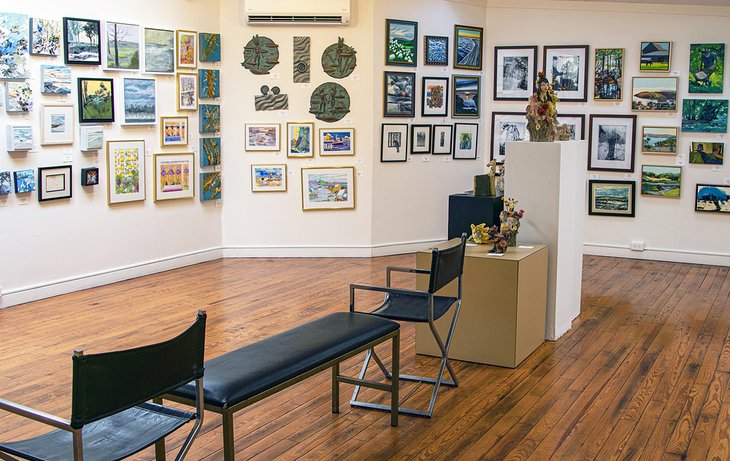 In a town with such a history of artists, you won't be surprised to find a lot of galleries showing and selling the works of local and other artists. One stands out particularly.
Barn Gallery is owned by the Ogunquit Arts Collaborative and seems more like a museum, although all the works are for sale. The welcoming atmosphere and variety of price points make it a good place to visit not only for collectors but for those looking for a more meaningful souvenir of their trip. Most of the artists are from Maine or neighboring New Hampshire and Massachusetts.
Along with larger works and a sculpture garden, Barn Gallery has a section devoted to smaller works on paper. These are original prints, which means that the artist has created the original plate from which the prints are struck, and that these are limited in number.
Address: 3 Hartwig Lane (corner of Shore Road and Bourne Lane), Ogunquit, Maine
Official site: https://barngallery.org/
8. Take a Scenic Cruise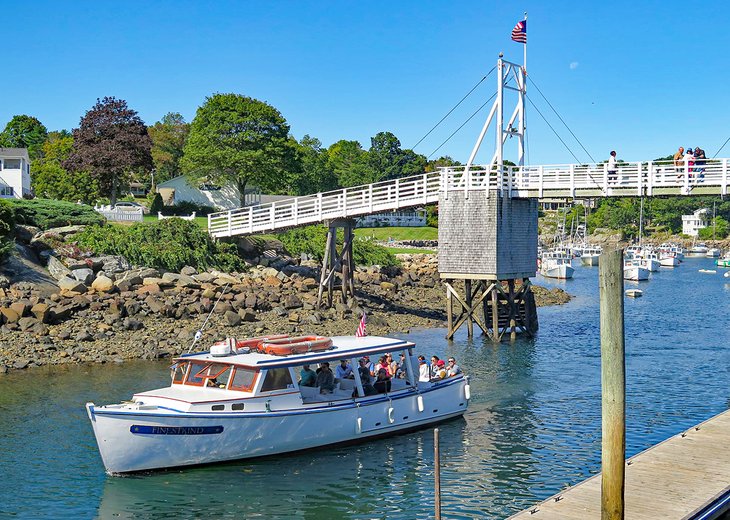 The southern Maine coast combines long beaches with rugged and surf-splashed rocky headlands. Add lighthouses and a scattering of fishing boats and sailing craft, and you have one of the most scenic destinations in New England. The best vantage point for all this coastal scenery is from a boat.
Perkins Cove is the place to begin your cruise, whether it's in a sailboat or sightseeing boat. The roomy excursion boats of Finestkind Scenic Cruises take you along the shore to see harbors, seals, and lighthouses, including Maine's most iconic, Nubble Light in York, while a guide tells you about the shore and the fishing boats you will pass.
To explore the coast under sail, reserve a spot with Silverlining Sailing to sail in a restored, historic boat, with a small group of no more than six people. On a sailing cruise, you can lend a hand or just relax and keep an eye out for seals or a minke whale.
Address: Perkins Cove, Ogunquit, Maine
Official sites: https://www.finestkindcruises.com/
9. Hop aboard the Trolley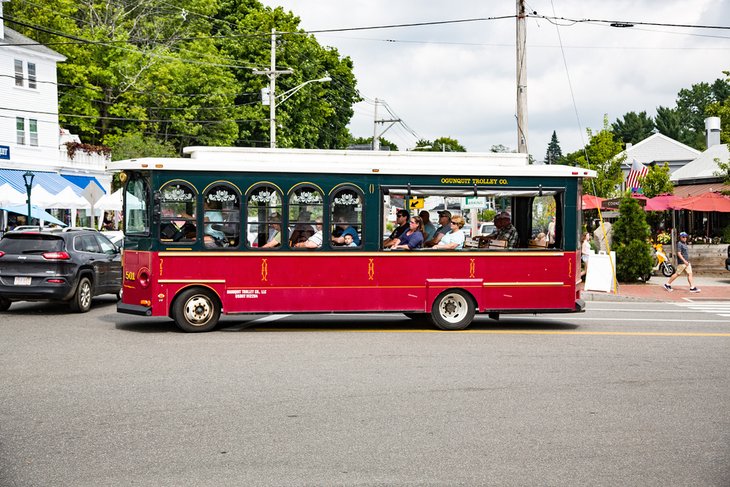 In the summer, the easiest and fastest way to get to the beach and other attractions in Ogunquit is on the open-air Ogunquit Trolley. The bright red car stops at all the attractions and shopping and restaurant areas, as well as many hotels.
The trolley runs from Perkins Cove along Shore Road and Main Street (Route 1) and to Ogunquit Beach and Footbridge Beach. Along the way, it also stops at several all-day parking lots, so if you're day tripping, you can park and take the trolley to the beach.
The trolley is also a good way to get back to the beginning of Marginal Way without repeating the trip (although the views as you walk back are different, so many tourists choose to walk both ways).
Official site: http://www.ogunquittrolley.com
10. Go Fishing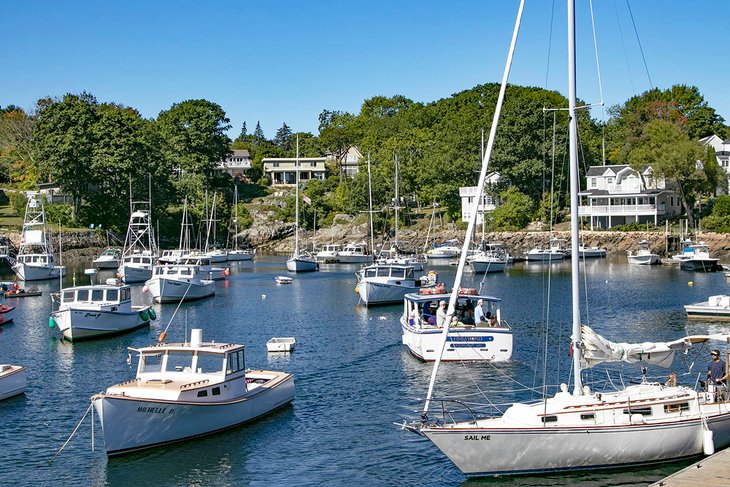 The southern coast of Maine is a good place to try inshore fishing, using equipment that's easy for anyone in the family to handle. Salty Lewer Charter Fishing welcomes beginners, as well as those with years of fishing experience to enjoy light tackle, in-shore fishing for striped bass, bluefish, and mackerel.
Striper fishing off the coast is especially good, so you may land a brag-worthy catch. Trips can be as short as two hours or as long as four, and Captain Bryan offers two-hour family fishing trips designed to introduce children to fishing and boating, as well as give families a chance to share an experience.
Address: Perkins Cove, Ogunquit, Maine
Official site: https://www.saltylewerfishing.com/
11. Kayak in the Ogunquit River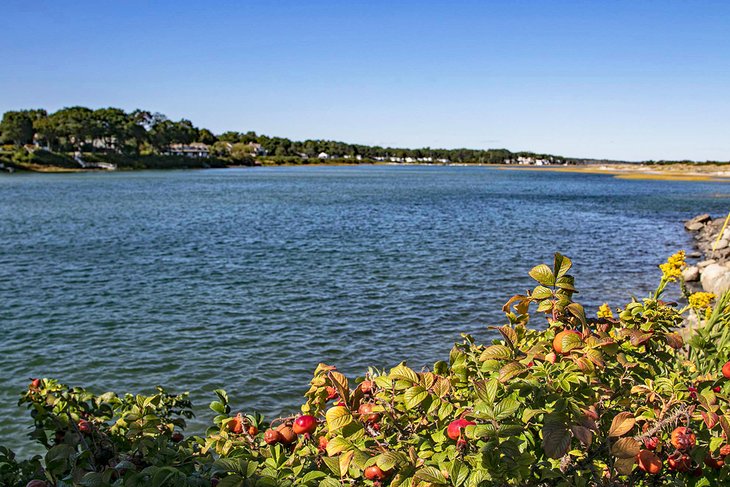 The last three miles of the Ogunquit River flow between the town of Ogunquit and its dune-backed beaches. It's a great place to kayak, with easy put-in at the beginning of the footbridge leading to Footbridge Beach. They share a parking lot, so you can combine kayaking with some sun time at the beach without moving your car.
The river is tidal, so there is a current, upstream at a rising tide and downstream as the tide falls. You can only paddle in the high tide window, so be sure to check the tide charts, paddling upstream on a rising tide or downstream on a falling tide.
Unless you're an experienced ocean kayaker, stay away from the river mouth below the Bridge Street bridge, where the tides can be more challenging. The easiest paddling is upstream on the rising tide, then back to the footbridge at high tide or with the falling tide.
You can rent kayaks from World Within, located right on the Ogunquit River and open only during the high tide cycle. From here, you can also choose to paddle through the Wells Estuary, a beautiful and serene area of marshes filled with birdlife.
Address: 17 Post Road, Wells, Maine
Official site: https://www.worldwithin.com/
12. Step into History at the Ogunquit Heritage Museum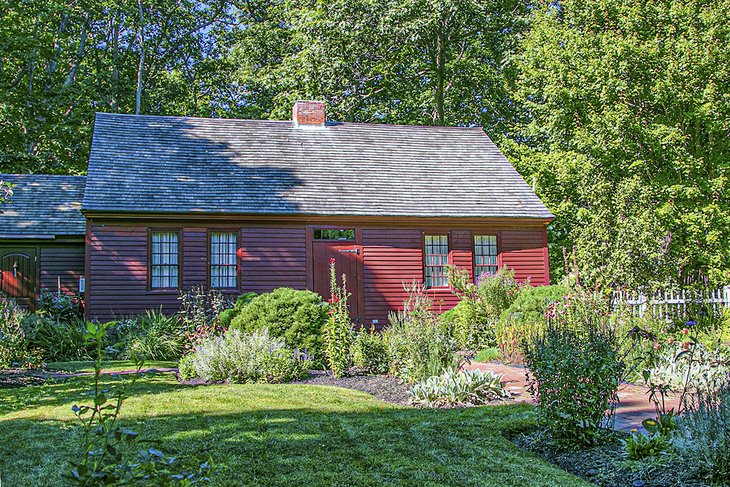 The 1780 Captain James Winn House has been restored to its original interior as the home of the Ogunquit Heritage Museum. Exhibits focus on various aspects of the town's past, including the artist colony, the Ogunquit Playhouse, fishing, and architecture.
Changing exhibits may feature other subjects or more recent history. The collections of fishing gear and maritime equipment are especially interesting and, when it is not moored at Perkins Cove, a reproduction of an Ogunquit Dory stands beside the building.
The famous Ogunquit Dory was unique to this town, built for trawling and lobstering along this rocky coast in heavy tides. Its bow and stern designs were similar to those of traditional boats used for fishing off the Grand Banks, but the Ogunquit Dory had a broader midsection to accommodate lobster traps and trawling gear.
The museum is free, although donations are welcome, and you can wander through in the adjoining park with its gardens and woods.
Address: 86 Obeds Lane, Ogunquit, Maine
Official site: http://www.ogunquitheritagemuseum.com/
13. Become an Artist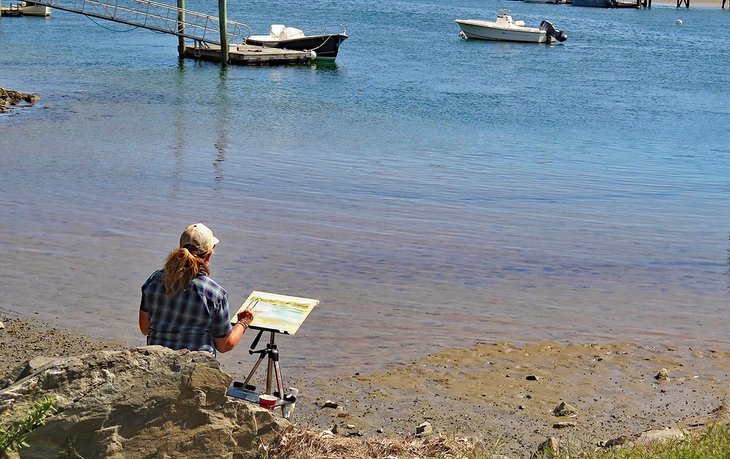 Be inspired by the beauty of the sea and cliffs or the picture-perfect scenes of fishing boats in Perkins Cove, as the artists at the Ogunquit Colony were.
You can join the artists with their easels and sketch books on Marginal Way or learn a new skill by joining one of the art classes and workshops at Ogunquit Art Association. In the past, professional artist members have offered workshops in watercolor techniques, hand bookbinding, monoprint, plein air painting, Chinese ink painting, drawing, collage, and other arts.
Address: 3 Hartwig Lane, Ogunquit, Maine
Official site: https://barngallery.org/
14. Stop to Admire the Ogunquit Memorial Library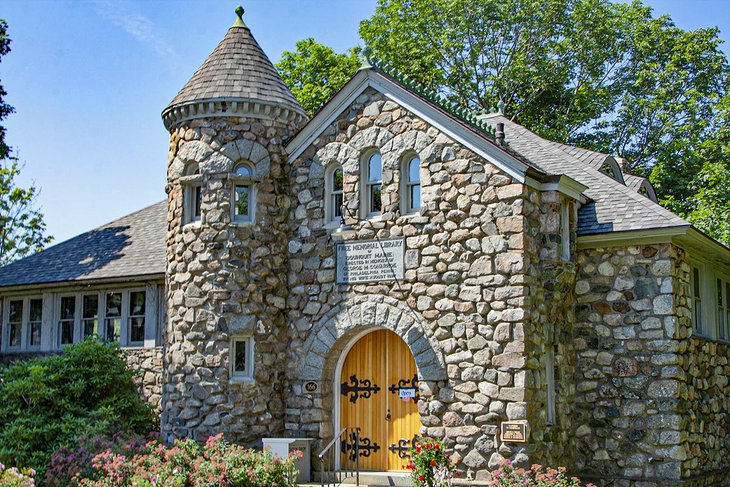 You'll surely stop for a second look at the beautiful stone Ogunquit Memorial Library, with its round tower and gabled roof. Its Romanesque Revival architecture makes the building look like a church, as do its arched entrance and wooden doors held by elaborate wrought-iron hinges.
But it was built as a library in 1897 and is on the National Register of Historic Places. Inside you'll find a cozy reading area with upholstered armchairs in front of a stone fireplace (once the building's only heat source) and a miniature model of the church.
As you enter, note the seascape to the left of the door; it was painted by Charles Woodbury, one of the founding artists of the Ogunquit colony.
Address: 166 Shore Road, Ogunquit, Maine
Official site: https://ogunquitlibrary.com/
15. Go for a Walk at Beach Plum Farm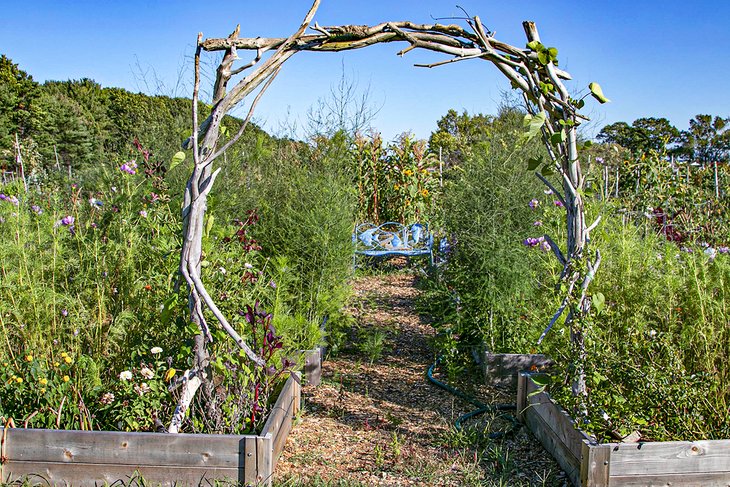 Ogunquit's last remaining saltwater farm, Beach Plum Farm is now preserved by the Great Works Regional Land Trust as a community garden, with more than 50 individual plots for vegetables and flowers. You can follow an easy half-mile loop trail to see the gardens and walk along the salt marsh, where bay berries and rare beach plums grow.
The marsh is a habitat for birds, and across it, you'll get views of the dunes; this is one of the few places alongside Route 1 where the dunes and sea are still visible. Benches along the trail invite you to stop and enjoy the views.
Address: 610 Main Street (Rte. 1), Ogunquit, Maine
Official site: https://gwrlt.org/beach-plum-farm-preserve/