29 Best Things to Do in New Hampshire
We may earn a commission from affiliate links ()
The Granite State is home to some of New England's most beautiful natural attractions and varied terrain, offering countless things to do for outdoor enthusiasts. As one of the earliest European settlements, New Hampshire is also filled with historic sites and a rich cultural heritage that draws visitors from all over the world.
New Hampshire is also a great place to visit for families, offering a variety of theme parks that are big enough for a ton of fun but not overwhelming for kids and parents.
From hiking in the White Mountains to boating on the Big Lake, there are plenty of outdoor activities in New Hampshire, while its cultural and recreational sites offer even more for all ages and interests.
Plan your next visit with our list of the best things to do in New Hampshire.
1. Climb Mount Washington (in Your Car)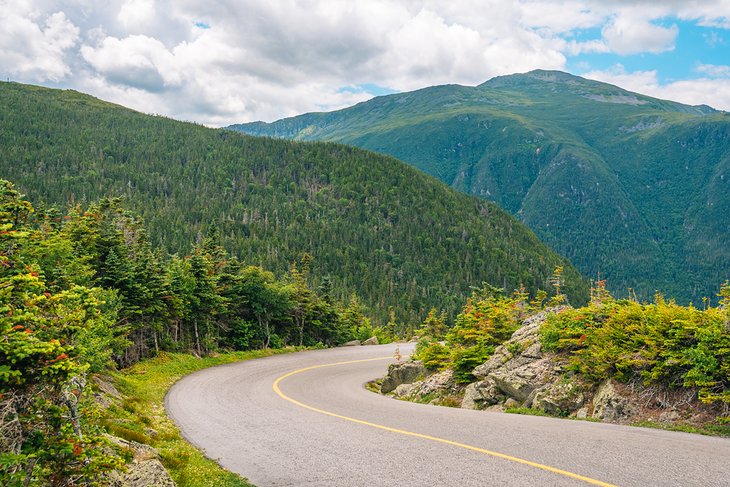 Although some do brave the arduous trek to the 6,288-foot peak of Mount Washington, most prefer a less hazardous approach. Since 1861, visitors have had the option of driving to the summit via the steep and winding Mount Washington Auto Road.
At the peak, tourists can take in the stunning views on a clear day, and visit the observatory where they study some of the world's most extreme weather.
To give your car recognition for the hard work it put in, every ascension includes a sticker announcing that "This Car Climbed Mt. Washington."
For those who don't want to put their car through the paces or would simply rather enjoy the view instead of focusing on the road, tourists can choose to ride in one of the vans during warmer months.
In the winter, visitors can take the SnowCoach to the tree line to enjoy the snow-covered scenery. Alternately, tourists can book passage on the Cog Railway, a historic train that makes its way straight up the mountain.
2. Take a Scenic Train Ride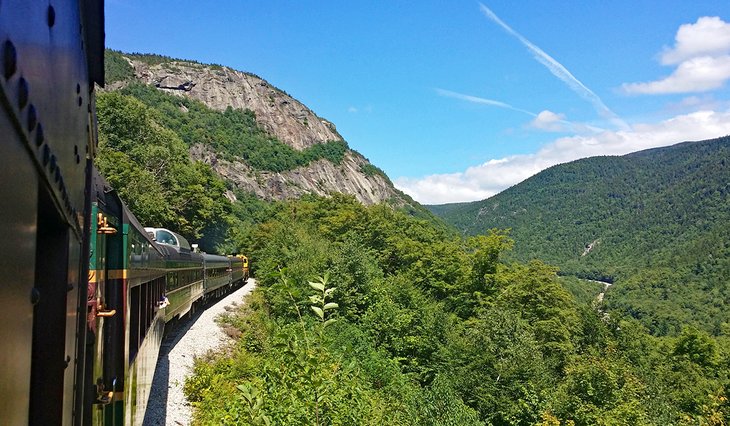 Trains offer tourists a completely different perspective of the landscape, daring to go where the roads don't, and providing the opportunity to fully focus on enjoying the view.
The Conway Scenic Railroad in North Conway offers a variety of tours that explore the White Mountains, with hour-long trips through Conway Valley, two-hour rides in a vintage train car along the Sawyer River, or half-day excursions through the Mount Washington Valley and Crawford Notch.
If you're not headed quite that far north, the Hobo Railroad in Lincoln offers sightseeing rail tours along the Pemigewasset River.
Tourists can see the lakes region by rail on the Winnipesaukee Scenic Railroad, which operates between Laconia, Weirs Beach, and Meredith; in the autumn, they offer special foliage tours and dinner trains catered by Hart's Turkey Farm.
3. Enjoy Dining and Shopping in North Conway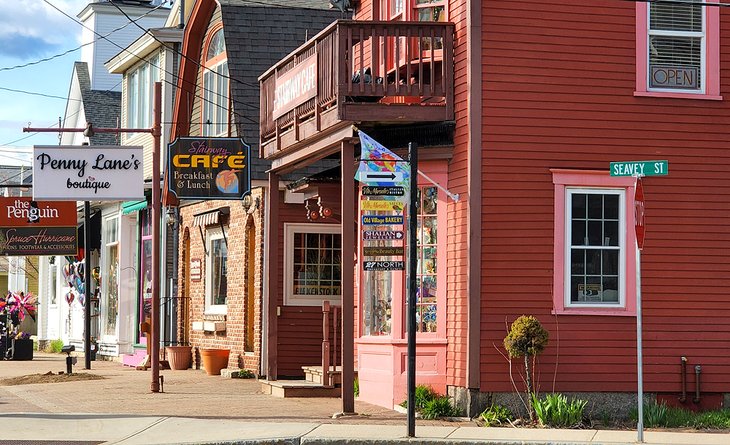 There is a timeless charm about North Conway, with its shops and restaurants that surround the historic train station. This downtown area is packed with so many unique shops and enticing eateries, it's easy to spend an entire day here and still feel like you need to go back.
Be sure to get to Peach's early to kick off your day with the best breakfast in town, and when you need a boost, head to The Met coffee house for a latte or tea. If you are hankering for something sweet to have with that coffee, head to Mystic Sugar Bakery for a selection of mouthwatering baked goods, including the best key lime pie in the northeast. For a hearty meal, Horsefeathers serves lunch and dinner, or for a more refined supper, head to Chef's Bistro.
One of the best-known of North Conway's shops is Zeb's General Store, a quirky and nostalgic place that features specialty foods, handmade soaps, and gifts, as well as rare finds like Moxie jelly and an old-fashioned candy counter.
Just a few doors down, stepping into the North Conway 5 and 10 Cent Store is like a time warp. Although their goods aren't quite as inexpensive as the name suggests, this little shop is full of surprising finds for all ages.
4. Climb Mount Monadnock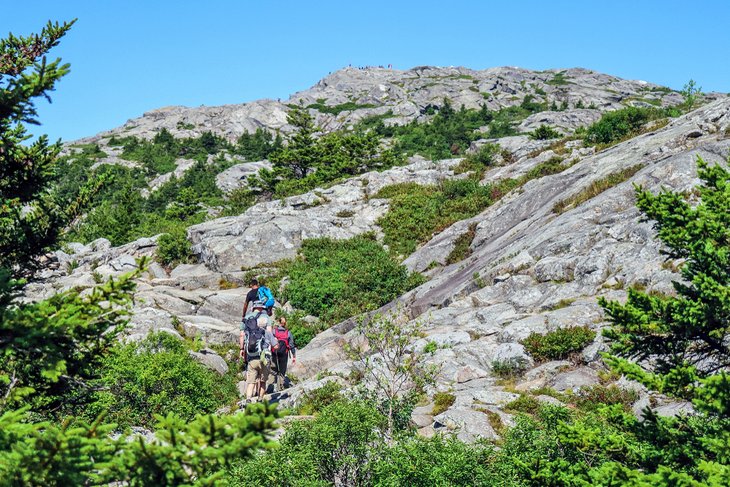 Mount Monadnock is known for its majestic white-tipped peak, a landmark that is recognizable from many points in southern New Hampshire. It reaches a height of 3,165 feet and provides a challenging but rewarding hike for more experienced climbers.
The most direct path begins at "Monadnock HQ" in Jaffrey and takes a steep 1.9-mile course to the top, around four hours round trip. The Old Toll Road trail is a little longer at 2.2 miles each way, and the Birchtoft Trail, departing from Gilson Pond is the longest, stretching 3.5 miles from base to peak.
5. Spend a Day on Lake Winnipesaukee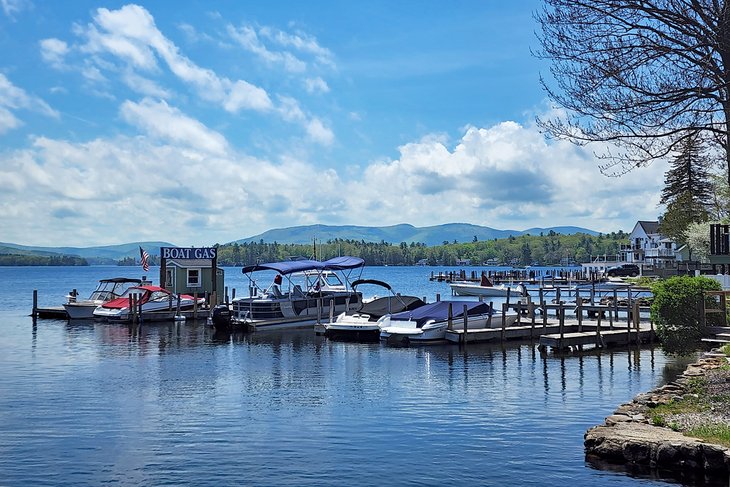 New Hampshire's Lakes Region is a popular tourist destination in the summer and during foliage season, and there are plenty of options when deciding where to start and what to do. Lake Winnipesaukee, referred to simply as the "big lake" by locals, is one of the best lakes in New Hampshire. It offers the most things to do, with several beaches and activities along the shore.
Weirs Beach in Laconia is one of the most popular beaches in New Hampshire. Here, tourists can spend the day sunbathing and playing arcade games, or take a leisurely sightseeing cruise on the M/S Mount Washington.
There are also several marinas that offer boat slips and rentals, and lakeside towns like Meredith, Wolfeboro, Alton Bay, and Center Harbor each have at least one restaurant that you can cruise right up to for lunch or dinner.
6. Chase Waterfalls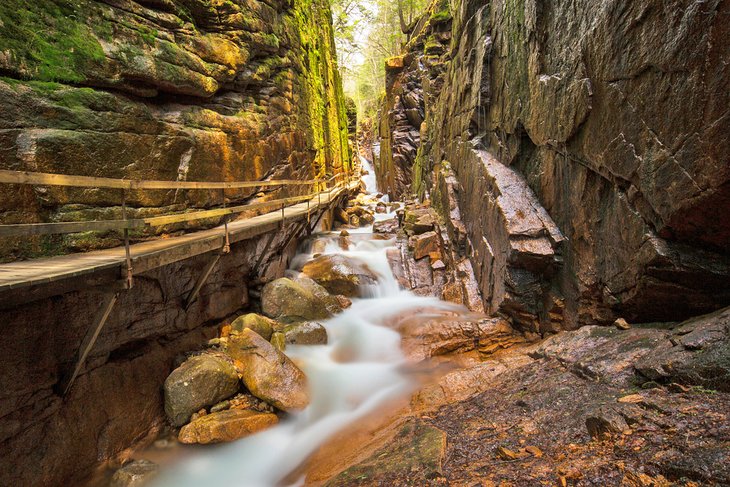 New Hampshire is home to beautiful waterfalls, many of which can be easily accessed without a long walk or strenuous hike. The Flume in Franconia Notch is one of the state's best-known waterfalls. It flows for 800 feet through 90-foot walls of granite that it spent thousands of years slowly cutting through, dropping 40 feet from the hill above.
The tallest waterfall in New Hampshire is Arethusa Falls in Crawford Notch, dropping 175 feet. It is most spectacular after a heavy rain or in the spring during snowmelt, and there are several other smaller falls along the 1.3-mile trail that reaches the main attraction.
The Swift River, which runs parallel to the Kancamagus Highway, has two impressive waterfalls inside the White Mountain National Forest. Rocky Gorge sits above a series of rapids, and the base of Lower Falls is a popular swimming spot on hot summer days. Sabbaday Falls is also located near the Kancamagus, accessed via trailhead in Albany.
Other popular waterfalls include Crystal Cascade and Glen Ellis Falls in Gorham; Lost River Gorge in Kinsman Notch; and the Basin in Lincoln, which is one of the few wheelchair-accessible waterfalls.
7. Explore Concord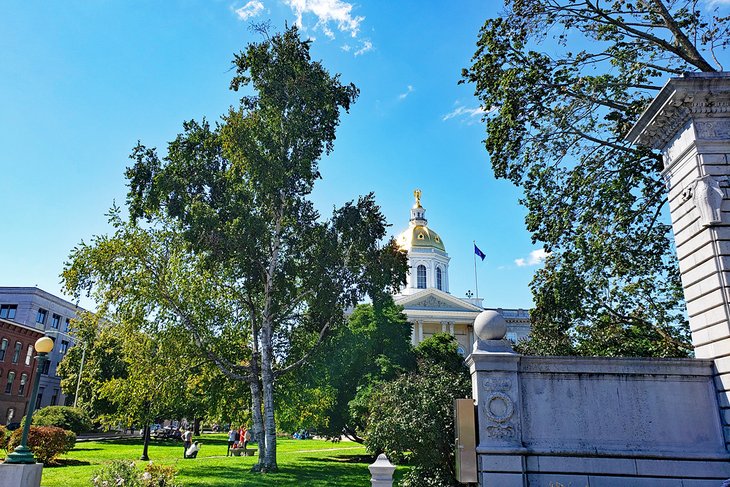 New Hampshire's capital city is by far one of the most charming places to visit. Its compact and pedestrian-friendly downtown area is filled with local shops and restaurants, public art, and the grandeur of the gold-capped Capitol Building.
Just off main street, visitors will find Eagle Square after passing through the Tree of Life gate, and nearby Bicentennial Square is a favorite with kids for its stone sculptures and the Turtle Statue.
Concord is also home to some excellent museums, like the McAulliffe-Shepard Discovery Center. Dedicated to the Concord teacher who lost her life in the Challenger disaster, it has a planetarium and interactive exhibits that teach all ages about air and space travel, astronomy, and the Earth.
8. Go Skiing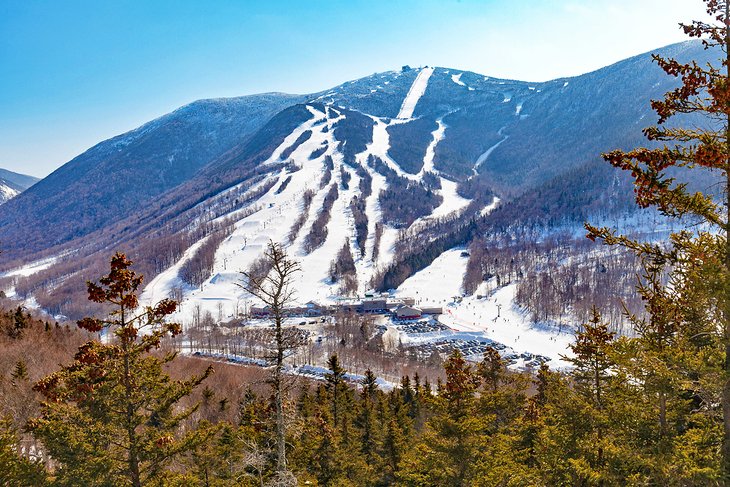 With well over a dozen to choose from, New Hampshire offers ski resorts of all sizes and for all skill levels. The state's largest is Bretton Woods Resort in the White Mountains, which features over 450 skiable acres of groomed trails served by 10 lifts, as well as three terrain parks.
Located just a few minutes from I-93, Loon Mountain is a convenient destination for skiers headed north from Boston. It offers 61 trails with northern exposure and snowmaking, ensuring a long season and great conditions. Those who want an excuse to visit North Conway will want to head to Cranmore Mountain, which offers 56 trails and stunning views of Mount Washington.
Other top ski resorts include Mount Sunapee in Newbury; Cannon Mountain in Franconia; and King Pine in East Madison, which is home to one of the state's steepest trails. New Hampshire is also home to several excellent cross-country skiing areas, including the family-friendly Jackson Ski Touring Foundation, the Bretton Woods Nordic Center, and the Nordic Center at Waterville Valley.
If you're visiting when there's no snow on the ground, most resorts offer other outdoor activities like mountain biking and hiking.
9. Visit Santa's Village, Jefferson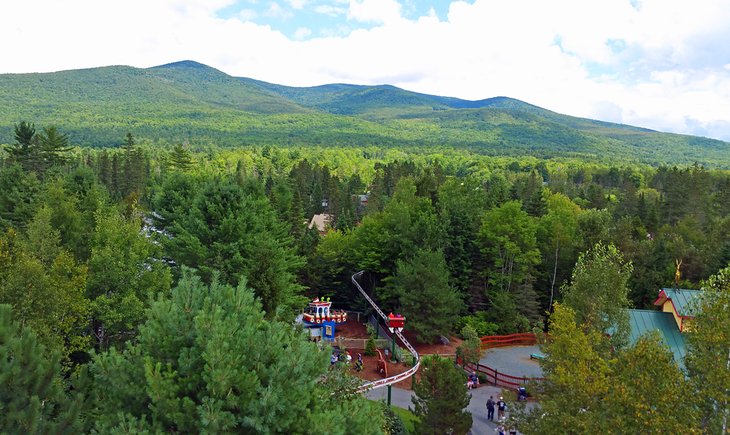 Santa's Village in Jefferson is a favorite thing to do for kids and adults alike, offering a slice of Christmas cheer all summer long. Here, visitors will find a variety of rides, activities, and entertainment, as well as plenty of goodies to eat, and presents to bring home.
There are park rides for all ages, including a train that makes stops throughout the park, a yule log flume ride, a Ferris wheel with views of Mount Washington, and the Santa's Sleigh monorail that flies at a leisurely pace above the park. Between rides, kids can get their photo taken with Santa, pick up a free gift at the blacksmith shop, and feed Santa's reindeer.
10. Hunt for Antiques along Antique Alley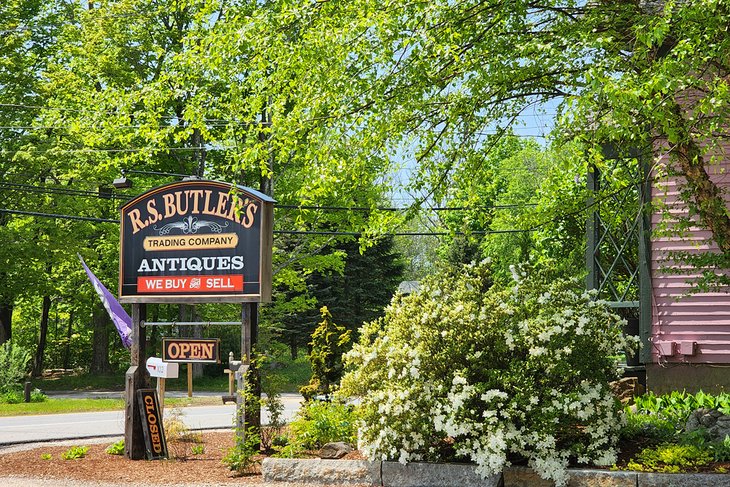 There is rarely a town in New Hampshire that does not have at least one antique store, but "Antique Alley" along Route 4 between Portsmouth and Concord is the best place to head for antiquing.
One of the top places to visit is R. S. Butler's Trading Company in Northwood, home to a huge variety of vintage and antique furniture, art, decorative items, and ephemera. With over 5,200 square feet of indoor display space and a vintage garden area as well, there is enough to peruse for hours.
Also located in Northwood, Eagle Antiques specializes in country furniture, crank phonographs, and Maxfield Parrish prints, as well as a variety of other items.
11. Black Heritage Trail of New Hampshire, Portsmouth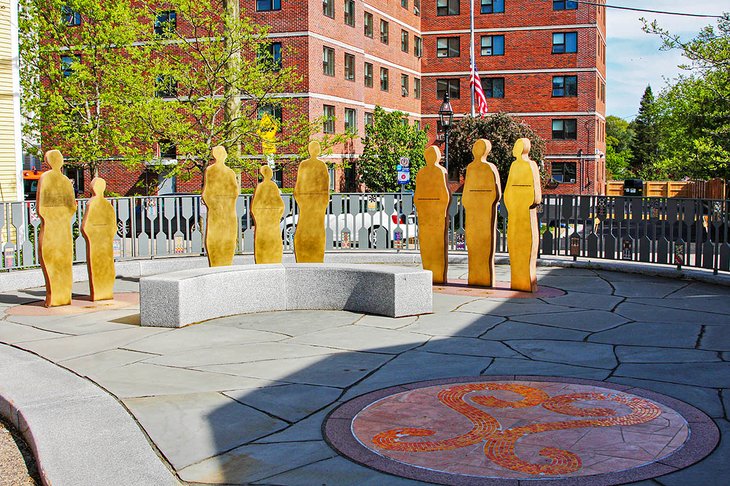 In 2003, an unmarked burial ground with the remains of nearly 200 free and enslaved peoples of African descent was uncovered in Portsmouth. Today it is the African Burying Ground Memorial Park and one of the main attractions on the Black Heritage Trail in Portsmouth.
Although slavery was not as prominent as it was in the south, slave ships did land in New Hampshire's port city, where they were auctioned in the 17th and 18th centuries.
12. See the Bears at Clark's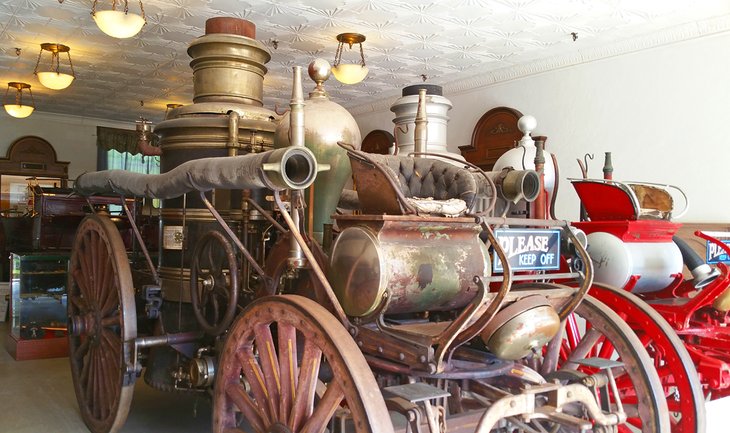 Since 1931, the Clark family has featured trained bears as the central feature of their unique amusement park. Wildlife advocates need not fret — the Clarks only raise and train orphaned bears that cannot be returned to the wild, and they really do treat them like family.
Several times a day, visitors can watch Maureen and Murray Clark play with the bears who happily ham it up for the crowd.
In addition to the bears, the big ring also has circus shows featuring acrobats and other performers throughout the day. All shows are included in admission, as are rides like Merlin's Mansion, Wolfman train ride, the climbing tower, and the refreshing blaster boats.
13. Hike the Presidential Range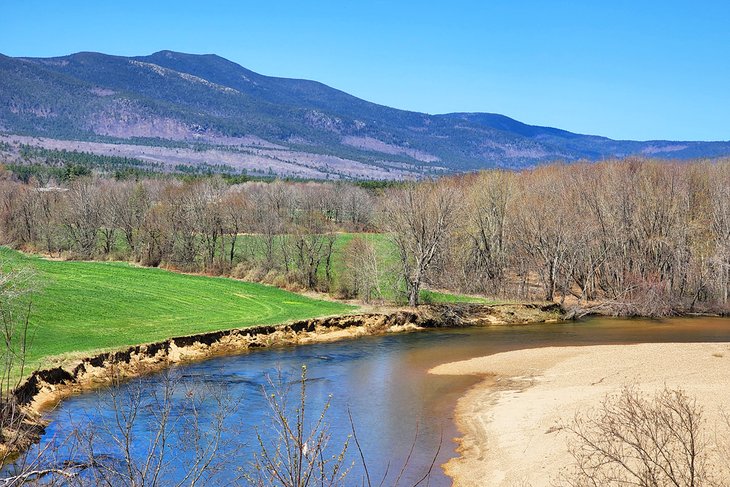 The White Mountains include the Presidential Range, part of the northernmost United States section of the Appalachian Trail. Hiking the range is a multi-day trip that can be as long as 18 miles depending on trail choice, and should only be attempted by experienced and well-equipped hikers. AMC huts are positioned along the route, and the organization also provides guided hikes and themed excursions.
14. Go Camping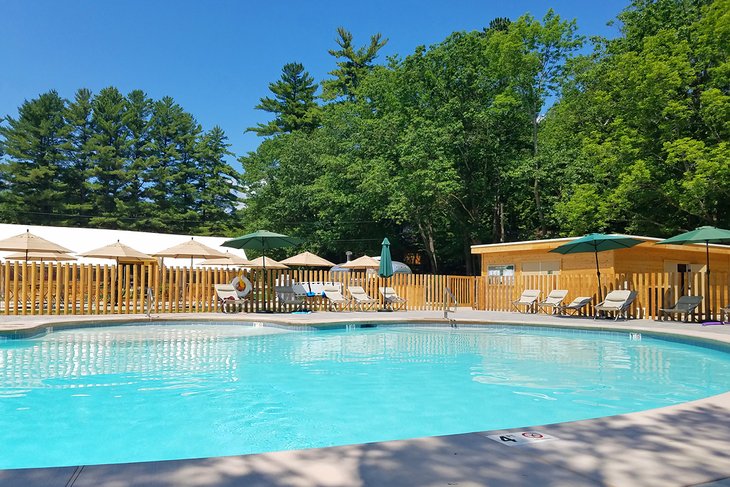 One of the best ways to enjoy the great outdoors is to go camping in New Hampshire. From the waterside campgrounds in the Lakes Region to the many sites in the White Mountain National Forest, the state has a variety of outstanding options for campers.
Those who want easy access to hiking trails along the Appalachian Trail will like Lafayette Place Campground in Franconia, offering both tent and RV sites. Another good option is Sugarloaf Mountain, which offers primarily tent sites in a heavily wooded area of the National Forest.
Tourists traveling with kids in the summer will enjoy the beach and water views at White Lake State Park in Tamworth and Pawtuckaway State Park in Nottingham.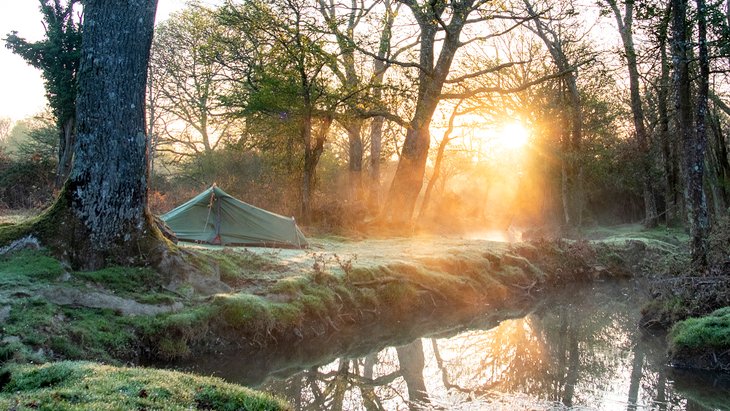 For those visiting the southern half of the state, Bear Brook State Park in Allenstown offers a pond for canoeing and kayaking, a good selection of amenities, and plenty of trails for exploring by foot, cycle, or even on horseback.
Tourists who want to get in touch with nature without sleeping on the ground will love Huttopia, a "glamping" campground in Albany in the White Mountains. Guests can choose from a variety of permanent tents that range from platform-raised rustic models to large family-sized tents and cabins with toilets, showers, and even kitchens. Huttopia White Mountains also has a heated saltwater swimming pool on-site, as well as an upscale food truck for snacks and meals.
15. Visit Manchester's Museums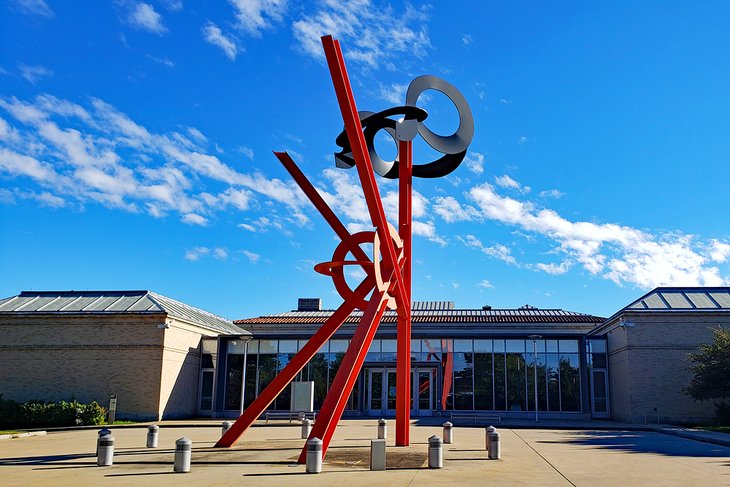 Manchester is a city full of history, a former gritty mill-yard town that has been reborn as a cultural and social hub. Tourists interested in the history of the mills will want to visit the Millyard Museum in the Amoskeag Millyard, a former textile factory that was powered by the water flowing past in the Merrimack River. Tourists with kids will want to head upstairs to visit the See Science Center, home of a variety of educational exhibits, as well as an impressive Lego® model of the mills in 1:55 scale.
Art lovers will want to visit the Currier Museum of Art, home to over 11,000 pieces of art in a wide range of media, from drawings to furniture. The museum also offers self-guided tours of Frank Lloyd Wright's Zimmerman and Kalil Houses, both of which are located in Manchester.
16. Drive the Scenic Kancamagus Pass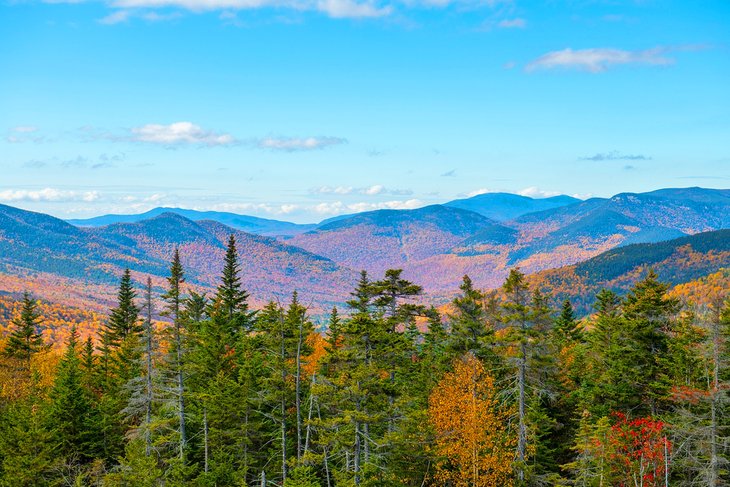 Despite its moniker, the Kancamagus Highway is a relatively narrow two-lane road that traverses the Kancamagus Pass, connecting the towns of Conway and Lincoln via the White Mountain National Forest. It runs, for the most part, along Swift River, which is home to several excellent waterfalls, like Lower Falls and Rocky Gorge.
This 35-mile stretch offers plenty of safe pull-off spots where you can stop to photograph the scenery and vistas, and is also home to several national park trailheads, including the route to Sabbaday Falls. This is a popular route for early season leaf-peeping and is also known for being a good place to spot moose.
17. Visit Strawbery Banke Museum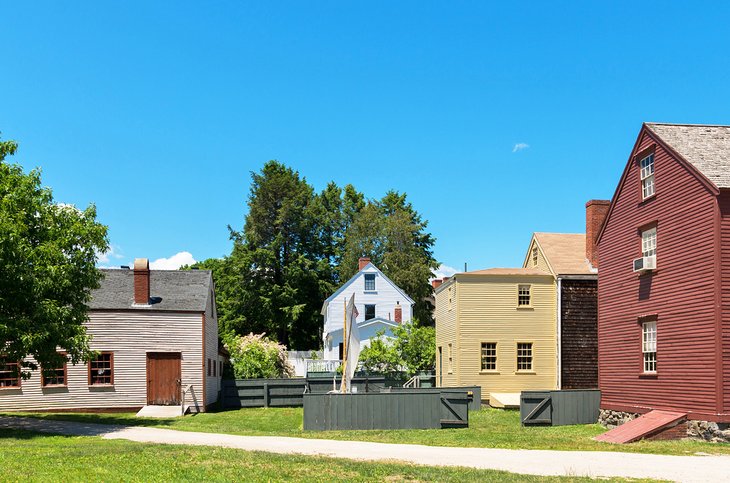 Strawbery Banke is an open-air history museum that highlights 300 years of the Puddle Duck neighborhood, the first European settlement on the Piscataqua River.
Historic homes and re-created pockets of time span from early settlement in 1695 to 1954, allowing visitors to witness the progression of architecture, customs, and daily life over the centuries.
This is a good tourist attraction for families, as well as history-lovers, thanks to the engaging costumed interpreters who demonstrate traditional crafts, perform daily tasks from various eras, and answer questions from curious visitors.
Gardeners and aspiring botanists can also admire a variety of historic ornamental and edible gardens throughout the neighborhood, including the Ethnobotanical Herb Garden, a Victorian garden, a colonial kitchen garden, and a WWII Victory Garden.
18. Take a Cruise on a Working Mail Boat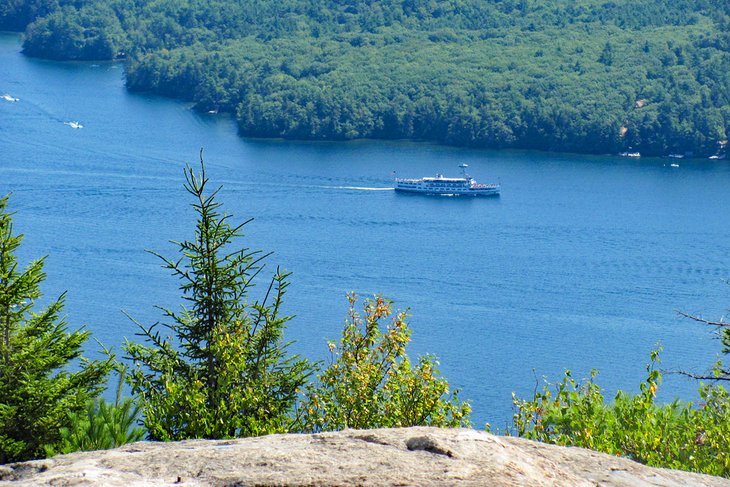 The M/V Sophie C has been delivering mail to the summer residents of Lake Winnipesaukee's islands since 1945, making it the oldest floating U.S. Post Office.
It continues to make its rounds, and tourists can hop aboard for the ride to get a unique sightseeing experience on New Hampshire's "big lake." The two-hour loop visits four islands on its morning rounds and five different islands in the afternoon.
Passengers get expert commentary from the skipper along the way, and can even mail a postcard from onboard, complete with its own postage cancellation stamp.
19. Have a Beach Day at Hampton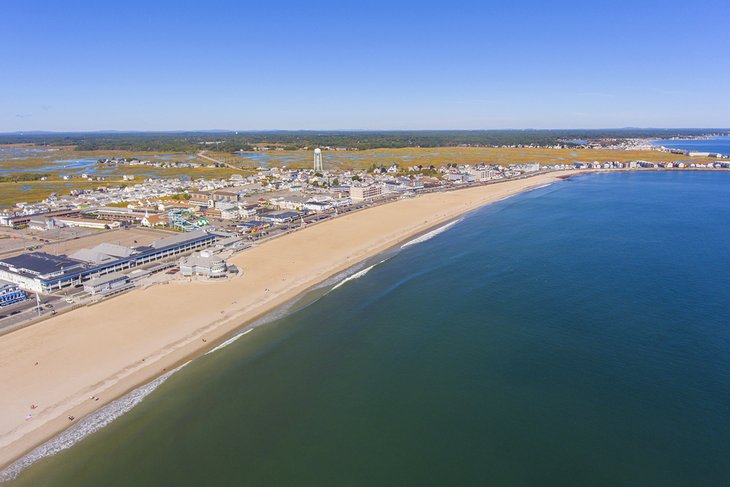 Hampton Beach is New Hampshire's most popular beach, stretching a mile and a half along the Atlantic shoreline and offering a lively Boardwalk area full of beach supplies, restaurants, and snack shops. Families will also find plenty of things to do when the kids need a break from the sun, including several arcades and plenty of shopping.
During the summer season, the beach is staffed with lifeguards and there are multiple bathhouses. The Sea Shell Stage hosts nightly live music, and on Wednesday evenings and holidays there are free public fireworks.
Hampton Beach also has several major annual events, including the Master Sand Sculpting Classic in mid-June, a country music festival in early July, and a seafood festival in September.
20. Take the Kids to Story Land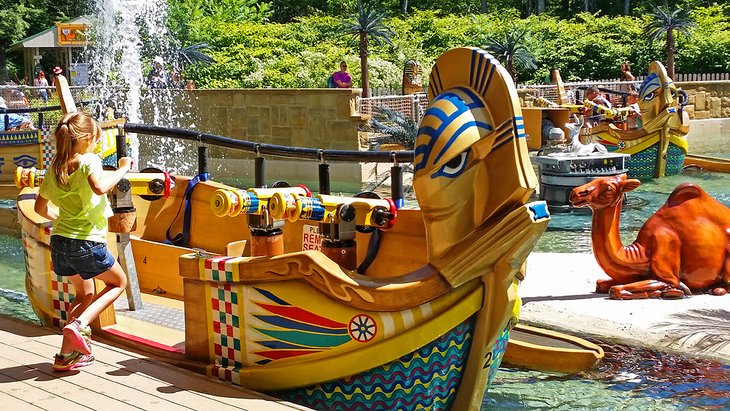 Story Land is a top New Hampshire family attraction located in the White Mountains region, offering the rides and entertainment of a theme park while focusing on the simple joys of classic fairy-tale stories.
In addition to plenty of rides like spinning teacups and flying fish, there are several creative play areas in the park, including a tree house and the legendary house of the old woman who lived in a shoe. There are also musical shows and performances throughout the park on a regular schedule.
Although best suited for younger kids and pre-teens, even older siblings will find exciting things to do within the park, including newer additions like the Roar-O-Sauraus wooden roller coaster, a refreshing raft ride, and the Bamboo Chutes flume ride.
21. Enjoy a Fall Foliage Drive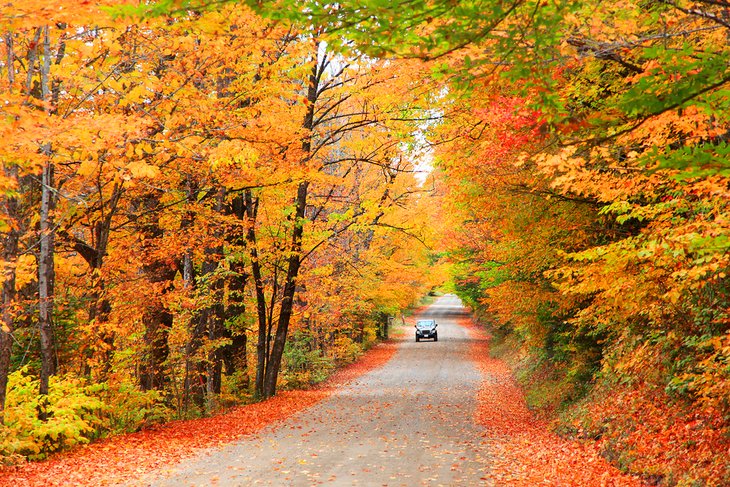 Each year in September and October, the landscape of New Hampshire turns from a dozen shades of green to a range of vibrant yellows, oranges, and reds. It's hard to miss them no matter where you are, but there are some areas that offer the best fall foliage scenery.
One of the most popular fall foliage photography spots in New Hampshire is a footbridge off Route 16 in the valley at the base of Mount Chocorua, with the firey colors of the hillside reflected in the water of the small lake below.
The best place to get photos of New Hampshire's covered bridges surrounded by the colorful trees is in Swanzey, just south of the cozy city of Keene, where you'll find three bridges.
One of the most picturesque ways to admire the foliage is from the water, and kayaking or boating on Lake Winnipesaukee is an excellent way to find new and interesting views and scenery. Alternatively, several tour operators offer guided boat tours for leaf-peeping.
22. Go Amateur Spelunking at Polar Caves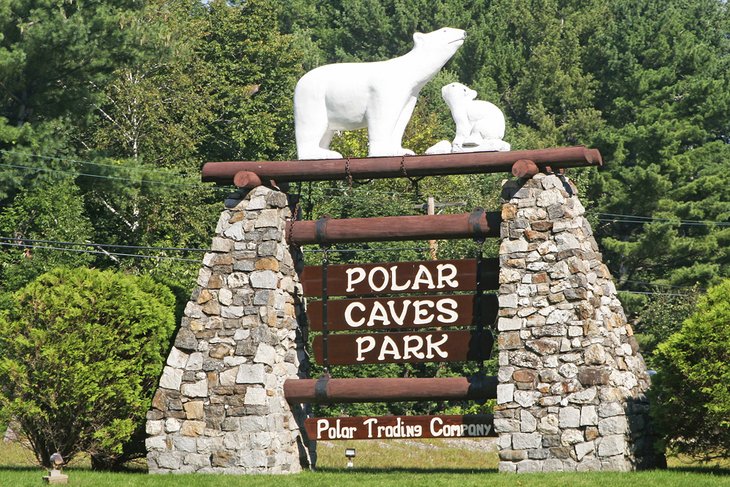 Having the opportunity to explore caves isn't just for trained spelunkers, thanks to Polar Caves park. The caves, which were formed when massive glaciers dropped enormous chunks of granite in their wake, are easily accessed via a series of secure staircases.
Visitors can bypass the more cramped spaces, but those who want to give it a try can sneak into narrow openings in the rocks to discover hidden passageways and hideouts.
This is a particularly great thing to do on a hot summer day in New Hampshire – despite all the stairs, visitors are rewarded with the cool, even temperatures of the subterranean caverns, including one that was once used by Native Americans to keep ice year-round.
Polar Caves isn't just a fun natural attraction – it's also full of history. The larger caves were used as part of the Underground Railway to hide escaping slaves, and later became hiding places for less noble pursuits during the prohibition era.
23. Explore Lost River Gorge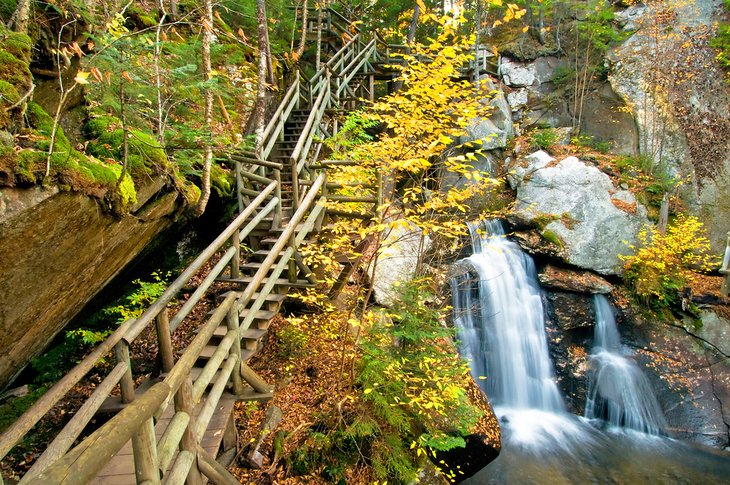 Lost River Gorge is another stunning natural attraction that we can thank the Ice Age for. As the glaciers moved and melted, they carved chasms and dropped massive rocks, which were then worn away by the melting ice.
Today, Lost River continues to flow through them, making its way over, around, and even under the boulders. Visitors can admire the falls and the water-worn rocks from a boardwalk, or opt to go explore the passageways and caves.
24. Play at Weirs Beach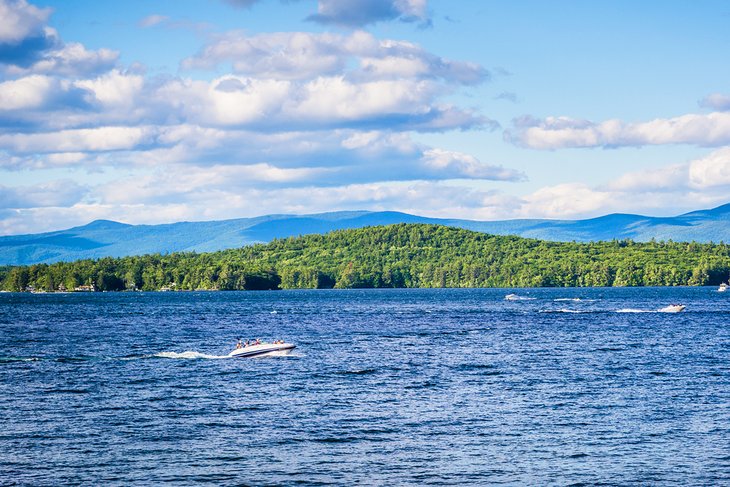 Weirs Beach is one of the state's most popular beaches, with its unique "boardwalk" taking center stage. It's a great option for families with younger kids and couples who prefer smaller venues; the businesses sit along one side of the street facing Lake Winnipesauke.
This quaint "downtown" area is home to arcades, ice-cream and pizza shops, souvenir vendors, and several good sit-down restaurants, including waterfront options.
Tracks run along the waterfront, and the Winnipesaukee Scenic Railroad shares its station with the home dock of the MS Mount Washington. There are also public docks along the same stretch, and a large marina within walking distance.
Weirs Beach is also home to a classic drive-in theater that shows double features on each of its four screens on summer evenings – a great way to wrap-up a day of swimming, boating, and playing.
25. Take a Cruise around the Isles of Shoals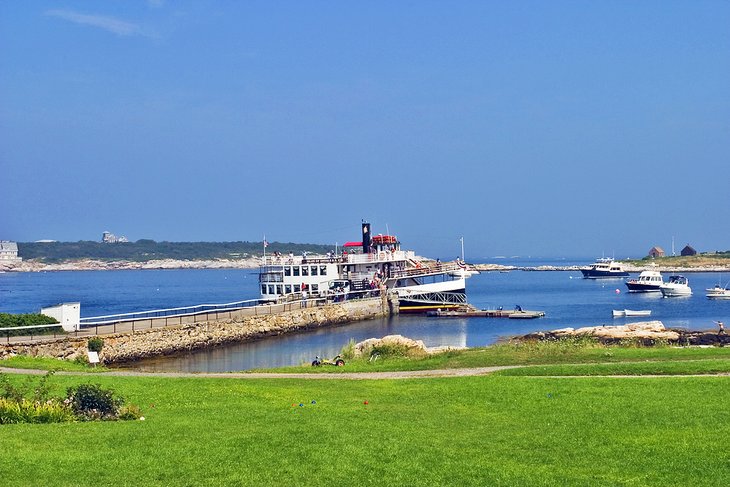 Tourists who want to explore New Hampshire's only ocean-islands can hop aboard a sightseeing cruise with the Isles of Shoals Steamship Company for an opportunity to spend a few hours ashore on Star Island.
This is one of the most popular things to do in Portsmouth, and a wonderful way to get out on the water and enjoy a new perspective of the New Hampshire seacoast.
Isles of Shoals cruises include a walking tour of Portsmouth Harbor in addition to the Star Island tour. Alternatively, visitors can skip the walking tours and spend all their time on the water with Portsmouth Harbor Cruises.
26. Dive into History on the USS Albacore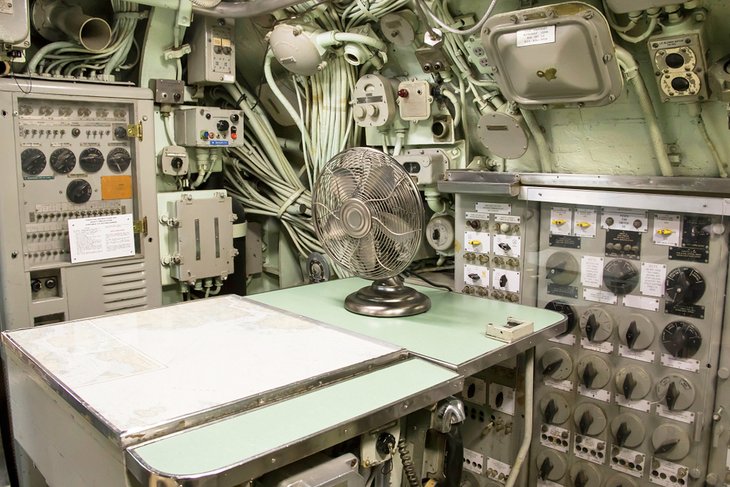 The USS Albacore was built in the Portsmouth Naval Shipyard and first saw active service in 1953. It gained notoriety in 1966 as the world's fastest submarine, and operated as a research vessel for the navy, testing early versions of technology still in use today.
Decommissioned in October of 1972, the Albacore sat idle for over a decade until it was moved back to its home town.
Visitors take a self-guided tour of the sub while exploring its interior, all left just as it was when in active use. Audio stations add depth to the experience, including stories about the ship's adventures read by former crew members.
There is also a visitor center with exhibits and a nice Memorial Garden at Albacore Park, which is dedicated to naval personnel who served on this submarine and others.
27. Discover Market Days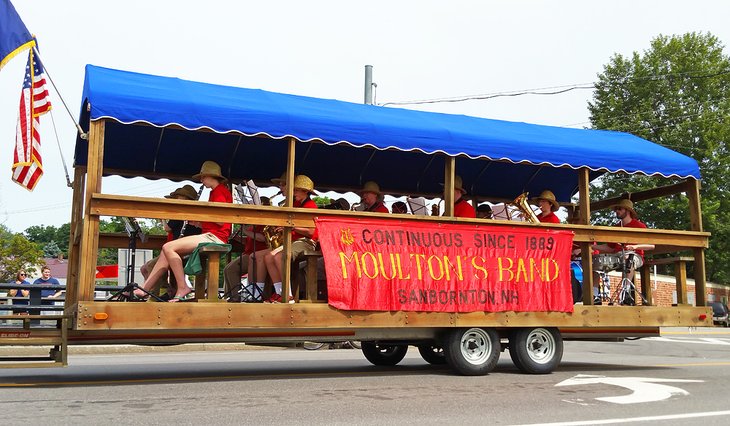 If you're looking for something fun to do in late June, plan on heading to Market Days in downtown Concord. Each year, the capital city's Main Street is closed to traffic for three days, filling up with food, craft, and local shop vendors.
There is also live family-friendly entertainment, with musical performances in Eagle Square and Bicentennial Square, as well as the main stage in front of the Capitol Center for the Arts.
Portsmouth also has a similar festival in the beginning of June, and more of the smaller cities are following suit.
In addition to the larger events, many of New Hampshire's small towns have their own community celebrations that can be a fun thing to do on a lazy weekend drive. These usually include a parade and smaller fair-style gathering with games and concessions that benefit various local groups.
28. Make a Splash at Whale's Tale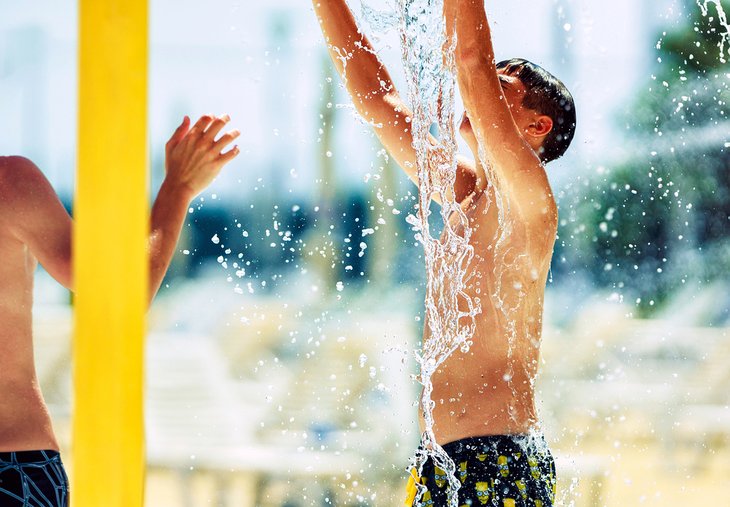 Whale's Tale Waterpark is the go-to White Mountains attraction for families in the summer, popular with vacationers and locals alike.
Little tikes have their own shallow water play area with a gradual zero-entry slope and gentle waterslides, while kids of all ages can play at Shipwreck Island, where getting splashed while you play pirate is guaranteed.
Other highlights include a lazy river; several thrilling waterslides; a huge wave pool; and "Akua Beach," where visitors can learn to surf or hone their skills.
29. Stay at a Historic Grand Resort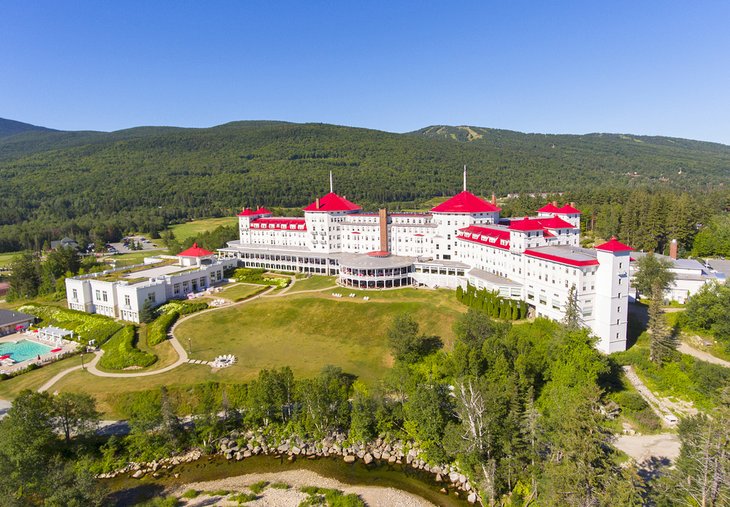 The classic grand resorts in the White Mountains are among the best resorts in New Hampshire, offering charm, history, and luxurious amenities.
Designed to emulate a luxury ocean-liner, the Mount Washington hotel is one of the most photogenic spots in the state with its wraparound decks, red roofs, and a dramatic backdrop of the famed mountain. First opened in 1902, this resort hotel has welcomed presidents, diplomats, and celebrities.
The Omni Mount Washington Resort offers on-site golf, skiing, and recreation packages, as well as all-inclusive dining options.
The Mountain View Resort & Spa comes in a close second with a sprawling property and its own slew of amenities, including a private movie theater, full-service spa, and an ice-skating-rink, among many other perks.
Although it has been closed for over a decade, tourists who find themselves in the Colebrook area should put The Balsams on their sightseeing bucket list. First founded in 1875, this picturesque historic property resembles a European palace. It is best-known as the home of the Dixville Notch Ballot Room and for its many reported paranormal sightings.