16 Top-Rated Weekend Getaways on the East Coast
We may earn a commission from affiliate links ()
From Maine to Florida, the East Coast of the United States has plenty of places to explore. Among the best weekend getaways are numerous East Coast beaches, from romantic beaches on Cape Cod to the excitement and amusements at Ocean City. Nature lovers can find seaside wonders in North Carolina's Outer Banks, or head inland to explore the White Mountains of New Hampshire.
Those who are interested in history will find it at every turn, including the nation's earliest European settlements in Saint Augustine, 18th-century life reenacted at Colonial Williamsburg, and maritime history at Mystic Seaport. The East Coast truly has something for everyone, whether you are a solitary traveler, a couple looking for a romantic weekend, a family who needs kid-friendly attractions, or a group of friends who want to make new memories.
Discover the best places to visit on your next short break with our list of the top weekend getaways on the East Coast.
1. Cape Cod, Massachusetts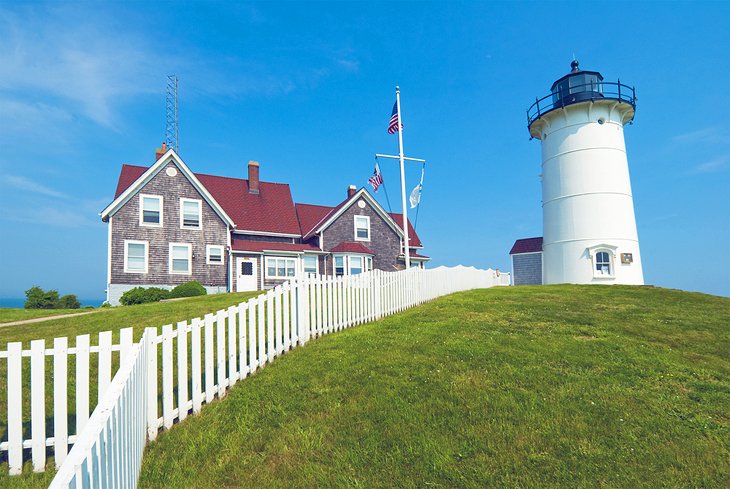 Cape Cod is an idyllic vacation getaway, offering beaches, nature, and history with plenty of things to do. At the southern end of the cape, the town of Falmouth is best known for its beaches and resorts, as well as an active arts and performance scene. Midway up the cape on its Atlantic coast, the port of Hyannis is home to the Cape Cod Maritime Museum, as well as the Cape Cod Central Railroad, which offers scenic tours.
Nearby, Yarmouth is home to several beaches and fascinating attractions like the Edward Gorey House and the Whydah Pirate Museum, home to actual pirate's treasure.
Extending 40 miles along its eastern shore, the Cape Cod National Seashore is a protected wildlife area that offers numerous recreational opportunities, including ranger-guided nature tours, swimming and snorkeling, hiking, and bird-watching. Within this region, the town of Wellfleet is home to the unique Atlantic White Cedar Swamp, which can be explored via boardwalk, and also the Cape Cod Rail Trail, which stretches from here to South Dennis, providing a paved trail for cyclists, pedestrians, and even an unpaved lane for horses.
Situated at the very tip of the Cape is Provincetown, locally known simply as P-Town. This small town is packed with an astounding number of unique shops and galleries, as well as a thriving performing arts community that offers entertainment of all sorts, from music and dance to comedy shows and cabaret. The town is also exceptionally dog-friendly and home to some of Cape Cod's best beaches.
2. Saint Augustine, Florida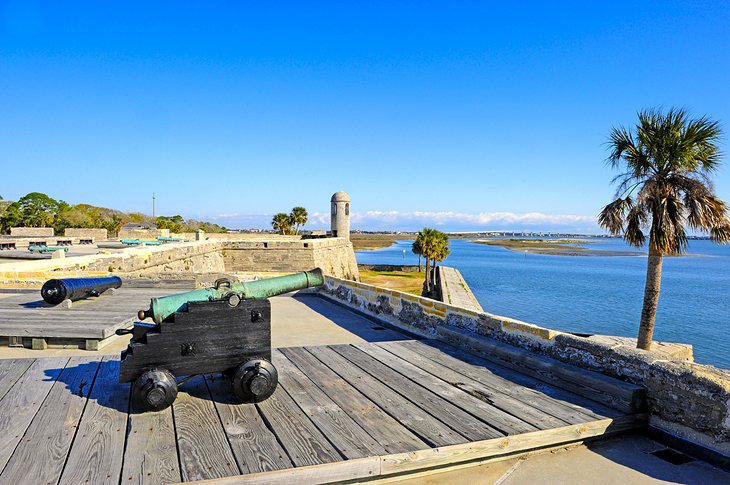 Founded in 1565 by Spanish settlers, explorer Ponce de Leon was convinced that Saint Augustine was home to the Fountain of Youth. The city is rife with historic sites, including archaeological digs that have uncovered a great deal of artifacts and insight into northern Florida's Native American peoples, early Spanish Colonial military buildings, and a variety of historic maritime attractions including the St. Augustine Lighthouse & Maritime Museum.
One of the most-visited sites in St. Augustine is the Castillo de San Marcos, a nearly indestructible fort that was built in the late 16th century; Fort Matanzas is a smaller but admission-free historic military site in the area. The Spanish Military Hospital Museum gives tourists a fascinating look at late 18th-century medicine, and the Colonial Quarter living history museum has areas devoted to exploring daily life during the 17th and 18th centuries.
Adults and kids alike will be fascinated by the St. Augustine Pirate and Treasure Museum, home to actual recovered pirate treasure, a real pirate's sword, and the oldest pirate chest and "wanted" poster in the world.
3. New Hampshire's White Mountains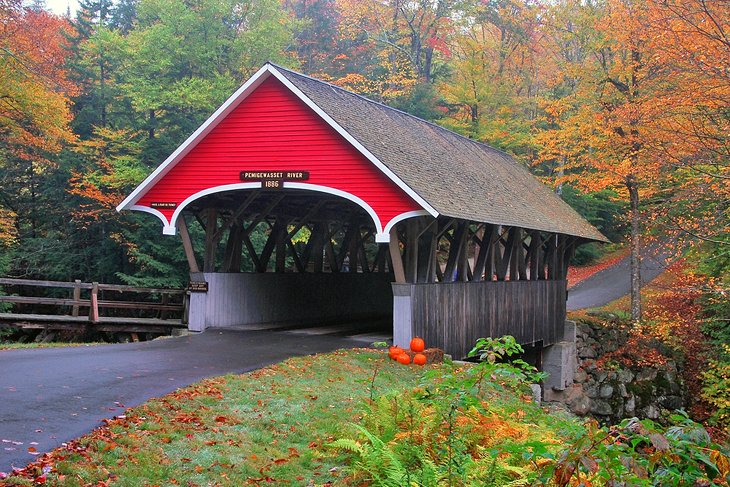 The White Mountains are New Hampshire's crowning jewels, home to year-round outdoor activities and a variety of family attractions.
During the summer months, families with younger children will enjoy visiting the area's theme parks like Story Land in Glen, Clark's Trading Post in Lincoln, and Santa's Village in Jefferson, or cool off at Whale's Tail water park. Active families will enjoy exploring natural wonders like Lost River Gorge in Kinsman Notch or the Flume Gorge in Lincoln, not to mention some of the best hiking trails in New Hampshire.
Tourists can enjoy stunning views of the surrounding mountains during any season from the lift at Canon Mountain Aerial Tramway in Franconia Notch or at any of the ski resorts in the Mount Washington Valley, including Cranmore Mountain, Attitash Bear Peak, Bretton Woods, and Wildcat Mountain. Each offers a variety of adventure activities, including mountain biking; waterslides; and horseback riding during the spring, summer, and fall.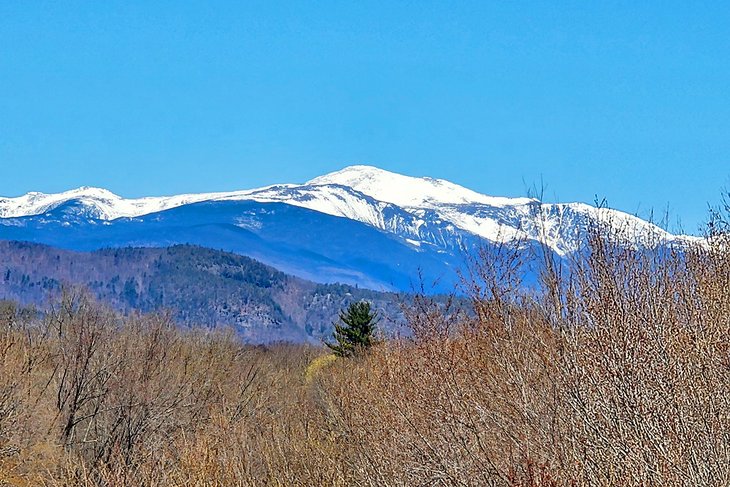 Winter is when these NH ski resorts fill up with skiers and snowboarders, and other local ski areas are known for being particularly family-friendly, including King Pine and Black Mountain.
No visit to the White Mountains is complete without spending at least an afternoon in downtown North Conway. Visitors will find a wide range of restaurants, galleries, and shops, including a historic "five and dime" store that is full of hidden treasures and unexpected finds.
4. Key West, Florida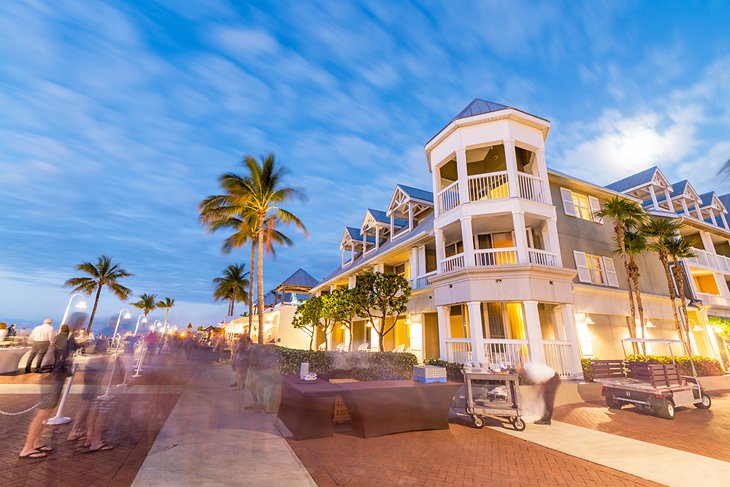 Key West is one of the top weekend getaways in Florida, known for its festive atmosphere and carefree island attitude.
The southernmost city in the continental US and home to the Southernmost Point marker, the island's culture is heavily influenced by its Caribbean neighbors. It was once home to several well-known writers, including Tennessee Williams, Robert Frost, and Ernest Hemingway, and tourists can visit the Ernest Hemingway Home and Museum where the descendants of the author's cats still live.
Duval Street is the city's main thoroughfare, where visitors will find the majority of Key West's major tourist attractions; entertainment; and shops, most importantly Kermit's Key Lime Pie Shop. Mallory Square is the center of activity, especially in the afternoon and evening, where you will find a variety of street performers, vendors, and the historic Key West Sponge Market.
Other local attractions include the Key West Aquarium, the Mel Fisher Maritime Museum, and the Harry S. Truman Little White House.
Another spot with a lot to offer is Fort Zachary Taylor State Park, home to not only the historic fort but also a lovely swimming beach and snorkeling areas, as well as host to special events year-round. For those who really want to see nature at its best, book a day trip to Dry Tortugas National Park, the ideal snorkeling destination.
5. Newport, Rhode Island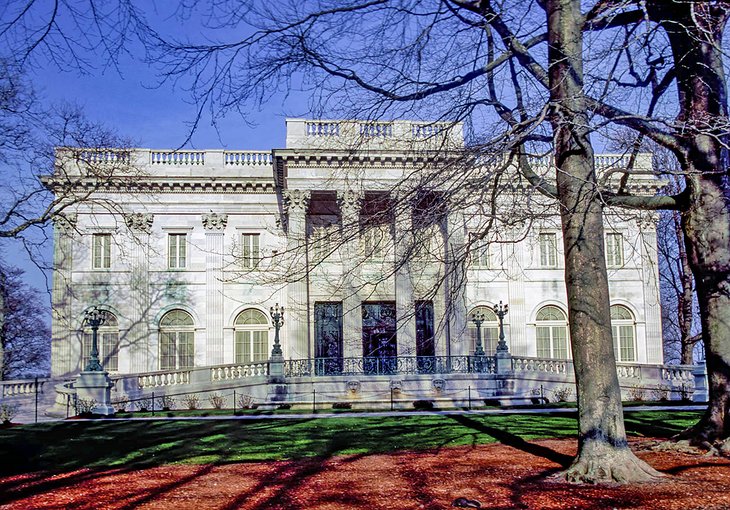 Since the Victorian era, Newport was the summer retreat for many of the country's wealthiest families. The homes they built are some of the largest, most opulent residences, most of which were constructed atop the cliffs that look out over the Atlantic.
Some of the best views of the mansions are from the Cliff Walk, a walking path that runs from Memorial Boulevard at Easton's Beach to the end of Narragansett Avenue. The most famous of these estates is The Breakers, built by the Vanderbilts; the home and grounds can be toured, including the stables and gardens.
Among other well-known residences are Rosecliff, used as the setting in the film The Great Gatsby; Marble House, which has a ballroom modeled after the Hall of Mirrors at Versailles; and Rough Point, the former home of heiress Doris Duke.
Newport is also home to several museums, most notably the National Museum of American Illustration, which boasts the world's largest collection of Maxfield Parrish works and the world's second-largest collection of Norman Rockwell originals.
Other museums include the International Tennis Hall of Fame Museum and the Museum of Newport History. Any visit to Newport is not complete without a cruise on Newport Harbor and Narragansett Bay, as this is also known as the yachting capital of America.
6. Ocean City, Maryland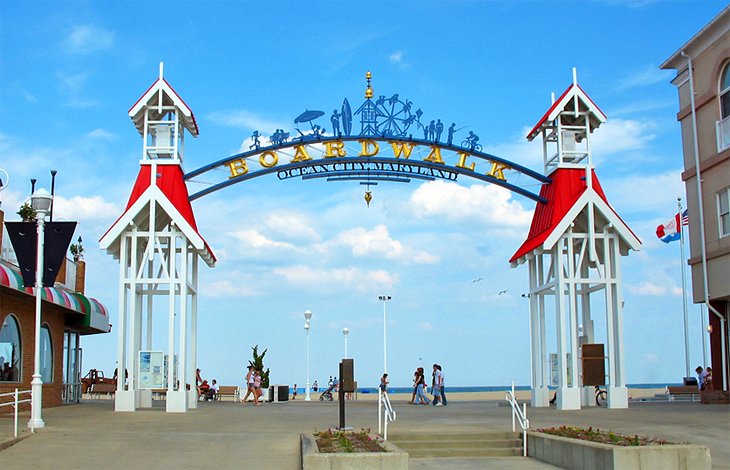 Ocean City offers plenty of things to do on your weekend getaway, with a variety of family activities that are free of charge, including movies on the beach, fireworks on Sunday nights, and twice-weekly Family Beach Olympics. More free activities and programs can be found at the Ocean City Life-Saving Station Museum, which is also home to an aquarium.
The beach itself spans 10 miles of shoreline and is open to the public with no fees; lifeguards are on duty throughout the summer, and each day there are as many as three areas reserved for surfers.
7. Cape May, New Jersey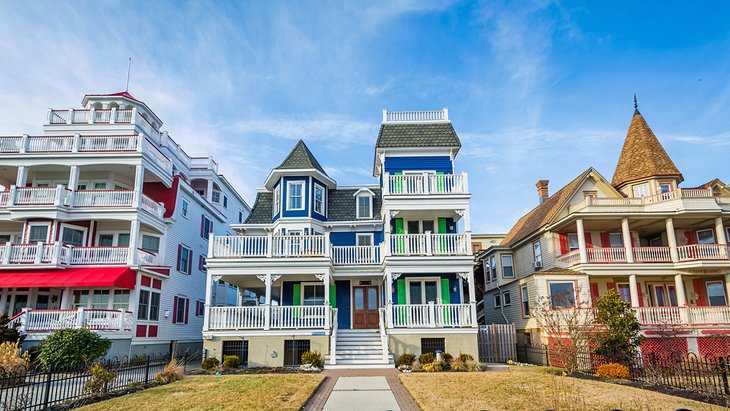 Despite the reputation that the Jersey Shore has gained from television, it is home to some truly lovely beaches, and the Cape May area is home to the best. The town of Cape May sits on the Atlantic side of the cape's southern tip, flanked by rural West Cape May and Cape May Point just beyond that.
The historic district is one of Cape May's most popular attractions, an area of 30 blocks of beautifully-preserved Victorian homes, many of which can be toured.
8. Outer Banks, North Carolina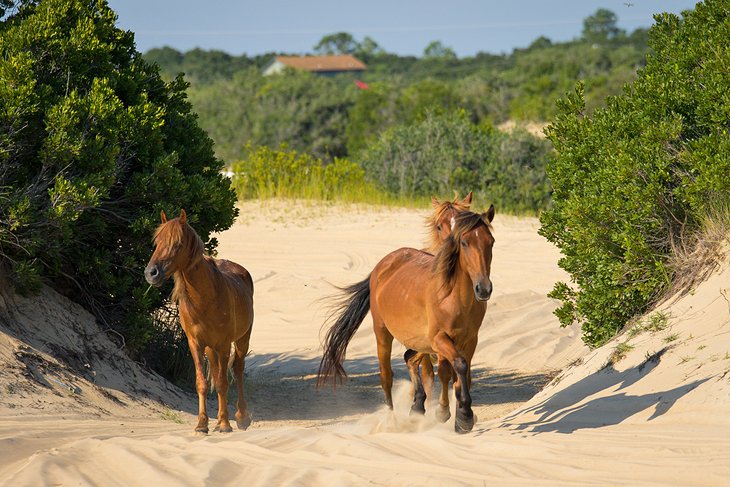 North Carolina's Outer Banks are a collection of barrier islands that stretch 200 miles along the Atlantic coast, home to beautiful beaches and a variety of scenic and historically significant destinations.
The Outer Banks Scenic Byway allows motorists to explore the majority of the area by car via 138 miles of roadway and two ferry rides. The route includes Bodie Island, Hatteras Island, and Ocracoke Island, traveling through 21 villages and past wildlife refuges, historic lighthouses, and other points of interest.
One of the most popular tourist destinations in the Outer Banks is Roanoke Island, home of the lost colony. Here, you will find a living history museum that highlights the area's contributions to the Underground Railroad, the Outer Banks History Center, and the Fort Raleigh National Historic Site. Roanoke is also home to the North Carolina Aquarium, where you can swim with the sharks and see rescued sea turtles.
Cape Hatteras National Seashore is another major tourist destination, located on Hatteras Island. Cape Hatteras Lighthouse is the tallest brick lighthouse in North America, reaching to 208 feet. You can see its original Fresnel lens by visiting the Graveyard of the Atlantic Museum, home to a fascinating collection of artifacts, from shipwrecks to exhibits about piracy and seafaring superstitions.
9. Williamsburg, Virginia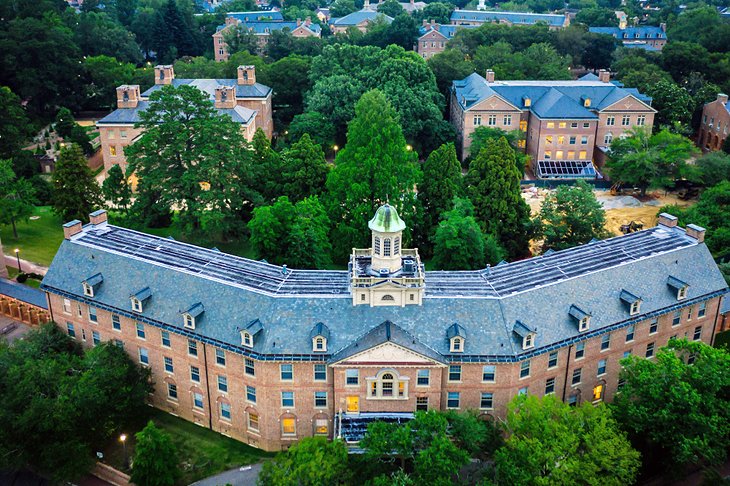 Synonymous with the town itself is Colonial Williamsburg, a unique living history museum that is also home to a water park and a theme park, making it an ideal attraction for all ages. The historic site, which was the capital of Virginia until 1779, is comprised of almost entirely original buildings, including the first Capitol Building.
Visitors can enjoy reenactments; conversations with costumed interpreters; and a huge variety of specialized tours, including nighttime, candle-lit walks and tours of the 100-plus gardens. There are a variety of ticket packages available, allowing visitors to customize their experience without paying for aspects that are outside of your interest.
10. Rehoboth Beach, Delaware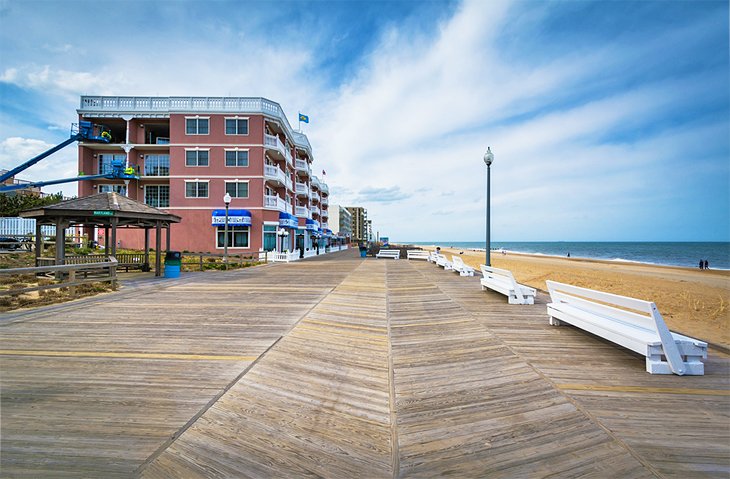 One of Delaware's most popular beaches, Rehoboth Beach has a lively and festive atmosphere. The Boardwalk is the center of activity, home to a variety of classic beach amusements, restaurants, and shops. Beach Arcade and Funland Amusement Park are the most popular family attractions, home to rides for kids of all ages, as well as a midway full of carnival games.
For those who want a break from the sand, there is also Jungle Jim's, a family-friendly water park with a good range of rides and pools for all ages. Rehoboth is also known for its shopping, with a wide variety of galleries, boutiques, and even tax-free outlets.
11. Old Orchard Beach, Maine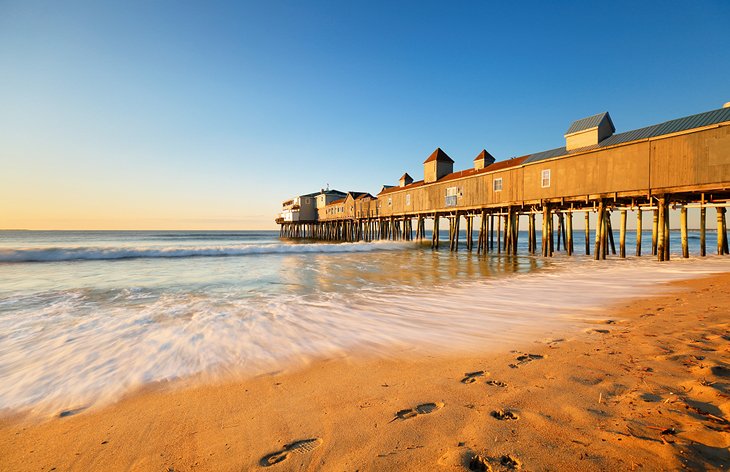 Old Orchard Beach is the best known of the beaches near Portland, Maine's cultural hub. Often abbreviated simply as "OOB," this lively beach stretches seven miles along the Atlantic coast. The biggest attraction here is Palace Playland, an old-fashioned waterfront amusement park that is the only one of its kind in New England.
Tourists can enjoy beautiful views from the Ferris wheel, and more adventurous visitors can hop on one of the classic roller coasters or other thrill rides. Rides are ticketed, with no general admission, allowing tourists to enjoy the nostalgic atmosphere. F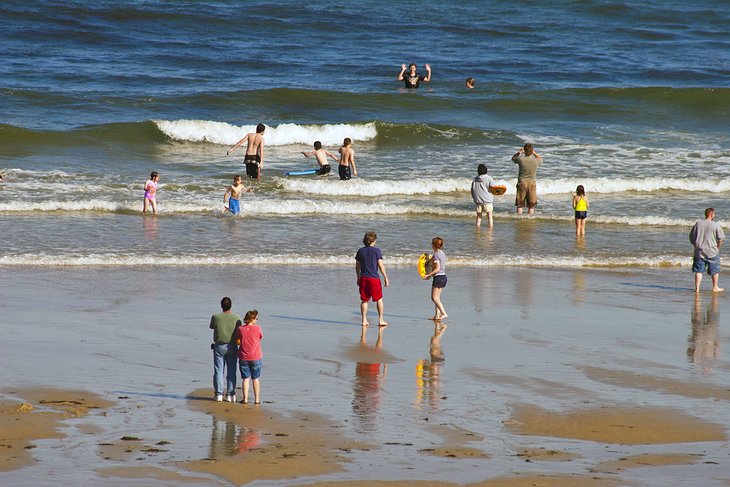 12. Tybee Island, Georgia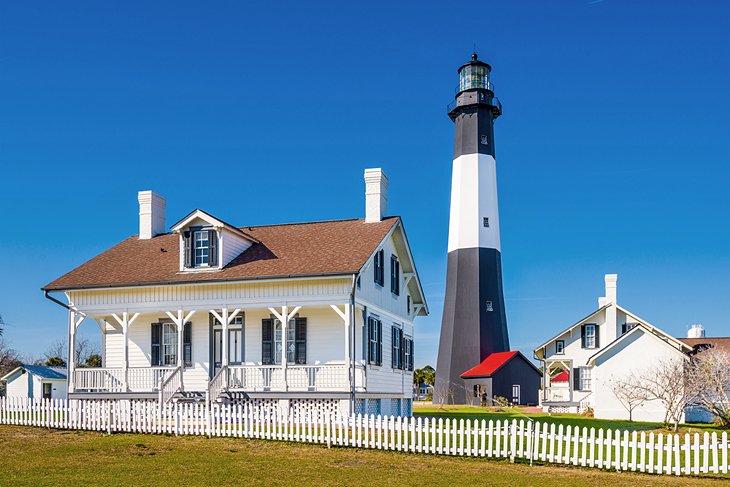 Most people think of sprawling plantations or the urban bustle of Atlanta, but Georgia also has a beautiful coastline with lots to offer. Tybee Island is located on the northern Georgia shore, less than 30 minutes from Savannah, making it a perfect weekend getaway from the city.
Here, you can enjoy everything from quiet beaches to entertainment and shopping, with plenty of opportunities to enjoy water sports like kayaking and paddleboarding. Other attractions on this barrier island include the Tybee Island Marine Science Center and an active lighthouse.
13. The Hamptons, New York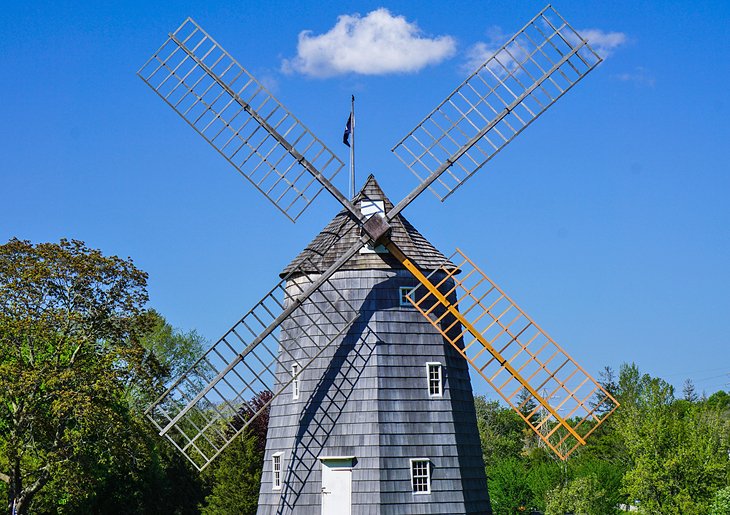 Located at the southern end of Long Island's eastern shore, the Hamptons are one of the most popular places for New Yorkers to visit in the summer months. They are also easily accessible from New Haven and other coastal Connecticut towns. The best way to get here is by ferry, allowing tourists to avoid the notoriously bad traffic while offering stunning views of Long Island Sound.
14. Pennsylvania Dutch Country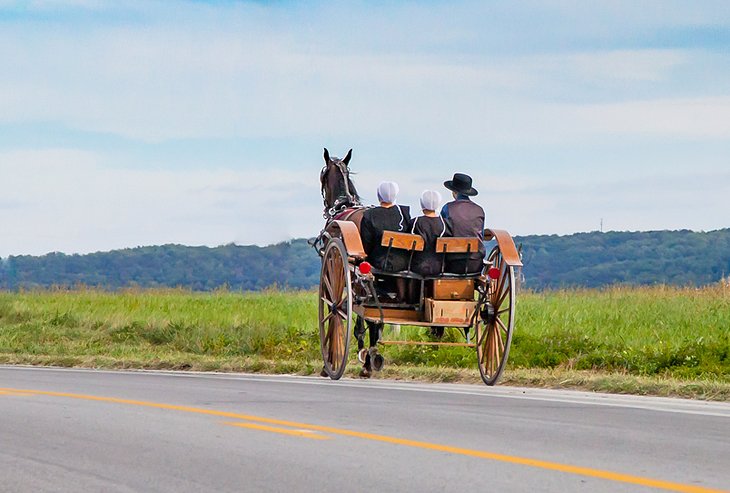 Located in Lancaster County, Pennsylvania Dutch Country includes the farmlands and towns inhabited by the Amish, Mennonites, and other cultures that are known for a life without modern technology. Visitors almost step back in time, entering a world where horse-powered vehicles and truly hand-made items are the norm.
Lancaster is one of the best-known towns, a rural area which has several Amish tourist attractions, including a living history experience at Landis Valley Village & Farm Museum; the nation's oldest farmer's market; and the Dutch Haven Restaurant, famous for its shoo-fly pie.
An excellent introduction to the area and its culture can be found at the Amish Experience center near Lancaster, and there are many local tours available. Families with younger kids who are visiting the area will want to spend some time at Dutch Wonderland, a themed amusement park.
15. Take a Windjammer Cruise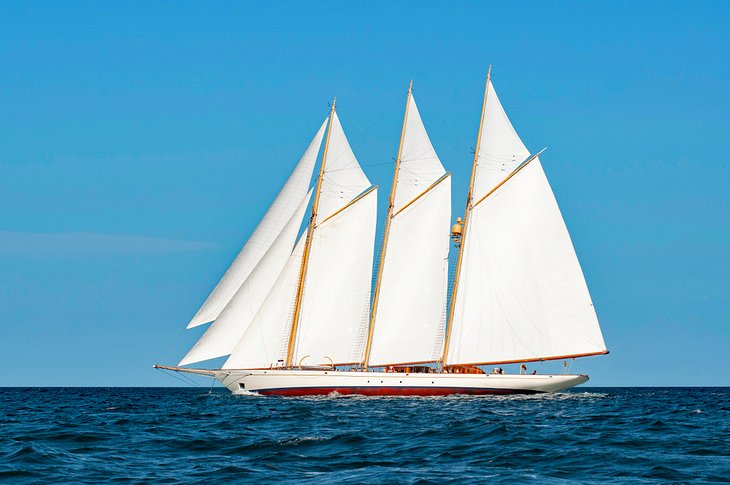 Setting out on the ocean is a freeing experience, but there is nothing quite like setting sail on a tall ship that is propelled only by the wind. One of the great joys of embarking on one of these vessels is the opportunity to learn the ropes – quite literally – by assisting crew in hoisting sails and other essential tasks. This is optional, of course, and guests are welcome to learn and participate in sailing as much or as little as they like.
Tourists will find the best selection of windjammer cruises along the Maine coast, most of which depart from the towns of Rockland and Camden. Boat operators who are part of the Maine Windjammer Association offer all-inclusive overnight excursions, including weekend cruises. There are also sailing schooner cruises out of Bar Harbor on Mount Desert Island, and those interested in the history of these boats and more can visit the Maine Maritime Museum in Bath, Maine.
Tourists who are short on time and want to work this experience into a visit to the Atlantic coast can also find day sailing trips that depart from major ports, including Mystic, Connecticut; Baltimore, Maryland; Key West, Florida; and Boston Harbor and Cape Cod in Massachusetts.
16. Mystic, Connecticut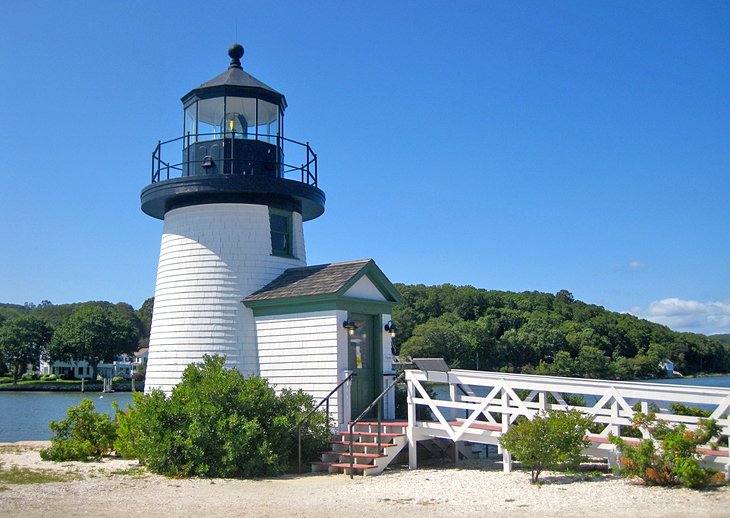 Mystic, Connecticut is one of the state's most charming small towns, home to the fascinating living history museum Mystic Seaport. Here, visitors will find the shipyard as it was in its heyday as a major port town during colonial times, including homes, businesses, and of course plenty of historic ships to explore and admire. Tourists can explore the Mystic River by hopping aboard a coal-fired steamboat cruise operated by the museum.