13 Top-Rated Beaches in North Carolina
North Carolina beaches have been a top destination for families since the 1930s. People come to the coast and rent cottages and beach homes to escape the heat, frolic in the Atlantic waters, enjoy the ocean breezes, and generally have a good time with friends and family.
Beaches along the North Carolina coast stretch from the state line in Virginia right down to Georgia, and come in many shapes and sizes, but a majority of them are on sandy barrier islands, with limited development in behind. This tends to create a relaxed, small-town feel, even though hundreds of thousands of people descend on these areas in the peak season. The names of the beaches are often synonymous with the closest town.
Regardless of what you're looking for in a beach vacation, whether it's walking, swimming, shelling, trying your luck with some of the best shore fishing along the Eastern Seaboard, surfing, kiteboarding, or just sitting in a beach chair watching the waves roll in, you can find it on North Carolina's beaches.
If you are traveling with your furry, four-legged friend, you will be pleased to know that dogs are allowed on a majority of the Outer Banks beaches, and in some cases do not even need to be leashed.
To help plan your trip, have a read through our list of the best beaches in North Carolina.
1. Atlantic Beach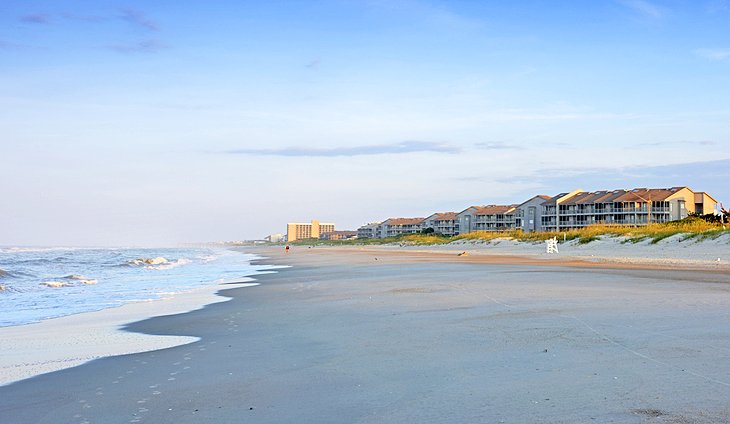 Located on the state's famed Crystal Coast, Atlantic Beach is one of the more popular destinations, owing largely to its location and the fact that it faces south, protecting it from the wind and waves of the Atlantic Ocean. It has a long history as one of the top beach destinations on the entire coastline.
The soft-sand beach is wide and backed by shopping and dining options that range from burgers right through to top-end restaurants. For time away from the beach, be sure to check out one of the four Walk Atlantic Beach loops. Each one takes you through different areas of town.
If fishing is your pastime, the Anchorage Marina has an excellent ramp, good ship store, and lots of parking for your rig and trailer. You can access the beach at any of the 44 well-marked access points with parking nearby.
Off the beach, you'll find a bustling downtown with beach-themed shops, restaurants, and entertainment venues. For a bit of Civil War era history swing by Fort Macon State Park. This stone fort is perfectly restored and is a great place to explore, with old cannons, stone ramparts, and dark passageways. A rainy day attraction located nearby is the North Carolina Aquarium at Pine Knoll Shores with its 306,000-gallon ocean habitat, the largest in the state.
Accommodation: Where to Stay in Atlantic Beach
2. Wrightsville Beach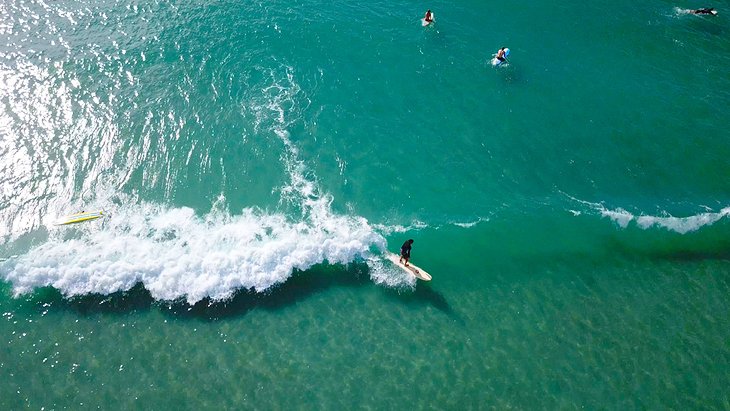 Just a short drive from Wilmington, Wrightsville Beach is a hot spot for all types of water sports, including stand up paddleboarding, surfing, and kiteboarding. In fact, this is the beach where surfing all started in North Carolina. The waves roll in here on a steady basis and tend to be gentle, perfect for beginners.
Rental boards and professional instruction are available just back from the beach at any one of the many surf shops. Most beginners opt to attend multi-day surf camps to really get the hang of things and to meet some other like-minded people. Most of the surfing is on longboards, which are much easier to master.
For those less inclined to activity, the golden sands and crystal-clear waters are perfect for lazing and splashing about. The beach is long and wide, with two piers jutting into the ocean, which are perfect for catching a sunrise or for fishing.
Accommodation: Where to Stay in Wrightsville Beach
3. Nags Head Beach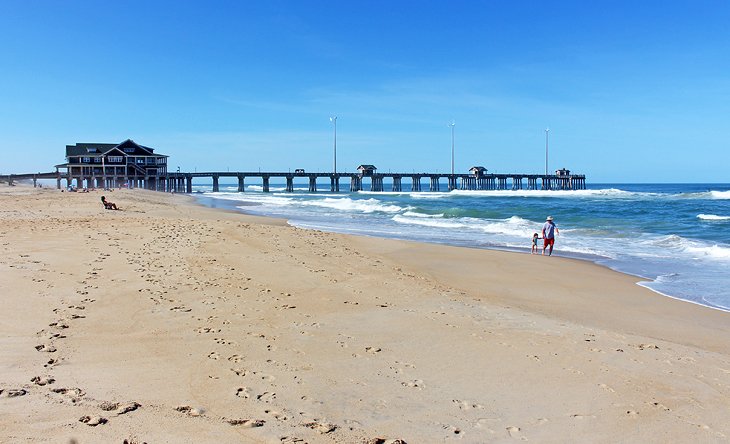 Nags Head is known for its wide-open beaches with golden sands and crystal-clear water, perfect for swimming. It was originally settled in 1830, and has been a popular beach destination attracting visitors for decades. Today, you can find plenty of accommodation in the form of hotels or rental homes.
Beach walkers will appreciate the 12 miles of beach. You will likely run out of energy before you run out of real estate. Located on the beach is the 1,000-foot-long Jenette's Pier, a local fishing hot spot. If you didn't bring your own fishing gear, you can rent from the shop on the pier. Also located on the pier is an aquarium. There is a small fee to walk the pier and an additional charge for fishing.
Nearby is Jockey's Ridge State Park with large sand dunes and the Bodie Island Lighthouse dating from the early 1870s. Invest the effort to climb the stairs to the top for incredible views up and down the coast.
Accommodation: Where to Stay in Nags Head
4. Carova Beach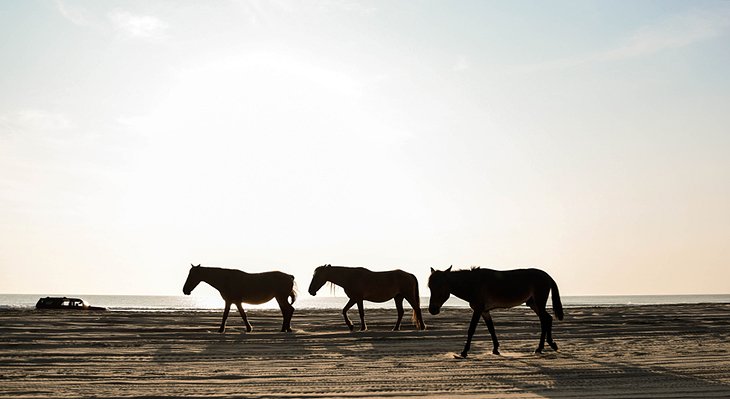 If you have a 4WD vehicle and are looking for a completely different beach experience, head out to Carova Beach. This beach is most famous for its wild horses, but is also popular for its huge, soft-sand beaches.
You can drive on the beach and go as far as you want to find your own piece of beach paradise. This is also a great area for bird-watching and wildlife spotting, and it's one of the best spots for shelling in the Outer Banks. No services are available out here, so be sure to bring all your supplies with you.
You do not need to have a beach driving permit to drive on the sand here, unlike the national park beaches farther south. However, for the Memorial Day Long Weekend through to Labor Day, a parking permit is required.
5. Carolina Beach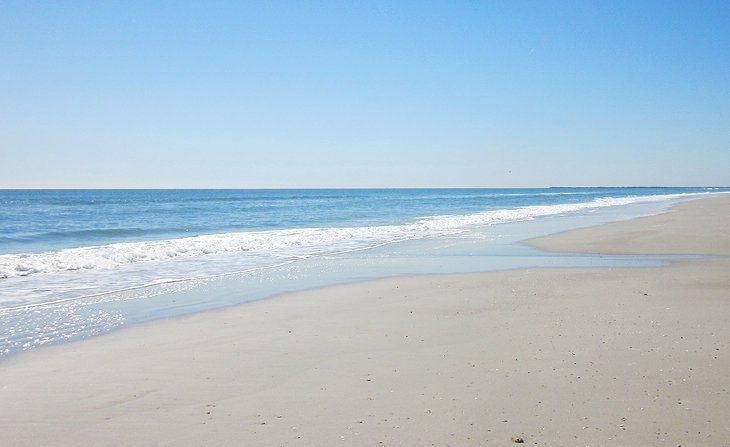 Easily accessible from Wilmington, Carolina Beach is right near the mouth of the Cape Fear River. The beach is backed by a historic wooden boardwalk lined with restaurants and beach shops. The area also has a permanent midway with a Ferris Wheel and other kinds of fun rides for the kids.
If you aren't up for a swim, you can find plenty of other fun things to do here. Grab an ice-cream and stroll the boardwalk while gazing out at the Atlantic Ocean, or rent a bike and go for a ride. If you do want to get out on the water, this is a great spot to get an introduction to the sport of stand up paddleboarding.
Dog owners should be aware that dogs are not allowed on the beach from 9am to 5pm and are not allowed on the boardwalk at any time. Camping for tents and RVs is available nearby at Carolina Beach State Park.
Accommodation: Best Beach Hotels in Wilmington
6. Beaches on Topsail Island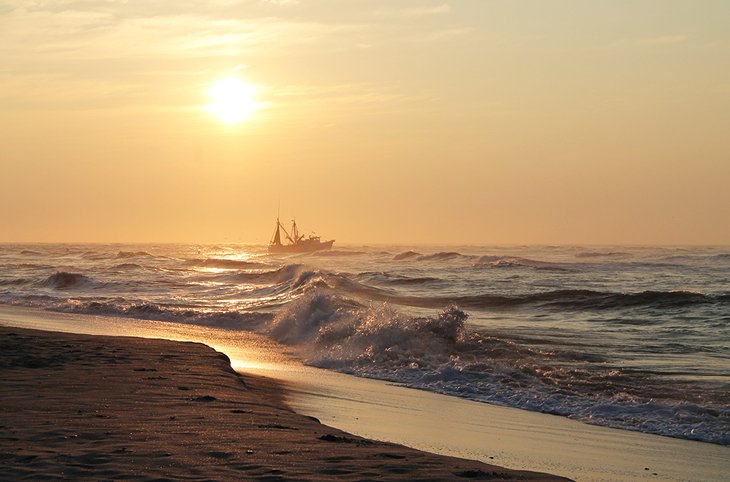 With over 26 miles of beach and three towns on the island - Topsail Beach, North Topsail Beach, and Surf City - you can choose to be either in the center of the action or out on your own. This is one of the few places that has exceptional beaches on the sound side, as well as the Atlantic side. This means you can find shallow, warm, calm waters that are ideal for families with small children.
On the Atlantic side, beach walkers can enjoy seemingly endless stretches of sand, and shell seekers will be rewarded with some of the best finds on the North Carolina coast. Swimmers can enjoy the waves and rolling surf.
One of the main attractions is the 937-foot-long Surf City Pier. Here, you'll find a popular restaurant and a friendly atmosphere. Typical fish caught here include mullet and king mackerel. Parking is free.
7. Emerald Island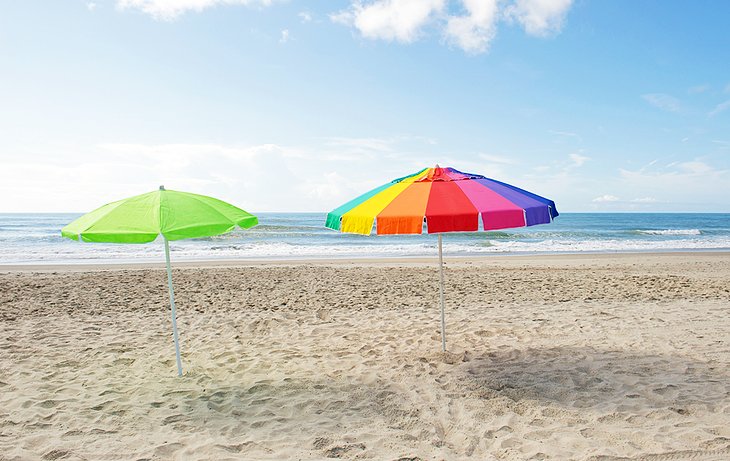 Emerald Island or Emerald Isle, depending on who you talk to, has The Point, one of the best spots to catch a spectacular sunset along the entire coastline. This is a family-friendly beach destination with things to do for all ages on and off the beach, including the Bogue Inlet Fishing Pier, extensive walking and biking trails, a waterslide park, and mini-golf courses.
Emerald Island was named for the green maritime forest that covers the area. To experience this firsthand, take a walk along one of several nature trails that wind their way through the forest.
Accommodation here is plentiful, with an extensive selection of rental homes, cottages, and condominiums either right on or just back from the beach.
8. Beaches of Bald Head Island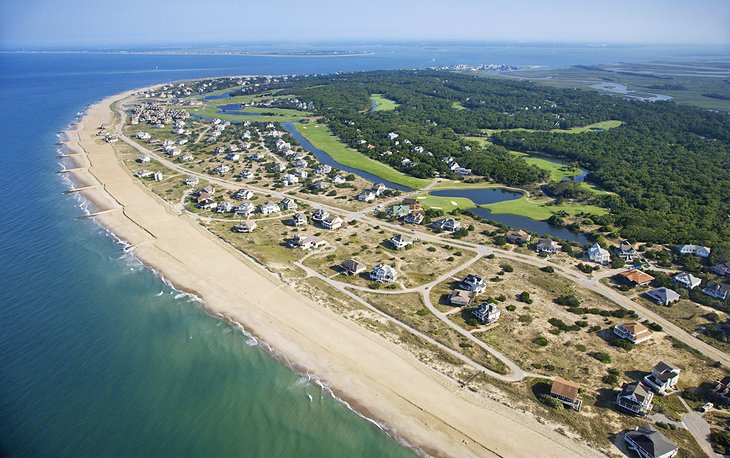 The beautiful beaches of Bald Head Island are reached via a 20-minute passenger ferry from the Deep Point Marina in Southport. Bald Head Island does not allow cars, the only mode of transport is via a tram or golf carts. The tram is free if you are renting a beach house. If you are only day-tripping, golf carts can be rented at the ferry terminal.
Alternatively, bring your bicycle and pedal your way along the 15 miles of trails. The 14 miles of soft-sand beach is definitely the main draw here, but you'll also find a range of activities available, including an exceptional 18-hole golf course, hiking trails, and kayaking, or for those with less active agendas, a day at the spa or shopping at the cute boutiques in town.
9. Kitty Hawk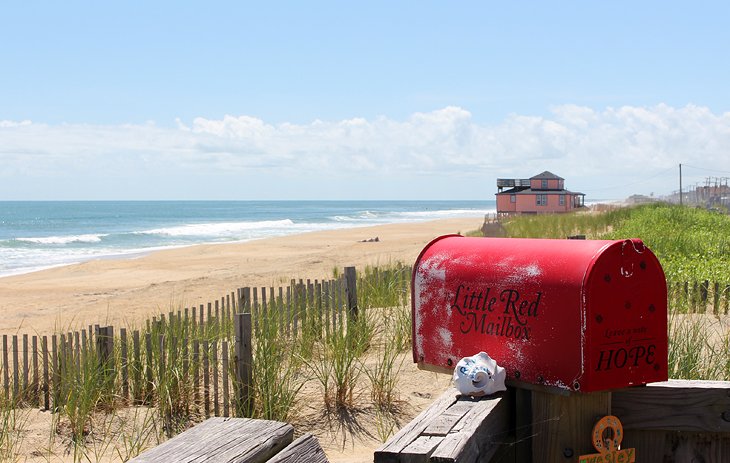 The golden sand beach at Kitty Hawk runs for miles. It's easy to find your own patch of sand and set up your beach outpost. Parking is relatively easy and is free at one of the many beach access points. Kitty Hawk is the first town you come to when arriving from the north after you cross the long bridge on Highway 158 across Currituck Sound.
One of the great advantages of Kitty Hawk is the accessibility and availability of service. Along the four-lane highway, you'll find a great variety of restaurants, grocery stores, and interesting retail shops selling everything you could ever need for your beach outing. Kitty Hawk is also home to the Wilbur Wright Memorial, ideal for an outing on a cloudy or rainy day.
Accommodation: Where to Stay in Kitty Hawk
10. Beaches in the Tri Villages: Rodanthe, Waves & Salvo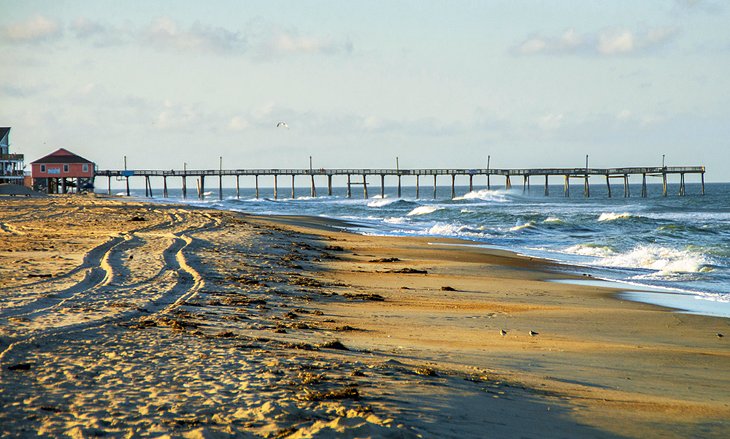 The beaches at these three cities meld into one another as you head down the Atlantic coastline. Like many of the other beaches along the Outer Banks, the beach along the Atlantic is wide and backed by dunes. These beaches are perfect for those looking for a little solitude and seclusion. The farther south you go, the less development you'll find, as the beaches are managed by the National Parks Service.
Kitesurfing is also a big deal in this area of the Outer Banks, primarily on the sound. The main location for kiteboarding is in the towns of Salvo and Waves. Here, you'll find excellent facilities to learn, buy gear, or just access the water. If it's windy, don't miss out on seeing something unique. Head over to REAL Watersports in Waves and grab a table on the patio at Waterman's Grill and watch the kiters zipping across the calm waters of the sound.
If you are a fan of Richard Gere or Diane Lane, the famous beach house used in the movie Nights in Rodanthe, moved just inland off the beach in 2010 due to erosion, can be seen off highway 12 on Beacon Road.
The Tri Villages have the main commercial campgrounds of the Outer Banks, and if you are towing an RV, this is where you'll likely find yourself set up. In addition to camping, the local realty agencies have an extensive selection of cottages for rent.
11. Holden Beach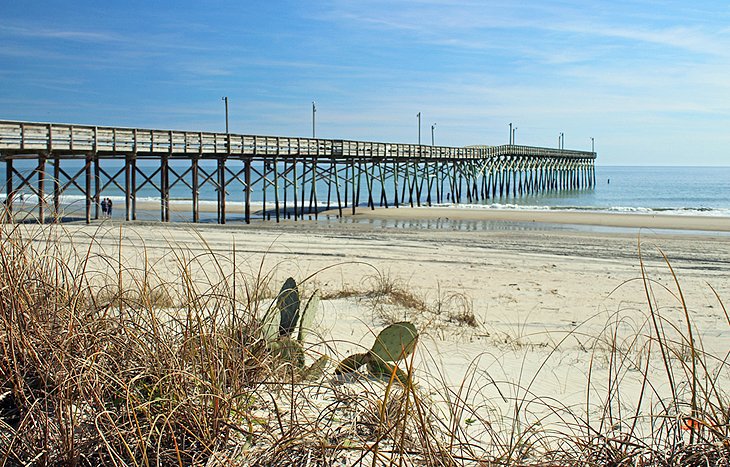 Holden Beach is one of the best family beaches in North America. Generations of families return year after year to this little slice of paradise. Located in the Brunswick Islands, Holden Beach has a wonderful long stretch of sand facing out to the Atlantic, perfect for swimming, shelling, and strolling.
If you work up an appetite, just head over to the other side of the island where waterfront restaurants look out over the Intracoastal Waterway. Holden Beach is only 35 minutes south of Wilmington, making it a nice day-trip destination. If want to stay in this area, you may want to consider renting a beach house or set up in Wilmington for a bit more city action and culture.
This area has a very relaxed feel and look. Local building regulations state that no structure can be higher than 35 feet.
12. Avon Beach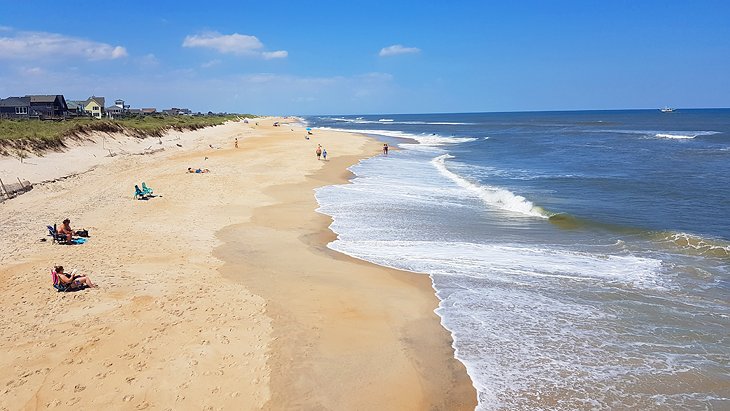 Avon is a small town with little tourist-focused development. You won't find mini putts, a ferris wheel, or hotels here. You will find a few local restaurants, a decent grocery store, and miles of beaches.
Long stretches of sand backed by rolling dunes describe the beaches of Avon. Except for only the tallest houses, other developments are hidden behind the dunes, so as you walk along the beach, it can feel remote. The beaches at the north end of Avon are wider, with big dunes backing them; the beaches to the south are a bit narrower, and the dunes are smaller.
The main gathering place along this stretch is the famous Avon Fishing Pier. Here, you'll find a convenience store, tackle shop, and everything you'll need for fishing. For a small fee, you can walk out on the pier.
Accommodation here is in the form of beach homes, and the listings and availability are managed by the local real estate companies.
13. Beaches of Ocracoke Island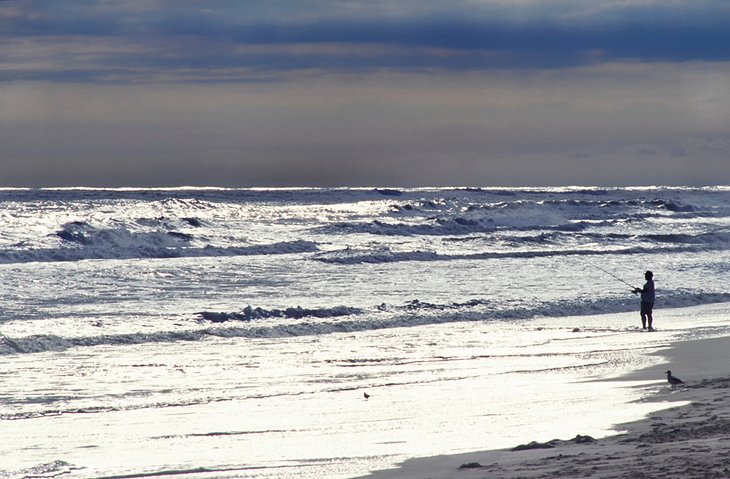 If you truly want to get away from it all, head to Ocracoke Island. As you drive off the ferry, you'll feel your heart rate slow as the relaxed island vibe hits you. Although it's only a 25-minute ferry ride from Hatteras Island, you'll feel far from civilization.
The island is small, but the beaches are wide and unpeopled. A funky little town with a variety of restaurants and services rounds out the experience. Accommodation options range from a national park campground to traditional hotels, beach houses, and bed-and-breakfasts
Local legend is that the pirate Blackbeard called Ocracoke home. Getting to the island is easy. Car and passenger ferries run on a regular basis from Hatteras Island and Cedar Island to Ocracoke Ferry Terminal. The crossing from Hatteras Island to Ocracoke is free.
More Related Articles on PlanetWare.com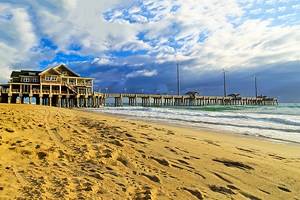 Exploring the Outer Banks: On rainy days or when you just need a break from the beach, you can still find ways to spend your time in the Outer Banks. Have a read through our list of things to do in the Outer Banks.