3 Top Places for Deep Sea Fishing in North Carolina
North Carolina has prime shoreline for deep sea fishing opportunities. With the state's central Atlantic coast location, 301 miles of ocean coastline, and an abundance of charters available for every type of deep sea angling, it suits anglers of any skill level. The state's coastal regions have exceptional recreational fishing for anglers targeting bluefin tuna, wahoo, and even sharks.
North Carolina has long been recognized as a world-class offshore fishing destination since the 1930s, when commercial fishermen began offering visiting anglers offshore opportunities. Its popularity as a top fishing destination has grown ever since.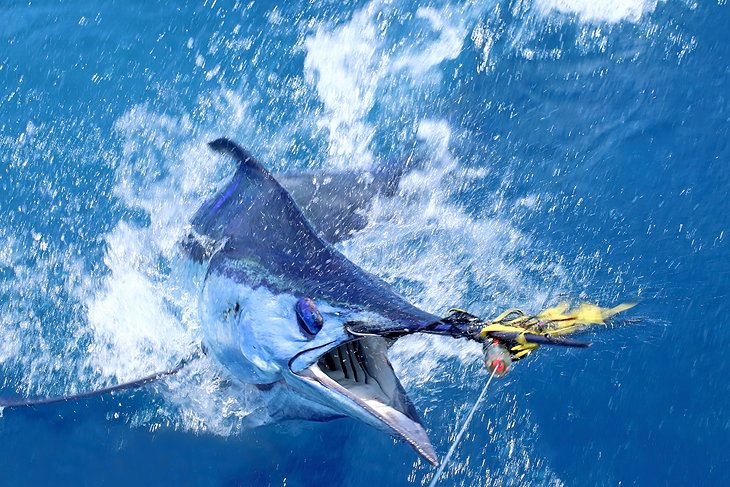 Deep sea fishing in North Carolina is clustered into three main regions on the northern, central, and southern coastline. While locations like Hatteras on the northern coast is the heart of tuna fishing charters and the location for the television show Wicked Tuna, the central and southern coasts have their own appeal for different reasons.
The North Carolina coastline extends out into the Atlantic Ocean placing it closer to the Gulf Stream than almost anywhere in the United States north of Florida. The Outer Banks and Hatteras are located only 15 miles from the Gulf Stream.
The warm waters sustain a wide variety of species, including blue and white marlin; sailfish; amberjack; bluefin, yellowfin, and blackfin tuna; barracuda; shark; dolphin; wahoo; cobia; bonita; king and Spanish mackerel; false albacore; and channel bass. The Gulf Stream's proximity to the coast in North Carolina means you can also target bottom fish, including triggerfish, grouper, tilefish and sea bass.
The other advantage that deep sea anglers have from the northern North Carolina coast is the presence of great species throughout the year heading in both directions as the cool waters from the Labrador Current converge with the warm waters of the Gulf Stream. This means there's a greater opportunity to fish for a wider variety of species than from other east coast destinations, especially for prized big-game species like tuna and marlin.
Learn more about your options with our list of the top places for deep sea fishing in North Carolina.
1. Outer Banks: Northern North Carolina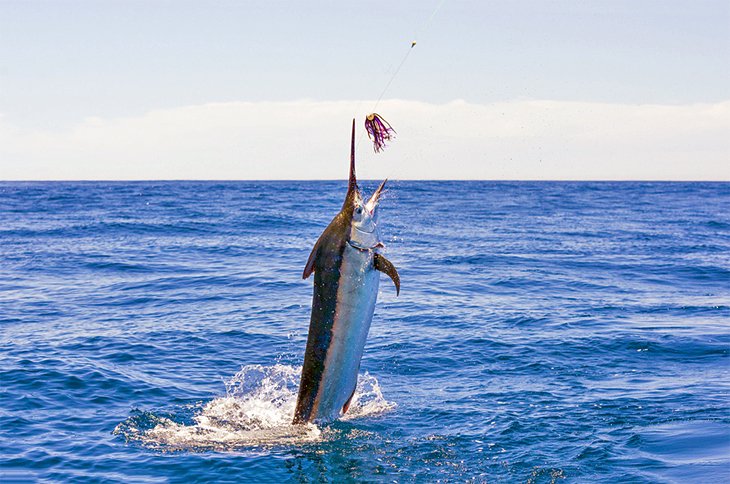 The Outer Banks is the granddaddy of them all when it comes to deep sea fishing, especially for tuna. It is considered the billfish capital of the world. The sheer numbers of sailfish, blue marlin, and white marlin caught along this section of coast in season are unmatched.
Marinas with deep sea charters are located throughout the Outer Banks in Currituck and Dare counties and in Ocracoke in Hyde County. Some of the main departure marinas are Pirates Cove, Oregon Inlet Fishing Center, Hatteras Harbor, Hatteras Landing, and OBX Marina.
While the marinas in the northern Nags Head and Manteo areas are bustling, the most productive area for deep sea fishing is out of Cape Hatteras, the home base for the television show Wicked Tuna. Cape Hatteras is located on the southern tip of the barrier island and is a one- to two-hour drive down Highway 12 from Manteo, but it is where the hard-core anglers congregate for sport fishing.
Cape Hatteras has the feel of a rustic fishing village, where nearly every restaurant's and hotel's décor is outfitted with photos and paintings of billfish, furthering the excitement of anglers who are in the area to land one of their own and make the offshore memories match their angling anticipation.
The billfish season is lengthy, meaning there are many chances to catch a 100- to 700-pound marlin or sailfish. Blue marlin peak in June, whereas sailfish and white marlin peak in August and September, although they can be caught anytime from the late spring months through fall.
This timeframe is also ideal for other species like grouper, king mackerel, wahoo, tuna, snapper, Spanish mackerel, bluefish, and flounder. From the winter months through early spring, the Outer Banks' offshore waters produce sea bass, king mackerel, grouper, flounder, and Bluefin tuna. Yellowfin tuna is caught pretty much year-round from the Outer Banks.
Ocracoke Island is a bit more remote on the southern end of North Carolina's Outer Banks, but it is a great base if your mission is deep sea fishing. Ocracoke Village is a relatively undeveloped coastal fishing village, with a few charters available. This is nice for anglers who want a more secluded experience with other types of fishing opportunities, like surf fishing along the Cape Hatteras National Seashore, which has fewer visitors than other parts of the Outer Banks.
2. Crystal Coast Region: Central North Carolina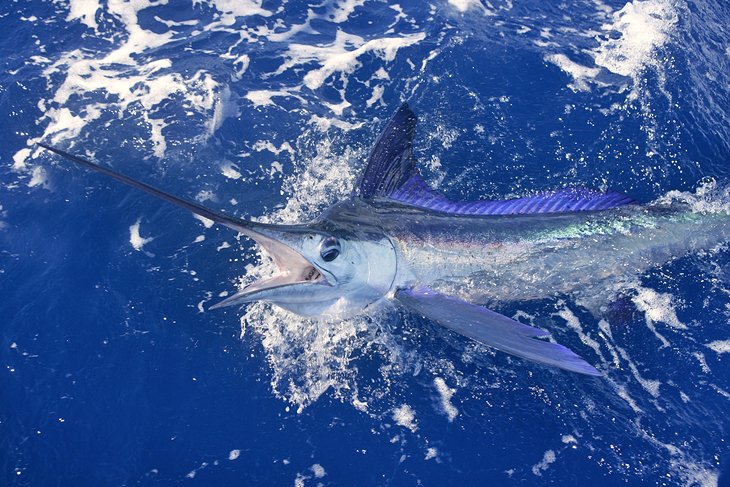 The Crystal Coast Region is along the central coast of North Carolina in Carteret and Onslow counties. This region is notable for its quality deep sea fishing for a variety of species and year-round fishing tournaments. The Crystal Coast is ideal for targeting offshore trophy marlin, wahoo, tuna, sailfish, and mahi-mahi.
There is 85 miles of coastline along this stretch of the Atlantic and plenty of marinas and charters, so you will want to research the locations closest to where you will be spending time or the closest airport if you are flying in just for fishing. Some of the communities along the Crystal Coast include Atlantic Beach, Beaufort, Emerald Isle, Morehead City, Pine Knoll Shores, Cape Lookout, Down East, Harkers Island, Indian Beach, Salter Path, and Western Crystal Coast.
There are many charters available, with trips that range from half-day to full-day, overnight, and even specialty charters that specifically target sharks or mahi-mahi. The best offshore fishing for blue and white marlin, mahi-mahi, yellowfin tuna, Spanish mackerel, and wahoo is in the summer months (May-September).
During the fall and winter months, you can target bluefin and blackfin tuna and king mackerel. Closer to shore, fishing along this section of coast is popular, making for a lot of happy anglers who catch sea trout and redfish.
3. Southern Beaches: Southern North Carolina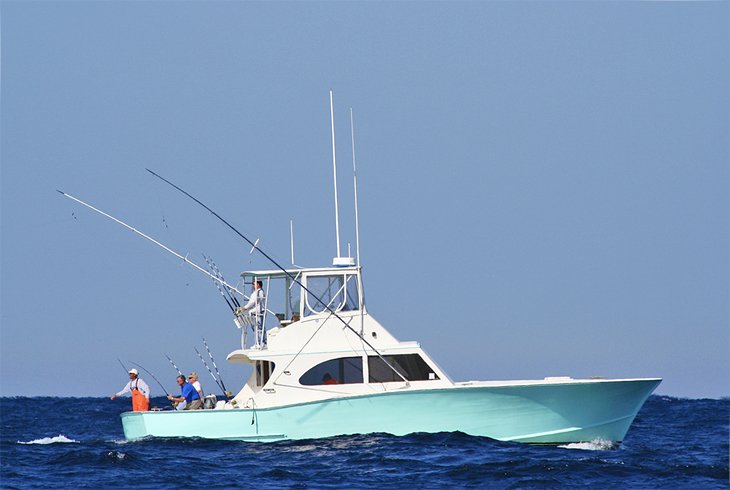 The southern coast of North Carolina, which includes Pender, New Hanover, and Brunswick counties lends itself to great offshore fishing but also unique opportunities for reef fishing that the northern areas do not offer. Carolina Beach, Kure Beach, and Wrightsville Beach are a few of the top departure spots on the southern coast, but most anglers flock to Wilmington.
Wilmington hosts fishing tournaments throughout the year and has premier charters ready to take novice or advanced recreational anglers out to sea. There are many restaurants, especially around the Carolina Beach area, that will cook your catch for dinner.
The warm waters of the Gulf Stream off this section of coast make sport fishing for wahoo, dolphin, sailfish, marlin, tuna, and amberjack quite successful. You can also catch sharks, red snapper, and mahi-mahi.
A top summer target off this coast is the red drum, which is an aggressive fish that does not disappoint anglers in the fight. Like the other areas along the North Carolina coast, the prime time for deep sea fishing off the southern shores is late spring through early fall.
Another spot to consider on the southern coast is the Brunswick Islands, which have surf fishing and angling available from five piers in addition to thriving offshore charters that go out regularly for game fish. Anglers looking for another way to immerse themselves into the fishing culture of the Brunswick Islands can visit during the annual U.S. Open King Mackerel Tournament, which is a favorite event for both locals and visitors to experience.
Best Time of Year for Deep Sea Fishing in North Carolina
Fish from the Atlantic Ocean can be caught year-round in North Carolina but much of the offshore fishing is done during the spring through fall months. Bluefin tuna migrate along the coast, reaching North Carolina waters in large numbers from mid-February through April. Anglers have landed tuna during these peak times in excess of 700 pounds.
When water temperatures start to rise in April, bluefin tuna catches decrease but make way for other species that pick up in large numbers, like blackfin and yellowfin tuna, which are dominant the rest of the year.
Fishing Charters and Licenses
The three main coastal regions have about 800 charter boats operating, so finding a captain that knows the waters and species is easy, and many charters include the fishing license in the fee. Before you hit the water though, be sure to research your license requirements and the species you want to target to get the most out of your time and money.
The North Carolina Division of Marine Fisheries participates in the Marine Recreational Information Program (MRIP) to collect marine catch estimates from along the coast. You can review catch trends on the NOAA website before your trip and use the estimates to request a specific kind of charter.
Map of Places for Deep Sea Fishing in North Carolina
More Related Articles on PlanetWare.com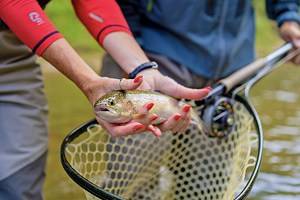 Fishing in the North Carolina Mountains: If you are interested in more fishing opportunities in the state, don't miss our comprehensive article on trout fishing in North Carolina to find out where to go and what to do once you get there. And if you are looking for accommodation on your trip, be sure to see our article on the top resorts in North Carolina.