13 Top-Rated Campgrounds in New Hampshire
The White Mountains, which include the highest elevation in the northeastern US, are largely protected by public lands, both state parks and the vast swath of the White Mountain National Forest. The campgrounds in each of these provide hundreds of campsites for both tents and RVs, and offer varying types of facilities, from fairly primitive sites to those in more highly developed parks.
These White Mountain campgrounds are especially popular because they are close to excellent hiking and mountain climbing, as well as some of New Hampshire's most popular tourist attractions, including The Mount Washington Cog Railway and several other mountaintop rides. Elsewhere in the state, several state parks and private campgrounds are located on lakes with swimming beaches and water sports.
For locations and details, see our list of the best campgrounds in New Hampshire.
1. Lafayette Place Campground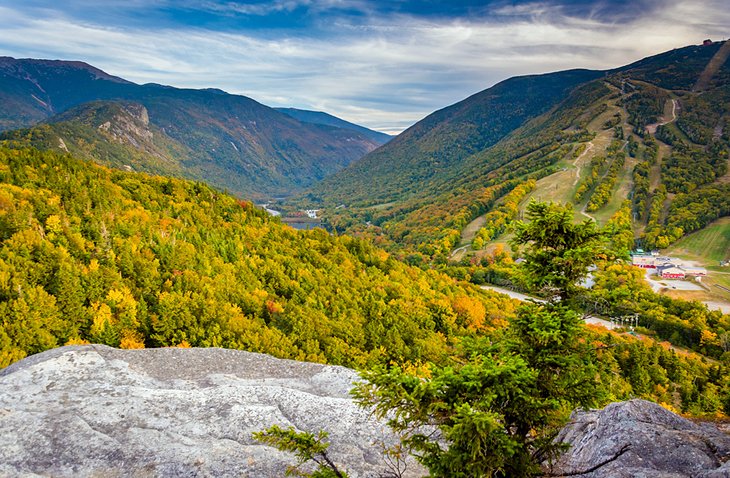 In the heart of one of New Hampshire's two most scenic notches (glacially carved mountain passes), Lafayette Place Campground is part of Franconia Notch State Park, a perfect base for hiking (the Appalachian Trail passes through the notch) and exploring the many natural attractions of the White Mountains.
The eight-mile valley between the high peaks of the Kinsman and Franconia mountain ranges includes the Flume Gorge, the Cannon Mountain Aerial Tramway, the New England Ski Museum, a swimming beach at Echo Lake, fly fishing at Profile Lake, a recreational trail for cyclists, several waterfalls, and places to spot hawks and falcons.
Free interpretive nature programs help campers of all ages learn more about the region's natural environment. The 97 wooded campsites for tents and RVs are large, and all have fireplaces. The campground is open all year, but showers and other services are only open mid-May through mid-October.
Address: Interstate 93, Franconia, New Hampshire
Official site: http://www.nhstateparks.org/visit/state-parks/franconia-notch-state-park.aspx
2. White Lake State Park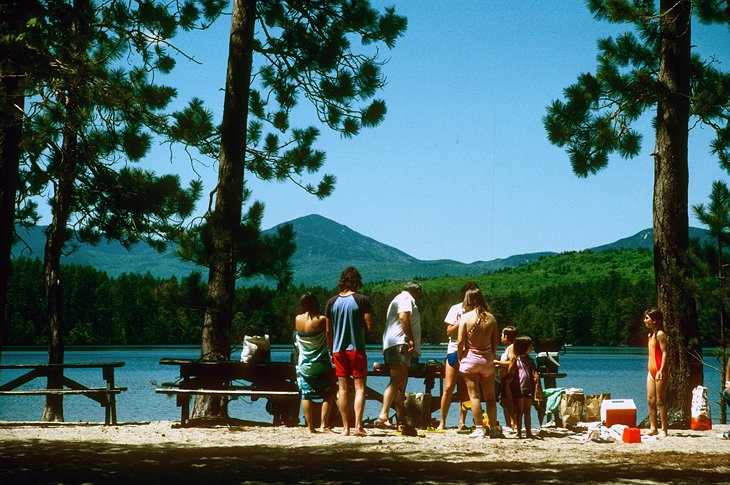 One of the largest campgrounds in the White Mountains, White Lake is also the only one in the White Mountains on a lake with a swimming beach. The 203 campsites are fairly open, under tall pine trees along the shore of White Lake. Many of the sites have lake views.
The lake was formed at the close of the Ice Age, when ice was buried beneath glacial debris. As the ice melted, it left a depression that filled with meltwater. You can walk around the lake on a trail to see beaver houses and perhaps spot loons, or you can rent boats at the campground for fishing.
3. Pawtuckaway State Park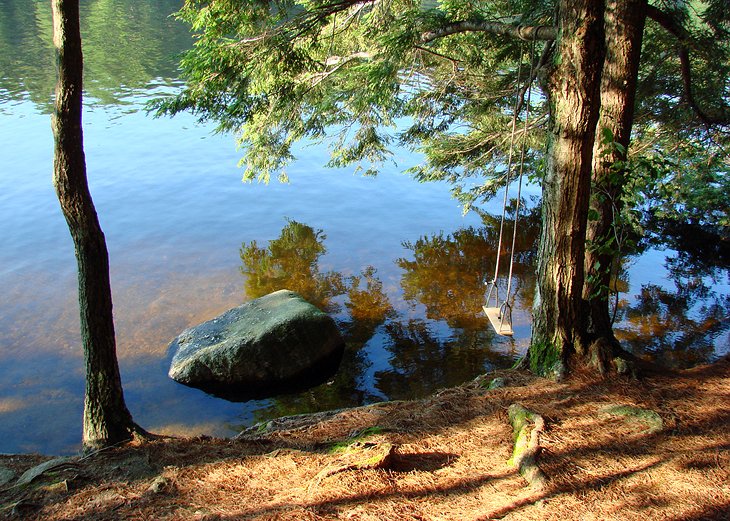 The large Pawtuckaway State Park is in southern New Hampshire, about equidistant from the cities of Concord and Manchester and the seacoast beaches. But in addition to its location, the park has a lot more to recommend it.
Many of the 192 wooded campsites have views of the lake, which has a very nice swimming beach, as well as canoe and kayak rentals and a boat launch. Showers and a camp store are added conveniences. In addition to campsites, there are five cabins, each one sleeping up to six people, with electricity, picnic tables, and campfire rings.
Pawtuckaway State Park has a wide variety of hiking trails, leading to a low mountaintop with a fire tower, a large beaver marsh, and–its highlight–a boulder field strewn with huge glacial erratics that were dropped here by retreating glacial ice as it melted at the end of the Ice Age.
Address: 40 Pawtuckaway Road, Nottingham, New Hampshire
Official site: http://www.nhstateparks.org/visit/state-parks/pawtuckaway-state-park.aspx
4. Sugarloaf Campgrounds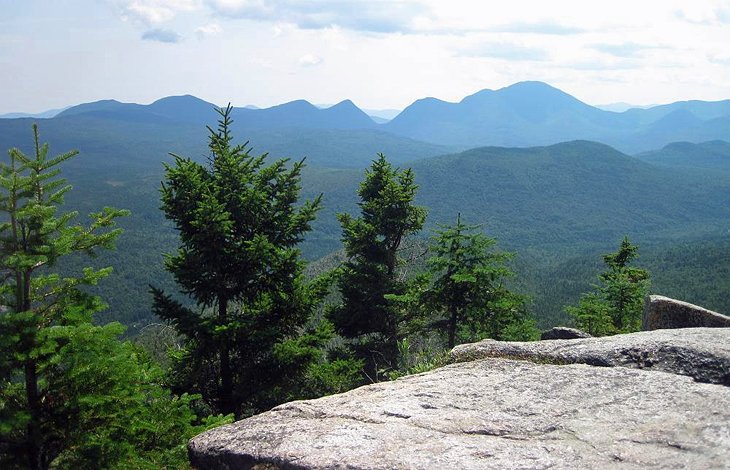 Under a canopy of mixed hardwoods along the banks of the Zealand River, deep in the White Mountain National Forest, Sugarloaf I and Sugarloaf II are twin campgrounds managed by the US Forest Service.
Most campsites are large and they are well separated, most with well-designed fire rings for campfire cooking. Sugarloaf II has a hand pump for water, so most campers here simply carry water from Sugarloaf I, which has spigots.
Both are popular with hikers, who don't mind the remote feeling of the well-spaced sites, nor the absence of showers. The trail up Sugarloaf Mountain–a ledge-covered summit with 360-degree views–leaves from a few yards away, and at the end of the access road is the trailhead for the 2.8-mile, family-friendly hike along the river to Zealand Falls Hut.
The AMC hut is a staffed overnight hut on the Appalachian Trail, with views into Zealand Notch. Just a few miles away is Mt. Washington, with its trails and famous Cog Railway.
Address: Zealand Rd, off US Route 302, Twin Mountain, New Hampshire
Official site: http://www.recreation.gov
5. Bear Brook State Park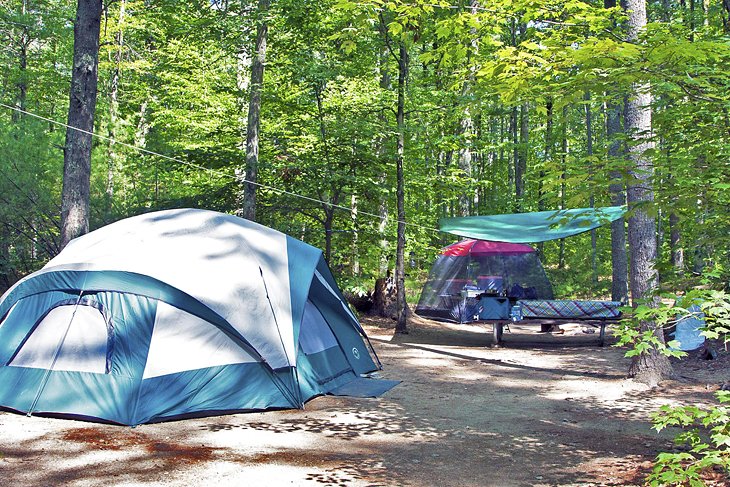 Close to the cities of Manchester and Concord and handy for those who wish to mix outdoors with more urban vacation activities, Bear Brook is the largest developed state park in New Hampshire. Its 101 campsites are in the woods surrounding Beaver Pond, where campers can rent canoes and boats.
The park has a camp store, showers, laundry, and dumping station for RVs; both ice and firewood are available. Forty miles of trails explore its 10,000-acre expanse of forest, bogs, ponds, and hilltops, with trails for hiking, mountain biking, and horseback riding. There are two archery ranges available for those who bring their own equipment.
Also in the park is the Richard Diehl Civilian Conservation Corps (CCC) Museum, in one of the country's most complete CCC camps remaining intact. Listed on the National Register of Historic Places, the former depression-era camp also houses the New Hampshire Antique Snowmobile Museum.
Address: 157 Deerfield Road, Allenstown, New Hampshire
Official site: http://www.nhstateparks.org/visit/state-parks/bear-brook-state-park.aspx
6. Jigger Johnson and Blackberry Crossing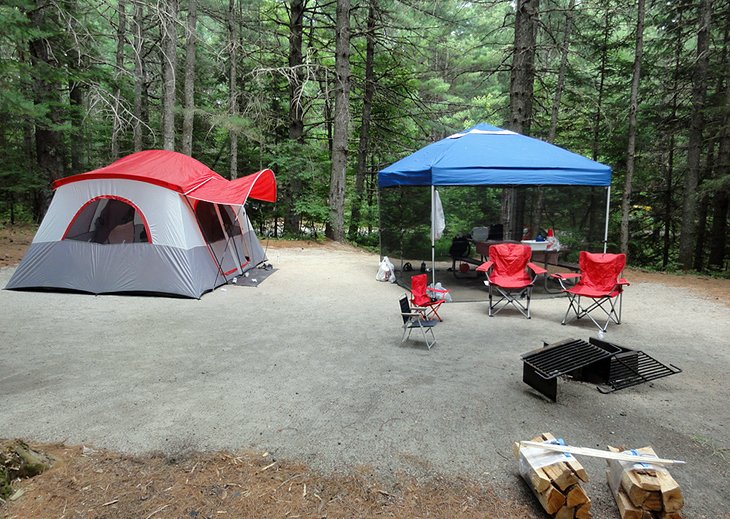 Six miles apart along the Kancamagus Scenic Byway, these two campgrounds are inside the White Mountain National Forest. The large tent sites in each are well spaced, carved from dense second-growth forest along the banks of the Swift River.
Close to the campgrounds are trails climbing Mt. Chocorua and several other peaks, as well as a trail leading to beautiful Sabbaday Falls. A short trail connects Jigger Johnson to the Russell-Colbath Historic Site, and Blackberry Crossing sits only a short walk from the Albany Covered Bridge.
Blackberry Crossing was a Civilian Conservation Corps (CCC) Camp during the 1930s, and a self-guided tour explores the old camp. Jigger Johnson is far larger, with 74 sites for tents and RVs, and has more amenities than Blackberry Crossing, which has hand pumps for water supply; campers there can use the coin-operated showers at Jigger Johnson. You cannot reserve sites at either campground.
Address: Route 112, Kancamagus Scenic Byway, Albany, New Hampshire
7. Umbagog Lake Campground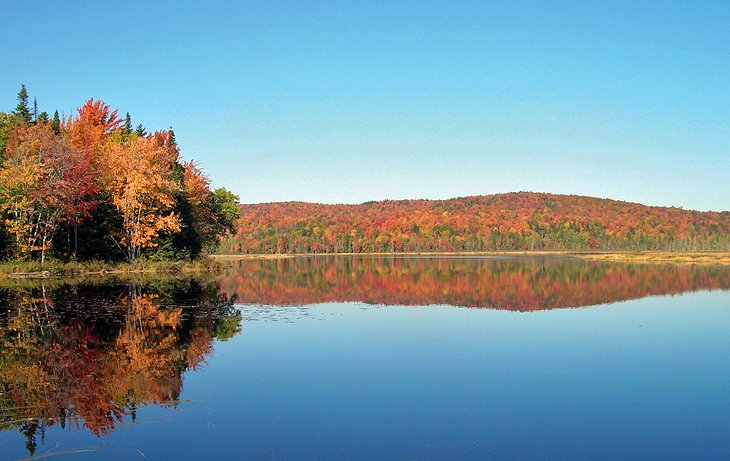 Often listed as one of the top places to kayak in New England, Lake Umbagog lies in both Maine and New Hampshire. Part of it is within a New Hampshire state park, and most of it is in the Lake Umbagog National Wildlife Refuge.
The lakeside campground includes 27 tent or RV sites with electric and water hookups, 33 remote sites around the lake that are reached only by boat, and three cabins. You can rent canoes, kayaks, and rowboats, and the park can provide transportation to the remote sites.
There is a beach for swimming, and the fishing is excellent. The park is also especially known for wildlife viewing, with frequent sightings of moose, deer, small mammals, eagles, and a wide variety of other birds.
Address: 235 East Route 26, Cambridge, New Hampshire
8. Huttopia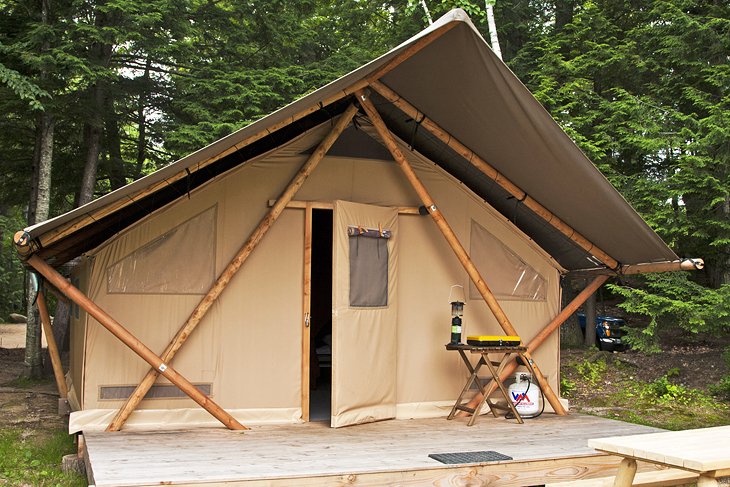 Glamping–short for glamorous camping–takes a lot of the work out of a camping trip and offers some resort amenities as well. New Hampshire's first glamping park, Huttopia makes camping accessible to families without RVs or tents and camp gear.
Tents are set up, furnished, and ready to move into, and they are equipped with luxuries your own tent won't have: wooden floors, real beds, bedding, electricity, and refrigerators. The larger and more luxurious Trappeur safari-style tents are like little canvas cabins, with two curtained bedrooms; indoor bathrooms; and mini kitchens with a sink and kitchen utensils, from pots and pans to silverware and pancake turners, even a salad spinner.
Canadienne tents are identical to the Trappeurs, but without bathrooms; Bonaventures are large platform-mounted tents without the food prep area and dining space or cookware, but equipped with electricity, a double bed, refrigeration, lamp, gas cook stove, picnic table, and fire ring.
At the center of Huttopia is a large tiled swimming pool and wide terrace with café tables, where you can enjoy made-to-order French crepes and espresso for breakfast. These, as well as pizza in the evening and ice-cream throughout the day, are served from a smart little Airstream trailer.
Address: 57 Pine Knoll Rd, Albany, New Hampshire
Official site: https://canada-usa.huttopia.com/en/site/white-mountains
9. Dry River Campground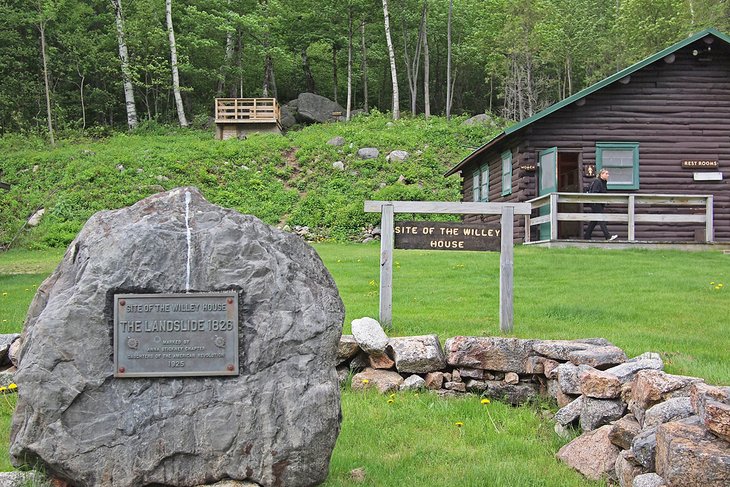 Dry River Campground is a small pet-friendly campground located within Crawford Notch State Park in the heart of the White Mountains. There are three dozen tent sites within a wooded setting, some of which have lean-tos. There are shower and laundry facilities on-site, and flush toilets are available. Campers can also purchase firewood on-site. There are no RV hookups.
The closest store is three miles by car from the campground, at the Willey House Snack Bar and Gift Shop, or campers can take a 2.5-mile hike to the Willey House via the Saco River Trail.
Nearby is the starting point for two short hikes: the Sam Willey Trail (one mile) and Pond Loop Trail (half a mile). The Ripley Falls Trail is a relatively short hike that leads to a hundred-foot waterfall with a beautiful place to sit and rest, and the trail to the 200-foot Arethusa Falls begins only a half mile from the campground.
10. Lake Francis State Park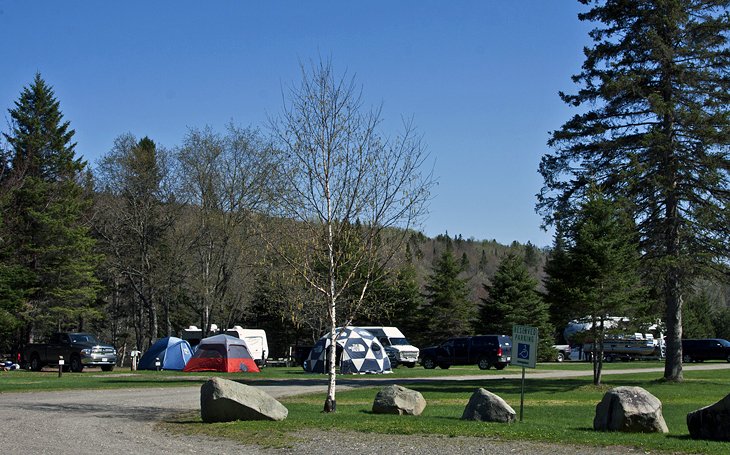 In the northern tip of New Hampshire, deep in a region known as the Great North Woods, Lake Francis State Park is a favorite for those who love fishing and kayaking or canoeing. Stretching along the lake shore, the campground offers 45 campsites, nine of which have RV hookups and nine designed for ATV camping.
Leaving right from their campsites here, ATV riders can access 1,000 miles of off-highway trails in northern New Hampshire. Kayakers and canoeists can explore 200-acre Lake Francis itself, as well as the long string of Connecticut Lakes that stretch northward almost to the Canadian border. These are all connected by the Connecticut River, whose headwaters begin just at the border. A small camp store provides a surprising stock of staples and necessities.
Address: 439 River Road, Pittsburg, New Hampshire
Official site: https://www.nhstateparks.org/visit/state-parks/lake-francis-state-park.aspx
11. Lost River Valley Campground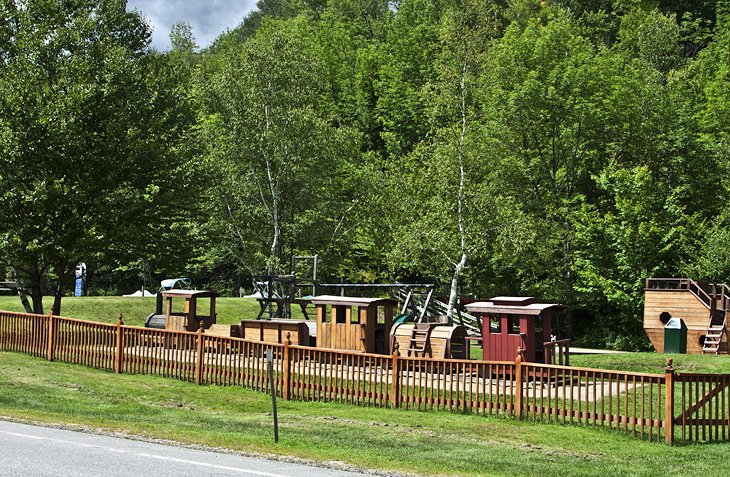 Although Lost River Valley is a privately owned campground, it is surrounded by the White Mountain National Forest and close to major tourist attractions, including Lost River Gorge, the Kancamagus Scenic Byway, and the many sights in Franconia Notch.
The 125 riverside campsites are well spaced and screened by forest; some have RV hookups, and there are attractive camping cabins. Along with basic staples and supplies, at the camp store, you can also buy ice, LP gas, and firewood. Reservations are not accepted between late June and Labor Day, during which period there is also a three-night minimum stay.
Children will like this campground for its many activities: a sandy beach, paddleboat and kayak rentals, a games room, tennis and badminton courts, basketball, volleyball, and a playground with a wooden train. The two adjacent mountain streams are stocked with brook trout.
Address: Route 112, North Woodstock, New Hampshire
Official site: http://lostriver.com
12. Greenfield State Park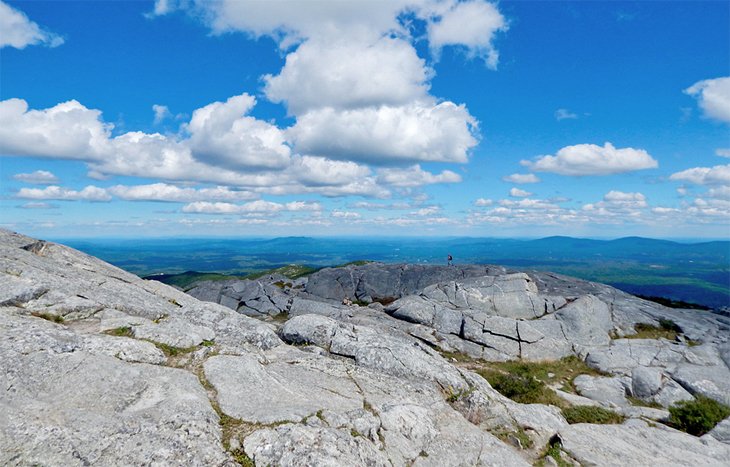 In the southwestern part of the state, 400-acre Greenfield State Park includes Otter Lake, where campers will find a 900-foot swimming beach reserved for their use only. Another beach is used by day visitors. Boats, canoes, and kayaks are available for rent in July and August, and the undeveloped lake is good for fishing.
The 252 campsites are well spaced, but some are fairly open, under tall trees with little underbrush for screening. There are no hookups, although RVs are welcome in the larger sites. About half the sites can be reserved in advance.
13. Hampton Beach State Park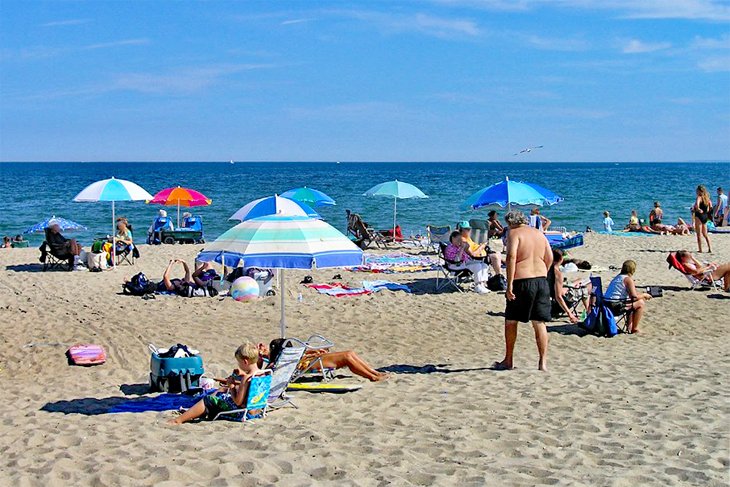 Although the campsites are close together and only for RVs, Hampton Beach State Park has the only ocean-front camping in the state. For those who don't want to travel far to the surf, there's no place closer than this.
The campground has 28 sites with full hookups, and is open for reservations from Memorial Day weekend through Columbus Day weekend. It is open for camping without reservation beginning the last weekend in April.
Camping Details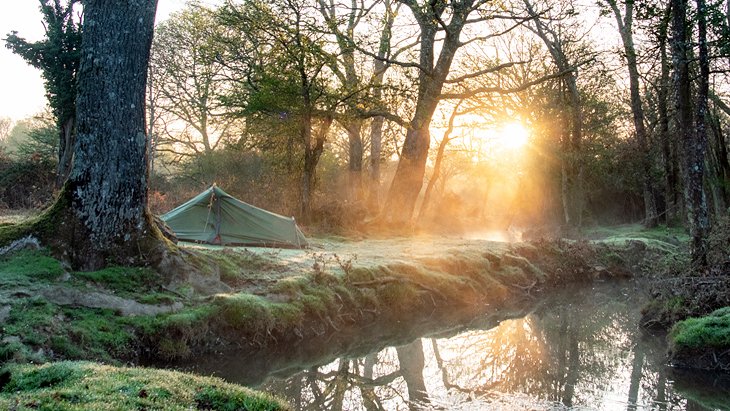 You can reserve sites online in advance at most of these campgrounds. The National Forest campgrounds offer significant discounts to holders of America the Beautiful and Golden Age passes, and the fee covers up to eight people of any age.
New Hampshire State Parks allows only a maximum of two adults and four children per site, with additional charges for extra people, so larger families or those with adult children are better at National Forest campgrounds.
Many places you may see advertised as campgrounds are RV parks with seasonal sites only and no overnights or tents allowed. Nearly all state and National Forest parks have sites for both, although they don't always have hookups for RVs. Find the best places to enjoy the outdoors with our list of the top campgrounds in New Hampshire.
Best Time to Camp in New Hampshire
The summer season, from Memorial Day through Labor Day, is the typical operational season for most New Hampshire campgrounds, although some stay open through Columbus Day for autumn camping. Visitors will have an easier time finding a campsite in the late spring or early fall while school is still in session.
More Related Articles on PlanetWare.com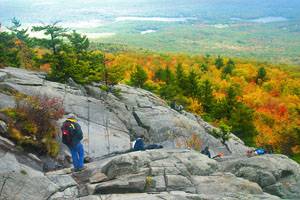 What to Do near New Hampshire Campgrounds: The campgrounds listed above are close to many of New Hampshire's top tourist attractions. You may also want to experience the mountain scenery and natural attractions on some of New Hampshire's hiking trails or the nearby hiking trails in Vermont.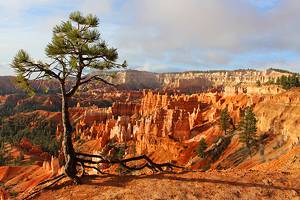 Camping in the West: The vast national parks in the western states are well equipped for campers and offer access to some of the most unique landscapes in the United States. Learn about camping at some of these locations in Utah with our guides to the Best Campgrounds in Zion National Park, as well as nearby Bryce Canyon National Park. In California, consider camping at Sequoia National Park or Yosemite.