7 Top-Rated Beaches in New Hampshire
New Hampshire may only have 13 miles of coastline, but it has plenty of beaches throughout. New Hampshire's Lakes Region dominates the center of the state and provides nearly endless spots to cool off and relax in the summer.
The largest of New Hampshire's lakes is Lake Winnipesaukee, locally referred to simply as "the Big Lake," known for its numerous celebrity vacation homes and posh lakeside towns like Meredith and Wolfeboro. Other smaller but equally beautiful New Hampshire lakes are Lake Winnisquam, Newfound Lake, and Squam Lake.
Despite New Hampshire's abbreviated claim to the Atlantic, there are several ocean beaches located in the towns of Rye, North Hampton, Hampton, and Seabrook. When visiting these beaches, it is wise to stick to metered and privately operated parking lots to avoid steep parking fines in the frequently ill-marked resident-only spaces.
In both the Lakes Region and on the seacoast, you will find plenty of attractions to keep you entertained if the weather doesn't cooperate with your beach plans. Find the most beautiful spots to bask by the water with our list of the best beaches in New Hampshire.
1. Hampton Beach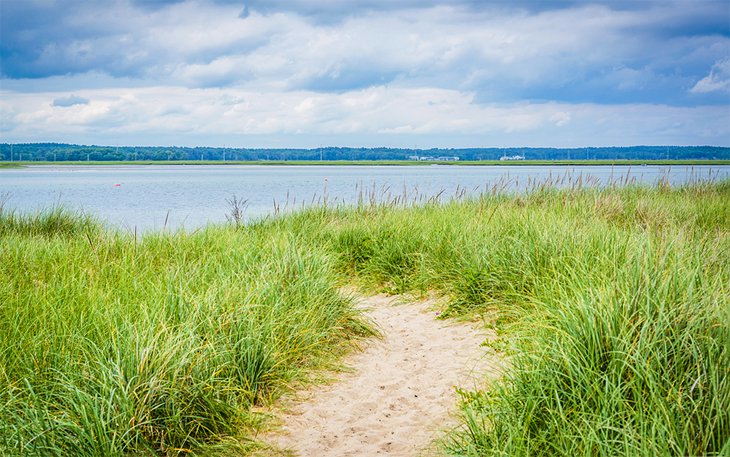 Hampton Beach is the biggest and most popular beach on New Hampshire's 13 miles of coastline along the Atlantic. Hampton is a favorite summer destination for both locals and tourists, known for its lively boardwalk and down-to-earth atmosphere.
Hampton beach is staffed with lifeguards daily during the summer season from 9am to 5:30pm, and there are several bathhouses available. Although there are a limited number of metered spaces on Ocean Boulevard, the best options for parking are at one of the private lots on Ashworth Avenue, which will allow you to avoid the gridlock of the main drag.
Facing the water, you will find a lively strip of entertainment venues, restaurants, arcades, candy stores, gift shops, and even palm-readers. Although you will find some businesses operating year-round, this beach town's prime season is from Memorial Day to Labor Day, with some activities extending into mid-September.
During the summer season, there is live music nightly on the Sea Shell Stage and a public firework display every Wednesday night, as well as fireworks to celebrate holidays and special events, like the annual sand sculpting competition. This invitation-only event brings master sand-sculpting artists from around the world in the last two weeks of June, when they sculpt 200 tons of imported sand into magnificent works of art. Visitors can watch the artists work, admire the masterpieces, and even vote for the winner of the People's Choice award.
In mid-August, the Hampton Beach Children's Festival has family friendly activities that are free and open to the public, including free ice cream, storytelling, balloons, contests, and a huge parade down Ocean Boulevard. The beach has a fenced beach playground which is open to kids all season long, secure with only one gate to ease parents' minds.
In the second week of September, the beach hosts the annual Seafood Festival, when you can sample the region's very best seafood and also take advantage of end-of-season sidewalk sales as the main boulevard becomes a pedestrian street fair.
Address: Ocean Boulevard, Hampton, New Hampshire
2. Weirs Beach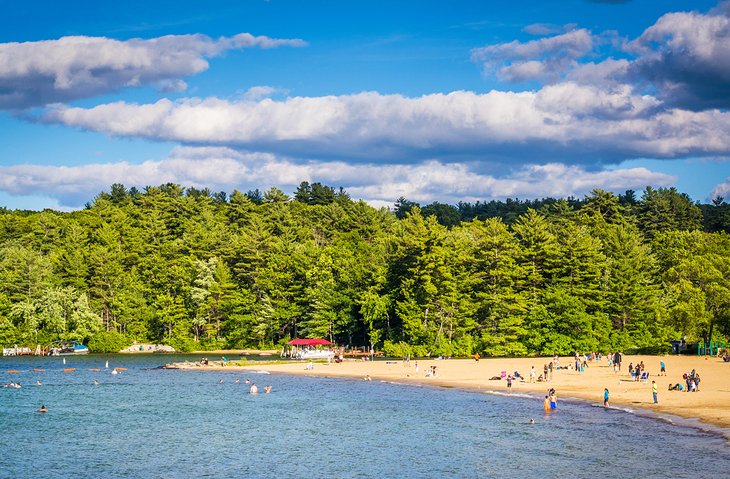 The most popular beach in New Hampshire's Lakes Region is Weirs Beach, on the shore of Lake Winnipesaukee, at Endicott Rock State Historic Site. The beach is staffed with lifeguards from Memorial Day to Labor Day from 9am to 5pm, weather permitting. Mostly used by tourists, it can get very crowded during the hottest months. The beach is handicap accessible and provides several shaded picnic tables and a bathhouse.
The best part of Weirs Beach is its many attractions, including five arcades, bumper cars, and the iconic Weirs Beach Drive-In theater, which has endured the years and still shows double features on summer nights. The wooden boardwalk stretches along the water, parallel to train tracks that are still used by the Winnipesaukee Scenic Railroad. You can buy tickets here to take the scenic ride into Laconia's Lakeport or to the upscale lake town of Meredith.
At the same ticket office, you can book a cruise on the M/S Mount Washington or one of her sister boats, including the US Mailboat M/V Sophie C. Cruises include lake tours and themed events like family nights, dance cruises, foliage, and fireworks viewing.
Nearby attractions include FunSpot, a huge arcade and the world's largest video game museum; the perfect remedy for a rainy day, no matter what your age. Next door to this is a treetop adventure course and zipline at Monkey Trunks, and across the street is a go-kart track.
If you are planning on visiting the Weirs around Father's Day, be aware of the area's huge annual event, Motorcycle Week. Unlike in the past, it is not a dangerous event, but it is incredibly crowded and is not a family friendly atmosphere.
Address: Lakeside Avenue, Weirs, New Hampshire
3. Wellington State Park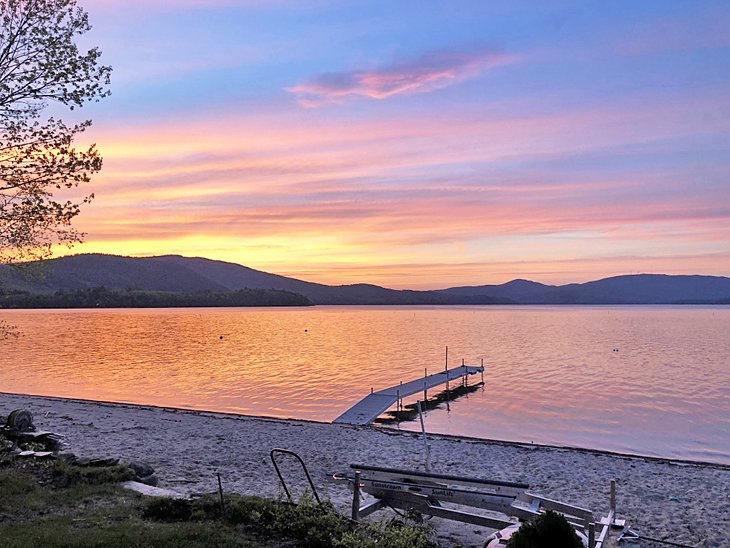 Wellington State Park sits on the shores of Newfound Lake, facing Belle and Cliff Islands. It is the largest freshwater beach in the state and also one of the most popular with residents and tourists alike. As part of the State Park system, an entry fee is charged, however it is nominal.
Because of its popularity, this beach can get very crowded in the summer, especially on weekends and holidays, so you should plan to arrive early, before maximum capacity is reached.
Visitors are welcome to bring picnics, including grills, and there are several shady areas to sit. There is also a snack shop that has cold beverages and summer treats, like ice cream as well as souvenirs, beach necessities, and kayak rentals. The park also has a bathhouse with hot showers and well-maintained restrooms.
In addition to the sandy beach and calm water, there are many things to do at the park, including hiking on its numerous trails, fishing, and playing volleyball and horseshoes. There is also a free public boat launch, as well as boat lanes that allow visitors to boat-in to the park to enjoy the beach.
Address: 614 West Shore Road, Bristol, New Hampshire
4. Echo Lake, Franconia Notch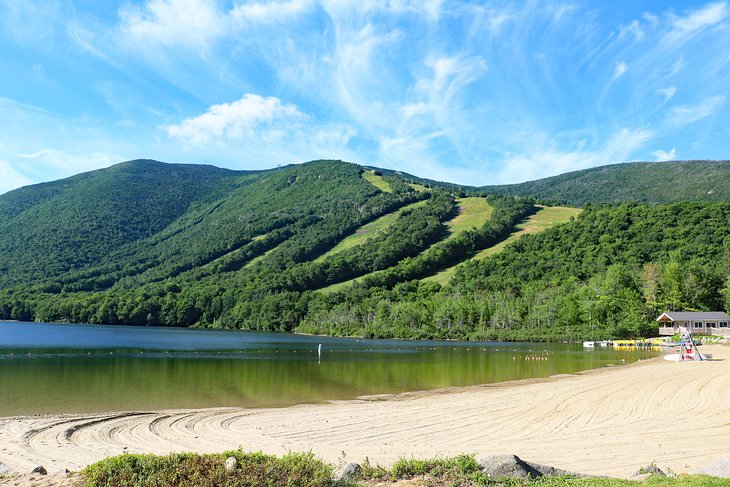 Located at the head of Franconia Notch, Echo Lake is one of several attractions in Franconia Notch State Park, one of the most popular to visit in New Hampshire's White Mountains region. It sits within a notch between the Kinsman and Franconia mountain ranges, close to Old Man of the Mountain Profile Plaza.
This scenic spot is great for swimming and people-powered water sports, offering picnic areas and restrooms. The Lakeside General Store is also on-site, providing snacks; beverages; ice cream; and beach gear, from sunscreen to towels and toys. With advance reservation, visitors can rent pedal boats, canoes, and kayaks for use on Echo Lake, including life jackets.
This is also a great starting point for hikes, with several options including a route that wraps around the lake, and others that lead to neighboring state parks. Parking reservations are recommended for those visiting on weekends, holidays, and during school vacations due to limited parking.
Echo Lake was given its name in the late 19th century, when the loud sounds of park construction echoed back at workers. Since then, kids and adults alike still attempt to hear their sounds bounced back against the surrounding mountains.
The lake sits at the base of Cannon Mountain Ski Area's slopes, and tourists can enjoy stunning views of the lake and the surrounding mountains from the Aerial Tramway, operated by the ski area.
Note that New Hampshire has another Echo Lake in North Conway, also in a state park.
Address: 260 Tramway Drive, Franconia, New Hampshire
Official site: https://www.nhstateparks.org/visit/state-parks/franconia-notch-state-park
5. Wallis Sands State Beach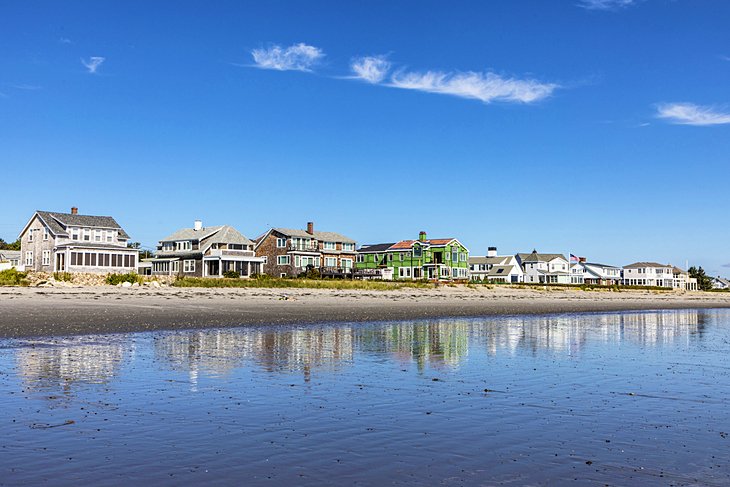 Wallis Sands State Beach is a great family beach in Rye, much quieter and smaller than Hampton Beach. The beach parking lot is also less expensive, although there is a small admission charge to the beach during the summer season.
Lifeguards are on duty daily, 10am to 5pm, from Memorial Day through Labor Day, and there is a shower room and changing areas. There is also a convenience shop on-site with snacks and beach staples, from sunscreen to sand toys and oversized towels.
For those who want a break from the sand, there is also a stretch of grass just past the beach that is often used by beachgoers for a game of frisbee, or as a comfy place to sit and admire the Isles of Shoals. Although it is not as crowded as Hampton Beach, it is a good idea to get here as early as possible on weekends to get a parking spot.
Address: 1050 Ocean Blvd, Rye, New Hampshire
6. Jenness Beach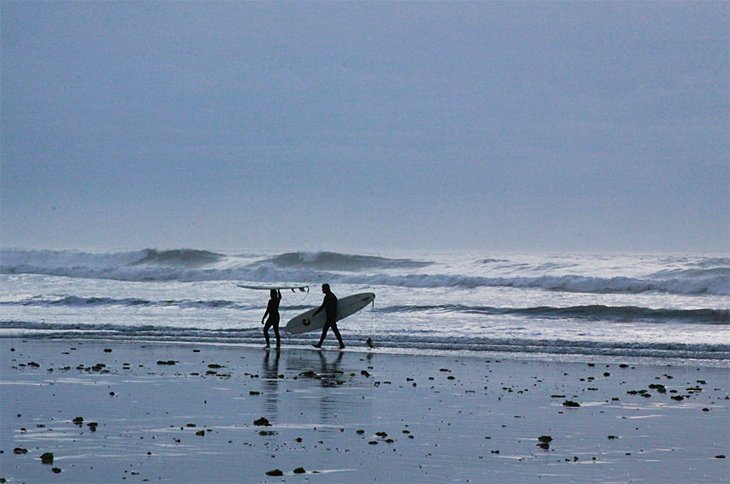 Despite the Atlantic's chill, surfers love to brave the waters at Jenness Beach in Rye. It is a much smaller coastal beach than its neighbors, but is also much less crowded, making it a great option for those who want a more peaceful day at the beach. It does have a bathhouse, as well as lifeguards on duty during the summer until 4:45pm daily.
Be aware that the beach's parking lot is small and fills up quickly during peak season, but there are several alternative lots nearby.
Just across the street from the beach, tourists will find a few good options for refreshments and food including pizza, ice cream, a restaurant, and coffee shop, and there is also a surf shop for all your beach needs.
If the water ends up being a little too chilly for the kids, Water Country water park is close by on Route 1, just around the corner from Portsmouth's Quality Inn.
Address: 2280 Ocean Blvd, Rye, New Hampshire
7. Ellacoya State Park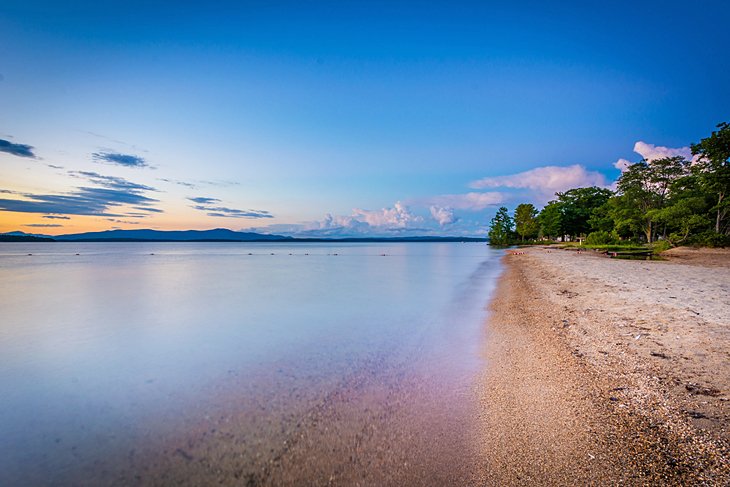 Ellacoya State Park is a 65-acre property with a 600-foot stretch of sandy beach on the southwest shore of Lake Winnipesaukee. Like the beach at Wellington State Park, there is a small fee and a limited capacity, so it is wise to arrive early on weekends to ensure a spot. There is a small store on-site for snacks and other refreshments, and a handicapped-accessible bathhouse with changing areas and showers.
There is also a small boat launch for canoes and kayaks, a convenient way to get out onto the Big Lake and within paddling distance of the elite Governors Island.
A great nearby attraction is Gunstock Mountain Resort, which offers a variety of summer adventures, like ziplines, scenic lift rides, Segway tours, and a mountain coaster.
The Fireside Inn & Suites at Lake Winnipesaukee is not far from Ellacoya and is close to some of Gilford's favorite eateries, including the famous Sawyer's Dairy Bar.
Address: 266 Scenic Road, Gilford, New Hampshire
Map of Beaches in New Hampshire
Frequently Asked Questions
When is the best time to visit New Hampshire's Beaches?
The best time of the year to visit New Hampshire's ocean beaches is during the summer months, when the water is at its warmest and the beachside activities, area attractions, and restaurants are operating at full swing. New Hampshire's freshwater beaches are likewise most enjoyed by swimmers during the summer months, offering warmer water and often nearby shade within the state park beaches.
Can I visit New Hampshire's beaches in the spring and fall?
Tourists can enjoy the tranquility and beauty of the lakes as long as the weather cooperates. Many of the state's best freshwater beaches are accessible to kayaks, canoes, and other small craft; a leisurely float on Lake Winnipesaukee, Newfound Lake, or any of their sister lakes is an excellent way to view the foliage of fall in New Hampshire.
Beach amenities are limited in the off-season, but the state parks do offer some at reduced hours. If you are a kite-flying aficionado, a visit to one of the ocean beaches during the off-season will give you both fantastic gusts and plenty of space to meander.