12 Best Places for Cross-Country Skiing in New Hampshire, 2023
The rolling wooded landscapes and broad open valleys of New Hampshire create the perfect setting for gliding through the snow. Frozen lakes and snowcapped mountain peaks add scenic backdrops for cross-country skiing in New Hampshire.
Whether you like wide, groomed trails or intimate tracked routes through the silent woods, you'll find plenty of options in the White Mountains and in the Lakes Region to their south.
Nearly all these cross-country facilities offer equipment rentals, and many also have learning programs to introduce new skiers to the sport. The trail networks vary from 20 kilometers to more than 150, and the landscapes are as varied as the state itself.
Several of the Nordic ski centers in New Hampshire are part of larger ski resorts, where your family can combine downhill and cross-country skiing with snowshoeing, ice-skating, sleigh rides, and other outdoor winter activities.
You can be sure of planning your perfect winter getaway with our list of best places for cross-country skiing in New Hampshire.
1. Jackson Ski Touring Foundation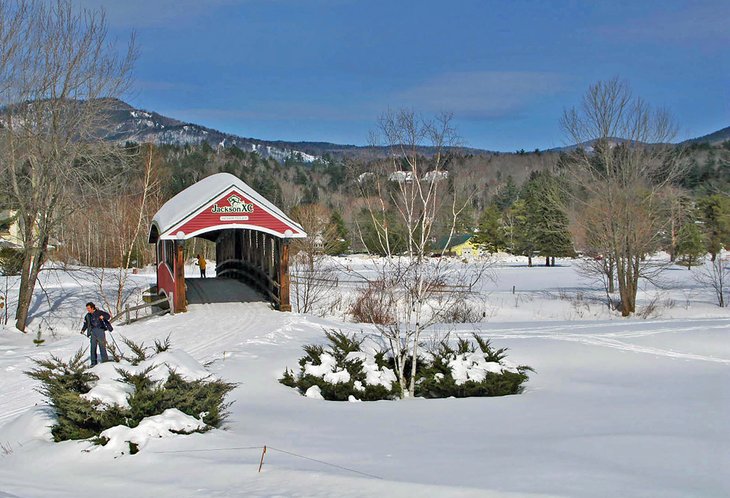 One of the largest cross-country and snowshoe centers in the East, Jackson XC Center is both family-friendly and affordable. It offers 154 kilometers of trails that lead skiers from an idyllic New England village, across a broad valley ringed by mountains, alongside frozen brooks and -for intrepid adventurers - onto the mountainsides. One of the valley trails leads through a picturesque red covered bridge.
This varied terrain provides skiing for all skills, from the well-groomed trails across the flat valley floor to backcountry trails for experts looking for a challenge. If those aren't enough of a challenge, ride the gondola to the summit of Wildcat Mountain, and after feasting your eyes on the close-up view of the frozen summit of Mt. Washington, ski down the backcountry trail into the valley for a vertical drop of 3,245 feet.
A few steps from the cross-country center is The Wentworth, a small resort hotel that's been the town's centerpiece for more than a century; ski trails connect the family-friendly Christmas Farm Inn & Spa to the center of the village, so you can ski right from the door.
Address: 153 Main Street, Jackson, New Hampshire
Official site: www.jacksonxc.org
2. Bretton Woods Nordic Center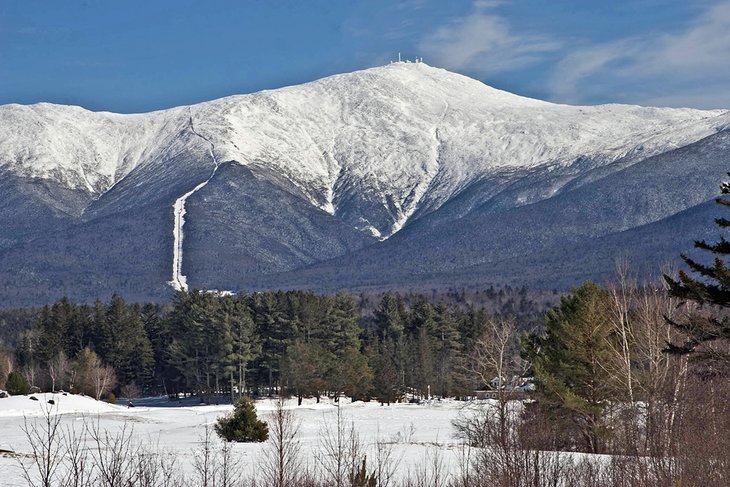 The 100 kilometers of trails at Bretton Woods Nordic wind through the grounds of the Mount Washington Resort, surrounding the historic grand hotel. The wide, flat valley lies at the foot of mile-high Mt. Washington, the tallest peak in the northeast, and the neighboring peaks of the Appalachians, which provide the scenic backdrop for the open trails. On clear days, skiers can see the frost-covered buildings atop the mountain. Other trails weave through pine woods.
The resort offers one of New England's most exciting cross-country experiences: riding the lift to the summit of adjacent Bretton Woods alpine area and descending on the Mountain Road trail, a seven-kilometer run that circles around the perimeter of the ski area. A complimentary shuttle bus connects the Nordic and alpine areas.
The Nordic center has a ski school, rentals, warming room, and shop. With one of the longest xc seasons in the state, Bretton Woods averages 200 inches of snow annually.
Address: 210 Mt. Washington Hotel Road, Bretton Woods, New Hampshire
Official site: www.brettonwoods.com
3. Nordic Center at Waterville Valley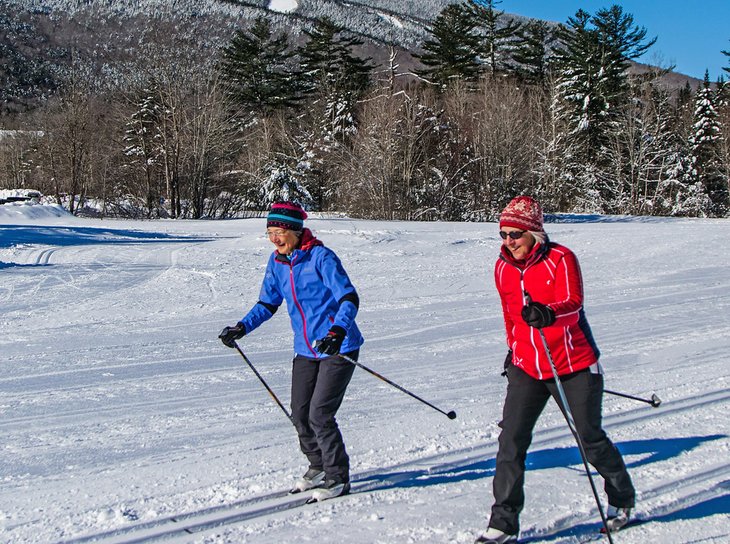 Wide, well-groomed trails at Waterville Valley are tracked for skating and classic skiing, and like the Mount Washington Resort, its XC network partners with the alpine ski area and includes multiple on-site lodging options. The 76 kilometers of trails include open and wooded terrain through the White Mountain National Forest, and the upland trails retain snow into early spring. Trails are groomed for skate and classic skiing.
Cross-country trails begin right at the Town Square, the central hub of the resort, where there is a warming hut and where you can sign up for rentals and lessons or for guided cross-country and snowshoe tours for all skill levels.
Trail fees are included in Winter Unlimited lodging packages, and there are other winter sport options, such as ice-skating, sleigh rides, and snowshoeing. The cross-country network is also accessible from the base of the alpine ski area.
Waterville Valley is especially family-friendly, with lodgings in different price ranges and spacious condos at the Golden Eagle Lodge. It also has the advantage of easy access from Interstate 93.
Address: Waterville Valley, New Hampshire
Official site: www.waterville.com
4. Gunstock Outdoor Center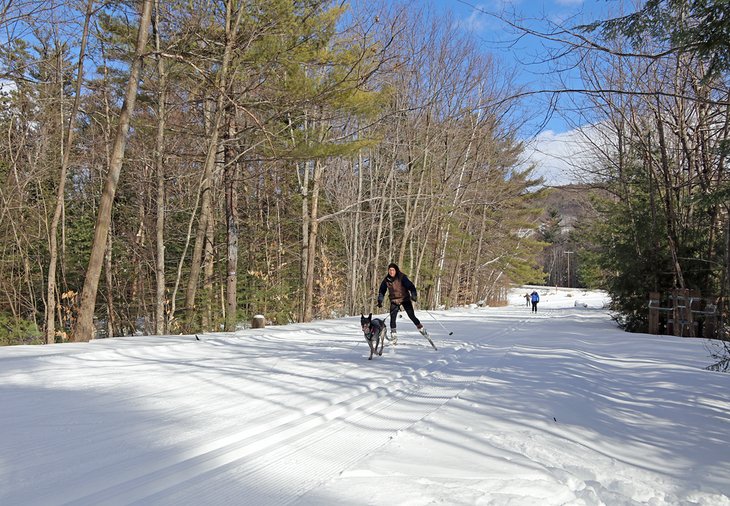 The 50 kilometers of trails at Gunstock Mountain Resort Cross Country and Snowshoe Center include 38 kilometers groomed for skate skiing and 15 kilometers tracked for classic skiing.
Snowmaking keeps up to five kilometers of the trails open when natural snow fails. In addition to the rustic warm-up cabin, the trail network includes family-sized cabins for those who want to spend the night in the winter woods.
Ski and snowshoe rentals and lessons are designed for all ages and skill levels, and experts hoping for a real challenge can either climb to reach higher mountainside trails or take the lift at the alpine ski slopes to reach backcountry trails. Gunstock Outdoor Center is about 25 miles from Interstate 93.
Address: 719 Cherry Valley Road, Gilford, New Hampshire
Official site: http://www.gunstock.com
5. Great Glen Trails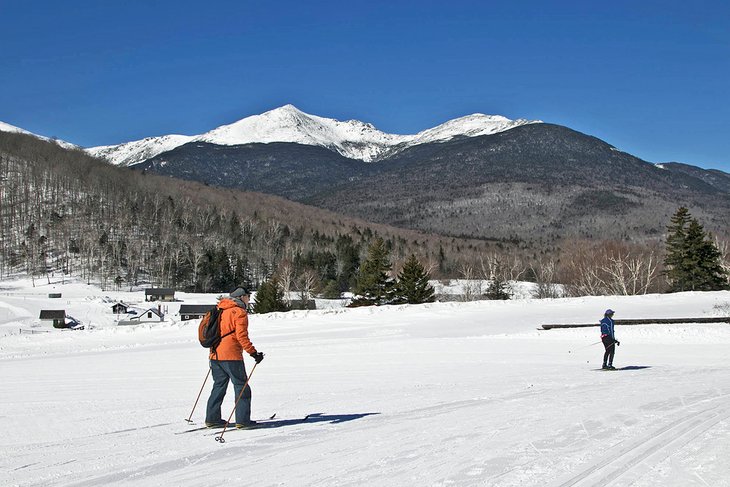 At the base of Mt. Washington, the average base elevation of 1,600 feet and northern location gives Great Glen Trails some of the best snow cover in New England. But state-of-the-art Nordic snowmaking equipment on a portion of its trails has added even more assurance of a deep snow base that lasts throughout a long ski season.
Great Glen's 45 kilometers of cross-country skiing and snowshoeing trails vary from evergreen forests to open valley with magnificent views of the Great Gulf Wilderness and snow-covered peaks of the Presidential Range. For more thrills, skiers and snowshoers can ride the SnowCoach to a 4,000-foot elevation on the Mt. Washington Auto Road and ski down (or the less intrepid can go for the views and ride back down).
The ski and snowshoe learning programs are especially good, directed by a former Olympian and US Ski Team member, and are geared to all ages and experience levels. The base lodge includes Great Glen Outfitters and a Nordic ski and outdoor equipment shop, and the newly built The Glen House is a modern version of the historic grand hotel that was a longtime landmark of the valley.
Address: 1 Mount Washington Auto Road, Gorham, New Hampshire
Official site: www.greatglentrails.com
6. Franconia Village XC Ski Center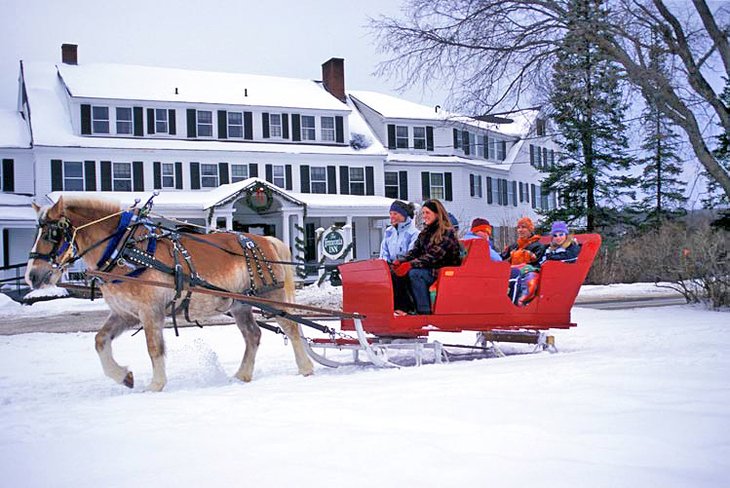 More than 65 kilometers of trails are groomed for classic single-track cross-country skiing through the wooded terrain of the White Mountain National Forest. Some of the trails follow a brook to Bridal Veil Falls; others traverse valley meadows.
Views from the trails include Mt. Lafayette and the Kinsman Range - the same mountain views that inspired poet Robert Frost to choose a spot on the hillside above for his home.
The center offers lessons and rentals of both snowshoes and cross-country ski equipment. Based at the Franconia Inn, a traditional country inn dating to the mid-19th century, the center also offers a lighted rink for ice-skating, horse-drawn sleigh rides, and sledding.
Address: 1172 Easton Road, Franconia, New Hampshire
7. Bear Notch Ski Touring Center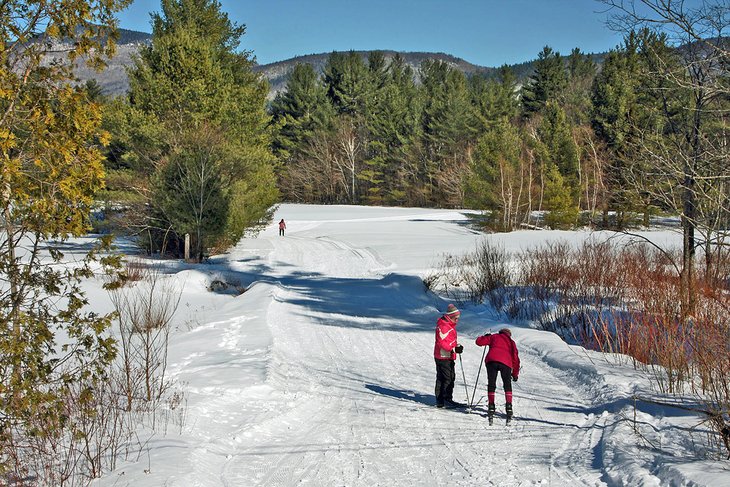 The 70-kilometer trail network at Bear Notch Ski Touring Center encompasses a variety of terrain, but also a variety of interesting surroundings. Trails cross open meadows, wind through forests and maple groves, and follow alongside the Saco River where they open to views of the mountains. One trail zigzags among house-sized boulders; another skirts a beaver bog.
Trail descriptions are thorough and clearly designated by experience level, from flat, open valley trails to some that include black-diamond downhill runs. Dogs are welcome throughout the trail system.
Guided naturalist tours on weekends explore the habitat and identify tracks of winter wildlife. Lessons and ski equipment rentals are available, and the cozy warming hut serves homemade soups and breads. After a day's skiing, relax in front of the fireplace at the nearby The Bernerhof Inn.
Address: Rte. 303, Bartlett, New Hampshire
Official site: https://www.bearnotchskitouring.com/
8. Mt. Washington Ski Touring & Snowshoe Foundation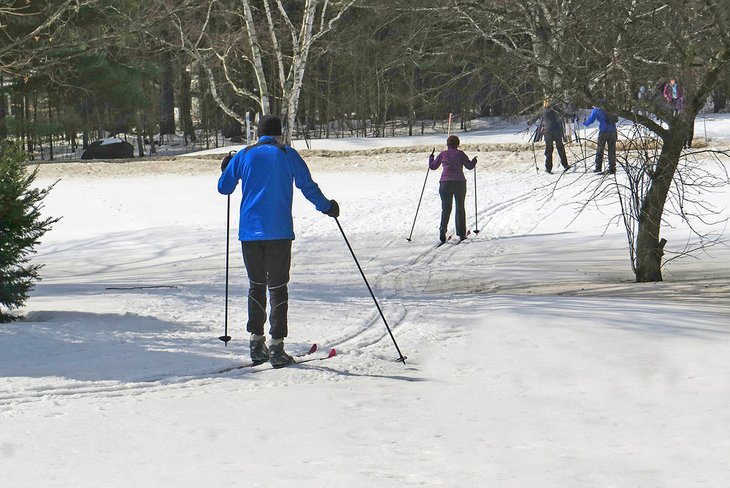 More than 45 kilometers of trails connect a series of country inns along the wide Mt. Washington Valley, from North Conway to Intervale. The views across the valley to Mt. Washington and the other peaks of the Presidential Range are nothing short of spectacular. Trails are suited to all skill levels, with about half rated easy, through fir and hemlock forests and across flat fields along the meandering Saco River. Others climb into more challenging terrain.
Rentals are available, as are lessons, and the foundation's unique relationship with the inns along the route means that inn guests can book ski-and-stay packages. The sweetest of these is the Inn-to-Inn-Cookie Tour, each December, when the inns are decorated for the holidays and invite skiers to stop for chocolate treats at each as they ski past.
One of these stops along the trail is the beautiful The Stonehurst Manor in North Conway, a stone bungalow-style former summer "cottage" and now a well-regarded inn and restaurant.
Address: 279 NH Route 16/302, Intervale, New Hampshire
Official site: https://www.mwvskitouring.org
9. Eastman Cross Country Center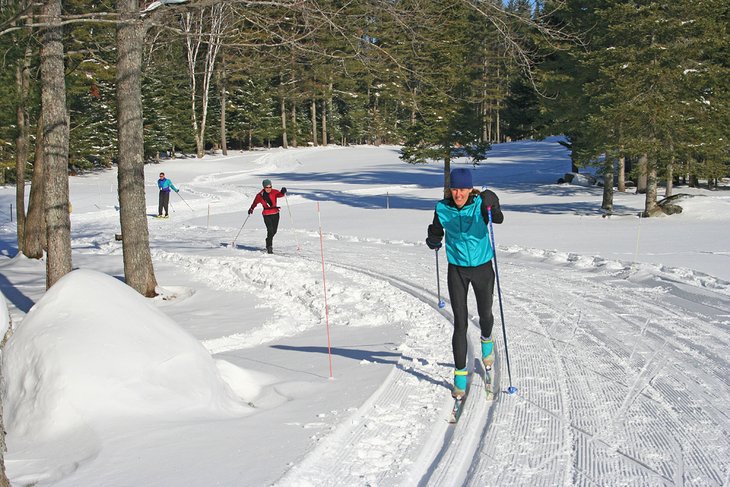 In the Dartmouth-Lake Sunapee Region, close to Interstate 89, the 36 kilometers of trails at Eastman Cross Country Center are divided between the gentle open terrain of the golf course, forests and the more rolling landscape of John's Glen. Eastman is known for its meticulous trail grooming, and 16 kilometers are groomed for skate skiing. Four of the trails are rated easy, five moderate, and three more challenging.
Eastman is a Rossignol XC demo center and has equipment rentals. In January, the center offers a series of four learn-to-ski sessions that include the basics of equipment and techniques, and special ski events are scheduled throughout the winter.
Address: 6 Clubhouse Lane, Grantham, New Hampshire
Official site: https://eastmannh.org/ski
10. Purity Spring Resort XC & Snowshoe Reserve
Although the trail network is smaller than many, Purity Spring is included here because of its all-round winter sports opportunities. The self-contained resort offers plenty of things to do for family members who don't share your passion for cross-country skiing but enjoy being outdoors in the snow.
The 20 kilometers of trails wind through Purity Spring Resort's grounds and into the Hoyt Audubon Wildlife Sanctuary, where there's a wild bird feeding station. Trails circle Purity Lake before entering the deep pine forests of the wildlife preserve. Although trails are groomed, they offer a more intimate skiing experience of being in the pristine winter forest.
Trail levels range from intermediate to advanced, and rental equipment is available; ticket-holders at the resort's King Pine alpine ski area can use the cross-country trails free. In addition to the two ski options, the resort has ice-skating, snowshoeing, sleigh rides, sledding, and a tubing hill, plus lodging and dining.
Address: 1251 Eaton Road, Madison, New Hampshire
Official site: https://www.kingpine.com
11. Dartmouth Cross-Country Ski Center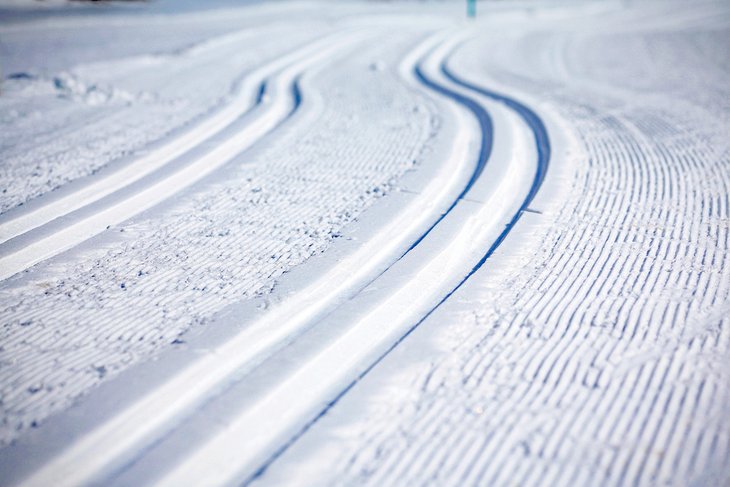 Dartmouth College welcomes the public to its 30 kilometers of groomed trails in three different locations: Oak Hill, Garipay Field, and the old golf course in Hanover.
A warming hut is at the Oak Hill location, where you can purchase trail passes, and the Dartmouth Outing Club House on Occom Pond provides ski rentals, as well as skates for those who wish to skate on the well-maintained ice on Occom Pond.
Dartmouth's excellent trail system stems from major improvements made in preparation for hosting the NCAA Championships in 2003. The highlight is the 13.5-kilometer Silver Fox Trail in the Oak Hill area, which is kept immaculately groomed and tracked.
Address: 10 Hilton Field Road, Hanover, New Hampshire
Official site: https://outdoors.dartmouth.edu
12. Nordic Skier Wolfeboro XC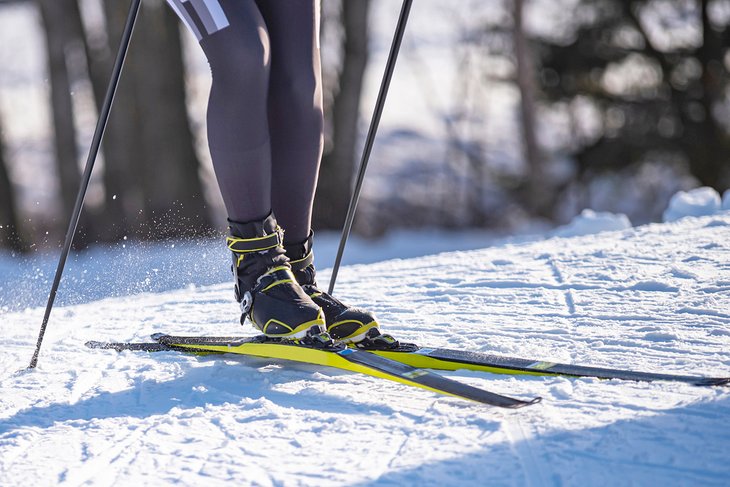 On the shore of Lake Winnipesaukee in New Hampshire's Lakes Region, Nordic Skier grooms 30 kilometers of trails for classic and skate skiing. The center's trails are in two networks: Abenaki and Sewell Woods. Apart from two short side loops, the Sewell Woods section is all beginner and intermediate trails.
The mile-long Internet trail, labeled black for experts, connects the two networks over fast, steep terrain and with variable trail conditions. Be warned. With this exception, trails are professionally groomed daily.
An additional 35 kilometers of trails are open for snowshoeing. Skiers aged 12 and under, as well as skiers over age 74, ski free.
Address: 47 North Main Street, Wolfeboro, New Hampshire
Official site: https://www.wolfeboroxc.org
More Nordic Ski Centers In New Hampshire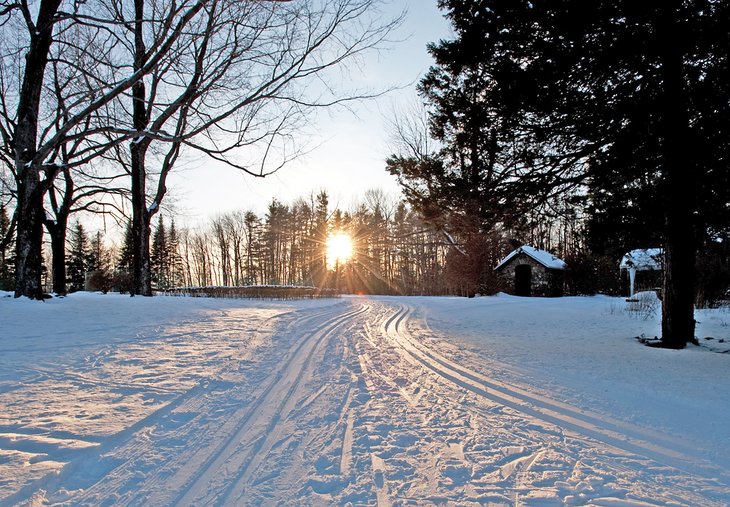 Several smaller cross-country centers with fewer than 40 kilometers of trails offer a good day's skiing, each with its own natural environment and views.
Dexter's Inn Trails by Norsk: The 20-kilometer network of groomed trails begin at the door of Dexter's Inn, a hilltop property with panoramic views. Located near Lake Sunapee, Dexter's has a warm-up and rental center in the inn and offers lessons.
Address: 258 Stage Coach Road, Sunapee, New Hampshire
Official site: www.dextersnh.com
Dublin Nordic Center: Operated by the Dublin School, in southwestern New Hampshire, the center is the training course for the school and other neighboring school cross-country teams. They get priority on the training course, which has snow-making, but the rest of the trails are open to the public, and free.
Address: 18 Lehmann Way, Dublin, New Hampshire
Official site: https://www.dublinschool.org/dublin-school-nordic-center/
Map of Places for Cross-Country Skiing in New Hampshire
Frequently Asked Questions about Cross-Country Skiing in New Hampshire
What is the season for cross-country skiing in NH?
Although snow often covers the trails as early as November, each year is different. The conditions will usually be best from mid-December through March. The longest seasons are usually at Bretton Woods, which averages 200 inches of snow annually, and Great Glen Trails, where a base elevation of 1,600 feet combines with state-of-the-art Nordic snowmaking equipment to keep trails snow covered.
Can I take my dog skiing with me?
Dogs are welcome on all the trails at Bear Notch Ski Touring Center. Gunstock Mountain and Bretton Woods each has 15 kilometers of dog-friendly trails, and both allow skijoring — skiing with dog-assisted momentum.
Where can I take a guided cross-country ski tour in New Hampshire?
Waterville Valley offers guided cross-country and snowshoe tours for all skill levels. Bear Notch has guided naturalist tours on weekends, identifying tracks of winter wildlife and exploring their habitats.
Do any country inns have cross-country skiing?
Charming country inns are plentiful throughout New Hampshire, and some have cross-country trails right outside the door. Christmas Farm Inn & Spa in Jackson is connected by ski trails to the Jackson XC Center; the Franconia Inn and Dexter's both have cross-country centers of their own. Several inns are located along the trails of the Mt. Washington Ski Touring & Snowshoe Foundation in North Conway and Intervale.
Is there lift-assisted skiing in backcountry and mountain terrain?
You can take the chairlift at the Gunstock Mountain ski slopes to reach backcountry trails, and you can ride to the summit at Bretton Woods alpine area and ski down the seven-kilometer Mountain Road. Ride the gondola at Wildcat to access the backcountry trail into the valley and onto the trails of the Jackson XC Center, more than 3,000 feet below. Or you can ride the SnowCoach to a shoulder of Mt. Washington and descend to Great Glen Trails.
More Related Articles on PlanetWare.com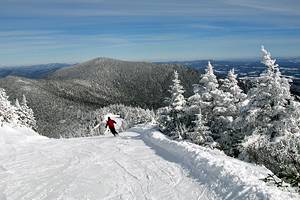 Where to Go Skiing Nearby: If you are also interested in downhill skiing, you can find many great options nearby. Learn about Vermont's winter sports centers in our article: Top-Rated Ski Resorts in Vermont, and discover skiing across the border in Canada with our list of the top ski resorts of Quebec.