14 Top-Rated Things to Do in Concord, NH
Author Lura R. Seavey lives in New Hampshire and enjoys visiting Concord.
The granite state's capital city is certainly not its largest, yet it offers an astounding number of cultural and recreational things to do that will interest all ages. Space cadets will be over the moon when visiting the McAuliffe-Shepard Discovery Center, and art lovers will find small performance venues, an arthouse theater, and public art around every corner.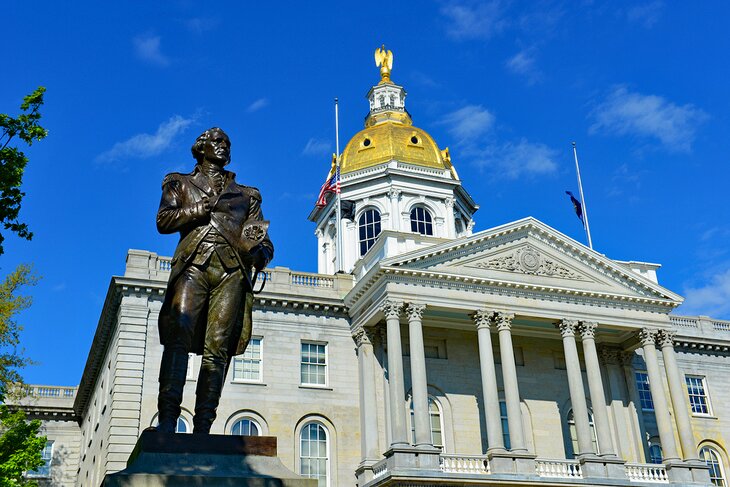 Concord's downtown is one of the most walkable and picturesque in the state, home to numerous restaurants and locally owned shops.
There is plenty of history to be found as well. Concord is also home to the State House, and the nearby Historical Society offers a deeper look at what has shaped the state.
Whether you are looking for family activities or a peaceful outing, find your new favorite places to visit with out list of the best things to do in Concord, NH.
1. Explore the Unknown at the McAuliffe-Shepard Discovery Center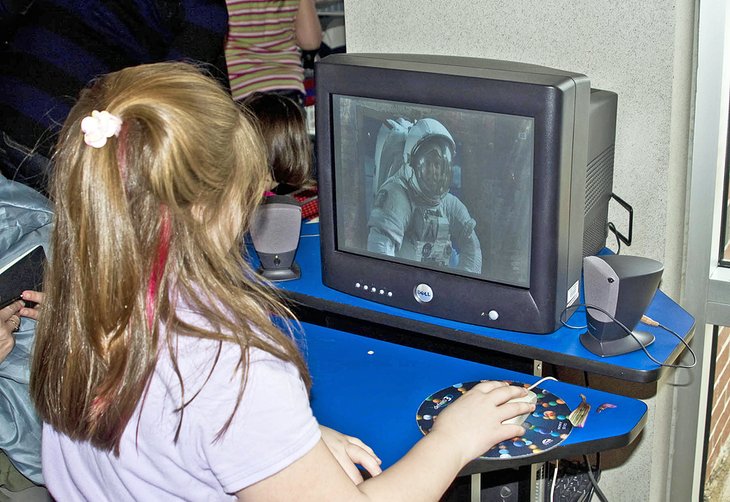 Few things strike the hearts of Concord natives more deeply than the space shuttle Challenger disaster that took the life of beloved Concord teacher Christa McAuliffe, the would-be first teacher in space. This science center is dedicated to her and Alan Shepard, the first American in space and a native of East Derry, NH. Its mission is to spark interest in today's youth by exploring aviation and astronomy, and earth and space sciences.
The family-favorite attraction here is the planetarium, which displays over 110,000 stars in its twice-daily shows. Guests can also explore the observatory, and the center hosts special events throughout the year to show novice stargazers how to get the most of their telescopes.
The museum also has an amateur radio station that can contact the space station when it is in the right position. The rest of the museum is filled with a variety of exhibits, including hands-on and educational opportunities, as well as artifacts from space and air travel.
Permanent exhibits feature a number of space-themed exhibits including those exploring a lunar habitat, living and working in space, human physiology in space, and the sun. There is also a full-size model of the Mercury Capsule that Alan Shepard was in, and a model of the space shuttle, as well as a full-sized replica of a Mercury-Redstone rocket and an actual XF8U-2 Crusader Jet.
General science exhibits include a Virtual Fish Tank donated by the Boston Museum of Science, an exhibit about New Hampshire Minerals, an interactive infrared imaging station, and an electromagnetic spectrum exhibit.
The newest exhibit is in collaboration with the Mount Washington Observatory, housing most of the museum collection once found at the former Weather Discovery Center in North Conway. This exhibit focuses on weather and atmospheric science, and includes a replica of the "shaky shack" where researchers recorded the earth's highest surface wind speed in 1934 from atop Mount Washington.
The center runs various special programs throughout the year in addition to its permanent and changing exhibits.
Address: 2 Institute Drive, Concord, New Hampshire
Official site: www.starhop.com
2. See Live Performances in Intimate Venues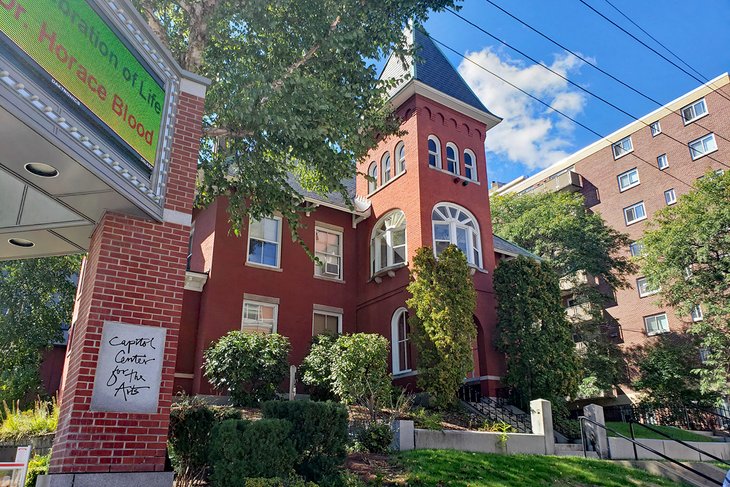 Concord's Capital Center for the Arts provides two indoor venues for a range of performances. It also hosts open-air performances in the summer at Fletcher-Murphy Park and at pop-up stages on Main Street during Market Days in June and the Capital Arts Fest in September.
The Chubb Theater is the original stage, an Art-Deco theater with balcony seating and a nostalgic air. The newer Bank of New Hampshire Stage has a modern industrial feel, with brick walls and a more angled floor for optimal views from any seat.
Live performances at the Capital Center include musical performances from all genres, ranging from Weird Al Yankovich to Eagles tribute bands, but also include musical and non-musical theater productions, comedy performances, intimate evenings with various authors, and other performances. Patrons can also attend HD screenings of live performances at major venues like the Metropolitan Opera House.
Visitors can also find live musical performances put on by the students and faculty at Concord Community Music School. The school also attracts professional guest artists, and hosts dozens of concerts every year between October and May, many of which have free admission. Annual events include a mandolin festival in March and a fiddle festival in October, and concerts throughout the season include classical, jazz, and folk music.
Address: Box office and Bank of NH Stage, 16 South Main Street, Concord; Chubb Theater, 44 South Main Street, Concord, New Hampshire
Official site: https://ccanh.com
3. Enjoy Public Art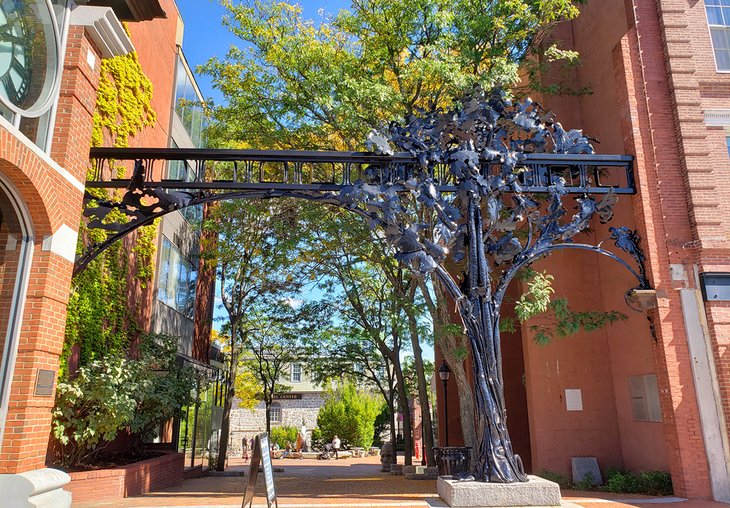 Concord's arts scene is always growing, and visitors will find a wide range of public installations along Main Street and near the downtown area, all within just a few blocks.
In addition to the statues found on the State House grounds, there are several other pieces of permanent sculpture that are landmarks within the community. One of the most beloved is the Tree of Life, an abstract iron sculpture that forms the gate to Eagle Square, just across the street from the Capitol Building. The Eagle Square Arch is the central feature within this space, which also gives a home to the city's largest collection of temporary public art installations, both sculpture and murals.
Bicentennial Square is a smaller but beloved public space nearby that is home to every local kid's favorite, simply titled Turtle Statue, as well as the Stone Curve and Stone Hole. This space often hosts smaller-scale events, including arts shows and music performances.
Temporary public art installations can be found up and down central Main Street, and a self-guided sightseeing tour map can be found online and at the Chamber of Commerce Visitor Center.
Tourists who love a little spooky with their spice will want to visit Margarita's, a local favorite restaurant housed in Concord's old jailhouse just off Bicentennial Square. Guests can dine in one of the old jail cells, complete with iron bars and old stone walls (as well as the occasional haunting), or enjoy a view of the sculptures from outdoor seating in nice weather.
4. Shop Locally Made and Owned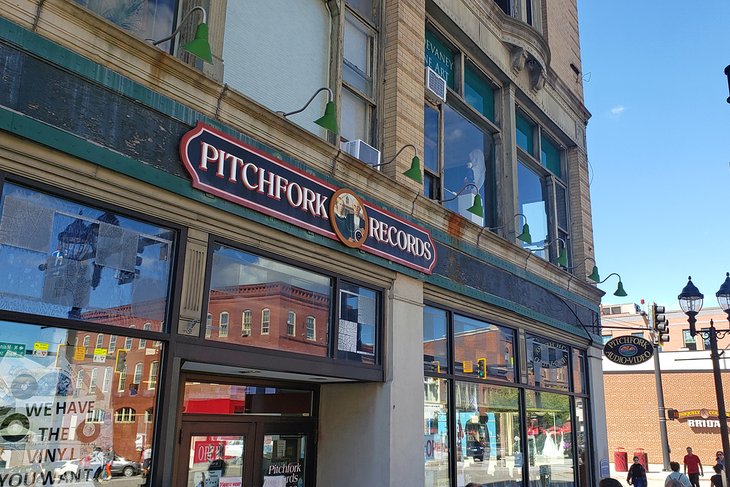 Downtown Concord is full of shopping opportunities, with a wide range of locally owned small businesses that offer unique and quality wares of all sorts. Those looking for locally made items will want to stop by the League of NH Craftsmen, the retail showcase for some of the granite state's most talented creators.
Shoppers can find everything from handmade jewelry and weaving to pottery, woodworking, and hand-blown glass. For handcrafted wares imported from Northern Europe, visit Viking House, specializing in Scandinavian woolens, Finnish glass, and other unique items.
Shoppers looking for unique clothing finds will want to check out Hilltop Consignment Gallery, a high-end shop that re-homes quality clothing and vintage jewelry. Those with a taste for more eclectic garments will love Gondwana & Divine Clothing. For a wide selection of earth-friendly products, including responsibly sourced clothing, kitchen and household items, natural baby care products, and items that will help you live sustainably, visit Bona Fide Green Goods.
Another specialty shop beloved by locals is Pitchfork Records, one of the last true record shops, and culinary enthusiasts will want to stop by Things are Cooking for an astounding selection of quality kitchen items, ranging from appliances to unique utensils.
If you have a sweet tooth, stop by Granite State Candies, just off Bicentennial Square. The most festive shopping experience is in late June each year, when the Market Days Festival takes over downtown, allowing visitors to peruse the best the area shops have to offer.
Visitors lucky enough to be in town on Saturday mornings during May through September will enjoy an excellent farmers market, located on Central Street right next to the State House lawn. In addition to local fruits, veggies, and meats, market-goers will find locally sourced maple and honey, artisanal cheeses, and fresh-baked goodies from bread to sweets (and even something for Fido). There are also locally grown plants and flowers, handcrafted wood items, and body care products like artisanal soaps and balms.
5. Enjoy Arthouse Cinema at Red River Theatres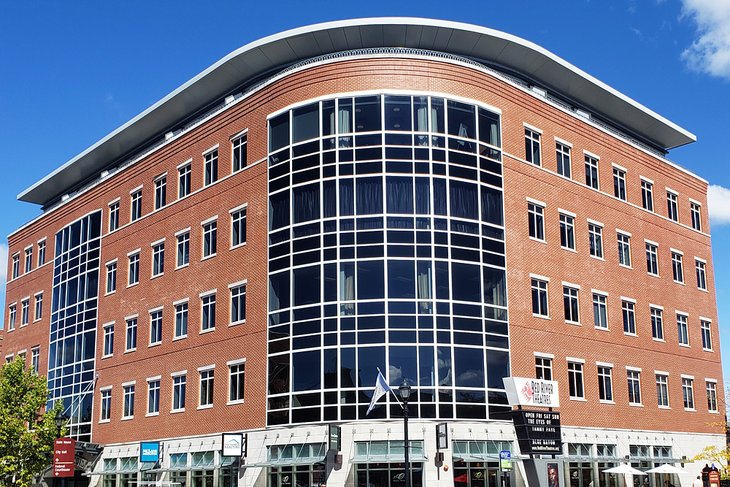 This independent theater is located on Main Street across from the Capital Center for the Arts, and shows a variety of independent and foreign films, as well as documentaries and short films that are not offered in the larger chain-owned theaters. The theater has three screens featuring Dolby Digital Surround Sound, and one of the cinemas has removable seating to accommodate workshops and receptions.
In addition to films, visitors can enjoy exhibits at the Red River Gallery, a space that displays the work of New Hampshire artists, including paintings, prints, photography, sculpture, and even kids' creations during Youth Art Month.
The theater also offers concessions that are above and beyond any candy counter you've seen - patrons can get fresh locally crafted sandwiches, pastry, and chocolates, as well as fresh brewed coffee and a full selection of beverages. The entire facility is ADA-accessible.
Address: 11 South Main Street, Concord New Hampshire
Official site: https://redrivertheatres.org
6. Visit the New Hampshire State House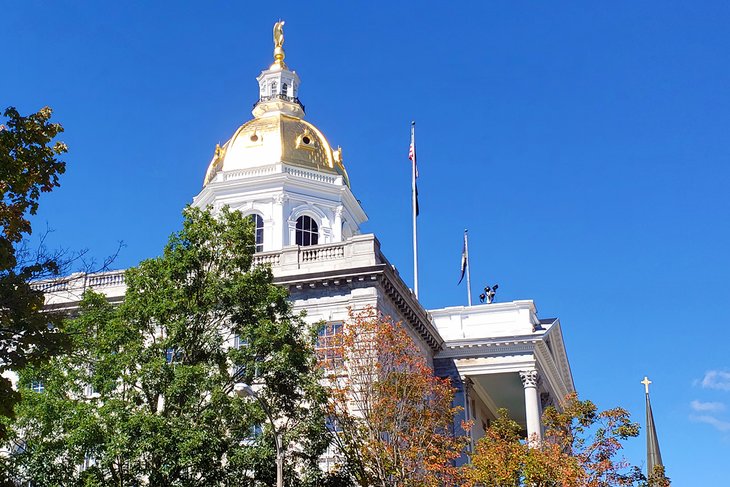 The state house, nicknamed the "golden lighthouse" by local children, is located right in downtown Concord.
It was built in 1812 out of locally quarried granite in the Greek Revival style. The visitor center is open weekdays until 3pm, offering both self-guided and docent-led tours. Highlights inside include the Hall of Flags, portraits of historic figures, permanent and changing exhibits, and the original chambers of both houses of legislature, which are still in use.
The grounds of the state house are a lovely place to visit as well, featuring shady trees, stone benches, and numerous statues commemorating important New Hampshire figures. This includes a sculpture of Franklin Pierce, the only US President from the granite state, and George Hamilton Perkins who fought in the Civil War. The statues of Daniel Webster and John Hale were both made at a foundry in Munich, Germany and weigh 2,000 pounds each.
Address: 107 North Main Street, Concord, New Hampshire
Official site: https://gencourt.state.nh.us/nh_visitorcenter/
7. Visit the New Hampshire Historical Society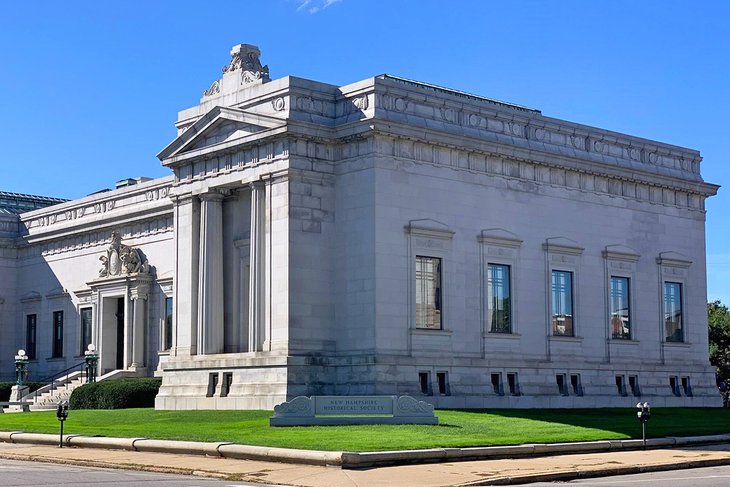 Housed in a stunning 1911 Greek Revival National Historic Landmark building, the Historical Society's permanent exhibit is divided into themes that represent some of New Hampshire's most distinguishing aspects.
The "All Politics is Local" exhibit explores the place governance holds, including the state's influence as first-in-the-nation primary and local political traditions like town meetings. Other themes include artifacts and stories of how major conflicts have affected New Hampshire citizens, cultural traditions that shape granite state communities, and an overview of the things that are most emblematic of the state.
Address: 30 Park Street, Concord, New Hampshire
Official site: nhhistory.org
8. Get Back to Nature at the McLane Audubon Center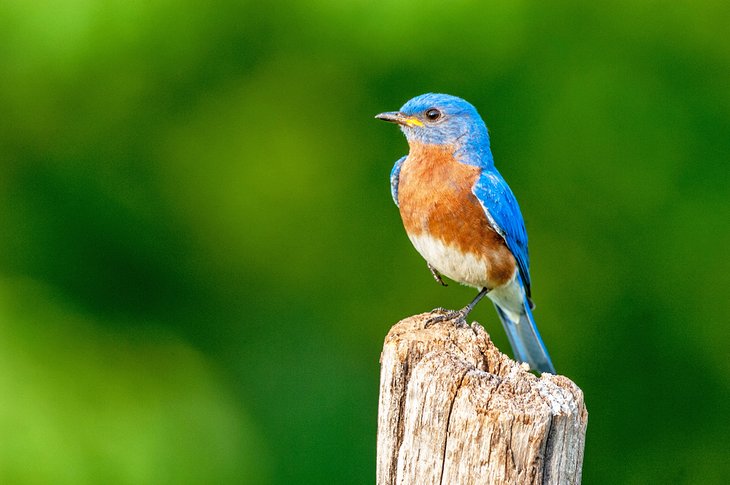 The Audubon Center is an excellent place to learn about nature and explore during all seasons. In addition to offering special programs, the center offers several exhibits and an excellent Nature Store, where you can find everything from gear like binoculars to nature-themed clothing and jewelry.
The biggest draw, of course, is the center's 30 miles of trails that explore the woodlands, grasslands, and shoreline of Great Turkey Pond.
While exploring the 12 acres of conservation land, visitors can spot nesting birds like the eastern bluebird and American kestrel, as well as migrating birds in season. Cattle from a nearby farm can be seen grazing in the meadow, and in the spring, visitors can find wood frogs and peepers in the vernal pools.
This is a lovely area to explore in the autumn while enjoying the bright foliage, and a popular place for snowshoeing in the winter.
Address: 84 Silk Farm Road, Concord New Hampshire
Official site: www.nhaudubon.org
9. Living History at Canterbury Shaker Village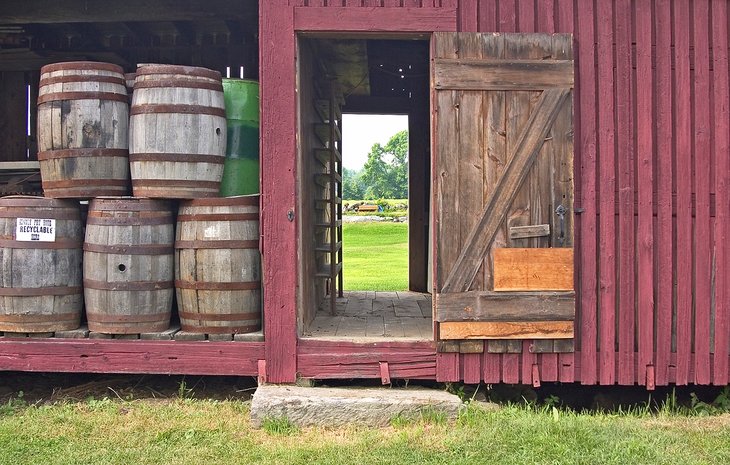 One of the best things about the Canterbury Shaker Village is that visiting and exploring the grounds is free of charge, and guests have the option of taking one of the themed guided tours for a fee. In its heyday during the mid 19th-century, this village was home to over 300 men and women who were dedicated to communal living and ownership and practiced pacifism as part of their religious faith.
The grounds are home to numerous restored historic Quaker buildings, with 25 original structures and another four that are reconstructed. The oldest of the original structures is the Meeting House, which was built in 1792 and houses a Paul Revere bell, and the largest, which is the 56-room Dwelling House.
Other notable structures are the Brethren's House (1824), Carpenter Shop (1806), Infirmary (1811), Carriage House (1825), Enfield House (1826), and the Fire House (1908).
In addition to historic homes and buildings, the village has nearly 700 acres of countryside to explore. Trails of varying lengths and difficulty wander through fields and forests and past ponds and are also free to explore. Canterbury Shaker Village is located less than 20 minutes north of Concord just off Route 106.
Address: 288 Shaker Road, Canterbury New Hampshire
Official site: www.shakers.org
10. Pick Your Own Fruit at Carter Hill Orchard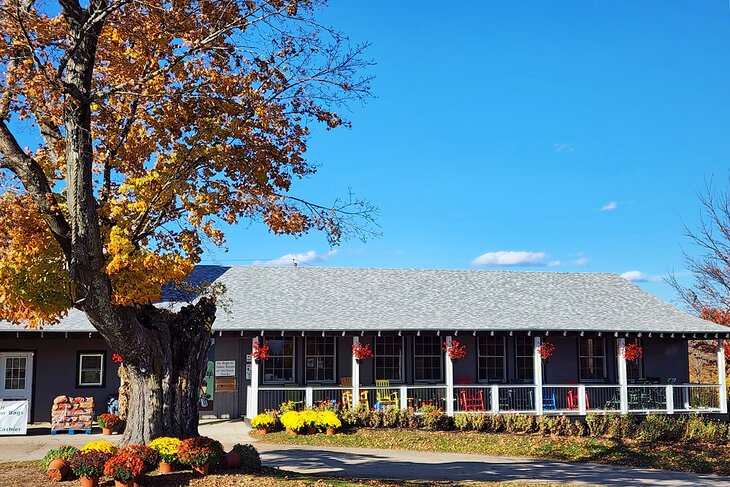 Ask any Concord native where to go for PYO fruit, and they will send you to Carter Hill. Depending on the season, visitors can find blueberries, peaches, plums, apples, and pumpkins to pick or purchase at the orchard store.
The orchard also has an incredible bakery that offers homemade pies, breads, cookies, and whoopie pies, but what people really line up for are the fresh cider donuts (leave yourself time to wait in line if you visit on an autumn weekend!).
Apple-picking season typically starts in the beginning of September, and apple varieties available at any given time vary. Carter Hill is open July through October, with additional limited hours through mid-December.
Address: 73 Carter Hill Road, Concord New Hampshire
Official site: www.carterhillapples.com
11. Family Fun at Chuckster's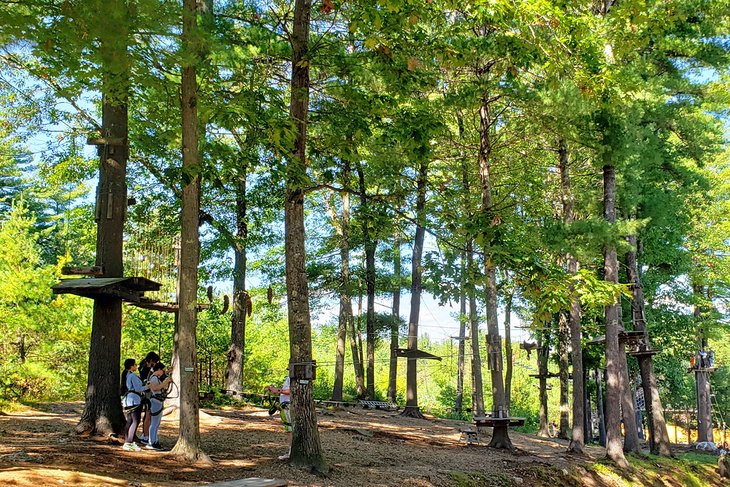 Parents will love Chuckster's for its relatively small size and affordable prices, while kids and teens will love it for a great variety of attractions for various ages. The whole family can play a round of mini-golf on the varied and interesting course, which boasts the longest hole in the world, a whopping 201 feet from putt to hole.
Other group-oriented attractions include the Timber Trek; classic Go-Karts; TimberTrek aerial course; and the Webster, a climb-and-slide challenge. The park also has rock climbing, bungee acrobatics, batting cages, and several one-on-one games.
Chuckster's also has a good kitchen that serves family-friendly takeout like chicken fingers and burgers, and their ice cream selection is excellent.
It is located just outside the Concord city limits off I-393, less than 10 minutes' drive from downtown.
Address: 9 Bailey Road, Chichester, New Hampshire
Official site: www.chuckstersnh.com
12. Get Creative at You're Fired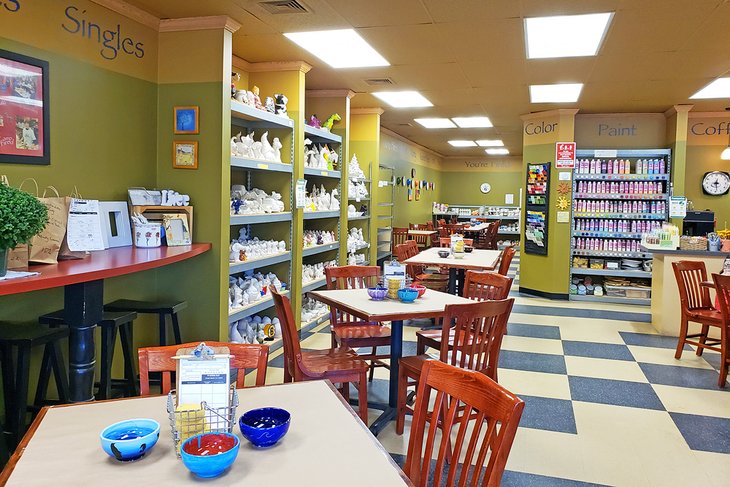 An excellent activity for a day when the weather isn't cooperating is a visit to You're Fired, a paint-your-own ceramics studio. Painters of all skill levels are welcome, and have a huge variety of pieces to choose from, including decorative items, dishes, mugs, switch plates, and even yarn bowls for knitters.
Staff is always on hand to help artists utilize the many tools available, from stencils and reference sheets to looking up and printing custom images. And don't worry—if you won't be in town long enough to pick up your fired masterpiece, you can make arrangements to have it shipped home, wherever that may be.
Address: 133 Loudon Road, Concord, New Hampshire
Official site: www.yourefirednh.com
13. Enjoy International Cuisine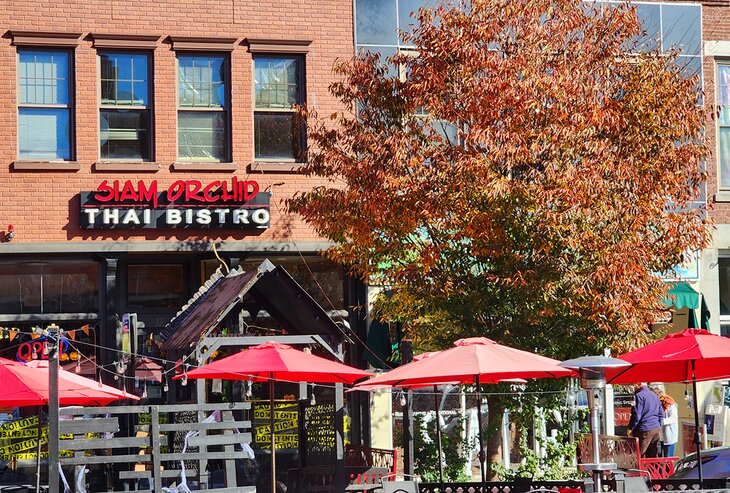 Despite its small size, the city of Concord has a good variety of restaurants to choose from, with several ethnic and specialty eateries for any palate.
If you're hankering for Asian food, Siam Orchid Thai Bistro, located right on Main Street, offers reasonably priced Thai dishes.
The best curry and saag in town can be found nearby just off Main Street at House of India; currently, they are only offering take-out, but there are plenty of places in nearby Centennial Square to sit and enjoy your meal alfresco.
If you're looking for good vegan food in downtown Concord, try Col's Kitchen. But, if you're a die-hard carnivore, Vibes Gourmet Burgers just up the street serves up some of the best hamburgers in the state and also has a take-out ice cream bar.
If you're in the mood for authentic tamales or mouthwatering chiles rellenos, El Rodeo Mexican Restaurant is the best place to get authentic Mexican food in Concord.
You can find Hibachi and other Asian favorites at Ichiban Japanese Steak House & Sushi Bar, a local favorite, or if you want hearty American fare, head to The Common Man to find out why it's one of the state's most beloved restaurants.
There are lots of great options for breakfast as well, including The Post ( offering a cozy family-style breakfast and lunch), and the Red Arrow serves up traditional diner food.
14. Spend a Day at the Park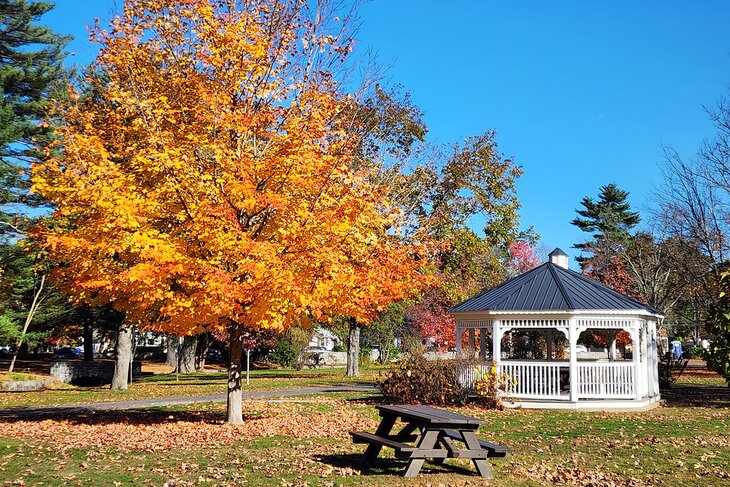 Whether you've got kids in tow who need to burn off some energy or are just looking for a peaceful place to spend an afternoon, Concord has several choices if you want to get outside.
Rollins Park is a big hit with kids during the summer, thanks to its large public pool and pine-shaded playground. There are baseball and softball fields, as well as tennis and basketball courts, and in the winter, there's a public ice-skating rink. Located in a quiet residential area, the park also has plenty of lawn space for games, as well as picnic tables and a lovely gazebo.
White Park is another top choice for families, offering a pool, playground, and an ice rink. It also offers plenty of walking trails, as well as the peaceful White Park Pond.
If you're looking for more space and fewer kids, head to Terrill Park. It sits on 21 acres along the Merrimack River, offering good jogging and walking trails, as well as a fenced-in dog park space that's maintained by the local SPCA.
Concord, NH - Climate Chart
Average minimum and maximum temperatures for Concord, NH in °C
J
F
M
A
M
J
J
A
S
O
N
D

-1

-12

1

-11

7

-5

14

0

21

6

26

11

28

14

27

13

22

8

16

2

9

-2

2

-9

PlanetWare.com
Average monthly precipitation totals for Concord, NH in mm.

75

60

77

78

85

79

86

82

80

88

91

75

Average monthly snowfall totals for Concord, NH in cm.

45

40

25

7

0

0

0

0

0

0

11

37
Average minimum and maximum temperatures for Concord, NH in °F
J
F
M
A
M
J
J
A
S
O
N
D

31

10

34

13

44

23

57

32

70

42

78

52

83

57

81

56

72

47

61

35

48

28

36

16

PlanetWare.com
Average monthly precipitation totals for Concord, NH in inches.

3.0

2.4

3.0

3.1

3.3

3.1

3.4

3.2

3.2

3.5

3.6

3.0

Average monthly snowfall totals for Concord, NH in inches.

18

16

10

2.6

0

0

0

0

0

0.1

4.5

15