8 Best Campgrounds near Zion National Park
When it comes to Utah's "Mighty 5" parks, Zion National Park is one of the best places for camping. The elevation is not excessively high, so temperatures are warmer here from fall through spring than parks like Bryce Canyon and Capitol Reef.
The most popular place for camping is near the South Gate. This is the area closest to the park's main attractions, and it's where you'll find Zion National Park's two main campgrounds. Just outside the gate is the town of Springdale, where you'll find some RV parks.
On the east side of the park, just outside the entrance, is a small RV park, and farther on is a quaint campground at beautiful Coral Pink Sand Dunes State Park.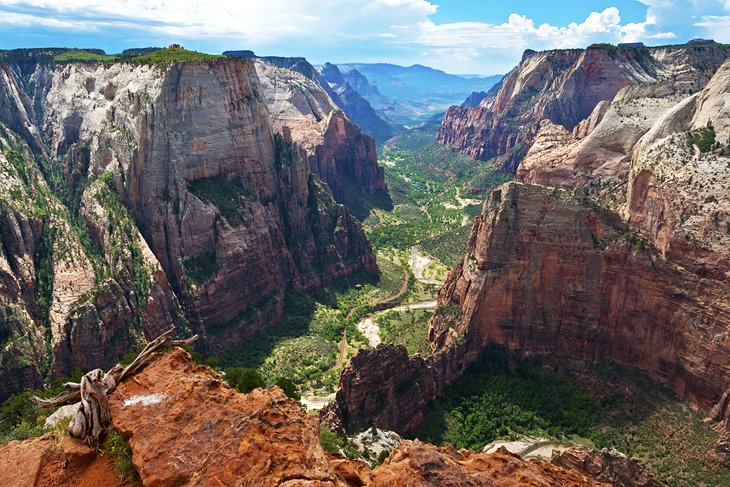 Campers traveling with RVs should be aware that they will need to pay a modest fee and obtain a permit to pass through the tunnel on the Zion-Mount Carmel Highway. The tunnel is not large enough to accommodate RVs passing other traffic, so when a vehicle over a certain size is entering the tunnel, traffic is halted in the opposing direction. Fees need to be paid at the entrance stations.
Also, it is important to note that RVs are not permitted through the tunnel at night or before 8am. Specific transit times are posted on the NPS website.
Plan ahead to get a jump on reservations, and start with our list of the best campgrounds near Zion National Park.
1. South Campground in Zion National Park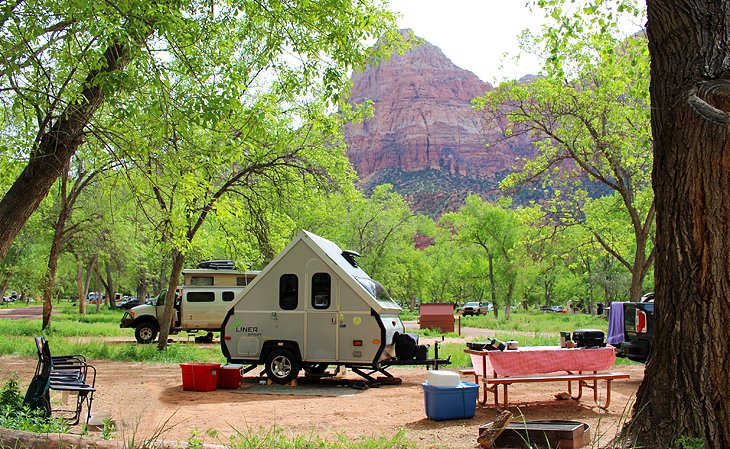 South Campground is undoubtedly the best place to camp in Zion. Large, leafy trees provide some shade from the heat of the day. Campsites are large and spaced a good distance from each other, and the cliff walls in behind remind you that you are in one of the most spectacular landscapes in the Southwest.
Conveniently located near the south entrance, just outside of Springdale, this campground offers the advantage of staying within the park but close enough to town that you can run in and grab anything you may have forgotten. Camping inside the park also means you won't have to deal with the lineup to get into the park in the morning.
This campground is open from March 1 to late November, and reservations are recommended. Reservations are available up to 14 days before your arrival.
The campground does not have hookups, but there is a dump station and potable water. Facilities consist of flush toilets. South Campground has 117 sites, and each site is allowed a maximum of one camper or RV, or two tents, and up to six people. Four group sites, allowing up to 15 people each, are available.
Official site: https://www.nps.gov/zion/index.htm
2. Watchman Campground in Zion National Park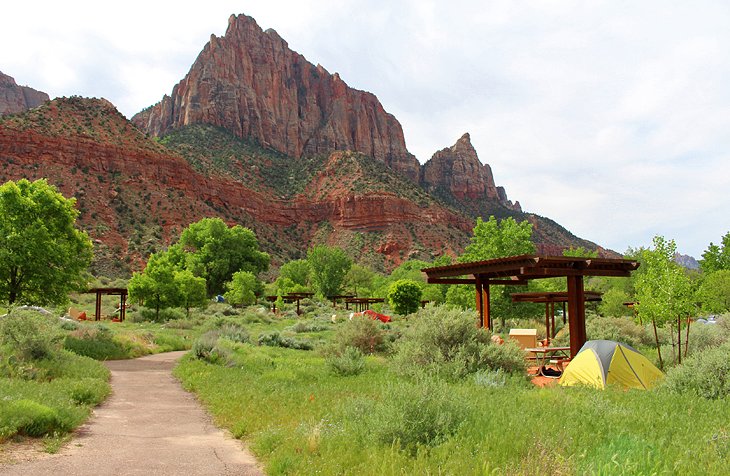 Not far from South Campground, Watchman Campground is also conveniently located and scenic. Fewer large trees mean there is less shade, and most campsites are in full sun, but this also allows for better views of the surrounding mountains.
This campground is open year-round and does take reservations. Reservations can be made six months in advance, and you should book well in advance if you want to secure a site.
About 95 campsites offer electrical hookups, and 69 sites are for tents only, including 18 walk-in tent sites. In addition, six group sites are able to accommodate between 9 and 40 people.
3. Zion Canyon Campground and RV Resort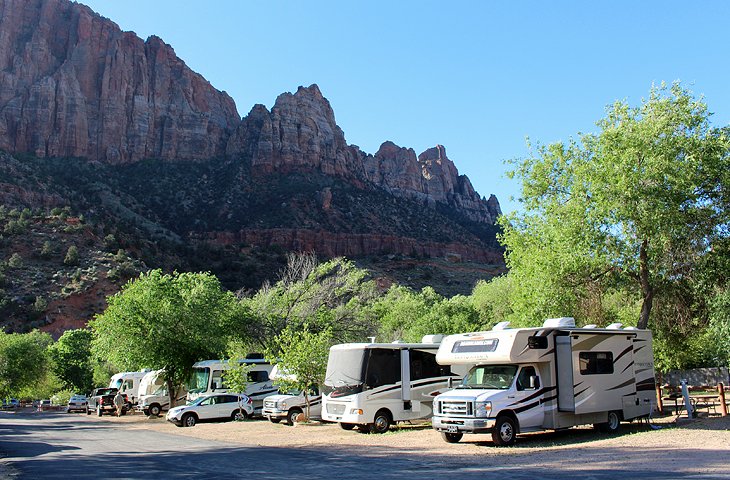 For convenience, it's hard to beat this RV park, located right outside the park's south gate in Springdale and within walking distance of the Zion National Park Visitor Center. The campground has a spacious area for RVs and a section reserved for tents.
Large deciduous trees offer some shade, and the views here are fantastic. On-site is a heated pool, coin laundry, and showers. From the front desk, you can get information on river tubing and swimming, as well as other activities in the area.
Sites can be booked online, and note that pets are allowed in the RV section but not allowed in the tent section. The park shuttle stops right outside the front entrance.
4. Zion River Resort RV Park & Campground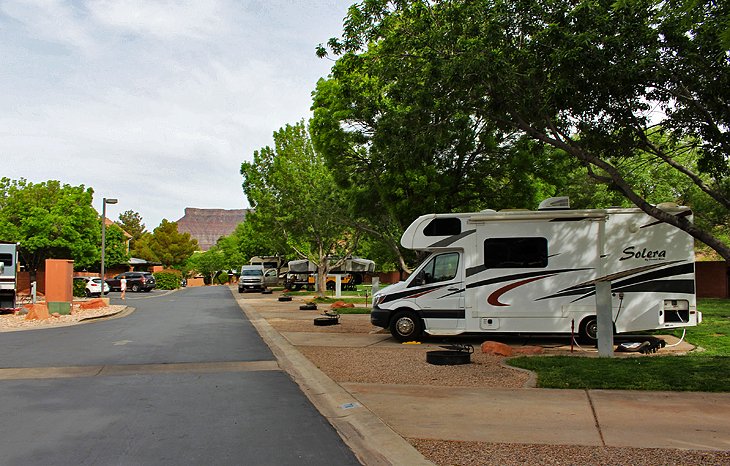 Zion River Resort is a popular RV resort with manicured grounds, lovely shady sites, paved parking pads, fire pits, and lawns. Located in the town of Virgin, between the towns of Hurricane and Springdale, this resort is about 20 minutes from Zion National Park.
With pull-through sites, full hookups, tent sites, pool, Wi-Fi, showers, restrooms, and pet areas, this RV resort has everything you need. If you don't want to drive to Zion, the resort offers shuttles for a small fee.
Official site: https://www.zionriverresort.com/
5. Lava Point Campground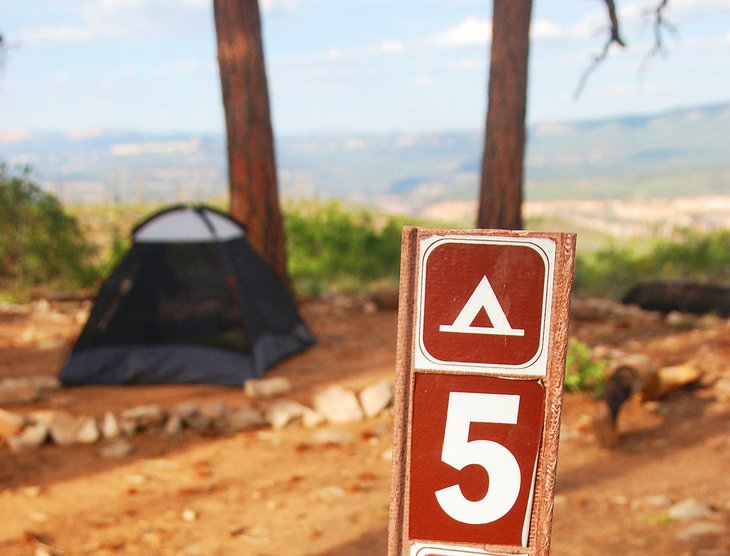 Lava Point Campground is the smallest and most remote campground in Zion. Located on Kolob Plateau at 7,890 feet, this campground is almost 4,000 feet higher than South Campground. Temperatures are much cooler up here.
Lava Point has six primitive sites set among a mix of aspen and pine trees. To get here, you'll need to drive 80 minutes from the south entrance back through the town of Virgin.
The campground is first-come, first-served, and vehicles over 19 feet in length are not permitted. Picnic tables are provided, but no running water. The road to the campground can be rough; check conditions before venturing out.
If the sites are full here, consider continuing onwards to Kolob Reservoir. Unorganized camping here is free along the shoreline.
6. Coral Pink Sand Dunes State Park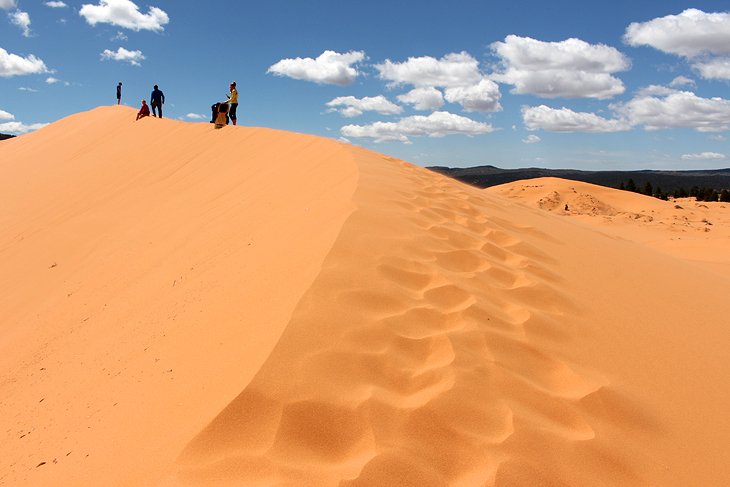 Coral Pink Sand Dunes is a spectacular little state park with a very nice campground. This park is one of the top state parks in Utah, and it's worth a trip in its own right just to explore the dunes. This campground is about a 40-minute drive from the east gate of Zion National Park, but it's worth considering if you are looking for some place to camp on the east side of the park.
Sites are all located along a single loop and set among juniper and pinon pines, providing plenty of privacy. Of the 34 sites, each one offers pull-through parking, a picnic table, and a grill. You can book a site here up to four months in advance. It's also worth noting that the group site here is fantastic, with a modern barbecue, and it can hold between 25 and 50 people.
The park is at an elevation of 6,000 feet, so be prepared for cool evenings even in the middle of summer. It can also be quite windy here, although the campground is relatively protected.
Official site: https://stateparks.utah.gov/parks/coral-pink/
7. Hi-Road Campground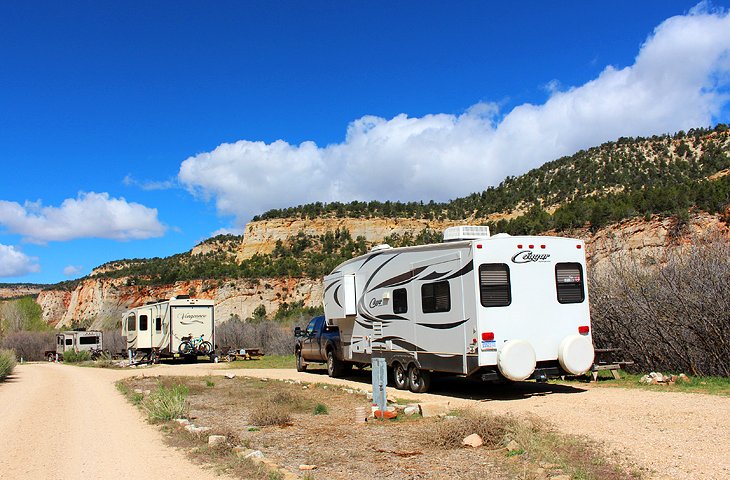 Just outside the East Gate is the Hi-Road Campground. This is a convenient location if you are interested in getting an early start on the East Rim hike, or if you are arriving late from the east side of the park and want to stop and spend the night before driving through the park.
Otherwise, this is not most campers' first choice, and it's not a place where most visitors linger. Hi-Ground has pull-through sites, full hookups, and tent sites. Facilities are very basic, and prices are high. Across the road from the campground is a trading post with some basic supplies.
8. Dispersed Camping on BLM Lands Close to the Park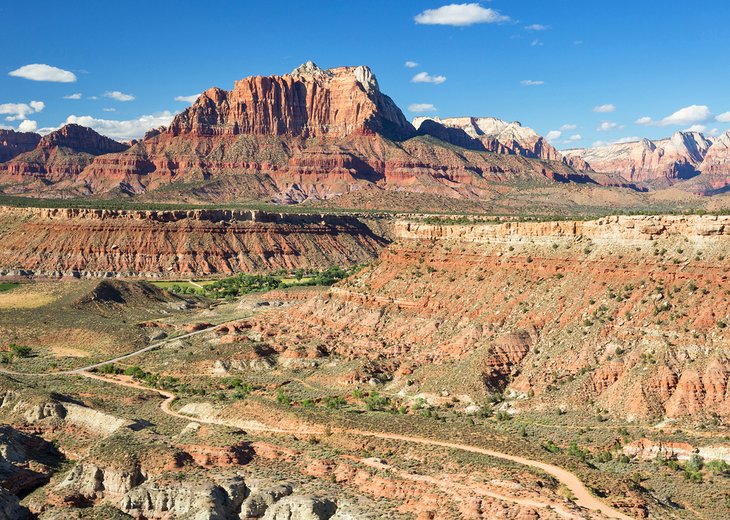 The best bargain around, free dispersed camping on BLM lands, takes a bit of work, but is well worth the reward. The concept is that you find a spot at least half a mile from any roadway, pack out all that you pack in, and bring everything you need. You will find no facilities, no hookups, no water, no toilets. It's as basic as it gets.
Near Zion National Park, the best area for dispersed camping is off the Smithsonian Butte National Back Country Byway. The byway is a mere 6.2 miles from the park entrance. Find a road or trail that leads off this road for the minimum distance and set up camp. Note that to access the byway, you will need to pass over a bridge in Rockville with a low clearance of 13 feet, 4 inches.
Another popular camping destination is called the North Creek Dispersed Area. Just over 15 miles from the park's gate, this is off the Kolob Terrace Road. Another spot just a bit farther out, at 16 miles from the park gates, is Sheep Bridge Road. Here, you'll find 48 marked campsites. Register at one of the kiosks.
Map of Campgrounds near Zion National Park
Best Areas for Camping & Hiking in Utah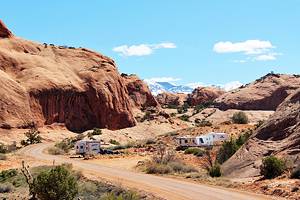 Camping: Zion National Park is often the gateway for travelers touring Utah if they are entering from the South. Heading north from Zion, you'll also find great camping around Bryce National Park and Capitol Reef National Park. If you are traveling further north, be sure to check out our article on the Best Campgrounds around Moab, including Arches and Canyonlands National Parks.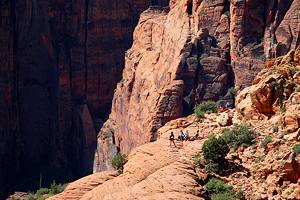 Hiking: For a complete guide to the best trails in the area, see our articles on the Best Hikes in Zion National Park, as well as our guide to the Best Hikes near St. George, just an hour away from Zion National Park. If you have time to visit other parks in Utah, have a look at our list of Best Hikes in Bryce Canyon National Park, and Best Hikes and Walks in Arches National Park.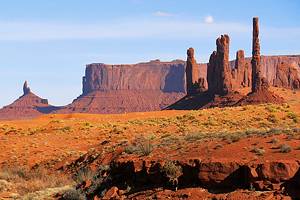 Exploring Utah: You can find more ideas for helping you plan your outdoor adventures through the state in our articles on the best parks in Utah, top attractions in Utah, and things to do in Moab. If you are traveling in winter, be sure to check out Utah's ski resorts.