9 Best Campgrounds near St. George, UT
St. George is on the doorstep of some of Utah's most outstanding natural areas, from red rock canyons to lakes and beautiful soft-sand beaches. Camping in the area is awesome.
Many of the prime locations for pitching a tent and setting up an RV are found in nearby state parks or in BLM (Bureau of Land Management) areas, but if you are looking for a more urban experience, you'll also find RV parks right in St. George.
While some places offer first-come, first-served sites, your best bet is to plan ahead and reserve a site if you know your travel dates. This is particularly true of state parks, which can usually be booked up to 16 weeks in advance, although some parks offer first-come, first-served sites. Most BLM campgrounds do not take reservations, apart from group sites. RV parks are best reserved well in advance.
For a look at the camping areas available, see our list of the best campgrounds near St. George.
See also: Where to Stay in St. George if Campgrounds are Full
1. Snow Canyon State Park Campground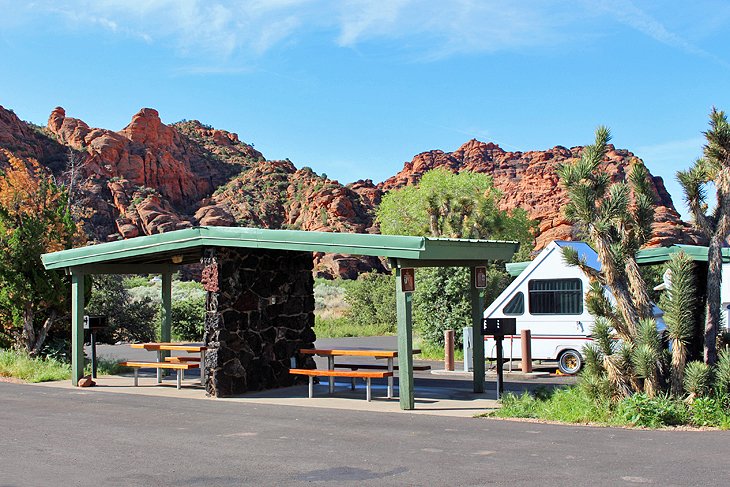 Just 20 minutes from St. George, Snow Canyon State Park is one of the most spectacular areas around the city and a great place to position yourself if you're camping.
The park has only one campground, with 33 sites, but it is centrally located and well laid out. About 14 RV campsites offer electrical hookups, and an additional 17 sites are designated multi-use. Some of the campsites are constructed in pairs, with a common shelter, but have a dividing wall to maintain privacy.
This campground is always busy, and you need to book well in advance if you want to be sure of securing a site. Sites can be booked up to 16 weeks in advance on a rolling date basis.
For those interested in hiking, this park has some of the most incredible hiking trails near St. George, with dunes, lava flows, red Navajo sandstone, and canyons.
Note that wood fires are not permitted from June 1 to September 15.
2. Sand Hollow State Park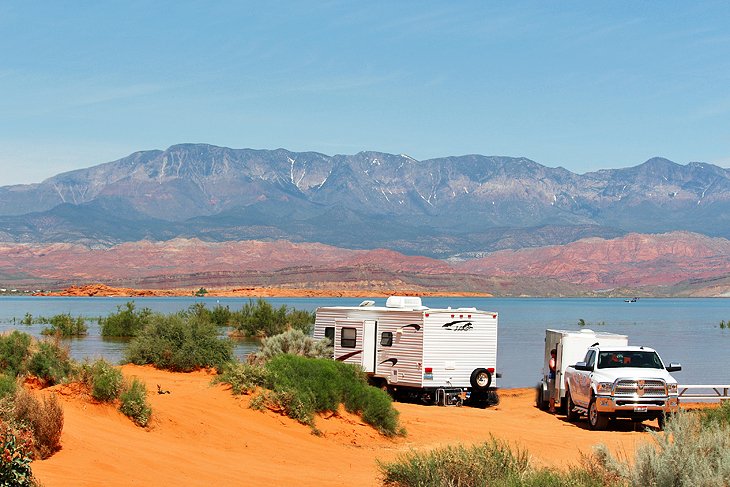 Sand Hollow State Park, with a huge stretch of coral-sand beach and a mountain of dunes in behind, is a fun place to be on a warm day. People come here with their ATVs to race through the 15,000 acres of sand and with their boats and water toys to enjoy a day on the lake. Those with less active plans set up beach chairs and towels and lay out in the sun or go for a swim.
The park has two designated campgrounds, along with primitive sites spread out along the shoreline. The Westside Campground, closest to the entrance and the boat launch, is well equipped for tents and RVs, and offers hookups. Campsites are well-spaced and have picnic tables with shelters, fire pits, and barbecues, as well as modern restrooms and showers.
The campground is picturesquely set in front of colorful mountains, but it's not quite high enough for views of the lake, and the campground is a good hike or short drive from the main beach.
On the opposite side of the lake, Sandpit Campground is where campers with OHVs (off highway vehicles) set up. It is extremely convenient for accessing the beach and offers beautiful views over the orange sand and across the lake to the mountains beyond. However, campsites are packed close together, with little to no privacy, and the campground is not much more than a parking lot.
Along the east and south shores, 60 primitive campsites are available, and pit toilets and picnic tables are provided. Half of these sites are available to be booked online. Note that only one vehicle per campsite is permitted at the primitive sites.
Some exciting news from Sand Hollow State Park: Starting in late 2022, the park is planning to open additional new campgrounds to meet the strong demand.
Too see what's available or to book a campsite, go to the park's website.
3. Quail Creek State Park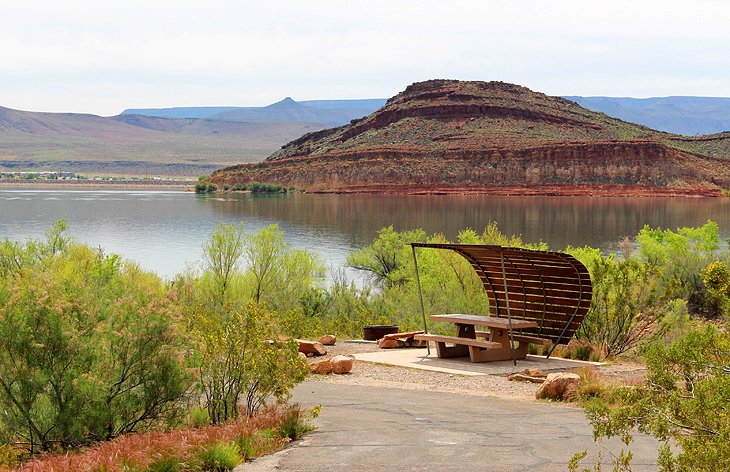 Quail Creek State Park, close to Hurricane, offers a quaint waterside camping experience and is one of the less discovered campgrounds in the area. This is a small, quiet campground set on a slope overlooking the scenic Quail Creek Reservoir.
The main attraction here is the lake. People come here to fish for trout, bass, and crappy, or to set up on the beach with their kayaks, stand up paddleboards, and other watercraft. Nearby are mountain biking trails with fun, rolling terrain.
This campground has 24 campsites and is open to tents and RVs and has nine sites with electrical service (30/50 AMP). Sites are well-spaced, and each one has a lake view, along with a sheltered picnic table, fire pit, and barbecue. Bathrooms are modern with flush toilets.
With the exception of one walk-up site, the campsites are all reservable and should be booked in advance if you want to secure a site.
4. Red Cliffs Recreation Area Campground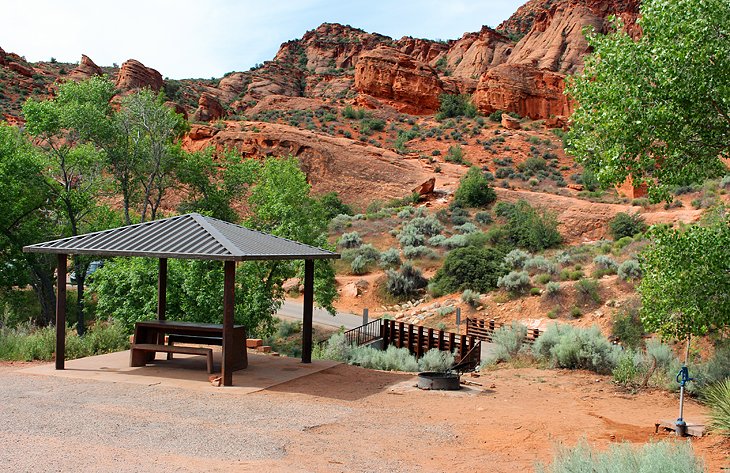 For privacy, red rock scenery, and a true taste of nature, it's hard to beat the Red Cliffs Campground, northeast of St. George and Hurricane, in Red Cliffs Recreation Area.
This is a BLM (Bureau of Land Management) campground, well off the beaten path, and perfect for relaxing. Hiking and biking are popular activities, with trails leaving right from, or near, the campground.
Campsites are set along Quail Creek, or against rock cliffs and boulders, and offer considerable privacy. With a natural water source and trees, the campground also attracts local wildlife, including squirrels, roadrunners, and a variety of other birds.
Red Cliffs has 10 campsites, all of which are reservable, and accommodates tents and small RVs. The access road runs through a tunnel with a height clearance of 11 feet and 9 inches. Facilities consist of pit toilets and water taps spread around the campground.
5. St. George/Hurricane KOA Journey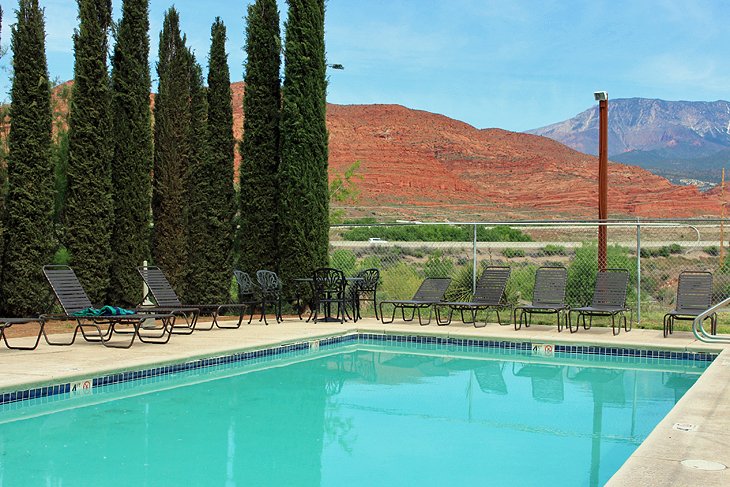 Near the entrance to the Red Cliffs Recreation Area Campground, this KOA campground offers a great location for exploring some of the beautiful surroundings, including the hiking trails at Red Cliffs. Sites are relatively private and set among trees with a maximum pull-through length of 50 feet.
The campground has a pool (open April 1- October 31), which looks out over the hillside to the mountains beyond, giving the campground a bit of a resort feel. Also on-site are showers, laundry facilities, mini golf, and picnic areas.
Official site: http://koa.com/campgrounds/st-george/
6. Gunlock State Park Campground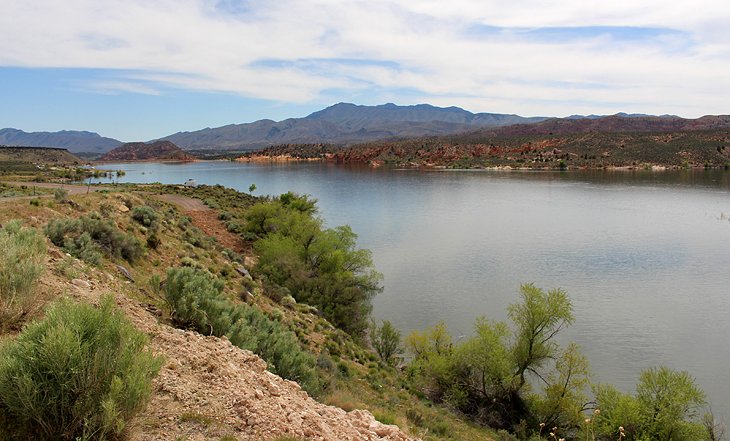 This small lakeside campground has only a handful of primitive sites and is one of the most scenic in the area. Although this park is just a little more than 30 minutes from St. George, it feels worlds away.
The peaceful lake and shallow beach attract campers and day trippers who come here with water toys, air mattresses, stand up paddleboards, kayaks, and boats.
Campsites are in the low brush at the top of the beach, with views out over the lake and a mountain ridge in behind. Sites are first-come, first served.
7. RV Parks in St. George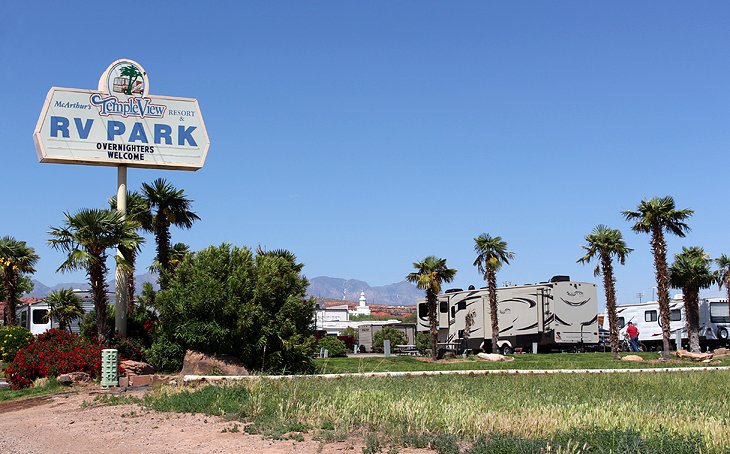 In the heart of St. George, near many of the chain hotels, McArthur's Temple View Resort and RV Park is a large complex with tightly packed sites. However, it has a pool and nice amenities, and everything you need is close by, including a good selection of restaurants within walking distance. The temple can be seen in the distance.
A little farther out of downtown, east of Pioneer Park, is the popular St. George Campground, with large trees and a quaint vibe.
8. Baker Dam Campground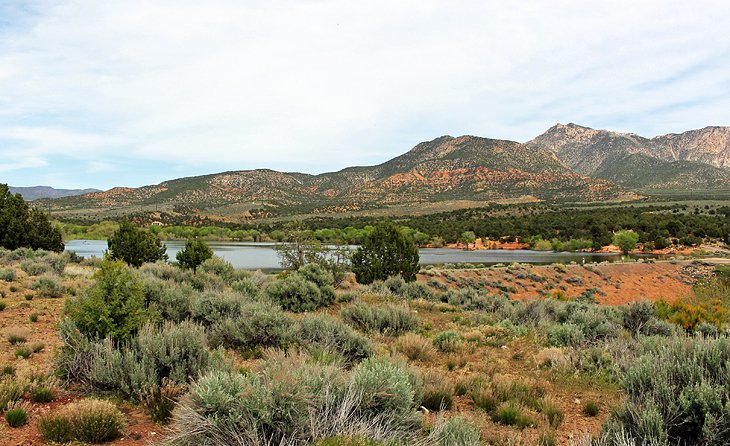 About 30 minutes north of St. George, the Baker Dam Recreation Area is a BLM (Bureau of Land Management) campground with primitive sites and basic facilities. The campground is set back from the waterfront but still within walking distance of the dam and reservoir.
The 19 sites are all well spaced and set in a wooded area of small junipers and pine trees. All sites are first-come, first-served.
The Baker Dam Reservoir is a hot spot for cold-water fishing. Test your luck trying to catch one of the rainbow or brown trout, both species are stocked annually by the Utah Department of Wildlife Resources.
The nearby Pine Valley Ranger District has a large tract of forest that is open for public use and is a popular place for hiking.
9. BLM Camping: Dispersed Campsites around St. George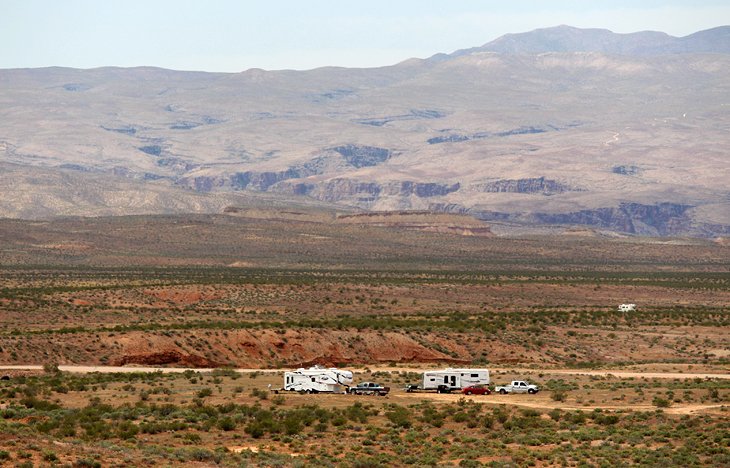 If you are a self-contained unit, interested in dry camping, there are some areas around St. George where you can head off into the desert and literally set up camp. Sites are defined and have fire pits, but they are scattered around, and are few and far between.
You can find out about these free sites and obtain maps at the BLM (Bureau of Land Management) field office in St. George. A few convenient sites can be found off Hwy 7, just off BLM 1069, near the road to Little Black Mountain Petroglyphs.
If you want to be ideally positioned to enjoy everything that St. George has to offer and make day trips to Zion National Park, consider some of the BLM sites in the following areas:
Smithsonian Butte National Back Country Byway. This roadway is 6.2 miles from the park entrance. Your best bet here is to look for a gravel road or trail off the byway and continue for two miles. Getting to the byway can be tricky for 5th-wheel trailers, as the bridge in Rockville has a low clearance of 13 feet 4 inches
North Creek Dispersed Area: This area is much closer to St. George. You'll find it off the Kolob Terrace Road.
Sheep Bridge Road. Along this route are 48 marked campsites.
BLM Address: 345 East Riverside Drive, St. George, Utah
Where to Stay in St. George if Campgrounds are Full
When the weather is bad, you are unable to secure a campsite, or you're just ready for a little luxury, plenty of accommodation options are available in St. George. You can still explore the parks and natural areas on day trips while enjoying the comfort of a hotel or resort.
Luxury and Mid-Range Hotels:
The Inn at

Entrada

is a luxury resort about 10 minutes north of downtown St. George, near Snow Canyon State Park. The property offers a range of accommodation, from studios to three-bedroom suites and casitas, as well as swimming pools and golfing packages.
At the upper-end of mid-range is the popular Inn on the

Cliff

, with beautiful views, a lovely outdoor pool and hot tub, large rooms with balconies, and an on-site restaurant.
Some other good-value hotels right in downtown St. George are the Best Western Plus Abbey

Inn

and the pet-friendly La Quinta Inn & Suite by

Wyndham

.
Budget Hotels:
Frequently Asked Questions
When is the best time to camp in St. George?
The best time for camping around St. George is in the spring and fall, when the temperatures are mild. From late March to late May, and September to the end of October, you can generally expect mild to warm temperatures and clear skies. Since these are the best months for camping, they're also the most popular, and it's best to have a reservation.
November through February is cold, and overnight temperatures can reach below freezing. In July and August, daytime highs can soar to 100 degrees Fahrenheit, or more.
What are the best hiking trails around St. George?
If you are interested in hitting the trails while you are in St. George, check out Snow Canyon State Park. Trails here include the Petrified Dunes trail, the Lava Flow trail, or Johnson Canyon trail. For detailed information see our article: Top-Rated Hikes near St. George.
If you don't mind driving a little farther, review our article on the top hikes in Zion National Park. This park offers some of the best hiking in America. If you're heading in the direction of Las Vegas, see our guide to the top hikes in Valley of Fire State Park and the best hikes near Las Vegas.