8 Best Campgrounds near Bryce Canyon National Park
We may earn a commission from affiliate links ()
Bryce Canyon National Park is one of the most unique and awe-inspiring parks in the American Southwest. Even among Utah's "Mighty 5" parks, this one stands out. The multihued hoodoos, all of which seem to exude their own personality as you walk among them, create an almost surreal landscape.
Camping around Bryce Canyon provides an economical and practical way to experience this park, and also allows you to soak up a little nature at the same time.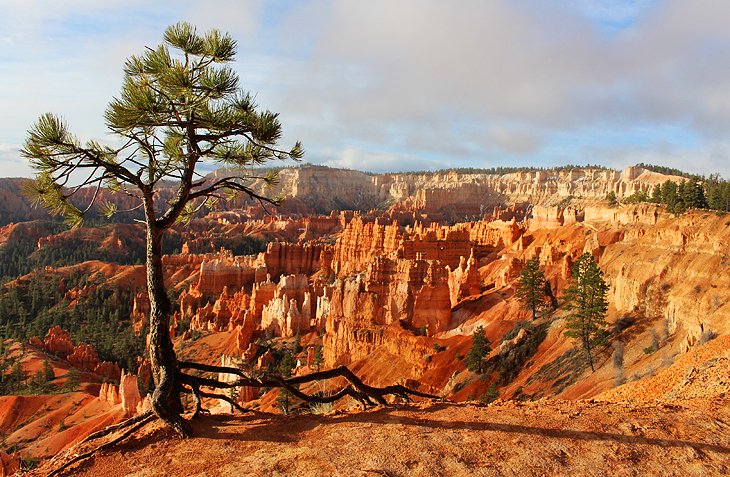 The rim of Bryce Canyon sits at an elevation of between 8,000 and 9,100 feet. This means, even at this southern latitude, temperatures can be very cool, particularly at night. During the summer months, when the lower elevations are oppressively hot, camping at Bryce can be a welcome treat.
However, summer is lightning season. The park, with its impressive elevation, is a hot spot for lightning strikes. Be aware and be ready to take cover quickly if a summer storm pops up. The park publishes a specific pamphlet devoted to the topic; be sure to grab one on your way in.
From fall until spring, campers should be prepared for cold temperatures. Overnight lows can reach below freezing any night of the year. Many campgrounds in the area are closed during the winter months.
Campgrounds at lower elevations, like Kodachrome Basin, may offer good alternatives in the shoulder months, but if you choose this option, be prepared to drive 35 minutes each way to and from the park.
The demand for campsites within the park is high during the summer months. If you haven't made reservations well in advance, you may want to temper your expectations of getting a site and consider camping at a commercial site three miles down the road in Bryce Canyon City.
To determine where you want to set up, see our list of the best campgrounds near Bryce Canyon.
See also: Where to Stay near Bryce Canyon National Park when Campgrounds are Closed or Full
1. Bryce National Park North Campground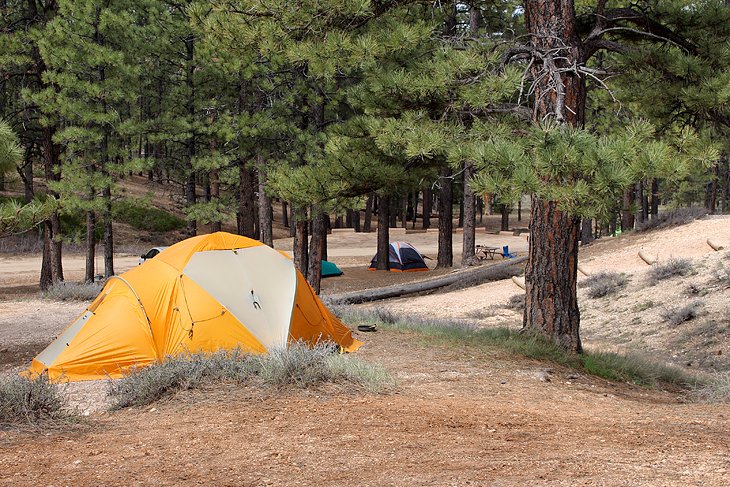 For the full Bryce Canyon experience, the best place to base yourself is in the park and preferably at the North Campground. From here, you have easy access to the Rim Trail and Sunrise Point, one of the most scenic areas of the park.
Covered in huge pine trees and spread out over rolling hills, the North Campground has a woodsy and almost backcountry feel to it. Sites are spacious and have plenty of distance between them. While the large trees do not provide a great deal of privacy at ground level, the hills add an element of separation.
Be aware that this campground is set at approximately 8,900 feet above sea level, and temperatures up here are much cooler than in some of the surrounding areas, such as Zion National Park or St. George. Snow can be found in Bryce Canyon National Park well into late April or even May, and overnight temperatures can easily dip to below freezing even during the summer months.
North Campground has 100 sites. Loops A & B (52 sites), allow vehicles over 20 feet and generators from 8am to 10am and from 6pm to 8pm. Loop A is open all year. Loops B & C (46 sites) are only for vehicles less than 20 feet, and generators are not allowed. These loops are intended for tent camping. The campground is very strict about hanging anything from the trees and other vegetation. This is strictly prohibited.
New for 2022, 96 of North Campground's 100 sites are reservation-only from May 27th to October 1st. Sites can be booked six months in advance.
2. Bryce National Park Sunset Campground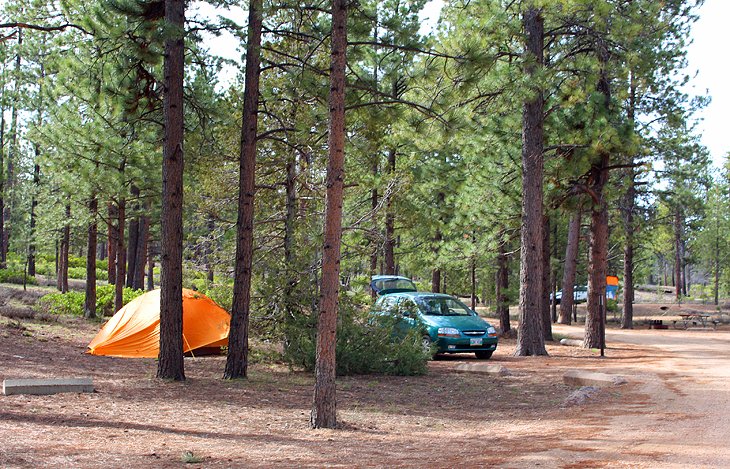 Also centrally located within the park and close to the trailheads at Sunset Point, Sunset Campground has a very similar setting to the North Campground, minus the hills. It's also closer to the main road, but since this is only the park road, traffic is not a problem after sunset, when the tourists are done with their sightseeing.
This campground is generally open from April 15th to October 31st depending on the weather and conditions at the start and end of the season.
Reservations for the Sunset Campground and its 110 sites, are available on a six-month rolling basis from May 20th to October 15th.
Four loops are available, but some have restrictions. Loops A & B with 49 sites allow vehicles over 20 feet and generators from 8am to 8pm. Loops C & D with a total of 61 sites allow only vehicles under 20 feet, and generators are prohibited. Loops C & D are targeted at tent campers.
3. Ruby's Inn RV Park and Campground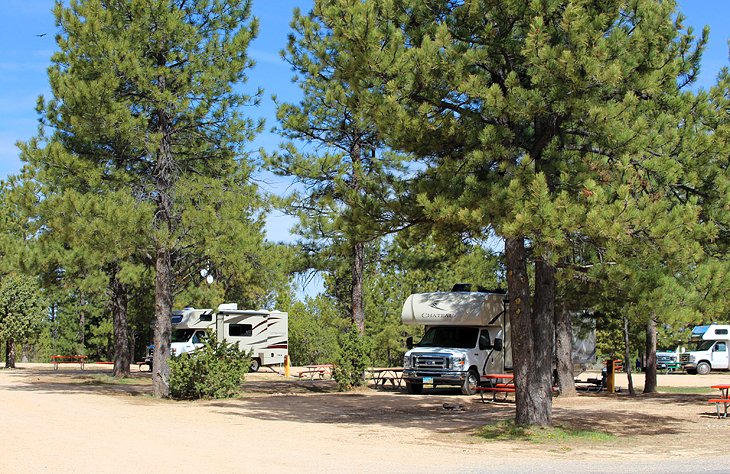 Less than three miles from the park entrance is the town of Bryce Canyon City, the closest community to the park. If you can't find a campsite in the park, this is the next best place to set up.
Ruby's Inn RV Park and Campground is a huge operation with a mix of camping options. They accommodate tents and RVs but also offer teepee rentals and camping cabins. In addition to the campground, they operate the Best Western Plus Ruby's Inn.
Despite being right in town, the property backs onto a natural area, and the campsites are mostly spread out in a forest setting, with large, well-spaced sites at the base of tall pine trees. Large RVs are accommodated in a flat parking area.
Ruby's has 150 campsites, all with electric, water, and full hookups, as well as a wide-open area for tents and group sites. On-site is a general store, a heated pool, and hot tub. The campground is open from April 1 to October 31, and sites can be booked in advance.
Address: 300 S Main Highway 63, Bryce Canyon
Official site: https://www.brycecanyoncampgrounds.com/
4. Bryce Canyon Pines Campground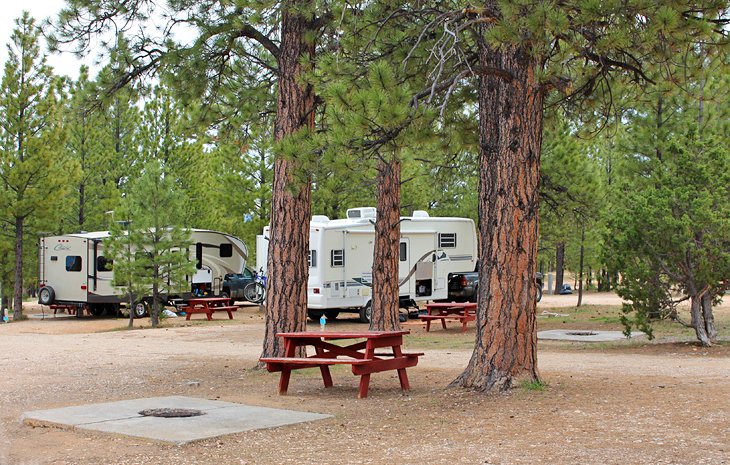 Located along highway 12, about 10 minutes west of Bryce Canyon National Park, Bryce Canyon Pines Campground is another good option for camping near the park. Bryce Canyon Pines is a complex on two sides of the highway that includes a campground and store on one side, and the Bryce Canyon Pines Motel and a restaurant across the street. It's set off on its own, but everything you need is right there.
The campground is set among huge pine trees, and the 18 large sites are nicely spaced. Those with rigs will like the 30 pull-through RV sites that offer full hookups. Tent campers are also welcome, and group sites are available. Facilities include restrooms, showers, laundry, pool, and hot tub.
The elevation here is approximately 7,600 feet, which is considerably lower than the park but still high, with cool temperatures at night.
5. King Creek Campground in Dixie National Forest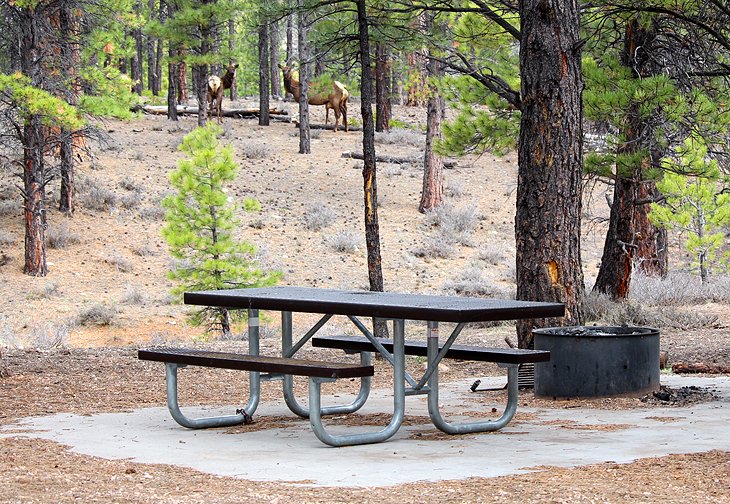 If you are looking for a true nature retreat but still want to be within striking distance of Bryce Canyon National Park, King Creek Campground in Dixie National Forest might be what you're after. Set in a forest of ponderosa pines behind the lovely Tropic Reservoir, this BLM (Bureau of Land Management) campground offers a great opportunity to see wildlife and enjoy some peace and quiet.
Many people come here simply to boat, canoe, fish for trout, or access nearby ATV trails.
The campground is located about seven miles down a smooth and wide dirt road off Highway 12, west of the park. Total drive time to Bryce Canyon National Park from King Creek is about 35 minutes.
Campsites here are large and private. Individual sites are all first-come, first-served, but two isolated group campsites can be reserved in advance. Amenities include flush toilets, and a campground host is on-site.
The campground is set at 8,000 feet and open from late May to early September.
If King Creek Campground is full, drive a bit farther along, and you'll find 10 additional sites along the side of the road. Five of them (1,7,8,9 & 10) are intended for single units and five (2,3,4,5 & 6) are intended for multiple units.
Official site: https://www.fs.usda.gov/recarea/dixie/recarea?recid=24964
6. Kodachrome Basin State Park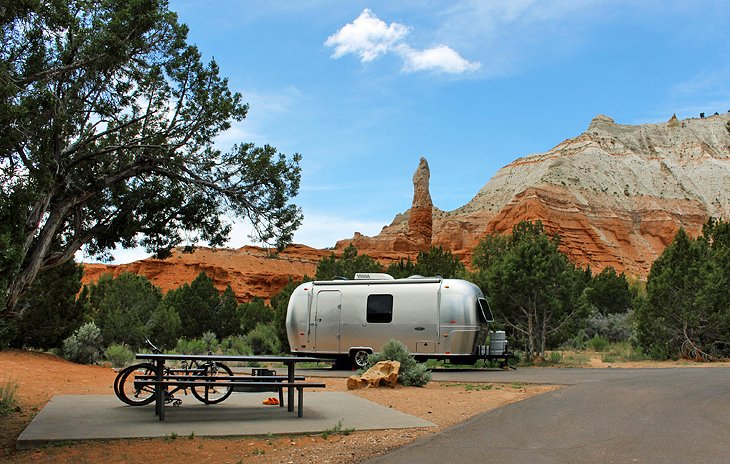 Kodachrome Basin State Park is more than 3,000 feet lower than Bryce Canyon National Park and can be a good option for camping when temperatures are cool. The lower elevation here means warmer temperatures, particularly at night.
This scenic little park, with dramatic stone spires in vibrant orange and cream colors, is well worth exploring in its own right. Drive time to Bryce Canyon National Park is about 35 minutes.
Kodachrome has three campgrounds: Basin, Bryce View, and Arch. In total, the park has 48 sites, 15 with full hookups and one group site. Basin campground is the largest of the three, with standard and full hookup sites. This is the most scenic of the three campgrounds, as it is set close to spires and hills. Arch and Bryce View are more remote and basic and have water but only vault toilets.
Although a couple of standard and full hookup sites are first-come, first-served, the rest of the individual sites are reservable. Due to the popularity of this park, it's best to book a site well in advance. You can reserve a site here up to four months before your arrival, but group sites can be booked 11 months in advance.
Official site: https://stateparks.utah.gov/parks/kodachrome-basin/
7. Red Canyon Campground
About 14 miles from Bryce Canyon National Park, Red Canyon Campground is a BLM (Bureau of Land Management) campground in Dixie National Forest. Conveniently located right off Highway 12, the campground is set in a pine forest with low shrubs, offering plenty of shade and privacy between sites.
Although it is convenient for campers wanting to explore Bryce Canyon, Red Canyon offers its own unique beauty. Many people camp here to enjoy the surrounding scenery and trails, some of which leave right from this campground. For more information on the area, stop by the Red Canyon Visitor Center, just two minutes west of the campground.
Red Canyon Campground, set at an elevation of 7,400 feet, has 37 sites, flush toilets, coin-operated showers, picnic tables, and grills at each site, but no hookups. Camping is open here from May 1 to October 1 and is first-come, first-served.
Official site: https://www.fs.usda.gov/recarea/dixie/recarea/?recid=24944
8. Dispersed Camping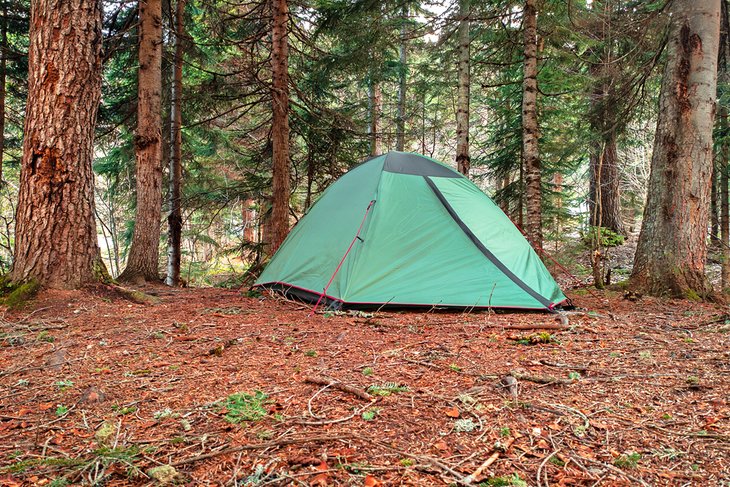 If you have time and a taste for adventure, consider dispersed camping in Dixie National Forest. This vast forest has countless roads and trails snaking throughout it, and if you can find a spot, it's yours for the taking, free of charge. Many of the sites and roadways are off Forest Service Road 87, which leaves Highway 12 on the south side a bit west of the airport.
A few basic rules can be found on the Forest Service website, but the most important is that you must be 150 feet from any roadway or route. You may be very pleasantly surprised at the sites you find – most have fire rings and are set in pleasant surroundings. Be courteous to the next camper, and pack out whatever you pack in.
Where to Stay near Bryce Canyon National Park when Campgrounds are Closed or Full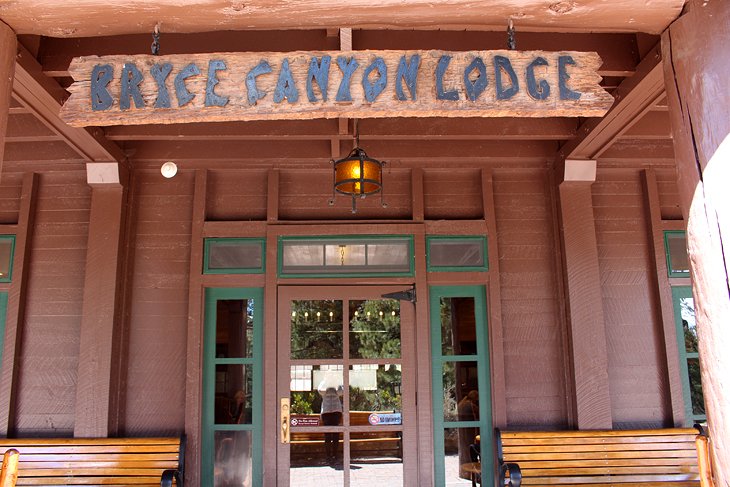 If you can't find camping, or if the weather is not cooperating with your trip, a variety of lodging options can be found either in the park or nearby.
The historic Bryce Canyon

Lodge

has the absolute best location and offers an enchanting experience. Just a few minute's stroll from the edge of the canyon at Sunrise Point, the hotel has a private setting, nestled among huge pine trees. Charming stone cabins are scattered behind the main lodge, and a separate building offers motel-style rooms. The main lodge was built in the 1920s and has a romantic wood fireplace for guests to gather around and a dining room serving up tasty meals.
Just a few miles outside the park gate in Bryce Canyon City is the BEST WESTERN PLUS Ruby's

Inn.

Ruby's is a long-standing institution in the community, and this is more than just a basic hotel. You can arrange horseback riding trips, helicopter tours, and other outings through the hotel. In the evenings, they have cowboy shows and other entertainment to help get you into the spirit of the West.
For more of a budget option, check out Bryce Canyon

Pines

, a few miles outside of Bryce Canyon City. This location is slightly less convenient than staying in the town but offers better value. It's on the highway but set off on its own. The complex, which spans both sides of the highway, includes the motel, a restaurant, store, and a campground.
More Great Destinations for Camping and Hiking in the Southwest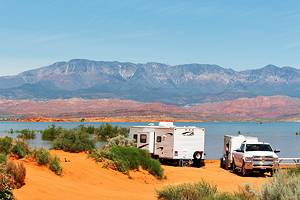 Camping: If you are interested in camping in other areas of Utah, see our articles on Best Campgrounds near Zion National Park; Capitol Reef National Park; and Moab, including Arches and Canyonlands. Like Bryce Canyon, Capitol Reef is at a high elevation. Zion and Moab offer a longer camping season due to their lower elevations. For destinations farther south, consider heading to Nevada to see and hike in Valley of Fire State Park or check out the best campgrounds near Las Vegas.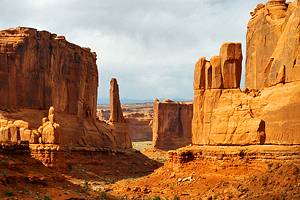 Hiking: Some of the best hiking in the United States is found in Utah. To save yourself some time figuring out which hikes you want to embark on, have a look at our list of Top Hikes in Bryce Canyon National Park, Zion National Park, and Top Hikes in Utah. This will give you a great overview of the best hiking in the state. For areas farther north and east, see our article on Hiking, Biking, and Things to do near Moab and Hikes and Walks in Arches National Park.