15 Best Places to Travel in April
We may earn a commission from affiliate links ()
April is a month of new beginnings (hello, budding blooms); revitalization (we missed your energy, sunshine); and awesome deals on vacations. Whether you're hoping to visit Europe, the Caribbean, or as far away as Indonesia, there are a ton of incredible places to travel in April.
A bonus: April is considered the shoulder season in many tropical destinations, which means travelers can enjoy cheap hotel rates and comfortable temperatures before the influx of summer crowds and stifling summer heat set in.
For the winter warriors who are not ready to let go of the snowy season, places like Lake Tahoe still have skiing for end-of-the-season runs. Whether you want to tackle some hiking in the Rocky Mountains or witness the breathtaking cherry blossoms in peak bloom in Japan, you can fill your picture book with memories in April.
Plan your trip with our list of the best places to travel in April.
1. Puerto Vallarta, Mexico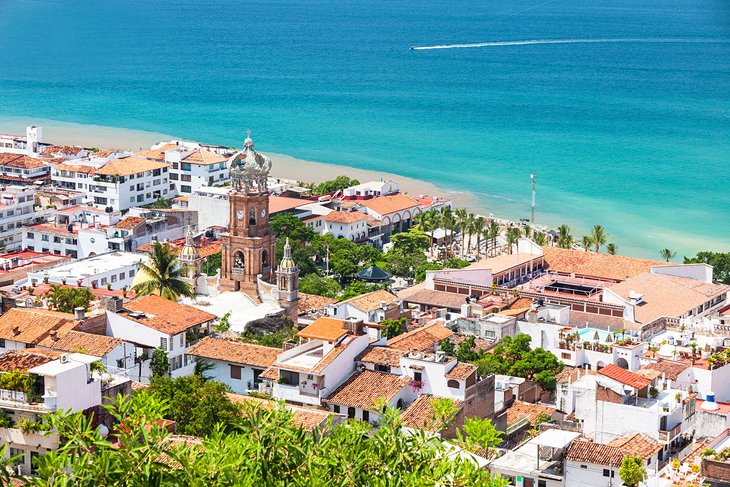 The month of April is an ideal window to visit Puerto Vallarta, Mexico, when the weather is comfortable, and rates for hotel rooms are more affordable. This month rests between the high season in the winter and the rush of summer tourists, when hotel and airfare rates skyrocket.
Temperatures are pleasant and rain is almost non-existent in April, meaning more days for enjoying the beautiful beaches and better opportunities to stroll the street markets to find souvenirs or taste some culinary dishes beachside. There is no shortage of things to do in Puerto Vallarta.
You will enjoy your time exploring the historic sites, like the Church of Our Lady of Guadalupe during the day and walking along the Boardwalk Malecon to soak in the views of the ocean in the evenings, where you can catch a free dance performance at the amphitheater.
Accommodation: Best Resorts in Puerto Vallarta
2. Moab, Utah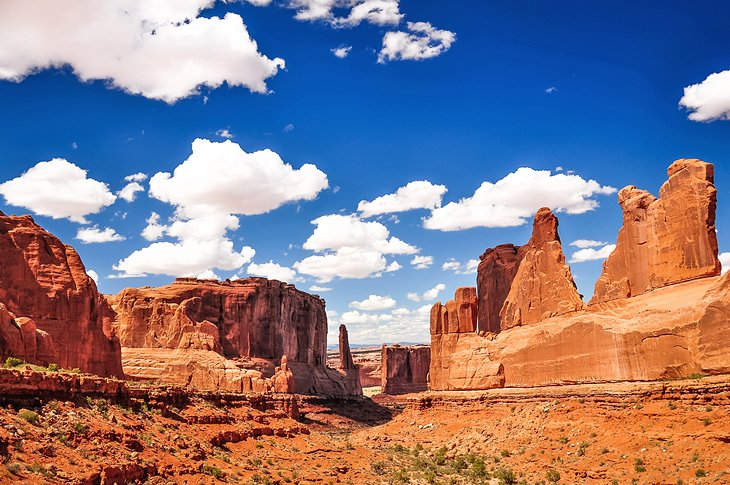 If a visit to the red rock canyons of Moab, Utah is on your bucket list, then planning a trip in April is a great time of year to do it. Early spring is a perfect time for hiking in Arches National Park and Canyonlands National Park, when the weather is cooler and the summer tourists are still a few months away. The climate is perfect for outdoor activities like mountain biking or taking the three-mile trek to capture the iconic image of the Delicate Arch and see this national treasure up close.
Many people travel to Moab for the incredible hiking and unforgettable canyon views but there are so many other things to do in Moab, from biking and horseback riding to taking a four-wheeler trek through the national parks.
You will want to plan ahead when making reservations and add enough days to your stay to get in everything that you want to do, especially if you plan to do a lot of hiking.
3. London, England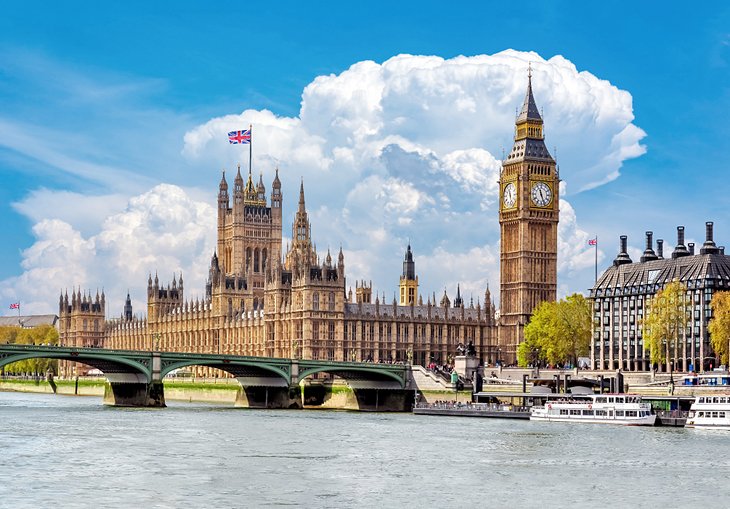 While April lands during the peak tourist season in London, it is the best time to visit for the spring blooms and mild weather conditions. Your only downside will be the flood of other tourists who also love to visit London in the spring.
But in fairness, London is quite crowded pretty much every month of the year. If you are going to pay a premium for accommodations, you may as well visit when the weather is comfortable and the gardens are in full bloom. Kew Gardens is unmissable at this time of year, and you'll want to carve out some time to wander through Hyde, Regent, and Richmond Parks.
4. Venice, Italy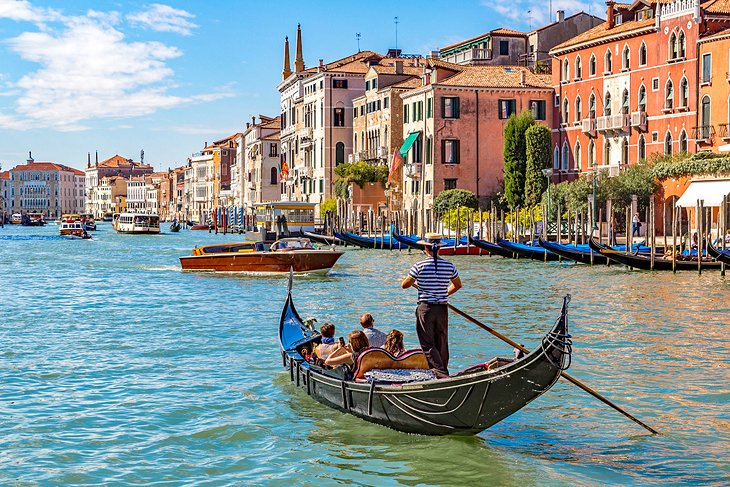 April is a great month to visit the historic Italian city of Venice. The weather is comfortable, with spring temperatures starting to emerge and less humidity than in the summer months. You'll be able to enjoy dining on your homemade pasta al fresco, as long as you pack a sweater, that is.
As for tourists, the boom does not start for several months, so you will still have plenty of elbow room to enjoy local attractions and gondola rides along the Grand Canal. Take advantage of fewer crowds as you explore St. Mark's Square and St. Mark's Basilica.
5. Yangzhou, China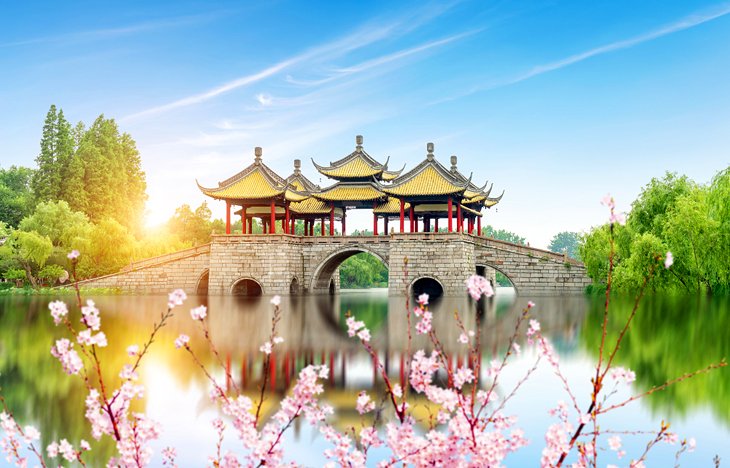 Yangzhou is one of the best places to travel in April. The reason is made clear as soon as you catch sight of its stunning flowers and rare and ancient bonsai trees. During April, everything in Yangzhou blossoms into an Instagram-worthy glory.
A popular Chinese destination, Yangzhou lies in the Jiangsu Province, which borders the Yangtze River. The city is known for its gardens, like the Ge Garden and the elaborate floral displays on offer at Slender West Lake. There are also more than 200, centuries-old miniature private gardens located throughout the ancient city.
Beyond the colorful variety of flowers throughout the city and in the public gardens, Yangzhou is known for its history of producing scholars, poets, artists, and famous geishas. You can find outdoor evening performances among the gardens at Slender West Lake and enjoy a cultural experience detailing the city's history through music, dance, and poetry.
6. Amsterdam, Netherlands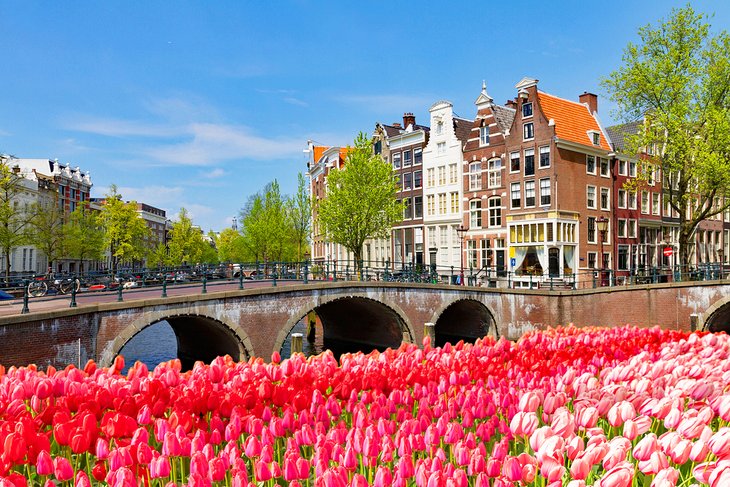 By April, winter's icy chill has left Amsterdam, making it a more enjoyable time to wander around the Dutch city's iconic canals and interesting neighborhoods. While you may run into a spot of rain, Amsterdam's impressive museums, like the Ann Frank House, Van Gogh Museum, and Rijksmuseum, are the perfect places to take cover.
Temperatures hover in the high 50s Fahrenheit but can jump, so layers are your best bet. Aim to be here for King's Day on April 27th if you want to see the city decked out in all its orange glory. Decorated boats pack the canals, live music is pumped through the streets, a city-wide market opens, and plenty of delicious treats are on offer.
7. Lake Tahoe, California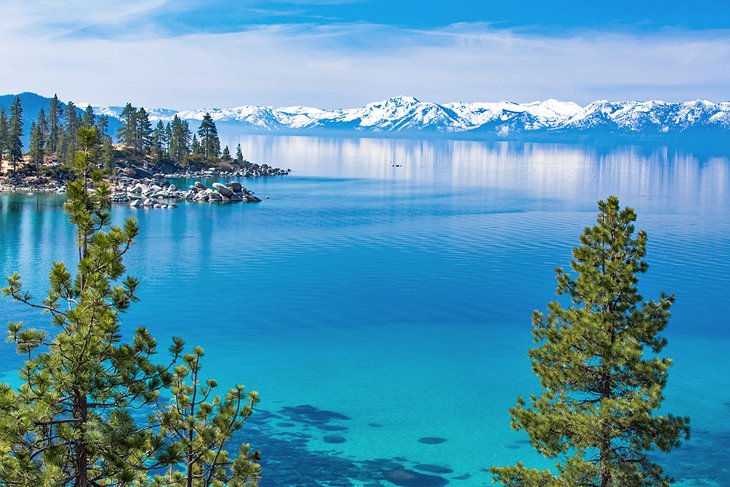 If you have a hard time letting go of winter and want to push your skiing opportunities out as long as possible, an April trip to Lake Tahoe is in order. This recreational area in the Sierra Nevada Mountains sits on the state line between California and Nevada, where the snowcapped mountains enable skiing to last later than most places in the United States.
The hard-core snow bunnies can take advantage of the cool daytime temperatures to log a few more runs on the slopes. The other advantages of visiting Lake Tahoe in April are the smaller crowds and lower prices as the ski season comes to an end. You may also find cheaper prices at luxury resorts around Lake Tahoe.
8. Kyoto, Japan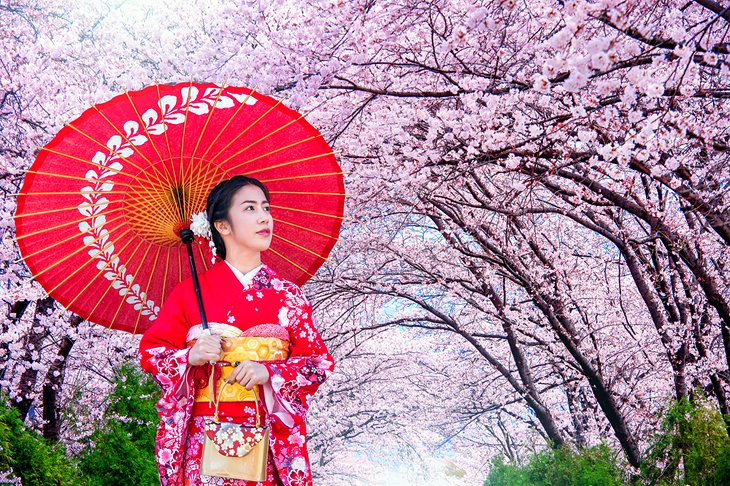 The top reason to travel to Kyoto, Japan in April can be summed up in two words: cherry blossoms. Kyoto cherry blossoms begin in mid to late March and peak in April, when the blooms are spectacular and the city fills with an unforgettable fragrance.
Much attention is paid to forecasting peak viewing times each year, so locals and visitors can have the best experience with the cherry blossoms accenting the ancient architecture, tea houses, pagodas, and gardens.
Given the beauty of Kyoto at this time of year, it is no surprise that it is a popular time for tourists, so you will want to book hotel rooms at least four to six months in advance. Prepare yourself for a hefty bill – this is definitely not one of the cheapest places to visit in April.
Kyoto is also the hub of Japanese culture. While here, make your way to visit the famous Ryoanji Temple rock garden, antiques stores in Gion, and peruse the 100 vendor stalls at the Nishiki Market.
Accommodation: Top-Rated Places to Stay in Kyoto
9. Newport Beach, California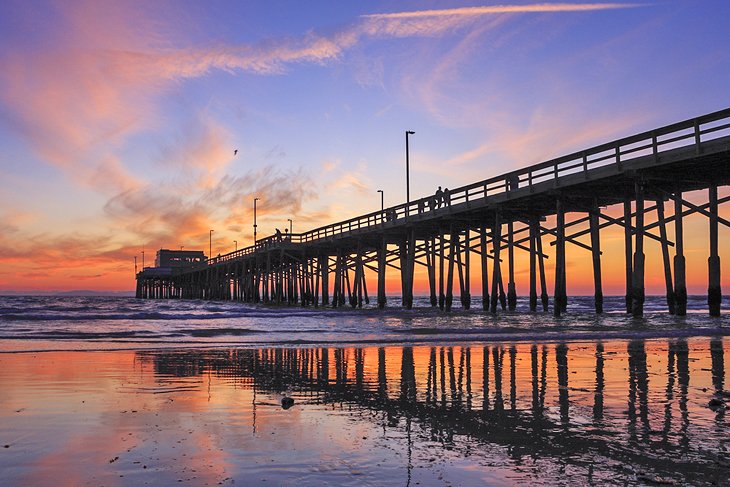 The area of Newport Beach, California is beautiful anytime of the year, but if you want to catch the gray whale migration, April is an ideal time to visit. With so many dolphin and whale excursions available from Newport Landing, it is best to visit this area in the spring for the optimal viewing opportunities and before the summer crowds arrive.
There are many beaches to enjoy and boutique shops in the town. You can also enjoy the Balboa Fun Zone that opened in 1936 and still has the wholesome, old-fashioned amusement park thrills, like a Ferris wheel and midway games.
Accommodation: Where to Stay in Newport Beach
10. Sydney, Australia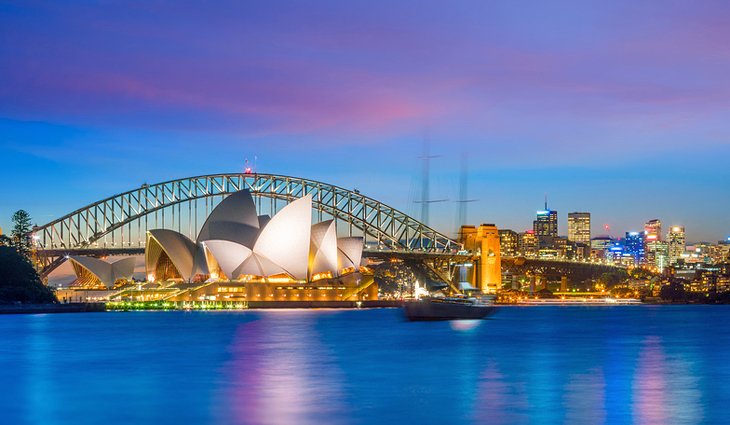 Sydney in April is nice because it is the fall season, which means cooler temperatures and fading summer crowds. You can also take advantage of declining hotel rates and airfares during this short fall window. Since there are fewer tourists flocking to the Sydney Opera House and Sydney Harbour, you will have more time (and space) to enjoy some of the most popular Sydney attractions.
You will also have more room to enjoy Hyde Park, an inner city park, and the Royal Botanic Garden. Even though temperatures are cooling off heading into the Australian winter, you can still enjoy comfortable weather at Sydney's famous beaches like Manly Beach, Bondi Beach, and Coogee Beach.
Accommodation: Where to Stay in Sydney: Best Areas & Hotels
11. Bali, Indonesia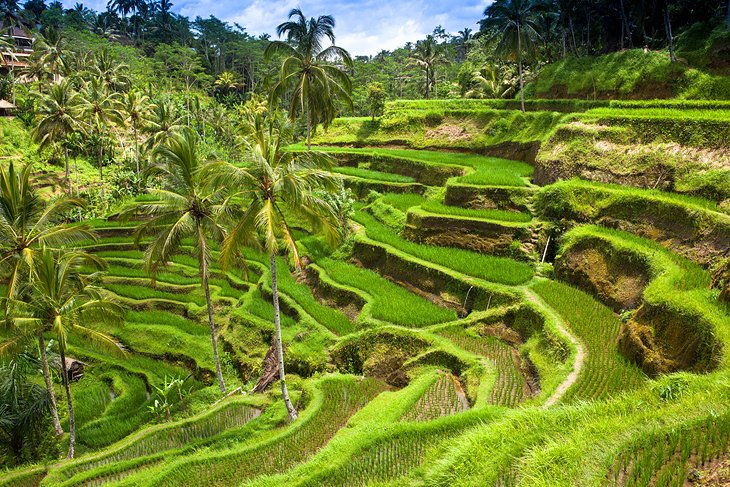 The tropical paradise of Bali is one of the most spectacular places to visit in Indonesia, and April is one of the best times to go. April marks the start of Bali's dry season, which usually lasts through October, so it is a great time to experience the beaches and outdoor activities that the island is known for. The beautiful weather in April will also make it easy to visit some of the Bali temples, like the Uluwatu Temple and Tanah Lot Temple.
Nusa Dua will be bustling by April, and it is where you will find many high-end hotels and resorts. You can book one of the luxury water villas to relax in, so you do not even have to walk to the beach.
Be advised that since April begins a popular time for tourists heading to Bali, you will be paying a premium for accommodations and airfare and you will want to book far in advance.
Head to Ubud if you want a quieter rainforest retreat. While you're there, be sure to check out the spectacular Ubud Monkey Forest, but keep all food and water well hidden, as the clever little monkeys can open backpacks.
Accommodation: Top-Rated Family Resorts in Bali
12. Denver, Colorado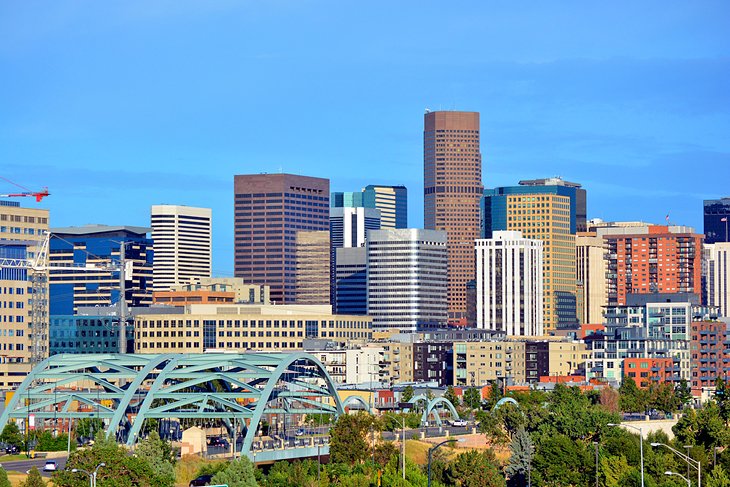 April is one of the best months of the year to visit Denver because the shoulder season has mild temperatures, and the rush of tourists do not arrive until after May. The outdoor scene in the city starts to come alive in April with bustling activity along the 16th Street Mall and Larimer Square.
Just outside of downtown, you can rejuvenate with a drive along the Mount Evans Scenic Byway or an outdoor concert at the unforgettable Red Rocks Amphitheatre.
You can find low hotel rates but they will begin to rise by the end of the month. Denver is a major airport hub with plenty of flights available, so if you plan ahead, you can keep an eye out for discounted airfare alerts.
Accommodation: Top-Rated Resorts in Denver
13. Washington D.C.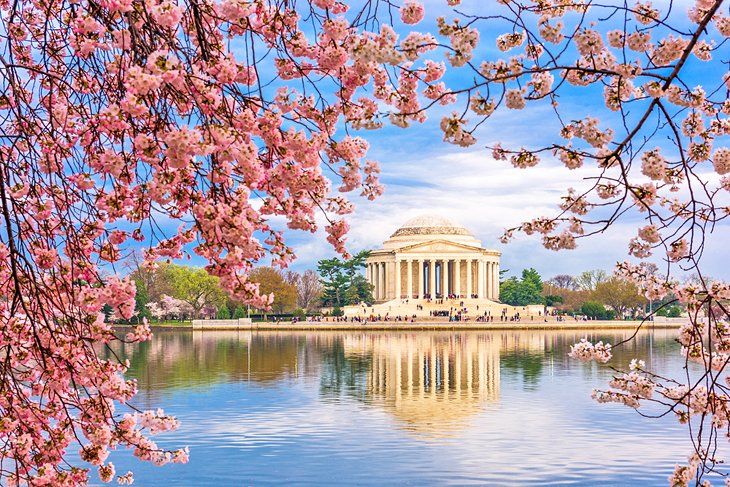 If you are lucky enough to visit the United States capital of Washington D.C. in April, you may catch a glimpse of the cherry blossoms in bloom along the Potomac River and enjoy the annual parade that accompanies this springtime celebration. Temperatures can be cool, but comfortable for walking around the grounds of the U.S. Capitol Buildings and along the Smithsonian Mall and museums.
Since so many of the museums and monuments are free in Washington D.C., you can get away with an affordable vacation this time of year. Due to D.C.'s popularity, you can also find hotel and airfare deals that will keep your costs down.
14. Athens, Greece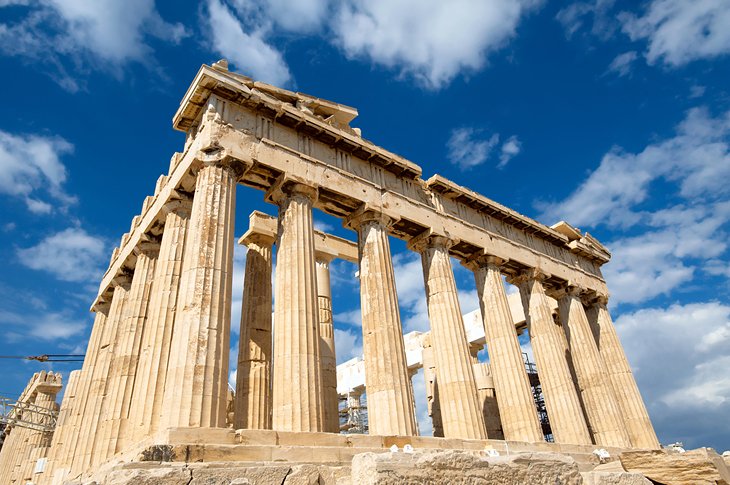 There's hardly a bad time to visit Athens, Greece, but there are a few reasons why April is a great month to go. Topping the list is the fact that the peak tourist season doesn't hit until summer, when visiting the Acropolis and Ancient Agora are almost too crowded to enjoy. An April Greece vacation will mean fewer tourists and more availability on popular tours.
The spring temperatures in April are another reason to visit, when cool evenings and mild days make touring outside comfortable. Take a jacket for dinners on the coast where it can be breezy. You will also find decent deals on hotels and airfare to Athens in April before the summer push for reservations.
Accommodation: Where to Stay in Athens: Best Areas & Hotels
15. Agra, India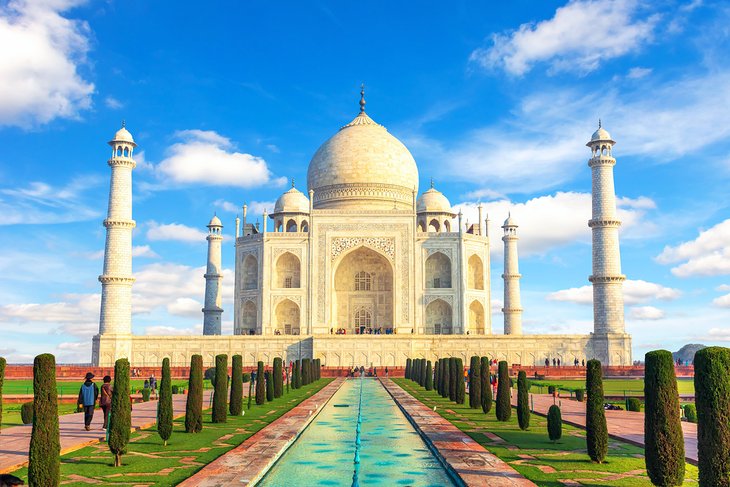 Do yourself a favor and add Agra to your list of places to travel in April. While the days are hot (you can expect temps in the mid to high 90s) and humid, April offers visitors a ton of bright sunshine, cheap prices, little to no rain, and few tourists.
You can't visit Agra without a trip to the iconic Taj Mahal, the city's most famous landmark. While you're here, carve out some extra time to explore the nearby Agra Fort, Tomb of Itimad-ud-Daulah, and the captivating Mehtab Bagh park.
Be sure you have enough water when wandering around this remarkable city in Uttar Pradesh, and stop in at the numerous restaurants to enjoy a cool respite from the sometimes oppressive heat.
May's temperatures skyrocket, making it an almost unbearable time to visit. April is technically the beginning of India's summer, which means it only gets hotter through July. Monsoon season begins then and runs through September, so it's best to avoid the area at that time.
Accommodation: Where to Stay in Agra
More Related Articles on PlanetWare.com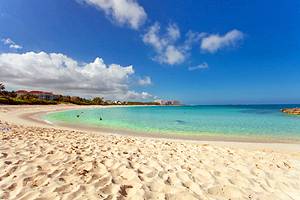 The Caribbean: If your vacation planning has you interested in a getaway that will land you on Caribbean beaches you might consider Grenada, the Bahamas, Barbados, and St. Lucia. The Caribbean offers some of the best snorkeling in the world and many all-inclusive resorts that make traveling easy, whether you are on a honeymoon, traveling with family, or going solo.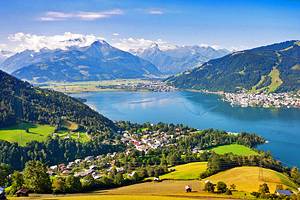 Exploring Europe: European vacations are exciting, and there are so many places to consider, from Tuscany to Austria. You should start by determining whether you want to visit the top European summer destinations, cheap places in Europe, quaint European towns, or destinations with ski resorts. Once you narrow down the type of vacation you want, then you can narrow your destination options.