11 Best Public Gardens in London, England
For a capital city where space is at a premium, London, England sure does boast a lot of green space. In fact, no less than 40 percent of London's total area of 607 square miles has been designated as public parks and gardens. This astounding figure is nearly twice that of other major cities like New York, USA, and three times that of Toronto, Canada.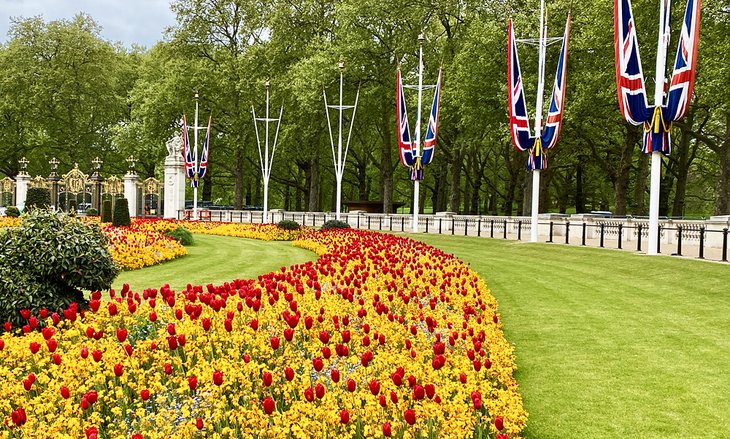 London is one of the world's most walkable cities, and planning a walking route through London that takes in some of the city's best public parks and gardens is relatively easy. Want to see the Changing the Guard ceremony at spectacular Buckingham Palace? Then you'll likely get there by walking past a spectacular garden or two in one of the three major Royal Parks that surround the palace.
You'll also find some of the best gardens in London tucked away in sometimes unusual locations, including at the top of the city's most recognizable skyscrapers. Dig a little deeper, and you'll find the city's long love affair with public gardens goes back centuries, with some of the oldest examples being established close to springs, and used as places to grow plants for medicinal purposes.
To help you navigate your way to some of these most colorful corners of the city, be sure to read through our list of the top gardens in London, England.
1. The Italian Garden, Kensington Gardens, Kensington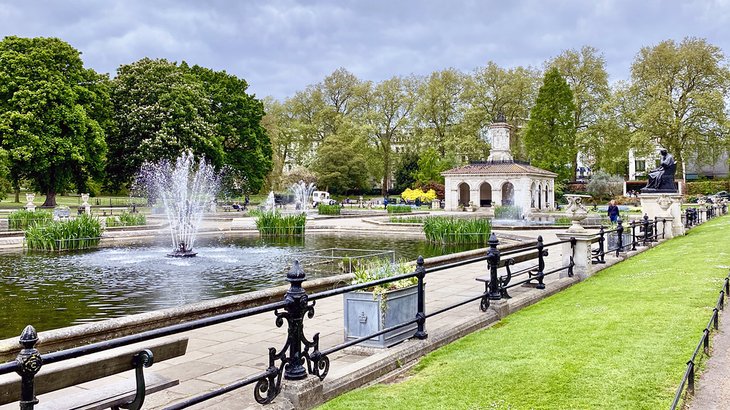 The beautiful Italian Garden in Kensington Gardens is undoubtedly one of the most picturesque settings in all of London. Located adjacent to Hyde Park in Kensington Gardens' northeast corner, this beautiful formal garden was constructed in the 1860s and presented to Queen Victoria by her husband.
This romantic gesture set the tone for the park to this day, with countless couples visiting for the perfect selfie. Highlights include wandering the perfectly aligned flower beds and admiring the garden's numerous statues and urns.
When you're done, claim a spot on one of the many benches provided and enjoy stunning views out over Serpentine, the park's large man-made lake.
The same lovely views can also be enjoyed from the patio of The Italian Gardens Café while you sip an afternoon tea or coffee.
Official site: www.royalparks.org.uk/parks/kensington-gardens
2. Hampton Court Gardens, Richmond upon Thames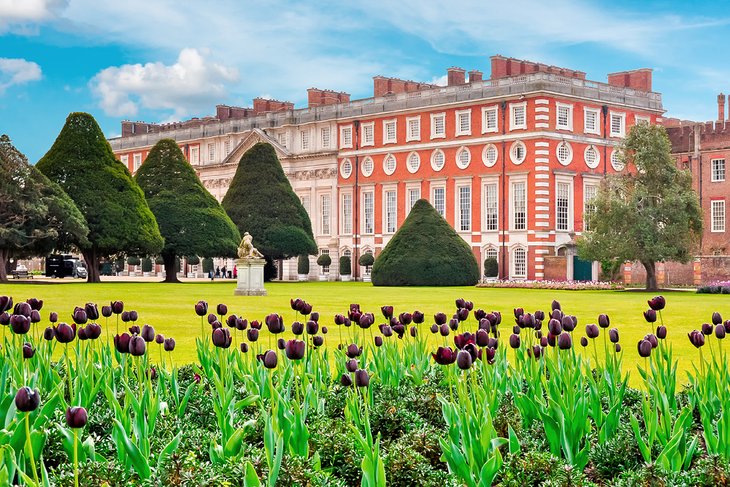 Hampton Court Gardens is another exquisite London garden with a strong royal connection. Part of the famous Hampton Court Palace grounds, these ornate gardens are located just under an hour away from central London by rail or tube and are well worth visiting.
Established in the 1500s and once only accessible to royalty, these days these magnificent gardens can be enjoyed by all. Highlights include extensive formal flower beds dating back to Victorian times, a spectacular 17th-century fountain garden, as well as the practical Kitchen Garden. You can also see the Great Vine; dating from 1768, it's said to be the world's oldest and largest vine.
Those traveling with children are well catered to, as kids have their own fun garden space to play in. The Magic Garden is a fun kids' adventure playground that features plenty of climbing and exploring, including ramparts, bridges, and towers, along with mythical creatures to share their adventure.
Admission to the gardens is included with your ticket to Hampton Court Palace.
Address: Hampton Court Way, Molesey, Richmond Upon Thames, London
3. Royal Botanic Gardens, Kew, Richmond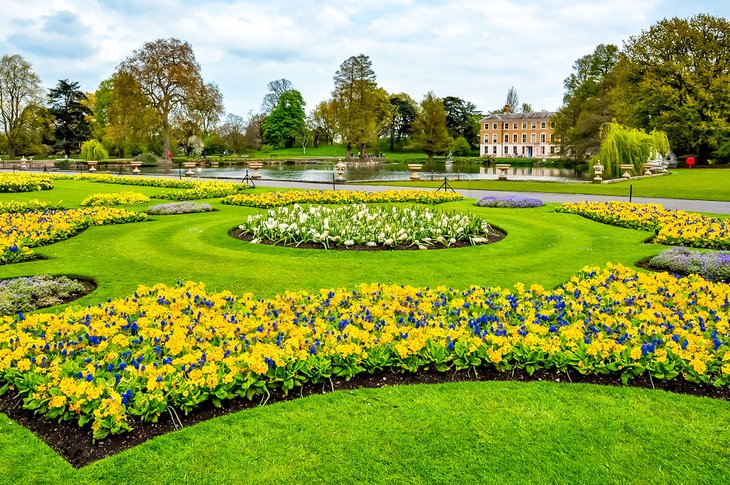 Exploring the Royal Botanic Gardens, set on a beautiful 330-acre property on the River Thames in Richmond, is time well spent. Also known as "Kew Gardens" for its location adjacent to Kew Palace, a former home of King George III, these magnificent gardens are home to the world's largest living plant collection and can take the better part of a day to explore.
Fun things to do at the Royal Botanic Gardens include visiting the historic Temperate House. Built in 1863, this huge greenhouse features more than 1,500 plant specimens from the Southern Hemisphere, many of them threatened by extinction.
Other highlights include a stunning Mediterranean garden with a temple built in the 1800s, 37 acres of woodland to explore, and a fun play area for the kids.
While spring is a great time to visit London in general, it's also the prime time to catch outdoor blooms at Kew Gardens. The greenhouses are open year-round.
Winter is also a good time to visit for the popular Christmas at Kew festival.
4. Buckingham Palace Garden, City of Westminster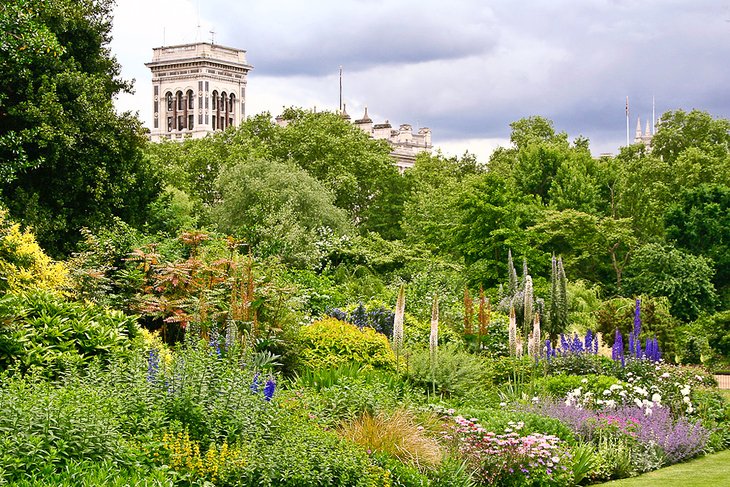 While not generally open to the public, the gardens in Buckingham Palace are, on occasion, made available for non-royal visitors to peek. Held usually only a handful of times each year, visits are via guided tours only, which need to be booked in advance. Places are limited, of course, so be sure to sign-up for the Buckingham Palace Garden Newsletter, which provides news of upcoming tours and availability.
If you are fortunate to land a place on one of these unforgettable 90-minute tours, you're in for a right royal treat.
Highlights of these Buckingham Palace staff-led tours include having unique access to the entirety of the palace's 39-acre grounds, with plenty of chance to view an array of plants in bloom, including bluebells in the meadows along with colorful displays of magnolias and camellias, to name but a few.
Along the way, you'll also learn about the history of the gardens at Buckingham Palace, along with the lead gardeners and royalty who played a part in shaping it.
Photos and selfies are permitted on this once-in-a-lifetime garden tour.
Address: Constitution Hill, Spur Road, London
5. Hyde Park Rose Garden, Central London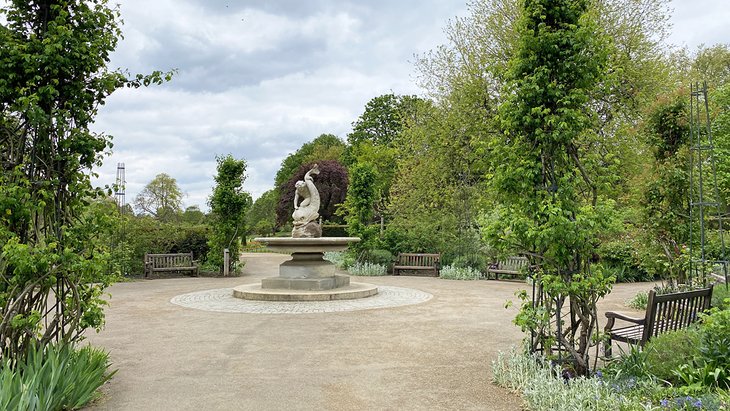 England has long been known for its roses. Little surprise, then, that London, the nation's capital, is home to some of the world's finest rose gardens. One of the best examples of the quintessential English rose garden can be found in Hyde Park, the largest of the city's Royal Parks.
Situated in the southeastern corner of the park near Hyde Park Corner, the Hyde Park Rose Garden was created in 1994 and is a pleasant and quiet place to visit and reflect.
One of the highlights of Hyde Park, it's designed with a nod to London's love of music, and if you stare long enough, you'll start to recognize the shapes and styling of horn musical instruments, including a trumpet, along with musical notations. Try it for yourself!
6. St. James's Park, Westminster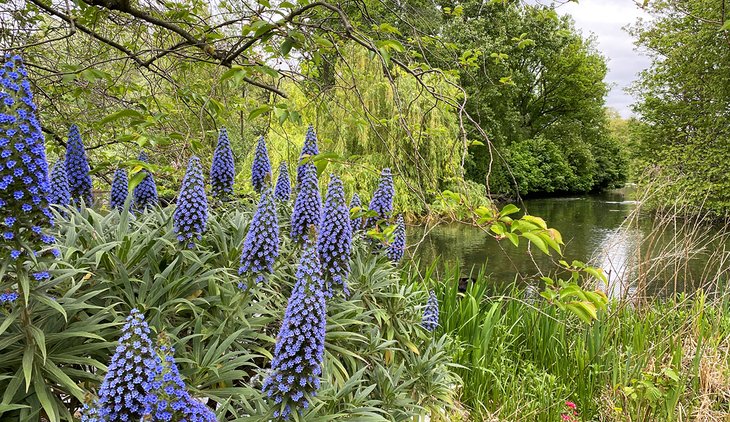 The formal gardens in St. James's Park are easy to get to from most of London's top attractions, including Buckingham Palace, Westminster Abbey, and Trafalgar Square, each under 10 minutes' walk away.
If you're planning to catch the Changing the Guard ceremony at Buckingham Palace, when the ceremony's over and the crowds have cleared, you'll instantly recognize what are undoubtedly the most famous flower beds in London.
Located directly opposite the palace, these oft-photographed colorful flower beds are often mistakenly portrayed as being part of the Buckingham Palace Gardens. They're not, but instead greet visitors to St. James's Park, and make a perfect frame for a photo of the Queen's official London residence.
Wander a little deeper into the park towards its lake, and you'll find another extremely photo-worthy view. Lining the shoreline of the lake are numerous wildflowers, and with the park bridge and Horse Guards Parade in the background, they make the perfect spot for a selfie.
Official site: www.royalparks.org.uk/parks/st-jamess-park
7. Sky Garden, Walkie Talkie, City of London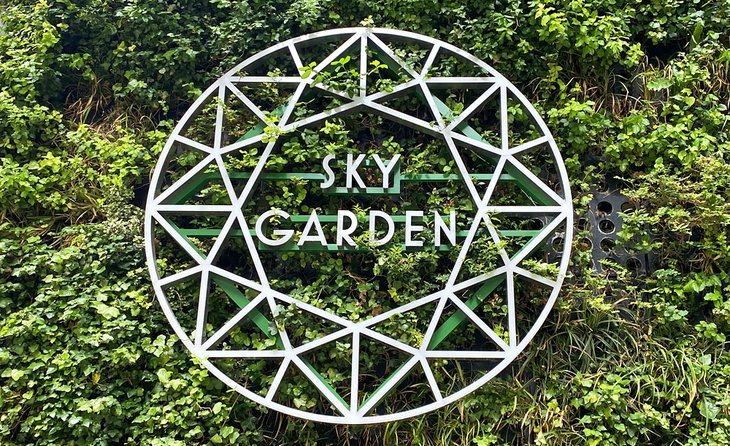 And now for something completely different: Sky Garden is a spectacular modern take on the city garden. Perched high up on the famous "Walkie Talkie" skyscraper in the City of London, this remarkable green space occupies thee levels of the building and is often also mentioned in lists of the top free things to do in London.
Occupying floors 34 to 37 of this distinctive curved skyscraper, Sky Garden consists of a pleasing-to-the-eye mix of exotic plants, with lovely pathways allowing access to the three-story-tall terraces on which they're perched.
If you're able to time your visit for sundown, you'll be rewarded with spectacular sunset views over London. Have your camera ready, and maybe even book a table at one of the restaurants that share this spectacular view.
Address: 1 Sky Garden Walk, London
Official site: https://skygarden.london
8. Greenwich Royal Park Herb Garden, Greenwich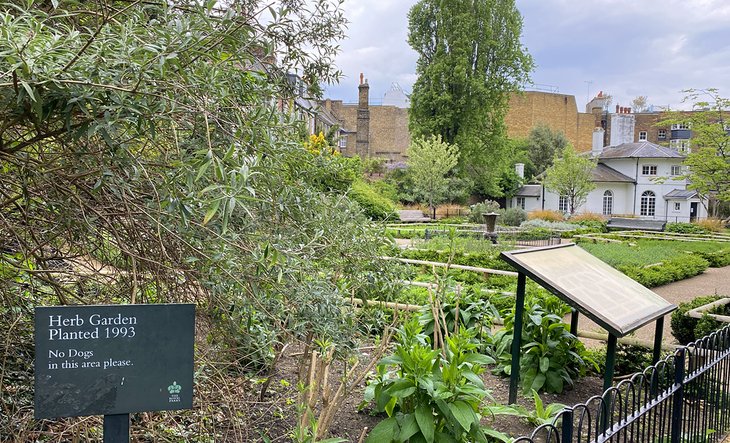 You'll have to pinch yourself when you visit the attractive little Herb Garden in Greenwich Park just to remind yourself that you're actually in London. Easily missed unless you enter via the park's northwestern entrance, St. Mary's Gate, Greenwich Royal Park Herb Garden wouldn't look out of place in the cutest of Cotswold villages.
Set out like a village square, with a lovely pond and fountain at its center, a variety of herb specimens spread outwards, surrounded by low-trimmed hedges. Framed by a row of elegant Georgian- and Victorian-era homes, this extremely pleasant vista is crowned by St. Mary's Lodge, a picturesque white cottage that's home to the White House Bakery.
It's so picture-perfect a London garden that you'll want to make a purchase at this bakery-cum-café, pull up a chair on the patio, marvel at the scenery, and pretend you're in the countryside.
Location: Greenwich Park, Greenwich, London
Read More: Top Attractions in Greenwich & Docklands Districts, London
9. The Rose Garden, Greenwich Royal Park, Greenwich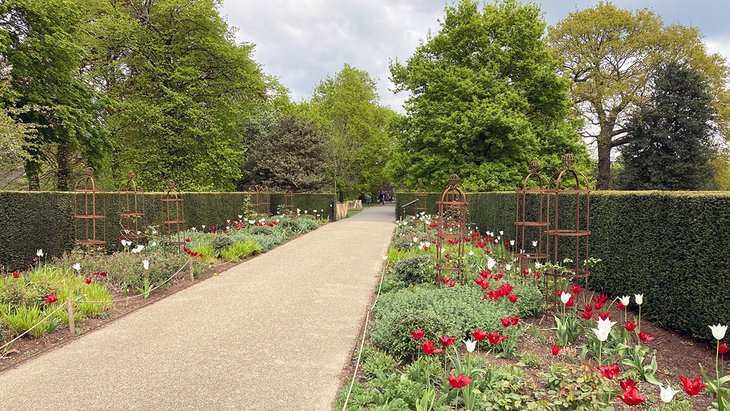 Another idyllic rural scene in the heart of the big city can be enjoyed at The Rose Garden in Greenwich Park. This time, though, the beautiful vista is more country estate than English country village.
Set at the southwest end of Greenwich Park, The Rose Garden consists of numerous flower beds fanning outward from the elegant Ranger's House in a semi-circle. This picture-perfect garden is certainly enhanced by the Ranger's House, the former country manor house of a wealthy businessman that's now home to one of the top art galleries in London: the Wernher Collection.
If you're lucky enough to arrive in springtime toward the end of April, you'll also want to follow the path leading away from the Ranger's House through The Rose Garden, just a short distance to the spectacular Greenwich Park cherry blossoms.
Official site: www.royalparks.org.uk/parks/greenwich-park/things-to-see-and-do/gardens-and-landscapes/the-rose-garden
10. Queen Mary's Rose Gardens, The Regent's Park, Marylebone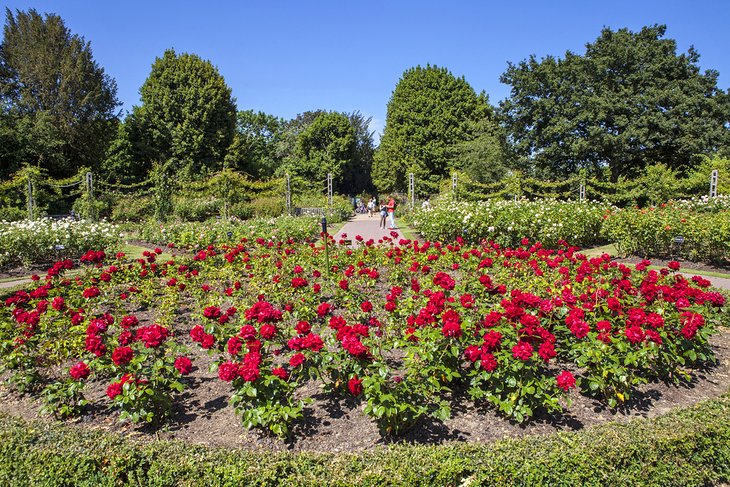 Although not one of London's most central of green spaces, The Regent's Park is well worth visiting, especially in spring and summer. Normally simply referred to as "Regent's Park," this historic attraction is one of London's best parks and fulfills a variety of functions, from entertainment venue to playground to zoo, all of them providing numerous reasons for visitors to linger awhile.
Those interested in a more formal garden setting should make their way straight to Queen Mary's Rose Gardens, established in 1934 and situated just off the park's Inner Circle. While it's a pretty nice place to visit throughout spring and summer, the first two weeks of June bring a riot of color as the park's rose bushes burst into bloom.
This is London's largest rose garden, and the chance to see the park's 12,000 rose bushes in bloom simply shouldn't be missed. Other highlights sure to thrill gardeners are a large number of border plants, including a super example of a delphinium border, as well as a collection of more than 9,000 begonias.
Address: Chester Road, Marylebone, London
Official site: www.royalparks.org.uk/parks/the-regents-park/things-to-see-and-do/gardens-and-landscapes/queen-marys-gardens
11. The Garden Museum, Lambeth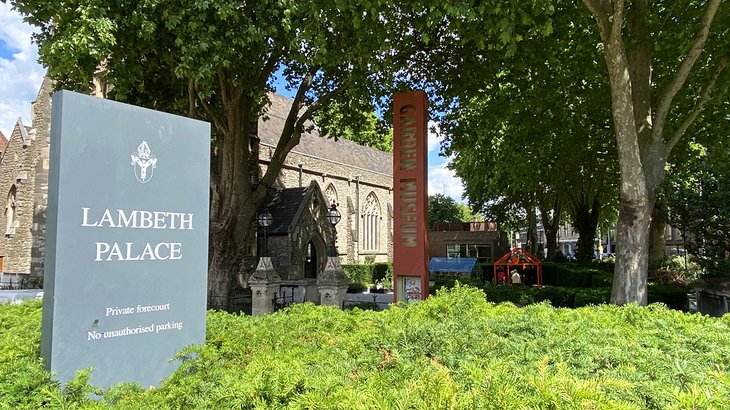 Located on the south bank of the River Thames next door to Lambeth Palace, the Garden Museum is a must-visit for both amateur and serious gardeners alike. Highlights include displays relating to the history of English gardens, as well as some of the characters who first studied and popularised gardening and plant growing in Britain.
If you've still got some energy left after exploring the museum's fascinating exhibits and displays, pay a visit to the old medieval tower that's located on the premises. While it's a relatively steep climb up the 131 steps to the top, the views over the Thames and Westminster make the effort well worthwhile.
Address: 5 Lambeth Palace Road, London
Official site: https://gardenmuseum.org.uk
Map of Public Gardens in London, England