Trafalgar Square, London: 15 Nearby Attractions, Tours & Hotels
The area around Trafalgar Square in Central London offers no-end of sightseeing opportunities and fun things to do. Stretching east from busy Piccadilly Circus to Covent Garden Market, and south from Leicester Square's cinema district down to the Embankment along the River Thames, this bustling area has long been one of the top places to visit in London for tourists wanting a taste of city life.
Within this approximately half-a-square-mile area of what could be called "downtown London," you'll find everything from world-class art museums, ultra-stylish shops, and eclectic market stalls to iconic landmarks and memorials, numerous famous theaters, and many historic churches. It's also where you'll find the home of a beloved American patriot, one of the city's loveliest gardens, and quite possibly the world's most colorful Changing of the Guard ceremonies.
With so much to keep tourists busy, be sure to refer often to our handy guide to the top attractions, tours, and hotels near Trafalgar Square, London.
1. Trafalgar Square and Nelson's Column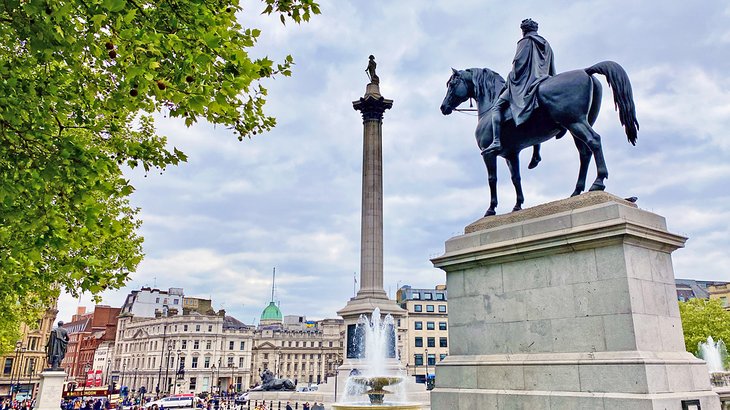 Built to commemorate Lord Nelson's victory over the French and Spanish at Trafalgar in 1805, Trafalgar Square is one of London's most popular tourist spots. The star attraction is Nelson's Column. Constructed entirely from granite, this monument commemorates England's greatest hero and his victory over Napoléon's navy at the Battle of Trafalgar.
The height of the monument, 185 feet, is the exact height of the main mast of Nelson's flagship, HMS Victory, now preserved in the important naval city Portsmouth. The column is surrounded by fountains and bronze reliefs cast from French cannons and depicts Nelson's victories at Cape St. Vincent, the Nile, Copenhagen, and Trafalgar. Also in the square are statues of Henry Havelock, General Gordon, Charles James Napier, and an equestrian statue of George IV.
Trafalgar Square has also for years been a traditional spot for organized demonstrations and protests, which although infrequent, may disrupt your sightseeing experience. Be sure to check the London government's official website for relevant information, as well as for news of seasonal events.
You'll also what to check out details of the temporary art installations placed on the famous The Fourth Plinth. This long-empty plinth was originally supposed to support a statue of William IV on horseback, but stood empty for over 150 years. It's now used to support often light-hearted artworks, including sculptures of giant thumbs and huge ice-cream cones.
Separating Trafalgar Square from The Mall is the Admiralty Arch. This imposing structure will, as of 2023, become a luxury hotel operated by Waldorf Astoria.
Official site: www.london.gov.uk/about-us/our-building-and-squares/trafalgar-square
2. Covent Garden Market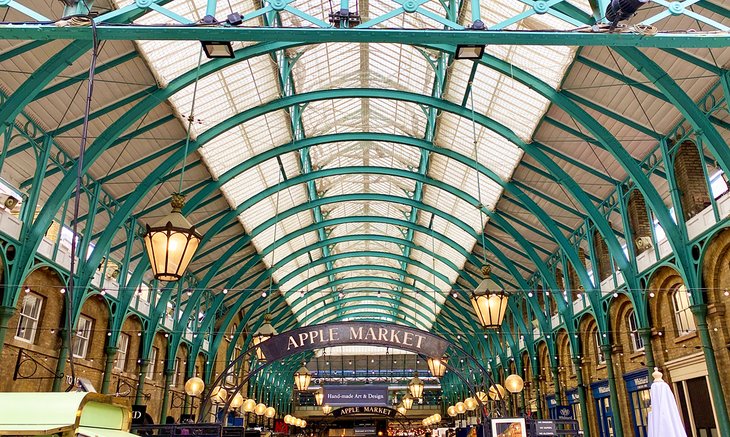 Just over a quarter mile to the northeast of Trafalgar Square is famous Covent Garden Market. A popular mix of specialty shops, fashion boutiques, and craft stalls fill a series of historic market halls that were narrowly saved from planned demolition in 1974. Today, these old market halls and warehouses have become one of London's most popular attractions.
The Covent Garden neighborhood includes Long Acre, the main thoroughfare, and the retail areas of Neal's Yard and Seven Dials. Guaranteed fun for the whole family are a regular roster of entertaining street performers who draw large crowds in the attraction's Central Square.
The market area is also where you'll find the Royal Opera House (ROH), one of the city's premier performing arts venues.
Address: Covent Garden Market Bldg, 130 King Street, London
Official site: https://coventmarket.com
3. Piccadilly Circus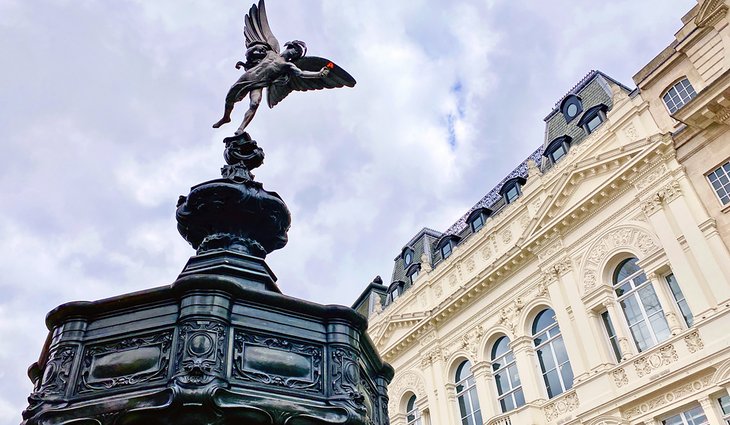 Haymarket Street leads from Trafalgar Square to another London icon, Piccadilly Circus. One of the great centers of London life, here six major streets intersect, making it one of the busiest parts of London. These streets are Coventry Street, Glasshouse Street, The Haymarket, Piccadilly, Regent Street, and Shaftesbury Avenue.
At its center, surrounded night and day by a rush of traffic, stands the Shaftesbury Memorial. Commemorating the Earl of Shaftesbury, the monument features a bronze fountain topped by a cast aluminum figure of an archer. Although most think the statue is the Greek god Eros, it in fact represents Anteros, the god of requited love.
Piccadilly, one of London's most fashionable streets, runs west from the Circus. Look for high-end shops here along Regent Street and inside the covered Burlington Arcade. Visitors will be pleased to know that recent renovations to the attraction have made it quite safe for pedestrians to visit to grab a selfie.
4. London Transport Museum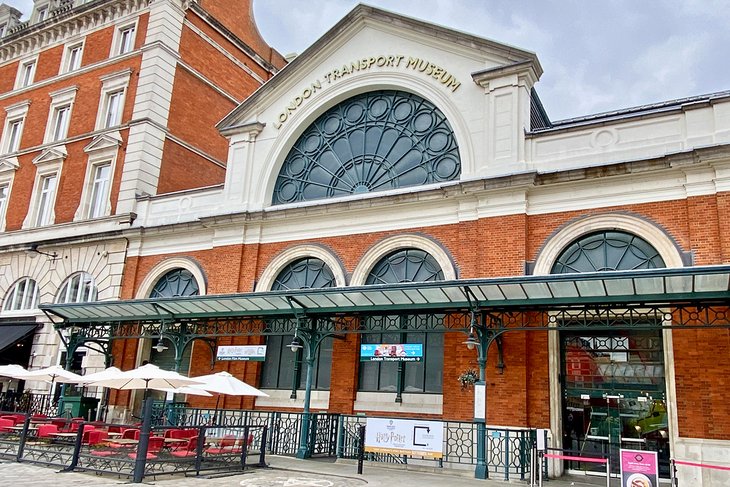 Housed in Covent Garden's former Victorian flower market, the London Transport Museum is a must-visit attraction that's suitable for all ages. It tells the story of London's transport heritage through impressive collections of historic buses, trolleys, trains, trams, and taxis.
There are additional displays showing how transport has influenced and shaped the growth of modern London, its culture and society, over more than two centuries. The museum is very hands-on, with numerous fun things to do for kids.
There's a great souvenir shop on-site (check out their popular mugs with logos of the city's underground stations), as well the Canteen restaurant.
Address: Covent Garden Piazza, London
Official site: www.ltmuseum.co.uk
5. St. Martin-in-the-Fields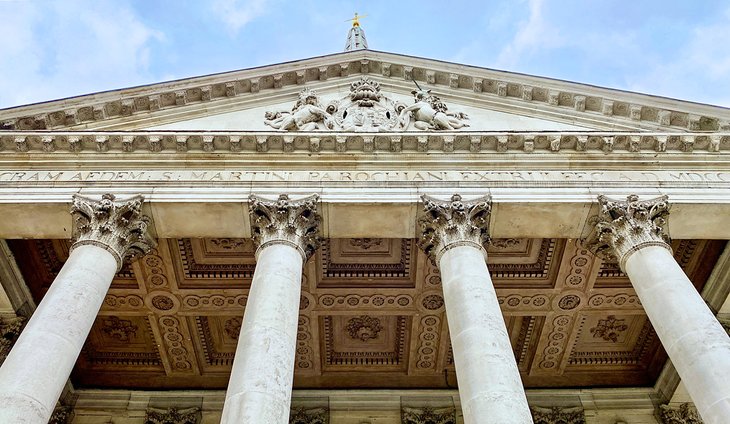 St. Martin-in-the-Fields, the royal parish church and church of the Admiralty, is well-known to music lovers worldwide for its orchestra, The Academy of St. Martin in the Fields. It's also well-known for its legendary conductor, the late Sir Neville Marriner. Many of the orchestra's noontime concerts are free, and tickets for evening performances are available inside.
The church is an iconic example of Georgian architecture, with a Corinthian portico, a 185-foot-high steeple, and an elliptical ceiling supported on Corinthian columns. King George I laid the foundation stone, and to the north of the altar is the Royal Box. To the south is the Admiralty Box, and above the chancel arch is the coat of arms of George I.
The church also has a brass rubbing center, and you can have lunch or tea at the excellent Café in the Crypt.
Location: Trafalgar Square, London
Official site: www.stmartin-in-the-fields.org
6. London Coliseum and Covent Garden Theaters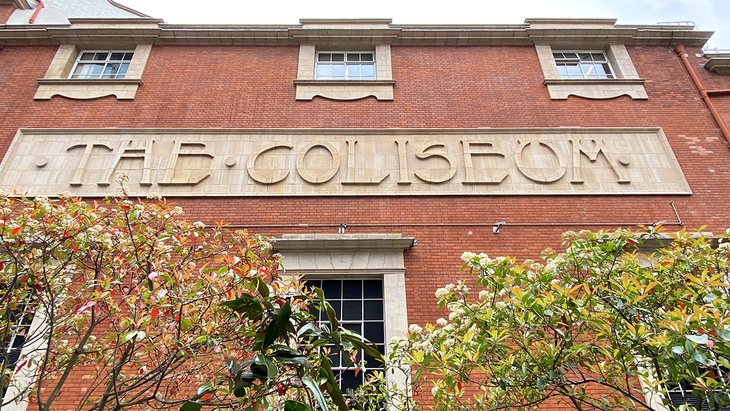 The Covent Garden area is home to a number of great cultural venues. The best known of these are the London Coliseum, home to the English National Opera Company, and the Royal Opera House.
It's also where you'll find the Theatre Royal Drury Lane, the oldest operational theater in the world. Guided tours of Theatre Royal include the Royal Box and Auditorium.
Address: St. Martin's Lane, London
Official site: https://londoncoliseum.org
7. Courtauld Institute Gallery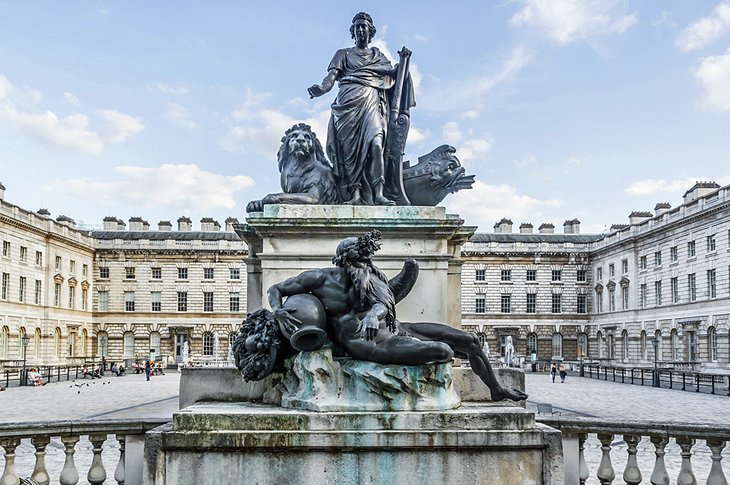 One of London's finest but perhaps least known, fine art museums is housed inside the impressive Somerset House, between The Strand and the Victoria Embankment. The Courtauld Institute Gallery contains, among other priceless works of art, one of the finest collections of Impressionist and post-Impressionist paintings in Britain, with works by Monet, Renoir, Cézanne, and van Gogh.
The Lee Collection contains works by Botticelli, Goya, and Rubens, as well as portraits by British artists from the 17th to 19th centuries. The Fry Collection consists of works by British and French artists of the late 19th and early 20th centuries.
This must-visit gallery is fresh from a major three-year renovation project called "Courtauld Connects," which has added state-of-the-art experiences to enhance your visit.
Address: Somerset House, Strand, London
Official site: http://courtauld.ac.uk/gallery/about
8. The National Gallery & The National Portrait Gallery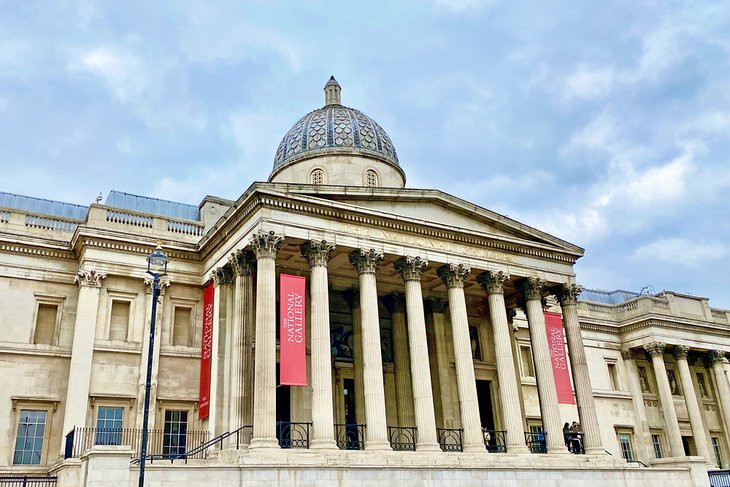 Housing an impressive collection of more than 4,500 paintings and drawings, the National Portrait Gallery is located next to the equally impressive National Gallery. Set just a few minutes' walk from Trafalgar Square, the gallery is famous for its portraits of prominent people from English history.
Subjects include Henry VII and his ancestors, Elizabeth I, Shakespeare, Oliver Cromwell, Christopher Wren, Lord Nelson, the Brontë sisters, Queen Victoria, Oscar Wilde, Winston Churchill, Margaret Thatcher, Princess Diana, and countless other notable figures from British history.
Established in 1824, the National Gallery is home to more than 2,300 important paintings from the 13th century right up to the early 20th century. And it's a huge building, encompassing some 46,000 square meters, so be prepared to allow plenty of time to see everything. While admission is free, booking a timed admission in advance is strongly recommended.
Address: St. Martin's Place, Charing Cross, London
Official site: www.npg.org.uk
9. Benjamin Franklin House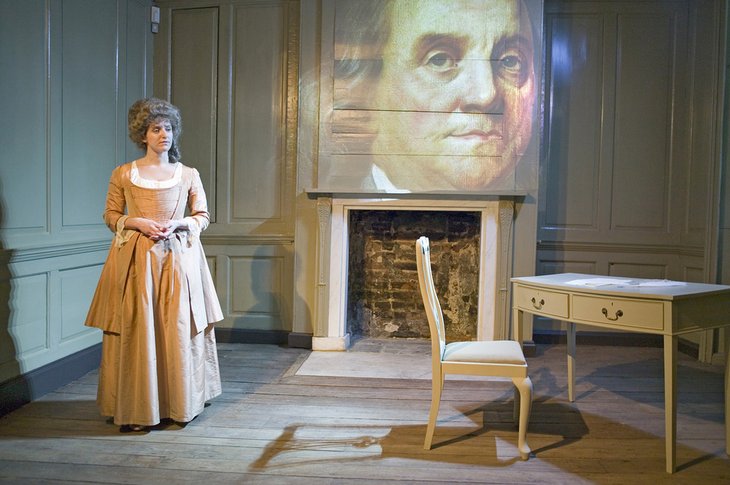 The world's only surviving home of Benjamin Franklin, where he lived from 1757 to 1775 as a representative of the Pennsylvania Assembly, is located just off The Strand a few steps from Trafalgar Square. It's from here that Franklin barely escaped from England in time to avoid arrest when the American Revolution began.
The house where he lived, worked, and entertained leading figures of the day is now a museum. Highlights of a visit include a multimedia experience that's enhanced by live performances to capture those exciting and uncertain times. Guided tours are available.
Address: 36 Craven Street, London
Official site: www.benjaminfranklinhouse.org
10. Golden Jubilee Footbridges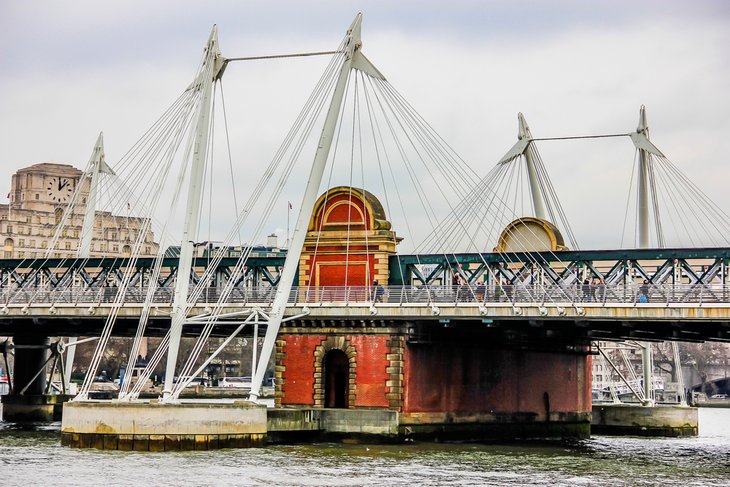 Crossing the Thames to join the Victoria Embankment to the Southbank Center, the pair of footbridges were named in honor of Queen Elizabeth II's 50th anniversary as Queen. Some of the best views of London are from these bridges, which flank either side of the 1845 Hungerford Railway Bridge, built by the great British engineer Isambard Kingdom Brunel.
The original brick pile buttresses of Brunel's bridge were used to support the pylons to which the footbridges are anchored. The bridges, designed by architects Lifschutz Davidson, won the 2003 Building of the Year Award.
11. Cleopatra's Needle and the Embankment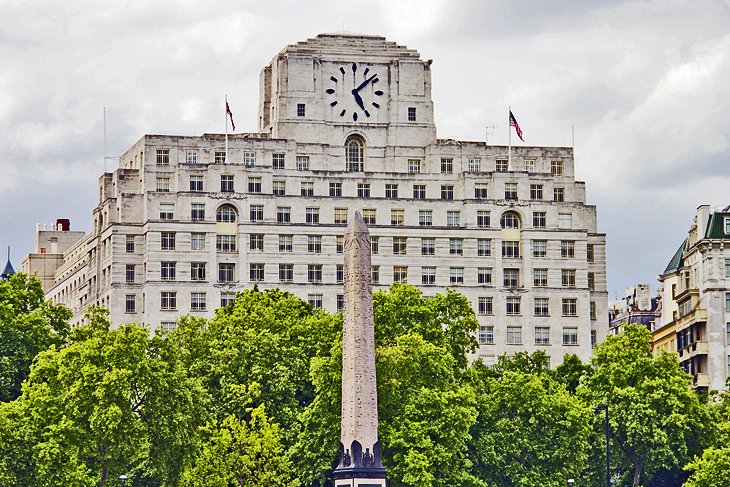 Although this 68-foot, 180-ton obelisk of pink granite on the Thames Embankment comes from Egypt, it actually has no connection with Cleopatra.
Brought to London in 1878, it was one of a pair erected in Heliopolis around 1500 BCE. This fact didn't stop Londoners almost immediately giving it the nickname by which it's known today: Cleopatra's Needle. Afterwards, take a stroll through the lovely Victoria Embankment Gardens.
12. Horse Guards Parade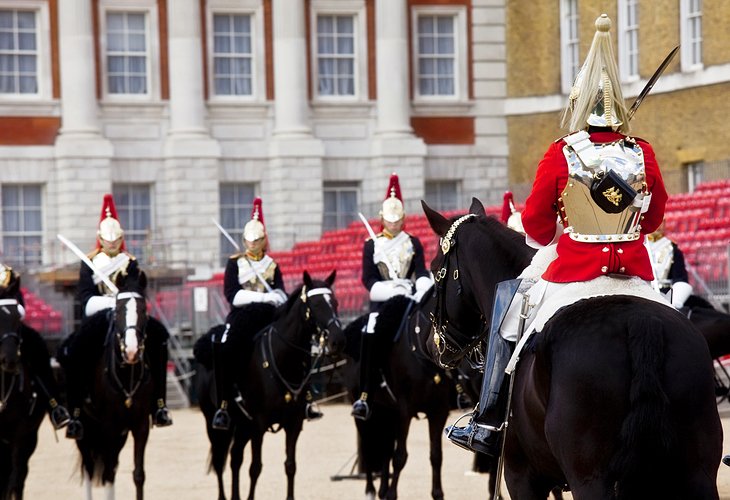 Several fine old buildings form the complex housing the Household Cavalry and the Horse Guards Parade. You can watch the Changing of the Guard here daily at 11am (10am on Sundays) and the Daily Inspection at 4pm in the Front Yard Whitehall.
The interesting Household Cavalry Museum offers a look into the history and accomplishments of this historic military unit.
Address: Horse Guards, Whitehall, London
Official site: www.householdcavalrymuseum.co.uk
13. Leicester Square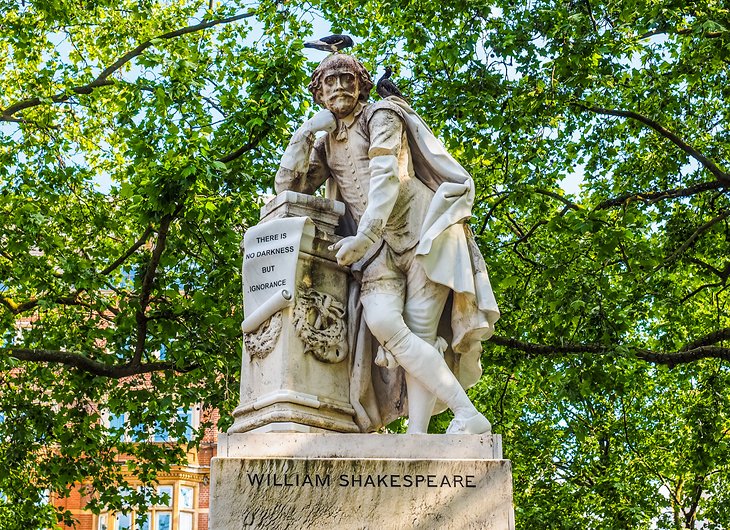 Surrounding a small garden with a statue of Shakespeare and the busts of famous former residents, the pedestrians-only Leicester Square is especially well-known for its cinemas. The surrounding movie houses are where major films premier in the UK, and will often provide onlookers an opportunity to catch a glimpse of popular movie stars.
Leicester Square is also known for the TKTS booth. Here, you can purchase same-day theater tickets, often available for half price.
14. The (Dead) Actors' Church: St. Paul's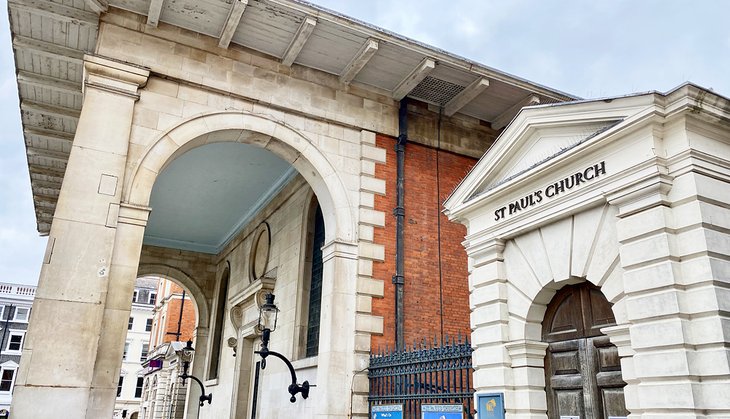 "The handsomest barn in England" is how Inigo Jones described St. Paul's Church, which he built in 1633. The portico facing Covent Garden Market may look as though it is the front of the church, but it's actually the back of the building.
St. Paul's is also known as the Actors' Church and contains the graves of many noted actors of the 18th and 19th centuries. It has a number of other interesting monuments and memorials, including a lovely wreath, carved by Grinling Gibbons, above the west door in 1721. Be sure to also explore its pleasant garden.
Address: Bedford Street, Covent Garden, London
Official site: www.actorschurch.org
15. Institute of Contemporary Arts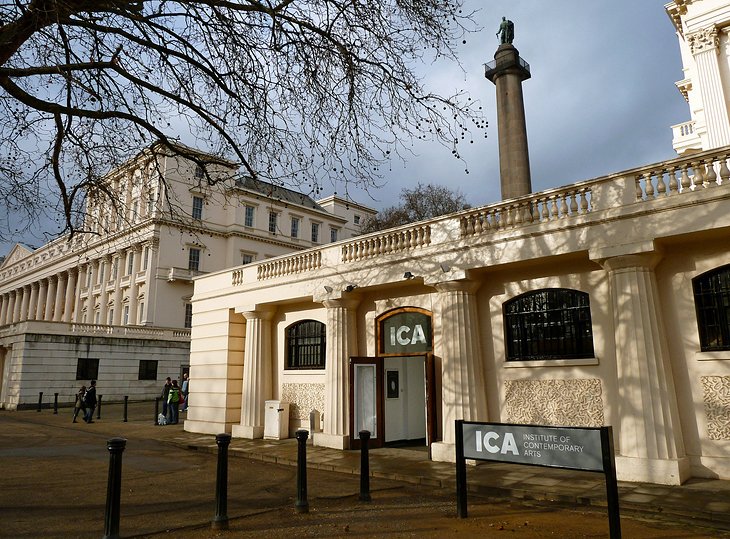 The Institute of Contemporary Arts (ICA) is not a museum of modern art, but an exhibition and program center dedicated to promote and encourage an understanding of radical art in a variety of forms. Since its founding in the 1940s, it has strived to remain at the forefront of current artistic thinking and experimentation.
Exhibits, films, and other programs are constantly changing and often radical, but you can be sure they are never dull. In fact, one of the institute's main goals is to provoke discussion and debate on contemporary art.
Address: The Mall, St. James's, London
Official site: https://www.ica.art/
Tips and Tours: How to Make the Most of Your Visit to Trafalgar Square
Tours of Trafalgar Square: On the comprehensive 8.5-hour London in One Day Sightseeing Tour Including Tower of London, Changing of the

Guard

, you'll spend an entire day with a knowledgeable guide as you tour the best-loved sights, including Trafalgar Square and its many nearby attractions. An upgrade to include the iconic London Eye is available.
Getting Around on Your Own: London's Underground, the Tube, is an efficient way to get around. The nearest Tube station to Trafalgar Square is Charing Cross. Embankment and Piccadilly Circus each has its own station, as does Covent Garden.
Map of Trafalgar Square, London: Nearby Attractions, Tours & Hotels