12 Best Markets in London
Author Shandley McMurray lived in London and enjoys return visits, including trips to the markets.
The best way to get a feel for a city is to visit its most frequented local haunts. That means carving out time in your trip to London to visit its markets. Here, you'll find tasty nibbles, eclectic clothing, handmade crafts, Bohemian jewels, and coffee so good that Londoners will wait in line for over 30 minutes for a sip.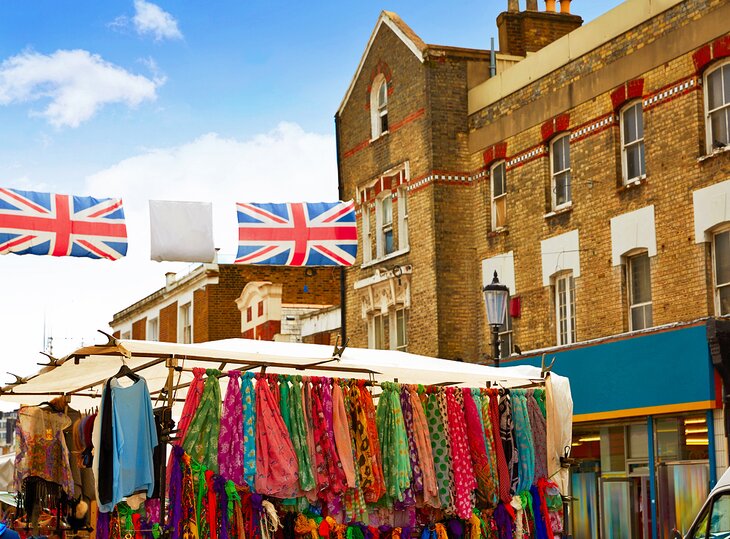 Whether you're searching for gourmet munchies, fresh fruit, vibrant bouquets, or vintage books, you'll find them, and a whole lotta eccentric goodies, at London's best markets. A tip: Bring cash, as it's easier to barter a deal. Also, be sure to pack enough bags to help schlep your haul back to the plush London resort you're staying in.
While most of the city's markets are open daily, the best time to visit is on a weekend. Yes, you'll have to elbow your way through locals vying for the best find, but this is also when most stalls are guaranteed to be open (some close during the week). Plus, the ambience of a vibrant and buzzy English market is hard to beat.
Before heading out, choose which place to visit first with our list of the best markets in London.
1. Borough Market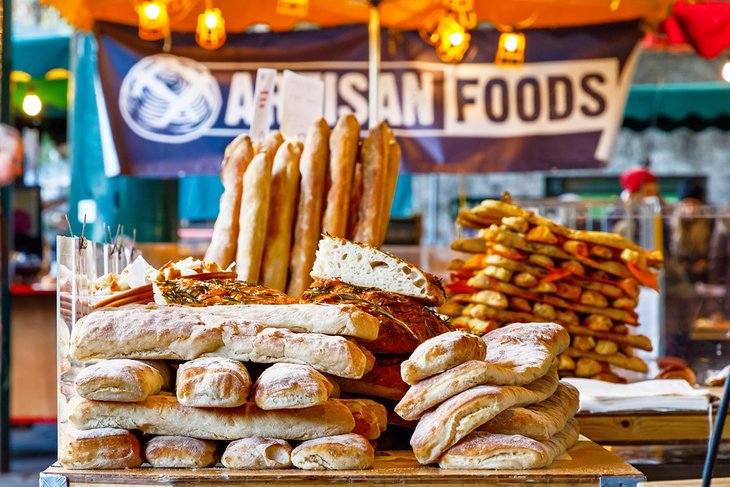 You'll want to arrive hungry to the Borough Market. Flavored olive oil, Turkish delight, fresh strawberries, and the most inventive cheeses greet visitors to this historic market, which is by far the best market in London for foodies.
Established over 1,000 years ago, this innovative locale knows how to please its diverse customers. If you like food of any kind, this is a must-visit market, sure to please each of your senses.
High-quality food items entice guests to sample treats they never knew they'd love—we're talking mustards, chocolates, curries, and spicy spreads. Other popular delicacies include well-known confections; freshly baked breads; and coffee so good, you'll have to line up around the block to get a cup.
The wares are sustainable and eco-friendly, which means you can alleviate some of your shopper's guilt with every purchase.
Grab lunch to go at one of the many street food stands, or buy the trimmings for the most delectable Sunday roast. Most of the colorful stalls stand beneath a glamorous, Victorian glass dome flanked by railway arches just south of London Bridge.
While open daily, not all vendors sell their wares during the week, and street food vendors don't work Sundays. Insider's tip: if you want the bonus of shopping on a weekend without having to jostle through crowds, head out early (i.e. 8am on a Saturday morning).
Address: 8 Southwark Street, London
Opening Hours: Tuesday through Friday from 10am to 5pm, Saturday from 8am to 5pm, and Sundays 10 am to 3pm.
Official site: https://boroughmarket.org.uk/
2. Old Spitalfields Market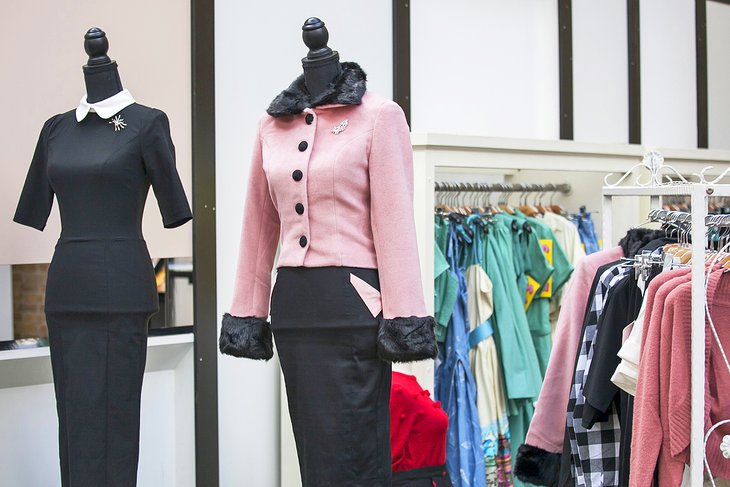 Deep in the heart of East London, a five-minute jaunt from Liverpool Street Tube station, you'll find a covered market so unique, you'll want to spend hours examining its wares. While you'll find plenty of treats to tempt your tastebuds at Old Spitalfields Market, most visit this historic market for its less delicious temptations.
Vinyls, vintage glasses, handmade coats, spices, hats, flowers, books, toys, art, and antiques are just a few of the items sold in the funky stalls and independent boutiques.
Hungry? The Kitchens is where you'll find food served by 10 of East London's best restaurants, while each corner of the market offers up enough delicious snacks and drinks to quell those hunger pangs. Visiting here for lunch is one of the best things to do in London.
Insider's tip: If you're hoping to scour through antiques, visit on a Thursday, when the Antique & Vintage Market is on full display. Old school music fans should head here on the first and third Fridays of the month for the Vinyl Market.
Opening Hours: Monday, Tuesday, Wednesday, Friday, and Saturday from 10am to 6pm. Thursdays from 8am to 6pm and Sundays from 10am to 5pm.
Address: 105A Commercial Street, London
Official site: https://oldspitalfieldsmarket.com/
3. Camden Market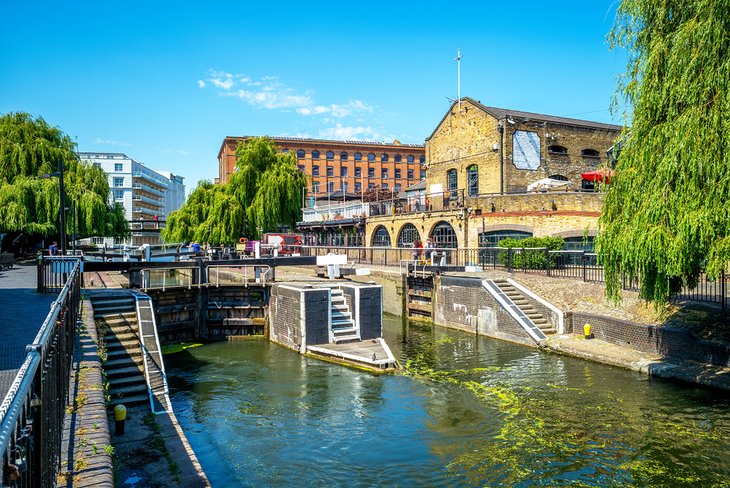 Fans of the unique will love Camden Market, a one-of-a-kind venue set along Regent's Canal. This iconic spot is home to over 1,000 stalls in a collection of five markets that run between Camden Town and Chalk Farm in North London, a five-minute-walk from Camden Town Tube station.
The markets feature shops, restaurants, and cafés. The most popular is known as Camden Lock Market. Its waterside locale boasts stalls from independent street food vendors, as well as local craftspeople. It's been frequented by celebs raging from Prince to Mick Jagger. Perk up with a Starbuck's Coffee, which is housed in the adorable cottage once lived in by the Lock keeper.
Once known for its collection of craft and antiques stalls, the market has transformed over the years to become one of the best markets in London. Whether you're searching for punk fashion, eclectic crafts, unique souvenirs, jewelry, handmade clothes, lights, antiques, or a fresh falafel, you'll find it (and so much more) in this gem.
If you're looking for a tasty meal, you'll find it here, too. From vegan fast food to gluten-free goodies to Dutch pancakes and fresh pasta, the options are seemingly endless. Grab a bite at one of the provided picnic tables to prolong your stay. No matter when you visit, you're in for a memorable trip.
Opening Hours: Every day from 10am to "late," except for Christmas, when it's closed. The food halls at Hawley Warf are open from 11:30am to 6pm Sunday through Thursday and from 11:30am to 9pm on Fridays and Saturdays.
Address: Camden Lock Place, London
Official site: https://www.camdenmarket.com/
4. Covent Garden Market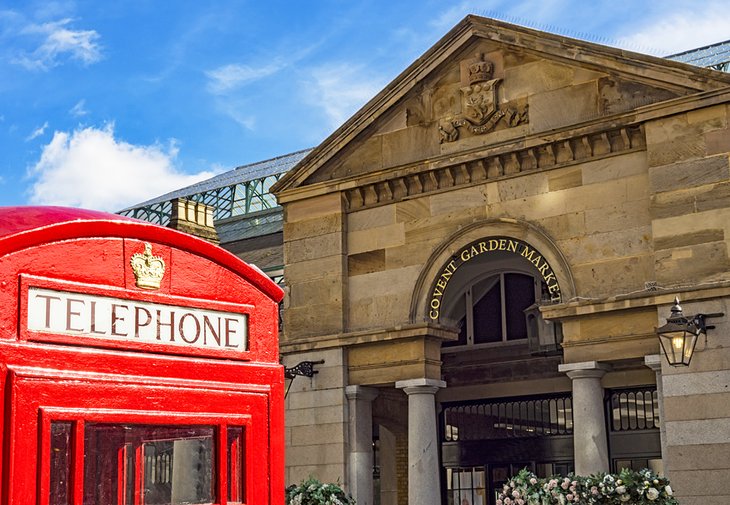 Covent Garden is a beloved neighborhood sporting shops, cafés, and restaurants a short walk from the bustling Leicester Square. It is also home to Covent Garden Market, a vibrant shopping area filled with boutiques and popular attractions frequented by locals and tourists alike.
The best market in London's West End, this is where you'll find over 200 stores offering everything from monogramming to ear piercing to tea. Be prepared, though—the price tags are much higher than those you'll find at other more Bohemian London markets, especially if you pop into the high-end shops in and bordering the covered Market Building.
Pre-vetted buskers perform incredible routines on the piazza, while crafty folk sell their wares at stalls set up in the Apple Market. The East Colonnade Market is where you'll find sweets, soaps, accessories, and much more.
Antiques lover? The Jubilee Market hosts the Antiques & Collectables Market each Monday from 5am to 5pm. Stalls are filled with relics and other collectibles on Mondays.
Tuesday to Fridays, the General Market is held here, offering everything from picnic hampers to garden equipment to cheeky souvenirs. Saturday and Sunday from 10am to 6pm, you'll find the Arts & Crafts Market selling candles, jewelry, paintings, and other unique items.
Head to the balcony at Punch and Judy's to enjoy great seats to the various performances held in the square outside the Market Building.
Easily reachable by tube, the closest stations to Covent Garden Market are Embankment, Holborn, or Covent Garden, depending which line you're taking.
Opening Hours: These vary by store and restaurant, so you'll have to check their individual sites to learn more.
Address: Covent Garden, 14 James Street, London
Official site: https://www.coventgarden.london/
5. Columbia Road Flower Market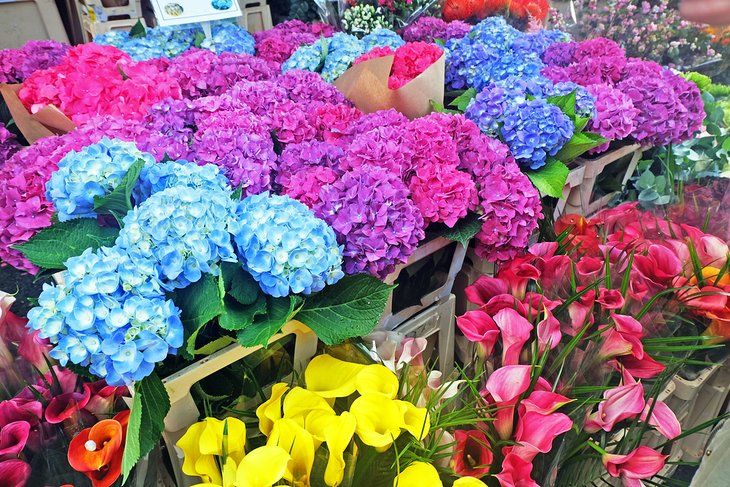 Every Sunday, Columbia Road is transformed into a wonderland (perhaps we should say, garden) of colorful blooms and verdant greenery; two things that are difficult to find fresh in a big city like London.
Established in 1869, this captivating market is a lovely place to nestle your nose in the sweet scent of roses, ogle the vibrant bedding plants, and grab a few fresh-cut lovelies to brighten your room. Green thumbs really couldn't find a better place to spend a couple of hours.
Gardening gear, bread, cheese, soap, candlesticks, and other interesting treats are also available, and the multiple shops lining the area include adorable cafés and unique boutiques. Many of the sellers have been offering their floral wares for generations, which adds even more heart to this already charming market.
Insider's tip: Arrive early if you're hoping to avoid crowds and score the best blooms. Or, if you're up for a great bargain, head to the market towards closing time.
Opening Hours: Sundays from 8am to 2pm.
Address: Columbia Road, London
Official site: https://columbiaroadmarket.co.uk/
6. Maltby Street Market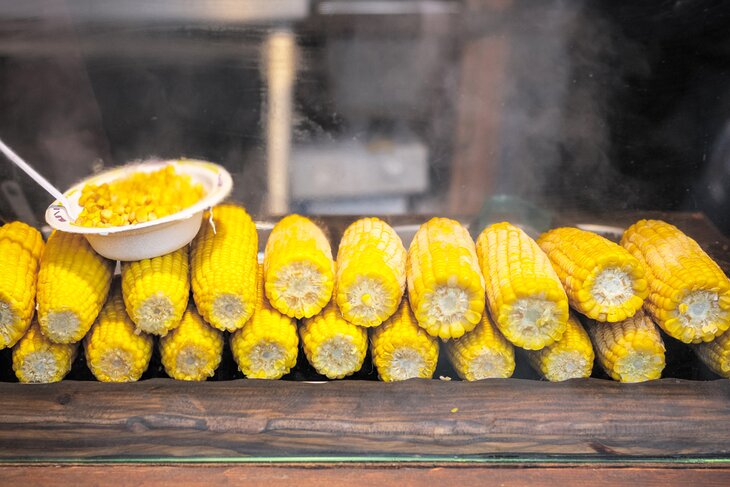 Maltby Street Market is a veritable "baby" when compared to the more grandiose, historic markets on our list of the best markets in London. Established in 2010, this fun market is a fab find in Southeast London, especially if you allow your stomach to guide your vacation.
A gastronome's delight, this food market is extremely picturesque, nestled in the Ropewalk section of Bermondsey, below old railway arches. If you love to eat good food, this is the place for you.
This top market may be small, but it more than makes up for its size with stalls overflowing with delicious goodies prepared by top-notch traders. Enjoy a new take on the classic bangers and mash, munch on Venezuelan street food, or guzzle a fresh-squeezed juice.
The traders change often, so you never know what tasty meal you'll enjoy when you visit. As the market claims, "we promise to entertain you, keep you hydrated, and feed you until you can move no more." So be sure to arrive hungry!
Opening Hours, Grocers and Restaurants: Daily from 10am to 10pm; Market Traders: Saturday from 10am to 5pm and Sunday from 11am to 4pm.
Address: Ropewalk, Maltby Street, London
Official site: http://www.maltby.st/
7. Portobello Road Market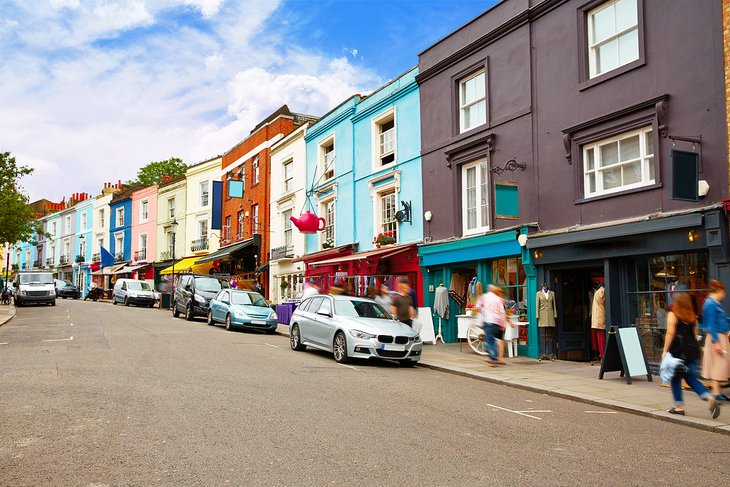 You'll be hard-pressed to find someone who hasn't heard of the Portobello Road Market, especially if they are fans of the Julia Roberts/Hugh Grant flick, Notting Hill. This buzzy marketplace transforms the streets of the upscale Notting Hill neighborhood into a vibrant shopping mecca that sells everything you never knew you needed.
Looking for fresh flowers? You'll find them by the barrel. Want a Bohemian-style jumper (a.k.a. sweater)? They sell them in spades. Hoping to score a few antiques, vintage hats, or a funky t-shirt? Yes to all. Plus, you'll find fresh fruits, veggies, and other tempting foods to squash your rumbling belly.
Dubbed the "world's largest antiques market," Portobello Road Market is home to over 1,000 dealers who sell unique (and often valuable) finds of all kinds. Friday is antiques day, so be sure to visit then if you're hoping to score something awesome.
Insider's tip: Saturdays are the main market day. This is when you'll find the most sellers and the largest crowds. Antiques are sold on this day as well. This is also the day when the antiques Arcades are open.
Opening Hours: Monday to Wednesday from 9am to 6pm, Thursday from 9am to 1pm, Friday (antiques day) from 9am to 7pm, Saturday from 9am to 7pm. Closed Sundays.
Address: Portobello Road, near Ladbroke Grove Tube station, London
Official site: http://www.portobelloroad.co.uk/
8. Brick Lane Market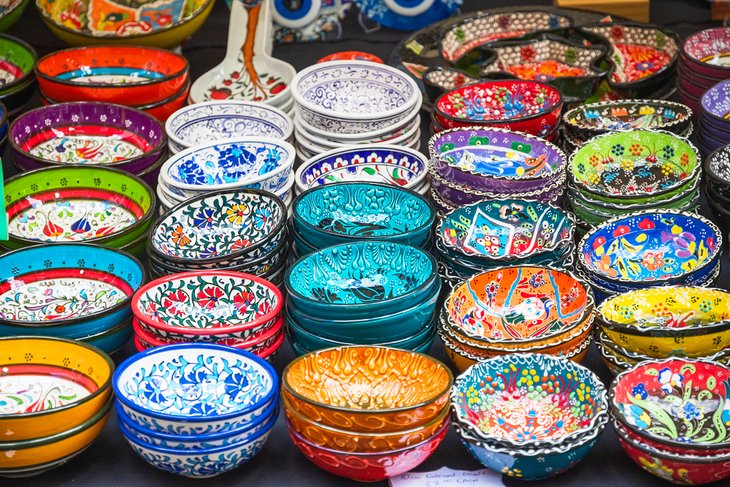 If you're looking for edgy gear, vintage finds, and eclectic clothes, you'll find it, and so much more, at Brick Lane Market.
A haven for youth in search of a unique, retro find, this is the place to visit if you're looking for a funky vibe. Street performers liven up the area with their intense sound and interesting tricks. The sport of people watching can never be overrated at this locale.
Sunday is the day to visit this diverse flea market. The streets are lined with stalls selling pretty much everything: fruit, used clothes, crafts, art, electronics. You name it, you'll find a bargain on it here.
Want to make a day of it? Continue shopping at nearby Backyard Market and Sunday Market, which are held in the Old Truman Brewery. Old Spitalfields Market is another must-visit when you're in the neighborhood. It's located a mere five-minute jaunt away.
When hunger hits, grab a curry from a nearby restaurant. And while you're here, take time to admire the street art. Even Banksy has graced these walls with his masterpieces.
Opening Hours: Sundays from 10am to 5pm.
Address: 20 Brick Lane, London, near Shoreditch High Street railway station
9. South Bank Centre Book Market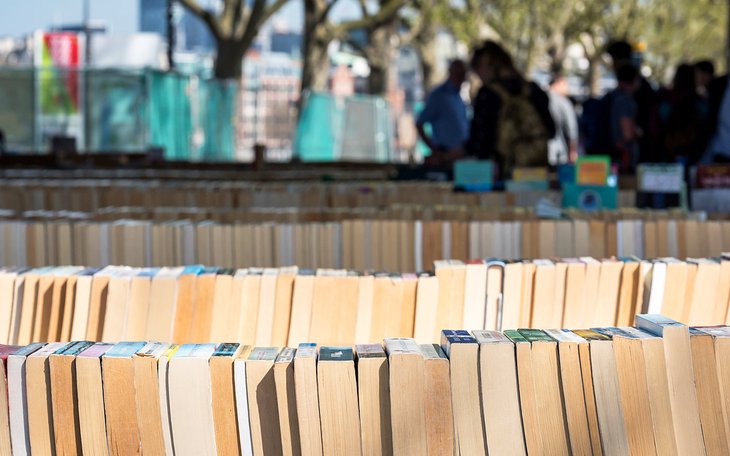 Love to get lost in a book? Don't miss the South Bank Centre Book Market. Serenely nestled beneath Waterloo Bridge, this reader's haven is one of the only "outdoor second-hand and antique book markets in southern England."
No matter what type of lit you're into—romance, sci-fi, classic, historic, or comic—you'll find a vast selection of read-worthy titles. Since the market is well covered by Waterloo Bridge, bibliophiles can enjoy shopping in all kinds of weather during every season. Plus, the dramatic riverside location offers up phenomenal views of the Thames and Somerset House.
South Bank is most notably home to the South Bank Centre, the largest arts center in the UK. One of the best attractions in London, this artsy hot spot boasts the Royal Festival Hall, Hayward Gallery, Poetry Library, and Purcell Rooms. More than 5,000 events occur in this area annually, so it should be easy to time your visit to coincide with some added entertainment.
Opening Hours: Monday through Saturday from 10am to 7pm, Sunday from 11am to 7pm (at times, the market closes earlier during winter).
Address: Waterloo Bridge, 337-338 Belvedere Road, London
Official site: https://southbanklondon.com/attractions/southbank-book-market
10. Greenwich Market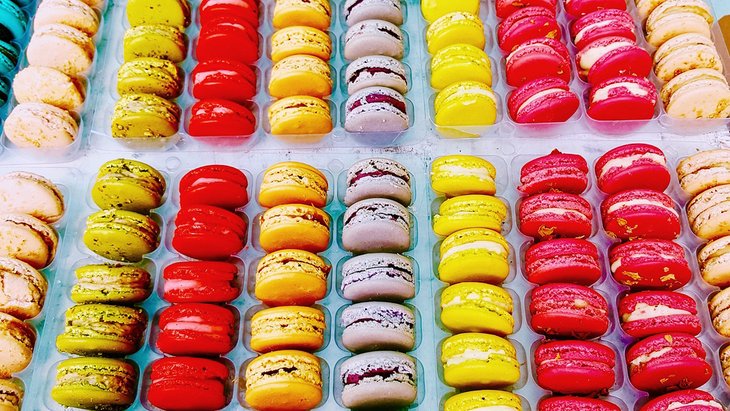 Greenwich Market is located across the Thames from London and a little east of the city. The easiest way to get here is by a Southeastern train from Charing Cross station, which will take about 17 minutes, or eight minutes from London Bridge station.
If you're wondering if this out-of-the-way market is worth traveling to, the answer is undoubtedly "yes!" First, it gives you a reason to visit the historic World Heritage Site in Greenwich.
Second, visiting here offers up a chance to shop in a covered, 18th-century market filled with so many unique gifts, thingamabobs, clothes, jewelry, and furniture that you may need to buy an extra suitcase to haul your load home.
When hunger pangs hit, as they are apt to do when you shop for hours, fuel yourself at one of the multiple food stalls. Or visit one of the local restaurants or cafés for a quieter, sit-down meal.
Insider's tip: Visit on a weekend if you want to feel the intensity of a packed market. Otherwise, head out on a weekday to enjoy a more low-key shopping experience.
Opening Hours: Daily from 10am to 5:30pm.
Address: Greenwich Market, London
Official site: https://greenwichmarket.london/
11. Eccleston Yards Market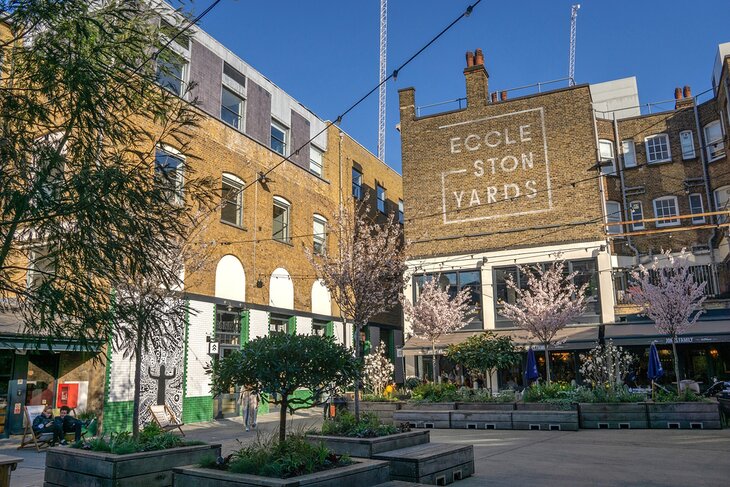 Come one, come all to Eccleston Yards Market, a fun shopping venue in the heart of Southwest London's posh Belgravia. Located just steps from both Sloane Square and Victoria Tube stations, this Sunday market is home to stalls selling a slew of diverse merchandise.
Whether you're looking for a handmade necklace, house plant, children's book, soap, or a ceramic vase, you'll find it and plenty more to fill your shopper. Like all good markets, Eccleston Yards also hosts food vendors, so you'll find plenty of tasty morsels to tempt your taste buds.
Loads of high-end stores surround the market, so you're in for a treat if you like to ogle designer wear.
Insider's tip: If you're a fan of music and hoping to make a day of it, visit between 12pm and 4pm, when bands and other musicians arrive to play sets of everything, from rock to indie to country to pop.
Opening Hours: Early April through end of June, Sundays from 11am to 5pm. There are also often festive markets beginning in November through December, but it's best the check the website to be sure there's a market running when you're in town.
Address: Eccleston Yards, London
Official Site: https://www.belgravialdn.com/event/eccleston-yards-market/
12. Alfie's Antique Market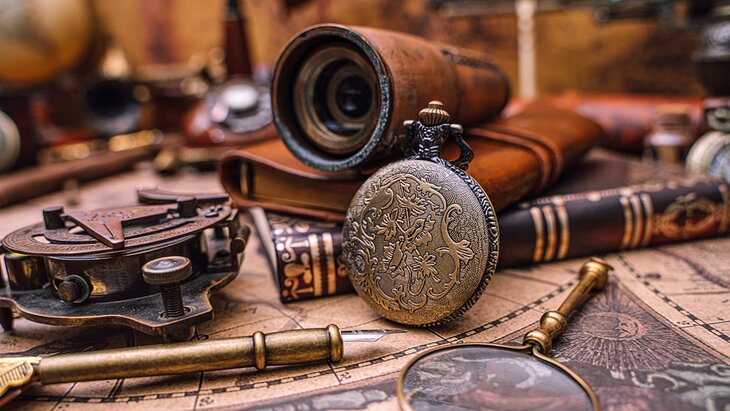 The eccentric wares found at Alfie's Antique Market are often described as Bohemian chic, which means you're bound to locate something awesome to inspire your home or personal design. Set in a large, historic building off Lisson Grove in Marylebone, this funky spot is the oldest indoor antiques and vintage market in London.
Inside, you'll find four floors oozing goods from multiple centuries. Close to 100 dealers stake their claim on spots in this beloved gem, selling wares to excite even the most hesitant of shoppers.
Whether you're a fan of antique furniture, vintage clothing, jewels, unique art works, or luxurious textiles, you'll find a treasure trove of wonders in this fun market.
A hot spot for celebs, keep your eyes peeled as you're likely to rub elbows with the likes of Kate Moss or Keira Knightley while searching for your next treasure.
Opening hours: Tuesday through Saturday from 10am to 6pm.
Address: 13 – 25 Church Street, London
Official site: https://www.alfiesantiques.com/