14 Best Places for Shopping in London
Author Shandley McMurray lived in London and always enjoys her return visits.
Visiting London without shopping is like heading to Paris without seeing the Eiffel Tower—you're missing the best part! Whether you're a fan of window browsing, or prefer to shop 'til you drop, you can't go wrong with a shopping trip to London.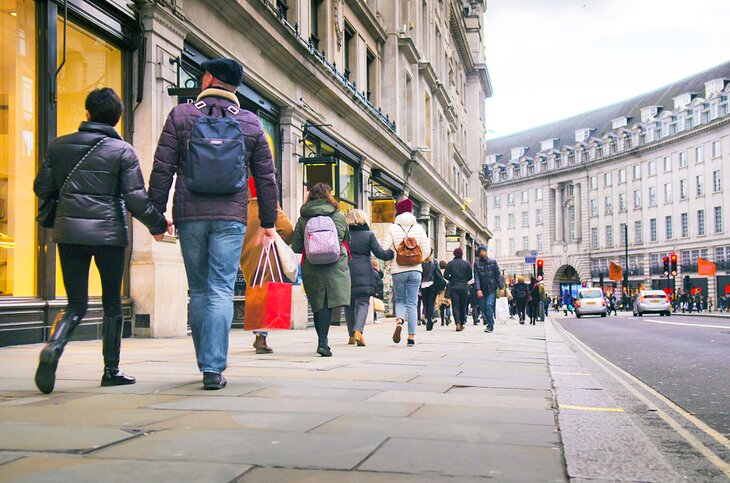 That said, we'd suggest setting a budget before leaving home. With so many famous department stores to explore (hello, Harrods and Selfridges) and a multitude of esteemed luxury boutiques, it's impossible to avoid temptation.
Whether you're hoping to hunt for bargains in a charity shop, or shell out for a designer one-off, you're sure to find the perfect place to practice a little retail therapy. The fact that the city's essentially divided into shopping sections makes it even easier to part with your cash. You could spend an entire day purchasing treats in a bevy of different shops within a 10-block radius.
Pack your reusable shoppers (bags for you, North Americans) and plan your trip with our list of the best places to go shopping in London.
1. Oxford Street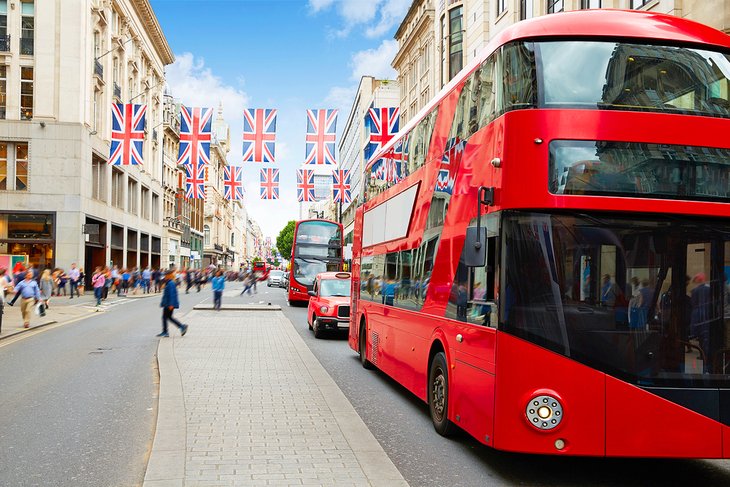 One of the most famous streets in London, Oxford Street is chock-full of shops to suit every taste and budget.
This is arguably the busiest (and best) shopping street in London, so you should be prepared to elbow your way through throngs of people if you visit on a weekend or even a weekday afternoon. Browsing the shops here is one of the best things to do in London.
With plenty of clothing stores to placate your inner fashionista and multiple tech shops, cafés, and restaurants to reward your tastebuds, it's easy to spend an entire day on this one street, although most move on to flex their shopping muscles on nearby Regent Street, but more on that later.
Massimo Dutti, Mango, Warehouse, River Island, and Zara will help modernize your closet. And if you're in the market for new kicks, Timberland, Sketchers, Clarks, NikeTown, or Asics can help. Department stores like John Lewis and Selfridges are major draws, selling everything you never knew you needed.
Primark is a low-cost department store offering cheap wares, ranging from makeup to home goods to super soft pjs. Close to Marble Arch and Hyde Park, it's found at the west end of Oxford Street. Head here early on a weekday, as it can get so packed there's a massive line to get inside.
Closest Tube Stations: Oxford Circus, Bond Street, Marble Arch, or Tottenham Court Road
Official site: https://www.oxfordstreet.co.uk/
2. Bond Street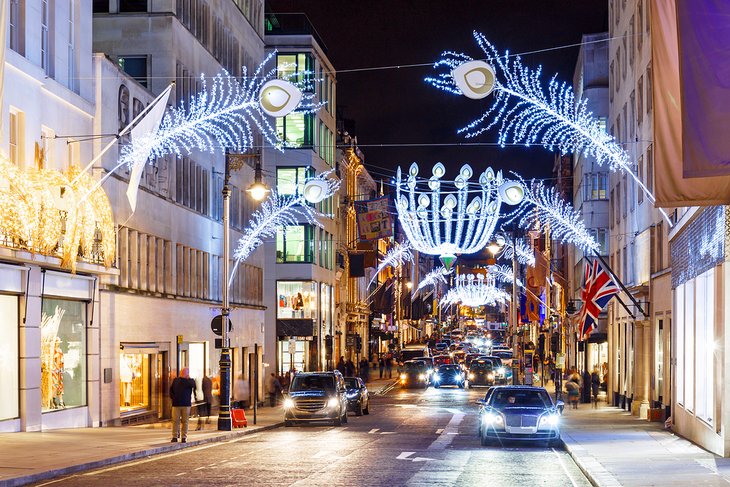 A shopping trip to Bond Street can put a serious dent in your wallet. It's home to top luxury brands like Cartier, Gucci, Louis Vuitton, and Burberry—you probably won't get out of here without spending at least a couple of hundred quid (a.k.a. pounds).
If you're a fan of upscale wares, hobnobbing with celebrities, and rubbing elbows with some of the world's richest people, this is the place for you. This area consists of both Old Bond Street and New Bond Street and features stores so bright and sparkling, you'd think the sun was actually shining on them.
Speaking of sparkly, Tiffany & Co. has a shop here as well, so if you're looking to really impress your partner, head here for a find you'll both love.
Not a big spender? No worries. It's just as entertaining to window shop in this plush region, and you won't run the risk of later suffering from buyer's guilt.
If you're into even more unusual finds, head to Sotheby's, the oldest auction house in the world, to see what you can pick up.
Closest Tube Stations: Oxford Circus, Green Park, Bond Street, and Piccadilly Circus
Official site: https://www.bondstreet.co.uk/explore/shopping
3. Regent Street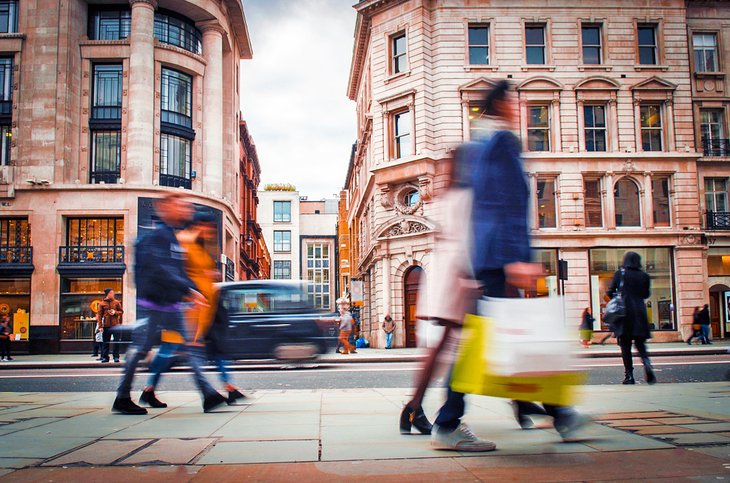 Regent Street is the most awe-inspiring of London's best shopping districts. Located in London's West End, this buzzing spot is lined by grandiose Georgian buildings so lovely, you'll gasp with delight. The one mile of shops here sell mostly affordable clothes, accessories, tech gear, and more. You'll also find art galleries, restaurants, spas, and hotels here.
Liberty is the most historic and overtly gorgeous department store on Regent Street. An iconic building that dates to the early 1920s, this Tudor Revival is a Grade II listed masterpiece worthy of a look, if only to gasp at its inner grandeur. Inside, you'll find hand-painted prints designed in-house, as well as a wide selection of luxury jewelry, clothing, home goods, cosmetics, and purses.
Hamleys is a must-visit for those traveling with kids. The most famous toy shop in London, it was built in 1881 and has been enchanting kids of all ages ever since. Head inside to see demonstrations of nail art, holographic stickers, drones, and more. This is one of the best places to visit for families, and trust us, you won't leave empty handed.
Other noteworthy shops include Anthropologie, Apple, and Ted Baker.
Closest Tube Stations: Oxford Circus, Piccadilly Circus
Official site: https://www.regentstreetonline.com/
4. Knightsbridge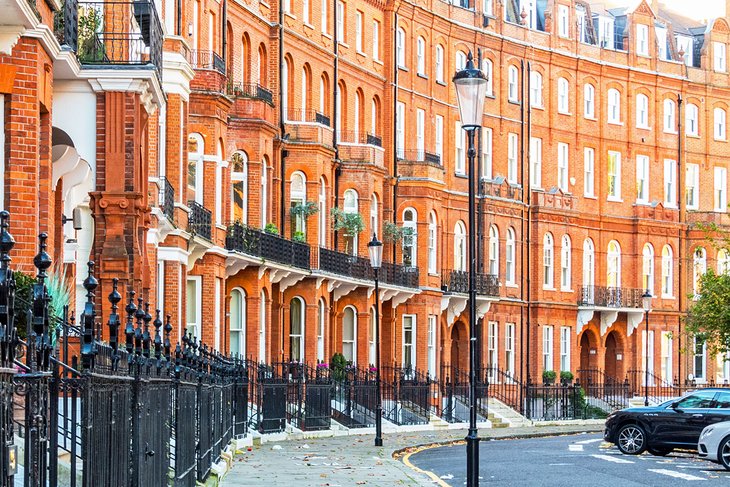 Sandwiched between Belgravia and Hyde Park, Knightsbridge is one of London's most exclusive neighborhoods. As such, you should expect no less than the best when sifting through finds at the boutique stores and high-end department stores that lie within its borders.
This uber posh neighborhood plays host to Harrods, the most famous of all London shops (more on that below). Knightsbridge is also where you'll find the flagship location of upscale department store chain, Harvey Nichols. Inside, you'll find food, beauty, men's and womenswear, and accessories.
Keep wandering , and you'll uncover a slew of high street brands like Zara, Ted Baker, and ALLSAINTS, not to mention the much more affordable charity shop, Oxfam (which isn't far from the top London tourist attraction, Royal Albert Hall), with a treasure trove of goodies—you never know what fab finds you'll discover there.
Closest Tube Station: Knightsbridge
5. Carnaby Street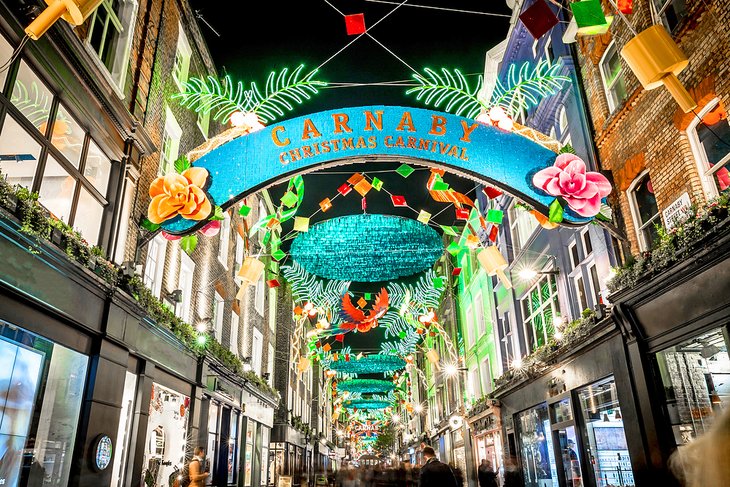 Carnaby Street is enchanting. An almost hidden enclave located just east of Regent Street, this well-known shopping area is a short walk from both Oxford Circus and Piccadilly Circus Tube stations. You'll know you've found it when you spot the famous Carnaby Street arch. This also falls in the famed Soho region.
A vibrant area framed by picturesque window displays and funky designs, this fun region proffers a perfect Instagram backdrop. Over 100 stores are found here, as well as multiple eateries, live concerts, and pop-up shops. The best part? It's a pedestrian area, so you won't have to worry about the crazy London traffic.
Music fans go crazy for RS No. 9 Carnaby Street, the flagship store for the Rolling Stone's retail shop. For years, Carnaby Street's buildings served as a venue for concerts, attracting musicians like the Stones and the Who.
Other British brands represented on the 14 streets that make up this area include Paul Smith, Barbour, Mark Powell, and Sweaty Betty. If you're feeling peckish, visit Kingly Court, a three-story building jammed with cafés and restaurants serving pretty much any type of food you could fancy.
Closest Tube Stations: Oxford Circus, Piccadilly Circus
Official site: https://www.carnaby.co.uk/
6. King's Road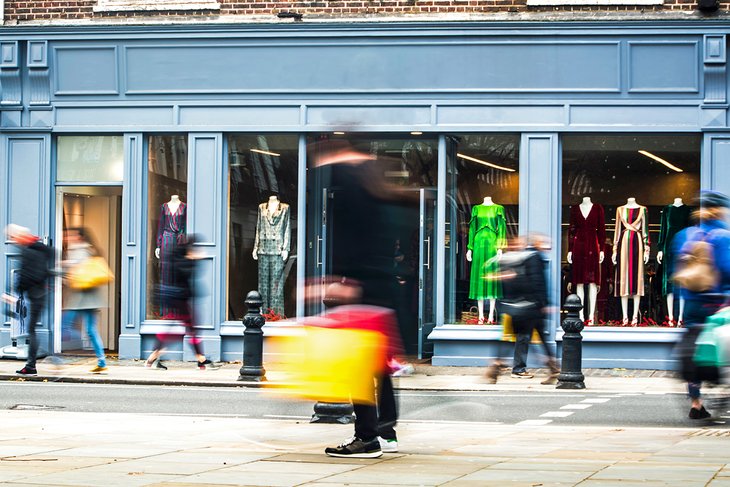 Walking along Chelsea's King's Road feels as regal as you would expect, given its name. Adding to its allure are charming upscale boutiques, chic shops, and excellent restaurants frequented by members of the Royal family (hello, Kate Middleton).
Yet another posh London neighborhood, King's Road is also home to Peter Jones, a large department store nestled in Sloane Square. Head to the upper-level café for a remarkable city view and tasty tea and scones.
The Saatchi Gallery lies in Duke of York Square. In addition to its impressive array of artworks, the restaurant is top-notch. Across the square, you'll find Partridges, a high-end food shop that boasts a fab café and a Fine Food Market each Saturday. Other shops like Boden, ALLSAINTS, Aesop, and Cos and the jewelry shop Daniella Draper are found here as well.
Closest Tube Stations: Sloane Square, Gloucester Road
7. Harrods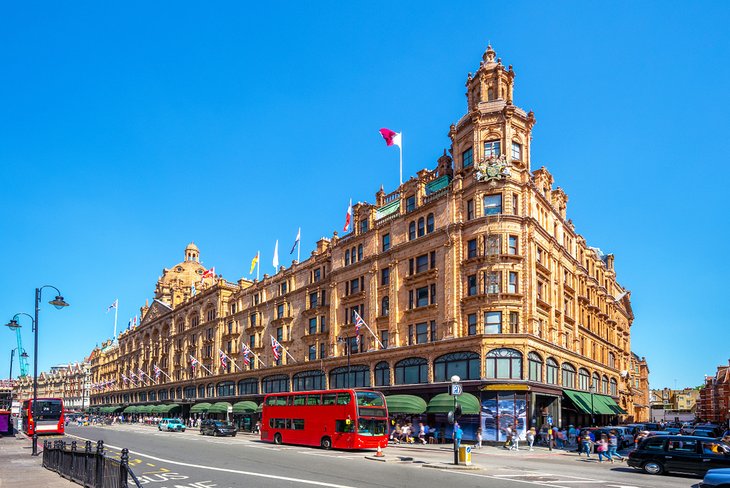 The name Harrods has become synonymous with London. The iconic department store's remarkable façade, dotted with emerald awnings and draped in flags, is impossible to miss. It's easy to see why this has been a beloved city landmark since 1849.
A visit to Harrods is an experience sure to excite all your senses, which is why it is considered one of the best places to shop in London. Whether you're hoping to rub your fingers on luxurious fabrics, buy a collectible toy for the kids, or indulge in luxurious scents, you'll find something to tickle your fancy.
The Food Hall is not to be missed, with its vast array of foods, and Gordon Ramsay Burger turns an everyday delight into a delicacy. The Harrods Tea Rooms are a must for those looking to enjoy a truly British experience. There's also a pizzeria, sushi restaurant, and coffee bar, among others. You could eat all three meals here between your shopping stints.
If you're hoping to visit during the winter holiday, plan your trip early, especially if you're bringing kids. Harrods Christmas Grotto is an experience they'll never forget, and you need to sign up a month or more in advance to ensure a spot. It boasts talking trees and a "train" to the North Pole.
While winter may not be the best time to visit London due to the extra dreary weather, it's definitely the most festive.
Closest Tube Stations: Knightsbridge, Hyde Park Corner, Sloane Square
Official site: https://www.harrods.com/en-gb
8. Selfridges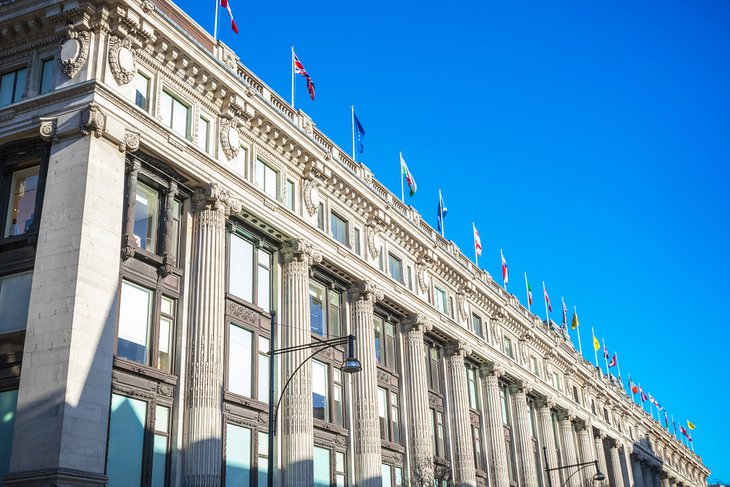 Selfridges has been attiring London's fashionistas since the early 1900s. Boasting an impressive, columned exterior on Oxford Street, this massive six-floor, 10-acre department store is known for its over-the-top window displays.
Voted the "Best Department Store in the World" four times, this grandiose shopping mecca has everything you could possibly need. The ground floor stocks the must-have items that bring visitors into the store—like purses and cosmetics. Once inside, shoppers are tempted by the other floors' high-end offerings, which vary from clothes to food to furniture to tech gear.
Like Harrods, Selfridges is home to numerous restaurants, which makes it easy to enjoy a decadent meal. Want to further your experience? Book tickets to a film at the on-site cinema. This is one of the best places to visit in London, especially on a rainy day.
Closest Tube Stations: Bond Street, Marble Arch
Official site: https://www.selfridges.com/GB/en/
9. Belgravia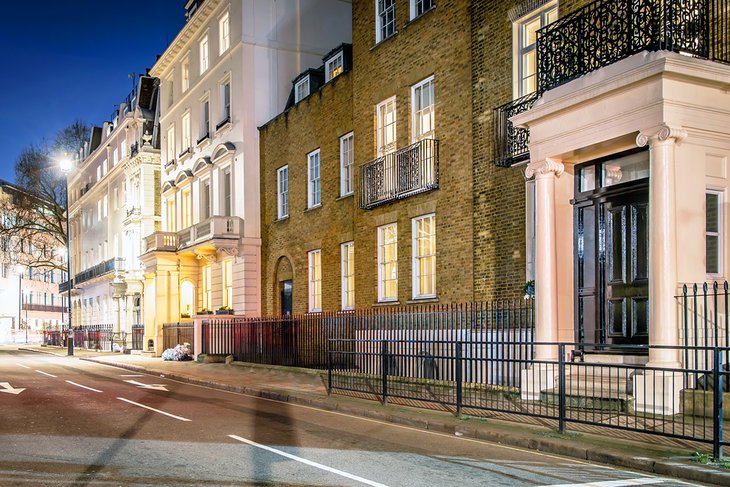 Another swanky neighborhood, Belgravia lies in Westminster, slightly east of Chelsea in London's West end. It also includes a section of the exclusive Mayfair and is known as a hot house for fashionistas. Belgravia is often lumped with neighboring Knightsbridge.
Sloane Street is packed with plush designers like Hermès, Valentino, and Dolce & Gabbana. On Elizabeth Street, you'll find Pepa & Co, an adorable shop filled with plush clothes for kids up to 10. Pimlico Road hosts Soane Britain, a design store selling lighting, furniture, fabrics, wallpaper, and upholstery.
Belgravia Books lies on Eccleston Street, welcoming readers who enjoy both bestsellers and less popular but very worthy tomes. Get ready for the beach with iconic swimwear from Eres on Motcomb Street.
Closest Tube Stations: Hyde Park Corner, Sloane Square
Official site: https://www.belgravialdn.com/
10. Westfield London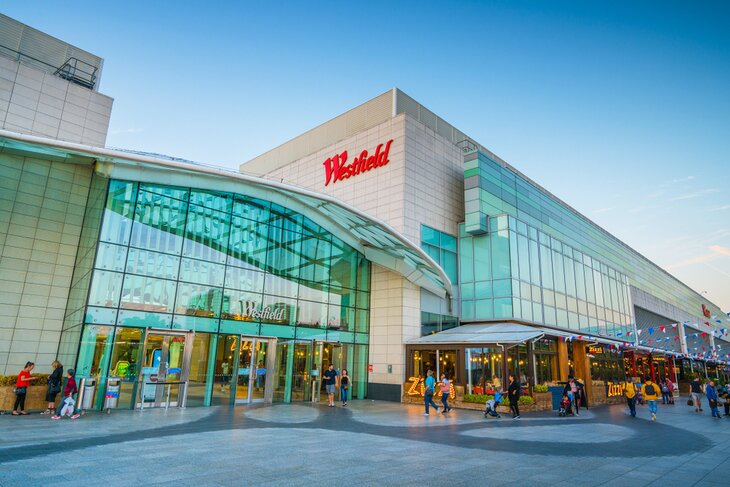 You won't find large shopping malls in London—it's known more for its boutique stores and historic buildings. There's just no space, and to be honest, they'd be considered a blip on the city's beauty. In 2008, London was granted its largest shopping center in White City, which lies in the West end.
Westfield London is huge by UK standards. It's also incredibly modern, bright, shiny, and American-feeling. Big brands like Aldo, Apple, Lacoste, H&M, Tory Burch, and The North Face join the 300 retailers catering to the city's shoppers.
Since it's easy to spend multiple hours here, there are a slew of tasty restaurants, both sit-down and take away, that offer everything from sushi to ice cream to pizza.
Still hoping to find great deals? Westfield Stratford is found in the East end.
Closest Tube Stations: Wood Lane, Shepherd's Bush Market, Shepherd's Bush, White City
Official site: https://uk.westfield.com/london
11. Covent Garden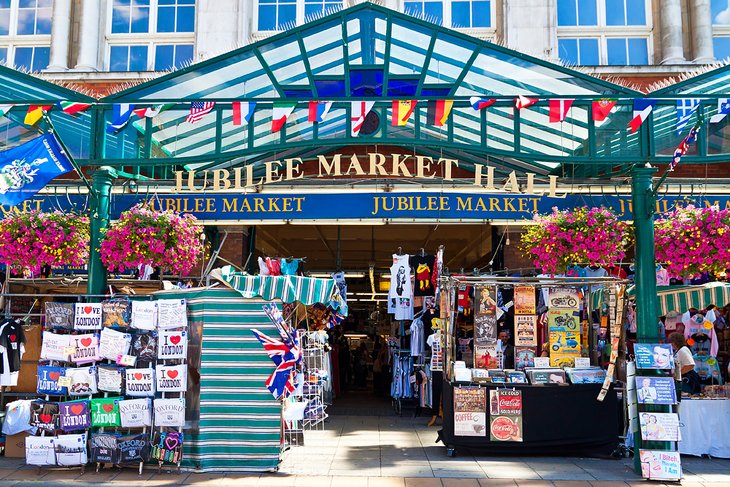 No trip to London is complete without a visit to Covent Garden. A charming section of the West end, this popular shopping area is bursting with personality. Talented buskers perform impressive feats while you shop, and if you're lucky, you may even witness an open-air concert.
While you'll find some of the international big names here, like Mulberry, Chanel, and Tom Ford, Covent Garden is also lined with smaller, independent boutiques, cafés, and restaurants. Insider's tip: Visit the Whittard of Chelsea Tea Bar for an authentic cuppa.
Love belts? Head to Elliot Rhodes to find the most luxurious bespoke belts you've seen. These high-quality beauties are custom fit, and the patterns and buckles are so stylish, you'll feel the need to buy multiple items.
Covent Garden is also home to one of the best markets in London. Jubilee Market is where you'll find antiques and collectibles—if you're into that sort of thing. Or grab some unique finds in the Arts & Crafts market each weekend.
If you have extra time, visit the London Transport Museum. It's one of the best tourist attractions in London, and one of the best places to visit for families.
Closest Tube Stations: Covent Garden
Official site: https://www.coventgarden.london/shop/
12. Savile Row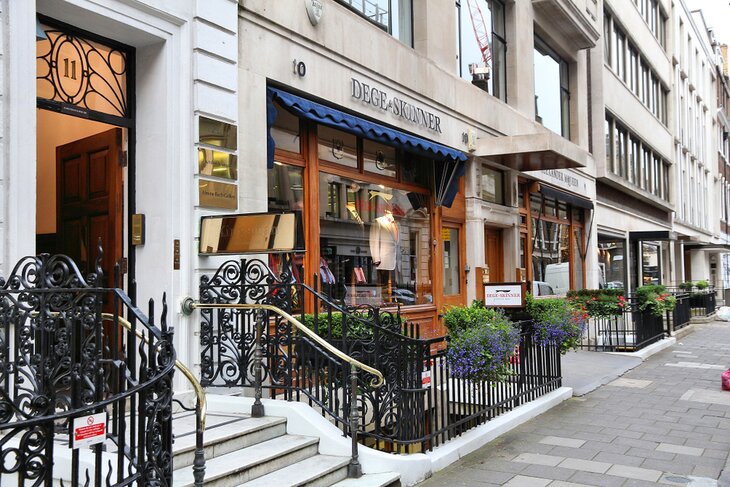 If you've ever wondered where Londoners buy their gorgeous, form-fitting suits, head to Savile Row in Mayfair. The city's hub of custom tailoring, this is the place to go if you're in the market for a bespoke suit. Geared mainly towards men, you'll find a few tailors who will make custom outfits for women as well.
Many of the shops on Savile Row have been in business since the early 1900s, and most are still family-owned. That means they really know how to make a well-designed custom suit. Anderson & Sheppard have been open since 1909, and Bernard Weatherill has been around since 1910. Beating them all on the longevity front is Dege & Skinner, who've been selling suits since 1865.
Among the other high-end luxury suit mavens located on this famous street are Gieves and Hawkes, Henry Poole & Co., and Richard James.
Closest Tube Stations: Oxford Circus, Piccadilly Circus, Green Park
13. Camden Market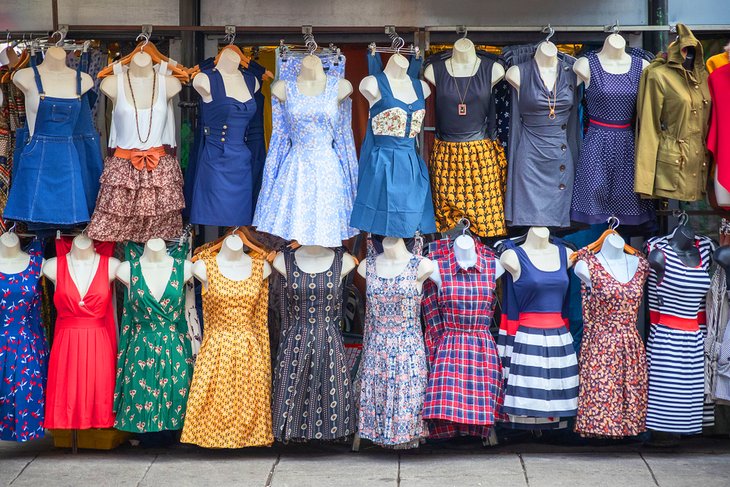 If you're a fan of funky, unique, and interesting finds, head to Camden Market. In addition to handmade candles, soaps, and jewelry, you'll find vintage goods, lighting, children's clothes, T-shirts, souvenirs, hats, bags, and shoes. There are no big box or brand name stores in this neighborhood.
The Modfather is a must if you're in the market for mod gear, while those who are looking to unleash their inner hippie might prefer a visit to hunt for ponchos at Little Kathmandu. Collectif offers fun vintage finds, while Little Rebel Elephant boasts handmade clothes, jewels, and décor you'll cherish for years to come.
Technically a collection of six markets, this vast area is eclectic and lovely, set upon the sparkling water of Camden Lock. Grab a meal from one of the food vendors and eat at one of the outdoor picnic tables, or grab a chair at one of the on-site restaurants. Vegan and gluten-free options abound in this distinct spot.
Closest Tube Stations: Camden Town, Chalk Farm
Official site: https://www.camdenmarket.com/
14. Shoreditch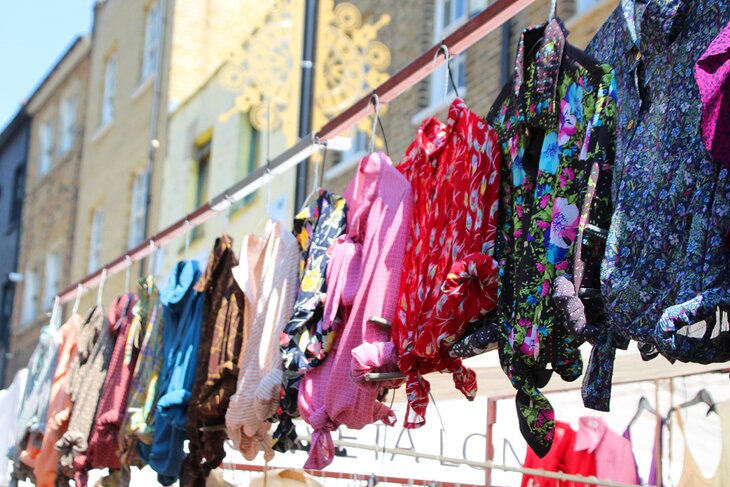 Shoreditch is a haven for all things artsy, and it's the neighborhood that many of the city's best designers call home. In addition to a bevy of vintage shops, eclectic boutiques, and galleries, this East London shopping district is packed with cafés and restaurants to tempt your palate.
You'll find everything you never knew you needed in the shops that line this region, including plants at Shrubs & Dubs on Hackney Road, unique clothes in Vintage Basement on Cheshire Street, and everything from sweaters to pacifiers in Luna & Curious on Calvert Avenue.
Shoreditch is also an anchor for some of London's best markets. Tourists can sift through intriguing wares at flea markets, bargain with crafts sellers, or enjoy a curry at the Brick Lane Market. Or, they can head to the Columbia Road Flower Market on Sundays for a cheerful pick-me-up—here you'll find fresh blooms, soaps, candlesticks, cheese, and so much more on offer.
Be prepared if you're visiting on a weekend: Shoreditch has become a bit of a mecca for those enjoying their bachelor or bachelorette parties, so it can get a bit loud.
Closest Tube Stations: Old Street or Shoreditch High Street railway station