From London to Edinburgh: 4 Best Ways to Get There
The Scottish capital city of Edinburgh is one of the most visited tourist destinations in the UK. As such, any traveler heading to the British Isles should certainly consider adding it to their travel itinerary.
Fortunately, the UK has a well-stablished and extremely efficient public transit and highway infrastructure. This, added to the fact it's a relatively small country (it could fit into the USA around 40 times), makes getting from one end of the country to another relatively easy.
The journey between the capital cities of London and Edinburgh is no exception. Though they're located around 400 miles apart and are at different ends of the UK, journey times can be surprisingly quick depending on your preferred means of transport.
By far the fastest method is flying. Non-stop flights take only an hour from London's airports, although you do have to take into account the time needed to get to the airport, plus security. Travel by train from London to Edinburgh is a pretty good second choice, taking around five hours, followed by car (seven hours), and bus travel (nine hours).
Whatever your budget or your allotted time to make the journey, be sure to refer to our handy guide to the best ways to get from London to Edinburgh.
1. From London to Edinburgh by Plane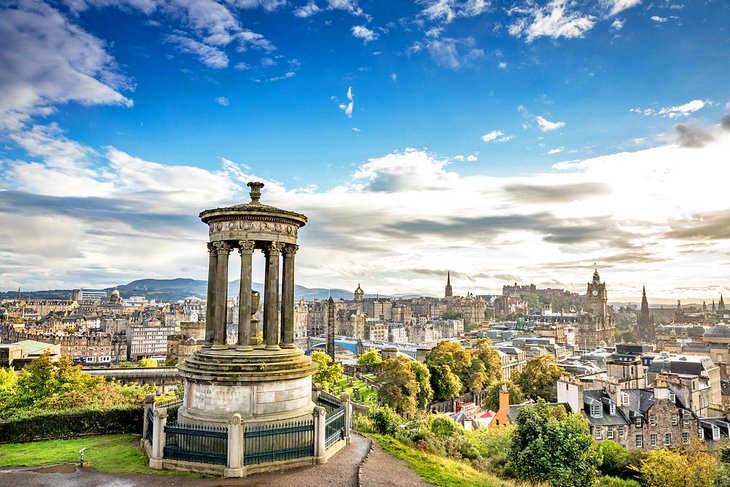 By far the fastest means of getting from London to Edinburgh, even after factoring in getting to and from airports and security checks, is by flying. Each of London's big three airports – Heathrow, Gatwick, and Stansted – offer direct flights. While flight times vary anywhere between an hour up to 90 minutes, the addition of security and other measures could possibly double the amount of time you'll need to fly. Even so, it still makes it faster than other methods.
There are usually a good number of flights to choose from throughout the day from these airports. In addition to the UK's national carrier, British Airways, a number of discount airlines offer cheap, no-frills flights, which are worth considering given the short travel time. As with most other forms of transport, the further ahead you can plan and book your flight, the greater the savings.
Be aware, though, that London's airports are located some distance from the city center (train and underground travel can take anywhere up to an hour, depending on where in London you stay). Edinburgh, though, is a different story. Edinburgh Airport is a modern facility capable of handling both domestic and international flights.
While a number of good airport hotels are situated close by, the city's excellent transit network provides fast, efficient, and easy-to-use connections into Edinburgh city center. These include a great eco-friendly all-electric tram system, frequent buses, and, of course, taxis. Not only will these deposit you close to the city's top attractions such as Edinburgh Castle, they're also useful for getting you to your Edinburgh accommodations.
2. From London to Edinburgh by Train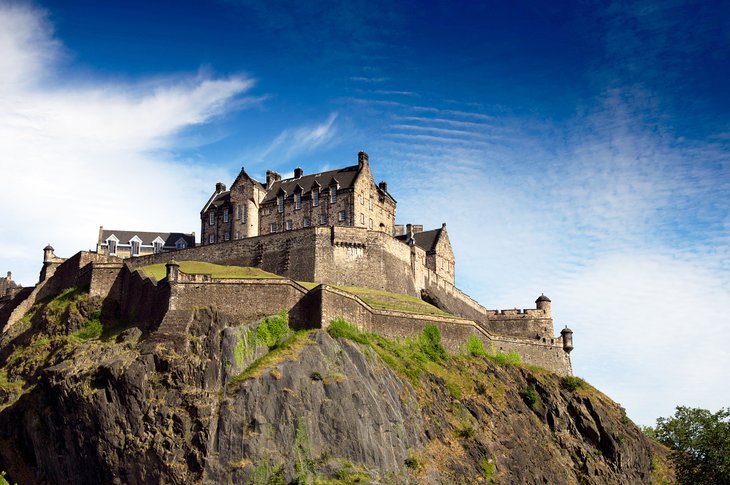 A travel time of often less than five hours to cover 400 miles certainly makes rail travel between London and Edinburgh a worthy contender for your consideration. Trains in the UK are not only fast and efficient, they're comfortable, clean, and reliable, and offer a ringside seat to some of the prettiest countryside you'll see anywhere. (None of this should come as a surprise, really, as the country's railways have been shuffling people from A-to-B for over 200 years!)
With regular departures from London's Kings Cross and Euston stations and traveling along the east coast of England, you can travel pretty much any time of day. In fact, this is one of the busiest rail routes in the country, boasting no less than 63 daily departures (though there may be fewer on holidays).
Food and drink are allowed onboard, and most if not all trains offer at the very least a basic snack service. A sleeper service for those wanting to travel overnight is also available. Taking eight hours, you'll depart London in the evening and arrive (refreshed!) in Edinburgh bright and early the next morning.
As with most modern-day rail reservation systems, the further you're able to plan ahead, the greater the choice and the heavier the discounts. You can get the latest pricing details, as well as schedule info, from the National Rail website.
While you're at it, check out the cost for a BritRail Pass if you intend to travel beyond Edinburgh by train. It's available to international travelers only, and the savings can be substantial.
All trains from London arrive at Edinburgh Waverley Station. This historic train station is located in the heart of the city, and in fact boasts great views of Edinburgh Castle as you enter (or leave) aboard your train.
3. From London to Edinburgh by Car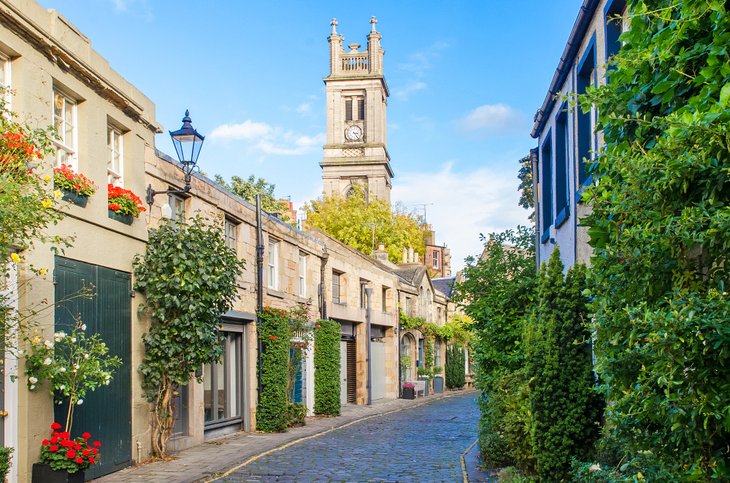 Depending on the level of traffic – and pending no road closures, rush hour traffic, and pit stops – it's actually possible to make the drive from London to Edinburgh by car in around seven or eight hours. In fact, once outside London, it's pretty much motorway (or highway) for the bulk of the journey.
The quickest route is to follow the M1/A1 route, while those wanting to enjoy a little more scenery should take the M6 along the west coast of England, passing such popular destinations as Manchester, Liverpool, and even the famous Lake District. Any one of these would in fact make for a great stopover if you're not in too much of a hurry.
Motorway stops and rest areas are plentiful along both routes.
4. From London to Edinburgh by Bus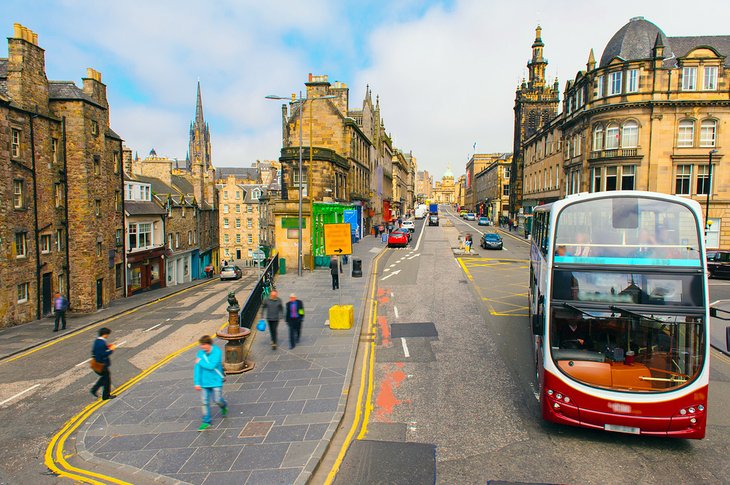 Although it generally takes longer, the cheapest way to get from London to Edinburgh is by bus (or "coach"). But with an average travel time of around nine hours, be prepared to be seated for a long time.
Departing London's Victoria Coach Station throughout the day, travelers can also choose to travel overnight, arriving in Edinburgh in the morning. The route is served by both National Express and Megabus. Both can be booked online, and frequently offer discounts for off-peak and advance reservations.
Whatever coach line you choose, you'll be deposited at the centrally located Edinburgh Bus Station. From here, it's only a short walk to all major attractions.