From London to Glasgow: 4 Best Ways to Get There
Located in the southern part of Scotland – an area known as the Central Lowlands – the city of Glasgow is easily accessible from England. Getting from London to Glasgow, a journey of around 415 miles, can in fact be rewarding for most travelers. It can be as easy as hopping on a plane (an hour's journey, plus a couple of hours at least getting to and from airports); driving (around seven hours); taking the train (five hours); or, the cheapest method – and also the longest – taking the bus (eight hours plus).
While too far from London to be considered a day trip, those looking to spend a weekend break or longer in Scotland would be well served by using Glasgow as your jumping-off point. From here, you can get to some of Scotland's most stunning lakes, like Loch Ness; rugged islands, including the Isle of Skye; or even other popular Scottish cities, such as Aberdeen or Inverness.
Whatever your reason for wanting to visit, be sure to refer to our handy guide to the best ways to get from London to Glasgow in "Bonnie Scotland."
1. From London to Glasgow by Plane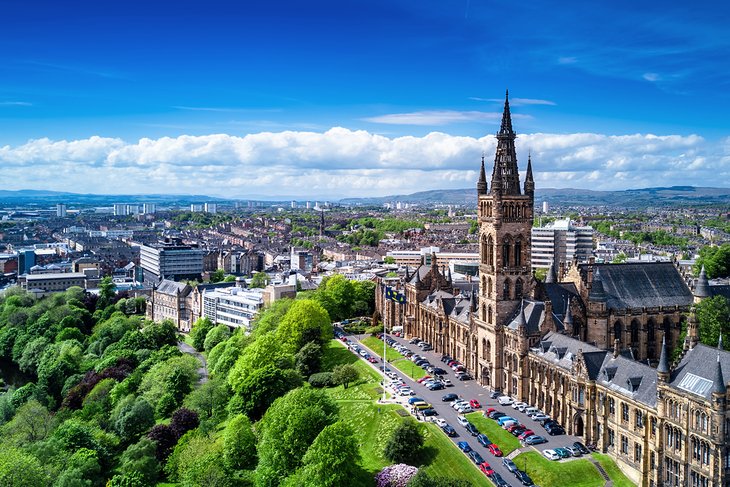 Glasgow is served by one of the UK's largest airports. Glasgow Airport serves both international and domestic routes, with the short hop from London being one of its busiest. And with somewhere in the region of 230 flights connecting the two cities each week, there's no end of choices available to those who want to get there in the shortest possible time.
Regular departures can be sourced from London's three largest airports (Heathrow, Gatwick, and Stanstead), as well as the smaller, centrally located London City Airport. While flights are less frequent from the city airport at five per weekday, and four over the weekend, its location near the Canary Wharf financial district makes it particularly attractive for those traveling on business.
Whichever airport you end up flying from, expect to spend anywhere from 60- to 90-minutes in the air. And while all London airports are connected to the city center by excellent rail, underground, and bus connections, this (along with security checks and luggage handling) can add two or three extra hours of travel.
Flight prices can play a factor in your choice of departure date and time, as well as which airport you choose. Glasgow is in fact served domestically by major airlines, including British Airways, and numerous discount airlines offering plenty of good deals. As with most forms of travel from London to Glasgow, the general rule of thumb is the further you book ahead, the better the savings.
Once in Glasgow, getting downtown to see the top attractions or to your city accommodations is extremely straightforward. The Glasgow Airport Express bus service is quick and efficient, and will deposit travelers at one of three centrally located stops, depending on your final destination. The ride takes just 15 minutes, with frequent buses day and night, and tickets can be purchased in advance online.
2. From London to Glasgow by Train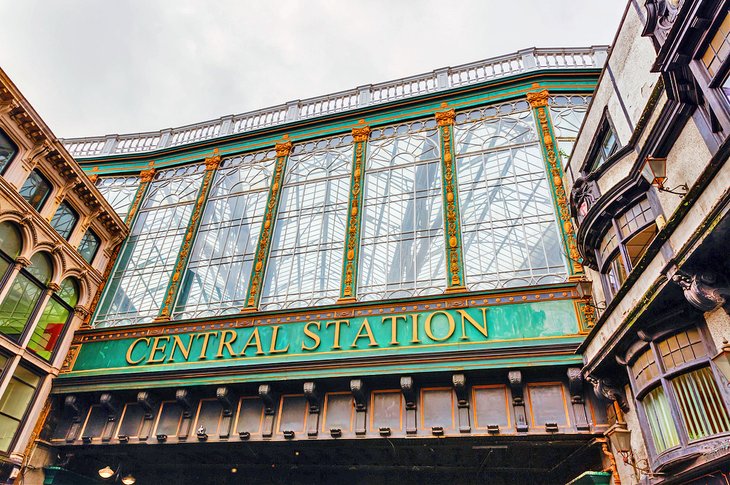 With a journey time of around 4.5 hours, taking the train from London to Glasgow should definitely rank near the top of your travel options if time is a consideration. UK trains are fast, efficient, clean, and easily accessible (the whole country is connected by rail), with the London to Glasgow route being no exception.
Trains to Glasgow from London depart frequently from Euston and Kings Cross stations, with an average of 25 or so trains running on non-holiday weekdays, and only slightly fewer on weekends. And with rail lines passing through (or close to) the major English cities of Birmingham, Manchester, and Liverpool, it's entirely possible to break up the journey with a little side trip and sightseeing. It's even possible to stop off at one of the most iconic of English landscapes: the stunningly beautiful Lake District.
While you can take food and drink of your own, most trains do have snack services if you're feeling peckish. And for those interested in traveling overnight, a sleeper service can also be booked (some of them even allow for your car to be transported aboard the train with you).
For the best train ticket deals, be sure to plan and book your journey online. Planning ahead will not only avoid disappointment, as trains can get fully booked up, it will also present the greatest savings, too. Check out the National Rail website for details and reservations. If you're planning on using the train beyond this one trip to Glasgow from London, consider purchasing the handy BritRail Pass in advance, too. It allows for unlimited travel for periods of a day or upwards, depending on your needs.
Most London train arrivals pull into Glasgow Central. One of the busiest in Scotland, this modern facility is centrally located and within a short walk of most city attractions. It's also served by an Underground (subway) railway, bus services, taxis, and ride-sharing operations.
3. From London to Glasgow by Car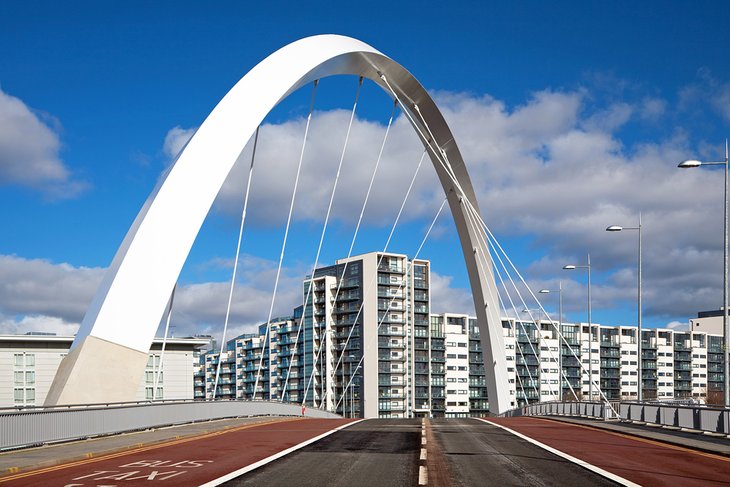 Given its journey time of over seven hours, traveling from London to Glasgow by car is perfect for those wanting to break their journey up with a stop at other places to visit in the UK. The M1 and M6 motorways will take you past popular tourist spots such as Coventry, Birmingham, Liverpool, Manchester, and the lovely Lake District, any of which (or better still, all of which) make for great stopovers.
Once out of London, Britain's motorways are usually fast and trouble free (except rush hour). And for those wanting to head straight for Glasgow, rest areas are modern and equipped with dining and snack facilities, as well as washrooms.
Like most big cities, traffic in downtown Glasgow can be heavy at peak times, so plan your arrival time accordingly. Most hotels will provide parking, although given the density of buildings, fees may be applicable.
4. From London to Glasgow by Bus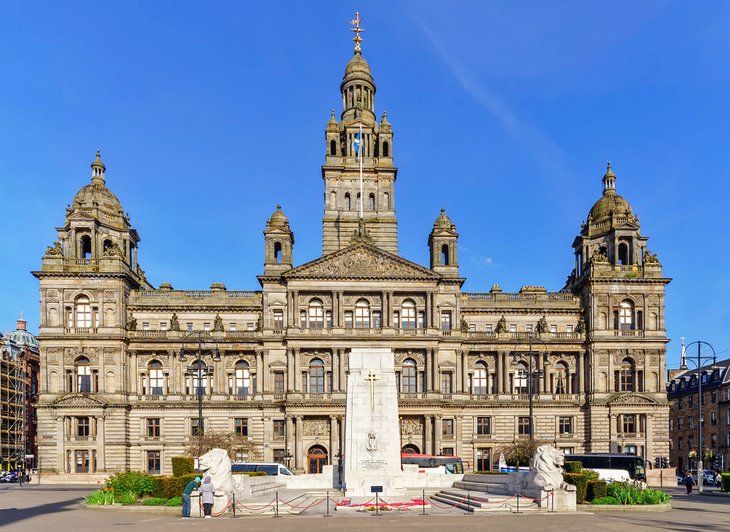 Traveling between London and Glasgow by bus is certainly worth considering if you're budget conscious. Average coach travel times are around nine hours, and usually do include a stop or two to stretch and use washroom facilities. Overnight services are also available and are good for those able to sleep sitting upright.
Buses depart from London's Victoria Coach Station frequently, and the route is served with regular services by both National Express and Megabus. As with most online bookings, discounts are available for off-peak, non-holiday travel. The drop-off point is centrally located Buchanan Bus Station.