11 Best Free Things to Do in London, England
The British capital city, London, boasts a wide variety of fun and free things to do. Whether you're interested in sightseeing in London, strolling its many beautiful parks and green spaces, or touring historic museums and art galleries, the list of no-cost attractions is virtually endless.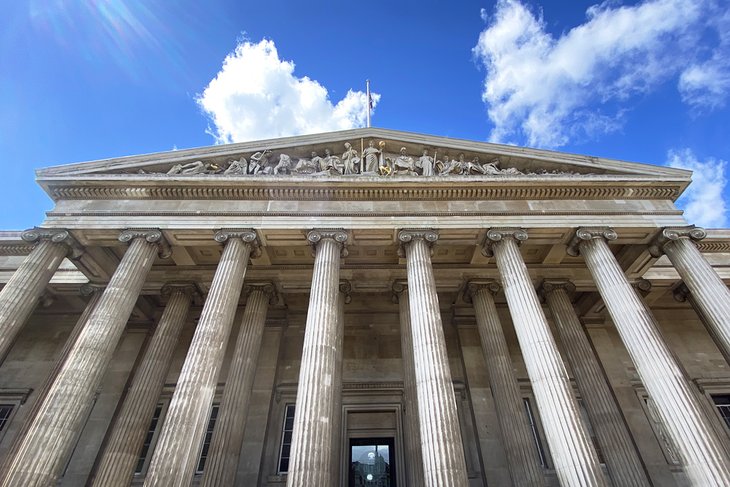 Armed with a good map or app to show you the way, getting to and from the top things to do in London that offer free admission can also be easy and inexpensive. The city is immensely walkable, with most of the best places to visit in London located within easy walking distance of one another and Central London. And if you do decide to use the excellent public transit system, traveling at off-peak times and making use of Transport for London's easy tap-in, tap out system can keep travel costs to a minimum.
Also worth mentioning is the fact that most London attractions, free or not, offer convenient online ticket reservations. This not only guarantees you'll get in, but helps attractions better manage the crowds, making for a much more pleasant visitor experience. And if you do have the means, be sure to make donations wherever possible. Most free attractions do suggest a minimum voluntary admission, paid (or not) at your discretion.
To help you make the most of your time in the nation's historic capital, as well as to help you stay within your travel budget, read through our list of the top free things to do in London, England.
1. Get Your Art Fix at the National Gallery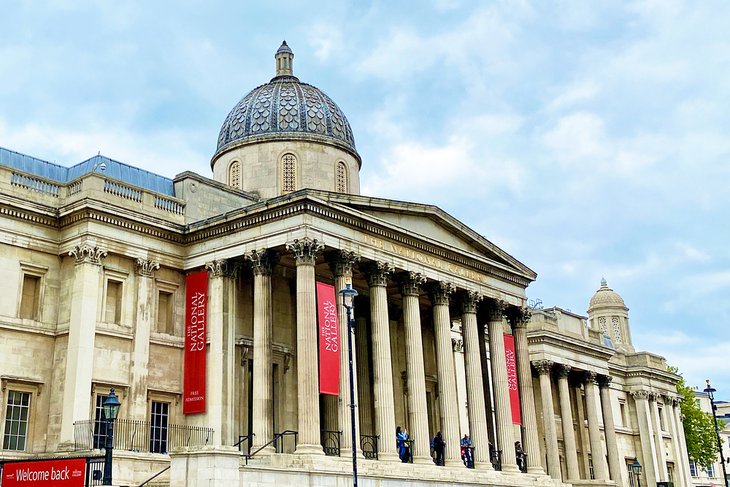 There's no better place to start your tour of London's top free attractions than at the National Gallery. Located in the very heart of Central London and just a stone's throw away from iconic Nelson's Column in Trafalgar Square, this huge art gallery, with its impressive columned entrance, is home to more than 2,300 of the country's most important artworks.
Established in 1838, the gallery houses paintings by some of history's most renowned artists, including Monet, Rembrandt, van Gogh, and even Michelangelo. Free audio guides are also available and can be downloaded to most phones.
If you've got time, be sure to also pop into the National Portrait Gallery next door. Its extensive collection of artworks focuses on important figures from British history, the oldest example being a painting of King Henry VII painted in 1536.
Address: Trafalgar Square, Charing Cross, London
Official site: www.nationalgallery.org.uk
2. Explore the Empire at The British Museum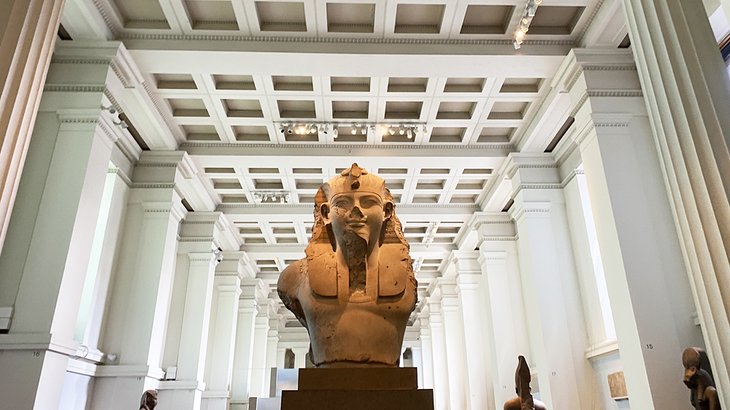 Those interested in ancient human history would do well to include a visit to The British Museum on their London travel itineraries. Opened at the height of the British Empire in 1753 and the first museum of its kind in the world, the museum's massive collection consists of over 13 million ancient artifacts from Europe, Asia, Africa, and beyond.
While you'll only be able to see a tiny fraction of this vast collection in a single visit (or multiple visits, for that matter), there are a number of "must-sees" you'll want to cross off your ancient relics bucket list. Highlights include the Parthenon's controversial Elgin Marbles, the Mildenhall Roman hoard, and the famous Rosetta Stone, to name but a few.
Shopping and dining options are also located on the premises.
Address: Great Russell Street, Bloomsbury, London
Official site: www.britishmuseum.org
3. Witness the Changing of the Guard at Buckingham Palace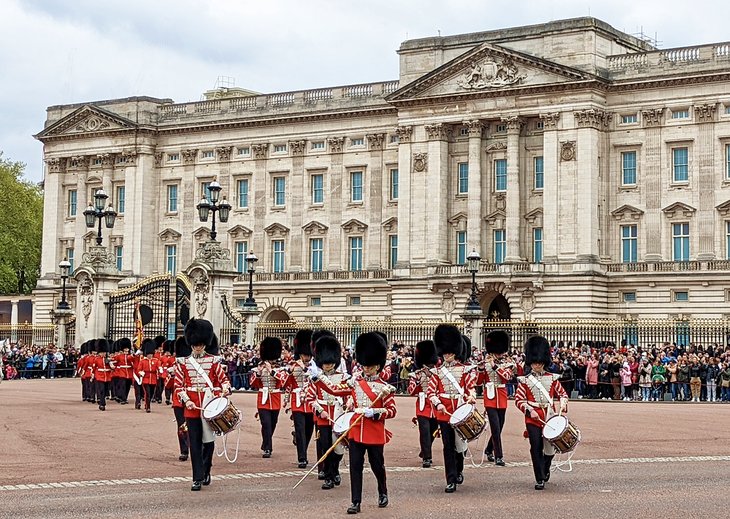 Few spectacles can match the pomp and pageantry of the famous Changing of the Guard ceremony at Buckingham Palace. Held each and every day of the summer at precisely 11:30 am (every other day thereafter), this free event is extremely popular with tourists, so try to arrive early if possible to claim your roadside spot.
That said, while much of the action takes place in front of Buckingham Palace, you can avoid some of the crush by catching the troops a little farther away along The Mall as they march toward St. James's Palace and then back to their barracks in Hyde Park.
This must-see free event lasts about 30 minutes. Afterwards, be sure to spend a little time exploring Green Park. One of London's Royal Parks, this delightful green space features numerous pleasant pathways, gardens, and memorials to explore.
Location: Buckingham Palace, London
Official site: www.rct.uk/visit/buckingham-palace
4. Get Cultured at the Victoria and Albert Museum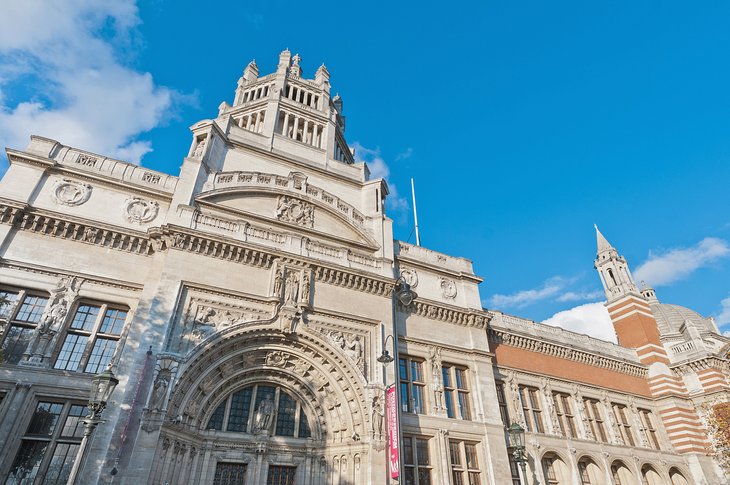 Usually referred to simply as the "V&A," the Victoria and Albert Museum was built in 1852 and is definitely one of the top free museums in London. Spread across 145 galleries, you can easily spend the best part of a day or two exploring its collections of art and artifacts relating to 5,000 years of human creative activity.
To save time and any potential lineups, book your free tickets online. The museum is so big, you may also want to spend a little time in advance planning which exhibits to tackle first. Free guided tours can also be booked online in advance of your visit.
Address: Cromwell Road, Knightsbridge, London
Official site: www.vam.ac.uk
5. Explore the Earth's Past at the Natural History Museum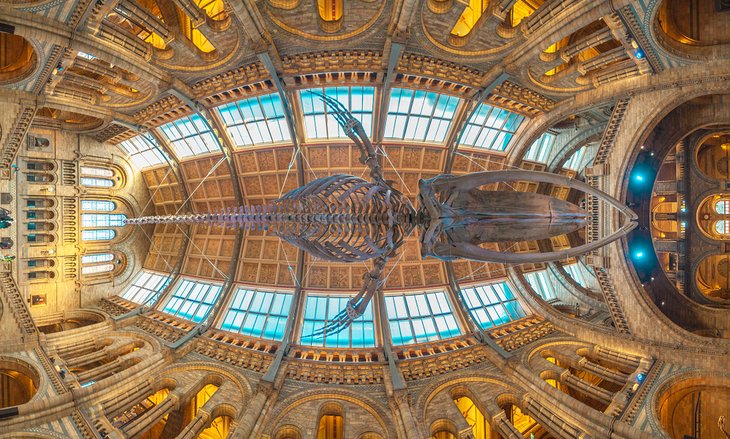 Nothing sparks a kid's imagination quite like a dinosaur or two. For parents on the hunt for fun free things to do for families when in London, the spectacular critter exhibits at the Natural History Museum certainly bat above average.
The museum hosts one of the world's largest collections of dinosaur bones and fossils, and you'll be greeted by the famous 150-million-year-old "Dippy" when you enter the dinosaur hall. In addition to seeing this massive diplodocus skeleton up close, there are numerous other displays that provide a picture of what life was like when dinosaurs roamed the Earth.
This is one of London's most-visited free museums, so you'll definitely want to plan ahead to guarantee admission. While you're at it, be sure to check out the availability of any fun kids' programs and workshops. These, too, are usually free and cover everything from crafts to learning to draw a dinosaur.
Address: Cromwell Road, South Kensington, London
Official site: www.nhm.ac.uk
6. Wander through Hyde Park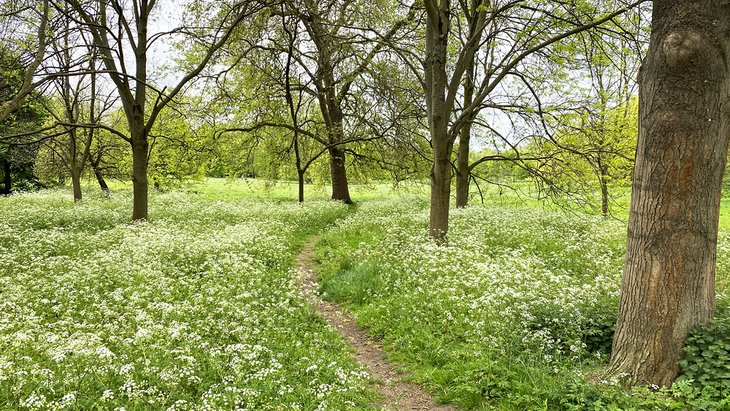 Exploring Hyde Park, the largest of London's Royal Parks, is a wonderful way to spend a few hours. Together with adjoining Kensington Gardens, these two green spaces cover an area of 350 acres and feature everything from formal gardens to pasturelands and even a wooded area. In fact, close your eyes at times, and you'll hear nothing more than a gentle breeze.
You'll also want to grab some photos of Kensington Palace and its beautiful gardens. While paid admission to the palace is required, you can explore the exquisite grounds and gardens for free.
7. See the Pelicans in St. James's Park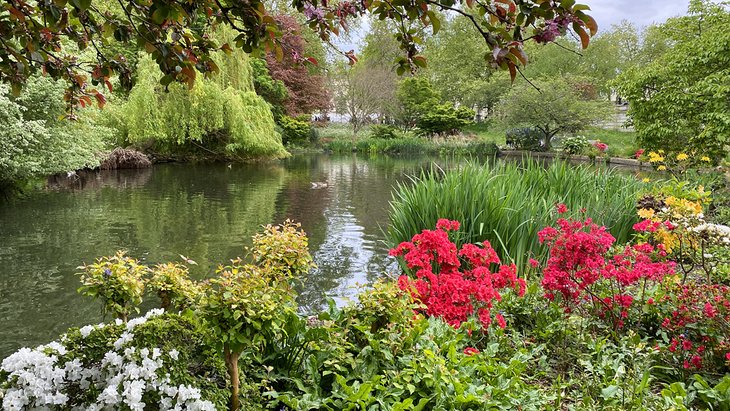 Another great green space to spend time wandering is the 57-acre St. James's Park. It's easy to get to from major London attractions such as Buckingham Palace and Westminster Abbey, and it also makes for a picturesque route back to Trafalgar Square after catching the Changing of the Guard ceremony.
Start your exploration at the pretty flower beds at the park gates opposite the palace, and walk around the park's lake for scenic views and great selfie opportunities.
Other park highlights are the wildlife, including the lake's pelicans; a number of fountains and memorials; pretty Duck Island, with its quaint country cottage; as well as two cafés.
Location: Westminster, London
Official site: www.royalparks.org.uk/parks/st-jamess-park
8. Window Shop 'til You Drop in Covent Garden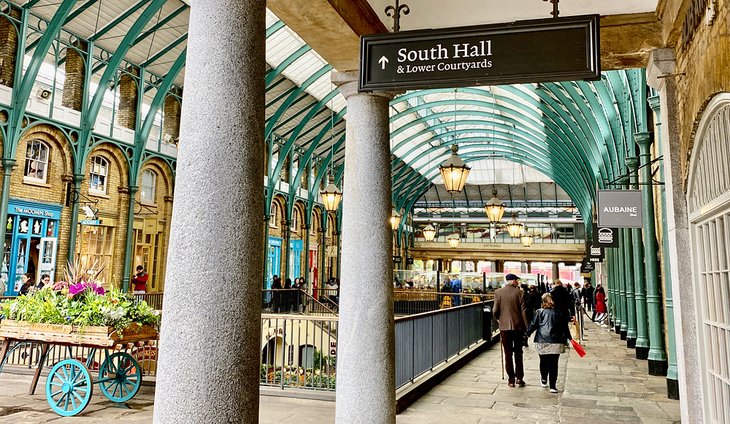 There's nothing like a little window shopping when you travel, and one of the best places to shop in London is Covent Garden. Just a 10-minute walk away from the National Gallery and Trafalgar Square, Covent Garden has for decades been one of the top tourist destinations and markets in London.
New Covent Garden, as it's now officially known, is also much more than simply a place to shop. Numerous eateries have set up in and around the market and its plush boutique stores, while the crowds of tourists are entertained by professional buskers, often consisting of jugglers, acrobats, and even magicians.
While you'll need to pay to get into the London Transport Museum, other free things to do include visiting the grounds of the charming "Actor's Church," otherwise known as St. Paul's Church.
Official site: www.coventgarden.london
9. Feel the Street Vibe in Camden Market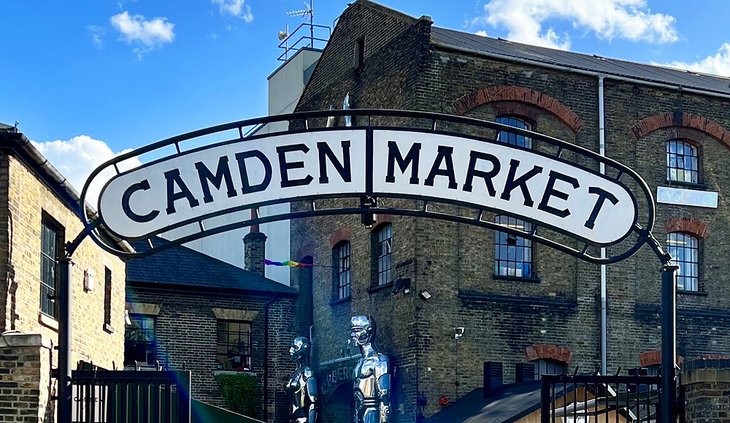 Camden Market in Camden Town is another great London market to explore. Here, the focus is less on luxury brands and fancy dining and more on independent creative vendors and shops.
Open daily and usually busy with a trendier crowd of locals and visitors, Camden Market and Camden Town together offer over 1,000 unique shopping and dining experiences and is a popular place to shop for everything from unique art and furnishings to hip one-of-a-kind clothing items.
It's also a great destination for foodies, with vendors here making fresh staples that reflect the city's multicultural population.
Other fun and free London markets to explore include Borough Market, near London Bridge train station on the south bank of the River Thames; Old Spitalfields Market, set in the East End, over 130 years old, and rising in popularity among the young set; and the famous Portobello Market in Notting Hill.
Location: Camden Town, London
Official site: www.camdenmarket.com
10. See the Views from the Sky Garden
Visiting the Sky Garden, located just a few minutes' walk away from the iconic Tower of London, is a must do for those seeking the best free views in London. Set atop a building that's been dubbed the 'Walkie Talkie" for its unique curving structure, the Sky Garden is something of a modern wonder.
Located between floors 34 to 37 of the building, the gardens are certainly impressive. Featuring a mix of tropical and sub-tropical plant species, it's spread out over three attractive terraces, each framing the spectacular views over the city far below.
While a visit to the Sky Garden is free, it does require a little advance planning to make it happen. Your free tickets must be booked in advance, often as far as a month or more ahead of your planned arrival, with a new tranche of tickets made available each Monday morning.
That said, once booked, you're guaranteed to get in at your specified day and time. For those willing to spend a little cash to extend their visit, a variety of restaurants are located atop the Walkie Talkie, too.
Address: 1 Sky Garden Walk, London
Official site: https://skygarden.london
11. Walk on Water: Crossing the Thames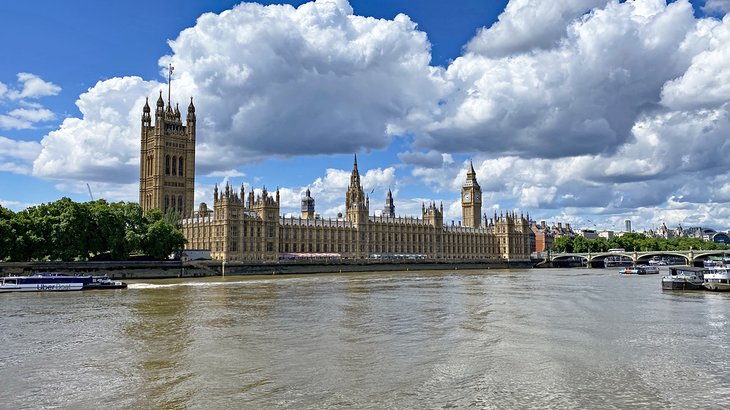 It shouldn't come as a surprise that many of the top places to visit in London for sightseeing are located on or near the River Thames. It's been the lifeblood of the city since the Romans first settled here over 2,000 years ago, and spending time walking along, over, or even under this mighty river should definitely be included on your list of the top free things to do in London.
Much of the river can be walked along, with some of the best spots being on the south bank opposite the magnificent Palace of Westminster. More commonly referred to as the Houses of Parliament, this magnificent structure, with its tall spires and famous Big Ben clock tower, make for a dramatic, even romantic, backdrop.
Carry-on nearly two miles eastward along the Thames, and you'll come to the famous Millennium Bridge. This pleasing to look at pedestrian bridge offers great views over the river, along with St. Paul's Cathedral, which rises above the city in the background.
For something a little different, head over to Greenwich Park, and seek out the Greenwich Foot Tunnel. Constructed in 1902, this unique 1,217-foot-long walkway takes pedestrians and cyclists under the Thames. It's a unique experience that opens up other sightseeing opportunities in the Canary Wharf and Docklands area on the north bank of the Thames.
Map of Free Things to Do in London, England