From London to Canterbury: 3 Best Ways to Get There
Whether you're planning to visit for a few hours, a few days, or even longer, Canterbury makes for an excellent base from which to explore the charming Southeast corner of England. Fortunately, getting from London to Canterbury is relatively easy, no matter how you choose to make the journey.
Situated just 600 miles from Central London, Canterbury, Kent, has in fact been a popular place to visit for centuries. The modern-day seat of the Anglican church, it was here in 597 CE that Saint Augustine converted the first Anglo Saxons to Christianity. The ruins of St. Augustine's Abbey, where he was buried, was a place of pilgrimage only superseded in importance by the construction of nearby Canterbury Cathedral.
It was these early pilgrims who established the famous 153-mile-long Pilgrims' Way from the cathedral city of Winchester in Hampshire to Canterbury, parts of which can still be enjoyed today. A shorter pilgrimage trail, the 90-mile-long Becket Way, connects London to Canterbury and is considered England's alternative to the much longer Camino de Santiago in Spain.
However you choose to make your own personal pilgrimage to this beautiful, historic city, our guide to the best ways to get from London to Canterbury will help you plan your itinerary.
1. From London to Canterbury by Train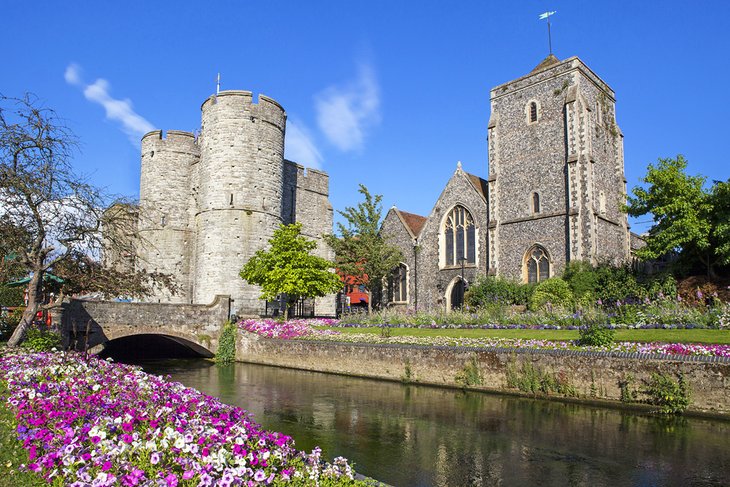 Highlights: Swift and efficient with numerous service options
The lovely Southeast corner of England has long been a popular travel destination for Londoners. Kentish seaside towns such as Folkstone and Dover were among the first to be connected to the nation's capital during the rail boom of the 1800s, with connections often including the city of Canterbury.
While these early steam trains took a great deal longer to get from London to Canterbury, today's fast, efficient, and modern rail network has shortened the 67-mile journey to well under two hours. In fact, do your homework and make all the right connections, and you could even shorten the journey time to less than an hour.
Canterbury is connected to London by regular passenger rail services (as opposed to high-speed) from two of the city's busiest stations: London Bridge and Victoria. Both are well-served by the Underground and buses, and can even be walked to relatively easily from some of the more central London hotels. In addition to its proximity to your hotel, which station you use may also depend on the time of day and day of the week you want to leave.
While usually more expensive, a third station, St. Pancras International, offers a fast connection from London to Ashford International, the terminus for the ultra-fast Eurostar trains to Europe. And it is fast, taking just 38 minutes. With the right connection to Canterbury, a journey that only takes 14 minutes, you could conceivably end up spending less than an hour actually sitting on a train.
Trains from London arrive at Canterbury West. Just a 10-minute walk, and you'll find yourself in the heart of the cathedral precincts, having walked down the city's high street to get there. The city is immensely walkable, but for those with mobility issues, bus services and taxis are plentiful.
Whatever day of the week or time of the day you wish to travel, a little advance planning can save any potential disappointment – and a few dollars. Off-peak travel can be substantially discounted, so check out the South Eastern rail network for advance ticket deals. Tickets can also be booked through National Rail, while the pocketbook-friendly BritRail Pass is also worth taking a look at.
2. From London to Canterbury by Car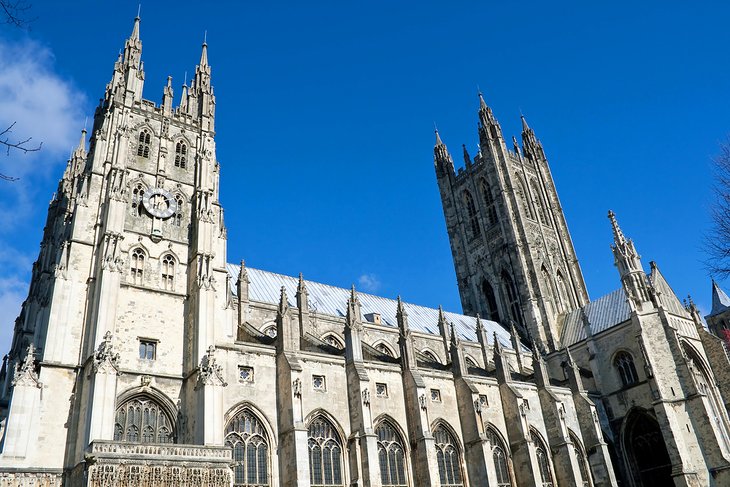 Highlights: Straightforward driving route with opportunities to visit nearby locations
Time your journey right and avoid rush hour and weekday traffic and you could, conceivably, get from the heart of London to Canterbury by car almost as quickly as travel by train (well, regular trains, that is).
The trickiest part of your journey, of course, would be the first leg: navigating Central London traffic. But time it right with an early morning departure and returning once all the commuters have left the city, and it's certainly doable. And it's a pretty straightforward route, following the old A2 road (much of which is four lane and also known as a "dual carriageway") until hitting the much faster M2 for most of the remainder of the journey.
Parking in Canterbury is plentiful, with the city being served by a three great 'park and ride' locations. Here you can leave the car and hop aboard a bus to explore the city center on foot.
An added benefit of having a car, of course, is that you can easily take in one or two other interesting destinations. These include the Victorian seaside town of Folkestone or historic Dover, each just 30 minutes' drive away.
3. From London to Canterbury by Bus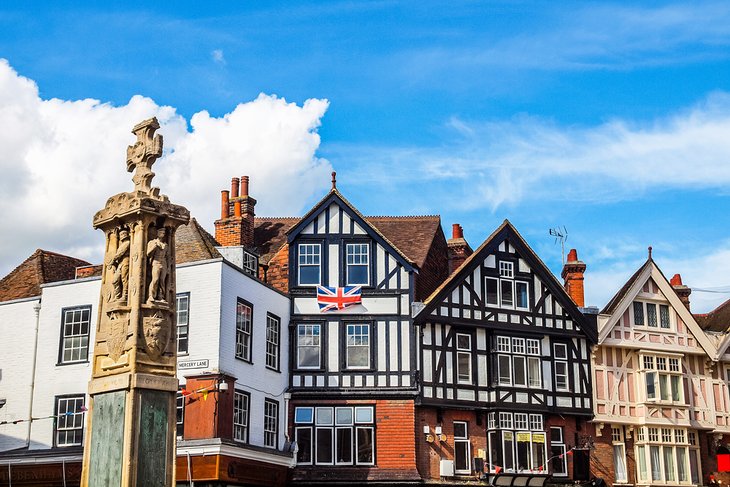 Highlights: Affordable convenience with marginal travel time
Given its relative proximity to England's capital city, taking the bus from London to Canterbury is certainly a viable (and cheap) option. With a journey time of around 1.5 to 2 hours and regular departures from Victoria Coach Station, National Express buses can get you there and back with around three to four hours of traveling time, ensuring there's plenty of time to explore Canterbury's top attractions.
While the route is a relatively cheap one to travel at any time, advance booking and choosing to travel off-peak can lead to even further savings. Off-peak travel is certainly an option if you choose to make a Canterbury weekend break of it, or even making a stopover for a day or two in other popular destinations along the way such as Rochester and Chatham, or the county town of Maidstone.
Check out the National Express website for further details.