12 Top-Rated Tourist Attractions in Winchester
We may earn a commission from affiliate links ()
Winchester, the county town of Hampshire, was in fact the capital of England from Anglo-Saxon times until the 13th century. The ruins of the royal castle, numerous medieval buildings, and one of Europe's longest cathedrals continue to bear witness to this former political and cultural center of England. Excavations have revealed that the Celtic settlement of Caer Gwent, the "White Town"—named after the surrounding chalk hills—occupied this site since the Bronze Age.
Now one of the county's top tourist attractions, famous Winchester Cathedral was renovated several times in the 9th and 10th centuries and was where William the Conqueror had himself crowned. Topping the list of fun things to do in this beautiful city are visiting a museum, checking out the historical architecture, enjoying one of the numerous festivals, and partaking in a shopping excursion.
To find out more, be sure to read our list of the top attractions in Winchester.
Note: Some businesses may be temporarily closed due to recent global health and safety issues.
1. Winchester Cathedral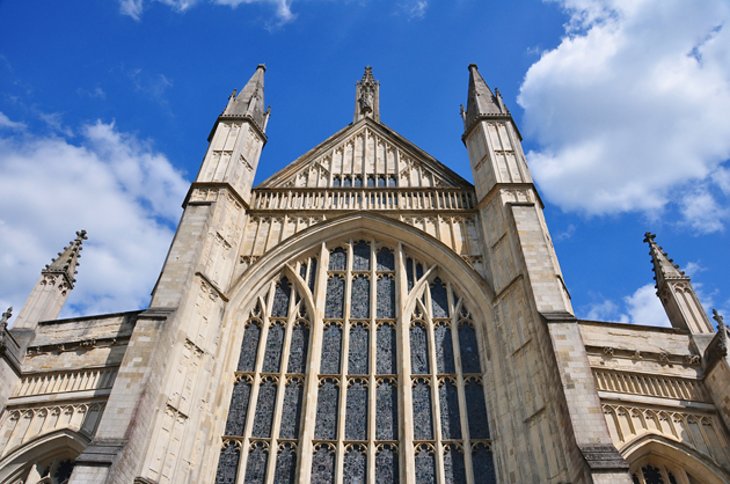 Winchester Cathedral—built on the site of the original 7th-century Old Minster, the foundations of which can still be seen today—dates back to the 11th century and has been altered many times since.
This is one of the largest cathedrals in Europe, and interior highlights include the unique combination of Romanesque sections of wall (1093) and late-Gothic fan vaulting (1394) in its splendid 12-bayed nave and transepts, along with a series of bronze statues (1635) of James I and Charles I. Other features of note include the magnificent 11th-century wrought iron Pilgrim's Gate and the tombs of several Saxon kings, including Alfred the Great.
Murals from the 16th century decorate the Lady Chapel, and the 13th-century paintings on the vaulting of the Chapel of the Guardian Angels provide examples of the original decoration.
In the north ambulatory is the chapel with its Renaissance decoration and the wooden chair on which Mary Tudor (Bloody Mary) sat during her wedding with Philip II of Spain in 1554.
Steps lead to the northern transept, where on the left is the Chapel of the Holy Sepulcher, with its 12th-century Romanesque wall paintings. The font of black Tournai marble (1180), decorated with scenes from the life of St. Nicholas, stands in the middle of the north aisle.
The famous 12th-century Winchester Bible is kept in the Cathedral Library in the south transept. Its artistically pictured initials are some of the greatest achievements of book illumination created by the Winchester writing school.
Of additional interest to those with a literary bent is a brass tablet marking the tomb of writer Jane Austen (1775-1817). Guided tours are available, and a shop and café are located on-site.
Address: 9 The Close, Winchester
Official site: www.winchester-cathedral.org.uk
Accommodation: Where to Stay in Winchester
2. Highclere Castle: Aka Downton Abbey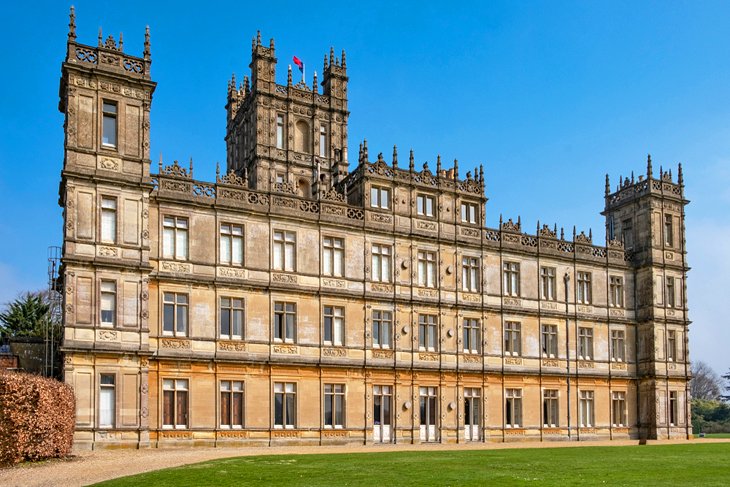 Although it's about 25 miles north of Winchester, this must-see historic home has become one of England's major tourist attractions thanks to its starring role in the hugely successful Downton Abbey TV show. The ancestral home of the Earls of Carnarvon (the family has been here since 1679), Highclere Castle was designed by Sir Charles Barry, the architect of the Houses of Parliament in London, and is set in a vast 1,000-acre 18th-century park boasting superb views over the North Hampshire Downs.
Highlights of a visit include the chance to view the mansion's spectacular gothic saloon, with its unique leather wall coverings; the state dining room, with its historic portraits; and the library, with its 5,650 rare books, some dating back to the 17th century.
Other notable areas worth a visit include the drawing and smoking rooms, both of which featured regularly in Downton Abbey. For a truly memorable experience, look into taking a private tour, and if your budget allows, book an unforgettable dining experience or private reception in one of the rooms mentioned above (private tours are also available).
Location: Highclere Park, Highclere, Newbury, Hampshire
Official site: www.highclerecastle.co.uk
3. Winchester Castle's Great Hall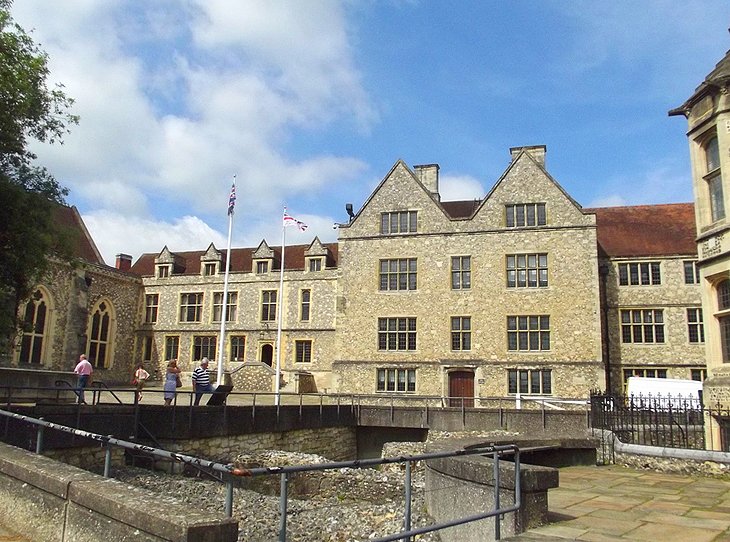 Winchester Castle, of which only ruins remain, was built in 1067 during the reign of William the Conqueror. The structure was demolished by parliament in 1647 under the leadership of Oliver Cromwell, then completely restored by Wren in 1683 as a residence for Charles II.
Much history has been made in Winchester Castle: William the Conqueror had the Doomsday Book kept safe here, and Richard the Lionheart came here in 1194 before his second coronation in the cathedral. The future King Henry III was born in the castle in 1207, Edward I held his first parliament here, and Sir Walter Raleigh was tried in the law hall for conspiring against James I.
Only the Great Hall (1236), with its columns of Purbeck marble, old stained-glass windows, and an open wooden roof truss bear witness to the castle's great past, as does the legendary tabletop on the back wall at which King Arthur is supposed to have held his Round Table. Fun guided tours are available.
Location: The Castle, Castle Avenue, Winchester
Official site: www.hants.gov.uk/greathall/
4. Winchester College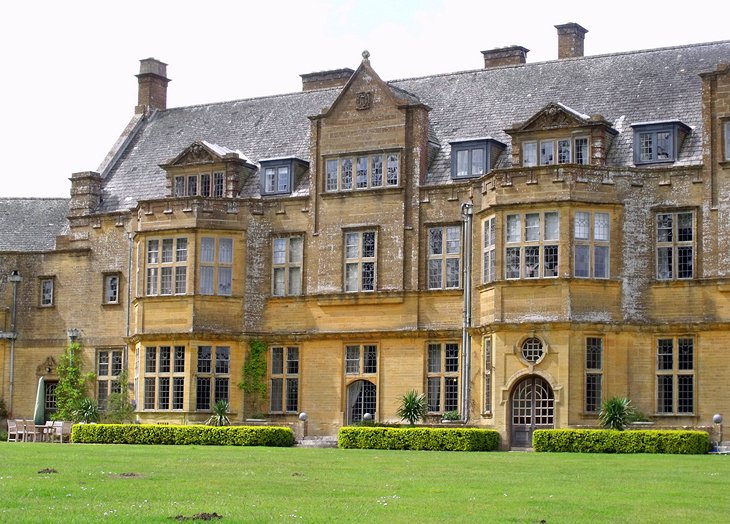 Founded in 1382, Winchester College has a close association with New College in Oxford and is well worth visiting for its original houses. Of particular interest are Flint Court and Chamber Court, both perfectly preserved, and the historic Seventh Chamber, said to be the oldest schoolroom in the country.
Also notable is the school chapel, with its original fan-vaulted timber roof, medieval stained glass, a reredos (1500), and the misericords. Generations of scholars have engraved their names on the pillars of the cloisters, including famous "old boy" Anthony Trollope (1815-1882). The school is still in use, so visitors are required to take advantage of one of their excellent guided tours, which includes a visit to the Winchester College Treasury, home to an impressive collection of artworks and antiquities.
Location: College Street, Winchester
Official site: www.winchestercollege.org/guided-tours
5. College Street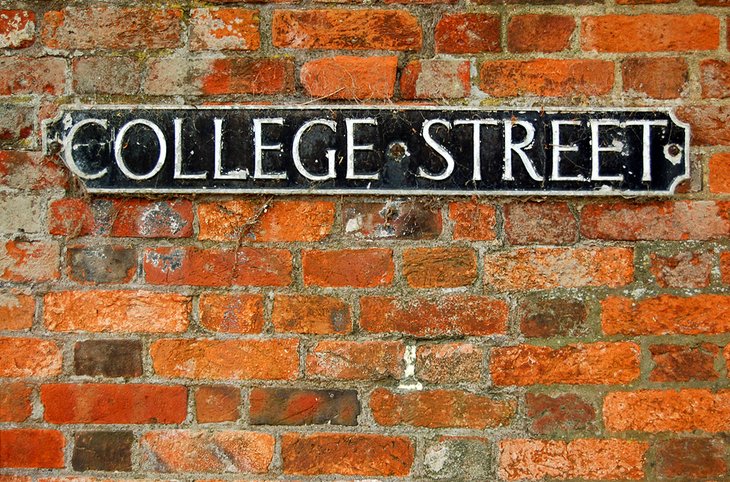 College Street, with its excellent views of the medieval wall encircling the cathedral precincts, leads to Wolvesey Palace. From here, tourists can see the remains of a bishop's palace (rebuilt by Wren), pass the ruins of the castle, and enjoy the attractive Abbey Gardens, relics of a 9th-century abbey founded by King Alfred's wife. It also leads to the King Alfred memorial in Broadway, and to the bridge over the River Itchen.
If you're in the mood for a little more walking and sightseeing, take High Street to the Guild Hall (1871) and the pedestrian precinct, with its colonnade of shops. Butter Cross, which features niches containing statues of saints, King Alfred, and Bishop Wykeham, is also worth a look.
6. Wolvesey Castle (Old Bishop's Palace)
Wolvesey Castle is an English Heritage property that includes the ruins of what was once a fortified palace and the chief residence of the Bishops of Winchester—hence it's also being known as the Old Bishop's Palace.
Widely considered one of the best free things to do in Winchester, it was here in 1554, Queen Mary and Philip II of Spain held their wedding breakfast in the East Hall. Audio tours are available for download in advance of your visit (see website link below), and provide plenty of insight into the attraction's history.
From here, a charming path continues on the east side of the River Itchen to Catherine's Hill, the site of a 3rd-century fortress, the foundations of a chapel, and a turf maze. A short walk away is Westgate, a tourist attraction once used as a prison in the 17th century (some interesting graffiti remains) and now serves as a museum. A number of interesting exhibits can be enjoyed, along with excellent views of the city.
Address: 34 College Walk, Winchester
Official site: www.english-heritage.org.uk/visit/places/wolvesey-castle-old-bishops-palace/
7. Hospital of St. Cross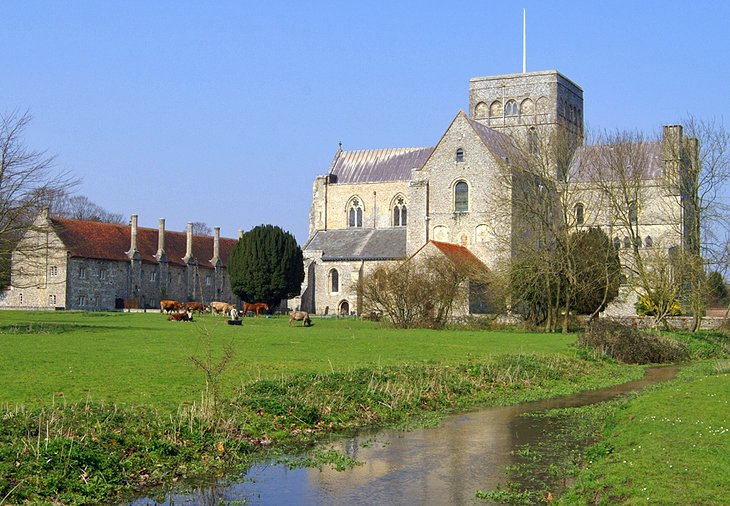 About a mile south of Winchester's city center, England's oldest almshouse was founded in 1136 by Henry of Blois, grandson of William the Conqueror, for 13 "poor and pious men." The black robe with a silver crook cross and the purple-red with cardinal's emblem worn by the inhabitants continue to bear witness to the endowments. Grouped around an inner courtyard, these quaint homes are entered through a gatehouse.
Other noteworthy features are the 15th-century Hall of the Brothers, the kitchen, and a chapel. The grounds and gardens are also open to the public, and should be explored. And on the way out, be sure to request the traditional Wayfarers' Dole, and visit the gift shop and tearoom.
Address: St. Cross Back Street, Winchester
Official site: http://hospitalofstcross.co.uk
8. Winchester City Mill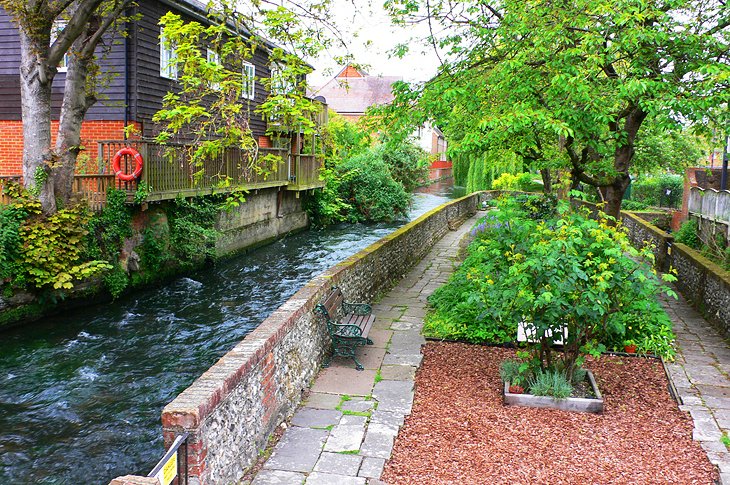 The Winchester City Mill is a rare surviving example of an urban working corn mill. Powered by the fast-flowing River Itchen, the water mill was rebuilt in 1743 on the site of the original medieval mill and remained in use until the early 20th century.
After resuming use for the grinding of flour in 2004 following a full restoration, this excellent tourist attraction now offers visitors plenty of activities and fun things to do, including a unique opportunity to see one of Britain's only urban otter populations along with a variety of other wildlife.
Additional highlights include flour milling and baking demonstrations, including opportunities for kids to bake their own treats, along with educational workshops and lectures. A number of informative videos related to the site are also shown regularly.
Address: Bridge Street, Winchester
Official site: www.nationaltrust.org.uk/winchester-city-mill
9. Winchester's Military Museums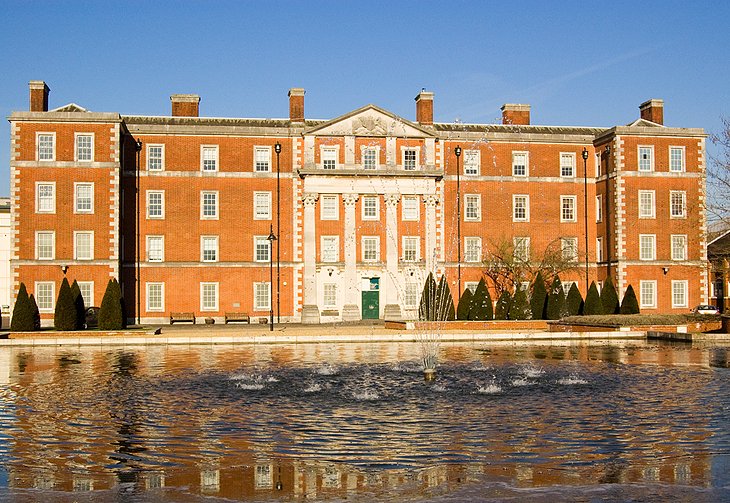 Peninsular Barracks is home to Winchester's Military Museums, a gathering of important county military collections. The Royal Green Jackets (Rifles) Museum is home to a variety of uniforms and medals, along with a highlighted diorama of Waterloo. It covers the history of the regiment and Britain's involvement in a long succession of wars.
The same building also houses the Gurkha Museum, dedicated to the elite troops from Nepal; HorsePower, the Museum of The King's Royal Hussars, with its displays about the history of the famous Cavalry Regiment; and the Guardroom Museum, the Museum of the Adjutant-General's Corps. A shop and cafe are located on-site.
Location: Peninsular Barracks, Romsey Road, Winchester
Official site: www.rgjmuseum.co.uk
10. Marwell Zoo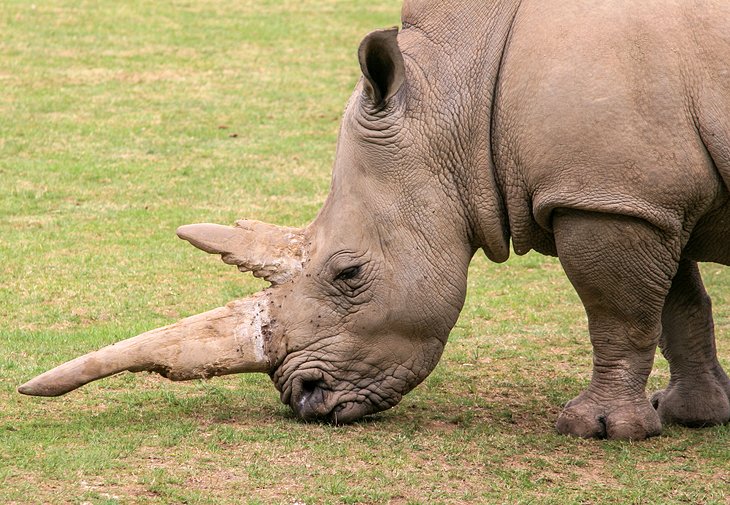 Near the picturesque village of Owslebury, just five miles southeast of Winchester, Marwell Zoo is a must-see attraction for those interested in wildlife or traveling with children. Set amid 140 acres of rolling Hampshire countryside, this popular zoo boasts more than 1,200 animals from some 135 species and has made a name for itself thanks to its conservation activities (notable successes include endangered white rhinos, oryx, and zebras).
In addition to a variety of educational themed areas to explore—Into Africa, the World of Lemurs, and Penguin Cove are just a few of the most popular—the zoo has added Wild Explorers, a fun safari-inspired experience that offers visitors unrestricted views of its animals from a series of boardwalks.
Be sure to also take a ride on the zoo's miniature scenic railway for a 15-minute trip past a variety of animal enclosures, including pygmy hippos, rhinos, and flamingos. A restaurant is located on-site, along with a number of well-placed snack kiosks and picnic facilities.
Address: Thompson's Ln, Colden Common, Winchester
Official site: www.marwell.org.uk/zoo
11. Winchester City Museum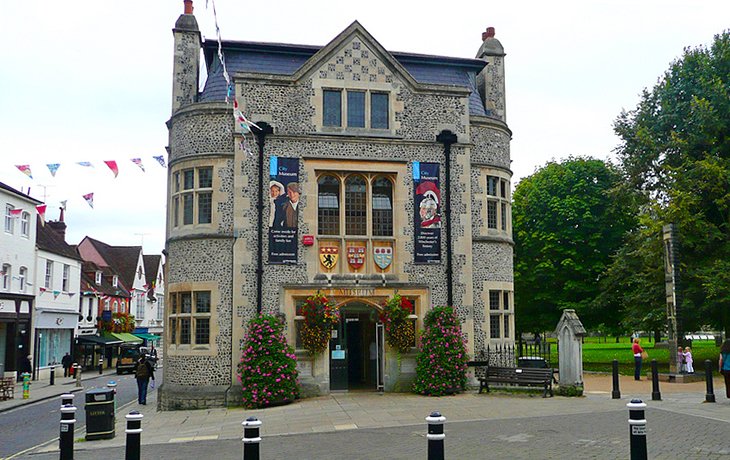 The Winchester City Museum documents Winchester's history from the Iron Age to the present through its three fascinating galleries spread across three floors. Features include Roman mosaics, a collection of jewelry dating from Anglo-Saxon times, as well as a fascinating model of the original medieval settlement from this period.
Other highlights include reconstructed Victorian-era shops, along with hands-on activities such as brass rubbing, pot design, and the opportunity to try on period costumes. Also not to be missed is a unique collection of artifacts that once belonged to famed writer Jane Austen, who spent her last years in Winchester.
Address: 3 The Close, Winchester
Official site: www.hampshireculture.org.uk/winchester-city-museum
12. Pilgrim's Hall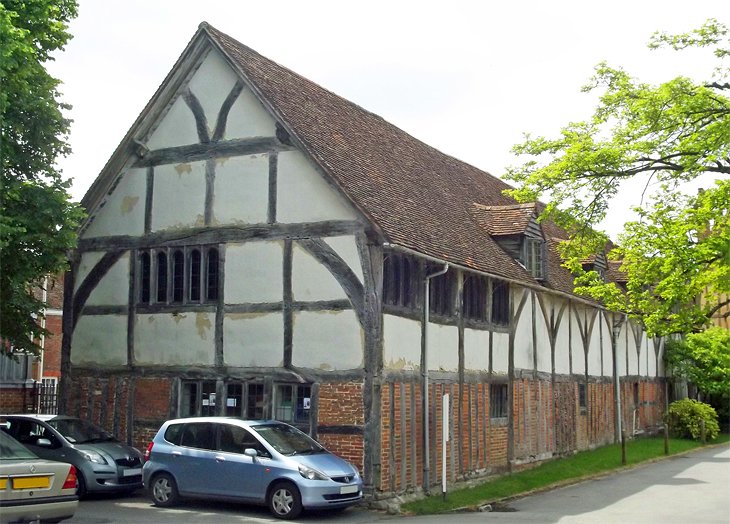 Just to the south of Winchester Cathedral are the ruins of the medieval deanery and a charming half-timbered corner that includes the 13th-century Pilgrim's Hall. In addition to serving as a place for dining and refreshment, the structure also served as stables. It's worth visiting for its splendid 13th-century hammer-beam roof.
Also worth visiting nearby is 26/27 College Street, once a residence for James II. Christopher Wren built this structure as well as a residence in neighboring Kingsgate Street. College Street runs to the main entrance of Winchester College past number 8, the house where Jane Austen died.
Address: 3 The Close, Winchester
Where to Stay in Winchester for Sightseeing
We recommend the following top-rated hotels, inns, and bed and breakfasts in Winchester, each located within easy reach of the city's top sightseeing opportunities.
Luxury Hotels: Our top picks for luxury hotels in Winchester include the excellent Hotel du Vin &

Bistro

, featuring plenty of old-world charm, room service, and quality bedding; and the charming The Wykeham

Arms

, a delightful old inn with quaint rooms and a superb dining experience.
Mid-Range & Budget Hotels: Those seeking something a little more modest should consider a stay at the high-quality yet affordable The Winchester Hotel &

Spa

, popular for its central location and attractive décor, or the modern Premier Inn Winchester

Hotel

, which features comfortable, bright rooms and suites near the city center.
More Related Articles on PlanetWare.com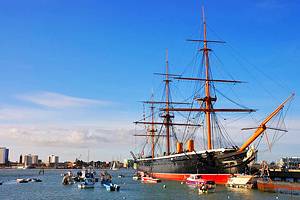 Famous English Ships: An easy journey by either train or car, the port of Southampton features plenty of well-preserved historic architecture, along with references to the infamous Titanic, which set sail on its fateful journey from here. Also well-known for its maritime history, Portsmouth offers plenty of fun things to do, from the iconic HMS Victory to the Mary Rose museum. And up in Greenwich in London, you can visit the country's most famous ship, the impressive Cutty Sark.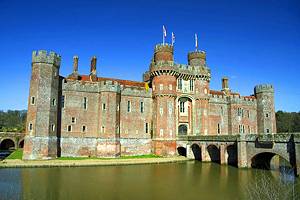 The English Seaside: These seeking an authentic English seaside getaway should check out Brighton, popular for its long and pleasant promenade, pier, and summer festivals. A similar fun experience can be enjoyed in the Kentish seaside town of Folkestone, well-known as the embarkation point for Europe at the entrance to the Channel Tunnel. Hastings is another good choice and, in addition to its charming fishing huts, is where you can visit the scene of the battle of 1066, in nearby Battle, of course.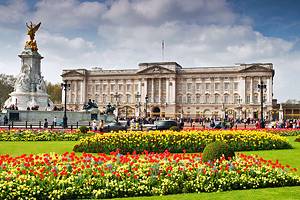 England Travel Ideas: Be sure to plan on spending at least a few days in London, home to many famous museums, palaces, and castles. Another good choice for a weekend break is beautiful Bath, famous for its magnificently preserved Georgian architecture and Roman baths. Although north of London, the historic city of York should also be included in your England travel itinerary—and be sure to spend time wandering its seemingly endless city walls and the meandering lanes and alleys of The Shambles.