10 Best Things to Do in Dorset, England
The beautiful county of Dorset offers no end of attractions and fun things to do for those visiting Southwest England.
It's as popular for its beautiful countryside as its many quaint villages. The best places to visit in this picture-perfect corner of the country make an easy getaway from London, whether by train or car.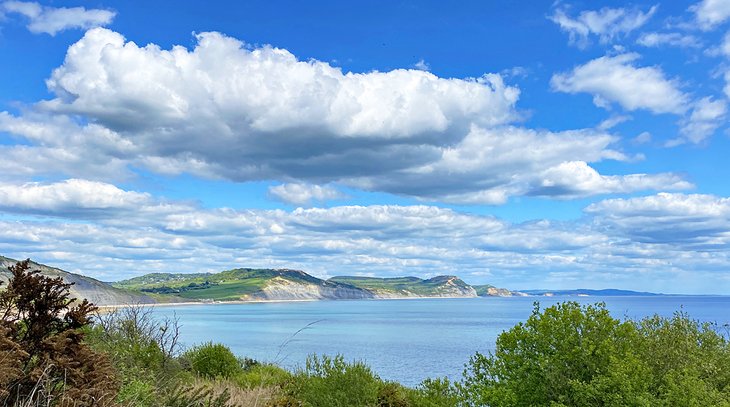 Dorset's also popular for its many excellent beaches and stunning coastline. Dorset's beaches are some of the best sandy beaches in the UK, and are perfect for those wanting to indulge themselves in water sports.
Popular activities at Dorset's beaches include surfing and kitesurfing, paddleboarding and kayaking, as well as gentler activities such as swimming and sunbathing.
So important is the Dorset coastline, in fact, that three quarters of it has been declared a part of the Jurassic Coast Natural World Heritage Site. This esteemed designation recognizes the remarkable diversity of its landscape, as well as the county's role in the discovery and study of dinosaurs and fossils in England.
To learn more about these and other top attractions in this beautiful corner of the United Kingdom, read our story on the top things to do in Dorset, England.
1. Have Fun on a Bournemouth Beach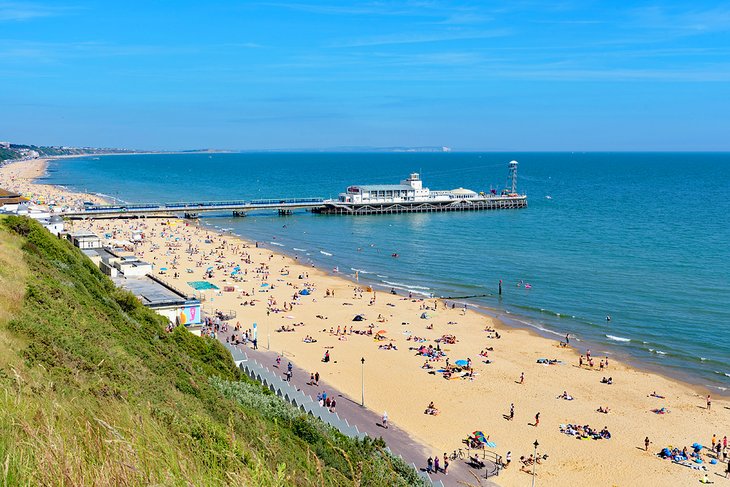 Stretching along 10 miles of magnificent Dorset coastline, there are in fact over a dozen Bournemouth beaches to choose from. Which beach you choose to visit will depend on your preferred choice of activity (or inactivity!) when you get there.
Those who like a bustling beach area close to all the action should park close to the Bournemouth Pier, one of England's most photogenic spots. Better still, opt for a space in one of the town's excellent "Park and Ride" lots.
The pier separates Bournemouth's two main beaches, East Cliff and West Cliff, both of which are close to a wide variety of fun things to do.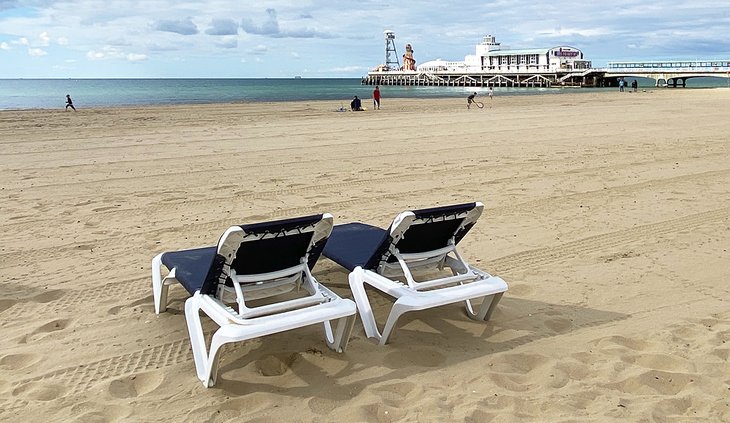 These Blue Flag beaches are some of the best in England, wide and very sandy with shallow, clean water that's as great for adults to swim in as it is for kids to play in.
After all those sandcastles have been built, you're only a few steps away from the amusement arcades, entertainment, and food vendors on the pier.
Other nearby things to do in Bournemouth include the Lower Gardens, the perfect picnic spot; an aquarium called the Oceanarium; and the Bournemouth Observation Wheel, to name but a few.
Address: Undercliff Drive, Bournemouth, Dorset
2. Take the Ferry to Brownsea Island, Poole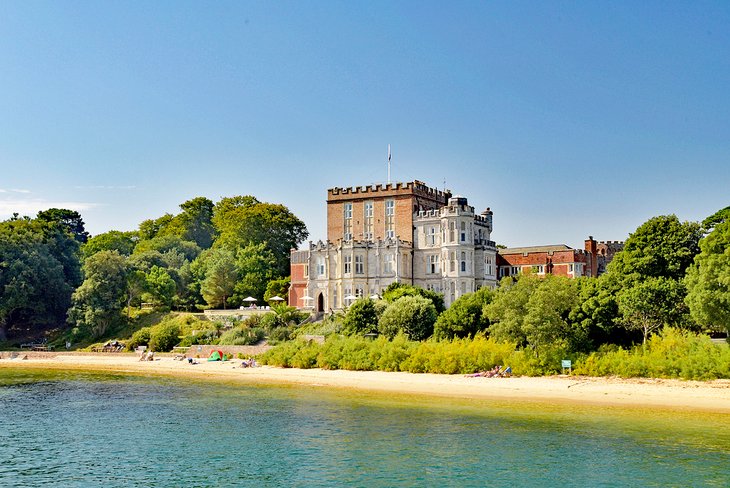 If you do start your exploration of Dorset in Bournemouth, try to allow time for an adventure on Brownsea Island.
The largest island in Poole Harbour, just 15 minutes' drive west of Bournemouth, this National Trust property can be reached by a short ferry ride from the mainland.
Entirely traffic-free, Brownsea Island's 500 acres of land is mainly level and is crisscrossed by a good network of walking trails. Along the way you'll enjoy spectacular views over Poole Harbour.
The island's abundant wildlife can be spotted in its heaths, woods, beaches, and lagoon. In addition to red squirrels and sika deer, there's a large population of seabirds here, including terns, spoonbills, and oystercatchers. Wildlife tours are available, and if bird-watching's your thing, don't forget the binoculars.
For a real adventure, book a stay at the island's historic campsite, famous as the place where Britain's scouting movement got its start. A number of unique cottages are also available for rent.
Other notable island features include a visitors center, a pretty church built the 1800s, the remains of a former village, and an open-air theater. This popular tourist attraction can get busy in the summer months, so to avoid disappointment, book your ferry in advance.
Location: Brownsea Island, Poole Harbour, Dorset
Official site: www.nationaltrust.org.uk/brownsea-island
3. Explore Dorset's Jurassic Coast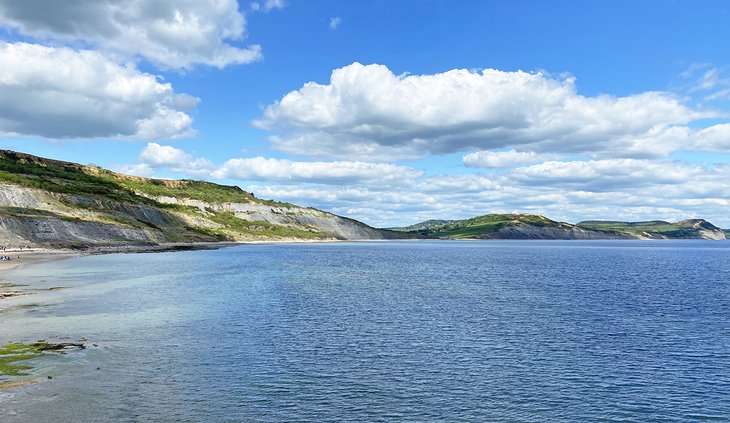 Stretching for 96 miles from the beaches of Exmouth all the way eastward to the seaside town of Swanage, England's Jurassic Coast has been a huge boon for tourism in Dorset.
Officially known as the Jurassic Coast World Heritage Site, this magnificent coastline is unique in the UK, if not the world.
Designated of importance by UNESCO in 2001 for its diverse landscape and unique geological structure, this remains the only World Heritage Site in England and offers many opportunities for adventure.
Formed between 50 and 250 million years ago, the Jurassic Coast is especially popular among sightseeing families with kids who are interested in dinosaurs and fossils. The area is rich in fossil deposits, especially around the beaches of Lyme Regis.
Those wanting to dig a little deeper into the history of this spectacular coastline can visit an abundance of museums and tourist attractions that have sprung up, including Dinosaurland Fossil Museum in Lyme Regis, and the Charmouth Heritage Coast Centre.
These facilities, along with local fossil shops, are a font of information about this period in Earth's history and offer unique tours and other related experiences including walks, talks, and fossil-hunting expeditions.
For those able to visit in May, make a note to check out the Fossil Festival in Lyme Regis. In addition to the educational side of things, folks visit for the live music, theater, and workshops.
Official site: https://jurassiccoast.org
4. Visit Weymouth Harbour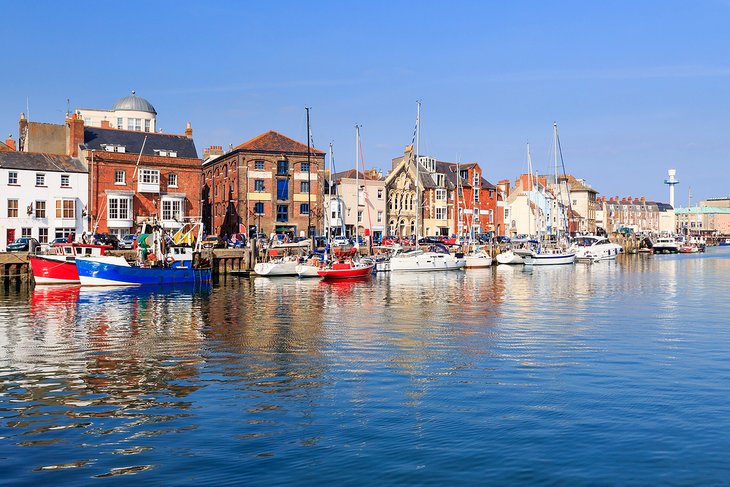 The attractive town of Weymouth is undoubtedly one of the best places to visit in England for a traditional seaside vacation, a weekend getaway, or even a day trip.
Located approximately half way between the popular Dorset beach towns of Bournemouth and Lyme Regis, Weymouth Harbour (or "Old Harbour" as the locals call it), is one of the prettiest ports on the Jurassic Coast.
While established in the 14th century and known to have been used by the Romans centuries earlier, much of what you'll see today dates from the 1800s when Weymouth served as one of the country's most important harbors.
Notable features include Weymouth Pier, which separates the harbor area from popular Weymouth Beach; Weymouth Pavilion, a popular place of entertainment since 1908; and the Stone Pier, or "South Pier," an important breakwater built in the 1700s.
Other popular things to do in Weymouth Harbour include watching the commercial fishing fleet come and go, along with pleasure craft and the cross-channel ferries; renting a row boat to cross the harbor; or taking a fun cruise along Dorset's Jurassic Coast.
Address: Custom House Quay Weymouth Dorset
Official site: www.weymouth-harbour.co.uk
5. See The Cobb in Lyme Regis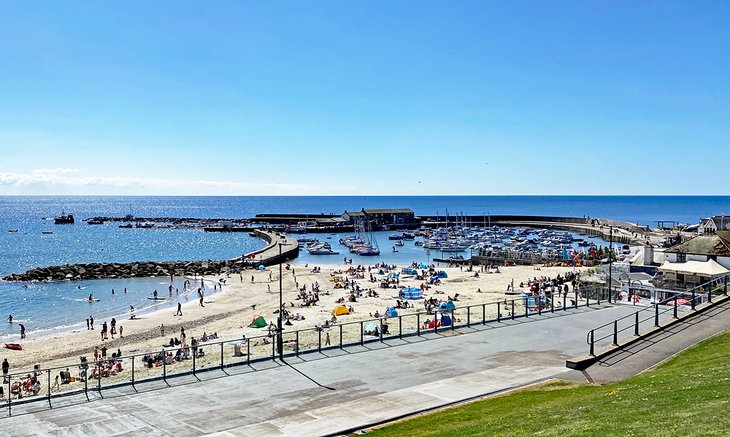 Rebuilt numerous times since its first iteration in the late 1300s, The Cobb remains one of the most impressive harbor walls in all of England. It's certainly one of the best known, famously having a starring role in the hit 1980s Meryl Streep movie, The French Lieutenant's Woman.
Snaking outwards from the Lyme Regis waterfront, the version you can explore today was constructed in 1817 from local stone. In addition to standing Meryl Streep-like at the end of The Cobb, an especially memorable experience on a stormy winter's day, it's a great place to fish for bass or even cod.
There's also a small beach tucked away here that's popular for couples and pet owners, as well as a fun aquarium and plenty of places to simply sit and watch the boats go by.
The Cobb is also overlooks two of the most popular beaches in Lyme Regis: Sandy Beach, a great spot for families for its shallow waters and soft sand; and Monmouth Beach, well-known among fossil hunters for its many easy-to-get fossils.
Address: Cobb Road, Lyme Regis, Dorset
6. Russell-Cotes Art Gallery & Museum, Bournemouth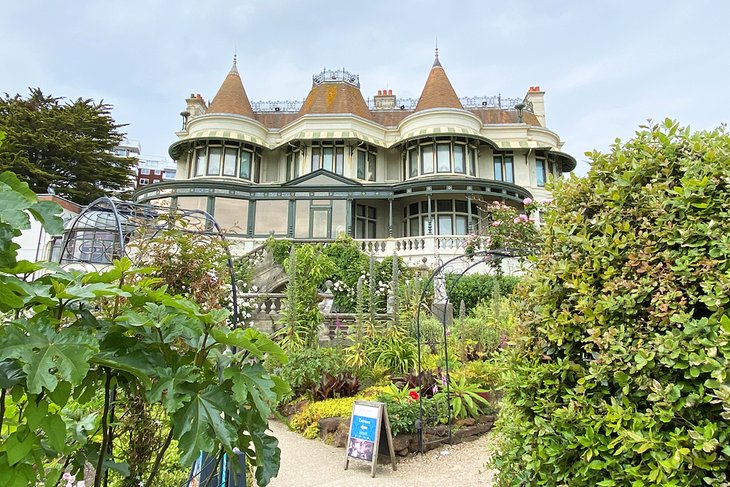 Culture buffs are often pleasantly surprised to learn that there's far more to Bournemouth than just its beaches.
A short five-minute stroll from Brighton Pier up East Cliff, and you'll find the Russell-Cotes Art Gallery & Museum, a small yet packed-to-the-rafters museum that should certainly be included on your Dorset travel itinerary.
The building that houses the museum is, in itself, quite stunning, boasting some of the best views over Bournemouth. Built in 1901 as a summer home, today this elegant mansion is home to an impressive collection of artworks and museum pieces collected by the home's original owners.
Highlights include paintings from locations such as Japan and Russia, along with a variety of interesting Victorian-era artifacts. Guided tours of both the museum home and the property's lush gardens are available.
Address: Cliff Promenade, Bournemouth, Dorset
Official site: https://russellcotes.com
7. Pay a Visit to Lulworth Cove and Durdle Door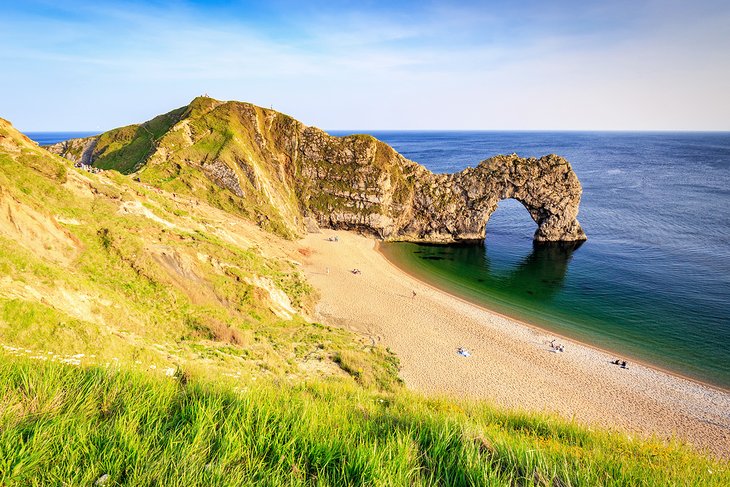 Lulworth Cove and Durdle Door are likely the most recognizable natural features of the Jurassic Coast's stunning landscape.
Looking not unlike a giant horse or dragon dipping its nose in the sea, Durdle Door consists of a huge limestone arch that juts out into the English Channel. One of the most photographed areas of Dorset, it makes for a dramatic setting whether you're taking your photos from the clifftop or from the adjacent beach area.
A 30-minute walk away from the Durdle Door car park, Lulworth Cove is part of the same private estate and should be included in your visit.
It's especially popular with beachgoers for its clean, almost turquoise waters, something of a rarity in England. Safe to swim in, taking a dip in the shallow waters of this protected and pretty cove is a must-do for swimmers who fancy pretending they're in the Mediterranean.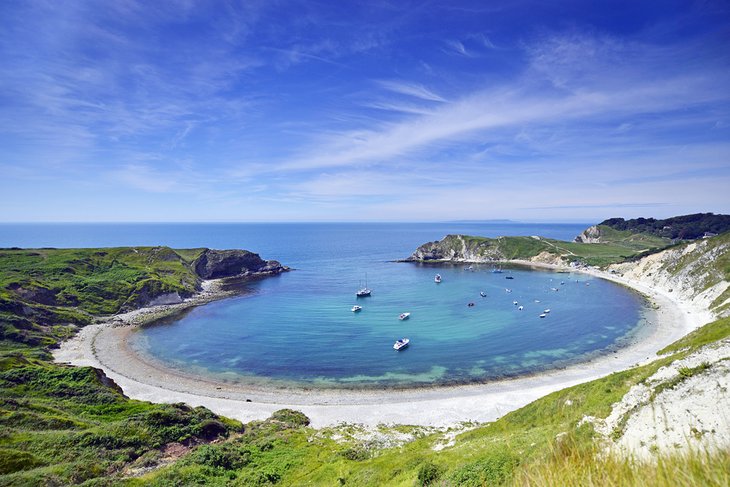 Both Lulworth Cove and Durdle Door are included as landmarks along the fun-to-hike South West Coastal Path, which also connects to the equally interesting Old Harry Rocks, a dramatic set of chalk formations on the Isle of Purbeck.
8. The Tank Museum, Bovington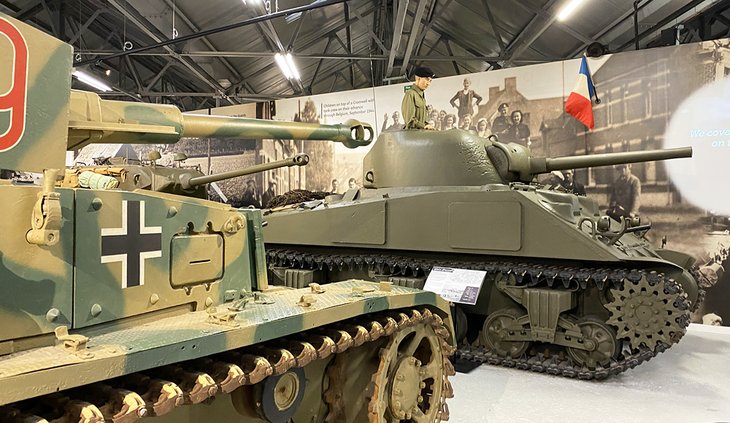 It's easy to spend the best part of a day exploring the Tank Museum, a bucket-list attraction for military enthusiasts.
Located on the Bovington military base, 20 minutes' drive east of the county town of Dorchester, the Tank Museum features over 300 fighting vehicles dating from WWI to the present day.
Set in an expansive collection of large buildings and grouped according to their place in the history of tank development through the decades, the observant visitor will note that these war machines look as new as the day they were manufactured.
This is due to the fact that many of these remarkable machines are in fact maintained (or were restored) to running condition, and are often featured in the museum's popular Tank Day demonstrations.
These family-friendly events involve demonstrations of fire power and speed, and often even include reenactments of historic encounters between enemy tanks. These popular events do sell out, so be sure to get your tickets as far in advance as possible.
A café and shop are located on-site, as are ample picnic tables.
Address: Linsay Road, Bovington, Wareham, Dorset
Official site: https://tankmuseum.org
9. Explore Prehistory at Dinosaurland Fossil Museum, Lyme Regis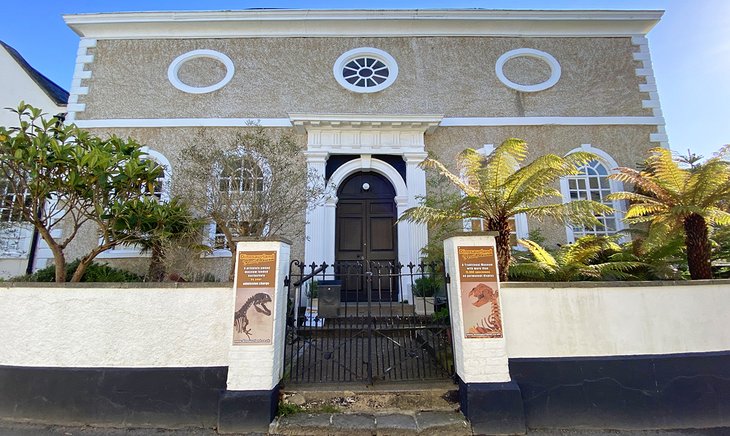 Located in a historic old church building in Lyme Regis, the Dinosaurland Fossil Museum does a great job of explaining Dorset's place in the Earth's early history.
Given the fact that Dorset covers a large area of the Jurassic Coast World Heritage Site, a visit to the museum is certainly time well spent.
Highlights of a visit include browsing an extensive collection of marine fossils, most of them found locally and from the Jurassic period, as well as a collection of dinosaur bones. Other exhibits deal with the history of dinosaurs, and there's a sizable collection of life-size models of these fascinating creatures to keep the kids amazed.
There's a good gift shop on-site that also sells fossils, and the museum also offers fossil-hunting tours.
Address: Coombe Street, Lyme Regis, Dorset
Official site: www.dinosaurland.co.uk
10. Take a Steam Train to Corfe Castle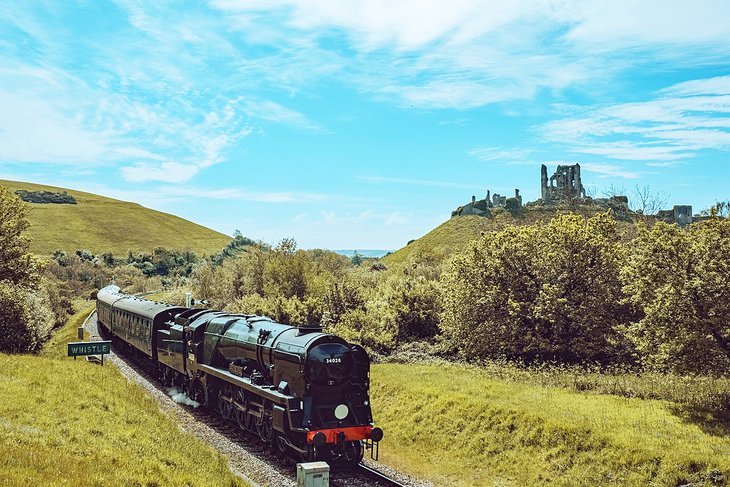 Corfe Castle, both the castle and village that's named after it, make for a splendid day trip.
Though now largely ruins, the castle commands incredible views over the village and the surrounding countryside, offering some of the best photo-ops in England.
Built in the 11th century, the castle was destroyed by Parliamentarians after a second siege in the English Civil War.
One of the best ways to get to both the village and the castle is aboard the Swanage Railway. These historic steam trains depart the town of Wareham with stops in Corfe Castle for those wanting to visit the old fortress.
The train makes the return journey to Swanage a few times day, enabling visitors to also enjoy time on Swanage Beach.
Address: The Square, Corfe Castle, Nr Wareham, Dorset,
Official site: www.nationaltrust.org.uk/corfe-castle
Map of Things to Do in Dorset, England