10 Best Beaches in Dorset, England
Not only is it famous for its beautiful rolling hills, lush valleys, and numerous quaint villages, the county of Dorset is also home to some of the very best beaches in England.
Located in southwest England, it's so beautiful that a whopping 50 percent of the countryside here has been proclaimed an Area of Outstanding Natural Beauty.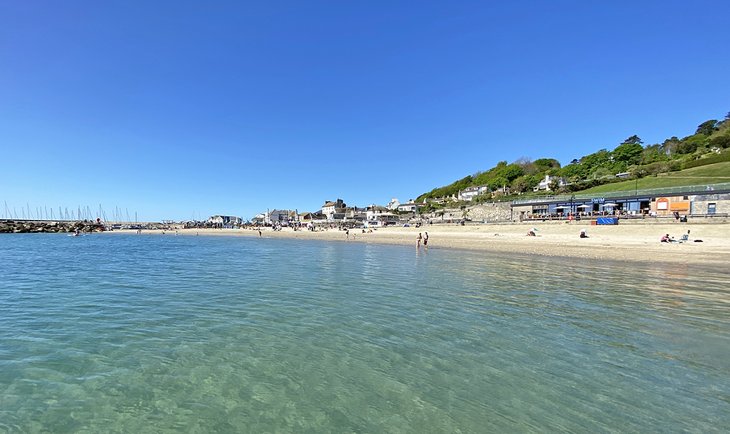 In addition, 75 percent of Dorset's stunning coastline is protected as the Jurassic Coast Natural World Heritage Site, including many of the county's best beaches.
It all adds up to the perfect setting for an English beach holiday. Where else in the world can you wander a beach while practically tripping over fossils, as is the case with Monmouth Beach in Lyme Regis? And, few places in the UK can claim to match the 10 miles of uninterrupted soft sand that Bournemouth and its neighbors can boast of.
To learn more about these and other fantastic experiences for beachgoers, be sure to read through our list of the top beaches in Dorset, England.
1. Bournemouth Beach: West Cliff & East Cliff Beaches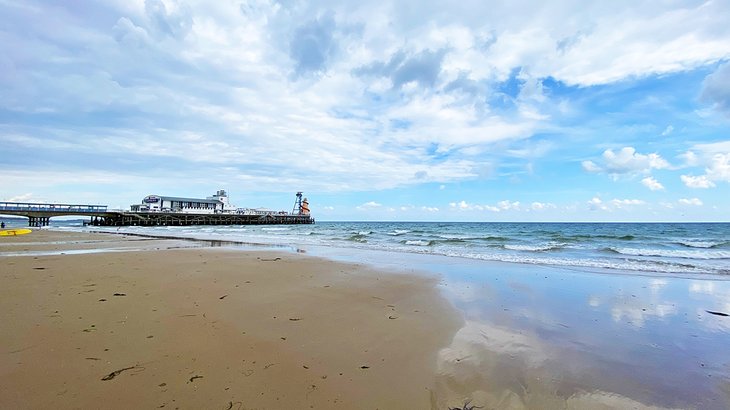 Located in the southeast corner of Dorset, Bournemouth is home to no less than 10 miles of sandy beachfront just waiting to be explored.
A two-hour train ride from England's capital city of London and only slightly longer by car, Bournemouth's beaches have been drawing crowds of beachgoers since they welcomed their first holidaymakers in Victorian times.
While many refer to this beautiful stretch of English coastline simply as "Bournemouth Beach," there are in fact no less than 14 beaches to choose from in and around the town. However, it's the two beaches located either side of Bournemouth Pier that most people will gravitate to: West Cliff Beach and East Cliff Beach.
Often shortened by locals to simply West Beach, it's at West Cliff Beach that you'll find the Bournemouth's attractions, arcades, and entertainment facilities that go hand-in hand with the traditional English seaside experience.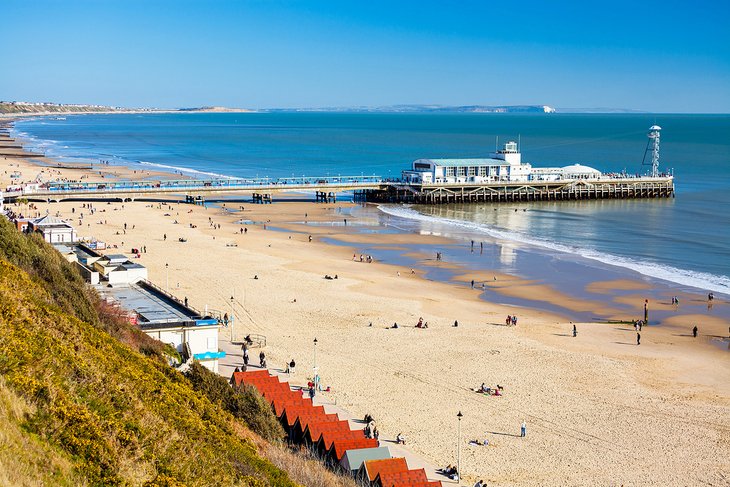 The soft, wide stretch of sand here is extremely popular with families and the young set alike. For families, it's the convenience of facilities like washrooms and lifeguard services, while for teens and young adults it's all about activities like swimming, jet skiing, and just hanging out at the arcades and attractions.
Hop across to the east side of the pier, and it's a similar story. East Beach, also a mile-long stretch of soft sand and clean water, might just take the edge in terms of water-based activities.
Fun things to do on the water here include sea kayaking and kitesurfing, with rental outlets offering lessons as well as equipment. Bike rentals and a volleyball court round-out the East Cliff Beach offerings.
If you're tempted to spend a couple of days or more exploring these and other great Bournemouth beaches, consider booking a stay at Hotel Miramar. Just a short walk away from East Cliff Beach and Bournemouth Pier, this swanky 4-star hotel offers elegant rooms (some with sea views) and great dining, including afternoon tea. Fans of The Hobbit and Lord of the Rings will be interested in learning that J.R.R. Tolkien booked a room here each summer for many years.
Address: East & West Undercliff Drive, Bournemouth, Dorset
2. Weymouth Beach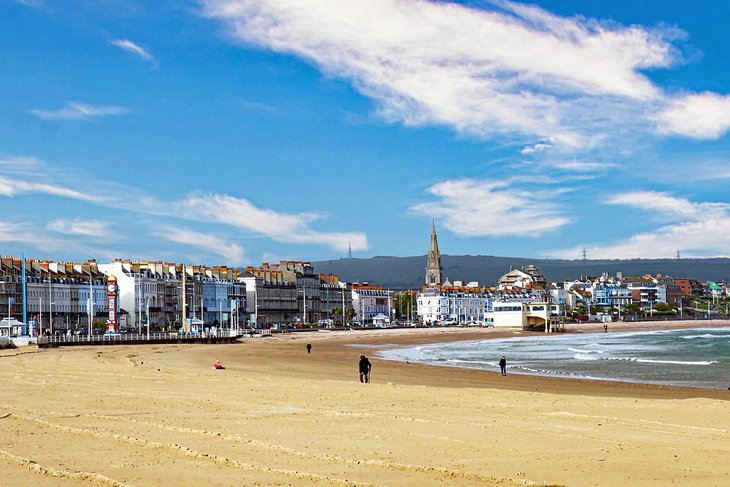 Our second favorite beach destination in Dorset, Weymouth Beach has a royal connection. It was here in the early 1800s that King George III would take a summer break, enjoying the same expanse of sand and attractive setting enjoyed by vacationers to this day.
Set in Weymouth Bay, soft sand stretches for three miles along the seafront. It's a popular spot for families, as the beach is relatively wide with plenty of exposed sand at high tide and a gentle slope down to the shallow, clean water at the shoreline.
Kayak and pedal boats are available for rent. Lifeguard services are provided during the peak summer months.
There's usually plenty going on the beach in terms of entertainment, from music festivals to firework displays. In addition to traditional attractions such as amusement arcades, donkey, rides, and even classic Punch & Judy puppet shows, other fun things to do include entering sandcastle and sand-sculpture building contests, as well as visiting the fun fair.
Off-beach attractions include a wide promenade, an entertainment complex, and plenty of eateries.
Location: Esplanade, Weymouth, Dorset
3. Lyme Regis Beach: Front Beach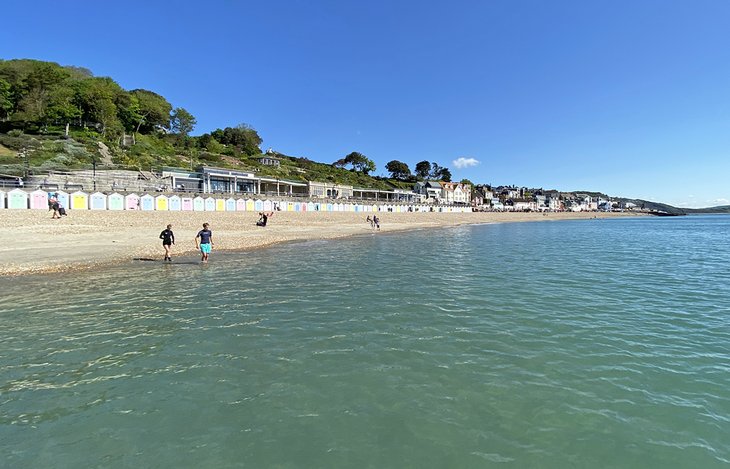 Lyme Regis is another popular seaside destination to consider for a fun Dorset day trip, weekend getaway, or even a week-long vacation.
While Lyme Regis boasts a number of excellent beaches, most first-time visitors make their way to the centrally located Lyme Regis Beach.
Also known as Front Beach, it's framed by the town's attractive promenade and The Cobb, a historic harbor wall made famous by the Meryl Streep movie, The French Lieutenant's Woman.
Featuring a mix of sand and pebbles, there's only a gentle incline to the shallow water, making it perfect for younger children to play in.
The beach is protected by seawalls and The Cobb. Lifeguards are also on duty seasonally, and a lifeboat facility overlooks the beach.
Visitor facilities include washrooms with beach showers, beach wheelchairs, as well as beach hut and deck chair rentals. There are also plenty of food vendors close by.
Kayak and paddleboard rentals are also available for those wanting to get out on the water and explore the harbor and surrounding Jurassic Coast.
A great place to book an overnight stay that's within an easy walk of Lyme Regis Beach and the seafront is The Royal Lion Hotel. This historic 3-star hotel also boasts a great indoor swimming pool and one of the best Sunday roasts in Lyme Regis.
Address: Marine Parade, Lyme Regis, Dorset
4. Chesil Beach, Puncknowle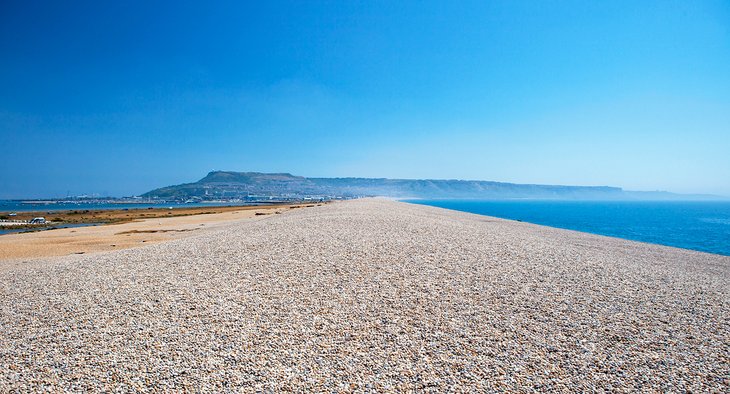 One of the longest shingle beaches in England, Chesil Beach stretches for 18 miles along the Dorset coast between Weymouth and the village of West Bay.
It's also one of the largest beach environments, with impressive mounds of shingles reaching heights as great as 50 feet. In places, the beach can be as wide 650 feet, its mounds of shingle separated from the mainland by a large lagoon.
Given its size and lack of sand, as well as its relative remoteness in relation to attractions and amenities, Chesil Beach doesn't get as crowded as many other Dorset beaches.
In addition to its popularity for sea swimming and water sports, the beach also attracts hikers and nature lovers, here to explore the stunning landscape and its wildlife.
Address: Puncknowle, Dorchester, Dorset
5. Boscombe Beach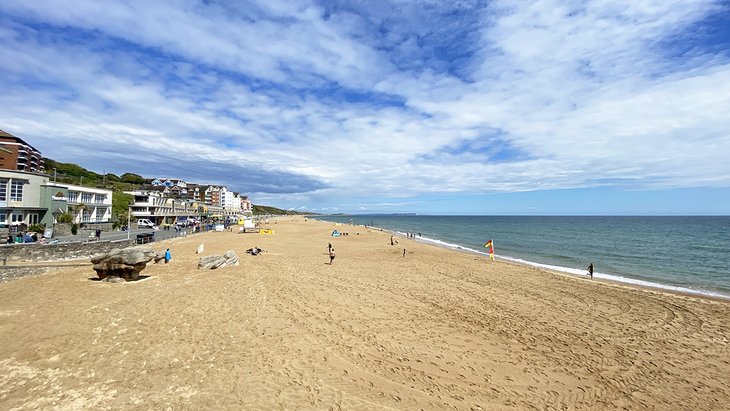 Located only a mile and a half from Bournemouth's pier and seafront, Boscombe Beach is a great choice for families and water sports enthusiasts alike.
While Boscombe Pier does offer a variety of fun things to do for all ages, it's the only major attraction here, ensuring that what crowds there are, are generally smaller and here for one thing: the beach.
Stretching for over a mile with the pier at its center, you'll enjoy this Blue Flag beach's soft sand and clean, clear waters, with swimming made even safer thanks to the presence of a lifeguard service.
On-beach activities include volleyball and table tennis, while the wide promenade is great for a stroll or a bike ride. Public washrooms and changing rooms are also provided.
Those wanting to take a couple of days or more to explore Boscombe Beach should look into availability at Amarillo Guesthouse. Located a 15-minute walk from the beach, it's a leisurely stroll through the beautiful Boscombe Chine Gardens, which brings you out directly at the entrance to the pier. This chic and unique guesthouse also offers guests free use of bikes, perfect for exploring the nearly 10 miles of Bournemouth promenade you have easy access to.
Address: Undercliff Drive, Boscombe, Dorset
6. Hengistbury Head Beach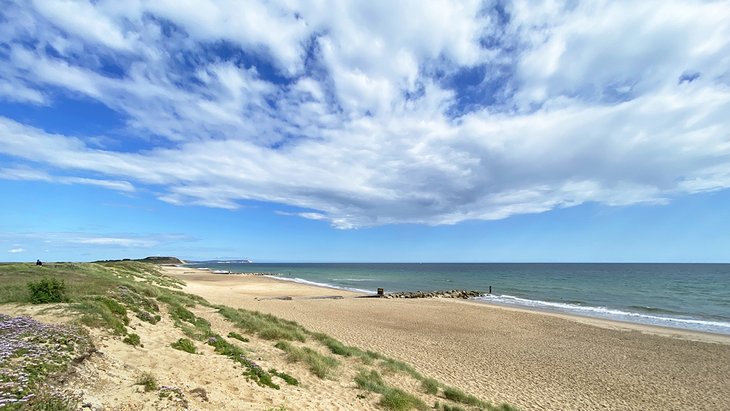 Separating Christchurch Bay from the English Channel, Hengistbury Head Beach offers an altogether different beach break than the traditional seaside experiences found in places like Bournemouth and Boscombe.
Here, the emphasis is very much on nature, with visitors being exposed to one of the most unique coastal settings in England.
One of the top tourist attractions in Dorset, Hengistbury Head Beach, while sometimes busy, boasts plenty of room for those wanting to spread out as they sunbathe and swim.
While the majority of families will head for the Blue-Flag-awarded Mudeford Sandbanks, you won't have to walk too far to find the perfect spot to relax away from the crowds; the total sandy beach area here extends some 10 miles, making it one of the longest stretches of sand in the UK.
Parking is available at the Hengistbury Head Visitors Centre, with a shuttle service available from here to the beach.
Alternatively, there are numerous walking trails available, which also provide an opportunity to do some bird-watching and wildlife spotting. The beach here is also popular for water sports, including kayaking and diving.
Address: Hengistbury Head, Christchurch, Dorset
7. Charmouth Beach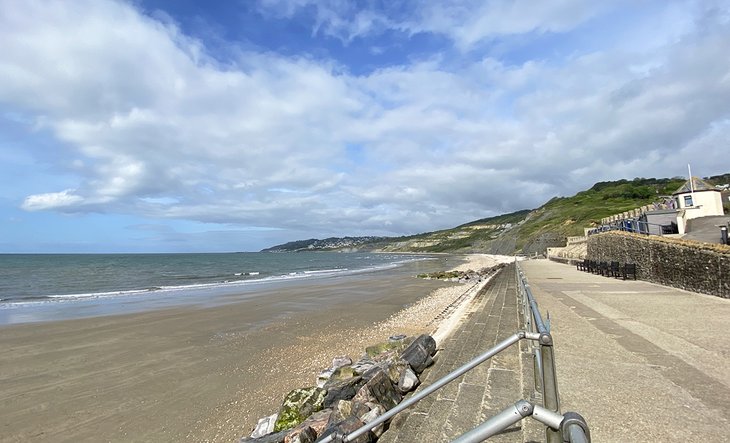 Travel just a little farther east along the Jurassic Coast from Lyme Regis, and you'll find yourself in the delightful Dorset seaside village of Charmouth. While part of the same stretch of beachfront, here you'll find yourself faced with a choice of two beaches.
Charmouth West Beach stretches for around over 1.5 miles westwards, and at low tide it's actually possible to walk along the coast all the way to Lyme Regis. A journey of over an hour, it's certainly a delightful experience given the stunning natural beauty of this spectacular stretch of coastline.
In addition to great swimming, you'll find yourself wanting to indulge in some fossil hunting, too.
Separated from shared facilities such as public washrooms and the Charmouth Heritage Coast Centre by a small footbridge over the River Char, Charmouth East Beach is perfect for families thanks to its wide sandy shoreline and gradual incline toward the water.
Address: Lower Sea Lane, Charmouth, Bridport, Dorset
8. Lulworth Cove Beach, Wareham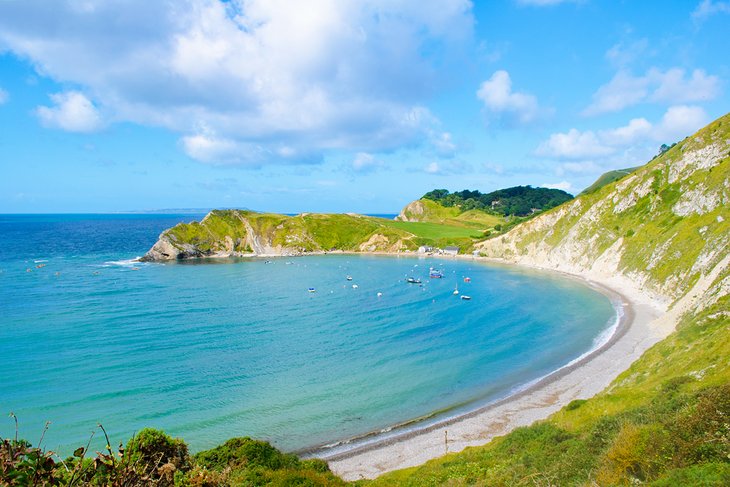 Perhaps one of the most spectacular features on a stretch of coast that's considered one of the most beautiful coastlines in England, Lulworth Cove makes for an excellent beach outing.
Located 15 miles east of Weymouth, this unique mushroom-shaped geological phenomena boasts lovely blue waters that wouldn't be out of place in the Mediterranean.
Lining the white limestone cliff backdrop, the beach itself is pebbly but comfortable to lounge on with a towel or chair. Entry to the turquoise waters is shallow in most places, making it safe and easy to swim in.
Other fun things to do in Lulworth Cove besides swimming and sunbathing include water-based activities such as kayaking, which is especially fun if you head west along the coast to Durdle Dor, a spectacular limestone arch. There's also a great beach overlooking the arch.
Location: West Lulworth, Wareham, Dorset
9. Shell Bay Studland, Swanage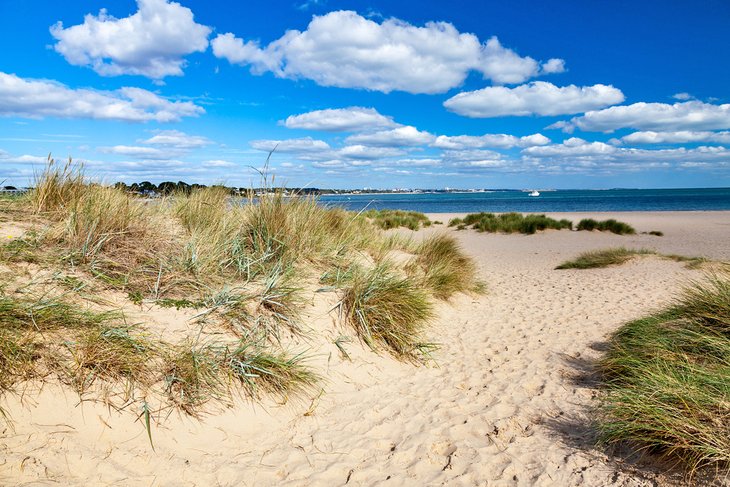 Shell Bay Studland is another relatively remote beach area that's extremely popular with Dorset beachgoers.
Separated from Poole and Bournemouth by a narrow channel that can be crossed by ferry from Poole Harbor, those that do venture out to Shell Bay will find the journey well worth it.
Situated at the tip of Studland Peninsula, it's actually only a short stroll to the beach from the ferry terminal. It's unspoiled and usually relatively quiet compared to many other beaches in Dorset, but what you give up in amenities, you more than make up for in terms of peace and quiet and relaxation.
Long, wide, and full of beautiful white sand, it's as fun to simply relax and sunbathe as it is to hit the water. If you do fancy indulging in some water sports, or simply like watching while others do it, you'll find the Shell Bay and neighboring Studland Bay Beach are popular among kite surfers.
Address: Ferry Road, Studland, Swanage, Dorset
10. Monmouth Beach, Lyme Regis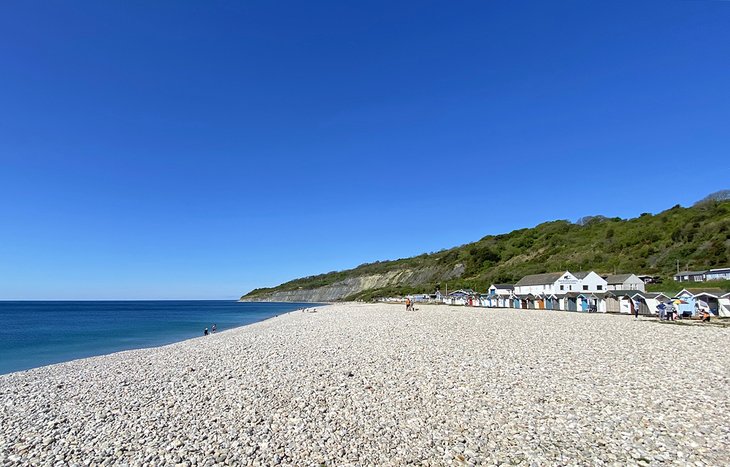 If you're looking for a fun family beach getaway that involves a little adventure suitable for younger kids as well as teens, head to Monmouth Beach in Lyme Regis.
Although mainly consisting of larger pebbles and rocks, the beach is famous for its fossils. Kids of all ages can easily find great fossil samples, often just washed up along the shore.
Even if you're only here for the fossils, this generally quiet beach on Dorset's Jurassic Coast is well worth spending time and exploring.
If you time your arrival right, low tide reveals a natural phenomenon known as the ammonite pavement, where the limestone is literally riddled with fossils. There's plenty of parking here, and you're only a few minutes' walk from the famous Cobb breakwater.
Location: Cobb Road, Lyme Regis, Dorset