10 Best Things to Do in Bournemouth, Dorset
The largest population center in the county of Dorset, Bournemouth also just so happens to be one of the newest. It was only established in 1810 in a largely uninhabited area of heathland known only to a few fishermen, farmers, and smugglers. Once word got out about its incredible beaches, the floodgates opened, with developers, railroads, and hotel owners rushing to stake their claim.
Fast forward 200 years, and Bournemouth is now known the world over as one of England's leading seaside destinations. The big draw remains its nearly 10-mile-long stretch of beaches. Running all the way from Sandbanks in the west to Hengistbury Head in the east, Bournemouth's beaches are set in a large, sheltered bay known for its clean, calm waters.
Just because it's relatively new compared to most other English seaside towns doesn't mean it's not without plenty of fun things to do when you eventually venture off the beach. The Victorians, first to arrive in droves with the introduction of the railway in 1870, have left many attractive architectural gems behind, from charming townhomes and cottages to its iconic beachfront pier.
More recent additions to this inventory of tourist attractions include state-of-the-art convention and entertainment complexes such as Bournemouth International Centre (BIC), an internationally recognized aquarium, and some of England's top dining experiences.
Whatever you enjoy doing at the seaside, be sure to refer to our guide to the top things to do in Bournemouth, Dorset.
1. Splash about on a Bournemouth Beach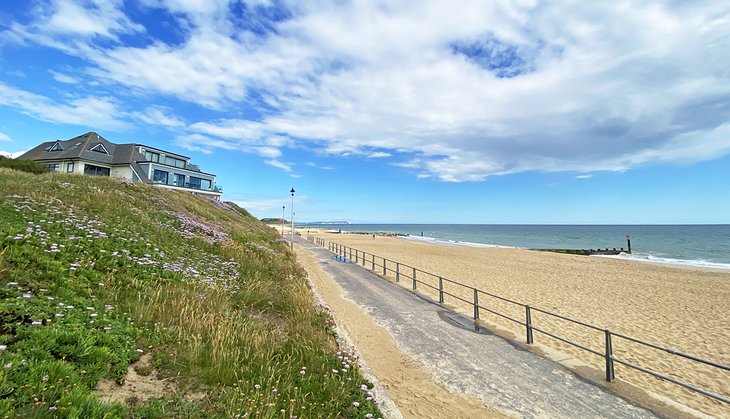 When you first set eyes on Bournemouth's beautiful beaches, you can easily be forgiven for forgetting you're on England's south coast. This nearly 10-mile-long stretch of near perfect sand wouldn't look out of place on the Mediterranean or in Florida.
Bournemouth's beaches are known for their clean shorelines, clear waters, and gently sloping sands. What at first glance looks like a single stretch of beach disappearing into the distance is in fact made up of a number of individual beaches, each with their own unique charm. Named "chines" after the attractive river-forged gorges that dissect the cliff-faced coastline, these beaches offer something for everyone.
Those looking to be closest to the off-beach action should consider claiming a spot-on Durley Chine Beach. Set to the west of Bournemouth Pier, this Blue Flag beach is just steps away from amusement arcades, public washrooms, plenty of dining options, as well as major Bournemouth attractions such as the Oceanarium and the Observation Wheel.
Farther to the west, Alum Chine and Branksome Chine are superb locations for water sports activities such as surfing, windsurfing, and kitesurfing, while to the east, Boscombe Beach features fun for families with its own pier, volleyball courts, and a laid-back vibe.
It's worth noting that while dogs are permitted on the beach in the shoulder months, they're typically not allowed during peak summer months. Lifeguard services are available on most beaches, and you're never too far from public amenities such as washrooms, showers, dining, and beach hut rentals.
2. Russell-Cotes Art Gallery & Museum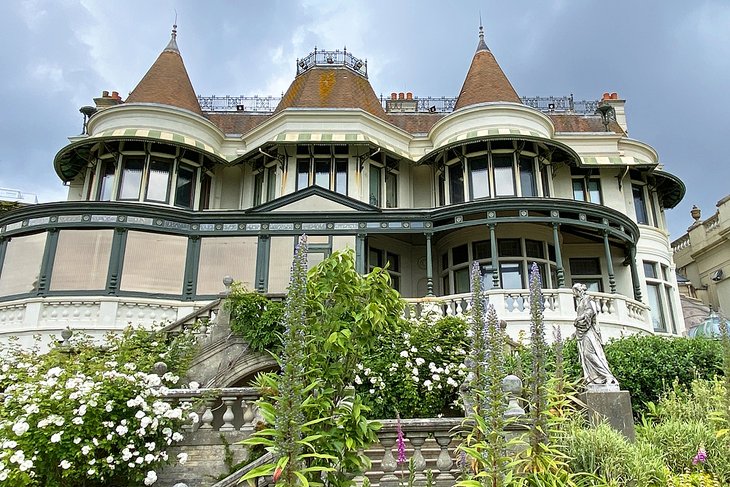 If you're looking for a cultural activity that's close to the beach, glance upward and slightly to the east of Bournemouth Pier, and you'll catch a glimpse of one of the town's best-known historic landmarks: the Russell-Cotes Art Gallery & Museum. Set in a former East Cliff mansion overlooking the beach, this world-class museum and art gallery houses a vast private collection donated, along with the home itself, to the town by the Russell-Cotes family.
It's a stunning property. Built in 1901 and opened as a museum and art gallery in 1922, this attractive Art-Nouveau-style seaside villa is chock-full of rare artworks and artifacts. Highlights include a large collection of Japanese, Russian, and Australian artworks; Victorian-era paintings; and numerous pieces by women artists.
The museum also features a variety of touring exhibits, often with accompanying lectures and workshops. Guided tours are available. Be sure to allocate time to explore the exotic garden area, too.
Address: Cliff Promenade, Bournemouth, Dorset
Official site: https://russellcotes.com
3. Enjoy the Tranquility of a Bournemouth Garden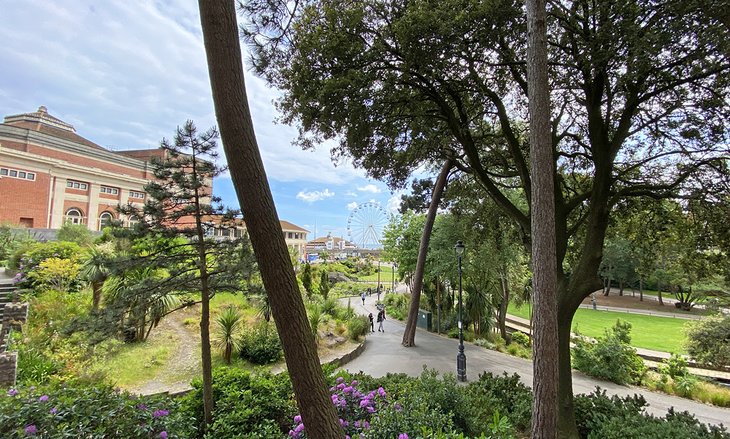 Thanks in part to its relatively mild climate, Bournemouth has a reputation for the quality of its public parks and gardens. The easiest for visitors to explore is the centrally located Lower Gardens. Stretching some distance from the pier head up to Bournemouth Square, this large swath of parkland offers plenty of shade and grassy spots perfect for a picnic.
Lower Gardens is a great place to hang out, and offers plenty of fun things to do. Attractions include crazy golf, a bandstand, and plenty of snack kiosks, plus a great little aviary housing a variety of exotic birds. It's also fun to visit in Christmas, when it's lit up with a spectacular festive light display.
Given its central location near the beach, Lower Gardens does get busy, so if you're craving a little less crowded space, keep walking up through Central Gardens all the way to Bournemouth Upper Gardens near Poole, a total of three kilometers in distance. It's a lovely way to spend a few hours in a relatively relaxing environment.
Also worth a visit, Boscombe Chine Gardens follows a ravine down to Boscombe beach and pier. Usually much quieter, it features a mini golf course, children's' playground, and tennis courts.
Address: Westover Road, Bournemouth, Dorset
Official site: www.bcpcouncil.gov.uk/Leisure-culture-and-local-heritage/Parks-and-open-spaces/Parks/Parks-in-Bournemouth/Bournemouth-Gardens.aspx
4. Take the Kids to the Oceanarium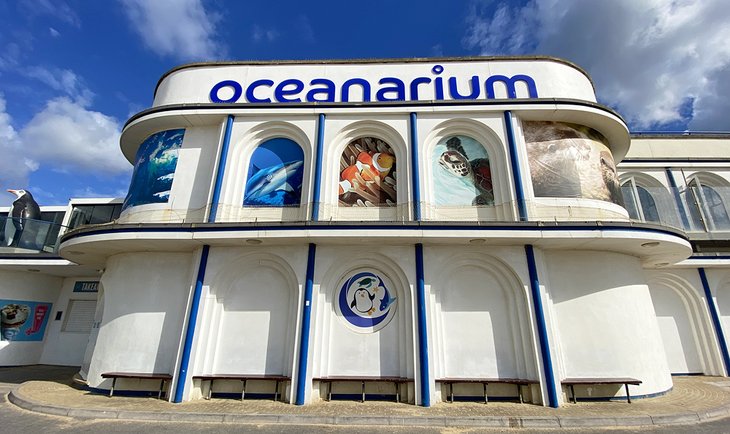 Handily located just steps away from Bournemouth Pier, the Oceanarium opened in 1998 and is a must-visit for families. Highlights of a visit to this state-of-the-art aquarium include underwater tunnels, allowing a close-up look at thousands of sea creatures, including sharks swimming about their large tank.
Other popular sea creatures guaranteed to thrill the kids include loggerhead turtles, crocodiles, sea otters, penguins, and numerous colorful tropical fish species. A program of daily talks is provided, with an especially good time to visit being feeding time.
Other fun things to do at the aquarium include a play zone and participating in unique behind-the-scenes experiences. A great café with views over the beach is located on the premises along with a gift shop.
Address: Oceanarium Pier Approach, Bournemouth, Dorset
Official site: www.oceanarium.co.uk
5. Bournemouth Pier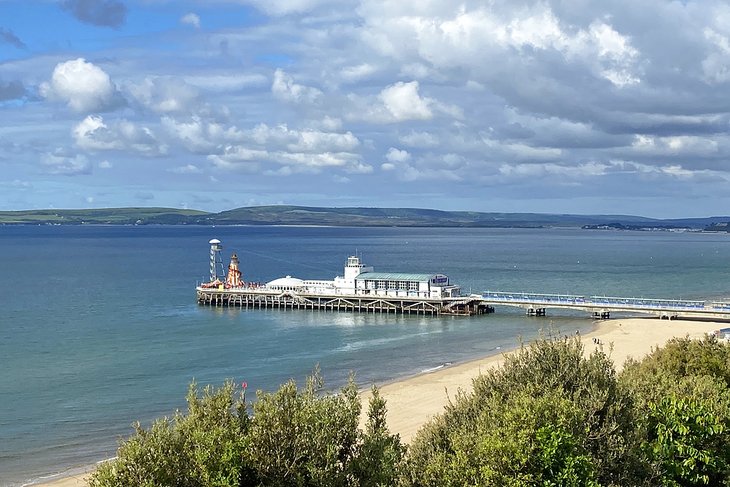 Bournemouth Pier was constructed in 1880 just 10 years after Bournemouth welcomed its first rail passengers. Its opening was the icing on the cake for this still relatively new seaside destination. One of the longest surviving Victorian-era piers in England, it measures 1,000 feet in length and, at its widest point, is 110 feet wide.
It's a delightful place for a stroll, especially in early morning when it first opens, and before the crowds hit the beach. Fun things to do here include enjoying stunning views over the English Channel and back towards Bournemouth and its miles-long beaches, amusement arcades, as well as the country's first pier-based zipline and climbing experience.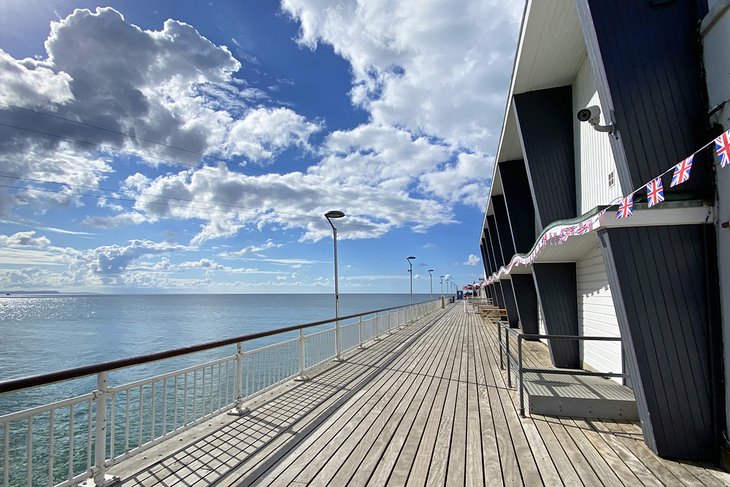 There are also plenty of places to pick up food and beverages, including popular seaside sweet treats like ice cream and gelato.
If you've got time to cram another fun pier into your Bournemouth itinerary, take a 30-minute walk eastward to Boscombe Pier. Built just a few years later in 1886, this 750-foot-long structure offers an equally fun seaside experience.
Address: Pier Approach, Bournemouth, Dorset
Official site: www.thebournemouthpier.com
6. See a Show at Bournemouth Pavilion Theatre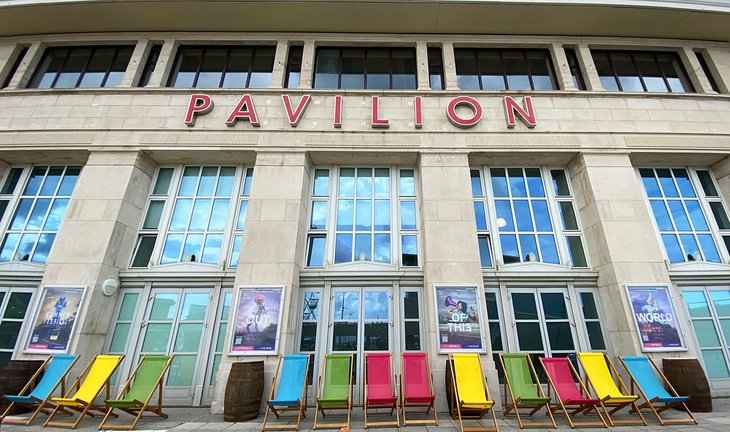 Located in the south end of Bournemouth Lower Gardens and featuring one of the largest terraces in the South West, Bournemouth Pavilion Theatre was constructed in the early 1920s and is widely regarded as one of the country's most attractive surviving Art Deco places of entertainment.
It's still a very popular venue. Check the attraction's official website for details of visiting rock and pop artists, cover bands, touring musicals, as well as ballet and operatic performances. Recently renovated and upgraded, its plush seating and attractive interior décor alone are worth the price of admission.
Address: Westover Road, Bournemouth, Dorset
Official site: www.bournemouthpavilion.co.uk
7. Ride the West Cliff Funicular Railway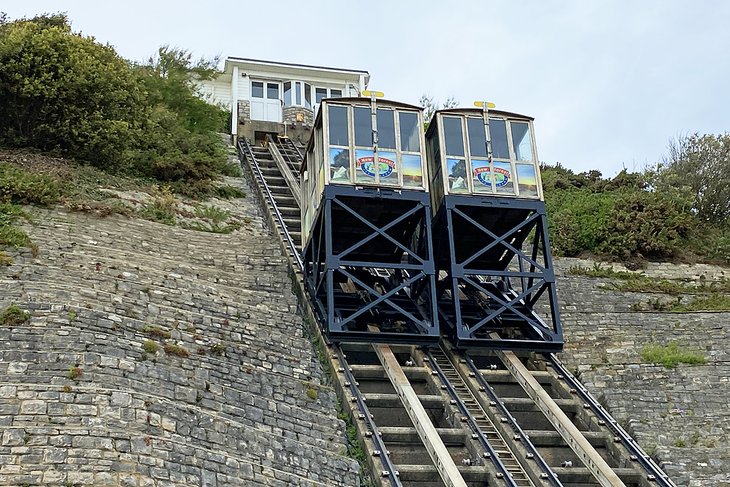 Also referred to as the West Cliff Lift, the West Cliff Funicular Railway is located on Durley Chine Beach and connects the lengthy West Undercliff Promenade with the Bournemouth International Centre (BIC) on the upper West Cliff Promenade. Constructed in 1908, this fun yet all-too-short ride offers riders fantastic views over the beach and shoreline.
Notable as one of the first all-electric funicular railways in England, its motors have since been replaced with modest gas-powered engines. Two other funicular railways are also located in Bournemouth and offer summer-only services: the East Cliff Railway and Fisherman's Walk Cliff Railway.
Address: West Cliff Promenade, Bournemouth, Dorset
8. See the Spectacular Views from the Bournemouth Observation Wheel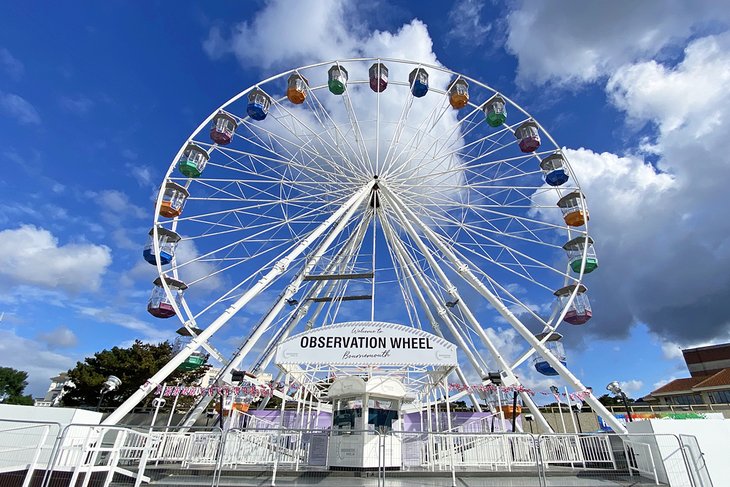 Another world-class attraction to add to your list of fun things to do in Bournemouth, the Bournemouth Observation Wheel presents riders with some of the best views over a beach and seafront that's thankfully devoid of high-rise developments.
Initially set up on a temporary basis, this huge 100-foot-tall Ferris Wheel offers uninterrupted panoramic views over Bournemouth's beautiful beaches, its pier, the Pavilion Theatre, and over Lower Gardens.
For a memorable experience, consider coming back for a sunset or night-time ride, when the seafront is bathed in the warm glow of both natural and artificial light. Cameras at the ready, of course.
Address: Pier Approach, Bournemouth, Dorset
9. St. Peter's Church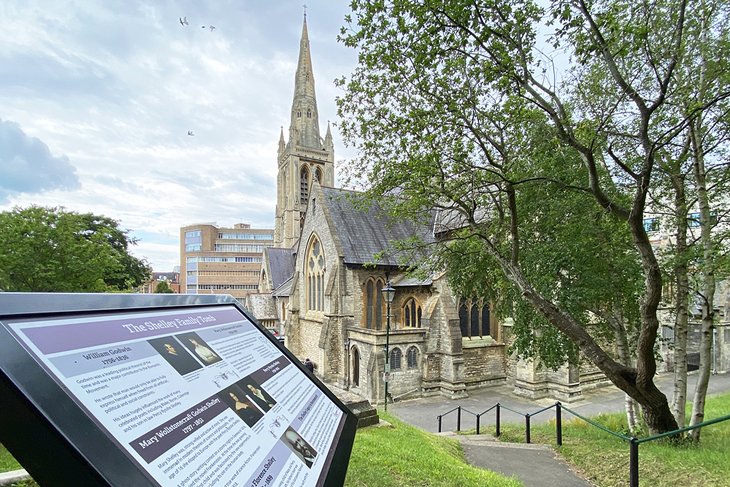 While obviously not one of England's oldest churches, St. Peter's Church is still well worth a visit. Built in 1879 and Bournemouth's first major church, St. Peter's Church has a Gothic Revival style and a picture-perfect hillside setting.
Notable interior features include its richly decorated chancel, along with elaborate flourishes to its high ceiling. It also boasts a 202-foot-tall spire, which dominates the surrounding busy downtown core of the town.
Be sure to spend at least a little time exploring its picturesque graveyard. Climbing up beside and behind the church, you won't have to walk too far to find the gravesite of its best-known resident: Mary Shelley. The author of Frankenstein was interred here in 1851.
Address: Hinton Rd, Bournemouth, Dorset
Official site: www.stpetersbournemouth.org.uk
10. Take a Drive to Hengistbury Head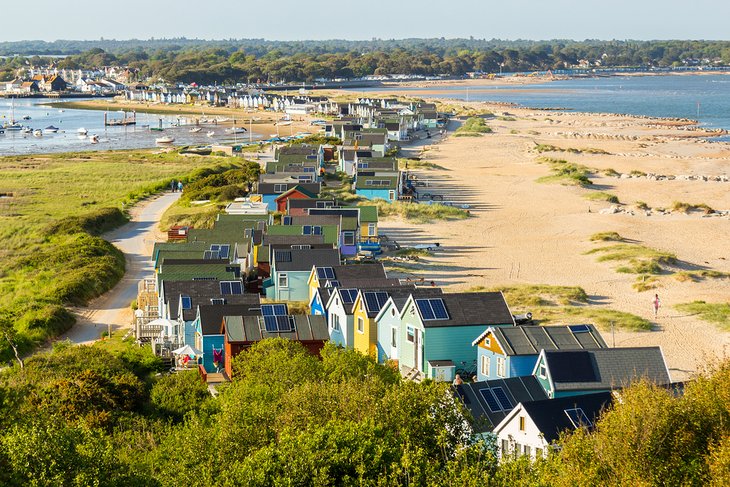 A 15-minute coastal drive east from downtown Bournemouth, and you'll find yourself at the Hengistbury Head Visitors Centre. Not only is it one of England's most unique and important coastal landmarks and nature reserves, Hengistbury Head is also a popular place to visit for those who enjoy the great outdoors.
Leaving your car at the visitor center, a nearly four-mile-long circular trail will introduce you to some of the best bits of this scenic coastal spit. If you prefer, a fun land train carries visitors down to Mudeford. Guided tours are available for those interested in learning more about the area from an expert guide.
In addition to great views over the English Channel, the Isle of Wight, and Christchurch Harbour, you'll have access to the soft sands of the beach at Mudeford Sandbanks. This excellent Blue Flag beach doesn't get as busy as the main beaches closer to Bournemouth and is an extremely popular place to visit among water sports enthusiasts for this reason. All told, the beach here extends for nearly 10 miles, making it one of the longest in Southwest England.
Explore the nature reserve, and you'll find a variety of different habitats that shelter numerous animal species. In addition to over 500 plant species, this mixed geology is a bird-watcher's paradise and home to over 300 different bird species. Numerous rare amphibians and reptiles also make their home here, and information about them, and the area's plant life, can be found at the visitor center.
Other amenities include two cafés, beach hut rentals, and public washrooms.
Address: Hengistbury Head, Broadway, Southbourne, Bournemouth
Official site: www.visithengistburyhead.co.uk/home.aspx
Map of Things to Do in Bournemouth, Dorset
Bournemouth - Climate Chart
Average minimum and maximum temperatures for Bournemouth, United Kingdom in °C
J
F
M
A
M
J
J
A
S
O
N
D

8

1

8

1

10

2

13

3

16

7

19

9

22

11

21

11

19

9

15

7

11

3

9

2

PlanetWare.com
Average monthly precipitation totals for Bournemouth, United Kingdom in mm.

89

61

66

48

56

53

41

56

66

79

84

89
Average minimum and maximum temperatures for Bournemouth, United Kingdom in °F
J
F
M
A
M
J
J
A
S
O
N
D

46

34

46

34

50

36

55

38

61

44

67

49

71

52

70

52

66

48

59

44

51

38

48

35

PlanetWare.com
Average monthly precipitation totals for Bournemouth, United Kingdom in inches.

3.5

2.4

2.6

1.9

2.2

2.1

1.6

2.2

2.6

3.1

3.3

3.5