10 Top-Rated Things to Do in Lyme Regis, Dorset
The small town of Lyme Regis in Dorset has a lot going for it. Situated in southwest England, "Lyme," as it's affectionately referred to by locals and returning visitors, is not only extremely picturesque, it also boasts no end of fun things to do.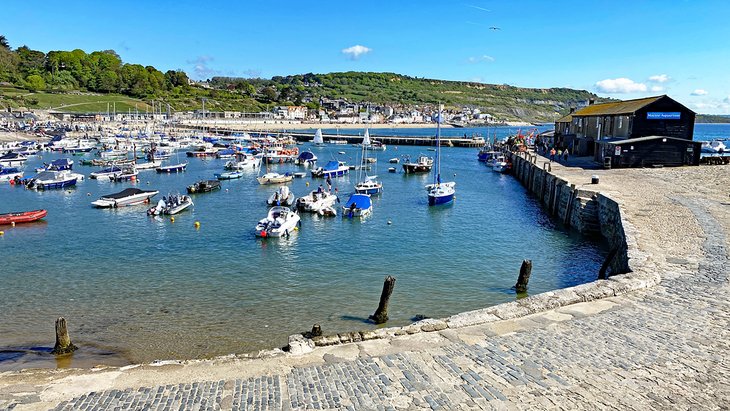 Must-visit tourist attractions include Lyme's famous harbor wall. Known as The Cobb, the origins of this stunning curving sea wall can be traced all the way back to the reign of Edward I in the late 13th century.
But Lyme's history goes back even farther, with fun places to visit such as the kid-friendly Dinosaurland being dedicated to telling a story that goes back as far as the Jurassic period.
To learn more about these and the many other world-class attractions in this picture-perfect English seaside town, be sure to read through our list of the top things to do in Lyme Regis, Dorset.
1. Walk along The Cobb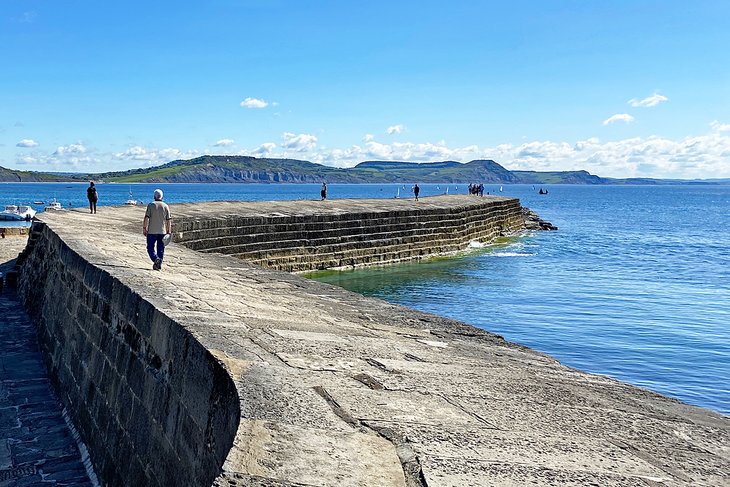 The best-known of Lyme Regis' historic landmarks, The Cobb is an ancient sea wall that can trace its roots all the way back to the 13th century.
Once an integral part of one of England's most important naval ports, The Cobb has since been rebuilt and improved numerous times down the centuries, with the present-day version constructed in the early 1800s.
Built from locally quarried stone, this marvel of engineering snakes its way from the shoreline some 870 feet, providing an impenetrable obstacle for the sometimes-rough seas of the English Channel.
The views back over Lyme Regis and out to sea from its end point are fabulous, and inspired the famous book and movie, The French Lieutenant's Woman.
But don't just stroll along The Cobb for the great views. Watch the town's fishing fleet come and go, or better still, grab a fishing charter and catch something of your own.
Or, if you'd prefer to get a close-up look at native marine life, pop into the Lyme Regis Marine Aquarium. There's also a small, often overlooked beach here that's popular with pet-owners and parents alike.
Address: Cobb Road, Lyme Regis, Dorset
2. Explore the Past at Lyme Regis Museum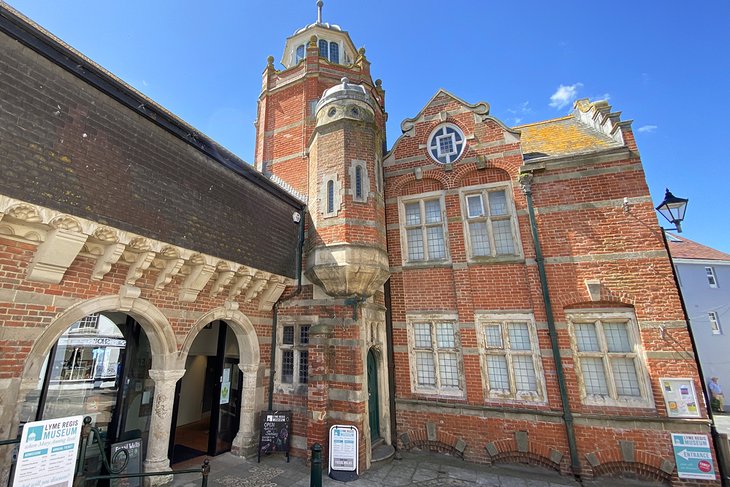 Lyme Regis Museum is a great place to learn more about the town's rich history. Located on the seafront in the heart of the old town, this first-rate museum features exhibits on the history of the town and its people.
It also offers plenty of information on the history of the Jurassic Coast, a 95-mile-long stretch of coastline that's now been designated a World Heritage Site. The building itself is well worth a look on its own.
The former residence of a local businessman, this architectural gem was constructed in 1901 on the site of the home where the town's most famous resident, Mary Anning, was born. Anning became well-known as one of the country's most respected paleontologists, and the museum features fascinating exhibits on her life and work.
Other exhibits feature artifacts and displays relating to John Fowles, author of the must-read novel, The French Lieutenant's Woman, and Jane Austen, who was known to have holidayed here.
Additional highlights include spectacular views over the coast, a learning center for the kids, as well as displays of Lyme-related artwork.
Address: Bridge St, Lyme Regis, Dorset
Official site: www.lymeregismuseum.co.uk
3. Take the Kids to Dinosaurland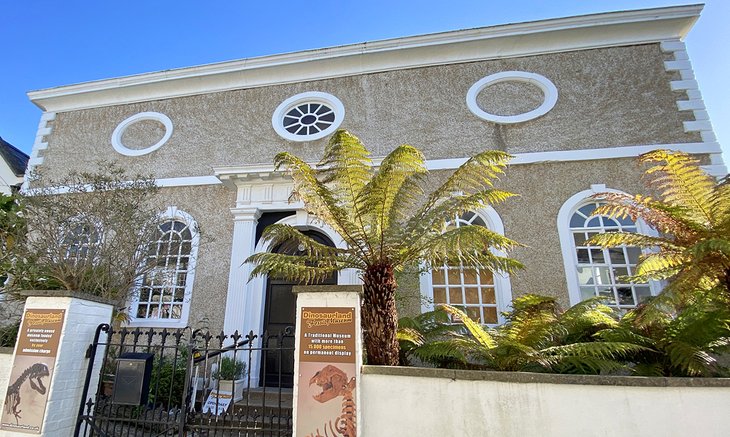 Just a short stroll away from the Lyme Regis Museum, a visit to Dinosaurland is regarded as one of the top things to do in Dorset.
Set in an old church and established 1989, the many hands-on displays in this excellent attraction have helped young and old alike gain a better understanding of the ancient creatures that once called the Jurassic Coast home.
In addition to its dinosaur models and bones, the museum houses an impressive collection of fossils, many of them found locally. Interesting displays also explain the significance of the fossils found here, and explain how Lyme Regis became a major center for the study of these ancient creatures.
In addition to its well-stocked souvenir shop, guided tours are available. For a truly memorable learning experience, join one of the museum's regular fossil-hunting tours. These fascinating guided tours take in some of the most important fossil sites in Lyme, including Monmouth Beach, where fossils can be easily spotted.
Address: Coombe St, Lyme Regis, Lyme Regis, Dorset
Official site: www.dinosaurland.co.uk
4. Splash about on a Lyme Regis Beach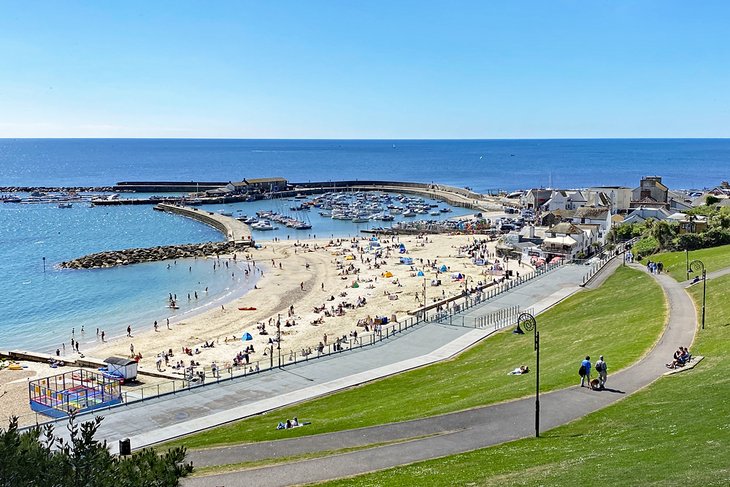 Lyme Regis is well known as a popular beach destination in England, and boasts a variety of beaches well-suited to different pursuits.
Those seeking a traditional English seaside experience will want to head to Front Beach. This long stretch of pebbled beach is good for swimming and sunbathing, and backs onto the town's promenade with its amusement arcades, eateries, and souvenir shops.
Those with toddlers may want to park themselves at the neighboring Sandy Beach. Clean and tidy with clear, shallow waters, this sandy beach features good facilities including washrooms, change rooms, and lifeguards.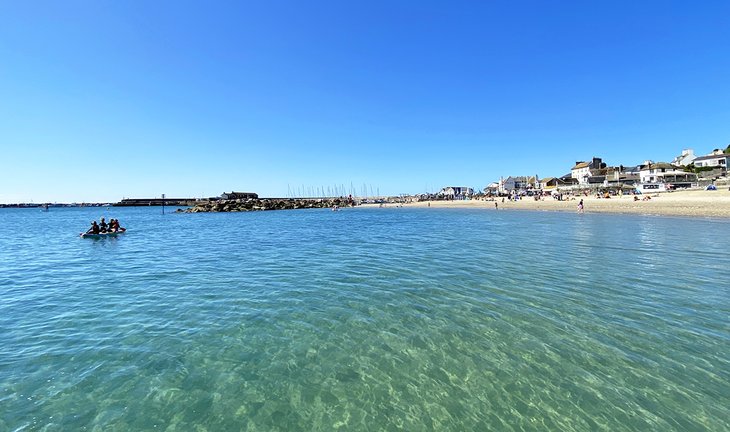 Here for adventure? While you can rent everything from paddleboards and kayaks on the above beaches, those bringing their own equipment should head to Monmouth Beach. Located to the west of The Cobb, this beautiful Lyme Regis beach is generally quieter and makes for an excellent jumping-off point for exploration along the Jurassic Coast from the water.
Address: Marine Parade, Lyme Regis, Dorset
5. Visit Lyme Regis Marine Aquarium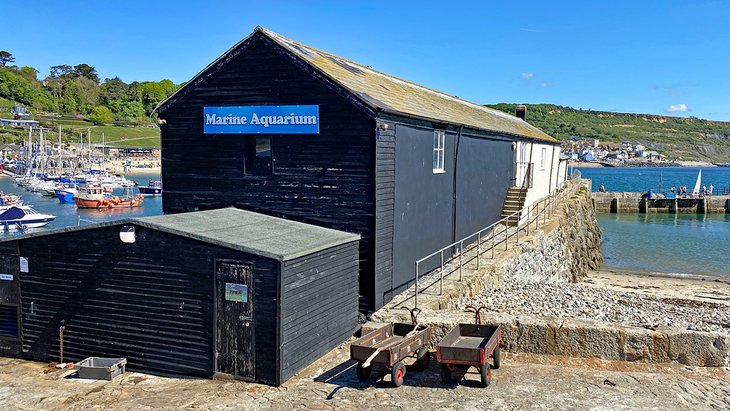 You can easily combine a visit to The Cobb, the town's top attraction and most important historical landmark, with a visit to Lyme Regis Marine Aquarium.
Located halfway along the old harbor wall, the aquarium features a fascinating array of local marine life, including a variety of fish species, hermit crabs, sea scorpions, and even starfish.
The focus here is on learning. In addition to the sea creatures themselves, visitors can peruse exhibits and displays that provide information on these fascinating creatures as well as their natural habitats along the Jurassic Coast.
As well as hands-on feeding experiences, kids love the unique opportunity to actually touch the fish and crustaceans housed here.
Editor's note: Be sure to buy tickets in advance online, as the property does not accept debit or credit card payments.
Address: The Cobb, Lyme Regis, Dorset
Official site: www.lymeregismarineaquarium.co.uk
6. Tour the Still-Working Town Mill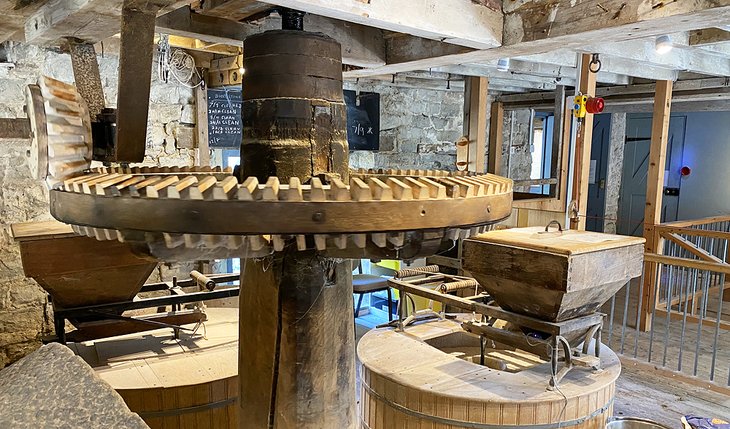 With roots that date as far back as 1340, the Town Mill in Lyme Regis offers a fascinating look at the workings of a traditional flour milling facility.
Not only can you see the mill's old water-powered grain mill in action, you can actually chat to the volunteer staff operating the machinery, as well as purchase the flour produced here in the on-site store. Guided tours of the mill are also available.
Afterwards, be sure to explore the interesting art galleries and studios located on the premises. Here you'll find the work of local artists and crafts people on display and available for purchase.
Wander past the mill along the original medieval cobbled courtyard and you'll wind up in the Miller's Garden, a quiet oasis from the bustling restaurants and shops.
Address: Mill Ln, Lyme Regis, Dorset
Official site: www.townmill.org.uk
7. Explore Langmoor & Lister Gardens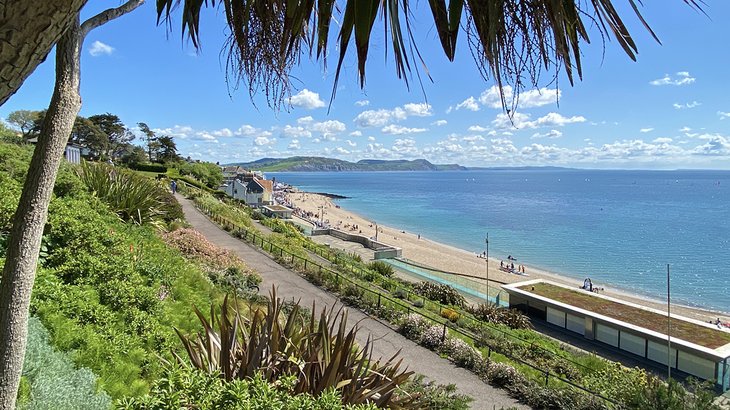 As you walk along the Lyme Regis promenade or relax on the beach, glance upwards and you'll notice an immaculately manicured park climbing up from the shoreline to the crest of the hill overlooking Lyme Bay.
Known as Langmoor and Lister Gardens, this extensive green space is a delightful place to spend some time.
In addition to it its more formal gardens and flowerbeds, you'll find an array of great sightseeing opportunities, not least of which are the incredible views toward the seafront and over The Cobb. Numerous park benches are available in case you want to linger a little longer while enjoying the views.
Delve a little deeper into the park and you'll find an excellent network of pathways leading through a sculpture garden featuring artwork from local artists, a shady woodland walk, as well as a fun mini-golf course. Visit at night and you'll find this delightful park and its trails lit up.
Location: Marine Parade, Lyme Regis, Dorset
Official site: www.lymeregistowncouncil.gov.uk/langmoor-and-lister-gardens
8. See a Show at the Marine Theater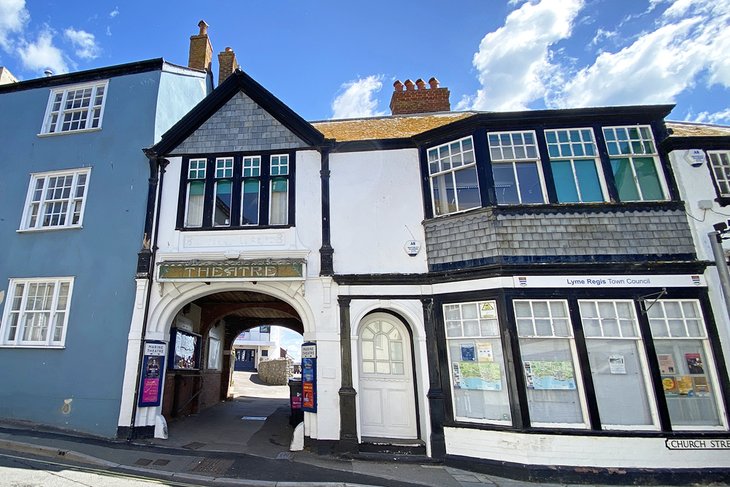 Able to trace its roots back to the 1880s, the Marine Theater continues to entertain visitors to Lyme Regis.
Located overlooking the seafront just a short distance from the Lyme Regis Museum and the picturesque Lyme Regis Guildhall, the venue regularly features an eclectic mix of live concerts, theatrical performances, comedy, and movies (movie star James Cagney once performed here!).
It's also a popular spot to relax and unwind before or after performances. In addition to offering great views, the lounge area regularly hosts musicians performing everything from pop classics to sea shanties. And, for those interested in learning more about theater production and acting, a number of fun programs are available for adults and kids.
Address: Church Street, Lyme Regis, Dorset
Official site: www.marinetheatre.com
9. Take in the Views from St. Michael the Archangel Church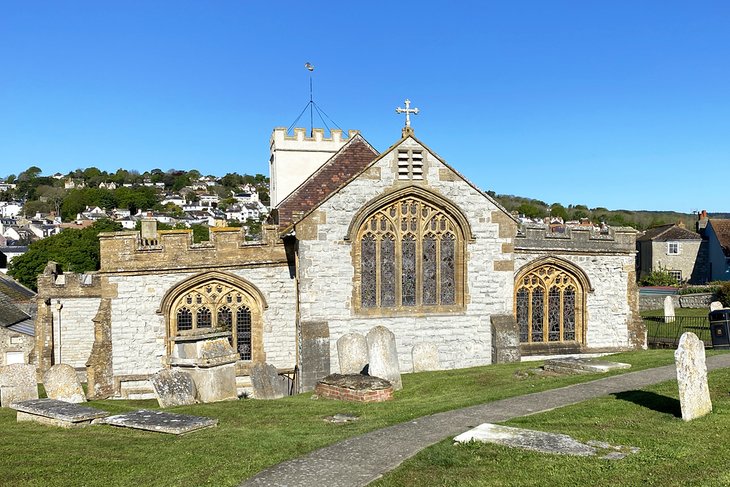 Whether you're a churchgoer, a history buff, or simply enjoy exploring old buildings, you'll want to include St. Michael the Archangel Church on your Lyme Regis itinerary.
Perched on a hill looking down on the town and the seafront, this well-preserved Medieval church was built in the 12th century and boasts incredible views from the numerous benches lining its cliff top.
It's as attractive an old church on the inside as it is the outside. Interior highlights include its stained-glass windows, one of which was added in 1904 to commemorate local resident and fossil-hunter Mary Anning. You can also search for Anning's gravesite (she was buried here in 1847).
Address: Church St, Lyme Regis, Dorset
10. Hunt for Fossils on Monmouth Beach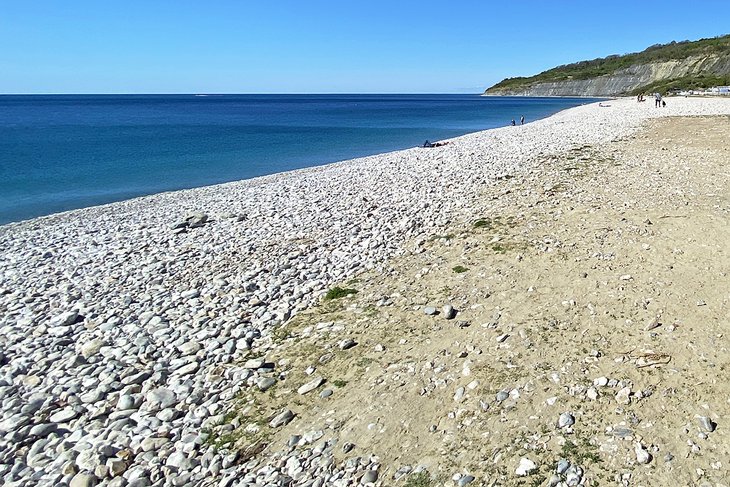 Ever since local resident and amateur paleontologist Mary Anning identified the first fossilized specimens here in the early 1880s, Lyme Regis has been the place go for those who enjoy fossil hunting.
While there are a variety of locations along the seashore to spot these ancient relics, none offer up quite the treasure trove that can be seen on Monmouth Beach.
Here, among the mounds of pebbles that line the beach, you won't have to look too hard to find fossils dating back hundreds of millions of years, many simply washing ashore as the sea slowly erodes the surrounding cliffs. In many cases, you'll find examples of sea anemones that can easily be picked up by even the smallest of hands.
Be sure to also look out for the unique the Ammonite Pavement. This fascinating natural phenomena can be seen on the limestone ledges lining the beach, each displaying a vast number of fossils.
A word of warning, though: be aware that fossils are not permitted to be removed from the cliff face due to the potential for rockfalls (though those specimens washed up on the beach are fair game!).
A variety of fun, informative fossil hunting walks and tours can be arranged through local museums and attractions such as Dinosaurland.
Location: Cobb Road, Lyme Regis, Dorset
Map of Things to Do in Lyme Regis, Dorset