14 Top-Rated Attractions & Things to Do in Cardiff
We may earn a commission from affiliate links ()
The capital of Wales, the beautiful city of Cardiff is the perfect place to begin exploring this amazing country. An easy drive over the River Severn from the English city of Bristol, Cardiff (Caerdydd) is where you'll find some of the country's top tourist attractions and points of interest. The city has long been of historic significance, as evidenced by splendid Cardiff Castle, widely regarded as one of the best preserved and most attractive of the many dozens of castles still to be found in Wales.
This rich history can also be enjoyed elsewhere in the city. From the castle, it's a short and extremely pleasant walk through the city's Victorian-era arcades down to Cardiff Bay, one of the largest port revitalization projects in all of Europe. Here, you can learn more about the port's important role in both the history of Wales and the UK as a whole, wander through the old warehouses and wharves, and even enjoy a spot of dining or shopping.
Cardiff also makes for a great jumping-off spot to explore other important attractions in Wales. One of the best (and closest) is the magnificent Brecon Beacons, while the spectacular Snowdonia National Park – although a little farther north – is well worth a visit.
For more great ideas on the best places to visit, read our list of the top attractions in Cardiff, Wales.
1. Take a Tour of Cardiff Castle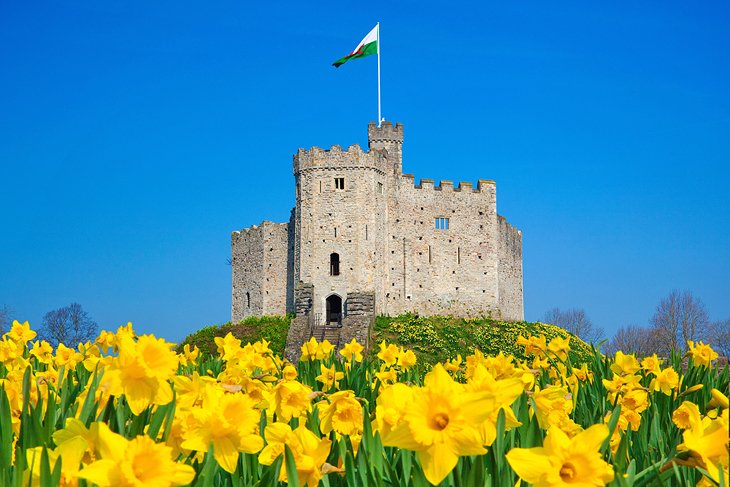 Built atop a nearly 2,000-year-old Roman fortification, Cardiff Castle is one of the most visited tourist attractions in all of Wales. It's also one of the most romantic-and best preserved-of the country's many historic castles, with some of the oldest sections dating back as far as the 10th century.
One of the most notable features that make it such an attractive place to visit are the State Apartments. Each room is chock-full of fascinating displays and useful information relating to the people that once lived and worked here, as well as key events in the castle's history. Other highlights include the picturesque chapel; the clock tower; along with the elegant Banqueting Hall, famous for its rich artworks and murals, as well as its impressive centerpiece, the room's large and elaborately decorated fireplace.
2. Explore the City's Victorian Arcades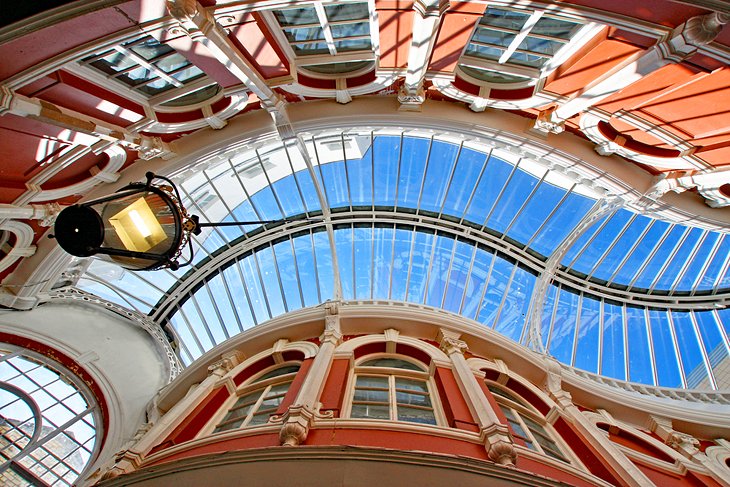 After visiting its magnificent castle, be sure to head to Cardiff's well-preserved and still bustling Victorian shopping arcades. Dissecting the city center, these fascinating, old covered pedestrian thoroughfares were built to allow residents and visitors to enjoy shopping indoors without having to concern themselves with the weather or the poor conditions of roads and sidewalks.
A good place to begin your exploration of the more than 2,600 feet of arcades to explore is the oldest of them, the Royal Arcade, built in 1858. Many of the original shopfronts exist unchanged to this day, though the wares sold may have evolved over the decades-nowadays, you'll be faced with limitless choices of Welsh crafts and woolen goods.
If your Cardiff travel itinerary allows, be sure to take in one or two more arcades. Favorites include the High Street Arcade, built in 1886 and well-known as a place to shop for clothing, and the Castle Arcade, which opened a year later and connects the downtown area to the castle and is well-worth visiting for its art galleries, boutiques, and eateries. The Cardiff Market is another landmark shopping area to visit and has been serving up fresh produce from local growers since the 1890s.
3. Visit Cardiff Bay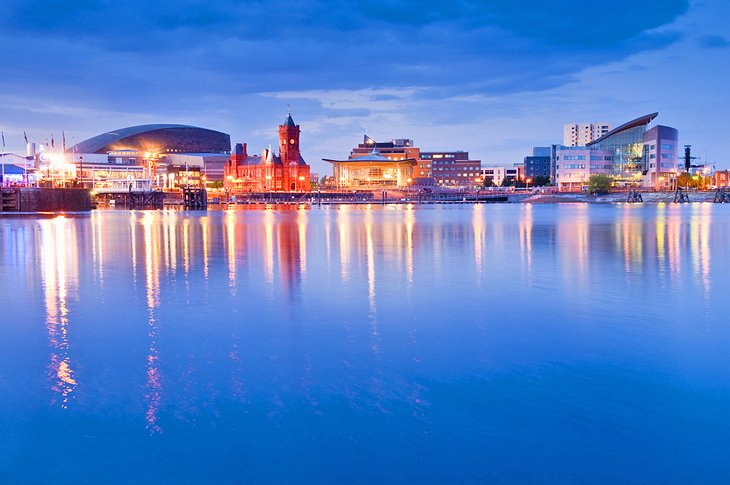 So large it could easily take the best part of a day to explore properly – it occupies some 2,700 acres of waterfront land – Cardiff Bay is well worth the expenditure of time and energy. Covering pretty much the entire former dockyards, the Cardiff Bay redevelopment, one of the largest in Europe, is home to plenty of fun things to do, particularly if you're traveling with kids.
Highlights for families include visiting attractions such as Techniquest, an interactive, kid-friendly science center. In addition to plenty of hands-on fun and learning experiences, parents can entertain their kids with educational displays in the facility's first-rate planetarium, too.
Those with kids who enjoy reading books such as Charlie and the Chocolate Factory and The Big Friendly Giant should also pop into the historic Norwegian Church, where the author of these classic tales, Roald Dahl, once worshipped (there's even a public square, Roald Dahl Plass, dedicated to the author's memory). Also notable here is one of Cardiff Bays' newest structures, the Senedd, which houses the country's government offices.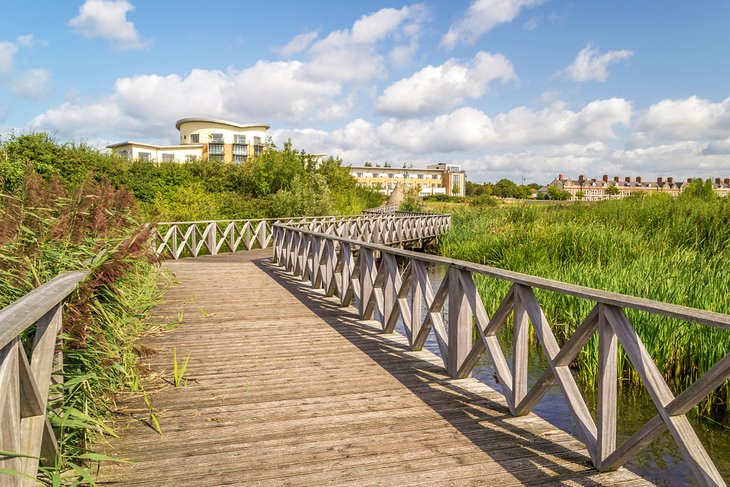 For those who enjoy walking, you won't be disappointed. You could spend hours walking the many parks and paths here, some of which lead through a wetlands preserve with plenty of wildlife spotting opportunities.
4. Wales Millennium Centre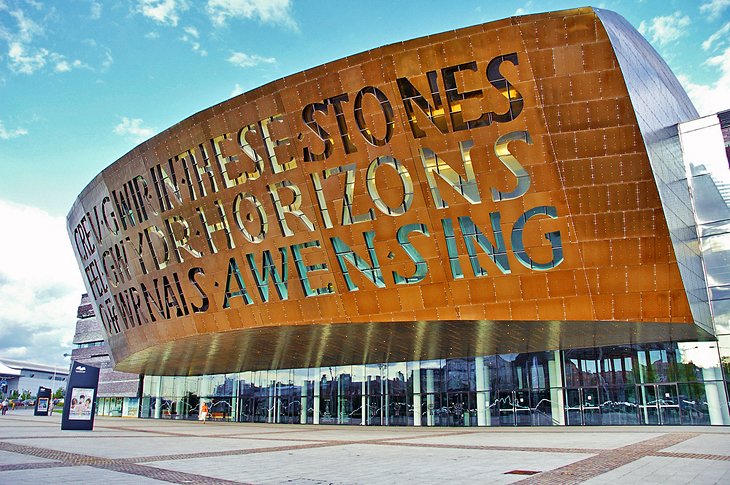 Those interested in arts and culture would do well to try to grab a performance at the very modern Wales Millennium Centre. A leader in performances as diverse as classical music and opera, ballet, and modern dance, as well as literary events and musical shows, this sprawling five-acre venue has been dubbed one of the top performing arts centers on the planet. If you are looking for things to do at night in Cardiff, this is the place.
5. Learn about Welsh History at the National Museum Cardiff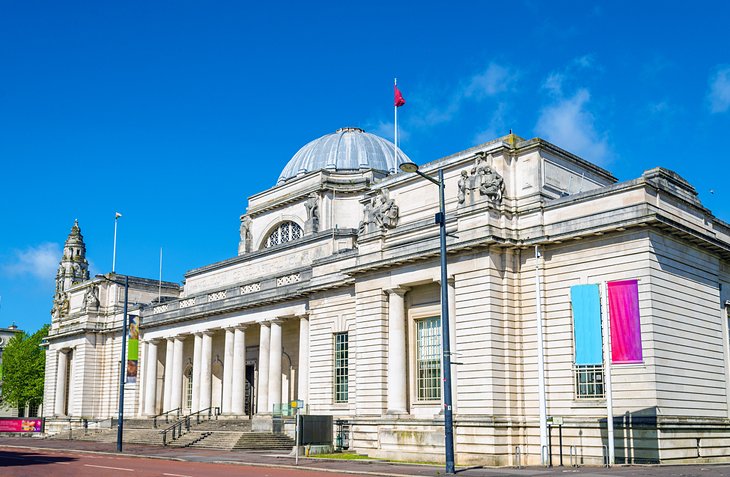 Those wanting to learn more about the rich history of Wales would do well to visit the National Museum Cardiff. Housed in the city's architecturally pleasing Civic Center building, this large and fascinating museum features numerous displays depicting the country's history all the way back to the time of dinosaurs. Among its collections relating to archaeology, a standout are the many fascinating displays of Bronze Age weaponry.
6. Enjoy a Game of Rugby at Principality Stadium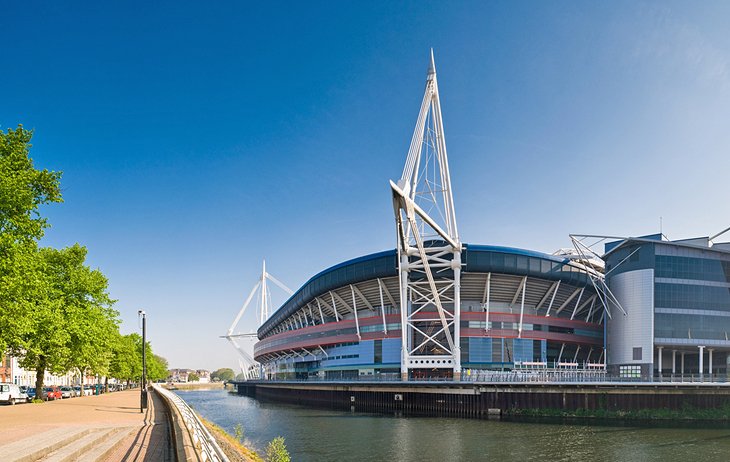 If you're interested in sports, try to take in a rugby match at the nearby Principality Stadium at Cardiff Arms Park. And if that's not possible – the Welsh take their rugby seriously, so matches often sell out (especially international matches) – at least opt for a tour of this state-of-the-art stadium.
7. Get Outdoors in Roath Park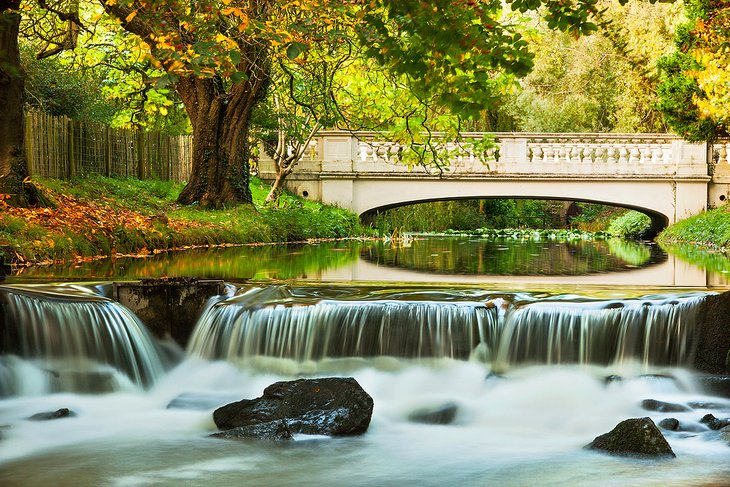 One of the most popular outdoor activities in Cardiff is to slip on the walking shoes or runners and take a stroll through one of the city's many fine parks. A favorite among residents and visitors alike, Roath Park was established back in 1894 as one of the city's first public parks and has maintained a unique Victorian feel to this day.
And it's a big place, so expect to spend a few hours exploring this 130 acres of scenic green space. Highlights include the pretty Nant Fawr stream, which was dammed during the park's construction to form a lovely 30-acre lake. Circumventing the lake itself is a journey of nearly one and a half miles, with many benches and potential picnic spots along the way.
While it's certainly fun watching families and outdoor enthusiasts out on the water, there are plenty of opportunities for visitors, too. Highlights include fishing and rowing (rowboats can be rented), with the park's iconic lighthouse making a great selfie backdrop. There's also a surprising number of "wilderness" (of sorts) here, with a conservation area that serves as home to a variety of birds and water fowl, and a charming "Wild Garden" featuring pleasant paths and plenty of shade.
8. See Llandaff Cathedral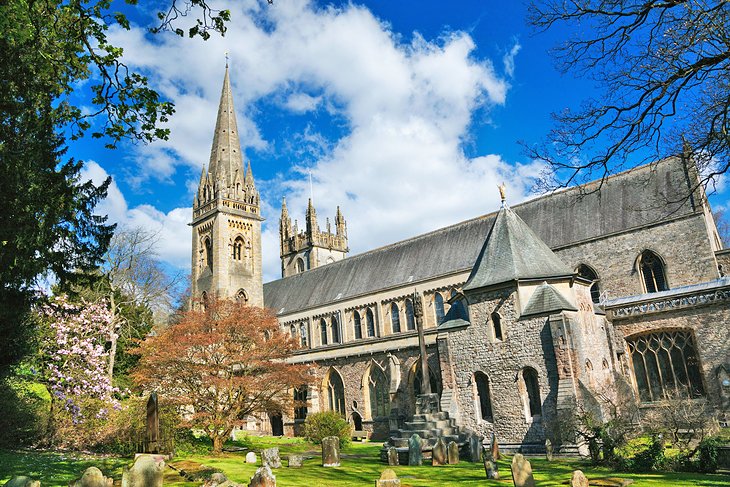 Perhaps the best-known of Cardiff's many pretty churches – and certainly one worth visiting – the attractive Llandaff Cathedral was built in the 1300s on the ruins of the original structure built some 200 years earlier. It's a delight to tour, rewarding the adventurous traveler with a pleasant look at a landmark that has drawn worshippers from across the country since the times of Bishop Urban, the cathedral's founder.
9. St. Fagans National Museum of History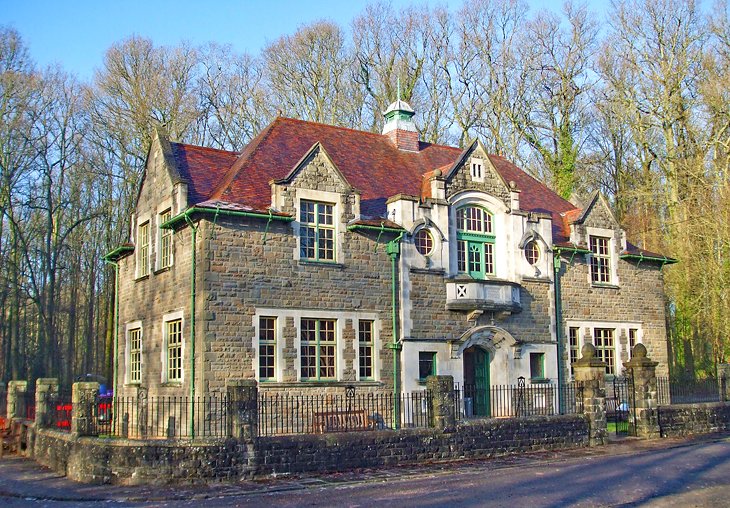 If your yearning for learning wasn't fully sated at the National Museum of Wales, make the short journey west of the city center to St. Fagans National Museum of History. This fascinating open-air attraction is very much a living museum, with costumed characters demonstrating the kind of traditional skills and crafts that helped shape the country.
Highlights include the opportunity to explore a variety of original and reproduction buildings, including quaint farmhouses and cottages, well-kept gardens, along with workshops and mills where you can enjoy demonstrations of old machinery. Good times to visit, if you can, include spring, summer, and at Christmas, with each season marked by a number of special events and festivals.
10. Caerphilly Castle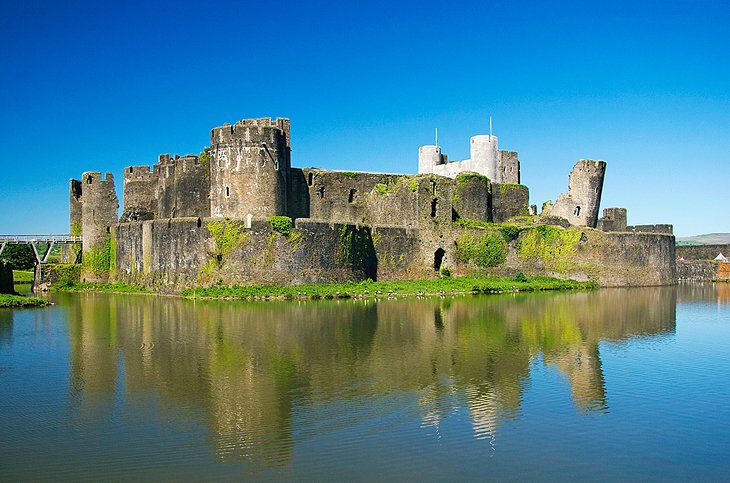 Although equally as attractive as its counterpart in Cardiff, stunning Caerphilly Castle – an easy 15-minute drive north of the city – is a much more recent construction. Built in 1628 and the largest castle in the country ever since, it served as part of the network of castles built by the English to keep control over the much-coveted Welsh countryside. Given its size and the scale of its defenses and battlements, it's a lot of fun to explore, and can easily take the best part of a day to see it all.
11. The Red Castle: Castell Coch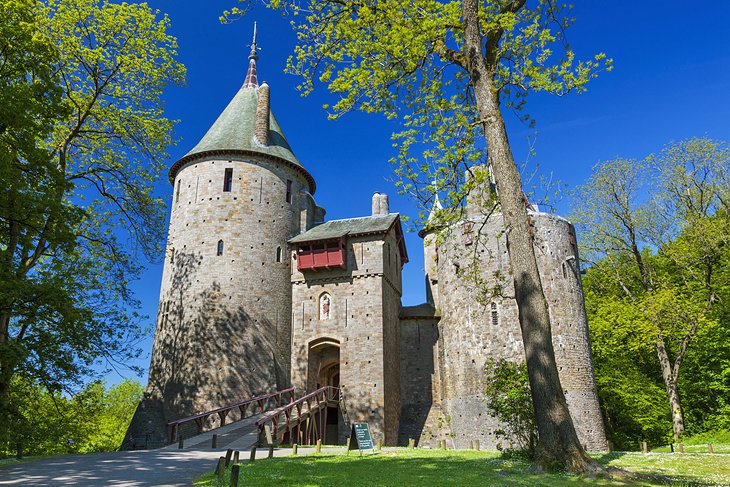 OK, so we're not done with castles yet – Wales does, after all, have the highest concentration of castles in the UK. Castell Coch, also known as the Red Castle, is, however, quite different altogether. Only 200 years old, this Cinderella-like castle, with its attractive turrets and towers, looks like it popped right out of a book of fairy-tales. This was indeed the intent of its creator, the third Marquess of Bute.
12. Cardiff International White Water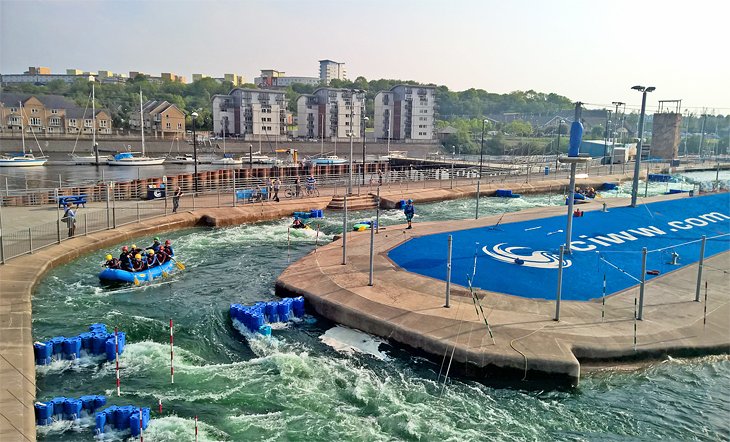 Fortunately for sports enthusiasts and adventure seekers, there are plenty more fun things to do in Cardiff beyond exploring its rich history. A favorite for those into water sports, Cardiff International White Water offers a wide variety of experiences and programs for professional and amateur adventurers alike.
Part of the larger sports village development in Cardiff Bay, which was constructed for the 2012 Olympics, this unique facility consists of a man-made white water environment whose 250-meter course can be adjusted to suit the experience, whether it's a gentle family rafting trip or a full-on hardcore canoe or kayak heart-stopper.
13. Cardiff City Hall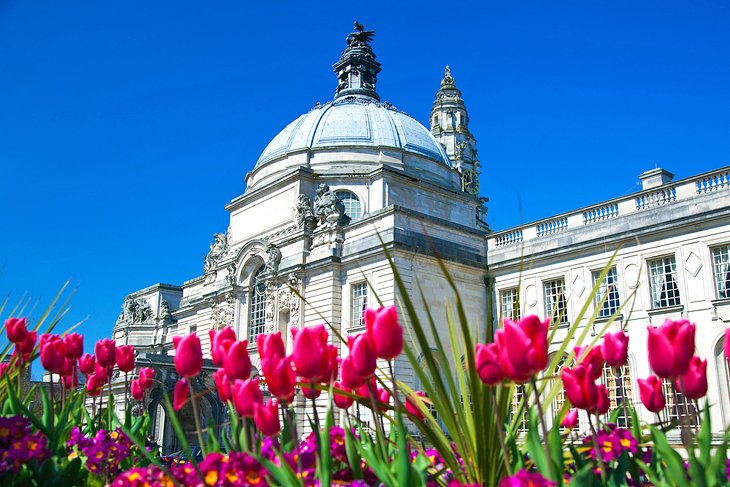 Another venue worth popping into if you're nearby – it's located in the city center, so is easy to find – is the old Cardiff City Hall. A handsome old building that was constructed in 1906, Cardiff City Hall, though largely used for events and functions, is open for the public to visit. And it's around 30 minutes of your time that's well-spent (especially as it's free!).
14. The Museum of Cardiff
The excellent Museum of Cardiff (also known as the "Cardiff Story Museum") is another must-see for visitors wanting to learn more about this still-important city's long and rich history. Using informative displays and original artifacts dating from various periods, visitors are led through the centuries, from the city's humble beginnings as a market and agricultural center to its rise as one of the UK's most important (and largest) ports.
Where to Stay in Cardiff for Sightseeing
Thanks to its many fine attractions and coastal location, Cardiff makes for a wonderful vacation destination. To help ensure you get the best from your time there, we've pulled together the following list of our recommendations of excellent hotels in convenient locations near Cardiff's top attractions.
Tips and Tours: How to Make the Most of Your Visit to Cardiff
More Related Articles on PlanetWare.com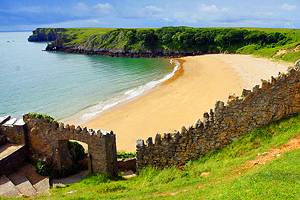 Make a Day of It: Cardiff serves as the perfect jumping-off point for adventures in and around southern Wales. For those seeking fun day trip ideas, look no further than nearby Brecon Beacons National Park, which offers numerous great hiking and biking trails. The city of Swansea is also worth visiting. Popular for its historic market, its parks, and revitalized waterfront, this coastal town is an easy one-hour car or rail journey from Cardiff. Another hour farther west, and you'll find yourself on the beautiful Pembrokeshire coastline, a magnificent area that includes the Pembrokeshire Coast National Park and beautiful seaside towns and villages including Tenby, Laugharne, and Carmarthen.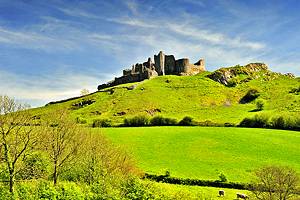 Hills and Valleys: Picture Wales in your mind, and you'll no doubt conjure up images of gorgeous valleys surrounded by rugged mountains. The many beautiful valleys of South Wales are in fact home to no end of fun things to see and do, from visiting historic mines (Rhondda Heritage Park) to beautiful waterfalls (Brecon Beacons National Park). And as it's such a small country, it's relatively easy to explore northern parts of Wales from Cardiff, too. Highlights include some of the country's most beautiful castles (Caernarfon and Conwy), picturesque seaside towns (Llandudno and Porthmadog), and, of course, the must-visit Snowdonia National Park.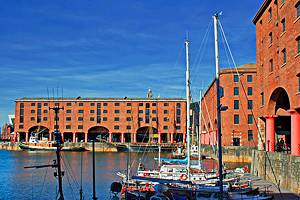 England's Glory: Wales is also just a hop, skip, and a jump from some of the top attractions in England. Liverpool is the closest major English city, and is famous the world over as the birthplace of the Beatles, with many points of interest related to the band. Farther south, and you'll find yourself in beautiful Bath, a popular travel destination for its well-preserved Roman baths.